The Nike Zoom Superfly Elite 2 is a lightweight and powerful sprint spike. And we don't think it can get more elite than this! It's premium and so is its price, but it's not really a drawback. If anything, it's understandable with all the speed-enhancing qualities we got! It's propulsive and snappy, bolting through the track was an easy feat!
Pros
Comfortable
Light
Snappy & propulsive
See-through breathable upper
Sock-like fit
Great heel lockdown
Head-turning sleek design
Elite-level spike
Perfect for 100-400m sprints
Notched laces keep the shoe tied
Nike Zoom Superfly Elite 2 review
The Zoom Superfly Elite 2 is Nike's highest quality, elite-level sprint spike. It is made specifically for distances of 100m-400m sprints.
It might be costly at $150 but the price is most certainly justified: this is as elite of a sprint spike as it gets. It will be one of the best, if not the best choice if you want to go as fast as you can. So in terms of the overall spike, I'm giving it a 96/100.
How I tested this spike
Here are some of the workouts I had done in this spike:
2 x 50m, 3 x 100m, 2 x 200m @ hard sprint effort
400m Hard Paced Effort (53 Sec.)
Perfect for 100m-400m sprints
I really enjoyed the way this spike performed for what it was intended for, 100m-400m sprints. It had a great amount of power behind the plate for a 100m sprint and was just comfortable enough to go 400m, nothing more than 400m though.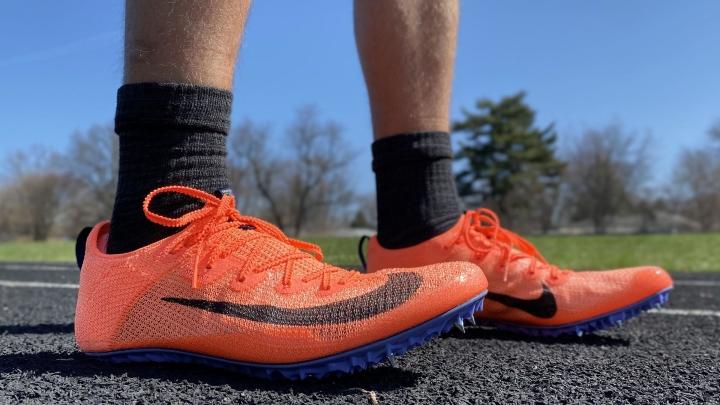 I really enjoyed how the upper was so comfortable and lightweight and combined with the powerful spike plate so well.
A snappy, fast, and powerful spike
What makes this spike so powerful:
The plate of this spike is a full-length Pebax spike plate, which is made highly stiff to ensure great propulsion and snappiness throughout the race.
It uses a honeycomb pattern to keep weight low while still being very snappy.
This spike has little flexion but that ensures a powerful stride and toe-off.
Nike Zoom Superfly Elite 2 offers an excellent grip
This spike utilizes 8 removable stainless-steel pins to grip the track and ensure no slipping.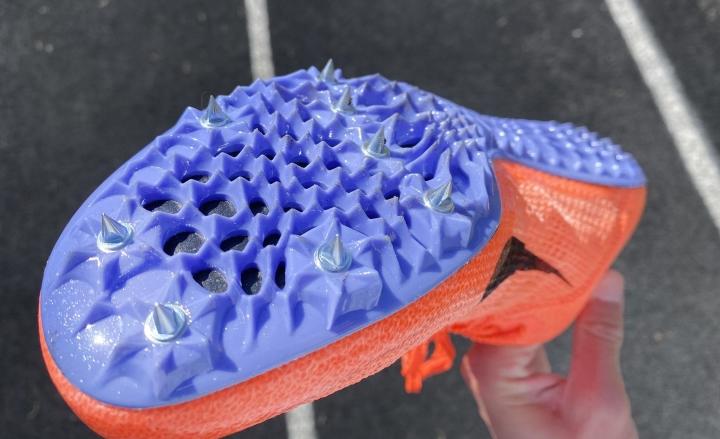 Sock-like breathable upper
The upper of this spike uses Nikes Atomknit upper. It is a Flyknit fabric that's steamed and stretched which ensures an extremely lightweight and very breathable upper.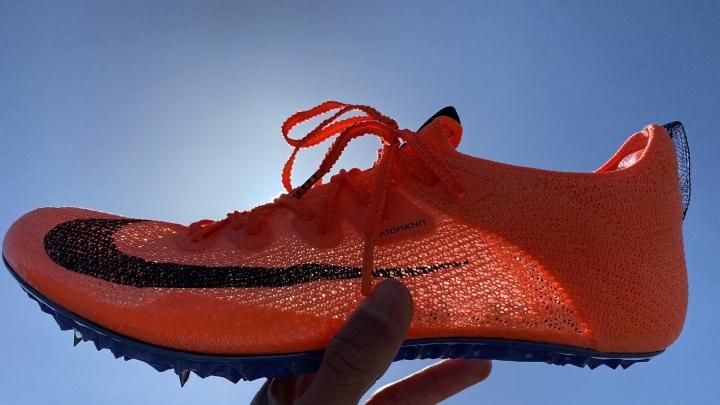 It is very comfortable and provides a very much sock-like feeling.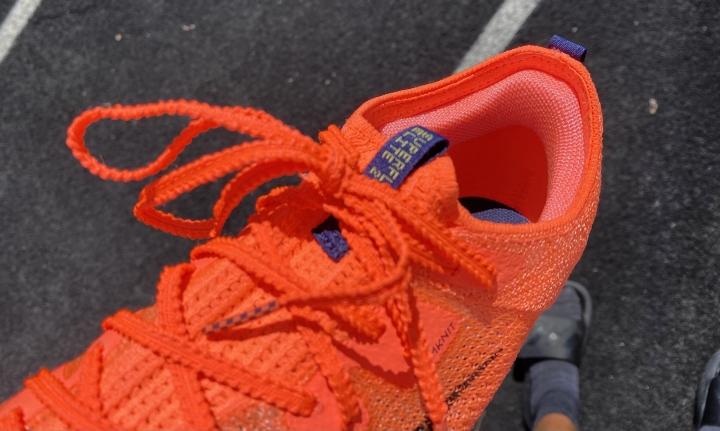 I also enjoy the little detail of adding a tongue pull tab and a heel pull tab to help with the process of putting on the spike since it fits like a glove.
Superb heel lockdown
The heel area has a comfortable heel cushioned strip which also cups the heel nicely and provides a good lockdown.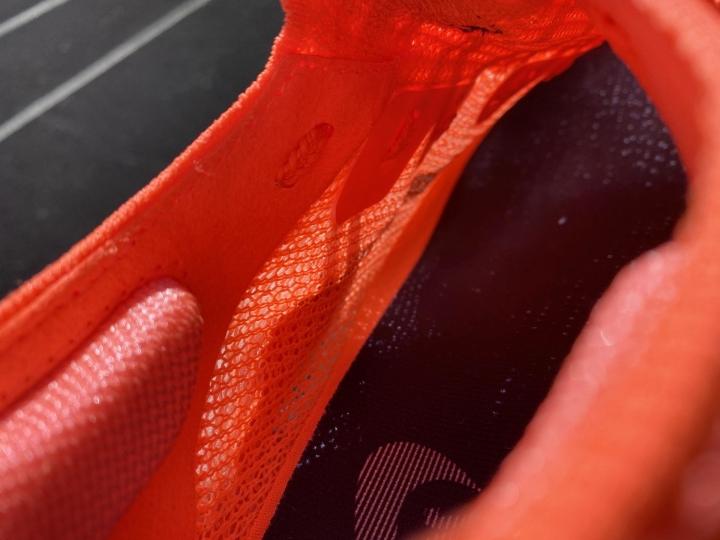 The only downside is that if you have a sensitive Achilles (which I do in my left foot), then that cushion strip could irritate it.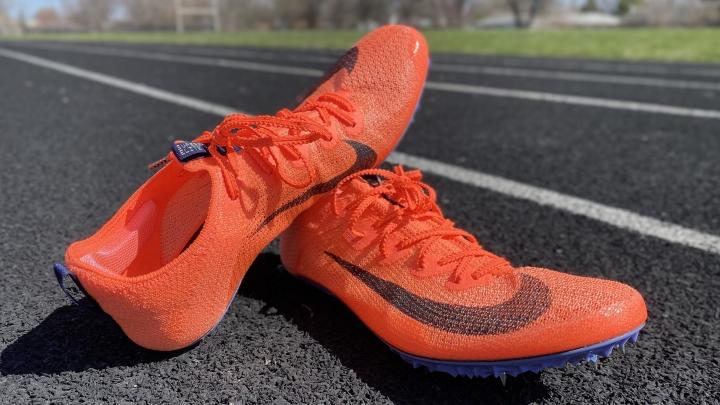 I also enjoyed the added support around the toe area for extra durability.
Laces: a cherry on top of the foot lockdown
Another minor detail I enjoy is the notched laces which I feel adds that extra bit of effort to keep the lockdown well and the shoe tied.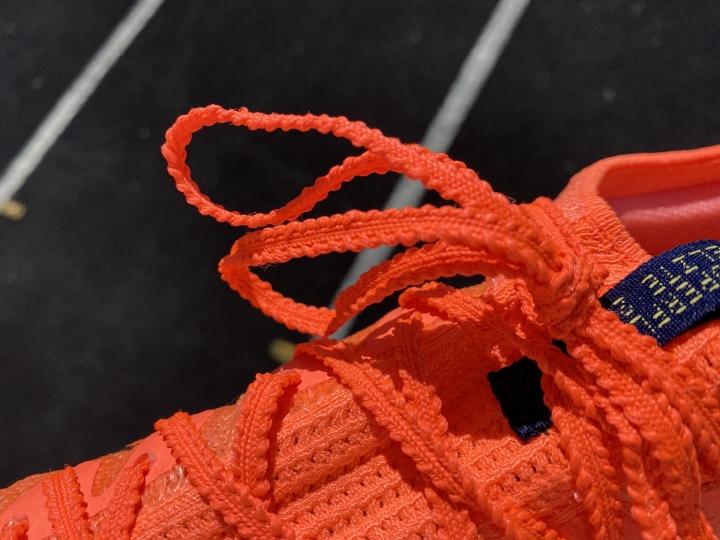 Superfly Elite 2 is pricey but well worth it
$150 is costly and one of the more expensive sprint spikes on the market, but I think the quality of the spike does justify the price and will not disappoint if you're looking for one of the highest quality sprint spikes you can get.
Eye-catching!
For looks, I really enjoy this spike. It has a fast sleek design which will definitely catch the eyes of competitors.