At $180, the Nike Air Zoom MaxFly is damn expensive! But it's a price we'd gladly pay for the aggressive traction and spring we get from this sprint spike. We don't often say this, but it's the best of the best! And for something that screams fast, the MaxFly is surprisingly pleasing to the feet.
Pros
Very springy
Snug race-like ft
Extremely well-engineered
Premium design and feel
Perfeect for 100-400m
Works for hurdles as well
Superb comfort+speed combo
Breathable
Notched laces stay tied
Cons
Expensive
Adaptation period might be needed
Feels unstable on curves
Nike Air Zoom MaxFly review
The Air Zoom Maxfly is the newest premium sprint spike from Nike, designed specifically for the 100-400m events, though it could also be used for hurdles, as well as the 800m if you like an aggressive spike for that distance. I truly enjoyed running in this spike and believed it's the most advanced sprint spike released to date.
Typically, I would never buy a track spike for $180, but this is completely worth it if you want to truly get that extra benefit of the spikes and maximize underfoot performance in your sprinting races.
Who should buy it
Buy the MaxFly if you're looking for:
the highest quality sprint spike on the market
a spike that performs great for short distance track races (100m - 400m)
a very aggressive and springy yet comfortable track sprint spike
Who should NOT buy it
Do not buy this shoe if you're looking for a spike meant for:
Spot on race-like fit
The fit of this spike was spot on being that it runs true-to-size. When lacing the spike, the upper hugs the foot nice and snug which ensures a great lockdown ride while racing.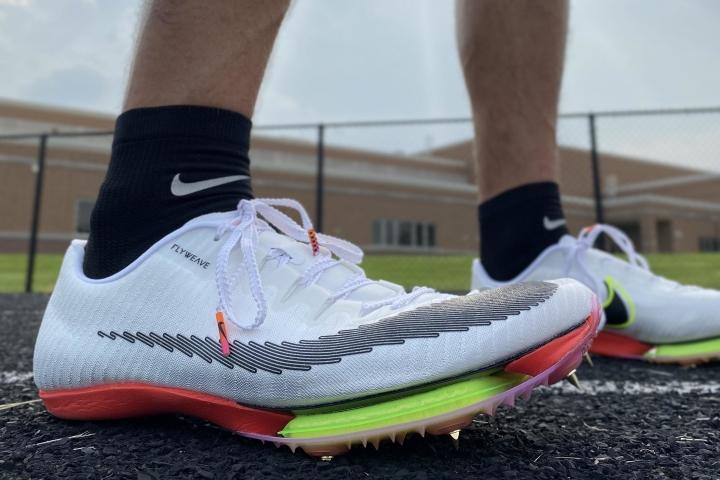 Unique and springy ride in the MaxFly
This sprint spike had one of the most unique rides I had ever raced in, especially for a sprint spike. Most sprint spikes have a very low to the ground feel, with minimal cushioning. This spike had a much different feeling, being that it is very well cushioned thanks to a full-length ZoomX foam paired with an Air Zoom Unit in the forefoot, which also is paired with a carbon fiber plate (Nike's Flyplate) to still ensure the stiffest ride that I've ever felt in a spike. Those three parts combine to form the most comfortable, yet fastest sprint spike Nike has ever made.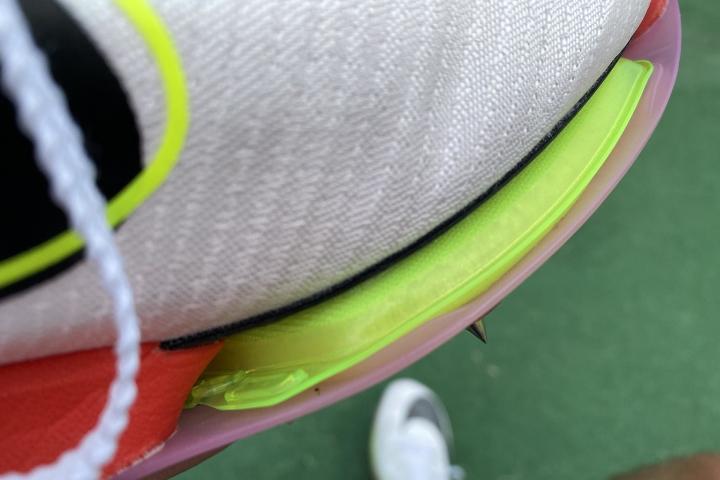 Highly engineered spike plate
This spike's plate is Nike's full-length ShockWave Generated Outsole Plate which is made for smooth transitions as well as extra traction along the entire bottom of the shoe. It also utilizes 7 spike pins in the forefoot to ensure optimal traction during your race.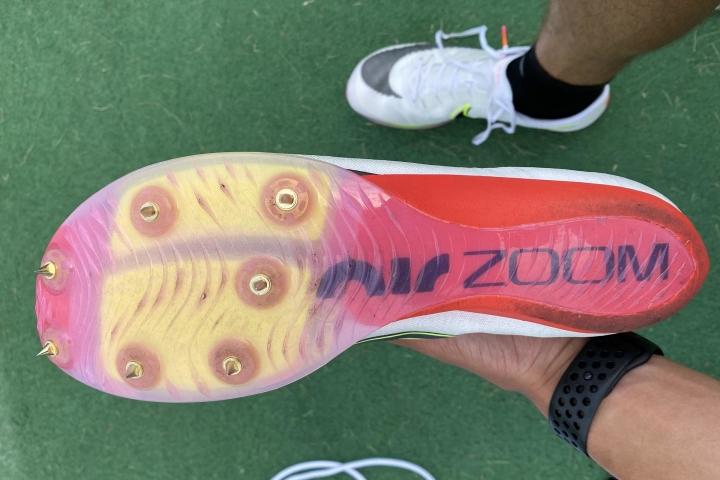 Optimal for 100m-400m distances
This spike performs excellently on 100m - 400m distances . I found this spike to be fast enough for shorter sprint events such as the 100m race, yet still comfortable enough for 400m distances.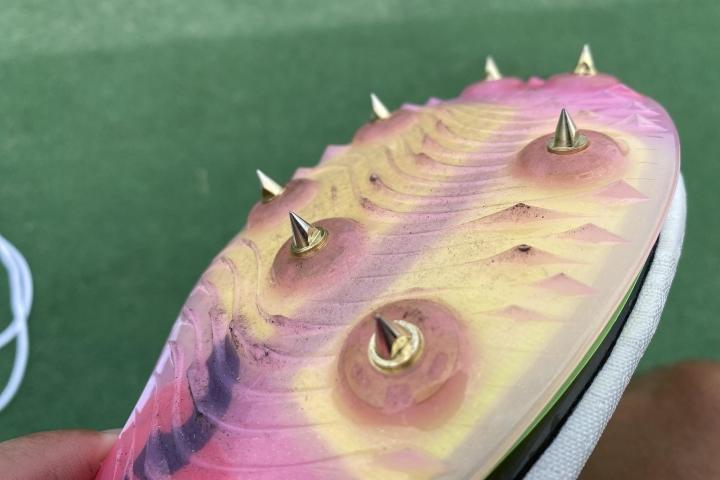 Some Olympic runners such as Clayton Murphy or Athing Mu even use this spike for 800m races, which I think would be fine if you like a more aggressive spike. Overall it's a very versatile sprint spike that can be used under any distance of 800m.
Possible adaptation period
In terms of the adaptation period, there are two main points I could bring up that people would need to adapt to:
Carbon-Fiber Plate might take time to get used to
Air Zoom Unit could take time to get used to
Considerably lightweight for a sprint spike
This spike comes in at 5.6oz/162g. It's not the lightest sprint spike on the market, but nowhere near the heaviest. Any sprint spike under 6oz/170g is what I think is considerably lightweight for a sprint spike. Underfoot and while racing it does not feel that heavy at all, which is probably because all the insane technology in it just makes it feel much lighter and faster.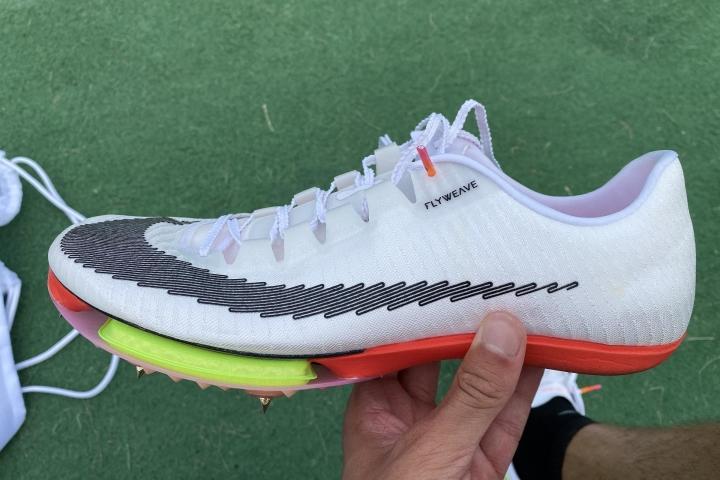 Lightweight, supportive upper
The upper of this spike is Nike's Flyweave, which is used on most of their high-quality sprint spikes, such as the JA Fly 3 or the Zoom 400. It is supportive while still being lightweight.
It is not the most breathable upper on the market, but it never gets overly hot. The upper has overlays of tougher material on the toe of the shoe (for block start durability) as well as reinforced eyelets to hold the lockdown of laces in place.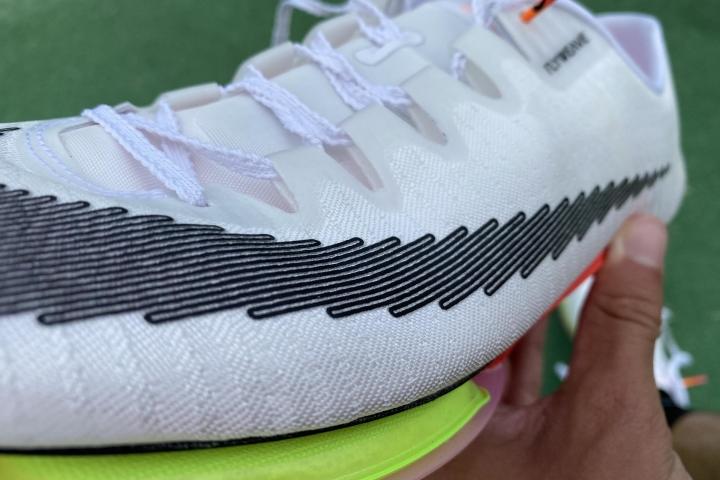 The heel construction has a slight amount of padding which allows for a good heel lockdown while racing. Lastly, there were no problems with the tongue, it is the perfect length and I did not feel the laces digging into my foot at all.
No problems with lockdown as well as perfect laces
Nike, for me, has always nailed spike lockdown with minimal problems and that's no different in this spike. I didn't encounter any heel slipping, or the midfoot not feeling secure. Nike had added the minor detail of notched laces which helps the laces not become undone. At 400m ( 0:55/400m) and 800m race (4:00/mile) pace the lockdown was still very secure.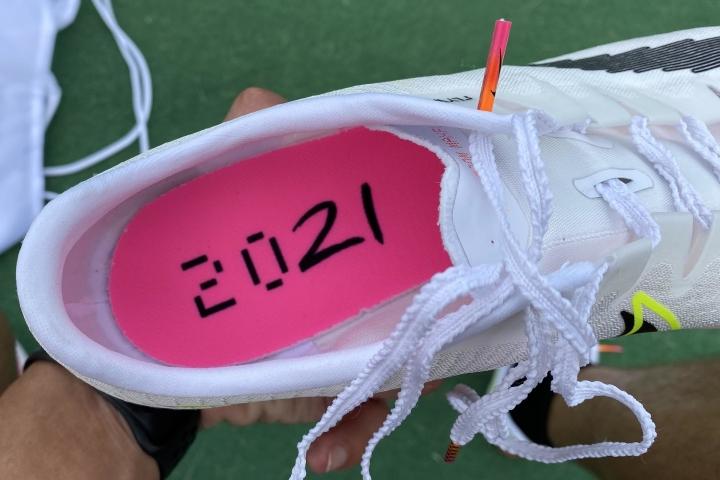 Very costly at $180
The price of this spike is $180, which is expensive (most spikes have an average price of $100) but I feel the spike 100% justifies the price! There's no spike on the market that compares to this in terms of versatility and comfort/cushioning while still staying extremely fast (maybe the new New Balance FuelCell Sigma SD-X is a good challenger but I haven't personally tested it). It brings everything you want in a sprint spike to the table to maximize performance.