Verdict from 6 experts and +100 user reviews
8 reasons to buy
Most consumers have welcomed the close-to-the-ground profile of the Merrell Vapor Glove 4.
The flexibility of this product is lauded by testers.
Several reviews emphasize the lightweight structure's capacity to permit all-day wear.
The traction equipped by the outsole unit is deemed reliable by a lot of purchasers.
The aesthetics of this running shoe are appreciated, with some testers believing that the facade is great for casual walks.
Fans of minimalist running shoes like the barefoot-like quality of their performances when wearing the Vapor Glove.
The sole unit provides an excellent ground feel, according to a few users.
A couple of purchasers have observed the upper material to dry quickly whenever they run in wet conditions.
3 reasons not to buy
Some runners have complained about the materials of the insole and the upper being susceptible to odor.
The thinness of the underfoot platform paved the way for worn outsoles and holes, according to a few testers.
A couple of wearers have noted the frontmost eyelet rubbed against the skin uncomfortably.
Bottom line
People generally like the Merrell Vapor Glove 4 and what it has to offer. This product is deemed versatile and accommodating, particularly to those who welcome a near-the-ground experience. The highlights include the flexible construction, the cool looks, and the effective gripping capacity. On the other hand, some have complained of fabrics that are prone to odor while others criticized the flimsy durability of the outsole.
Tip: see the best running shoes.
Our reviews
Looking for a modest shoe, without fluff, that will last for miles?
Merrell's combination of Vibram soles with a Cordura mesh upper offers substantial protection while remaining featherlight and ultra-responsive. For the experienced barefoot runner (or those willing to take on the learning curve) this is an essential shoe.
Let's start from the bottom up and see why.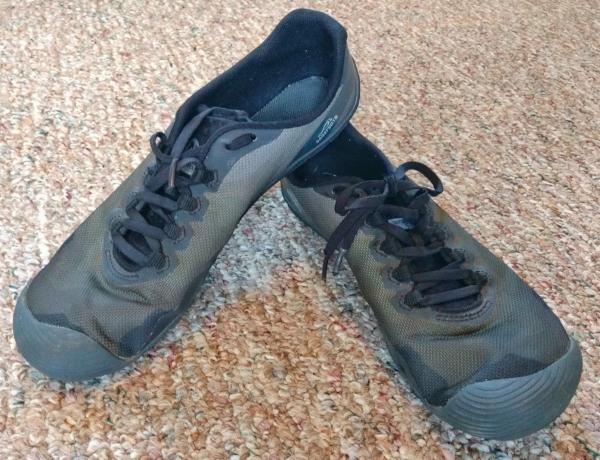 Outsole
The Vapor Glove 4 keeps the Vibram® industrial and safety TC5+ rubber blend of its predecessor, offering 3.5mm of thickness though a 1.5mm web and 2mm of lugs. The traction is fantastic though you will feel rocks and roots as you go over them.
The ground feel is similar to the Vibram V-Alpha's if you are looking for a closed toe shoe that keeps the excellent proprioception offered by this style of sole.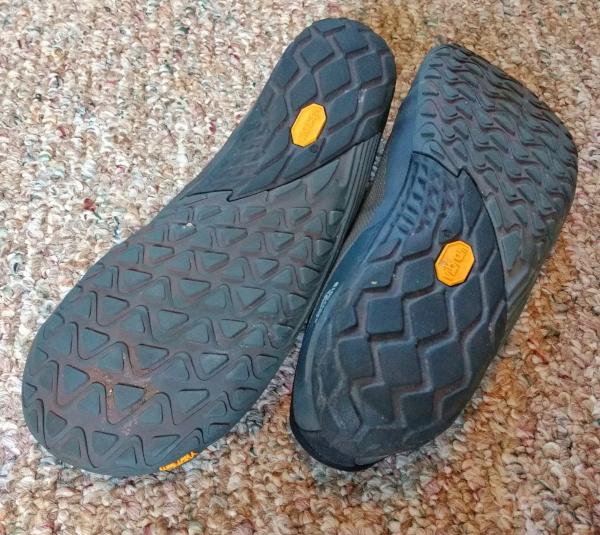 The front end is wrapped off with a toe cap of the same rubber for a little extra insurance, however, it will not protect you enough if you kick a rock so watch where you're going with these shoes!
No noticeable difference in wear versus the Megagrip compound on my other Vibram soles, all which have held up over many, many miles thus far.
Midsole
As you would expect in a minimalist shoe, there's not much to talk about in the 3mm insole other than the fact that it's stitched into the shoe and therefore unremovable.
If a removable insole is a must for you, I would recommend taking a look at the Xero TerraFlex.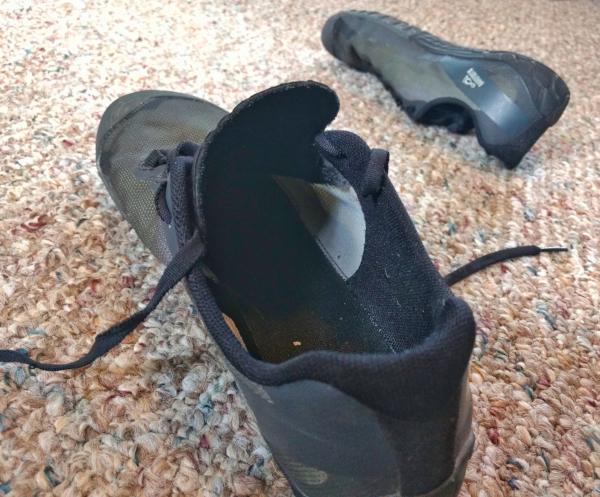 This version loses the rock plate/trail protection feature in other shoes from Merrell and instead sports the Merrell Barefoot 2 design for the midsole. Revel in the fact that the collapse of fancy midsole foam will not be the death of this minimalist shoe.
Although M Select™ FRESH antimicrobial agents are included to help reduce shoe odor, I would hold my breath if I chose not to wear socks with this shoe. Nothing particularly outstanding but made well enough to earn high marks.
Upper
On the lightweight chassis, you get a sturdy Cordura mesh upper with TPU reinforcements on the inside arch, outside pinky toe area and heel.
The Hyperlock™ heel counter is subtle and effective at providing just enough stability for your heel. No heel cup here.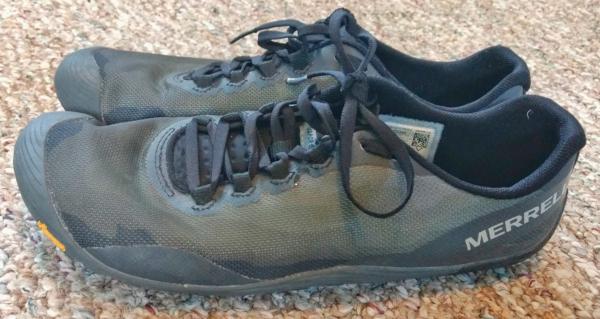 I had a small fit issue with my heel moving around but a heel slipping lace adjustment quickly solved the problem. Check out RunRepeat's YouTube channel for a plethora of videos that detail lacing techniques before deciding any shoe just doesn't fit!
Normally a traditional lace closure with such a minimal upper is room for concern, however, the Cordura mesh is uber strong and offers exceptional breathability.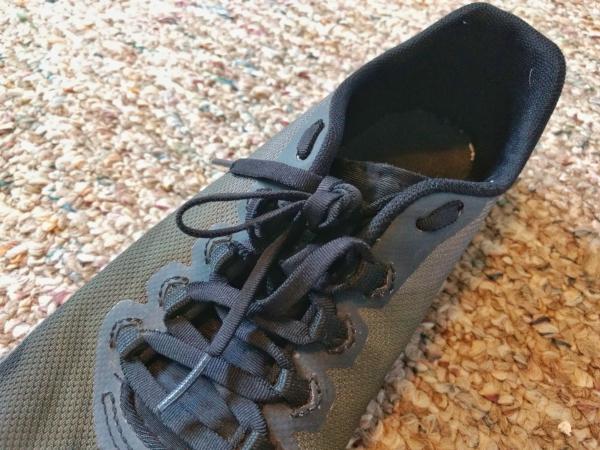 A roomy toe box allows for plenty of splay and a sockliner feature around the ankle adds a touch of comfort without restricting the joint's movement.
I did miss the burrito tongue closure sported by the trail Glove cousin but rest assured there is enough padding to offer protection and comfort without the bulk.
Fit
Since I couldn't find these shoes locally, I ended up having to order online and found out I needed a half size down from my Trail Glove 4 size.
Do yourself a favor a do a proper measurement of your foot before ordering these shoes - check the Japan shoe size which is just a centimeter measurement of the foot - before hitting the buy button on these shoes if you're ordering online.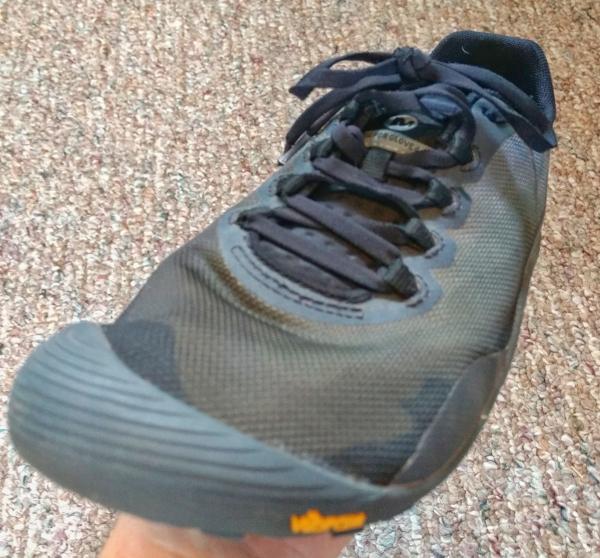 The Barefoot 2 execution on the midfoot comes out a little loose if you're used to a snug, arch wrapping support.
Despite these concerns, I never really noticed a huge detrimental impact on my running and I even suspect the slight differences in design from other barefoot shoes helped strengthen the little bones and muscles in my feet even further. Lower marks for the initial hassles for an otherwise great fit.
Gait Cycle Performance
With the shoe weighing in at 6oz and sporting a 6.5mm stack height, it should come as no surprise that your body is expected to do most of the work in this shoe. You're unable to overstride as it will be rather painful in this shoe.
I did notice that the front half of the foot has a slightly muted proprioception during foot strike and toe-off with the closed toe when compared to a Vibram Fivefinger and having free little piggies.
The shoe is ultra flexible and responsive for the support/midstance phase of your stride.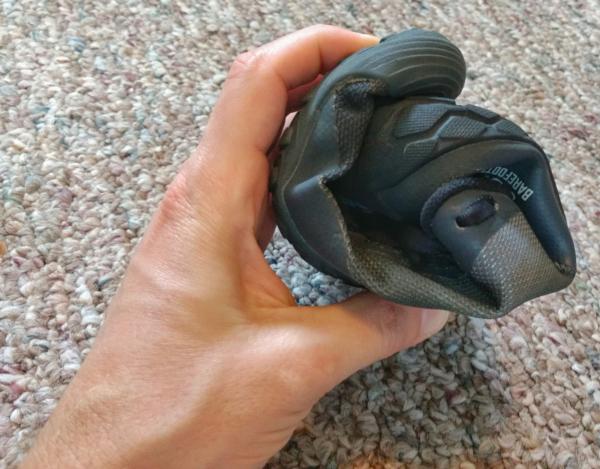 The natural flattening of your foot and plantar flexion of the muscles in the back of your leg provides the second half of the power needed in your running gait naturally...without much aid from this shoe.
If you're new to barefoot running try and watch a couple of videos and let this sink in before running multiple miles in this shoe. You will get a feel for running in these shoes quickly, just don't overdo it once it clicks!
Uses
The Vapor Glove 4 excels for everyday road use and well-groomed trails. You will need to be very aware if you're using these shoes on rough terrain as stepping or kicking big stones and roots can hurt.
On the roads, I suspect outsole durability may be the factor limiting the lifespan of these shoes, but the outsole will certainly outlast the midsole foam in an average running shoe. Gym workouts and easy treadmill miles are smooth.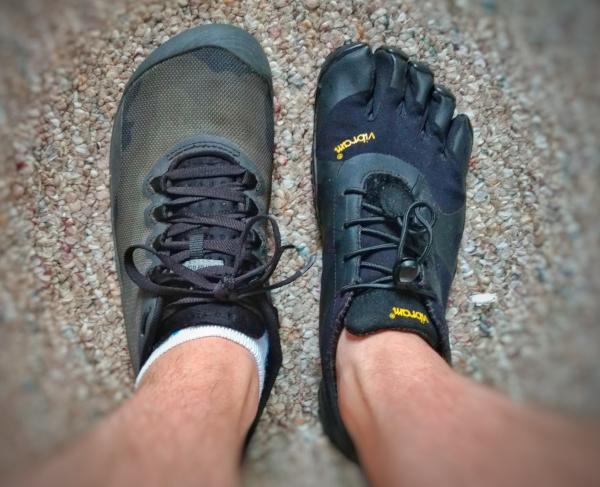 Basically, I use these shoes interchangeably with my Vibram V-Alpha's for track repeats, my local sandy running trails and generally whenever I want to be conscious of my form and mechanics.
You will get a ton of ankle and foot strength if you use these shoes properly and I can't recommend them enough if you're willing to take the mileage hit to get a proper transition into barefoot running.
For those already transitioned, definitely grab a pair of these as a closed toe go-to shoe for your runs as well as most cross-training activities.
Pros
Incredibly lightweight and barely noticeable
Spacious room throughout the entire shoe
Exceptional flexibility and responsiveness
Resistant, dependable upper
Grippy soles that seem very durable
Cons
Missing the TrailProtect from previous versions or Trail Glove series
Insole is integrated and not removable
Potentially too much space in heel/midfoot and sliding of the foot
Missing a heel tab to help get it on
Wondering if a bit more arch support could come from instep/lacing TPU overlays
Final thoughts
A commendable minimalist, zero-drop trainer the exceeds as at providing the right amount of protection and proprioception that is needed to run without cushy, springy midsoles.
The shoe delivers a lot of value for its $80 price point and should last many, many miles before needing replacement. For road and light trail use it's a gem and you could probably keep yourself out of trouble on some serious trails if you're careful.
I've been looking at this shoe for quite a while now, I'm not gonna lie, but when I think of Merrell, I think of middle-aged people buying shoes in Sports Direct.
Nothing wrong with Sports Direct, of course—I buy my kids shoes there. But, when you want something more specialist, it might not be the first place you go. But, anyway, I'm going off course…
So, here I am now, a middle-aged woman, I've only gone and bought my first pair of Merrell, and I wonder why I ever had those ridiculous thoughts in my head!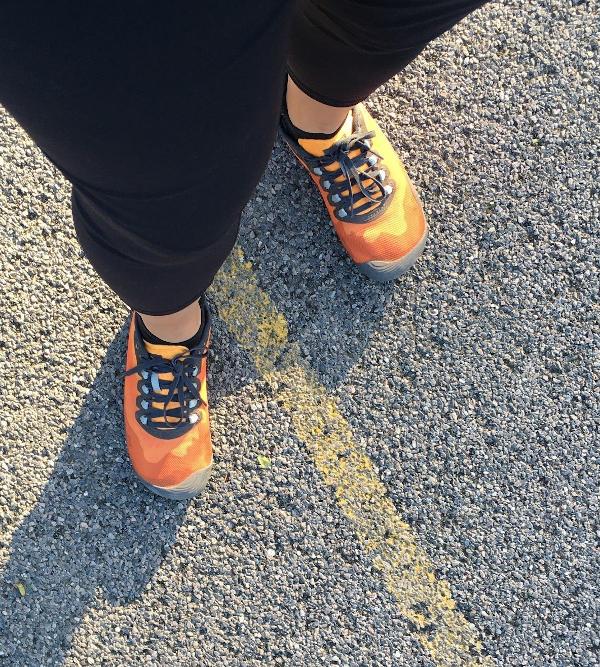 Styling and comfort
I found the shoe really attractive, and I was intrigued by how it fitted. I've tried on other similar brands like Vivobarefoot. And, I have to say, this pair of shoes has the looks and comfort to kick Vivobarefoot butt out of the barefoot community.
For me, there was no breaking in period. It fitted like Cinderella's glass shoe.
I found them very comfortable to walk in and surprisingly not too bad to run in. I do like the barefoot feel, but I understand it might not be everyone.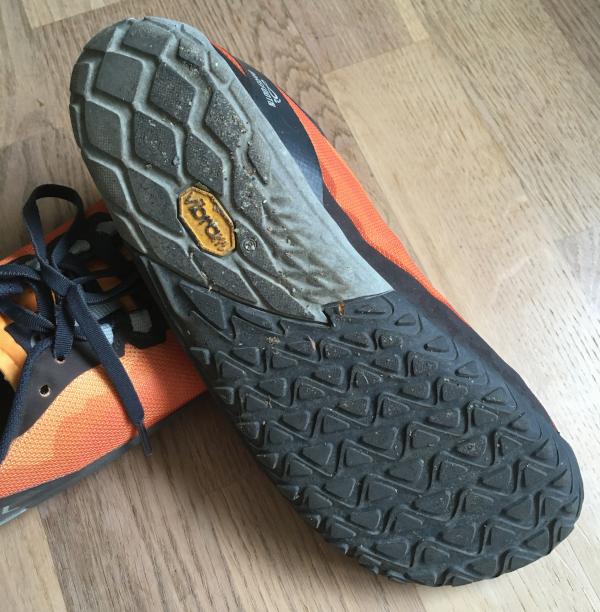 And, after doing my first long walks in them for 4hrs, in the back of my head, a little bit more cushion might have helped my museum feet. But hey, I am training my feet to be stronger again.
Upper
The material they use on the upper (Cordura® mesh and TPU upper) is flexible, comfortable and looks like some you can easy-care for. It is something you can just do a quick wipe, and it's clean.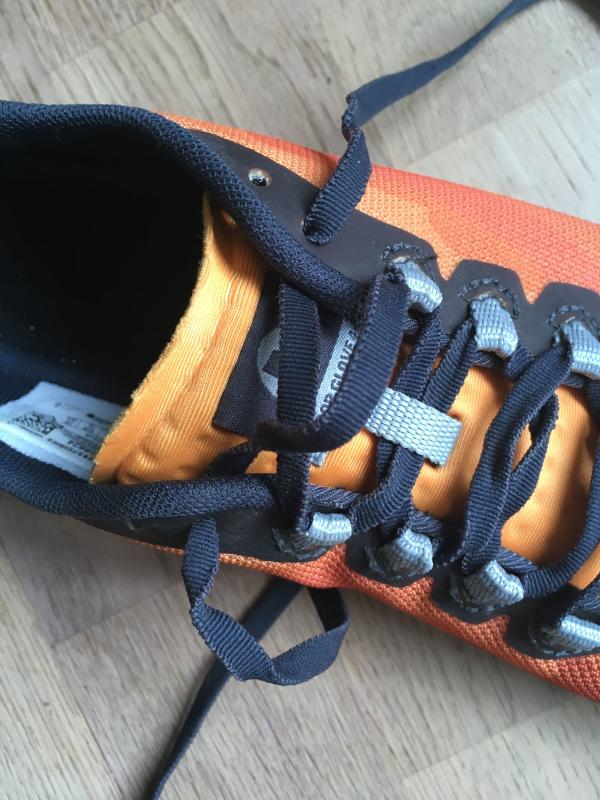 Wide toe box
I am impressed with the feel of the shoe. I like the way the shoe hugs my feet and, more importantly, be comfortable enough to accommodate my bunions.
I realised all these years now that enough is enough with tight-fitting toe box shoes. I needed to wear more wide fit shoes. And, although this shoe doesn't class itself as wide per se, it does have a more foot shape toe box to encourage toe splay.
And when my bunions are happy, I'm happy.
Flex
The shoe is extremely flexible. You can roll them up, or fold them flat, and fit them in tight spaces in your luggage. I would say this would be a perfect travel shoe if you wanted to travel light.
I also do like the Vibram sole. It feels grippy, so I'd even tried them on to do some skateboarding, which felt great. There's little between you and the ground, and you will feel small stones or the unevenness of the surface.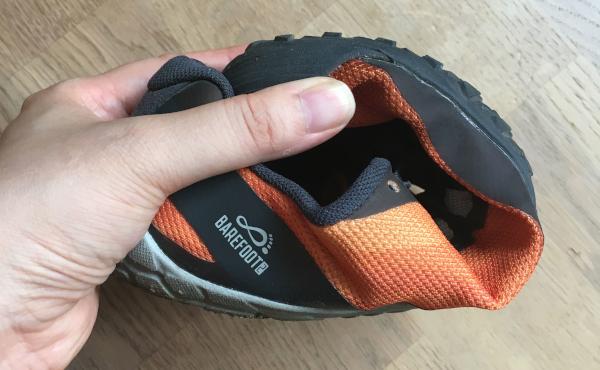 But, for me, I quite like that. It gives me a connection to the ground, which I like.
Variation
It does come in a wide variety of colours. My favourite is the orange tone.
My husband commented on the pattern on the shoe and asked me if it was sweat on my shoe. I said no, it's the gradient pattern, which I actually quite like.
Pros
Sporty styling
Lightweight
Flexible
Nice colourways
Cons
I'm not too keen on the stretchy laces. I don't know whether it's my pair that I got, but they didn't look fresh out of the box new. They're kind of a bit crinkly. But it's not a deal-breaker, and I would still purchase these again.
The stitching underneath where the tongue sits irritated and scrapped the top of my left feet when I wore it barefoot. It would have been nice, as the name suggests its barefoot, that you could wear it barefoot. But it's ok. I could wear socks to combat that issue.
Good to know
The outsole unit of the Merrell Vapor Glove 4 uses the Vibram® TC5+, a layer that is tasked with becoming both the midsole and the outsole. The platform construction is cut down significantly to bring the foot as close to the asphalt as possible. The Vibram® technology is still protective against abrasion. It also doles out traction, a trait of a shoe that is highly essential for the quality of the run. TC5+ is an attribute that is used in many Merrell products like the Trail Glove line.
Traction nodes litter the surface of the external pad. These mild protrusions are designed to heighten the gripping capacity of this running shoe. The angular edges of each tread-pattern affect the steadiness and confidence of every step.
Flex grooves permit the platform to bend and move in conjunction with the foot as it transitions through the gait cycle. The flexibility also allows this shoe to be stowed away in a bag without using a lot of space.
Underfoot cushioning is not the most substantial element of the Merrell Vapor Glove 4, particularly since it is not made to exhibit the best underfoot support. Only the outsole and an integrated insole are used for the protection of the foot-pad. Optimal balance and performance are responsibilities that are transferred to the runner. Running shoes that accommodate barefoot-like adventures have such descriptions.
Proprioception is the way the foot perceives the ground and balances itself to meet the comfort and performance needs of the runner. The Vapor Glove 4's Barefoot 2 construction, a curved platform and a cradle-like outline that mimics the foot-pad, encourages proprioception.
Condura® is the fabric that is used for the upper unit of the Merrell Vapor Glove 4. This textile is touted to maintain breathable and form-fitting support. The difference between this material and the typical mesh is the touted durability. Condura® is advertised as a sturdy layer that is resistant to abrasion and tearing.
The inner sleeve is a smooth lining that wraps the foot seamlessly. It has tiny pores which preserve the breathable aspect of the facade.
M Select™ FRESH is an antibacterial feature that graces the inner sleeve. This technology prevents odor-causing microbes from affecting the health and cleanliness of the foot-chamber.
The Hyperlock™ technology is a strip of thermoplastic polyurethane (TPU) that is printed onto the heel of the Merrell Vapor Glove 4. The purpose of this layer is to lock the foot in place and prevent accidental shoe removals.
A traditional lacing system graces this product, which makes use of flat laces that snake through fabric loops on the eyestays. These elements work together to provide a snug yet secure coverage. The isolated structures of the lace-loops are meant to prevent hot spots from cropping up with the tightening of the fit.
How Vapor Glove 4 compares
Corescore: 57-60
4 shoes (0.47% of shoes)
Corescore: 61-63
7 shoes (0.83% of shoes)
Corescore: 64-67
13 shoes (2% of shoes)
Corescore: 68-70
10 shoes (1% of shoes)
Corescore: 71-74
49 shoes (6% of shoes)
Corescore: 75-78
112 shoes (13% of shoes)
Corescore: 79-81
164 shoes (19% of shoes)
Corescore: 82-85
235 shoes (28% of shoes)
Corescore: 86-88
145 shoes (17% of shoes)
Corescore: 89-92
103 shoes (12% of shoes)
Corescore: 93-93
1 shoes (0.12% of shoes)
Price: £40 - £60
66 shoes (8% of shoes)
Price: £60 - £90
187 shoes (22% of shoes)
Price: £90 - £110
153 shoes (18% of shoes)
Price: £110 - £130
225 shoes (27% of shoes)
Price: £140 - £160
111 shoes (13% of shoes)
Price: £160 - £180
53 shoes (6% of shoes)
Price: £180 - £200
32 shoes (4% of shoes)
Price: £210 - £230
5 shoes (0.59% of shoes)
Price: £230 - £250
8 shoes (0.95% of shoes)
Price: £250 - £280
3 shoes (0.36% of shoes)
Weight: 100g - 133g
6 shoes (0.85% of shoes)
Weight: 134g - 166g
13 shoes (2% of shoes)
Weight: 167g - 200g
37 shoes (5% of shoes)
Weight: 201g - 234g
104 shoes (15% of shoes)
Weight: 235g - 268g
174 shoes (25% of shoes)
Weight: 269g - 301g
186 shoes (26% of shoes)
Weight: 302g - 335g
121 shoes (17% of shoes)
Weight: 336g - 369g
48 shoes (7% of shoes)
Weight: 370g - 402g
11 shoes (2% of shoes)
Weight: 403g - 436g
2 shoes (0.28% of shoes)
Weight: 437g - 437g
1 shoes (0.14% of shoes)