The Solimar is a completely new shoe from Hoka, and a different one, given that it sits at the intersection of different sports—just like the also brand-new Hoka Kawana. It's a compelling hybrid that can easily switch from a gym session to a 10k run on the road, or even just a walk in the city. It's partly made with recycled materials and considering that it's a HOKA, even the relatively low price tag is unusual and very welcome.
Pros
Versatile for different activities
Breezy upper
Comfy interior padding
Grippy even on wet
Smooth and pleasant ride
Great stability
Lightweight
Affordable for being a Hoka
Cons
Too firm for some
Narrow toebox
Lacks cushioning for longer runs
Who should buy the HOKA Solimar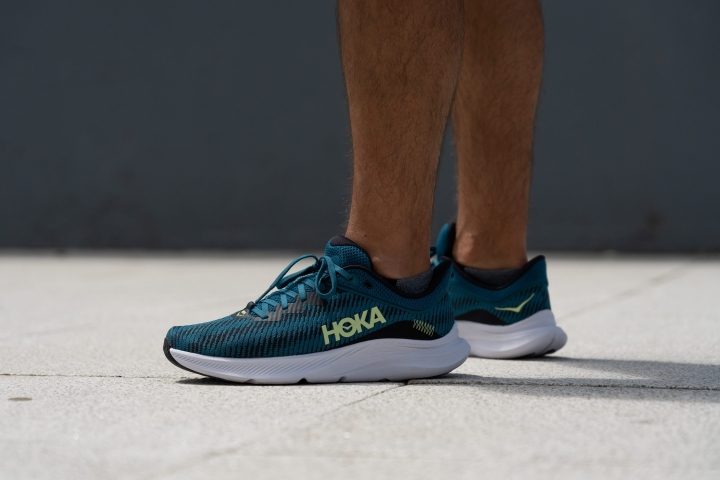 Get it if you are after a good quality shoe that can do a bit of everything. Being both light and stable, it's perfect if you are a gym goer who does some running, as long as you keep your runs short distances and you don't mind a firm feel underfoot.
Who should not buy it
Don't consider this shoe if you:
like softer shoes. Get the HOKA Clifton 9 instead
run long distances. In that case, the more cushioned HOKA Rincon 3 is a better choice for you.
A jack of all trades
Contrary to what Hoka has done before, in this case, we have a shoe that is categorized as a cross-training model, for running, walking, and gym workouts.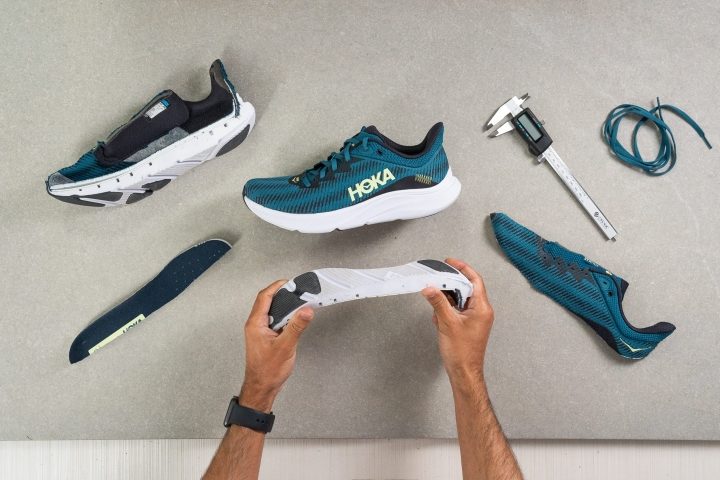 Without being exceptional in any of them, those who tested the shoe found it good enough to tackle all these tasks, and also as a lifestyle shoe. Probably, one of the best do-it-all shoe in the market right now, if not the best.
Incredibly tough, breathes easy
This upper is described by a tester as "rather breathable and comfortable." Another tester said: "Whether I was on the treadmill or the pavement, this shoe offered unparalleled breathability."
Fact check
Our eye-popping breathability test verified those claims. Despite the use of thick and comfortable knit, the Solimar impressively evacuates hot air through the toebox with surprising efficiency. The difference when compared to the run-of-the-mill
Adidas Runfalcon
is truly remarkable."
With the light test, it becomes clear just how Hoka nailed it, delivering top-notch breathability even with a plush upper. There's a clever design here, letting air flow around freely while keeping your feet cozy inside, making this shoe a true all-season workhorse."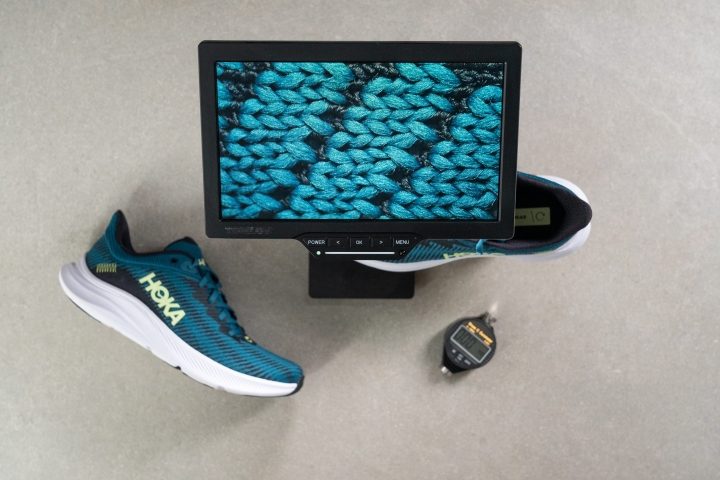 As you can observe in our microscope shots, there's an alternating pattern of thick blue knit and thinner black knit arranged diagonally. It's fascinating to examine it up close and to understand why it's so breathable.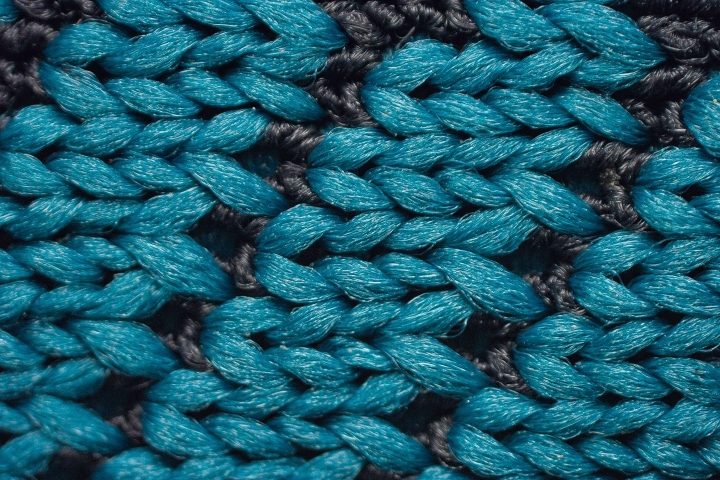 But hang on to your hats, because it's about to get even better. Let's talk durability.
In our standardized Dremel test, where we apply the same abrasive force to each shoe for 4 seconds, the Solimar demonstrated it's second-to-none in terms of durability among versatile daily trainers.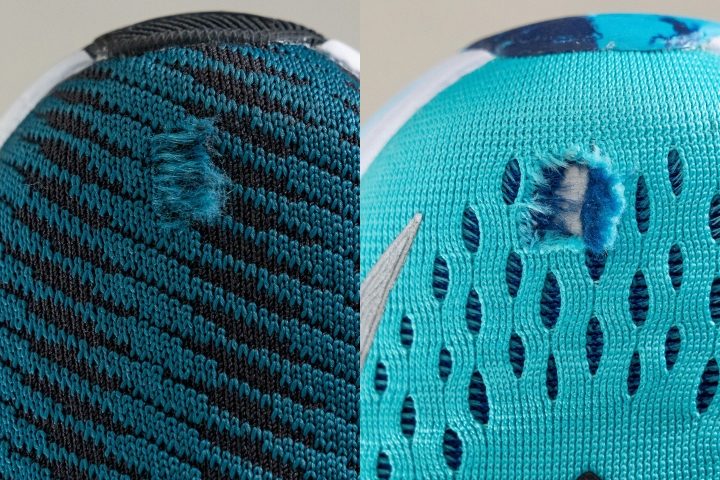 When compared to the Hoka Kawana (pictured on the right), the difference is simply astounding. A large hole is noticeable in the latter, while it's pretty clear that the knit used in the former it's in a league of its own.
The heel also demonstrated remarkable durability. It's evident that this shoe lasts as long as possible and withstands a variety of workouts.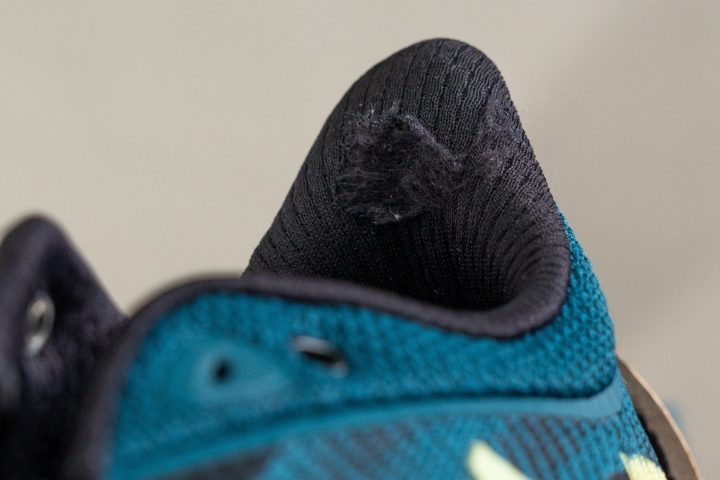 Snug and short, yet comfy
The knit in the toe box is stretchy and the interior padding, according to another experienced runner, "was very comfortable." During his tests, he had no rubbing at all.
Fact check
After our manual exploration, we can confirm that Hoka went all-out to provide comfort. It's rare to see that amount of padding in the heel for a low-weight shoe. It looks like a pillow!
On the other hand, testers had no doubts about this—the fit is quite narrow. Or as a runner said, it is "a very narrow and slim experience," to the point that his foot was "a little bit cramped."
Yet, the same expert stated that his tests were "a very pleasant experience," and other reviewers agreed that, overall, it is a very comfortable shoe.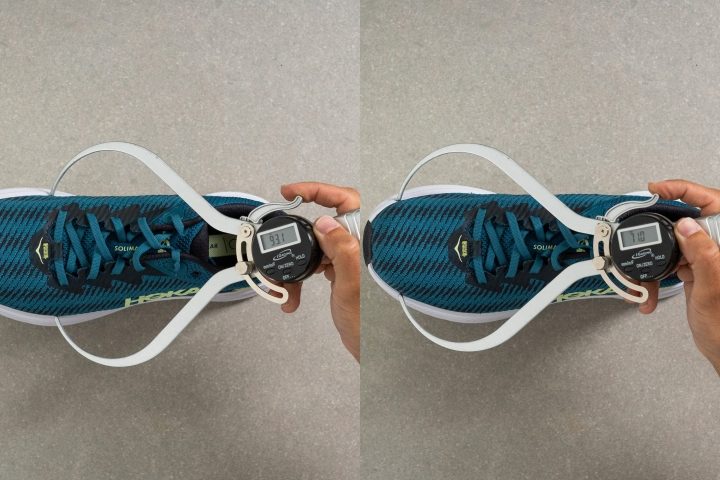 Fact check
In fact, after carefully measuring the upper, we have no choice but to say that it's really narrow.
To gauge the fit of this shoe, we'll compare its dimensions to those of other daily trainers on the market, some of which are known to be part of the NUC or "Narrow Upper Club."
In any case, for those who might find it not large enough, there's a wide version available, which it's interesting given the fact that the shoe also runs short. As a result, if you often find yourself torn between sizes, it might be a smart move to go a half size up this time.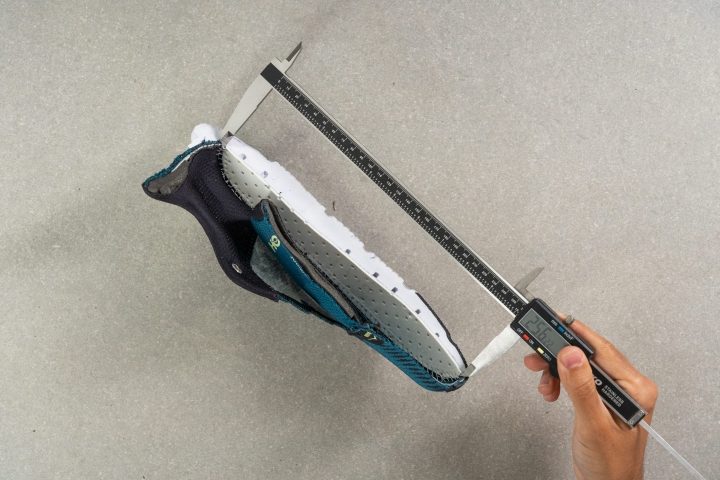 For a US size 8, the Solimar measures up at 256.2 mm. That's nearly 4 mm shy of the 260 mm that Hoka claims on their official sizing chart.
Solimar feels smooth, but a tad too firm
As mentioned before, this is not a typical HOKA shoe. When running, it gives a rather firm feel underfoot, which some testers found a bit too harsh. That's because Hoka is not using ProFly+ foam like in the Mach 5, but a cheaper and firmer CMEVA midsole.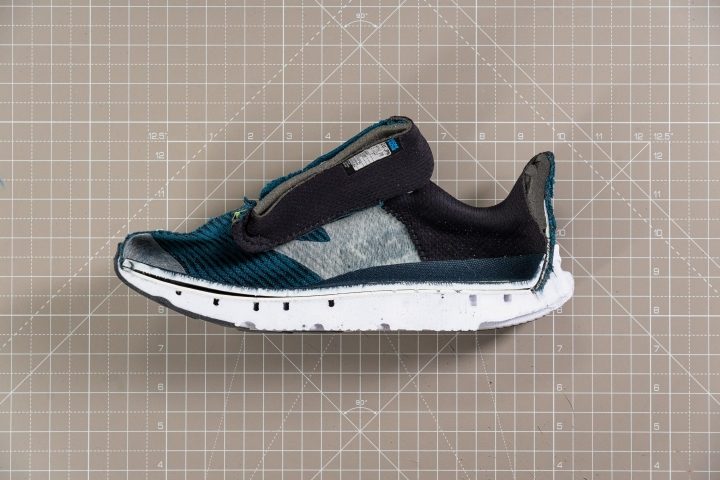 However, even though the midsole lacks some energy return, it felt quite balanced and suitable for picking up the pace a little bit. As other testers put it:
"definitely didn't feel sloppy or slow"
"it had a nice smooth flow to it"
"it was a nice fluid movement."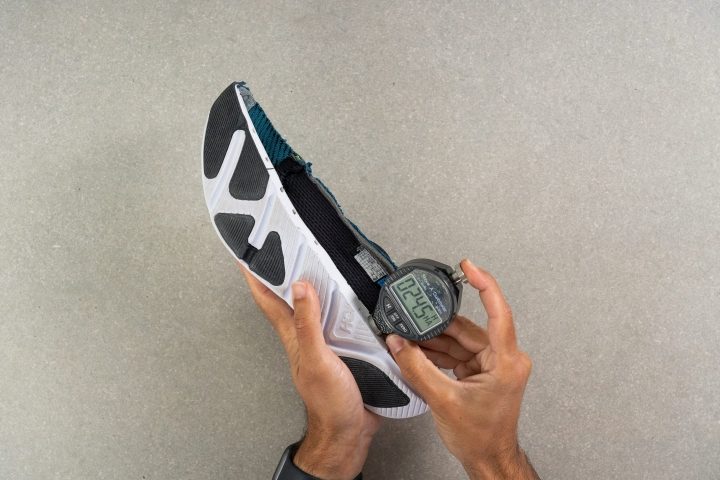 Fact check
We clocked the midsole at 24.6 HA—what we think it's a balanced cushioning. However, it's noticeably firmer than most Hoka shoes. For instance, it's 21% firmer than the Clifton 9 and 15% firmer than the Kawana. As a result, Hoka aficionados might perceive this as a moderate-to-firm shoe.
This shoe strikes a fine balance between flexibility and rigidity. It's flexible enough for everyday training during slow and easy runs, yet rigid enough to provide stability during gym workouts or casual hikes. As demonstrated in the video above, we rated it a 3/5 for torsional flexibility and 2/5 for longitudinal flexibility.
Disclaimer: we take an average of 4 measurements and remove any outliers. This video shows just one of our measurements.
Moreover, in our 90-degree bend test, the Solimar required 60% less force than the median.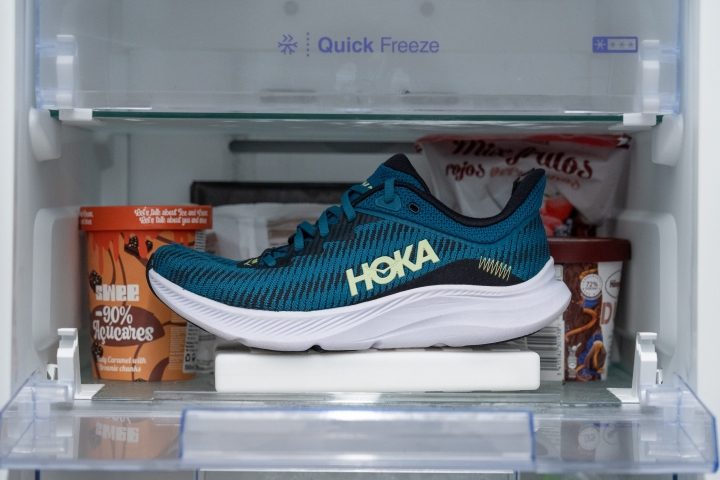 Unfortunately, the Solimar has a catastrophic behaviour under cold temperatures. Nor that we weren't expecting that, being a EVA-based foam and based on multiple reports from users.
Fact check
After spending 20 minutes sitting in our freezer, it gets a bone-chilling 75% stiffer and 41.5% firmer. For instance, the Saucony Tempus does it by 23.3% and 14.9%, respectively
Pick another one for the long runs, please
This shoe provides "a nice level of impact protection" when used at the gym or for walking. But when used as a running shoe, as a tester underlined, it didn't have "any sort of benefits for protecting your legs." The CMEVA midsole it's just not good enough.
After a 14k run, his legs "didn't feel great" and it was clear that for longer workouts most runners would need more cushioning underfoot.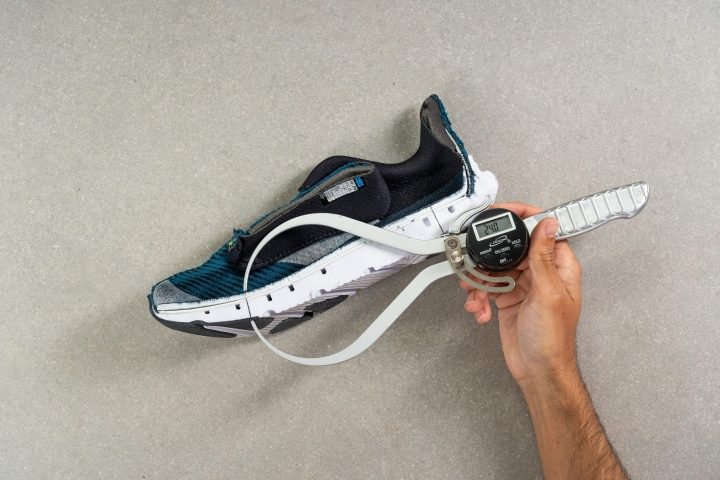 Some may be misleading because of the 24.0/30.4 mm stack height, but as we explained in our in-depth guide about midsoles, the quality of the foam plays a greater role in leg protection. The Solimar doesn't have that feature, which is totally reasonable given its MSRP.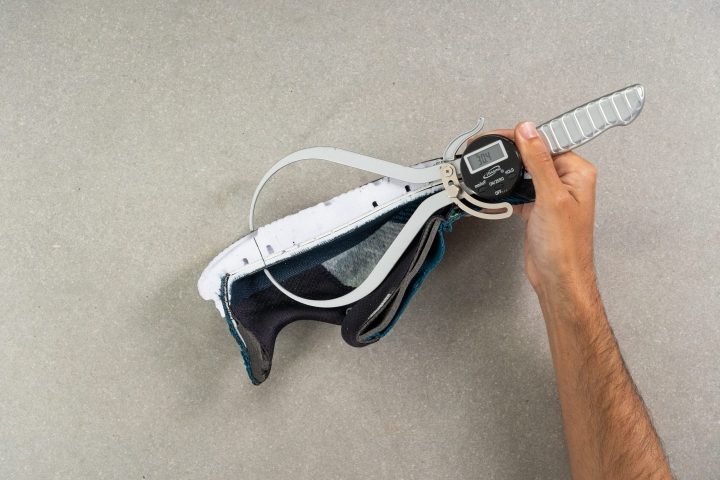 If you want a summer-ready shoe that's capable of being used for long runs, casual wear and gym workouts, pick the ASICS Novablast 3.
It's light and feels even lighter
The weight department is another one where the Solimar does a terrific job. At 232g, we consider it a fantastic result considering that the average weight for a road running shoe is 265g.
Fact check
The Solimar is a whopping 23% lighter than its main competitor in the Hoka lineup, the Kawana. That's a truly out-of-this-world figure, as we aren't accustomed to seeing such significant weight differences.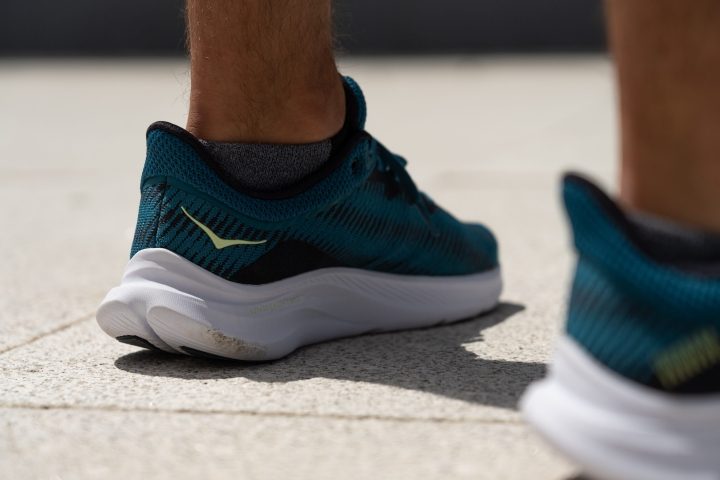 Plus, according to an expert, when running "it does feel like a lighter shoe." Another expert noted: "I firmly believe the best running shoe uppers disappear off your feet, and the Hoka Solimar does that." Amazing work in this regard, Hoka!
Secure lockdown despite non-gusseted tongue
The only issue reported by a tester on this aspect was that he had a little bit of a heel slip, which can be caused by the flexible heel counter. However, it just needed to adjust the laces to fix it, and the same runner added that in the end there was "a solid lockdown through that midfoot section."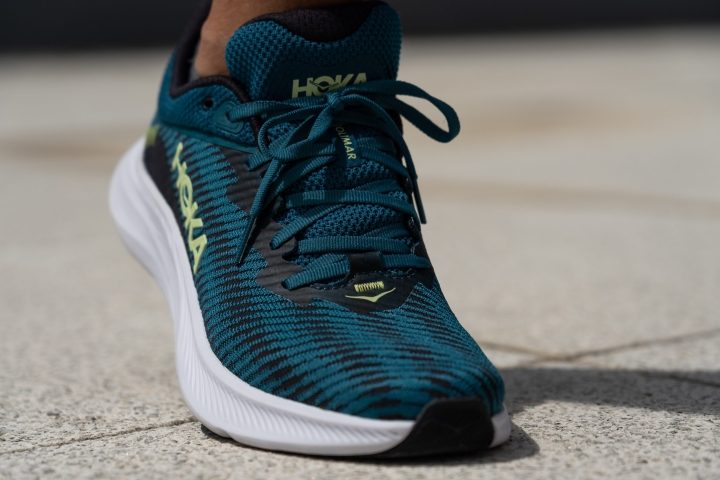 Being a versatile shoe, it's totally reasonable to get a non-gusseted tongue, although it will mean that for some runners the lockdown won't be as good as in other shoes.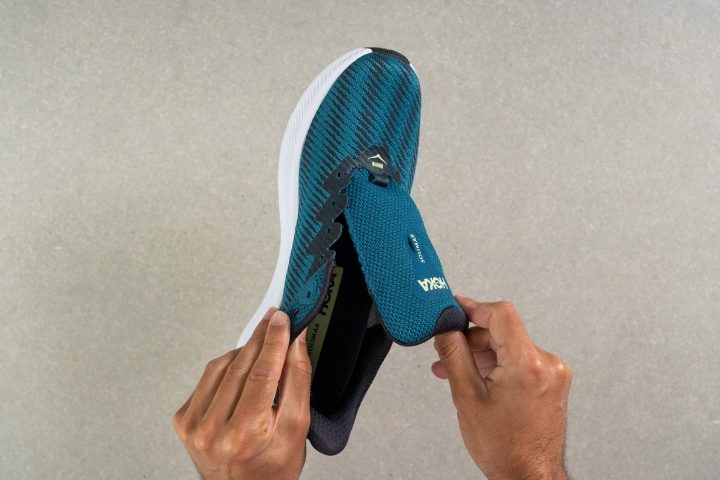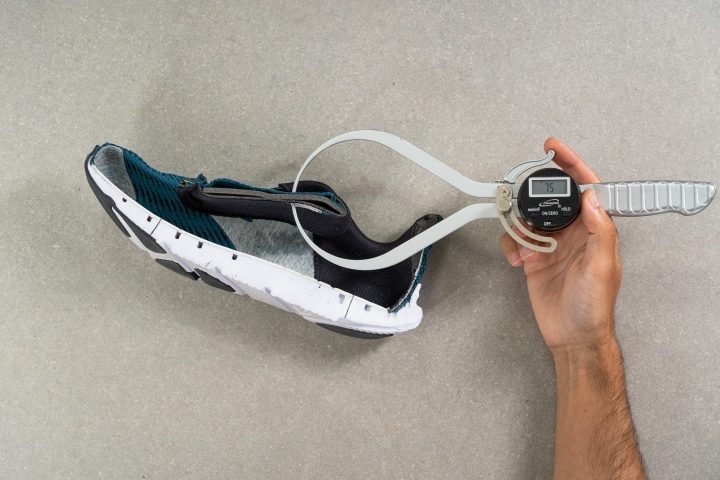 And speaking about the tongue. It's classic Hoka—super thick and cozy. In fact, we clocked it at 7.5 mm, making it a whopping 29% thicker than your average shoe tongue!
Solimar is a stable and slightly rockered shoe
As an experienced runner pointed out after trying the shoe on, it "feels very stable," and this was confirmed by another expert who tried it both for running and gym sessions.
The landing platform of the Solimar is fairly typical, and does not specifically provide a race-ready or ultra-stable ride. In fact, it's only 1% narrower in the heel and 2% wider in the forefoot compared to the average road running shoe.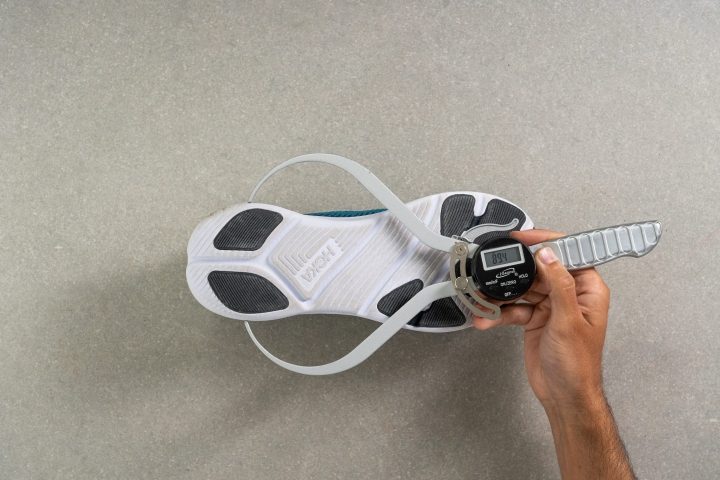 This is a Hoka we're talking about, so there's gotta be a bit of that rocker action, right? A tester said that "the rocker heel might be too much for some people."
Fact check
While it's not off-the-charts crazy, we verified that's definitely noticeable, especially for a laid-back daily trainer.
Unusual drop for a HOKA shoe
The heel-to-drop (or drop) is the difference in height between the heel and the forefoot. HOKA, until today, has always used a measure between 4 and 5mm for this kind of shoe, but in this one, we have a 6mm.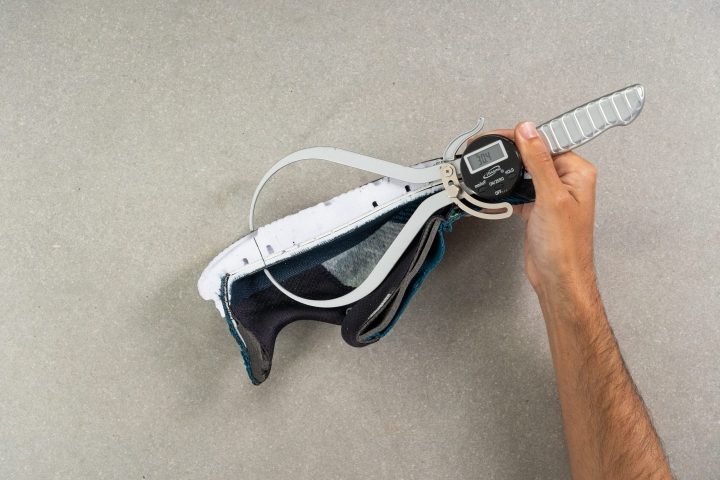 Fact check
Kudos to Hoka on this one! After our precise measurements, we conclude that the Solimar has a 6.4-mm heel to toe drop. That's 0.4 mm away from the official number, which is pretty close!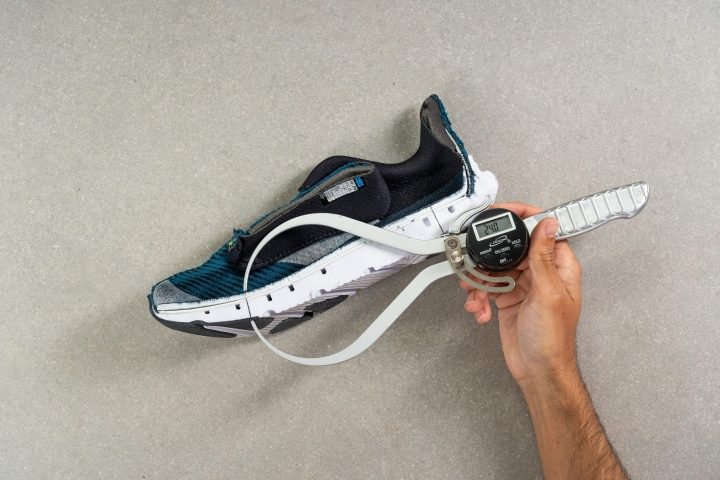 With its 6-mm heel-to-toe drop, this shoe boasts more versatility than your typical 4 or 5 mm options from Hoka. Plus, it eases up on your Achilles, steering clear of the issues that can be caused by low-drop shoes.
On the other hand, if you're thinking that 6 mm it's too steep for you, give Altra shoes a look.
Different even in the look
Reviewers liked the lean design that separates this shoe from many others of the same brand, which usually look bulkier and more cumbersome.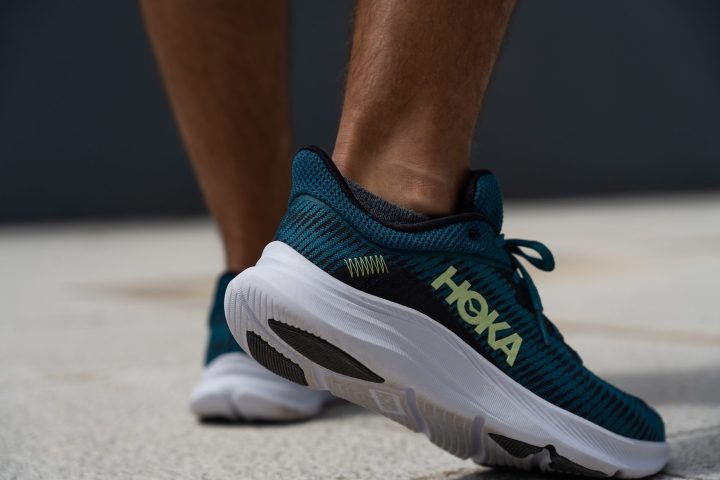 Good grip in the Solimar
An expert was worried about the grip, because, unlike many other shoes, there's quite a lot of exposed foam and not much rubber. But eventually, the outsole "got the job done" on the road.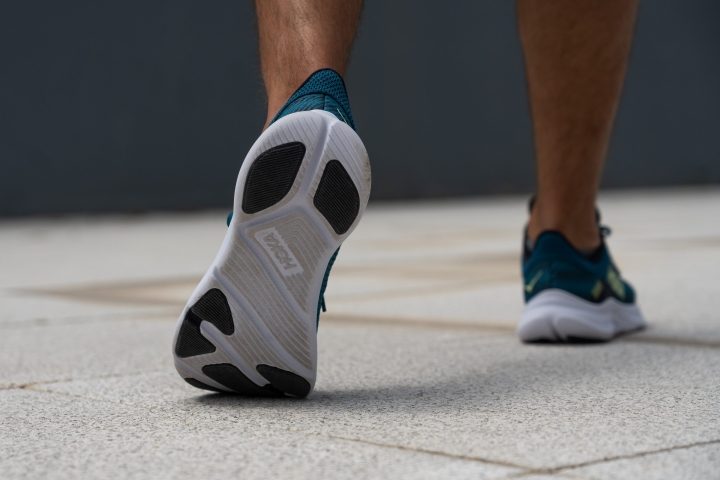 This was confirmed by another runner who found it good even on wet, despite sporting a harder-than-average rubber.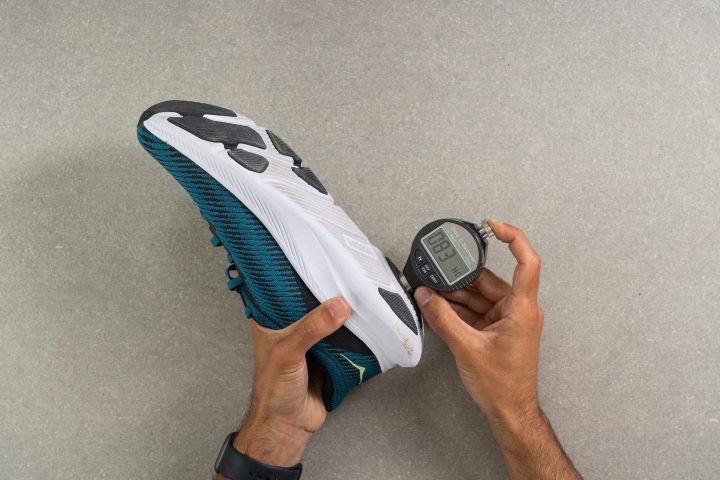 Disclaimer: We average four measurements and eliminate any outliers. This image depicts only one.
However, numerous users have expressed concerns about the shoe's durability due to the exposed foam.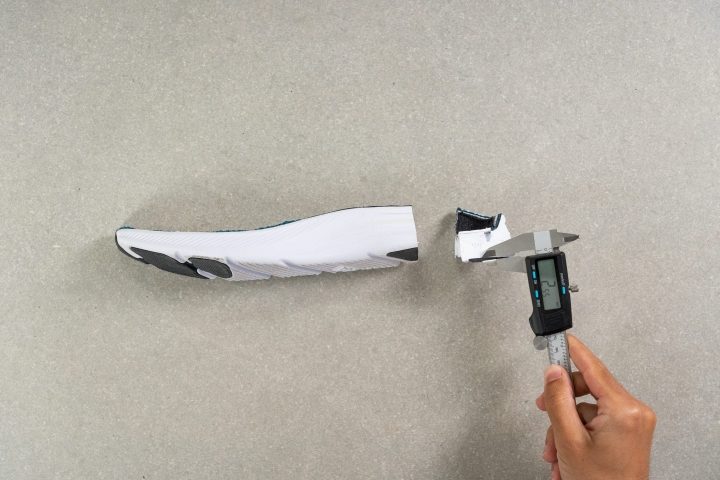 Fact check
It isn't just the substantial amount of foam in contact with the ground that's worrisome for us. In an effort to minimize weight, Hoka opted for an exceptionally thin 2.6 mm rubber layer. This is one of the thinnest outsoles we've ever measured in our lab, and it's likely to decrease the shoe's durability.
Solimar is wallet-friendly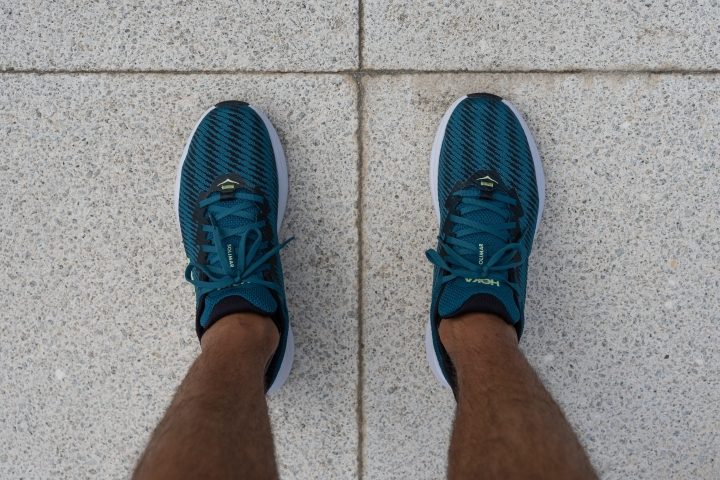 At $125 the Solimar is on the cheaper side if we consider that it's a Hoka running shoe, which usually has a price that ranges from $140 to $200.
Complete lab-specs overview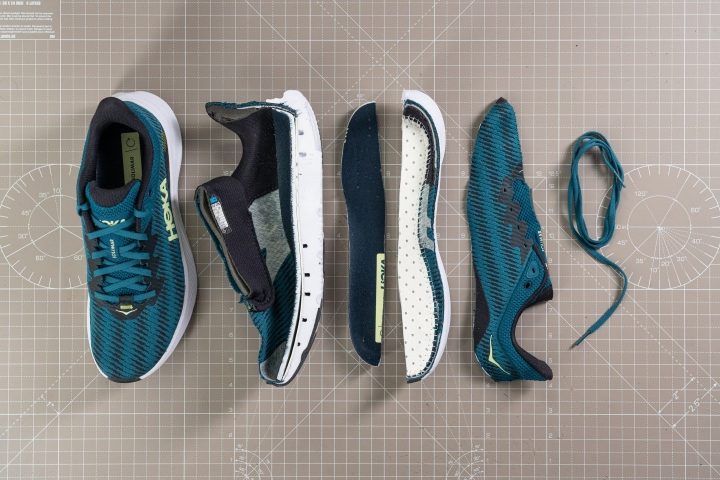 Hoka Solimar
Average
Whole shoe

Weight (g)
232*
262
Drop (mm)
6.4
8.6
Overall Internal Length (mm)
256.2 (mens US 8)
-
Flexibility of the shoe (N)
20.6
33.2
Flexibility of the shoe (Freezer 20 min) (N)
36.1
45.9

Flexibility of the shoe (% of change)

75.0%
44.8%
Longitudinal flexibility (1-5 scale, 5 being the stiffest)
2
2.9
Torsional flexibility (1-5 scale, 5 being the stiffest)
3
3.1
Upper

Thickness - Tongue (mm)
7.5
5.8
Width Upper - Forefoot: Max width (mm)
93.1
97.6
Width Upper - Forefoot: Big toe (mm)
71.0
73.1
Flexibility of the heel counter (1-5 scale, 5 being the stiffest)
2
2.5
Breathability - Smoke test (5 being the most breathable)
4
3.8
Tongue: gusset type
-
-
Heel: pull tab
-
-
Midsole

Width Midsole - Forefoot (mm)
110.2
112.5
Width Midsole - Heel (mm)
89.4
89.7
Stack - Forefoot with insole (mm)
24.0
24.6
Stack - Heel with insole (mm)
30.4
33.2
Durometer Midsole Heel (Room temperature) (HA)
24.6
25.0
Durometer Midsole - Heel (Freezer 20 minutes)
34.8
31.5
Durometer Midsole - Heel (% of change) (TEST)
41.5%
26.7%
Outsole

Outsole thickness (Heel) (mm)
2.6
3.4
Durometer Outsole Heel (Room temperature) (HC)
82.4
79.8
Insole
Insole Heel Thickness (mm)
5.1
4.4
Insole: removable
yes
-
*Disclaimer: The weight of the Hoka Solimar was originally measured in a men's US 8 (218g per shoe). To adjust the weight to a US 9, we used our proprietary formula which is based on the weight measurements of over 40 shoe sizes.