7 Best Marathon Running Shoes in 2023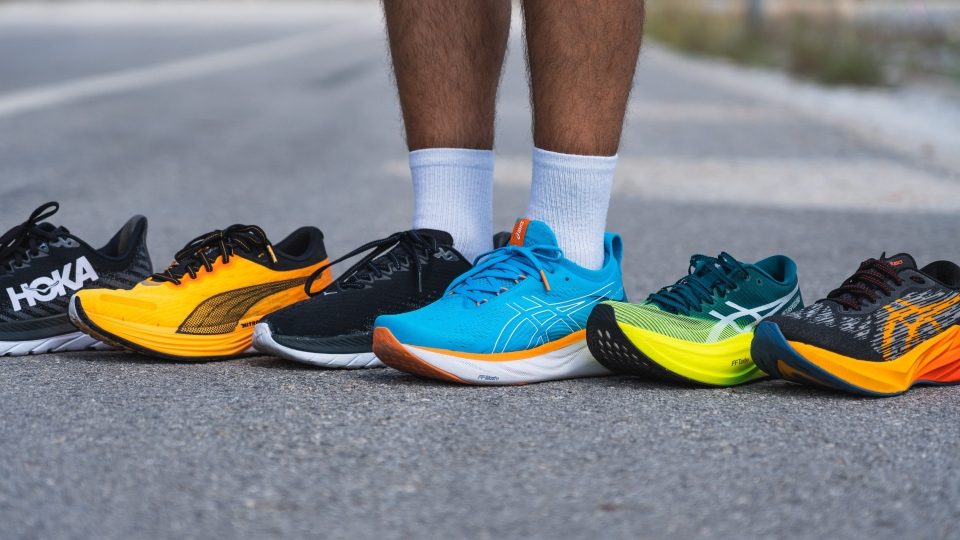 We earn affiliate commissions at no extra cost to you when you buy through us. Why trust us
Having a distance of 42 kilometers or 26 miles, a marathon is a long-distance road race. You definitely need more than just a comfortable shoe for this effort.
It might be a max-cushioned cruiser that helps you train for a marathon, or a carbon-plated speedster to shave off the minutes from your record, or a supportive shoe that won't let overpronation stop you from running 42K.
We have tested over 100 marathon-ready running shoes to make sure you have the best options.
And if you want us to literally guide you through the process of choosing the right marathon running shoe for you, scroll down to the guide section below.
How we test running shoes
How do we know which running shoes can get you comfortably through 42 km and maybe even set a new record? Here is our review process:
Our dedicated testers run at least 30 miles in each pair before delivering their feedback.
Every shoe gets sliced and measured at RunRepeat testing lab on over 30 different parameters. These help us translate features like durability, flexibility, cushioning, etc. into concrete data.
All tested shoes are purchased with our own money to prevent bias.
We also collect feedback from shoe experts, runners, and regular users from all over the web. Nearly 3,000,000 reviews have been taken into account for 850+ marathon shoes.
So how do we pick the best ten? The CoreScore.
Each shoe receives a number from 0 to 100 which reflects its overall performance based on all our learnings. The best-rated ones make it here.
Comparison of the 7 best marathon running shoes
| | | | | | | | | |
| --- | --- | --- | --- | --- | --- | --- | --- | --- |
| Best | | | | | | | | |
| CoreScore | | | | | | | | |
| Users rating | | | | | | | | |
| Experts | | | | | | | | |
| Best price | | | | | | | | |
| Ranking | | | | | | | | |
| Popularity | | | | | | | | |
| # of colorways | | | | | | | | |
4 things to look for in a marathon shoe
Many experienced runners are OK with finishing marathons in racing flats. If you're not an elite runner, light mesh and super thin foam won't help.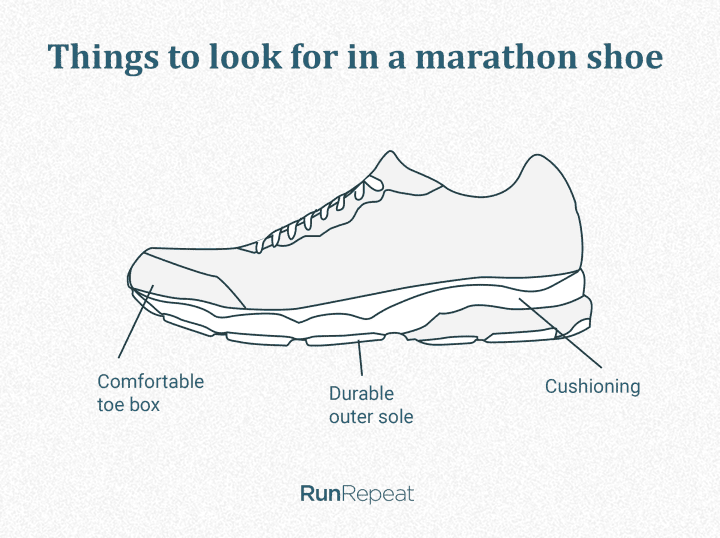 Comfort
Comfort above everything else. However hard you've trained for your marathon, you'll appreciate the comfort along the way.
The right shoe will feel like an extension of your foot.
Cushioning
Marathon is a long distance and pavement is unforgiving. Feet get tired and after a while, you'll want shoes that will go easy on you. This means you should look for cushioned marathon shoes.
Some of the advanced foams include Nike ZoomX, ASICS FlyteFoam, Saucony PWRRUN, etc.
To learn about cushioning technologies in detail, read our guide to best cushioned shoes.
Comfortable toebox
Snug shoes are great when you're racing, but marathon distance lasts long enough that your toes ask for more space. Plus, the extra space comes in handy when swelling happens. Look for medium or wide toe box marathon shoes.
There should be enough space to wiggle your toes freely.
Durable outer sole
If you want your shoes to last for more than a few long-distance runs, look for solid rubber rather than blown rubber. While rougher outsole might mean more weight, it's good to consider it, especially if running during summer on red-hot concrete or asphalt.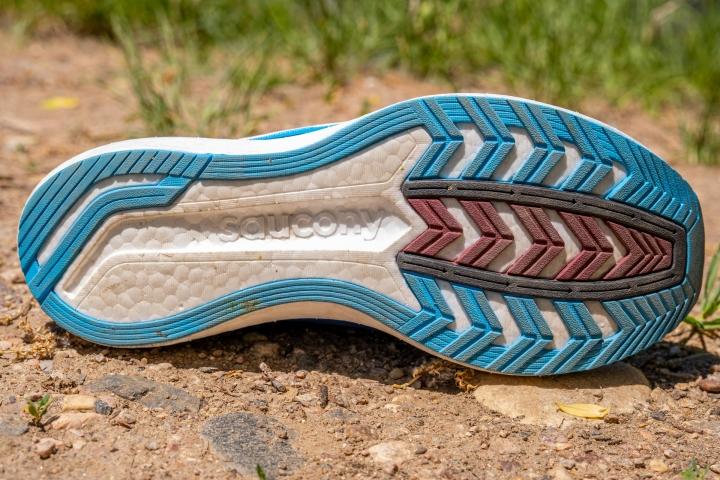 Saucony Endorphin Pro 2 has one of the most robust outsoles among elite marathon shoes.
If, during the preparation period, you feel the extra weight slowing you down, look for lightweight marathon shoes. Keep in mind that beginners tend to choose cushioned over lightweight shoes.
Break-in period for marathon shoes
You should never run a marathon in brand new running shoes. A general rule is to log at least 30-50 miles (50-80 kilometers) in them. Allow your feet to get used to the new shoes. This way you'll avoid unnecessary risk of getting blisters, pain and soreness, or even DNF status.
Are your current shoes good for marathon runs?
Stick to what already works.
Can you run long-distance sessions in them?
Are they comfortable?
Are you happy with how they feel and how you perform in them?
If you have 3 yeses here, you're ready to run a marathon in your current running shoes.
Most popular marathon shoes
Feels like for years there's been more marketing than true innovation when it comes to running shoes. Then these super shoes entered the scene, causing the biggest hype and controversy. The biggest change happened right in the midsole: they became thick and highly cushioned and got a rigid plate that maximizes runner's energy return.
Nike pioneered this movement with Vaporfly 4% and Next%, but soon others followed: Adidas Adizero Pro, Saucony Endorphin Pro, Brooks Hyperion Elite, etc. Even Hoka has seen a rise in popularity with their maximalist approach.

Nike ZoomX Vaporfly Next% 2 (left), ASICS MetaSpeed Sky (center), Saucony Endorphin Pro 2 (right)
We even looked at the winners, both women and men, of 6 biggest marathons (Chicago, New York, Berlin, London, Tokyo, Boston) in 2018 and 2019. 78% of them wore Nike marathon running shoes (mostly Vaporfly).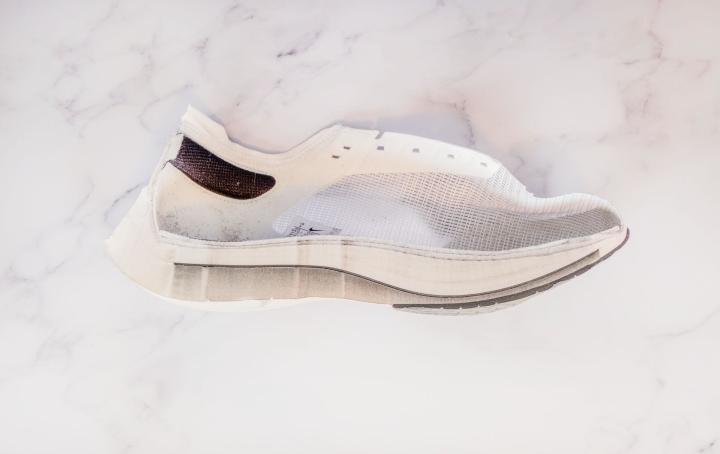 In the end, shoes make the biggest difference. Choose the right size, fit, features. Even if your motivation hits rock bottom, if chosen wisely, shoes will help you cross the finish line uninjured. They might even help you set a new PB.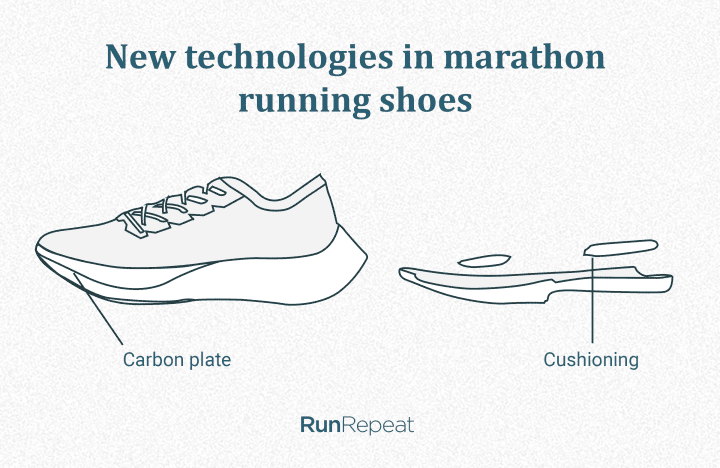 Keep in mind that these shoes come with the latest innovative technologies, which come at a price. Literally. Plus, these are all made for elite runners or people chasing a new PB. More important takeaway should be the importance of cushioning: all of these shoes are chunky!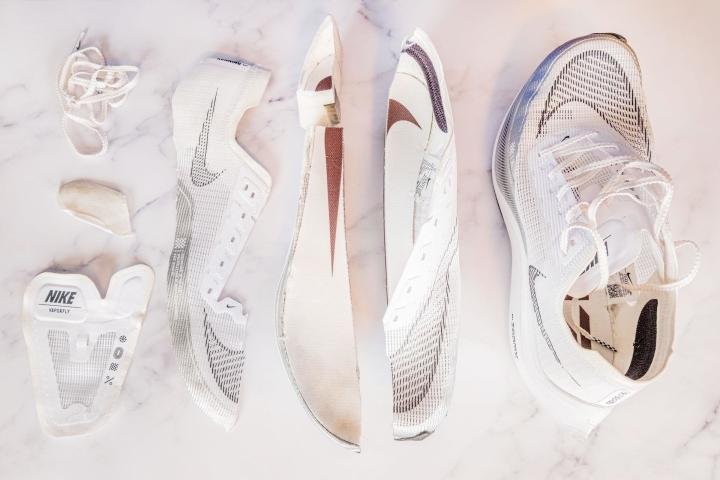 Marathon shoes vs. racing flats
Some runners tend to run marathons in racing flats. In general, these are intended for more experienced runners.
Racing flats are best known for minimal or zero heel drop, minimal weight and minimal cushioning. Lowering the values of these features might help, but only up to a limit.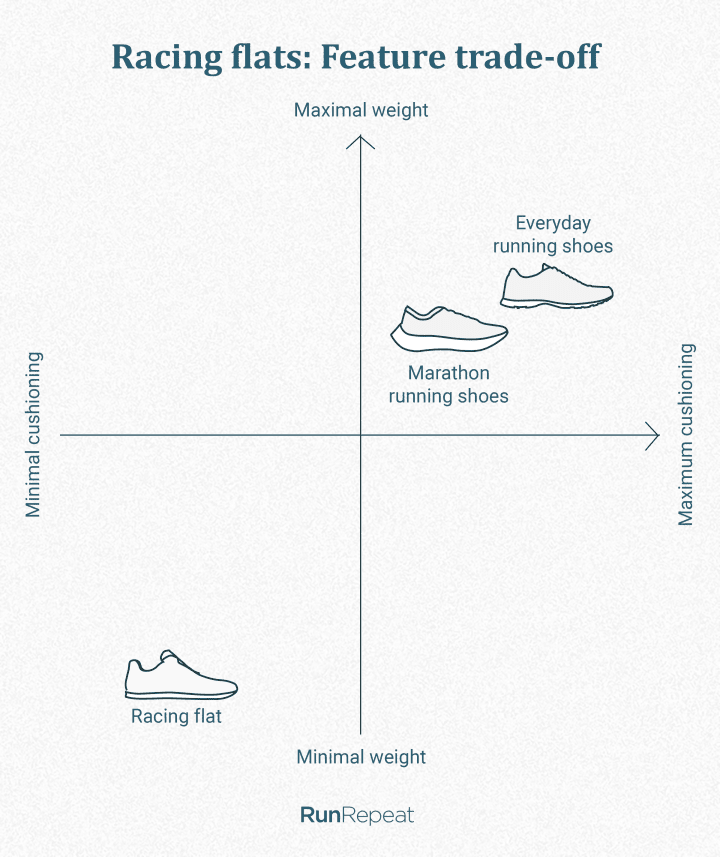 Should you run a marathon in racing flats? Yes, if:
Your current health allows you to give them a try - your feet aren't flat and your pronation is neutral so you don't need stability features and you have a good running form
This isn't your first marathon - the longer you run, the longer your body needs to absorb impact forces, which calls for more cushioning
You took time to adapt to their features
Keep in mind that not all elite runners choose racing flats. It's a matter of personal preference, so do your best to find the perfect marathon running shoe for you.