5 Best Lightweight Hiking Shoes in 2023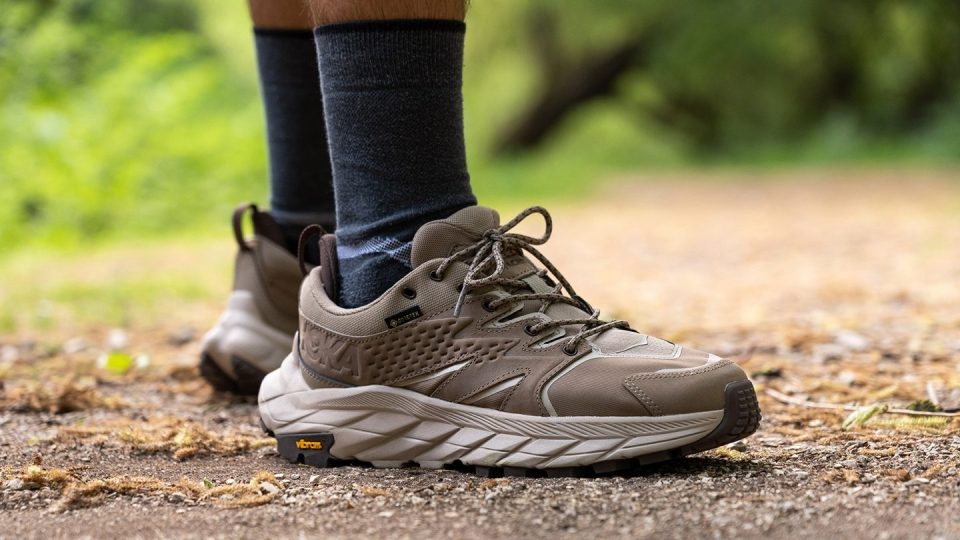 We earn affiliate commissions at no extra cost to you when you buy through us. Why trust us
The best middle ground of trail running shoes and hiking shoes are lightweight hiking shoes. What's not to love: they are light + offer rigid soles. In this guide, you'll find out which lightweight hiking shoes are the best and which features to look for when buying lightweight hiking shoes.
With over 100 light hiking shoes reviewed, we have selected the best and brightest in five different categories. Apart from being light, some shoes also boast excellent waterproofing for rainy days, some offer springy cushioning for speedy hikes, and some can drain water very quickly to let you walk through rivers and streams.
No matter what your priority is, we've got a recommended shoe for it.
How we test hiking shoes
Our review process is straightforward: we read reviews from 366 experts and 56,604 users on lightweight hiking shoes. Then we used our CoreScore system to aggregate reviews, while eliminating spam and weighing reviews of higher-level experts more. That's how we ended up with a collection of more than 200 lightweight hiking shoes that are ranked and can be sorted or filtered by your personal preferences.
Comparison of the 5 best lightweight hiking shoes
| | | | | | | |
| --- | --- | --- | --- | --- | --- | --- |
| Best | | | | | | |
| CoreScore | | | | | | |
| Users rating | | | | | | |
| Experts | | | | | | |
| Best price | | | | | | |
| Ranking | | | | | | |
| Popularity | | | | | | |
| # of colorways | | | | | | |
Features of lightweight hiking shoes
In the RunRepeat database, hiking shoes that weigh less than 500grams are considered lightweight.
We'll focus on features that set them apart from hiking shoes in general. Them, we've covered in detail in our guide on hiking shoes.
Lightweight. The whole point of these shoes is to be lightweight, so the extra weight coming either from hiking boots or regular hiking shoes is taken away. This lightweight feature definitely gets the spotlight on the longer hikes - with them you just might go further because your feet aren't as tired.
Stiff outsole. On average, these hiking shoes are less sturdy than traditional hiking boots, and sturdier than trail running shoes.
Shorter break-in period than in hiking boots and even regular shoes, because of the new materials used for the upper.
When looking at the whole feature set, it's best to compare it with other fellows from the trail footwear community. Here, we're looking at trail running shoes, hiking sandals, hiking shoes, and hiking boots.
How lightweight hiking shoes compare to other hiking footwear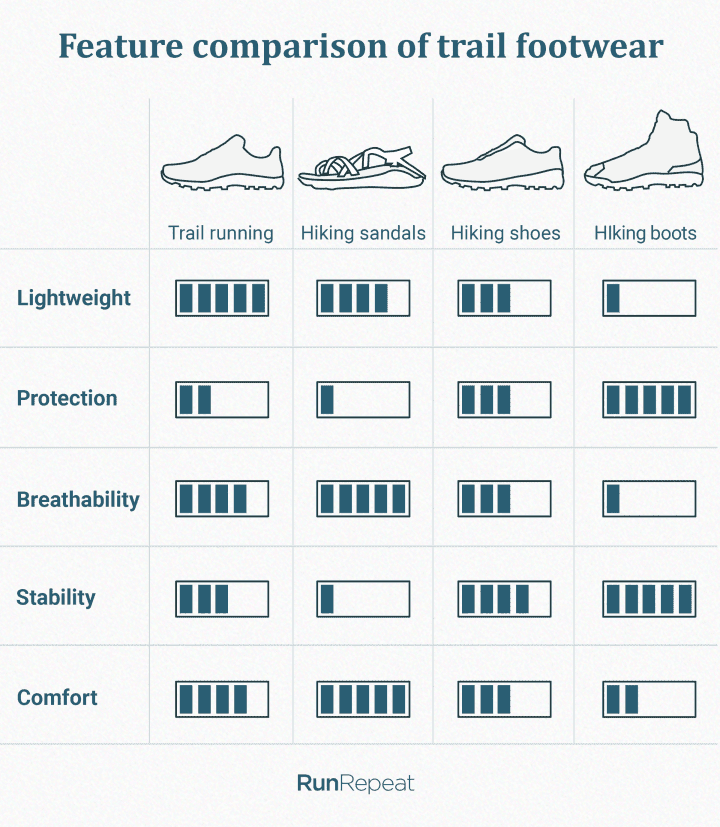 This is a general overview. Lightweight hiking shoes definitely get a better rating for the "lightweight" feature. They are, on average, 158g lighter than the regular hiking shoes!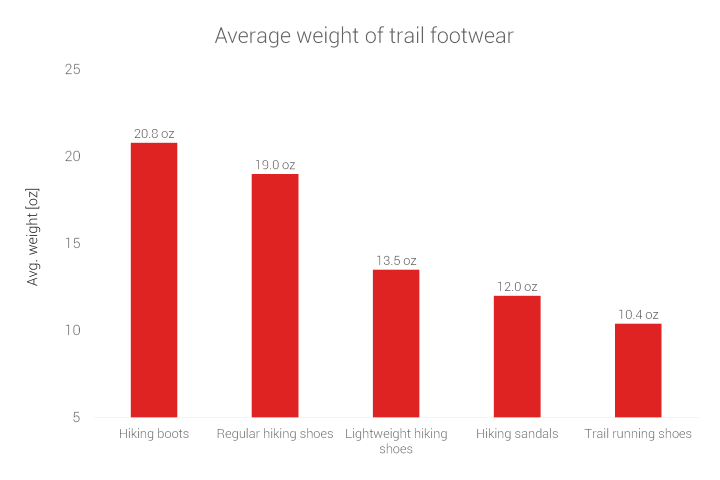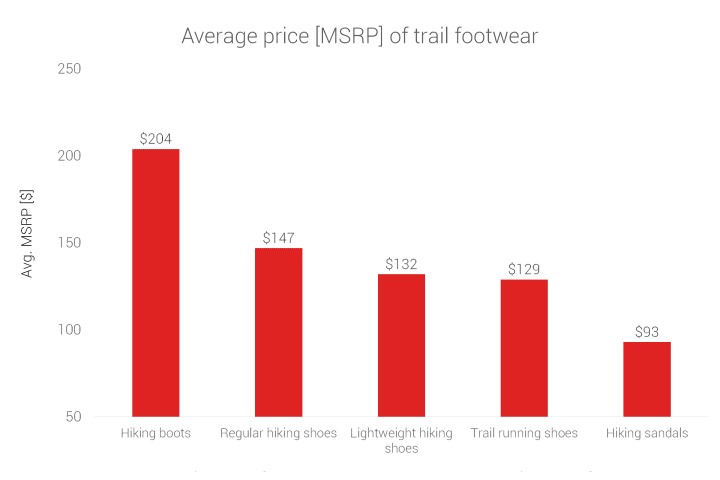 Lightweight hiking shoes take the 3rd place (out of 5) when compared to other trail footwear when it comes to both price and weight.
6 steps for finding your perfect fit
There are a few important steps to follow when it comes to trying on hiking shoes. You should try the shoes on and not order them online.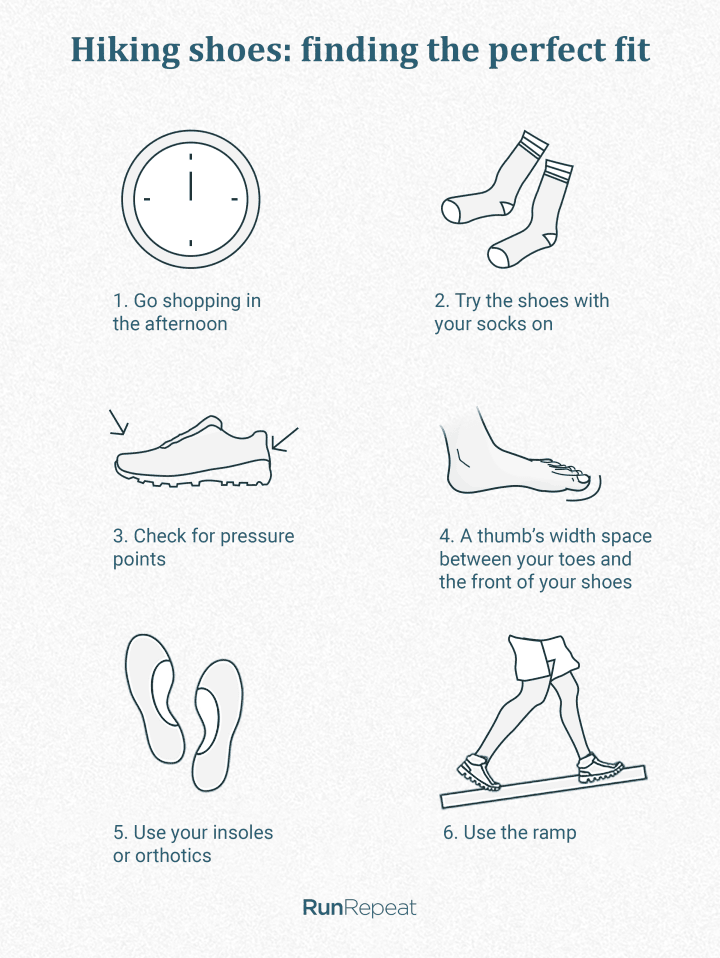 These 6 steps will guide you through the process of trying out the hiking shoes.
Go shoe shopping in the afternoon, so feet are swollen at least a bit. It's what happens anyway when hiking, so it makes sense.
Try the shoes with your hiking socks on. Bring the socks that you plan to wear on your hikes with you. Avoid using cotton, but choose wool or synthetic socks - they dry out faster and are good at preventing the blisters.
Try it on, lace it up, and check for pressure points. Shoes should feel comfortable and non-constricting. You don't want any part of your shoe to feel loose!
There should be a thumb's width space between your toes and the front of your shoes.
If you're wearing special insoles or orthotics, take them with you and insert them into the shoes when trying them on.
Use the ramp! Walk up and down. This tests the shoe's snugness. No part of the shoe should feel loose. When you go up the board, observe for any heel lift. When you go down, check if your toes hit the front of the shoes. If your heel rises more than a quarter of an inch, try adjusting the laces. If your toes hit the front, try sizing up.
4 things to pay attention to when buying lightweight hiking shoes
These tips apply to all hiking footwear. If this is your first hiking-shoes shopping, you might find our general guide on hiking shoes quite useful.
1. Duration of your hiking trip
The longer the hike, the better support you need. This means you should look for more stability features and cushioning. Lightweight hiking shoes tend to lack those features, or at least in great amounts, in order to be lighter. To learn about cushioning features, look at the specifications of the midsole: every material (for example EVA foam) has a certain set of features that may or may not suit your hiking and feet needs.
2. Weight of your backpack
Same rule applies for the duration of your hiking trip. We bring heavier backpacks on longer hikes. Hiking shoes aren't meant to support you in these adventures completely, only up to a degree. That's why, if you're planning a long backpacking trip, consider buying hiking boots or mountaineering boots. They will offer stability features and cushioning: a very welcomed set of features for such adventures.
3. Your arch type
Depending on your arch type, your feet might need different stability features. High arches usually ask for neutral shoes, medium arches ask for neutral or stability shoes, and low arches (flat feet) ask for motion control shoes. We've covered this in-depth in the next chapter.
Arch type and stability features
The type of your arch matters because it offers guidelines for choosing the adequate shoe type. Whether it's a neutral, stability, or motion control shoe - they all offer different stability features that your feet need when hiking.
Shoe wear test
Things you can do: look at your used hiking shoes and compare how the outsoles have been worn with the "Shoe wear" section below.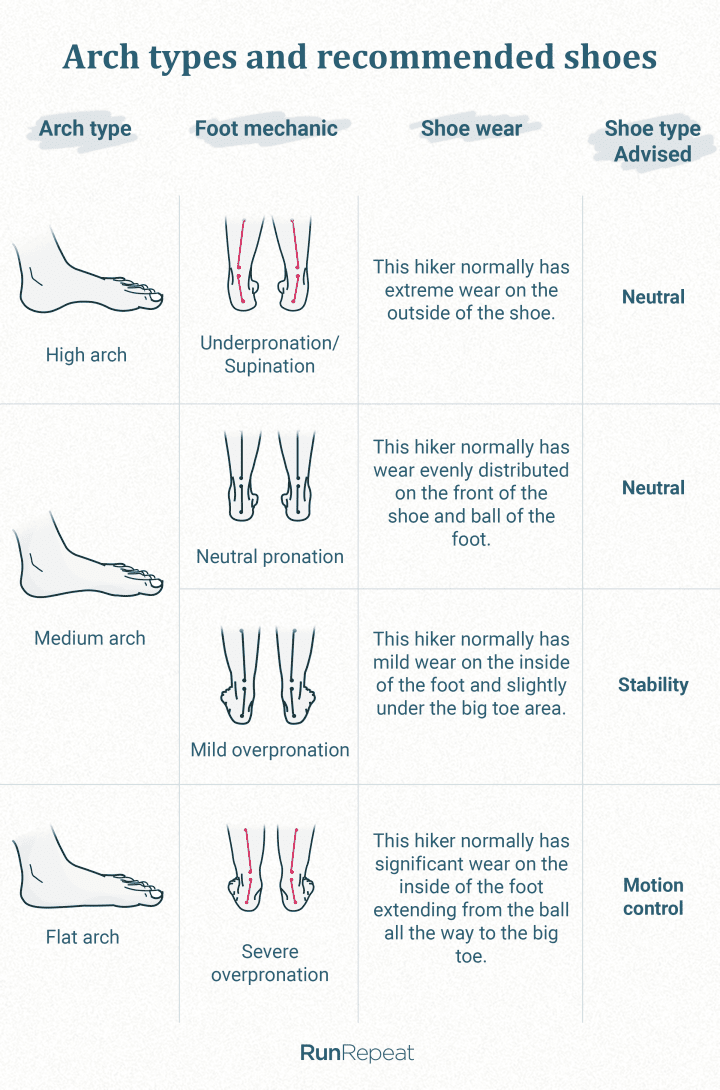 If you're overpronating, you can look for overpronation hiking shoes. If you're a neutral pronator or a supinator, browse through the neutral hiking shoes database.
Wet test
There is also another way to discover your arch type and it's called a wet test.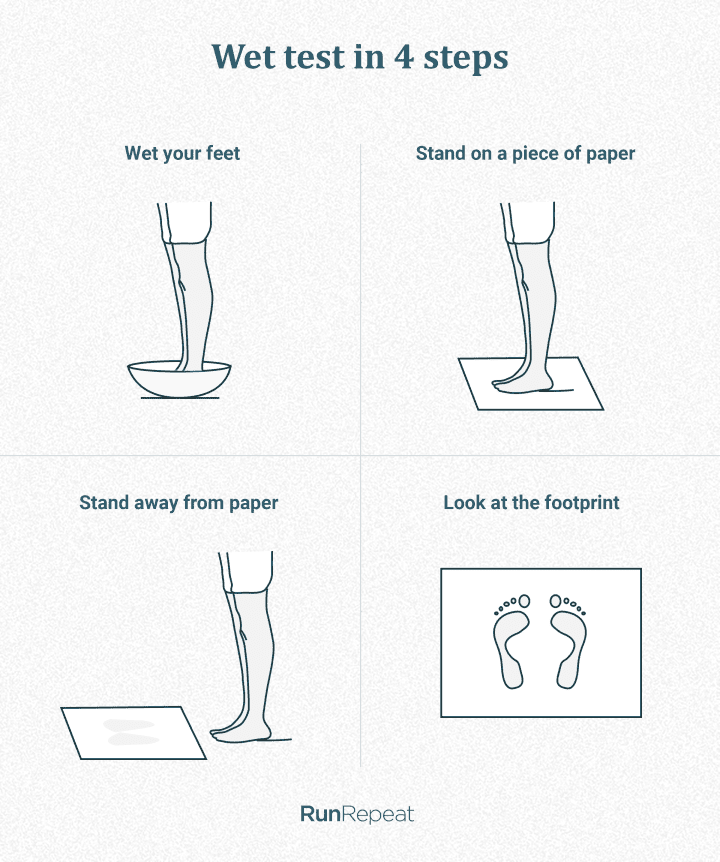 You should: wet the sole of your foot (ideally both of them, one at a time), then stand on a piece of paper while allowing the moisture from your feet to sink into the paper, and step off. Look at your footprint and compare it to the ones shown below.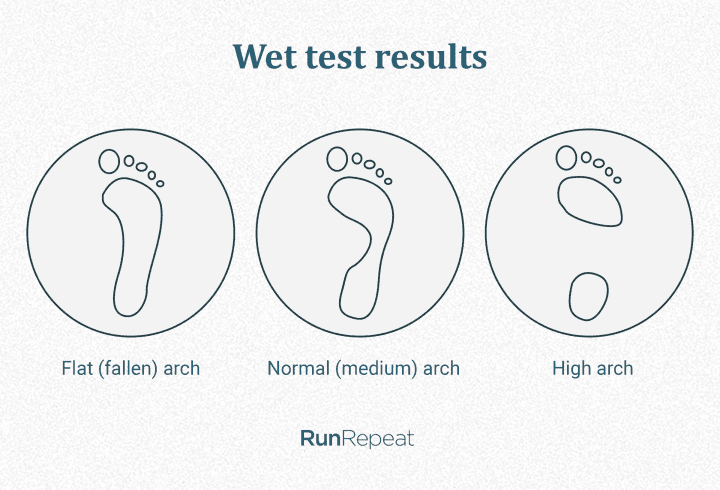 Of course, the best thing to do is to consult a podiatrist. Especially if you already know you have injuries or a special feet condition. Only specialists can give you a thorough (complete) analysis of your feet.
If you need something more specific, you might want to look into insoles or orthotics that you can insert into hiking shoes.
The outsole story: lugs for every terrain
Your hiking adventures ask for different lugs based on the terrain you'll be covering. It's good to pay attention to the outsole and look at the bottom of the shoes before buying them. This way, you'll know which terrain you're buying the shoes for.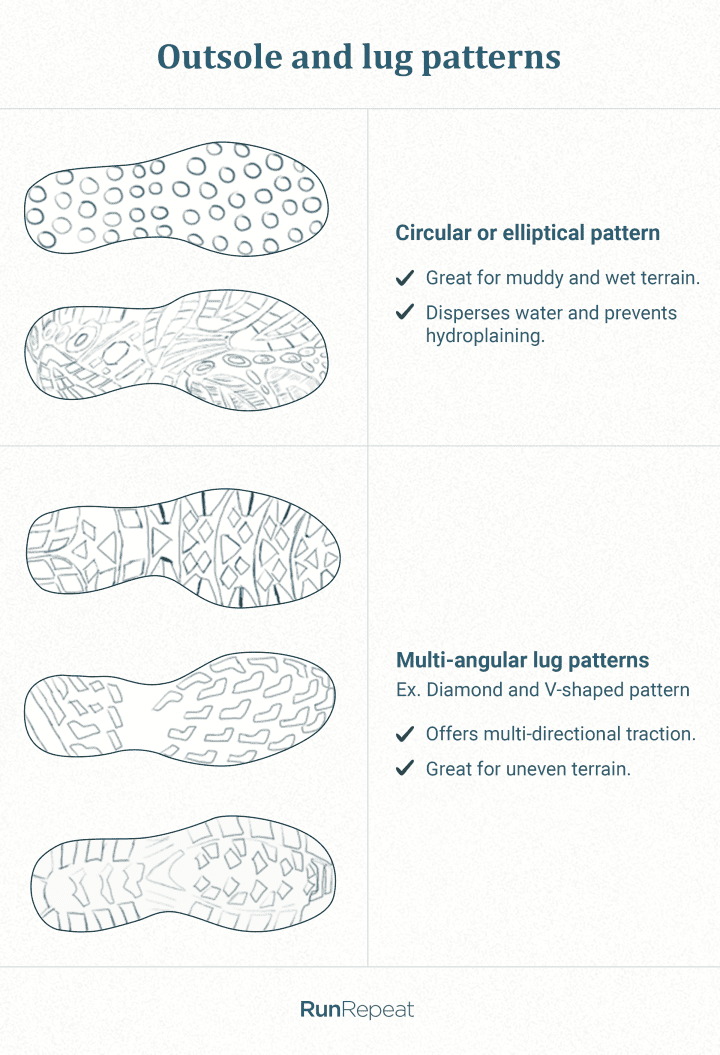 When not to use lightweight hiking shoes
While these shoes are a perfect option for short and easy hikes, given that they don't offer enough stability and support, you should avoid them on multiple-day hikes and when wearing a heavy backpack. Plenty of other factors can be covered with additional features: for rainy days, look for waterproof hiking shoes. Use filters in the RunRepeat database and look for specific features like orthotic hiking shoes or wide toe box hiking shoes.