6 Best Gore-Tex Hiking Shoes in 2023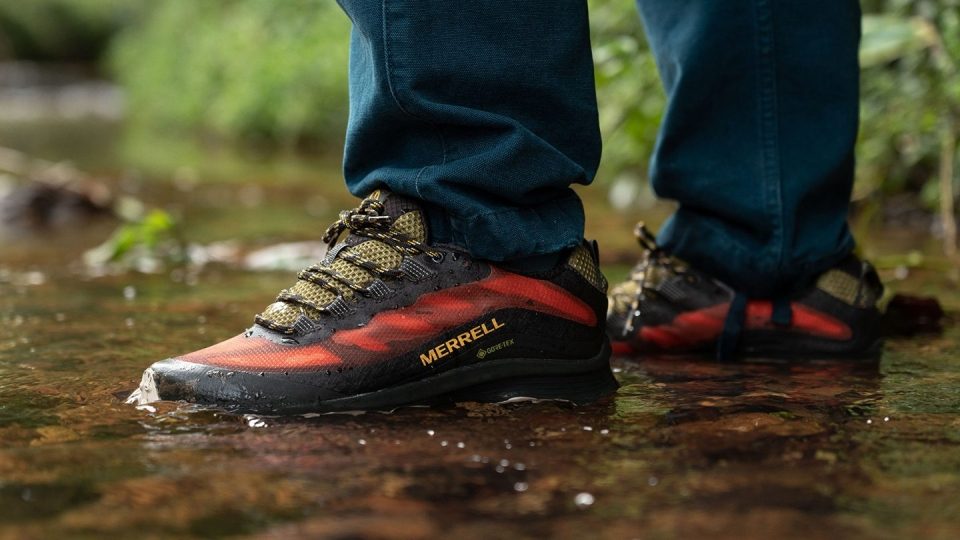 We earn affiliate commissions at no extra cost to you when you buy through us. Why trust us
Get ready for wetter weather with Gore-Tex hiking shoes. When your next adventures take you to snowy trails, rainforests, and shallow streams, a pair of hiking shoes with Gore-Tex membranes can be your most reliable companion, keeping your feet dry and comfortable every step of the way.
To the uninitiated, Gore-Tex offers extreme waterproofing capability, with a breathable fabric membrane that keeps water or moist from coming in. Many great brands like Lowa, Adidas Terrex, Merrell Moab, Vasque, and Salomon X Ultra provide the market with great quality Gore-Tex hiking kicks for different types of hikers.
Given their popularity, with over 50 pairs of the best Gore-Tex hiking shoes available in our database, finding the ideal pair for you can be time-consuming. To help you with that, we have put these hiking shoes through a whole lot, from actual hikes and stream crossings to lab tests. We evaluated each of them until we ended up with the most noteworthy pairs.
Comparison of the 6 best Gore-Tex hiking shoes
| | | | | | | | |
| --- | --- | --- | --- | --- | --- | --- | --- |
| Best | | | | | | | |
| CoreScore | | | | | | | |
| Users rating | | | | | | | |
| Experts | | | | | | | |
| Best price | | | | | | | |
| Ranking | | | | | | | |
| Popularity | | | | | | | |
| # of colorways | | | | | | | |
Rainy and wet weather can ruin a hike. Or rainy weather can improve a hike with its cooler temperatures, peaceful sounds, and impending rainbow. Whether rain (and other forms of precipitation) ruin your hike or enhance it depends on two critical factors– your perspective and the Gore-tex hiking shoes you put on before leaving the house.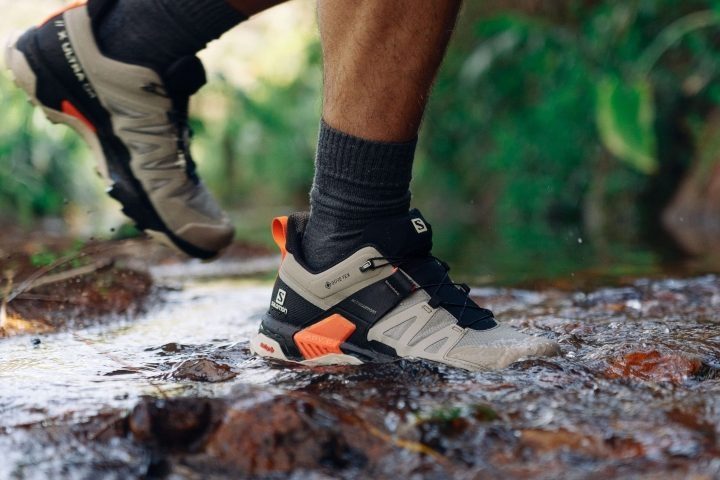 As it turns out, the more you can be prepared for wet weather, the more favourable your perspective can be, and the more you will enjoy your time outside, no matter how wet it gets. So, the next time it rains, don't let the weather keep you inside. Instead, throw on a pair of Gore-tex hiking shoes and ramble through the rain.
An ideal scenario for using Gore-tex
Not all hikers need to purchase Gore-tex shoes. If you wear waterproof shoes during scenarios where waterproofing is not 100% necessary, you may be missing out on other hiking shoes that could be better suited for the job.
Gore-tex hiking shoes shine in prolonged exposures to wet terrain and moisture. They are ideal for terrain and climates where moisture, whether from rainfall, mud, snow, or groundwater, is a consistent obstacle. Not just the occasional storm or creek crossing.
For example, Gore-tex hiking shoes are ideal for day-long adventures when the forecast looks suspect and you expect prolonged exposure to precipitation. Gore-tex hiking shoes will give you the confidence to continue adventuring despite the rain.
Permeability comparison: GTX shoe vs. non-GTX shoe
Similarly, if you plan a multi-day trip, we recommend packing Gore-tex hiking shoes if the forecast shows rain, snow, or other forms of precipitation. That way, if it does get wet, you don't have to worry about drying out your feet after the storm. However, if the forecast is calling for dry and sunny weather, you may be better off with nonwaterproof shoes, for example, water-resistant or repellent.
Drawbacks for Gore-tex
Are there drawbacks to purchasing Gore-tex hiking shoes? Unfortunately, the answer is yes. However, depending on your personal preferences and intended usage for the shoes, the pros may easily outweigh the cons.
Gore-tex shoes weigh more
The first drawback to Gore-tex shoes is that they are heavier. This is due to the extra Gore-tex laminate layer on the inside of the shoe. Essentially, if there is more material in the shoe, it makes sense for it to be heavier.
The good news is for most people, weight differences are pretty negligible. For example, the Salomon Ultra 4 GTX weighs 380 grammes, and the nonwaterproof Ultra X 4 weighs 360 grammes.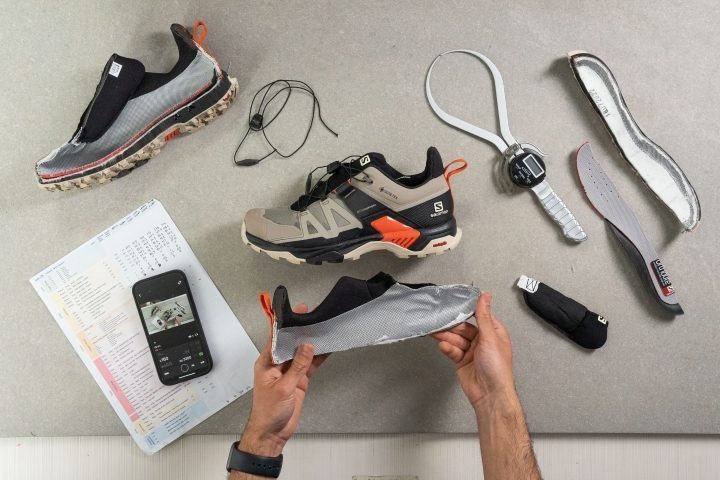 Gore-tex shoes can be pricey
The second drawback to Gore-tex hiking shoes is that they tend to be more expensive. For a high-quality material like Gore-tex, it makes sense that you would have to invest more upfront. The price difference between a Gore-tex shoe and a nonwaterproof shoe is between £20 to £40. This is true for the Salomon Ultra X 4.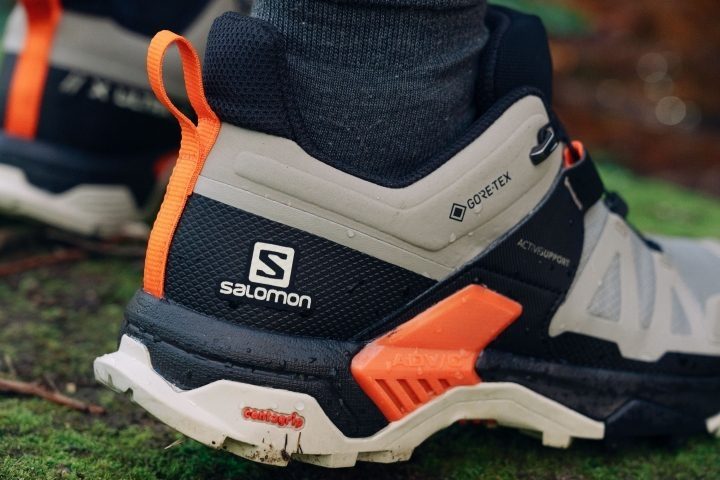 Gore-tex shoes are slightly less breathable
Lastly, a third drawback of Gore-tex shoes is that they dry out slower than non-waterproof shoes. This is the case because the Gore-tex liner not only expels water but also traps it on the inside. In other words, although technically breathable, Gore-tex may not be as breathable as nonwaterproof designs.
This is only the case in highly wet conditions where water has been allowed to enter into your shoe through the top and soaks the inside. For example, mandatory creek crossings or prolonged exposure to torrential rain. To prevent this from happening, a hiking shoe with a higher cuff may be helpful.
A brief history of Gore-tex
Starting in 1958, Bill and Genevieve Gore were onto something special. They were curious about a revolutionary and new polymer called polytetrafluoroethylene (PTFE). PTFE is a synthetic polymer called a fluoropolymer. It's well known for being hydrophobic, having a high melting point, and resistant to abrasion via a high tensile strength.
It was first patented by Kinetic Chemicals in 1941 and trademarked as Teflon. One of its first uses was as a seal coating in uranium enrichment for the Manhattan Project. Later, Teflon was used for cookware.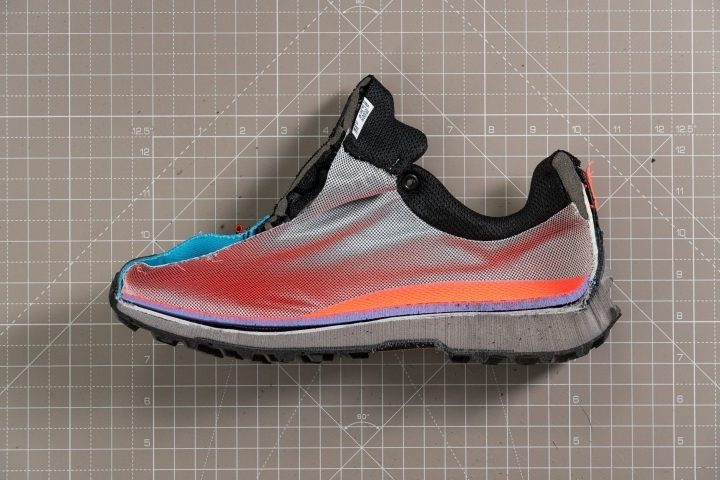 A decade later, in 1969, the Gores' son, Bob Gore, discovered what eventually became known as expanded polytetrafluoroethylene, or ePTFE for short. To create ePTFE, Gore stretched the PTFE under certain conditions. What he created was a heat-resistant, hydrophobic, and thin fabric.
Bob Gore understood that he was onto something with great potential. In 1970 Gore applied for a series of patents to make Gore-tex fabrics more seriously. And shortly afterward, in 1976, he started marketing their family brand, Gore-tex. At the time, it was the first waterproof and windproof fabric.
Afterward, Gore-tex became the gold standard for waterproof fabrics and was utilised in a variety of applications, the first of which was a rainjacket. Since then, Gore-tex is also commonly used in manufacturing gloves, space suits, and footwear.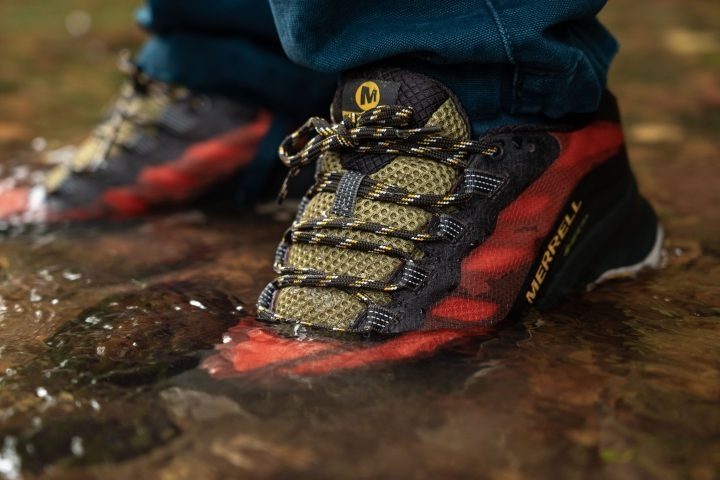 Key components of Gore-tex hiking shoes
It didn't take long for Gore-tex to get involved in footwear. In 1982, the first Gore-tex fabric bootie was submerged in water for testing. This test eventually led to the creation of the Gore-tex waterproof liner– a thin and lightweight waterproof membrane sewn into the shoe's interior.
Gore-tex membranes are now synonymous with waterproof shoes. So much so that many attribute any shoe marketed was waterproof to be Gore-tex; however, that may not be true. Some hiking shoe manufacturers will use different waterproof technology.
Waterproof hiking shoes that utilise a Gore-tex membrane will usually include "GTX" in their name, for example, the Merrell Moab Speed GTX. Gore-tex hiking shoes will also normally have a Gore-tex label somewhere on the exterior of the shoe. For example, the Adidas Free Hiker Cold RDY has a silver "Gore-tex" label on the front exterior of the toe box. These signs will signal Gore-tex was used to waterproof the shoe and not another in-house or proprietary fabric.
Nonetheless, Gore-tex hiking shoes continue to outperform the rest. But why is Gore-tex so good? Because the science of Gore-tex is astonishing.
A single square inch of Gore-tex fabric contains 9 billion pores. 
Each one of those pores is 20x smaller than a water droplet. 
The pores in Gore-tex fabric are also 700x bigger than a water vapour molecule.
These three characteristics create a fabric that physically cannot let water through while still being breathable enough for moisture or sweat to evaporate. The Gore-tex fabric is then bonded to other high-performance linings and textiles to create a laminate so that it can be used in various contexts, from jackets, gloves, and pants to boots and hiking shoes.
Frequently asked questions
What does GTX stand for?
GTX stands for Gore-tex. If GTX is included in the name of a hiking shoe or labelled on the shoe itself, it utilises a waterproof membrane made with Gore-tex fabric.
If the show is waterproof but does not include GTX, then it uses other materials for its waterproofing. 
Is Gore-tex the only waterproof fabric? 
No, shoe manufacturers incorporate many other waterproof fabrics into their hiking shoes. For example, Columbia Sportswear uses its patented OutDry and Omni-tech technology to waterproof footwear. With that being said, however, Gore-tex continues to be the industry's gold standard when it comes to waterproofing, which explains its higher cost.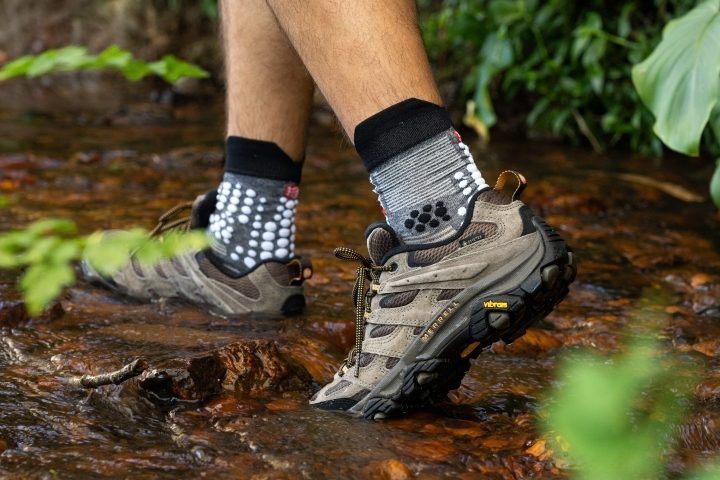 Are Gore-tex hiking shoes 100% waterproof?
Unfortunately, we would have to say no to this one. The main reason is that no hiking shoe, even models with Gore-tex, can prevent water from entering the shoe from above. For example, water can get inside the shoe if you step into deep water or mud.
We recommend wearing gaiters for extra protection around the cuff of your hiking shoes. Gaiters are supplemental garments that attach to your shoes and protect your lower leg and ankle. They provide extra protection against precipitation and debris.
How we test hiking shoes
For this special selection, we employed our outdoor expertise and hiked hundreds of miles to field-test all the Gore-Tex hiking shoes in our inventory. That means wearing each pair on actual hiking trips, covering 30+ miles across wet trails and muddy routes. Our selection process includes:
Putting in the time, energy, and our own resources to buy the Gore-Tex hikers from different brands. This ensures our independence when giving our reviews.
Clocking up solid mileage to get a real-world assessment of each specific model's fit, waterproof properties, grip, comfort, protection, and durability, among others. We take the shoes on backpacking escapades across the backcountry where water or slush is a threat. We also subject the shoes' overall performance when tackling tougher weather conditions.
Getting more data from the tests we perform inside our independent shoe testing lab. We gather more information by measuring and rating their parameters and dissecting the shoes.