4 Best Cheap Hiking Shoes in 2023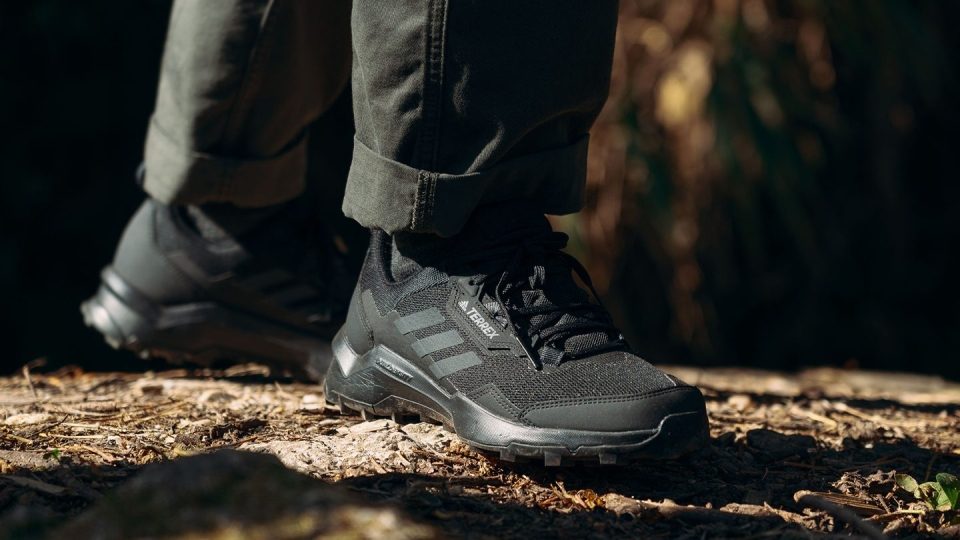 We earn affiliate commissions at no extra cost to you when you buy through us. Why trust us
You don't have to break the bank to buy a new pair of quality hiking shoes. If you know where to look, there are actually over a hundred high-performance budget-friendly footwear for the trails. For this guide, we've rounded up and personally evaluated tons of really good deals under the £110 range.
From the popular Adidas Terrex models to the highly-rated Merrell Moab 3, these kicks are known for their extraordinary tenacity, plushness with some more extra features, and, yes, affordability. If you're a fan of Salomon or Chaco, we've got plenty of pairs in our cheap hiking shoe collection, ranging from leather hikers and waterproof kicks to winter hiking shoes.
Get started right away by finding the ideal pair. We have chosen a particular group of shoes that we found the best in different categories based on our wear tests and shoe testing lab analysis. Read on if you're interested!
Comparison of the 4 best cheap hiking shoes
| | | | | | |
| --- | --- | --- | --- | --- | --- |
| Best | | | | | |
| CoreScore | | | | | |
| Users rating | | | | | |
| Experts | | | | | |
| Best price | | | | | |
| Ranking | | | | | |
| Popularity | | | | | |
| # of colorways | | | | | |
Some hiking shoes are seductive. They come with attractive colorways, cool features, and awesome aesthetics. They draw us in, and before we know it, we imagine how they will take our hiking to the next level. But then we see the price tag.
Sound familiar? We've all been there. The reality is that nowadays, some footwear comes with jaw-dropping price tags. However, the good news is that some good deals are out there. You just have to know how to find them.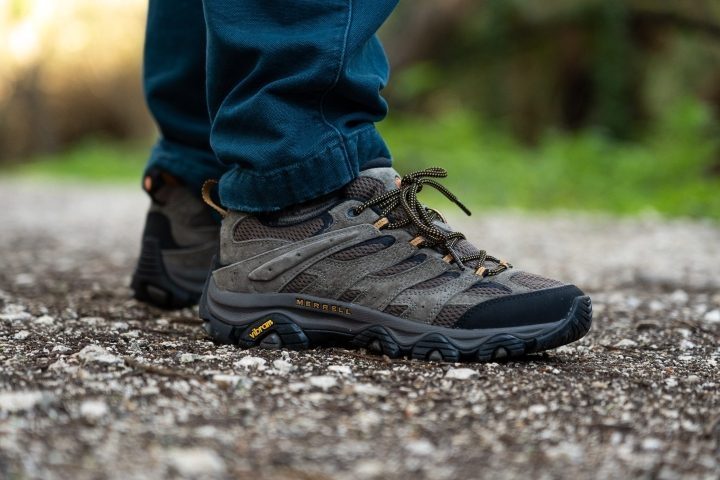 Hiking shoes don't have to break the bank
You shouldn't have to invest your life saving, an arm, and a leg to purchase a new pair of hiking shoes. There are plenty of cheap hiking shoes to choose from that will serve you just fine. Trust us; we've done the research.
Popular to contrary belief, buying a cheap pair of hiking shoes does not mean that the shoes will be bad quality. There are plenty of high-quality cheap hiking shoes on the market. So if you are an entry-level hiker or a hiker on a budget, consider the following when you start browsing for hiking shoes.  
What to look for in budget hiking shoes
A trustworthy and reputable brand
Many of the industry's most trustworthy and reputable brands manufacture budget-friendly hiking shoes. They understand that not every one of their customers is looking for top-notch performance and fancy features. Therefore, they create entry-level shoes with a lower price point.
Fantastic brands like Addidas, Keen, Columbia, Salomon, Chaco, and Merrel all produce high-quality shoes at a lower price point. By doing this, they accomplish two goals.
They create hiking shoes that satisfy the entry-level consumer looking for a starter shoe. 
They create separation between their shoe lineup, making it easier to market new features and fundamental differences between their hiking shoes.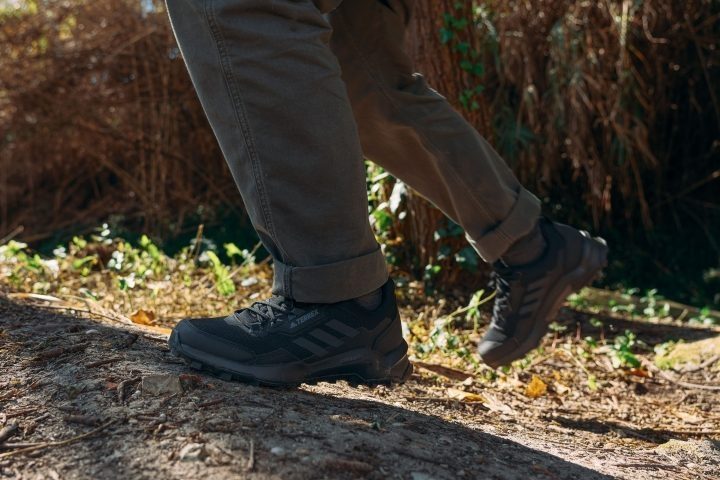 An economical outer material
There are many different types of materials used in the construction of a hiking shoe's upper. 
Full-grain leather
Nubuck leather
Synthetic materials such as mesh, nylon, textiles, and vegan leather
Some are cheaper than others. To find a good pair of cheap hiking shoes, it's best to avoid leather. Typically, full-grain leather is more expensive than Nubuck leather. Instead, to save money, prioritise synthetic materials.
The shoes included in this article all utilise synthetic materials in the upper. This helps keep the cost down. For example, the Merrel Moab 3 combines mesh and synthetic leather in the upper, while the Adidas Terrex AX4 relies heavily on mesh and nylon materials.
High-quality yet affordable midsoles
The midsole of the hiking shoe is responsible for providing cushioning and support. It's the part of the shoe that cradles your feet. To do that, hiking shoe midsoles are typically made with foam. There are two types of foam used for midsoles- polyurethane (PU) and ethylene-vinyl acetate (EVA) foam.
PU foam is denser, therefore, more rigid and expensive. EVA foam is light and, therefore, cheaper. Despite their different price points, they both serve vital functions in the midsole.
Typically hiking shoes that utilise a predominately EVA foam midsole will cost less. For example, every shoe in this article sports an EVA midsole.
If you are looking for more support, you may not need to invest in more expensive hiking shoes. Instead, it could be as simple as investing in a new insole insert. Typically this solution is much more affordable than looking for a hiking shoe with built EVA foam arch support or an inserted nylon shank.
Outsoles with good traction
The outsoles of the hiking shoe are the bottom of the shoe– the part that comes into contact with the ground every time you make a step. Outsoles are responsible for providing traction and grip and insulating your feet from the wet and cold.
For entry-level and budget-friendly hiking shoes, the ideal outsole utilises an all-terrain or all-purpose lug profile or tread pattern. Any shoe with a more specialised lug profile for specific types of terrain or highly technical terrain costs more money.
When it comes to rubber manufacturers for outsoles, Vibram is the best in the business. Luckily, Vibram outsoles are not only included on high-end models. Many of the cheaper models of hiking shoes utilise Vibram rubber outsoles, the Merrell Moab 3 for example.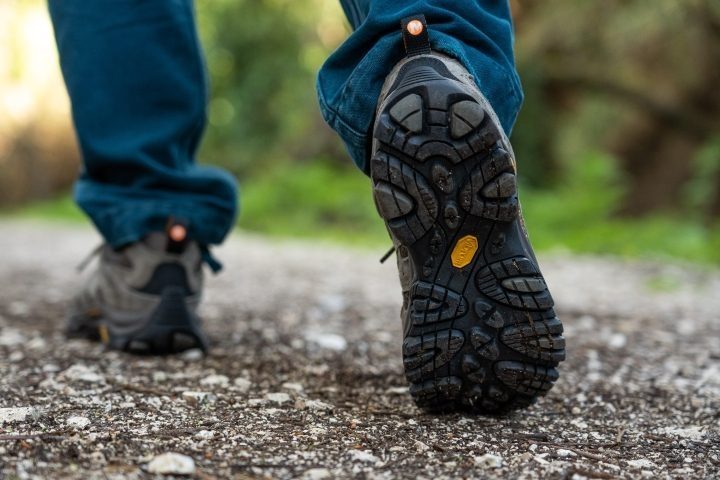 Waterproofing to keep your feet dry
Waterproofing makes hiking shoes more expensive. This is true because to make a waterproof shoe, there needs to be an additional waterproof membrane inserted into the interior of the shoe. The extra materials and labour increase the shoe's value.
To avoid the extra cost of waterproofing, you can invest in water-resistant or water-repellent shoes instead.
If you must have a waterproof hiking shoe but still want to save money, you can try a hiking shoe without Gore-tex waterproofing. Gore-tex fabrics are the gold standard for waterproof hiking shoes. Therefore, any shoe with Gore-tex, abbreviated GTX, will be more expensive.
Luckily, many shoe manufacturers will have a non-Gore-tex waterproof model. This typically means that instead of using Gore-tex in the waterproof membrane, they've used some other waterproof fabric, typically an in-house proprietary fabric which is cheaper.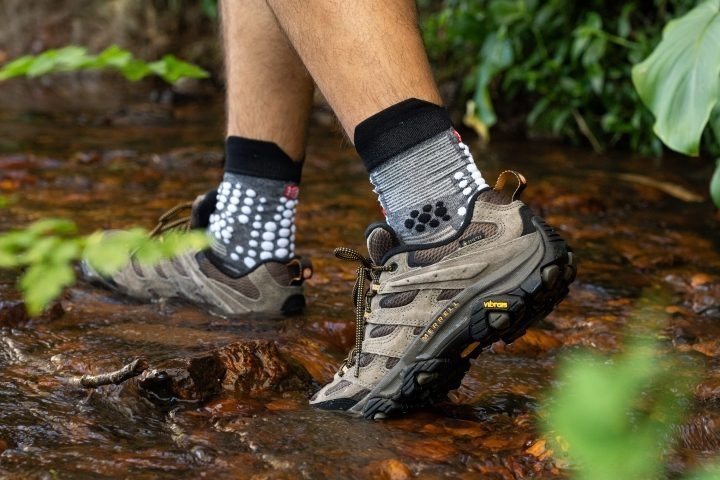 Example: The Merrell Moab 3 Waterproof (brand's proprietary waterproofing) is £30 cheaper than the Moab 3 GTX (£160).
Warmth and insulation to keep your feet warm
The warmth created from additional insulation on the interior of the hiking shoe can be helpful if you plan to spend a lot of time in cold and wet conditions. However, it may not be necessary, especially if you live in an area with mild winters. Therefore, if you can avoid hiking shoes with insulation, you will save extra money.
The hiking shoes in this article are all considered three-season shoes, meaning they do not include any additional insulation. This keeps their cost down but makes them far from the best option during the fourth season – winter.
Red flags for cheap hiking shoes
If you keep an eye out for the components we listed above, you should be able to pick out a pair of hiking shoes that will suit your needs and stay within your budget.
However, throughout that process, you might run into some red flags. Red flags indicate that the hiking shoe you are interested in may not be worth your time. Classic red flags include deals that seem too good to be true, bad consumer reviews, and mystery brands.
We recommend diving into the reviews to avoid buying a lemon pair of hiking shoes. It's essential to see what other people are saying about the shoes you want to buy. Reviews from "ordinary" people that include photos are the most helpful.
Remember, spokespeople or sponsors sometimes endorse hiking shoes. Unfortunately, when this happens, only the positives of the shoes are shared publicly. So take these sponsored reviews with a grain of salt and try to compare them against other reviews from ordinary people.
We strive to provide objective facts about each cheap hiking shoe in our lab.
Lastly, avoid mystery brands, even if the shoes they sell look great and are the perfect price. The brand name was the first component of a reliable yet cheap hiking shoe that we discussed above. And for a good reason. Stick to tried and trusted brands, and you'll have more success. 
How to find cheap hiking shoes 
Buying cheap boots is about more than just knowing what to look for. Knowing where and when to look is also essential. So before you purchase a new pair of hiking shoes, here are some helpful tips to consider.
To save you time, RunRepeat gathers information about all discounts from over 200 retailers in one place.
Shop around in multiple places
Buying hiking shoes online is easier than ever before. Nowadays, you can easily save item listings, open new tabs, and compare hiking shoes before buying. But we understand that this process can also be overwhelming.
Look for seasonal sales and holidays
The calendar year is chock-full of seasonal sales. In the United States, Memorial day, Black Friday, Cyber Monday, and many other seasonal holidays are perfect times to look for cheap hiking shoes.
Department stores and eCommerce websites will participate in traditional seasonal sales. So if you are in between boots, we recommend being patient and waiting for a sale to start.
Purchase last season's hiking shoes
If you don't have the budget for them, don't give into the hype about all the bells and whistles of modern hiking shoes. If you stick to buying last season's models, you can save a lot of money.
You might miss out on new features by buying last season's boots. But often, the differences are almost nonexistent. We like to think hiking shoe manufacturers are constantly updating their shoes. Still, the new model sometimes only sports a different colorway, and the rest of the shoe is essentially the same.  
Buy secondhand shoes
Buying used hiking shoes is another great way to find great deals. Yes, you run the risk of buying an older pair of shoes, but many times, shoes get returned for almost no reason at all. Some of the best shoes we've purchased have been returned due to improper sizing or minor, aesthetic defects.
Some larger retailers will have used gear sales, for example, the REI Garage Sale. You can search in person, but don't forget to check places like online forums for hiking shoes.  
Head to the bargain bin
Most gear shops and outlet stores have a bargain bin or discount section. If you look carefully and with some luck, you can find high-quality hiking shoes for bargain prices. There are a lot of online deals also.
Just be ready to be patient. Bargain shopping can take time because the selection can be limited. Therefore, it's best to go bargain hunting without any pressure. For example, when you're happy with your current hiking shoes but want to plan for when your current shoes inevitably break down.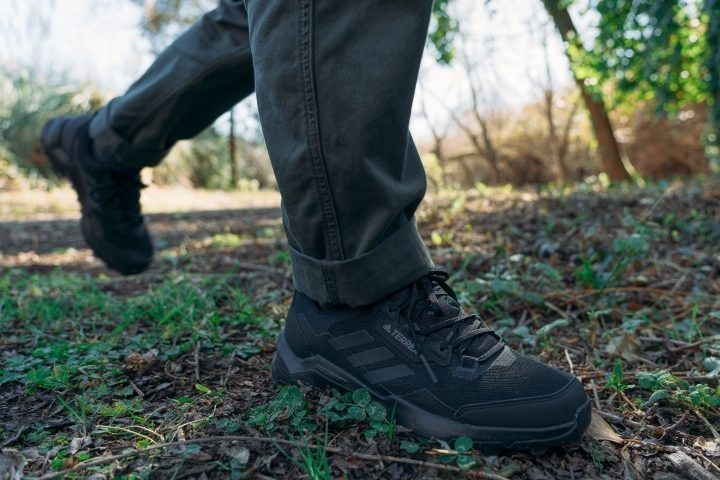 How to make your cheap hiking shoes last longer
Cheap hiking shoes don't just disintegrate over time because they cost less. You can get your cheap hiking shoes to last just as long as more expensive ones, if not longer if you take the time to care for them.  
Maintain your hiking shoes
You can lengthen the lifespan of your hiking shoes with simple, routine maintenance. For example, cleaning them after muddy or dirty days will help preserve the outer material. 
Wear them only for hiking
The outsoles of hiking shoes are designed to be used on dirt trails and over mixed terrain. If you wear them on concrete, you may wear them out faster. So instead, wear your hiking shoes only when you plan to go hiking and use a different pair of shoes for running errands around town.   
Focus on your footwork
Many durability issues with hiking shoes, like abrasion, holes in the upper, shredded laces, and delamination, come from poor footwork. The more time you can hike under control and avoid any unnecessary stubbed toes and collisions will preserve your shoe's exterior and therefore lengthen its lifespan.
Store your hiking shoes properly
Another good way to make your hiking shoes last longer is to store them properly. For example, if you come home with wet feet, set them out to dry in a well-ventilated area and stuff them with newspaper. Consider setting them in front of a fan. And never use a heat source to dry your shoes.
In general, try to avoid keeping your shoes in places that experience temperature fluctuations, like car trunks and attics. Heating and cooling can cause your shoes to delaminate. Instead, keep your shoes in an area with an average room temperature.
Frequently asked questions
Why are some hiking shoes cheaper than others?
Some hiking shoes are cheaper than others because of the materials used in their construction and the lack of waterproofing and insulation. More expensive materials, such as leather, Gore-tex membranes, and additional insulation inside the shoe, will all raise the price.   
Do cheap hiking shoes break quickly? 
It's common to assume that cheaper hiking shoes will break or wear down more easily than shoes that cost more money. However, that may not be true because the lifespan of the shoe is largely dependent on the user, the typical type of terrain they find themselves in, and maintenance.
For example, a person who purchased cheaper hiking shoes may get them to last longer because they maintain their shoes more and hike on easier trails than someone who spent more money but never takes care of their shoes.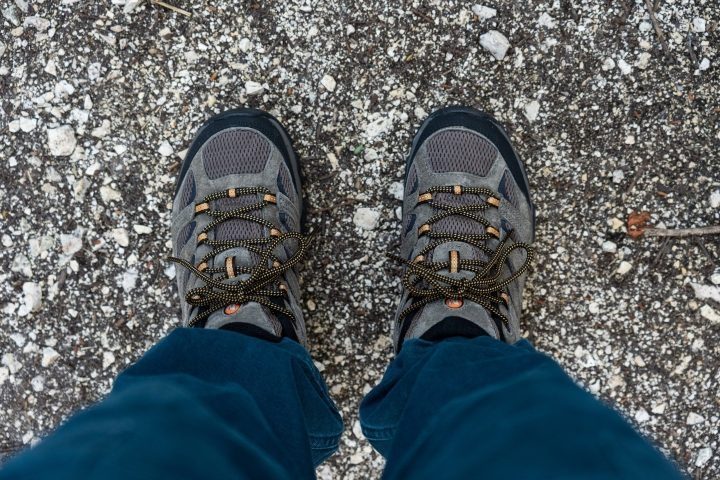 Who makes the best budget hiking shoes?
The best budget hiking shoes typically come from trustworthy brands. We consider the four brands included in this article – Chaco, Salomon, Merrel, and Adidas– to be reliable sources of high-quality footwear, despite the lower price points of the shoes we reviewed.  
How we test hiking shoes
To make this comprehensive guide, we hiked 30-50 miles for each pair of cheap hiking shoes, covering different terrains. By the way, we are a team of outdoor experts and seasoned backpackers, if that matters to you. We also check the materials and technologies used in each footwear inside our RunRepeat lab.
Our selection method includes doing the following:
We invest the time, energy, and our own funds to procure the hiking shoes for our wear tests. This ensures the independence and 100% impartiality of our reviews.
We take the shoes on a series of backpacking trips and day hiking jaunts to get a first-hand experience of their overall performance. We highlight the shoes' fit, plushness, traction, support, heel protection, and many more. We also see how the shoes perform during inclement weather conditions and even in tougher terrains.
We act like scientists at work as we rack up additional data inside our lab by subjecting them to different tests. One of which is checking the outsole hardness and durability using our durometer and Dremel tool. We then relate these two to the shoe's grip and susceptibility to wear and abrasion. We even reach a point where we cut the shoes into pieces just to reveal all the elements that are usually unseen by wearers.