They say "third time's a charm," and for the Moab 3 from Merrell, that is quite the case. Indeed, this third-gen Moab hiker will push you to go further with extraordinary grip, all while charming your feet with plushness all over. Glorious in almost every way, the Moab 3 is also the one to beat when it comes to affordability and value for money.
Pros
Supremely comfy
Zero break-in
Boss-level support
Solid grip
Stable platform
Fantastic cushioning
Fits various foot shapes
Cheaper than average
Recycled materials
Cons
Heavier than average
Not quite sleek-looking
Who should buy the Merrell Moab 3
The Moab 3 is a fantastic continuation of Merrell's Moab (Mother-of-all-boots) series. Buy it if:
You're a sunny-day adventurer who needs a pair of breathable hikers.
You want a hiking shoe that offers day-one comfort.
You want to get the most out of $110.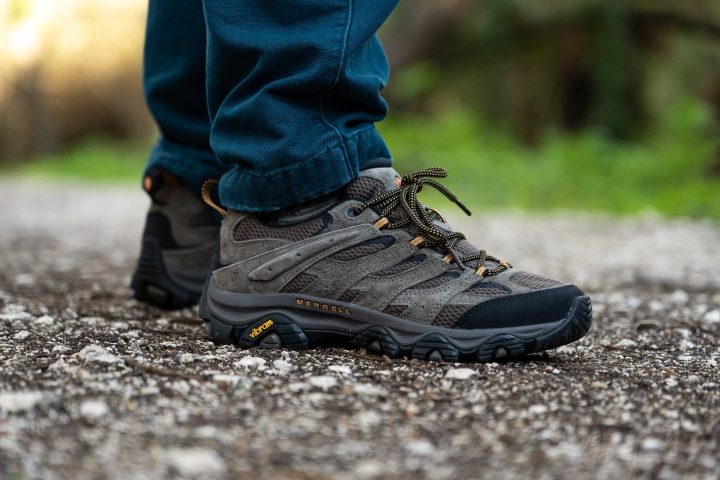 Who should NOT buy it
If you aren't ready to give up the feeling of light and nimble feet, consider Salomon X Ultra 4 instead. With similar characteristics, it is nearly 100g(!) lighter than the Moab 3.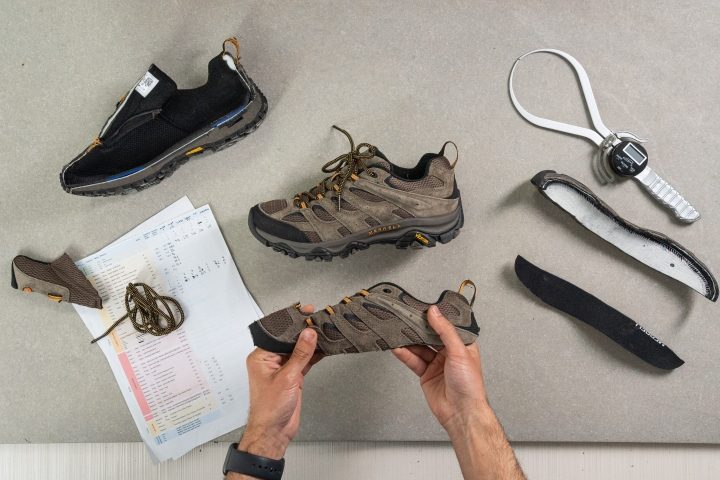 A ventilator for your summer hikes
If Merrell followed the naming pattern of previous models, this shoe would have been called the Moab 3 Ventilator. And for a good reason. The reviewers are happy with the level of breathability provided by this hiking shoe.
Fact check
Using a smoke-pumping machine, we checked how well the shoe's mesh upper breathes. A large amount of smoke passing through the fabric makes it clear - the Moab scores 4 out of 5 in our breathability test!
The video compares Moab 3 with its waterproof counterpart (Moab 3 GTX)
If you are interested, the shoe is also available in two waterproof options: the Moab 3 Waterproof ($135, Merrell's proprietary membrane) and the Moab 3 GTX ($155, Gore-Tex membrane).
Surprisingly, the shoe's tightly-woven mesh turned out to be effective in water drainage, according to those who had stepped into creeks. However, prolonged exposure to rivers, puddles, and rain is not recommended because the well-padded upper sponges it all up.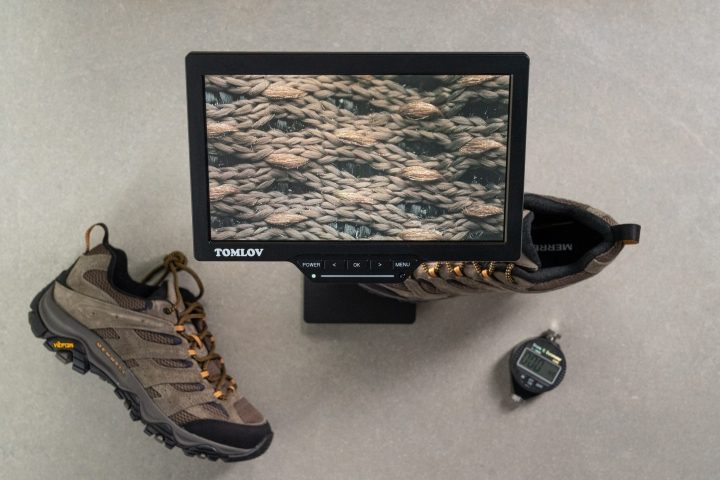 As you can see from our microscope shots, large ventilation pores are scattered throughout the fabric.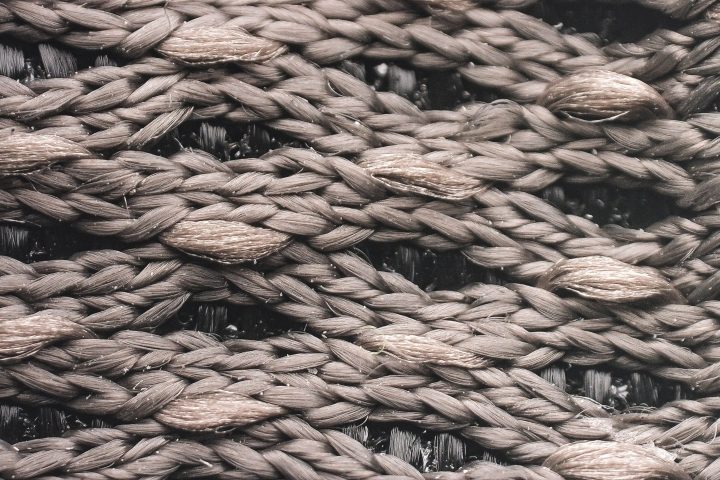 Will smother your feet in total comfort
There's mighty strong evidence that the Moab 3 is a real blessing comfort-wise.
Here is what avid hikers say about the Moab 3:
"brilliantly comfortable"
"Absolutely comfortable since the first time I wore them."
"So comfortable I hardly notice I'm wearing them."
"plush cushioning covering the whole foot"
You can especially notice it in the tongue as it boasts a mighty thick padding of 14.5 mm! In most hiking shoes, the tongue normally stays below 10 mm.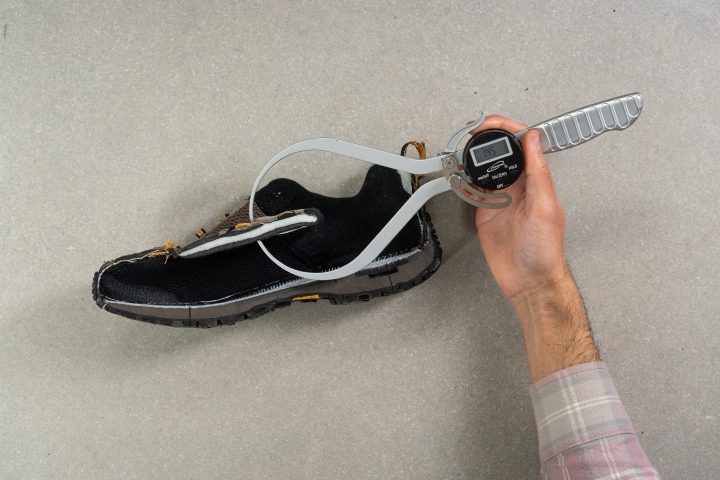 But the comfort doesn't end here. Down underfoot, your foot is welcomed with generous cushioning. "We could really feel the spring of the additional cushioning with each step," says a reviewer.
It is not like walking on clouds but you are likely to be pleasantly surprised by the cushioning. Based on our durometer measurements, the Moab 3 turns out to be 6.5% softer than hiking shoes on average.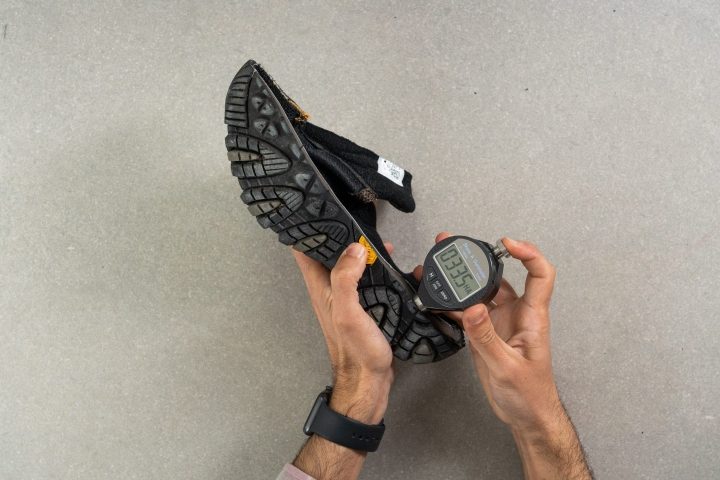 Disclaimer: The durometer measurement is repeated four times. We calculate the average number as our final verdict. The photo above shows one of the measurements.
Those who have worn the Moab 3 on backpacking trips, report that it gives "plenty of isolation from rocky trails and extended miles." According to Merrell's official product page, the heel-to-toe drop is 11.5 mm in this shoe.
Fact check
Equipped with a pair of calipers, we measured the shoe's heel stack at 31.7 mm and the forefoot one at 20.5 mm. This gave us a drop of 11.2 mm. Merrell lives up to its statement.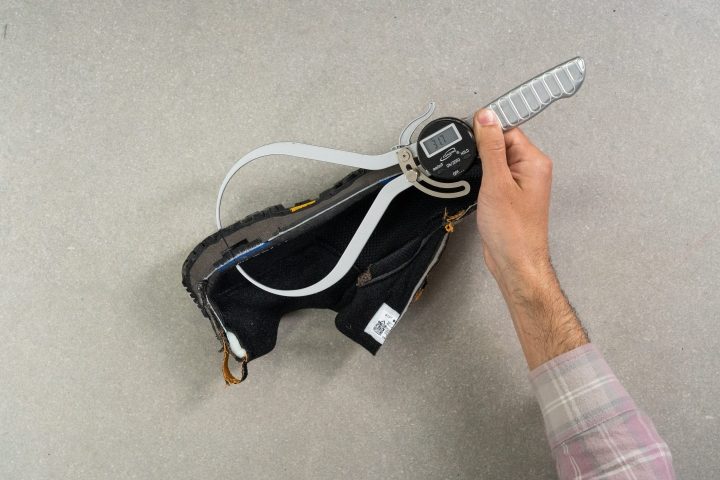 Disclaimer: We take stack measurements with the insole included.
The insole thickness is consistent with the other Merrell Moab shoes. We found it to be 4.4 mm in the heel.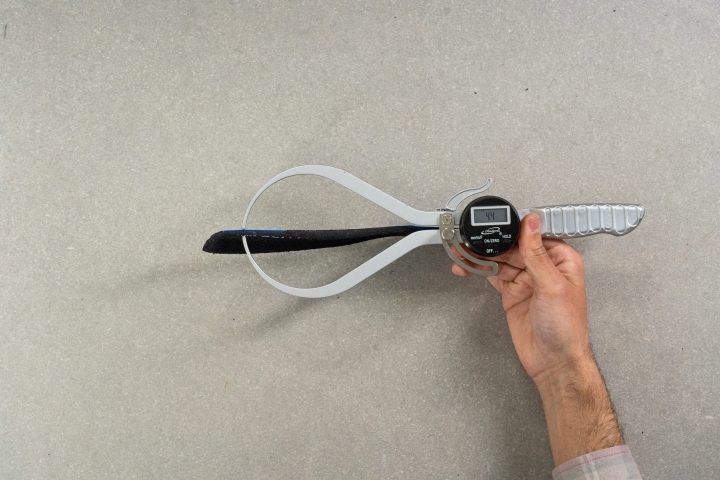 Transitions are nice and smooth
The Merrell Moab 3 is very far from the traditionally rigid hiking footwear. Experienced outdoorsies mention that the shoe's flexible design makes it very smooth-walking.
Fact check
To check the shoe's flexibility, we measure its resistance to being bent. The Moab 3 turned out to be a whopping 70% more flexible than the average of hiking shoes that we've tested! It is even 35% more flexible than the average of trail running shoes.
Fact check
Our manual assessment confirms this. On a 1-5 scale where 1 is the most flexible, we rated the shoe's longitudinal flexibility as 2 out of 5 and its torsional flexibility as 3 out of 5. For reference, the respective averages for hiking shoes are 3.8 and 4.0.
Moab 3 keeps its character in cold weather
We mimic cold-weather conditions by putting the Merrell Moab 3 in a freezer for 20 minutes. After that, the durometer and flexibility measurements are repeated to check how much stiffer the shoe got.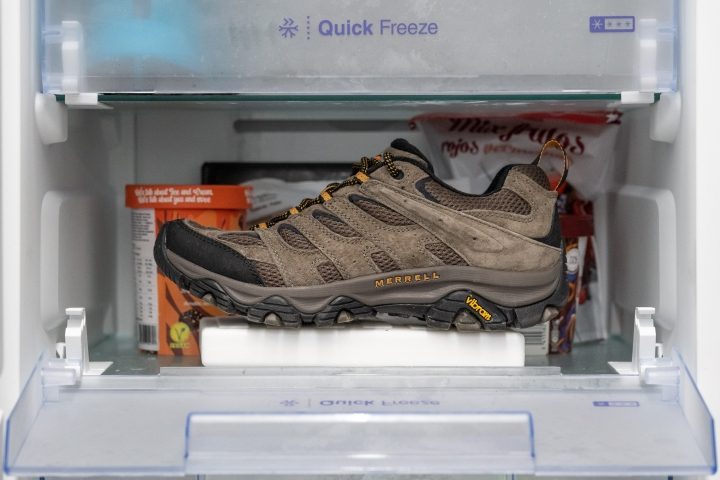 And this Merrell has proven its resilience in harsh conditions!
Fact check
To our surprise, the Moab 3 got only 27.3% stiffer (less flexible), whereas most hiking shoes stiffen up by 45.8%. However, it did lose its cushioning softness more than other shoes did (23.6% over the average 20.1%).
A charmer in the areas of support and stability
"When it comes to support, the Moab 3s are the best walking shoes we tested," says a professional blogger. Regular users also arrived at the same conclusion, with one saying that the Moab 3 is a "great shoe with superb support."
When it comes to stability, the featured shoe is also a doozy, according to several reviewers. "I feel like a planted tree," says one of them. An expert, on the other hand, simply says that it's "great for balance and stability when traversing tricky terrain."
Even an experienced hiker who has taken the Moab 3 on a backpacking trip with a 30+ pound backpack says: "I didn't have issues with ankle rolls or instability."
One of the major contributing factors to stability is of course the nylon shank embedded into the shoe's midsole.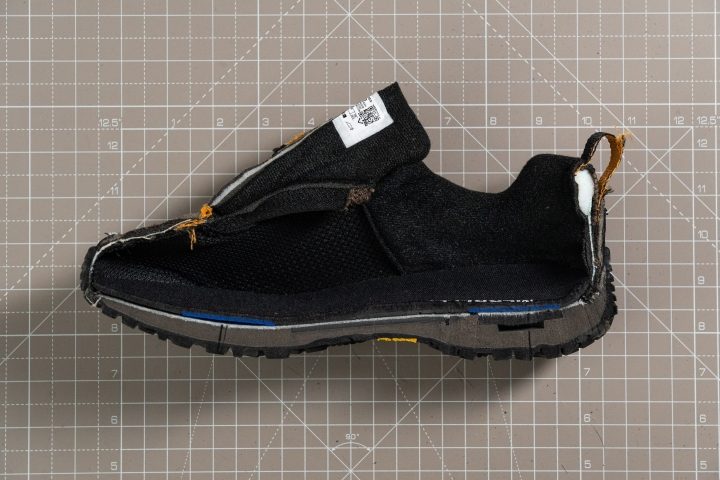 Another contributor is the shoe's nice and wide platform.
Fact check
Indeed, the Merrell Moab 3 comes with a fairly wide sole. We measured the widest part of the forefoot at 108.8 mm and the widest heel part at 86 mm. Both are around 1 mm wider than average.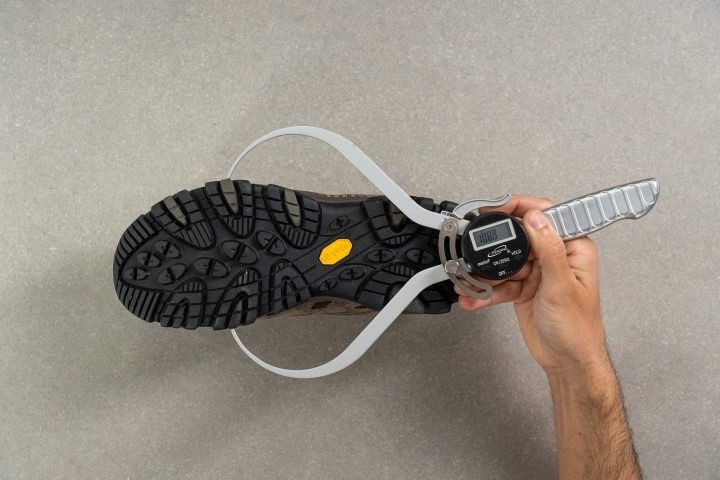 Surefooted steps with the
Merrell Moab 3
The thick grooves of its sticky outsole "provide excellent grip on all surfaces," says a footgear pundit.
"The meaty Vibram soles give me confidence on any slippery incline," says another.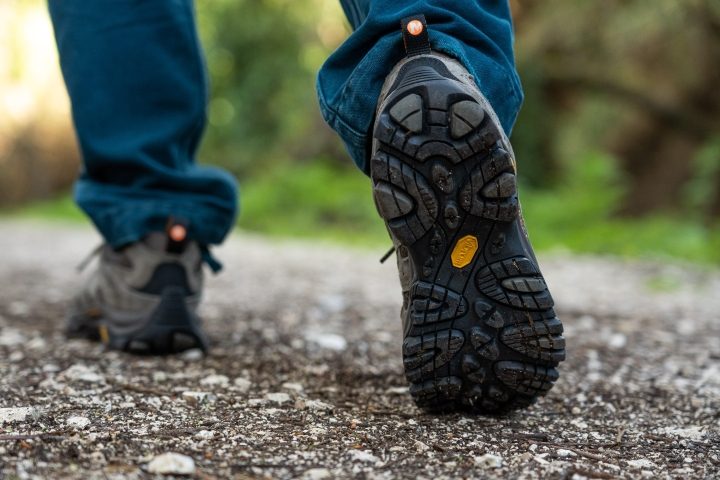 Merrell states on their official website that the Moab 3 is studded with 5-mm deep lugs.
Fact check
It is in fact true, based on our own measurements. The caliper shows 4.8 mm but there is also a slight deviation between the different lugs.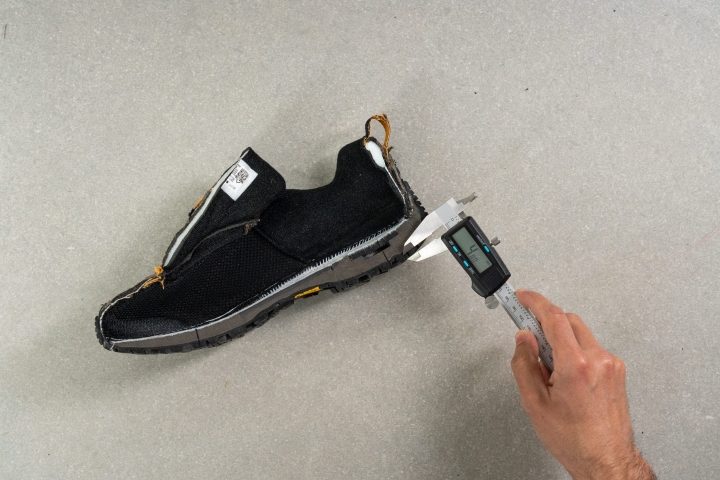 In addition to having toothy treads, the rubber compound on the Moab 3 is "relatively firm," as described by a reviewer. He also adds that because of that, the outsole "should have a pretty long lifespan."
Fact check
Checking outsole firmness with a durometer, we cannot say that it is among the hardest rubbers out there. But it is indeed very close to the average for hiking outsoles (only 1.4% softer).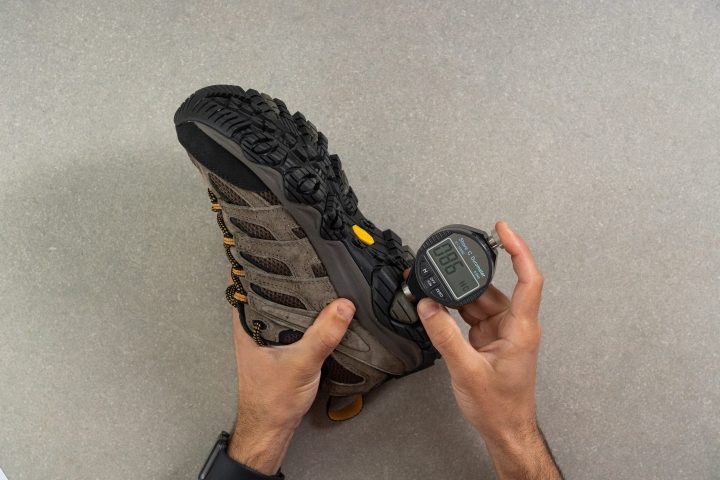 The Moab 3's astonishing fit
Many trail-goers from both gender camps agree that the Merrell Moab 3 comes with a remarkable fit. No hot spots have been reported.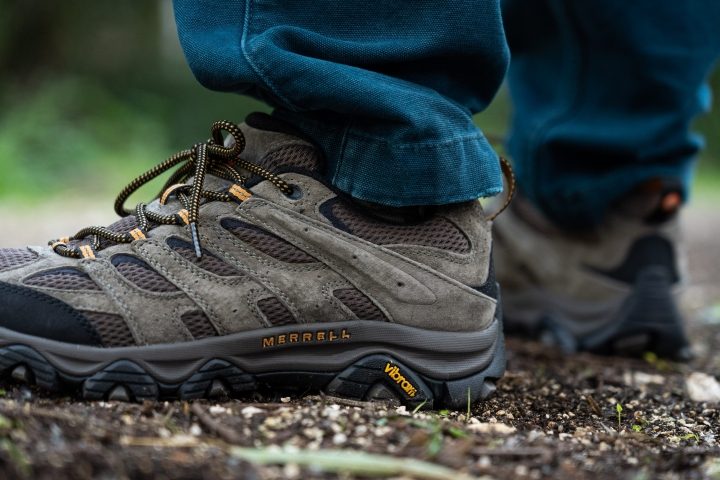 Some of the reviewers were also pleasantly surprised that it can accommodate broad feet without giving regular-footed hikers a sloppy in-shoe feeling.
Fact check
At its widest part (around the metatarsal joints), the Moab 3 is 96 mm wide. This is 2.9 mm narrower than the average and 3.9 mm narrower than the popular Salomon X Ultra 4 GTX. However, what makes the Moab 3 feel so roomy is that its forefoot doesn't get much narrower around the toes. It is 79.5 mm wide around the toes, which is actually 5.6 mm wider than the average!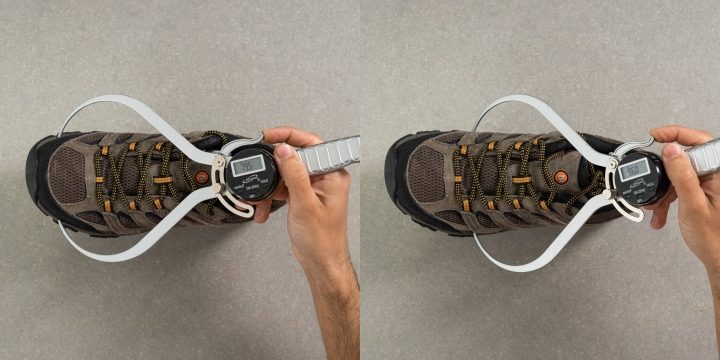 The presence of a gusseted tongue plays its part in keeping the foot in place.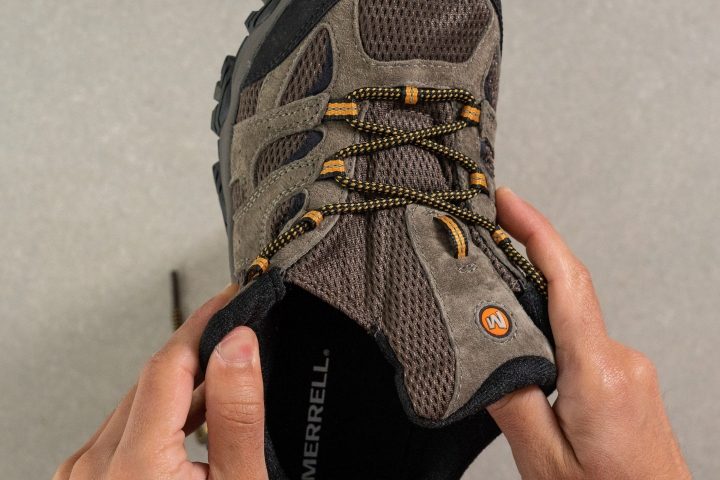 Heel slippage doesn't seem to be an issue in this hiking shoe either. It's got a medium-stiff heel counter (we rated it 3 out of 5) which has enough padding and structure to it to keep the rearfoot secured.
Can make your f
eet look fat
"Those who are used to slimmer sneakers may find them too chunky for everyday wear," says a concerned gear maven.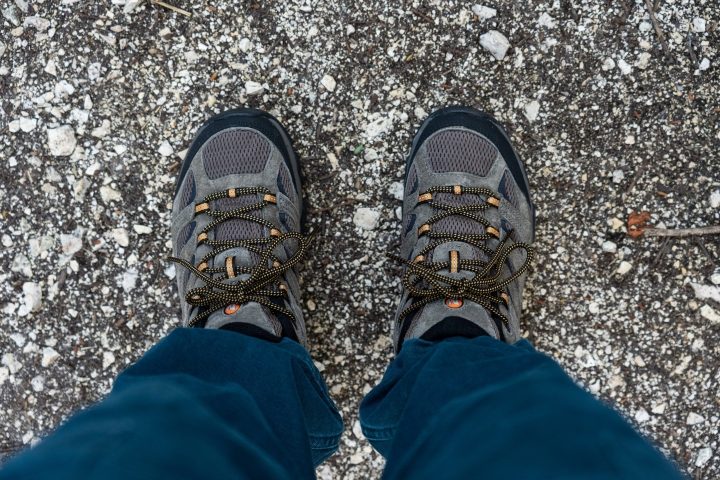 There is a price to pay for all that comfort - it's the weight
The average weight of non-waterproof hiking shoes is 12.2 oz (345g). But the Moab 3 comes with extra heft. It tips the scales at 15.3 oz (434g) per shoe in a men's US 9. "Not as nimble as many modern alternatives," says an expert.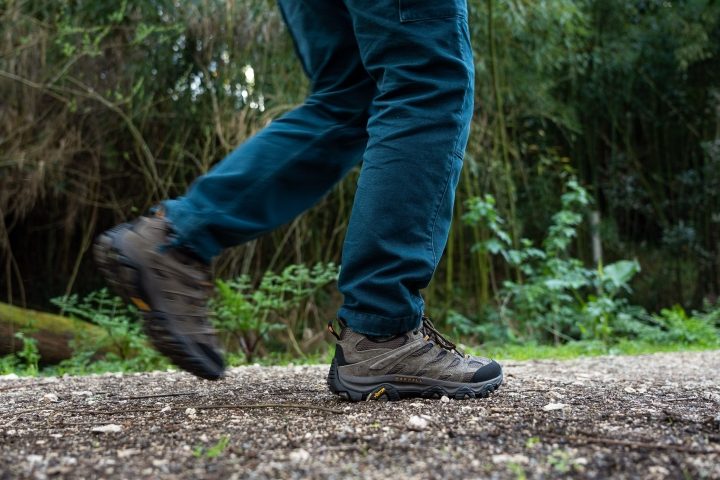 A best friend to limited budgets
With an MSRP of $110, the Moab 3 is $20 cheaper than the average price of hiking shoes ($130).