3 Best Adidas Gym Shoes in 2023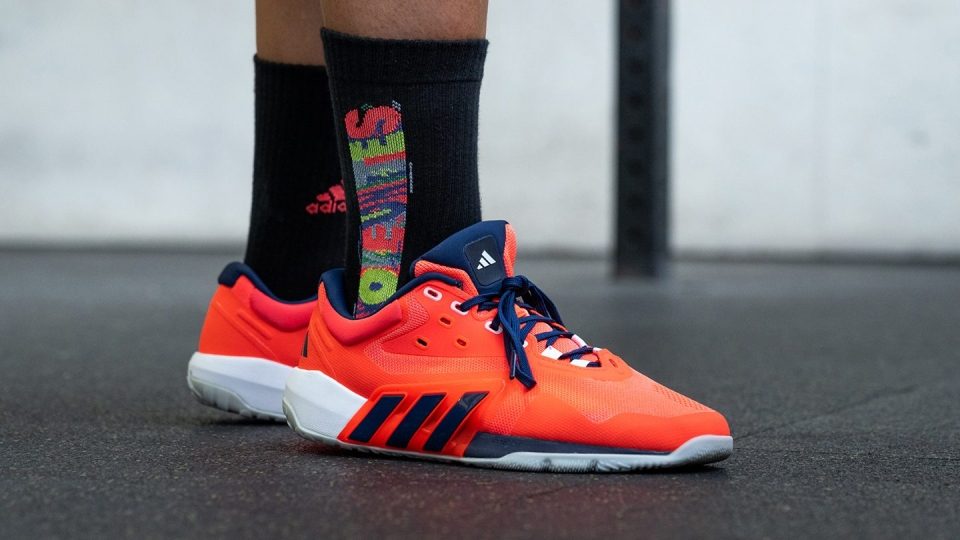 We earn affiliate commissions at no extra cost to you when you buy through us. Why trust us
With almost 100 years in the making, Adidas continues to be one of the trusted brands in the athletic footwear industry. As a frontrunner in innovative shoe technology, the Three Stripes keeps adjusting its footwear to fit the specific requirements of various sports and fitness regimens.
If you're out looking for a new pair of Adidas gym shoes, you're definitely in for a treat. The brand is currently offering several of the top-rated gym kicks on the market. Whether you need a pair of versatile workout shoes or a reliable weightlifting training shoe, Adidas has you covered.
To narrow down your best choices, we've tested, evaluated, and reviewed all the best Adidas gym shoes available out there. We have put in all our resources - money, time, energy, and expertise - to make sure that no stone is unturned in finding out which shoes are the finest. We put together our number one picks in different categories based on our meticulous testing. Take a quick gander!
Best Adidas gym shoes overall








































What makes it the best?
A series of test sessions and lab assessments convinced us that the Dropset Trainer is indeed the king among all Adidas gym shoes in our records. Aside from its truly impressive breathability, this shoe also boasted of a fairly flexible structure. But don't think it's all about going easy; it's also able to give much-needed lockdown through its stiff and amazingly durable heel counter.
After performing our standard breathability test, we were convinced that this shoe deserved nothing less than the perfect score. The porous upper allowed both light and smoke to pass through with much ease. When we were running fast, we could literally feel wind blowing against our feet.
When it comes to flexibility, this shoe is better than average. Based on the readings on our digital gauge, the Adidas Dropset Trainer needed only 19.3N of force to do a 90-degree bend. For context, a typical trainer would need as much as 22.5.N. Its flexibility allowed the shoe to effectively keep up with the natural flexions of the feet, especially in performing exercises like mountain climbers, burpees, and even planks.
The heel counter deserves a special mention here. Not only was it stiffer than usual (it got a 3 out of 5 when the average is 2.6), it's also quite durable (perfect 5). We had no doubts about its capacity to hold the foot in place even when we moved aggressively.
Unfortunately, this shoe is kind of a miss in the weight department. Trainers are expected to be light, but this one adds more than 2 ounces to the average. It weighs 13.51 oz or 383g while the average is 11.18 oz or 317g.
Pros
Balance of ground feel and cushioning
Very stable platform
OK for rope jumping
Comfortable in-shoe feel
Highly breathable
Super hard-wearing outsole
Fairly flexible
Good grip
Sustainable materials
Cons
Poor upper durability
Pretty heavy
Full review of Adidas Dropset Trainer
Best Adidas gym shoes for powerlifting









































What makes it the best?
Among all gym shoes from Adidas, it's the Powerlift 5 that we deem most suitable for deadlifts, squats, and bench presses–the three major components of powerlifting. The perfectly stiff heel counter kept our feet in place. The amazingly twist-resistant base kept us flat on the ground. And the shoe's light structure allowed us to enjoy all the benefits without putting so much strain on our feet.
We gave the heel counter a pretty good squeeze in the lab, and our experience there only confirmed what we enjoyed in the gym. The heel counter successfully resisted our maneuvers, so it got a perfect 5 for stiffness.
The same can be said about the shoe's base. No matter how hard we bent and twisted it, it put up a lot of resistance. We were right in trusting that this shoe could definitely protect us from twists. The Adidas Powerlift 5 truly deserves the 5 out of 5 rating that we gave for torsional resistance.
Weighing only 15.0 oz or 425g, this shoe is shockingly lighter by 3.7 oz or 105 grams than the average. Walking and warming up while wearing this shoe was such a breeze.
The width of the toebox did not get the approval of the wide-footers among us. Measuring only 95.2 mm at its widest, this part of the shoe is actually 3.7 mm narrower than average.
Pros
Stable base for moderate lifting
Good for accessory exercises
Solid bite on gym floors
Secure foothold
Supportive Velcro strap
Reasonably priced
Contains sustainable materials
Cons
Lacks breathability
Upper is not very durable
Tongue shifts
Full review of Adidas Powerlift 5
Best zero-drop Adidas gym shoes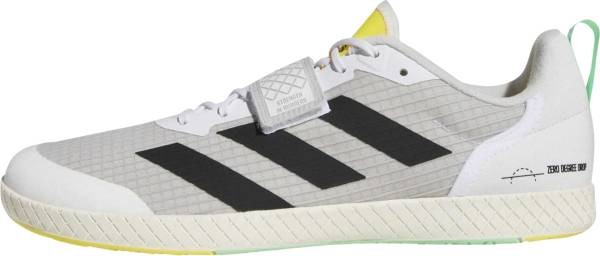 What makes it the best?
We found the best zero-drop Adidas trainer and it's none other than The Total. Its sturdy build, low-to-the-ground stance, wide base, and grippy outsole make it an ideal weightlifting shoe. It gives us the confidence to power through intense strength sessions.
With a firm, low cushion, and no drop, ground contact feels very strong. The sturdy base is accommodating to wide feet and gives us more room for natural toe splay. All these elements lead to stability because we have better control and balance. We remain centered with the strap and laces of the upper that firmly lock us down.
Further boosting our confidence to dive into more challenging workouts is the tread that provides excellent grip. This keeps us centered and activates the right muscle groups to avoid any injuries.
Contrary to its name, The Total is designed for a specific function — weightlifting. We recommend exploring other trainers for days with aerobic and plyometric exercises.
Pros
Great for strength training
Good traction
Quite stable ride
A lot of ground feel
Lightweight and comfortable
Functionally spacious toebox
Accommodates wide feet
Fairly priced
Streamlined look
Cons
Has to be broken in
Not versatile enough for non-strength exercises
Full review of Adidas The Total
Comparison of the 3 best Adidas gym shoes
| | | | | |
| --- | --- | --- | --- | --- |
| Best | | | | |
| CoreScore | | | | |
| Users rating | | | | |
| Experts | | | | |
| Best price | | | | |
| Ranking | | | | |
| Popularity | | | | |
| # of colorways | | | | |
A buyer's guide on Adidas gym shoes
Adidas gym shoes are renowned for their premium materials and robust design, which make them perfect for demanding workouts and sporting activities. In addition to its cutting-edge technology and materials, Adidas is known for its creative designs that give athletes and fitness enthusiasts the finest support, cushioning, and stability possible.
But in the end, what determines the best Adidas shoe for you is its match with your workout needs.
What to look for in your future gym shoes from Adidas
When choosing Adidas gym shoes, there are various factors to consider to ensure that you get a pair that matches your demands and delivers comfort, support, and durability.
We recommend paying attention to the following:
Activity
Take into account the kind of activity you'll be performing in the shoes. Adidas offers gym shoes for a variety of activities, like jogging, cross-training, weightlifting, and more, so it's crucial to pick a pair that is made for that activity.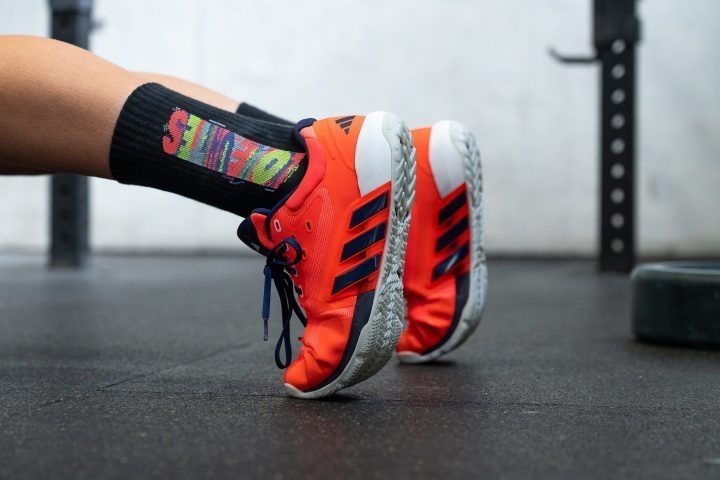 Here is a brief overview of the popular Adidas gym shoes:
| | |
| --- | --- |
| Shoe | Best for |
| Adidas Dropset Trainer | HIIT, weightlifting (light to moderate) |
| Adidas Adipower | weightlifting (heavy) |
| Adidas Power Perfect | weightlifting (moderate to heavy) |
| Adidas Powerlift | weightlifting (light to moderate) |
Quality
Look for gym shoes composed of strong yet breathable materials. They will keep your feet cool and cosy while still giving you the support you need.
In our lab, every Adidas shoe is tested for durability in its toebox, heel collar, outsole, etc. We press a Dremel against the materials to find out their abrasion resistance.
We assess and compare the damage caused by the Dremel and rate each shoe on a 1-5 scale.
We also check how breathable each shoe's upper is by pumping smoke through its upper.
Fit
Make sure that the shoes are snugly and comfortably fitting. To check that the toe box has enough room, the heel is snug but not too tight, and the shoes offer enough support, try them on and take a few steps around the room.
We measure the toebox of each Adidas shoe in both the widest part and around the big toe to help you understand how spacious it is.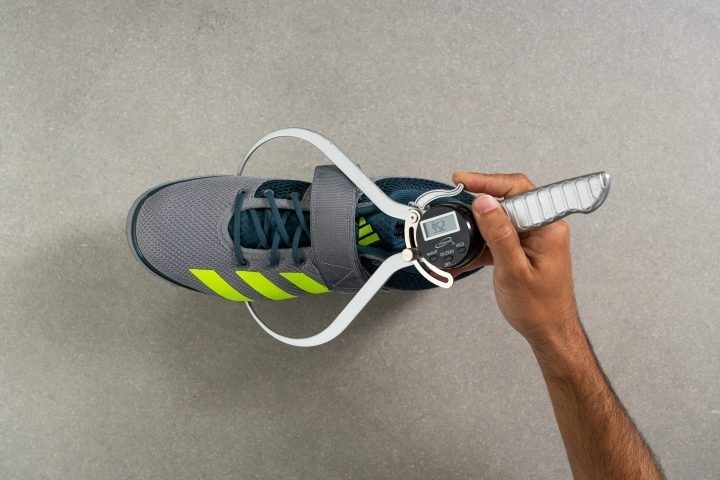 FAQs about Adidas gym shoes
Do Adidas Gym shoes fit true to size?
Although Adidas gym shoes often run true to size, it's always a good idea to consult the sizing chart for the particular style of shoe you're considering buying. It's important to remember that different
Adidas shoe models may fit somewhat differently, so read reviews and, if feasible, try on various sizes to achieve a comfortable fit. Also, some people may choose a tighter or looser fit depending on their preference and the activities they'll be wearing the shoes for.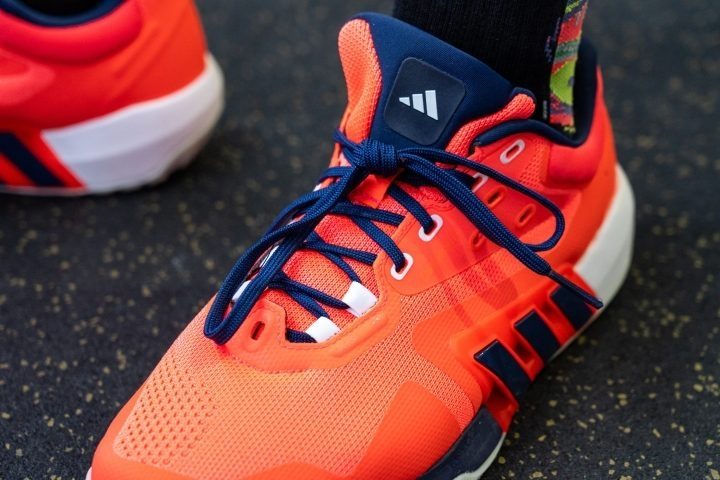 Can I run in Adidas gym shoes?
If you imply short-distance or warm-up runs on a treadmill, then the Dropset Trainer is going to work just fine for 2-3 miles.
But if you are talking about daily runs of longer distances, then you should definitely turn to the Ultraboost running shoes. They have a more suitable design for running and are significantly better cushioned for the job.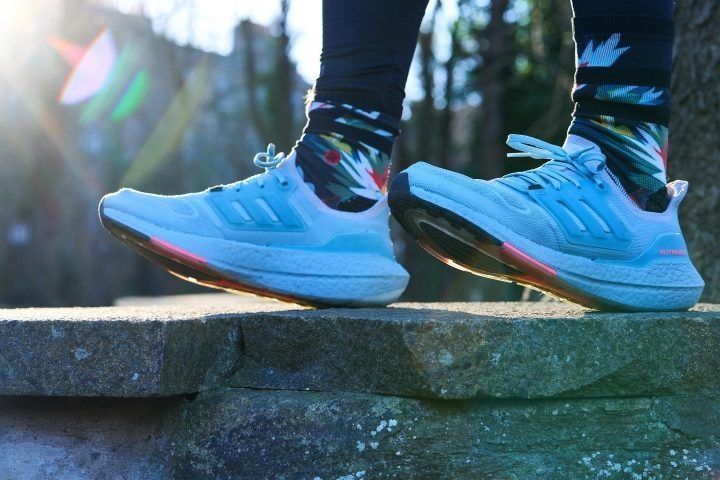 How we test training shoes
To make our best selections, we put all the Adidas gym kicks in the database for rigorous testing. We carefully examine the materials used and wear the shoes for actual workout exercises. We check their comfort level, stability, and overall performance while performing specific styles of exercise.
Here are the steps that we follow:
We buy gym shoes from Adidas for our wear testing. We use our own money to remove any bias or brand influence.
We test each pair of shoes in the gym executing various workout routines. This is the best way to get the real-life feel of the shoes' comfort, breathability, cushioning, durability, support, and a lot more.
After putting in solid hours of gym activities wearing a particular model, we turn our geeky modes on and do more testing inside our lab. We collect more info by quantifying and assessing the different characteristics of the shoes, including stability, flexibility, and more. Plus, we open the shoes up using our saw machine to get a full sight of what we are dealing with.