When you visit the landing page for the Everland Tread Trainer on the Everlane website you are greeted by a bold claim:
"A new kind of sneaker brand. On the path to zero impact.
The mission: Make the world's lowest-impact sneakers. Make them to last. Make them carbon neutral. And never stop pushing to make them better."
The first step on this journey is The Trainer.
They "started with full-grain leather produced at a gold-certified tannery, then cut the virgin plastic we were using by 54% (and counting)."
The sole is 94.2% free of plastic. Instead, they use recycled and natural rubber. The laces and linings are made from recycled plastic "wherever possible" with 9.5 bottles used in each pair.
This all sounds great.
So what's the problem?
Everlane Tread's carbon emissions are more than double those of a standard pair of sneakers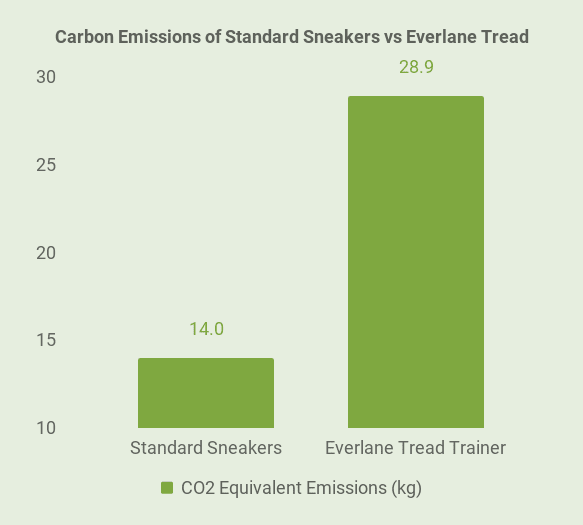 According to an MIT study, the standard pair of sneakers is responsible for 14kg of CO2 equivalent emissions over the course of its lifetime.
According to the results of an independent Lifecycle Assessment (LCA) published by Everlane on their website, the Everland Tread is responsible for 28.9kg of CO2 equivalent emissions over the course of its lifetime.
That's 206.4% the emissions of a standard pair of sneakers.
Meanwhile, fashion bloggers on Instagram are none-the-wiser posting images of themselves in their new sneakers with #sustainability.
Is the Comparison Fair?
Are we comparing apples with apples when we say The Trainer from Everlane has double the environmental impact when it comes to carbon emissions? Some people will say yes and others no. That's why it's important to convey both sides of the argument.
First things first, the MIT study these numbers come from are based on the ASICS Gel Kayano 17. That looks something like the ASICS Gel Kayano 24 pictured below.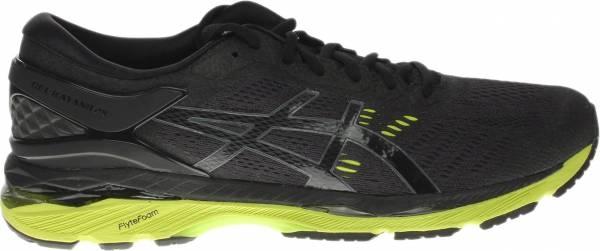 The ASICS Gel Kayano 17 was a running shoe made from virgin plastics and synthetics including polyester, nylon, EVA, and other materials.
A representative of Everlane told me that "The Trainer is designed as a high-quality style to be worn every day, which is why the brand chose to use leather."
So, on the surface, it makes sense that Everlane would choose to make their sneakers from leather.
But, Everlane had said in the past that they would never make sneakers because they are "a disaster for the planet".
In my view, if you know the impact of sneakers on the planet, and you know that leather has a larger carbon footprint than other materials used to manufacture sneakers, why would you create a leather sneaker? Even if it is a "more environmentally friendly" leather, that still doesn't make it environmentally friendly.
There are two main questions: how long does The Trainer last before it wears out? and how are Everlane marketing their sneakers?
I've written previously I'd rather have a pair of sneakers with carbon emissions of 24kg CO2e that last two years than a pair of sneakers with carbon emissions of 12kg that will only last 6 months. If this is the case with The Trainer, as they imply, then maybe it is more sustainable?
Having said that, if Everlane are encouraging their customers to flock to stores to buy another pair of sneakers to add to their collection then it defeats the point of their work entirely. Going and buying a new pair of sneakers isn't going to save the planet. In fact, it will damage it more. When your current sneakers wear out and you need to replace them, that's when buying a more sustainable pair than the last one will begin to make a difference.
Is The Trainer a case of greenwashing?
When weighing everything up, some props have to go to Everlane. The reason I am writing this article is that having researched sustainable sneakers in detail, it's very rare that companies are honest, transparent and put their numbers out there for everyone to see.
Everlane has been transparent enough to publish their numbers.
And, even though I do not feel those numbers make The Trainer as eco-friendly as they are claiming it to be, people have the information in front of them to make up their own mind.
Personally, I won't be going out and buying a pair. I'll be waiting for my current pair (of which I don't know the environmental impact) of Nike Air Max 90 sneakers to wear out before buying any more sneakers.
Point to Note: When this article was first published, Everlane claimed on their own website that the carbon emissions from The Trainer were 51.5kg of CO2 equivalent emissions. This has since been updated to 28.9kg CO2e. The reason for this change was a conversion error from the independent firm responsible for the lifecycle assessment (LCA).