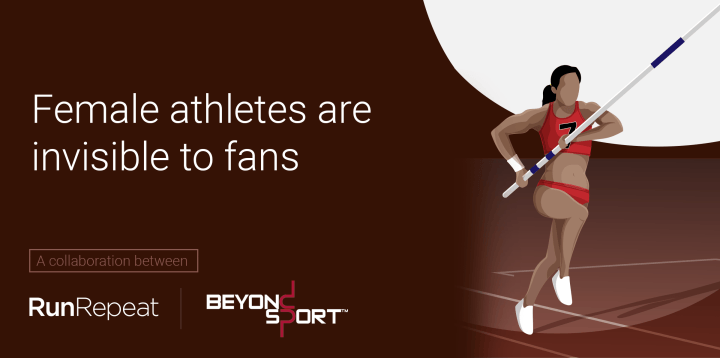 RunRepeat, in partnership with Beyond Sport, surveyed 2,117 people about their role models in sports. Our hypothesis was that historical media dominance and promotion of male athletes will result in men dominating the list of sports idols of both genders.
Key Findings
The result of this survey reaffirms the impact of a lack of equitable access and opportunity for women in sport:
Only 38% of women stated a female athlete as a sports idol, while 98% of men stated a male athlete.
Women are 30x more likely to have an athlete of the opposite gender as their idol compared to men.
Millennial and GenZ women are 50% more likely to idolize female athletes compared to older generations, yet still idolize men by the majority.
White female athletes are 35% more likely to emerge as sports idols compared to female athletes of other races.
Male athletes dominate the list of both genders
When asked who their sports idol is, 98% of men and 62% of women stated a male athlete. This makes women 62% more likely to idolize male over female athletes and 30x more likely to idolize male athletes than men are to idolize female athletes.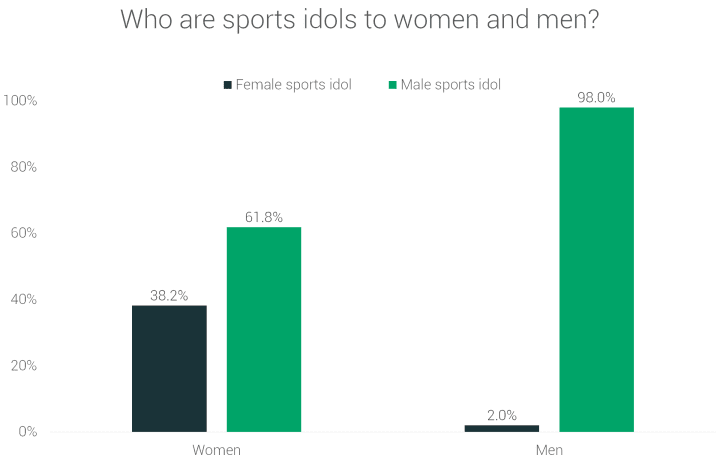 We also examined how various age groups of women differ in the choice of athlete role models. While younger generations of women are increasingly looking to women as their sporting heroes, men still dominate among all age groups.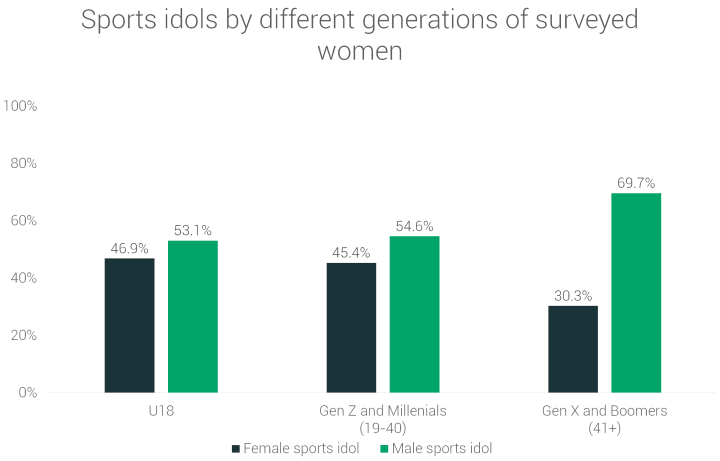 Noticeable differences based on ethnicity and location
There is a notable difference in the share of female role models among women of different racial groups. White women are 31.4% more likely to have a female athlete as a sports idol compared to women of other races.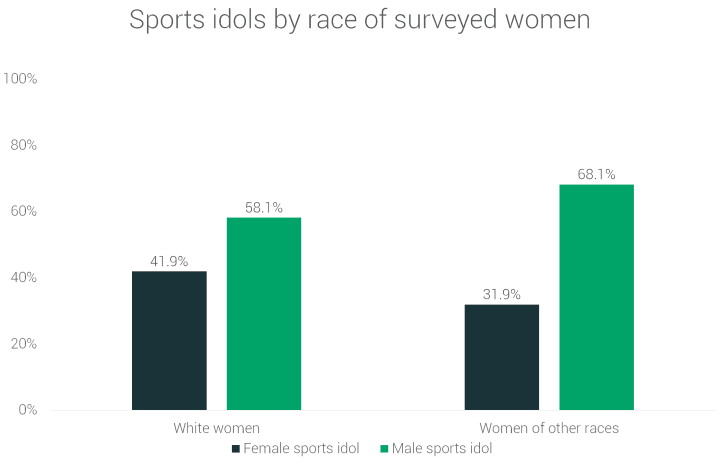 When it comes to athletes' race, white female athletes emerge as sports idols to women 35% more often compared to female athletes of other races.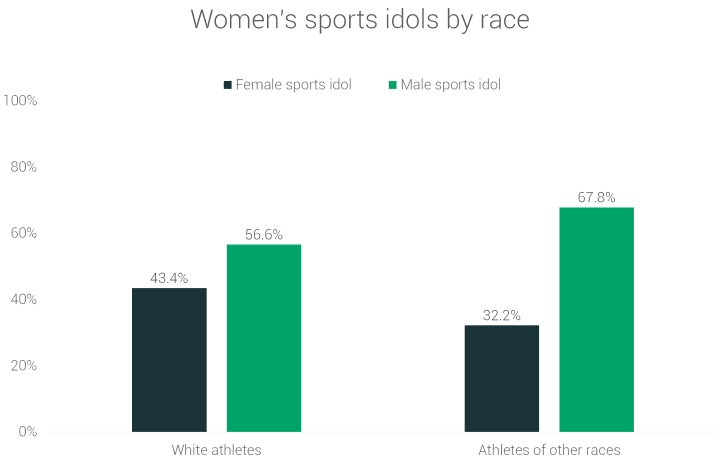 We used Gender Equality Index (GEI) to examine how the share of female sports idols relates to the location of participants.
Women from Western World continents, leading in GEI (Europe, North America, Australia) are 41.5% more likely to have female sports idols compared to women from Asia, Africa, and South America.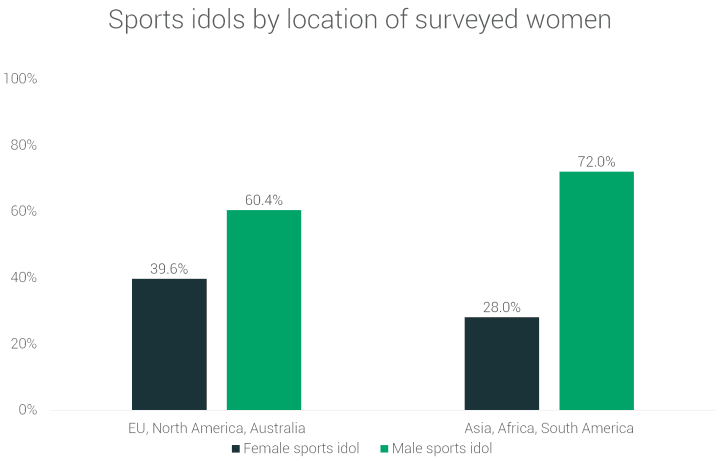 Discussion
Female athletes account for 40% of all sports participants, yet they receive only 4% of sports media coverage. Our survey of football fans shows that the viewership of women's sports could increase by 300%-350% if it was easily accessible on TV.
There is no doubt that media representation has a huge role to play in the promotion of female athletes. In the words of Fred Turner, Executive Director of Beyond Sport:
"Women make up half of the world's population, yet they receive an infinitely disproportionate level of mainstream media coverage - especially when it comes to positive storytelling and sport. But, the research also reflects increasing demand for change from society - with younger generations of both genders increasingly looking to women as their sporting heroes and with global trend towards youth advocacy. Combined with a more demanding fan and consumer base, the media world must take action"
Radha Balani, Director of Design & Facilitation at Beyond Sport, points out the level of impact that the media misrepresentation have on women and girls, who are "offered column inches not pages, the 'and finally' slot in the news, not the headline; the second rate salaries and sports fields, not equal pay or quality facilities."
Balani concludes with an important and provocative question question "What does this tell women and girls about their value and place in the world today, and their opportunities for tomorrow? It tells us to get in line behind men and boys."
Conclusion
Our findings indicate a huge gap in the visibility of female and male athletes to fans, as men dominantly emerge as role models to both genders. An increase in female idols among younger generations is a positive sign, but it's still far from equal distribution among genders.
The consequences of this disproportionate divide are complex, but what is clear is that our future female athletes - be them Olympians, international soccer players, semi-pro basketball players, or your local community coach - will not be fully realized without equality on and off the playing field.
Additional notes
The main hypothesis that women will have more male than female idols was tested for significance and hold true even with 99% statistical significance.
Age and regional aspects of the survey have smaller significance due to the smaller sample size.
Use of data
All data presented in this research is available for free use, as long as a link to the research is provided as a source reference.
For any questions regarding the research and data presented, feel free to reach out to Dimitrije Curcic, Basketball Research Director, at dimtrije@runrepeat.com
About RunRepeat
We are the biggest sports shoe review aggregator in the world. Using our unique CoreScore system, we dissect every available model, whether it's for running, hiking, basketball, training, and many others. We make sure that you get the best possible information and deal on your favorite model.
Our brand new RunRepeat Lab contains the most in-depth info on models. Check out how insanely detailed our lab reviews are.