Verdict from 6 experts and +100 user reviews
5 reasons to buy
The one-piece design of the Brooks Ricochet 2's upper unit is welcomed by those who have tested it, stating that it is smooth and sock-like.
Some consumers have noted that the cushioning system is reactive to their movement capacity.
The breathability of this Brooks running shoe is appreciated by testers.
The traction yielded by the outsole rubber is deemed dependable as it apparently permits confident movements on the asphalt.
Flexibility is a trait that is lauded by those who welcome a shoe that accommodates natural motion.
2 reasons not to buy
A tester has claimed that that the rear of the collar has a tendency to rub against the foot.
The upper unit has exhibited some loose-threading after a few weeks of use, according to a purchaser.
Bottom line
The overall reaction towards the Brooks Ricochet 2 has been positive. This product is welcomed because of its seamless construction, the breathable upper, the traction-ready outsole, and the flexible midsole. It is an update that continues the legacy of its relatively fresh predecessor, the original Richochet model.
Fans of neutral running shoes that are for the roads are the target market of the Brooks Ricochet 2.
Tip: see the best running shoes.
Our reviews
The look of the Brooks Ricochet 2 displays speed. I know when I got these out of the box, I was very impressed by the first look of them. They not only look fast, but they have a very stylish look that asks you to wear them.
I've been there before, though. You get a cool looking shoe, and you find out that you hate running in them. And, then—boom—they're in a huge running shoe pile, just to be picked up rarely.
So, what are the Brooks Ricochet 2? Do the style and design bring function with it? Well, read on, and you'll get your answer.
Type: Neutral Daily Speed | Weight: 9.7oz. | Drop: 8mm | Retail: 120.00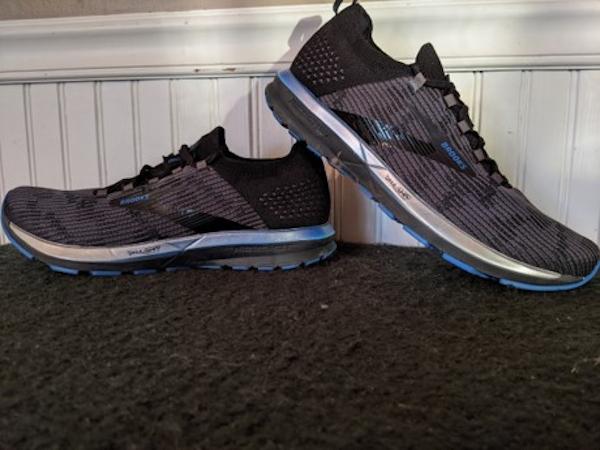 The breakdown
Here we go guys, my favorite part. This is where I go in detail about each shoe piece and how it affects performance.
The upper
This upper is 100% knitted design that is varied in tightness and flexibility throughout. As you go to the midfoot to the forefoot, the knit is basically immovable. It leads to stability, which is much needed in these areas.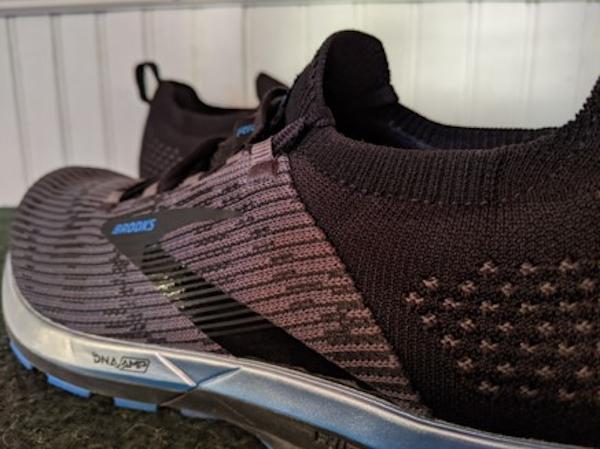 The top of the knit where the lacing system lays and towards the collar is all a very flexible knit, which allows for a sock-like fit in this area. The heel then changes to a more secure knit with extra padding to aide in lockdown and support.
Overall, this knit is great. It leads to fit, stability and unmatched style. I am extremely happy that Brooks gave us a functional knitted upper!
Lacing system
And, so we have it, the deadly flaw. In my opinion, a shoe can be awesome in every aspect, but if they do not provide a great lockdown and sense of security with the lacing, it's all for not. This is what happened with this shoe.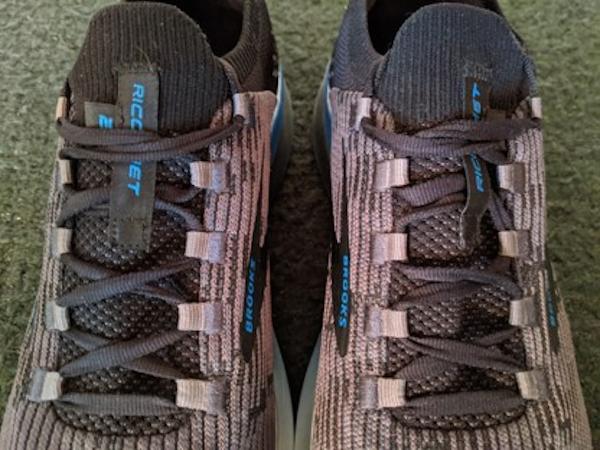 First off, the laces are terrible. They are an elastic type lace that stretches a bunch and leads to a TON of extra lace. Then, to follow that, you must lace these very tight to get any sense of stability, which just adds to the excess of the lace.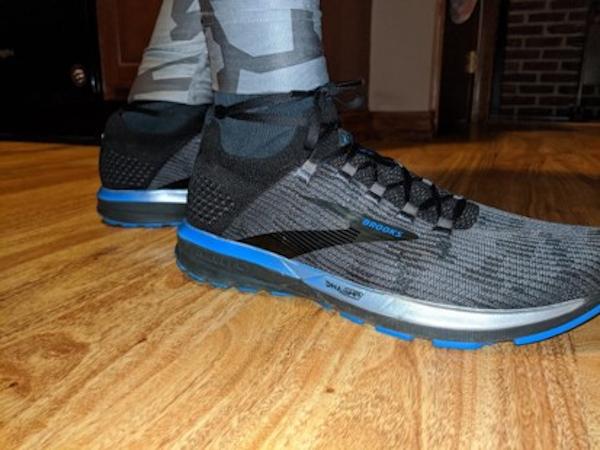 Secondly, this shoe provides no heel lockdown, and it has no extra lace loop to be able to provide a heel lock lace as needed. After lacing these as tight as I could get them numerous times to no avail, I took to this strategy in the picture above.
I know it's ridiculous, but it worked! Not only did it bring heel lock, but it used up all the extra lace.
Brooks, all this hassle could have been easily avoided if you just provided an extra eyelet for laces!
Midfoot support
Here we have nothing to speak of. I am used to seeing some extra technology at the midfoot for knitted uppers, but with the Brooks Ricochet 2, the only thing we have is more tightly knitted fabric.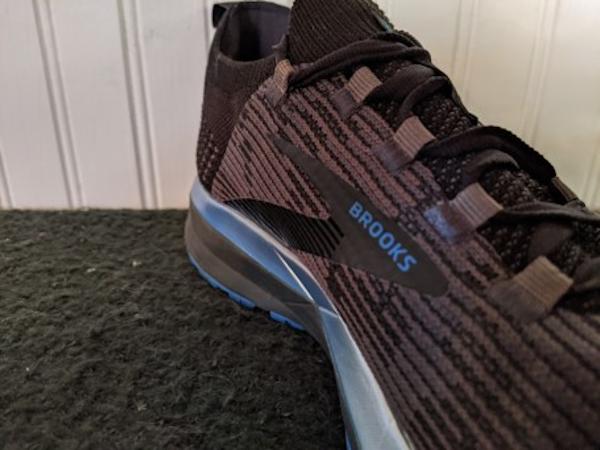 As I said, the lacing doesn't help much, so I was disappointed with the thought here. I have some mild pronation naturally, which just became more pronounced due to the lack of mid support.
Toe box
The toe box was adequate. I didn't wish for any more space here even though I usually love a very wide toe space. There wasn't a lot of compression in the toes either like some other knotted shoes, which I enjoyed greatly.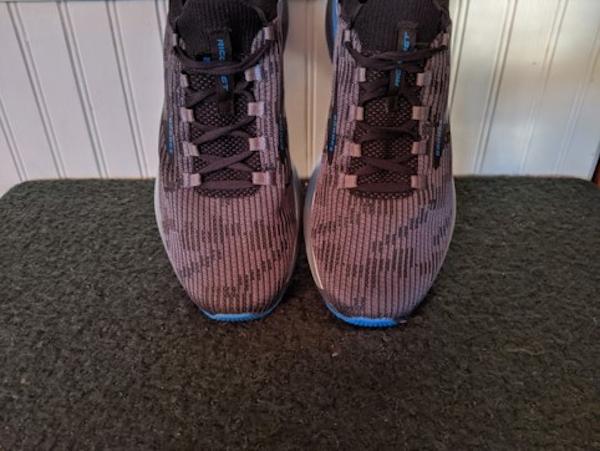 Collar
The collar is cool to look at. The shoe's collar reflects a sock and is stretchy. This brings forth a comfortable connection to the shoe and doesn't provide any extra padding.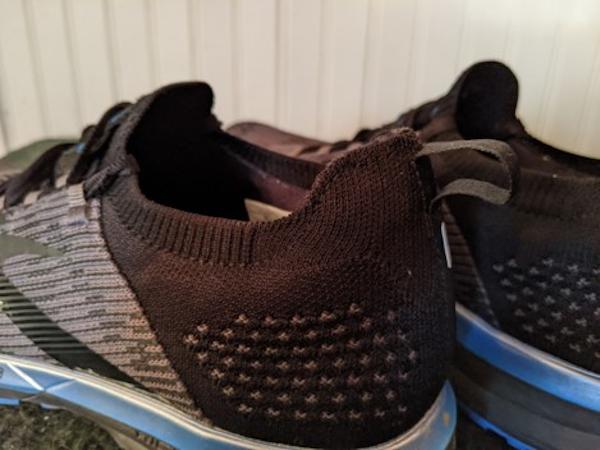 As you look towards the heel area of the collar though you can see some minimalist padding which helps provide just a bit extra comfort and lock.
All are seamlessly connected to the rest of the shoe, and no tongue is present here. This is a very unique area of the Ricochet 2 which I enjoyed.
Heel
The heel is done really nicely. Considering how unhappy I was with the lockdown, this heel tries to make up for it.
It is a very stiff heel, which goes a long way to provide some structure and prevent an excessive medial collapse of foot. Thumbs up here.
Midsole
This shoe is made for speed, not comfort. This shoe is hands down the firmest shoe I have owned to date.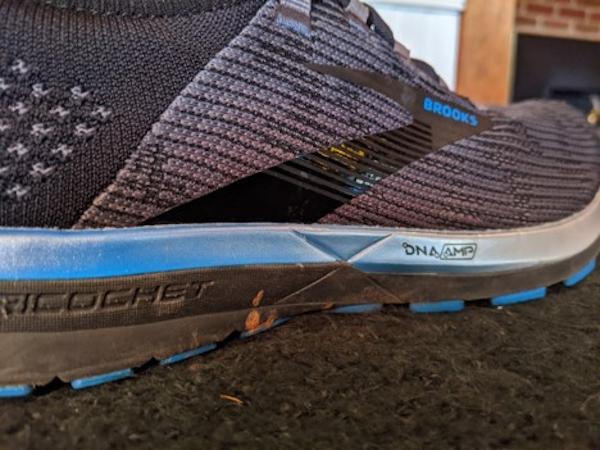 It initially caught me off guard, but with added miles, things started to soften a bit, and the firmness actually helped contribute to more speed during my fast runs.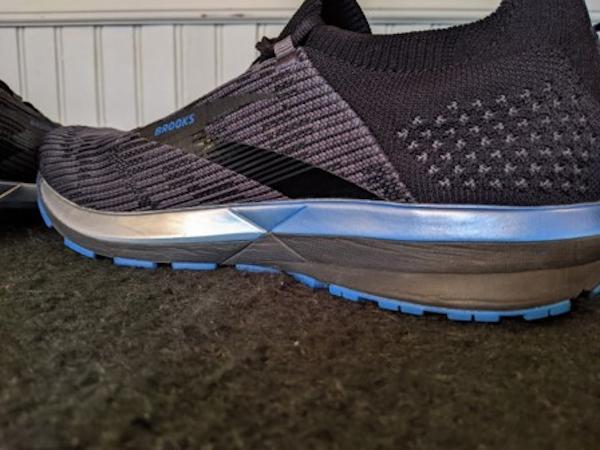 The Brooks Ricochet 2 comes in with an 8mm drop, which is a solid number to satisfy all folks. This drop rests right in the middle of "low" and "high" drop shoes. I usually have a 5mm or less preference, but these were great.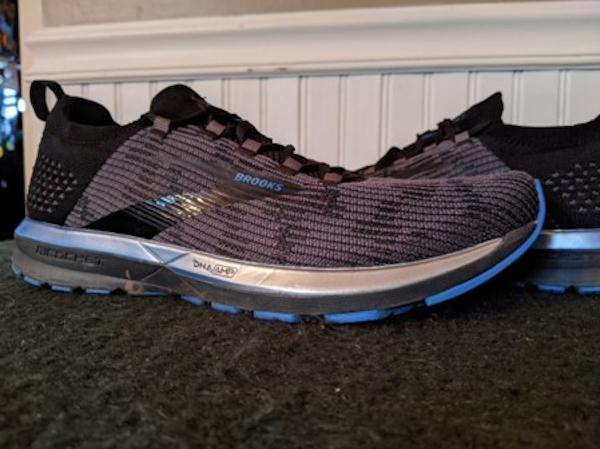 The 8mm, firm midsole comes with a neutral ride. The soles stiffness help a little with stability, but overall you will only like these if you are very close to a neutral gait runner.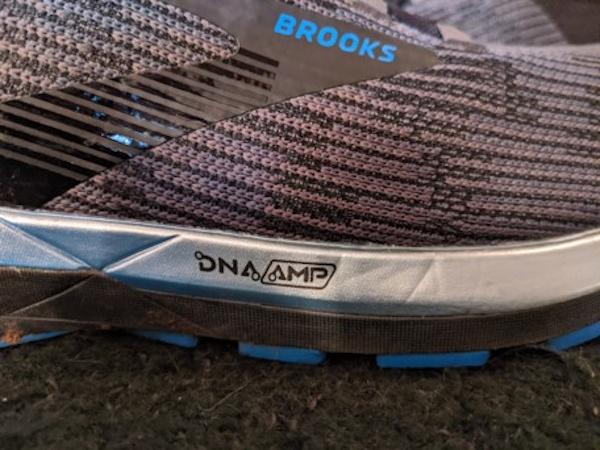 In the words from Brooks, "the combination of BioMoGo DNA and DNA AMP cushioning work together to provide a light, responsive ride that gives more energy back to you while you're road running."
I found this statement true. As my runs went on, I felt more return and found myself more happy with this shoe.
Outsole
The outsole is a great match for the shoe. I loved the arrow type tread, which helped with transitions during fast-paced runs.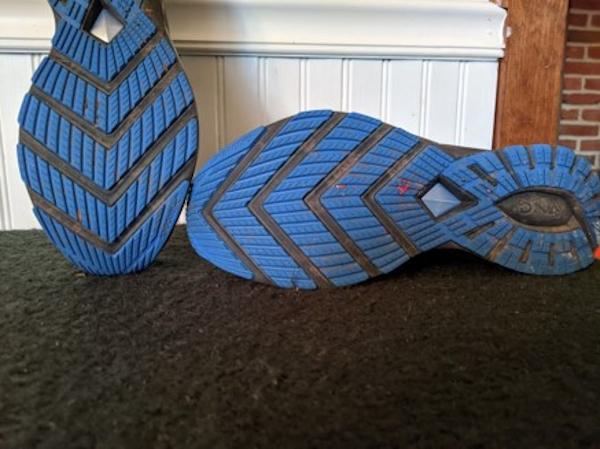 I also enjoyed how much tread there was. I never caught myself losing traction through gravel, pavement and wet weather. Much praise for the outsole
The fit
The Brooks Ricochet 2 comes true to size. I am a size 10.5 and felt like the fit was perfect. As I said before, though, when it comes to fit in the sense of secureness when running, I give it a thumbs down due to virtually no heel lock.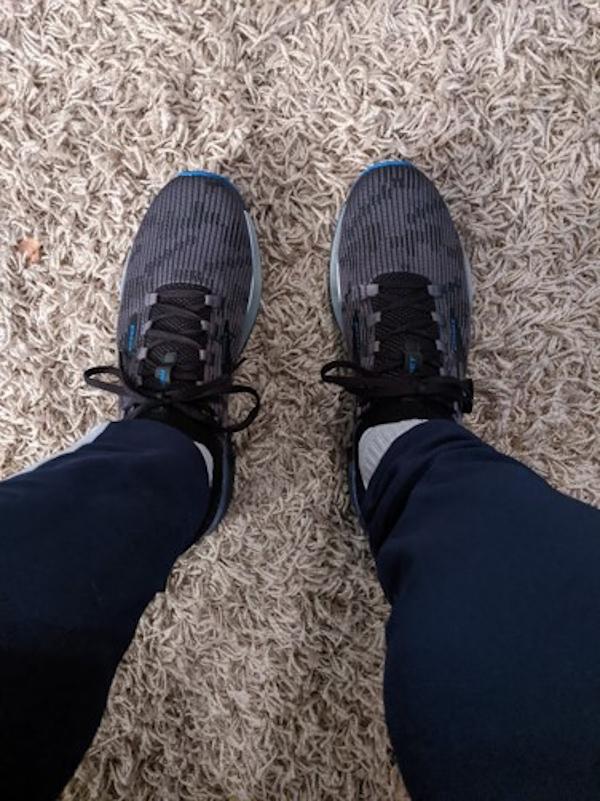 The feel
With FEEL comes "wanting". We all know that a shoe can come with a lot of technology and even a bunch of performance when it comes to racing.
But if it doesn't feel comfortable and "good", then we avoid wearing and them and in turn, never get what we paid for.
The feel for The Brooks Ricochet 2 is just not enticing for me. They aren't super comfortable, and I never really was reaching for them out of desire when I was heading out for a workout.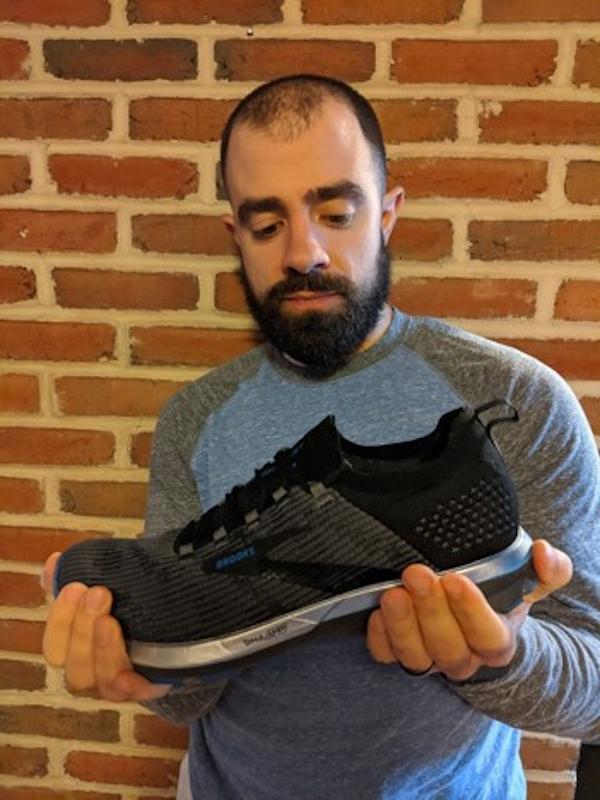 The speed design sacrifices cushion for firmness, which is all good. But at the end of the day, this shoe is not a pure racing shoe.
It is more of a daily fast shoe, and for any daily shoe, I believe we need some comfort addition to help us along during all the training we put in.
Function
Based on the make-up, the technology and even the look of the Brooks Ricochet 2, speed is what it is made for. After many miles of running, I can say that speed is what it gives you, but I wish it gave a little more of it.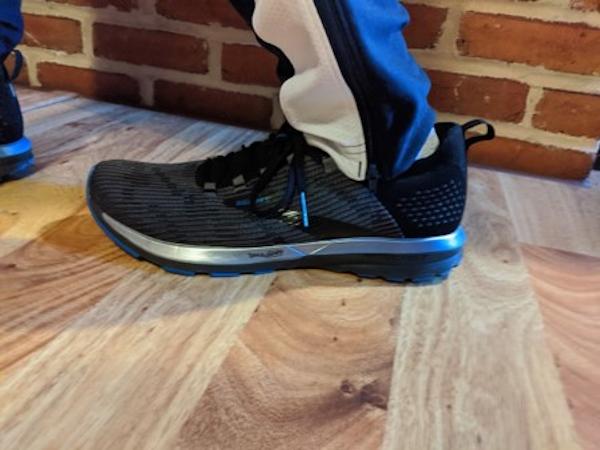 This shoe rests in the land of daily speed shoes. For most of us, what we wear for race days is what we would wear for speed work, so the category of the Ricochet 2 ends up being not as popular as some.
I can say that this shoe fulfils what it was met for, but I would like for Brooks to either give a little more cushion and comfort. So, I can enjoy my daily speed work or strip it down and give us a light race shoe that will provide us with PRs.
Quality
The shoe is great to look at, and there are a lot of design elements in this shoe, which you can tell, much time was spent on. I feel the quality when I hold the shoe, when I wear it and when I examine.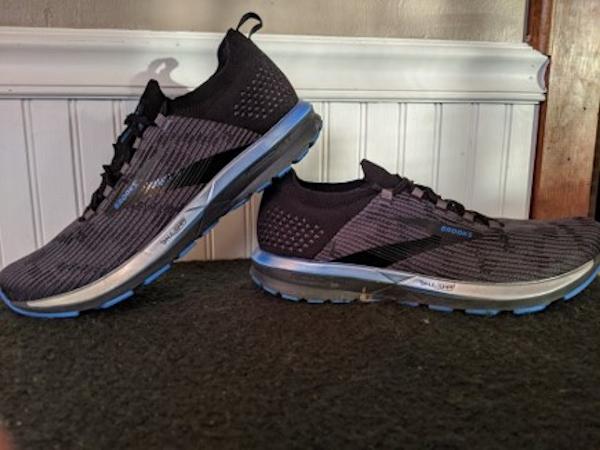 I have seen no wear as of yet with over 50 miles of running and am very happy with the price point of $120.00.
Overall
Overall, the Brooks Ricochet 2 comes in as a satisfying speed shoe for daily training work. I can say I was very happy with the design, the technology and the look of this shoe.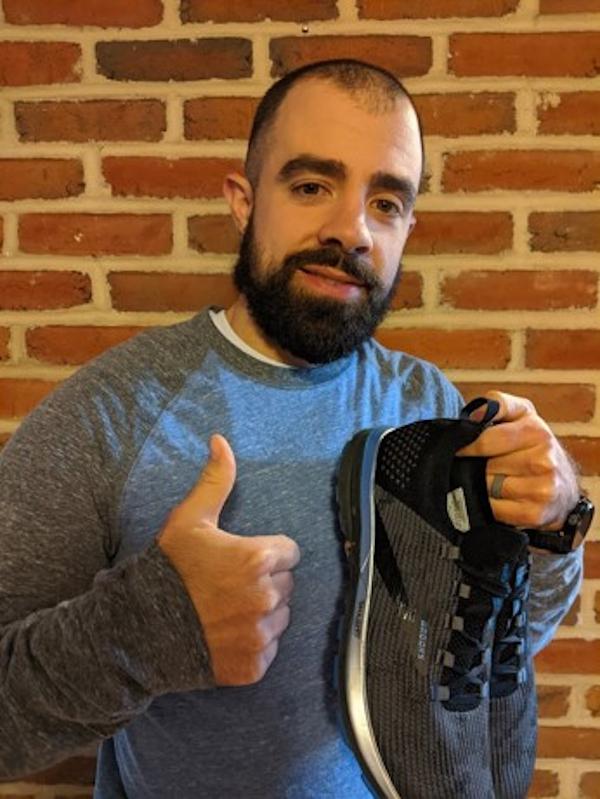 I highly recommend it for any of you who enjoy a neutral, speedy daily trainer and don't need any extra support or cushion. I was very unsatisfied with the lockdown and the security of fit but with a little innovation of lacing (see above pic) you can solve the problem.
I usually do not care much about the way a running shoe looks but before receiving the Brooks Ricochet 2, I was excited due to it's sleek and fast design. I have not loved sock-like uppers in the past, but I had high hopes that the Ricochet 2 would be different.
When I unboxed them, that excitement continued, and I could not wait to give them a try; however, a small ounce of caution set in due to their odd fit.
The Brooks Ricochet 2 weights 9.7 oz and has an 8 mm drop. It features a sock-like upper with an embedded tongue and knit construction.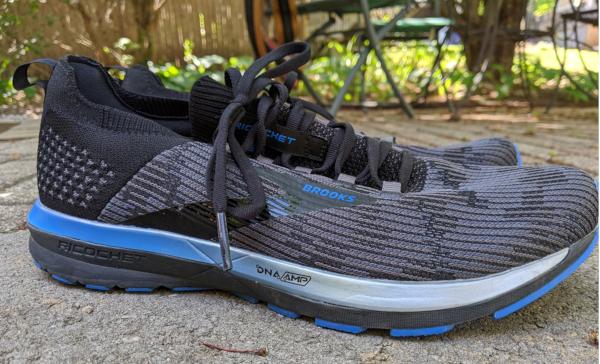 The shoes felt long and a bit sloppy (which I was not a fan of), but I figured they'd be fine with the right socks. Unfortunately, they did not work for me.
For a thorough review, I commit to at least 50 miles in each pair of shoes. The 50-mile mark was a struggle to reach because I did not enjoy the sloppy-smack ride, loose fit, and dead-firm feel of the Brooks Ricochet 2.
Upper
As mentioned earlier, the Ricochet 2 features a sock-like upper that consists of a knitted mesh material.
In the black, grey, and blue colorway I tested, the upper stands out due to its sleek and polished finish. But my enthusiasm for it stops there.
The Ricochet felt about a half-size long and gave me the feeling that the sole of my foot was disconnected from the sole of the shoe. It felt like with each stride, I had to lift up the foam underneath and stiffen my foot in order to land correctly with the next stride.
No matter how tight I laced them, the upper felt a bit too and led to a clunky overall fit.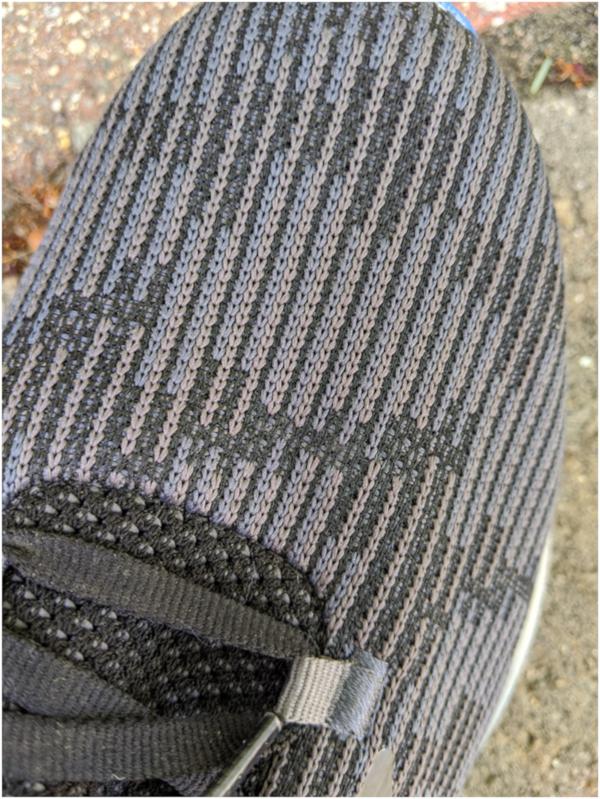 The collar and knit-mesh were comfortable but did not perform during runs. The shoe ran long and was too stretchy, which caused a clunky stride.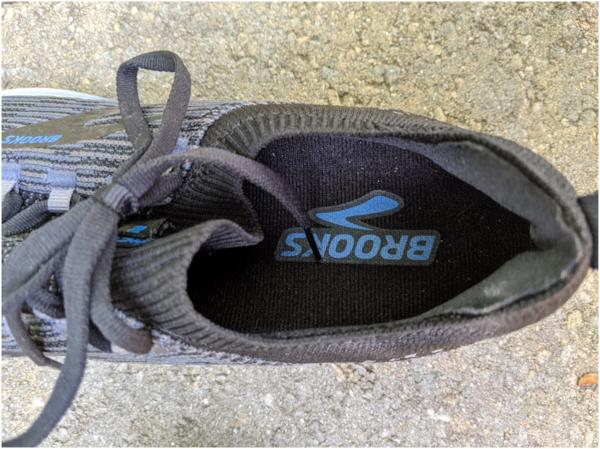 Midsole
Similar to the upper, I love the look of the Ricochet 2's midsole. The faded silver and blue looks fast and full of energy.
Though not unlike the upper, I could not find a smooth rhythm during my runs, and the midsole did not feel like it worked in tandem with the upper.
The midsole features Brooks' DNA AMP, which intends to offer a springy and energized feel, but it felt a bit too hard, heavy, and stiff for me.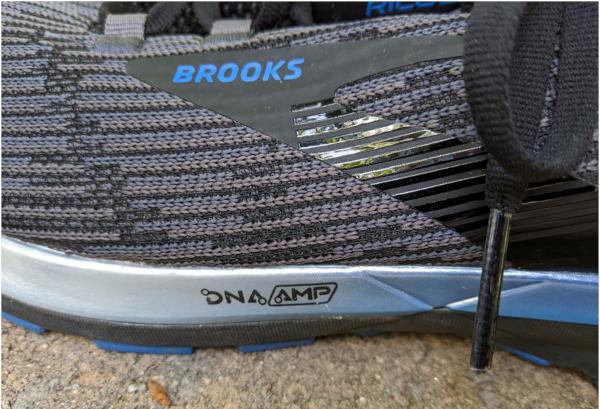 There were moments of springiness from the DNA AMP Foam if I landed just right but ultimately seemed like there was a slab of heavy bouncy ball underfoot and not in a refreshing way.
Outsole
The outsole held up admirably with regard to durability. I do not think it hinders the ride in the same way as the upper and midsole, but it's hard to tell how it functions due to the lack of cohesion amongst the shoe's other parts.
The outsole looks very similar to the Brooks Launch, (which I have enjoyed in years past). I'd love to try it on another one of Brooks' shoe models in the future.
However, it did not stand out in any particular way on the Ricochet 2 apart from its stout durability amidst a growing shoe industry in favor of exposed outsole, like the Hoka Rincon.
The outsole tread reminds me of the Brooks Launch. It held up very well, with nearly no signs of wear, especially in comparison to the likes of exposed EVA outsoles.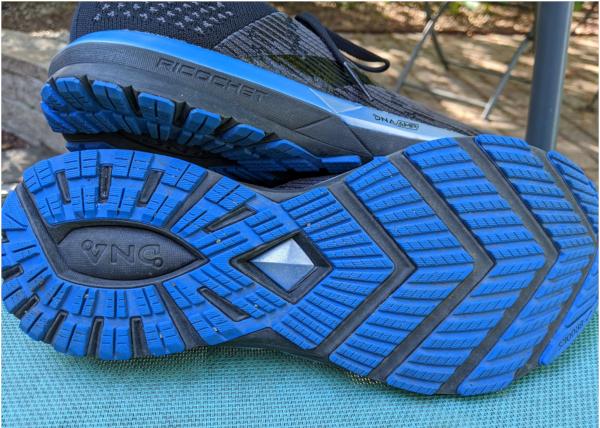 Overall
The Brooks Ricochet 2 appears as though it would offer a silky, snappy ride, but ultimately there's a lack of unity amongst the shoe's parts.
I believe this shoe will outlast many of its counterparts with regard to durability, but I am not convinced many people will want to spend that much time in a shoe like this. It was more of a nuisance than a useful tool.
Perhaps a half-size down would have benefited me, but if you want a shoe from Brooks, look for other models, as the Ricochet 2 was a bit of a mess.
Brooks, founded in 1914, originally made shoes for a wide range of different sports. Over time, its focus narrowed to running, a decision that has evidently paid off! I know countless runners who are outspoken Brooks devotees.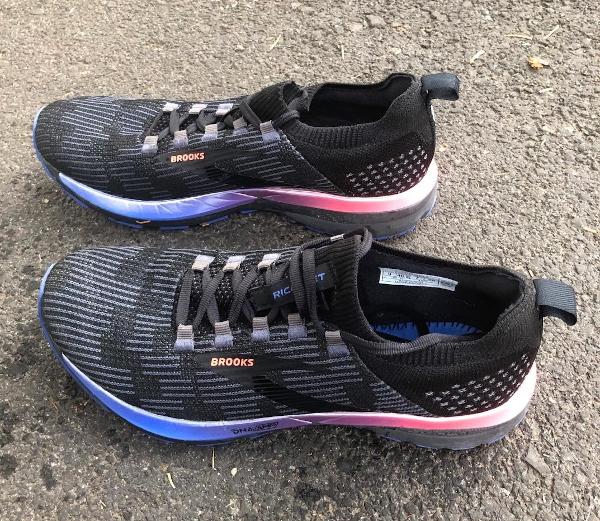 While some of my favourite running tights and shirts are from this company, I don't have much experience with their shoes, other than the PureGrit 2.
I haven't identified strongly with the brand in the past, but the Ricochet 2 has truly won me over with its combination of comfort, good looks and functionality.
The Ricochet 2 is a neutral, 8mm-drop road shoe. I'm a lightweight, mid- or forefoot striker who runs distances of 4-15 miles at a time, 4-5 times a week. I've run over 50 miles in the Ricochet 2, mostly on the roads, some on the treadmill and a little on non-technical trails.
I've also taken this shoe to the gym a lot, where I wear it for strength training because it's so comfortable. Consider me a Brooks shoe convert.
The Ricochet 2 performs well on flat, easy trails like this, as well as on the roads.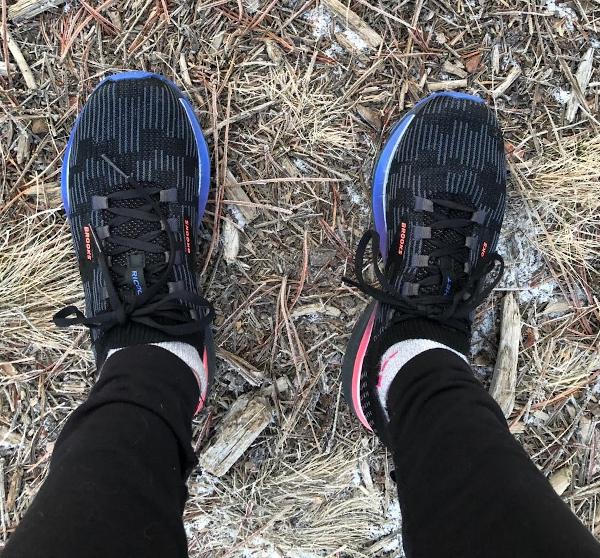 Aesthetics
I tend not to be a huge fan of black running shoes, but the colourful, shiny sole is fun. It's a unique looking shoe that makes a better impression in person. It has some reflective detailing on the heel, which is always good in a road shoe.
Shown is the women's Black/Blue/Fiery Coral colourway. There are currently only two colour options, this or a grey version (Grey/Cantaloupe/Grape) with a similarly eye-catching sole.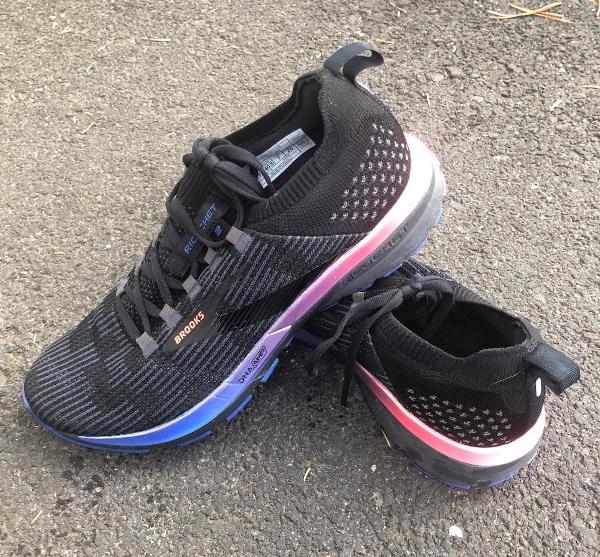 Upper
The Ricochet 2 runs ever so slightly small. Having heard this, I went up a half size from my normal running shoe size, and it fit perfectly. The flat-knit upper lets your foot breathe.
The sock-like fit feels snug around my relatively small ankle, and the heel wrap helps to keep my foot in place. My only complaint is that the laces are far too long, to the point where I have to triple-knot them.
The attractive flat-knit upper provides a close, comfortable fit.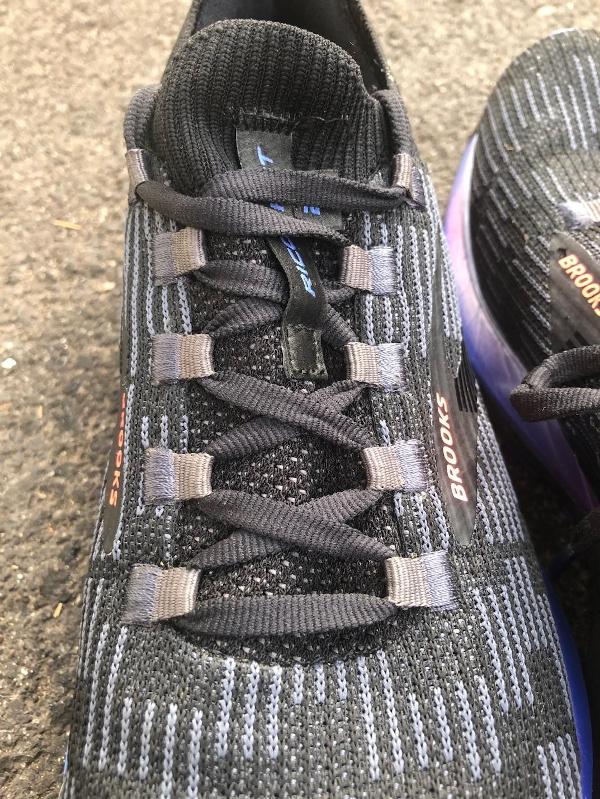 The heel offers an excellent fit, a tab to help you pull the shoe on, and a small reflective detail.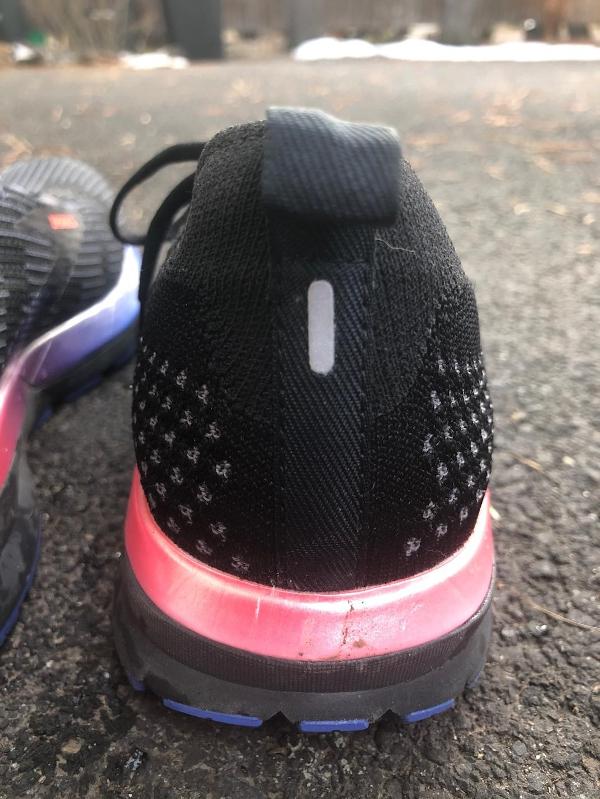 The Ricochet 2 boasts a breathable knit upper that is stretchy but supportive.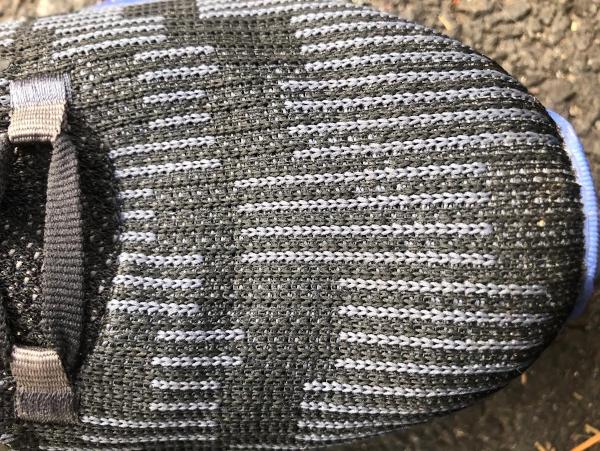 The insole is minimalistic. Brooks' website refers to this as a "removable cushioned footbed for added underfoot support and shock absorption," but I could barely feel the difference with or without it.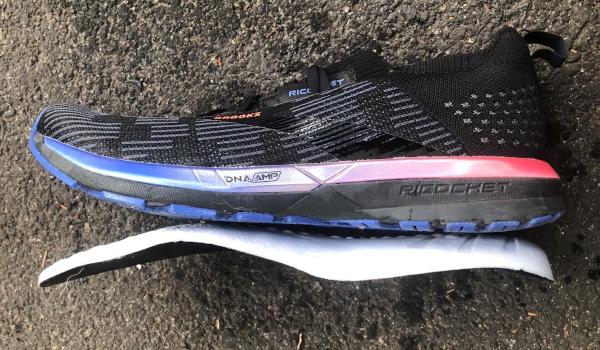 A little wear on the heel started to show at about 40 miles.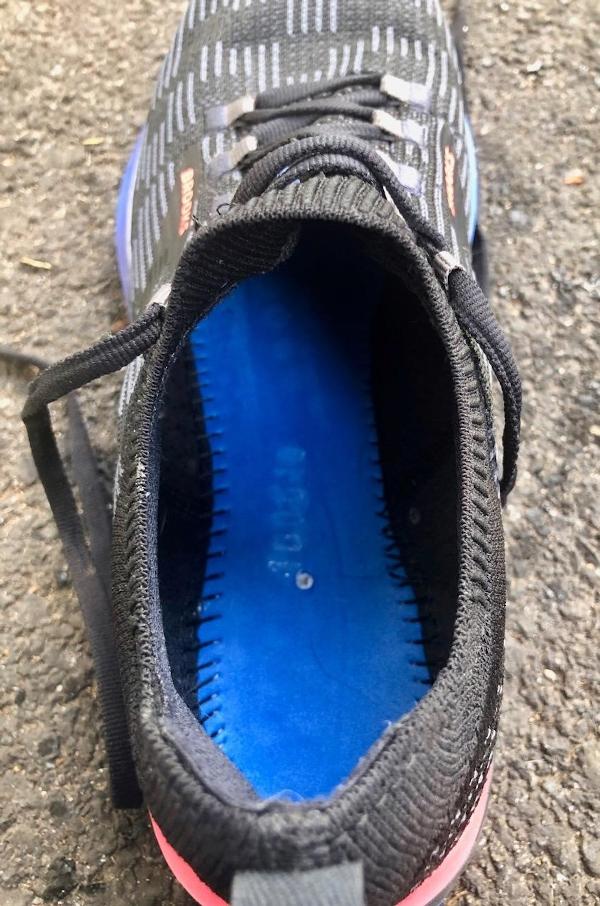 Midsole
The Ricochet 2 has firm to moderate cushioning provided by two clever technologies, DNA AMP—an encased foam that expands a little as you land—and adaptive BioMoGo DNA that tailors itself to your gait, weight, and the firmness of your running surface.
For me, the combination of these materials achieves the responsive sweet spot where the landings feel soft enough, and the energy return is great. That being said, I generally prefer shoes on the firmer side, so this may not be everyone's cup of tea. The midsole is nice and flexible.
The performance of the cushioning materials can, however, wane in the cold. When I run in conditions between 20-30 degrees Fahrenheit, it feels like I get less energy return. The shoe feels a little dead underfoot. This is not true of some other shoes in my "stable."
The Ricochet 2 does, however, perform well in wet conditions, which might be a more common concern for runners. Testing it on the road after it's rained all night, I've been pleasantly surprised by the traction.
Bear in mind, though, that this is not a waterproof shoe. You might end up with damp socks, but at least you will remain upright.
Outsole
The arrowhead patterned sole is designed to improve forward propulsion, and it absolutely does that. It also offers good grip on a range of surfaces including wet roads. I generally prefer a more flexible shoe but didn't have any issues with this slightly stiffer design.
This sleek shoe has a minimalist look and feel. It is great for everyday training. My feet stay happy whether I'm taking these around the block or covering 10 plus miles, as long as it's above freezing outside.
The sole seems durable and offers impressive traction even in wet conditions. It is designed to aid a fast and efficient heel-to-toe transition. As a forefoot-striker, my heel barely touches the road, so I cannot attest to its performance.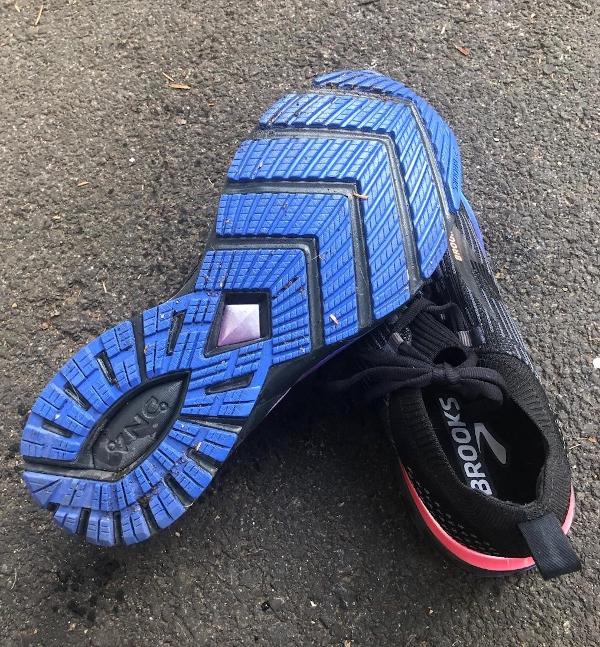 The bottom line
Ricochet 2 is a great shoe, and I highly recommend it. It feels light, fast and comfortable, and gives the impression of being lower drop than its 8mm. This is a high-quality shoe with a unique look.
Pros
Comfortable
Great traction
Responsive
Reasonably priced
Cons
Overly long laces
Suffers in the cold
Good to know
The Brooks Ricochet 2 is an update to the up-and-coming line of road running shoes that aim for comfortable and natural performance. The differences between this model and the original Ricochet shoe lie with the uppers, with the former employing a stretchier version of the flat-knit material used in the latter, as well as a form-fitting collar design that minimizes pressure from the ankles and heel.

Rubber is used for the outsole of the Brooks Ricochet 2. This layer is designed to protect the base of the cushioning system from the potentially damaging nature of the surfaces.
The arrow-point pattern that serves as the design of the outsole isn't just for show. This angular ornamentation helps the foot to maintain forward motion and momentum by encouraging a forefoot strike and heightened flexibility.
Flex grooves help the platform to bend with the toe joints as they prepare the foot for the toe-off. They also smoothen the step, ensuring that the performance is speedy and in line with the comfort levels of the wearer.
DNA AMP is a topsole that is meant to serve as the surface on which the foot can immediately rest during the run. This technology is comprised of a polyurethane piece that is coated with a thermoplastic polyurethane (TPU) sheet to deliver consistent and unflinching support, even after many uses. It contours to the shape of the foot-pad, thus ensuring a customized underfoot feel that targets the foot-shape of the wearer.
Below the topsole is a layer made of BioMoGo DNA, another Brooks technology that offers reactive and responsible cushioning that follows the movements of the foot. This full-length element is made of recycled materials. BioMoGo DNA is used by many of the brand's products, including the well-known stability running shoe line, the Brooks Ravenna.
A lightly cushioned insole is placed on top of the primary cushioning system. This detail offers a soft surface for the underfoot. It even ha a fabric top to evoke smoothness and step-in comfort.
The upper made of a two-piece flat-knit material that resembles woven cloth. A stretchy portion runs from the midfoot to the front, ensuring its ability to welcome the motion and swelling of the foot as it tackles the run. The rear part has a close-weave kind that hugs the heel and keeps it stable at all times.
A one-piece collar embraces the bottom part of the lower leg, giving a feeling of being wrapped by a sock. A protruding front part acts as the tip of a tongue unit, covering the bridge of the foot and completing the encompassing hug.
Printed overlays reinforce the sides of the upper unit, taking the shape of the logo of the brand. These elements bolster the durability of the facade and help with the attainment of a snug and secure wrap.
A ghillie lacing system graces the upper, with flat shoelaces snaking through fabric eyelets that are isolated from the main material of the coverage. Such a design permits the adjustment of the fit while preventing material bunching, hot spots, and chafing.
A pull tab is stitched onto the rear of the collar to help widen the shoe's opening. A small reflective capsule is printed onto this part, and it's meant to make the shoe more visible in low-light conditions.
How Ricochet 2 compares
Corescore: 57-60
4 shoes (0.48% of shoes)
Corescore: 61-63
7 shoes (0.83% of shoes)
Corescore: 64-67
13 shoes (2% of shoes)
Corescore: 68-70
10 shoes (1% of shoes)
Corescore: 71-74
49 shoes (6% of shoes)
Corescore: 75-78
109 shoes (13% of shoes)
Corescore: 79-81
170 shoes (20% of shoes)
Corescore: 82-85
236 shoes (28% of shoes)
Corescore: 86-88
143 shoes (17% of shoes)
Corescore: 89-92
100 shoes (12% of shoes)
Corescore: 93-93
1 shoes (0.12% of shoes)
Price: £40 - £60
66 shoes (8% of shoes)
Price: £70 - £90
187 shoes (22% of shoes)
Price: £90 - £110
153 shoes (18% of shoes)
Price: £110 - £140
226 shoes (27% of shoes)
Price: £140 - £160
109 shoes (13% of shoes)
Price: £160 - £180
53 shoes (6% of shoes)
Price: £190 - £210
32 shoes (4% of shoes)
Price: £210 - £230
5 shoes (0.59% of shoes)
Price: £230 - £260
8 shoes (0.95% of shoes)
Price: £260 - £280
3 shoes (0.36% of shoes)
Weight: 100g - 133g
6 shoes (0.85% of shoes)
Weight: 134g - 166g
13 shoes (2% of shoes)
Weight: 167g - 200g
37 shoes (5% of shoes)
Weight: 201g - 234g
104 shoes (15% of shoes)
Weight: 235g - 268g
173 shoes (25% of shoes)
Weight: 269g - 301g
186 shoes (26% of shoes)
Weight: 302g - 335g
122 shoes (17% of shoes)
Weight: 336g - 369g
48 shoes (7% of shoes)
Weight: 370g - 402g
11 shoes (2% of shoes)
Weight: 403g - 436g
2 shoes (0.28% of shoes)
Weight: 437g - 437g
1 shoes (0.14% of shoes)