The Brooks Glycerin 19 is Brooks' softest running shoe yet. It's a long-time favorite daily trainer that's built on comfort and stability. It's not peppy, but if you're looking for a consistent ride, this is it. As a true Brooks, it's a shoe that lasts a long time!
Pros
Plushy
Tongue stays put
Perfect midfoot lock
Soft and stable ride
Durable
Great grip even on dirt roads
Roomy toebox
Smooth ride
Perfect for daily runs
Cons
Lacks pep underfoot
Too warm for summer days
Brooks Glycerin 19 review and lab test
The Brooks Glycerin 19 is a daily trainer for neutral runners, with ample cushioning and lots of plushness in the upper.
This is our first lab-tested shoe. We are starting to put hard numbers to everything we can test on a pair of shoes, from the softness of the midsole and outsole, the force it takes to flex and bend the shoe, slip resistance of the laces, where they fall on the minimalist index, and so much more.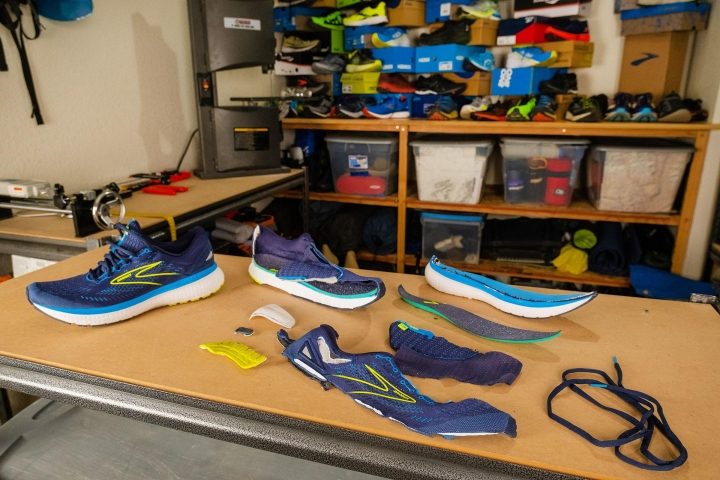 We'll keep refining this process, but our goal is to ensure we have the best and most detailed information so you can confidently buy the right shoes every time.
Padded, stretchy and roomy
I liked that the upper is super flexible with lots of padding, it's a plush shoe that provides a ton comfort. The forefoot and toe box are nice and stretchy and there's ample room with the upper measuring 98.2mm wide at the forefoot, which lets your toes splay nicely.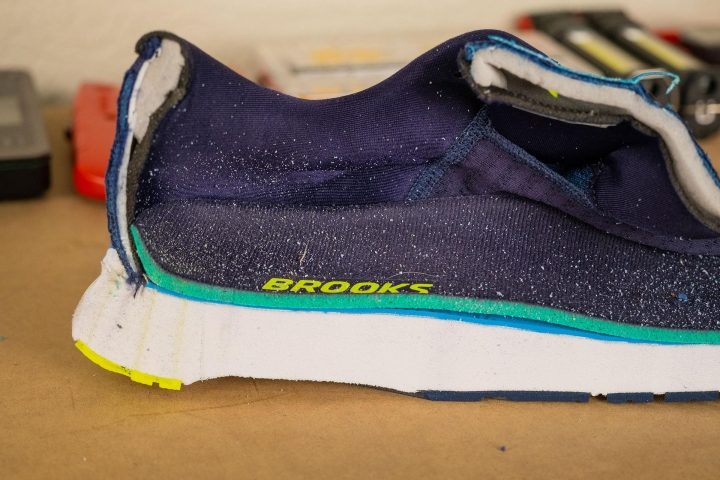 Tongue stays put!
I also love the gusseted tongue. It has a full gusset made from a stretchy nylon/polyester, the mesh starts just in front of the heel and continues all the way around the toe which is a great feature, it helps with lock down across the midfoot but stretches and breaths well.
These have a heavily padded tongue at 8.4mm thick and a plush 14.4mm ankle collar, making it feel soft and inviting to your foot on every run.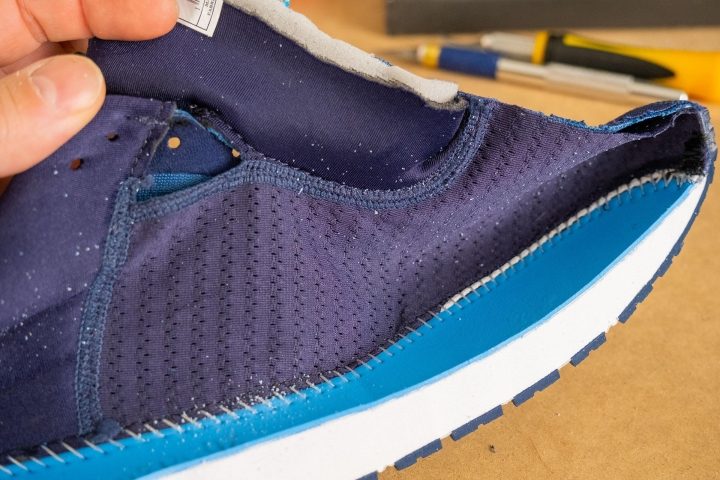 Perfect midfoot lock
The soft tubular laces stay tight, taking an average of 25.7n of pressure to come undone. I dig these laces because they stretch enough to be flexible over the top of your foot, but not so much to hinder lockdown on the upper. These laces had a stretch ratio of .125.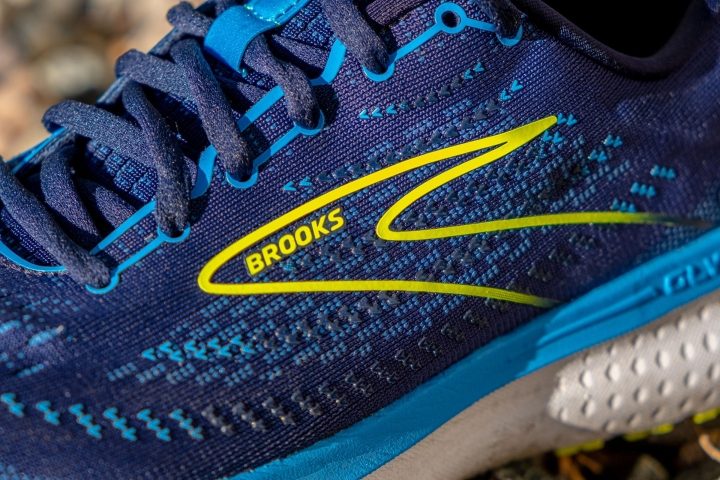 Soft and super stable ride
The DNA Loft midsole has a nice soft ride, averaging 37.2ha in the forefoot and 39ha in the heel. Plus they are built on a nice wide 117.3mm platform under the forefoot making it very stable and well balanced.
Durable and grippy
The Glycerin 19 has a full rubber outsole extending its durability and I had no problems with grip on even, dry surfaces. I've tested it on asphalt and on dry dirt roads with no issues. This is a dual-density outsole with the forefoot measuring 77.2hc on our durometer and 3.1mm of depth, and the heel logging 84.8hc with 3.9mm of depth, adding a little extra durability for those heel strikers out there.
So unresponsive that they are boring
They are a bit heavy at 294g or 10.25 ounces, and there's really not a ton of pep under foot. They are medium stiff with our flex test showing 25.8n of force to bend them at the breaking point, but there's not a ton of response. They feel a bit dull, I really wanted this midsole to have a bit more life to it, it needs a little CPR I think.
Softness varies with temperatures!
They get stiffer too when cold. It's not a ton, but it's noticeable, which makes them even duller in the winter. We froze these shoes to 31°F (-0.6°C) and repeated our flex and durometer tests. The midsole was 17.4% firmer and the flex of the shoes was 60.2% stiffer than when measured at room temperature.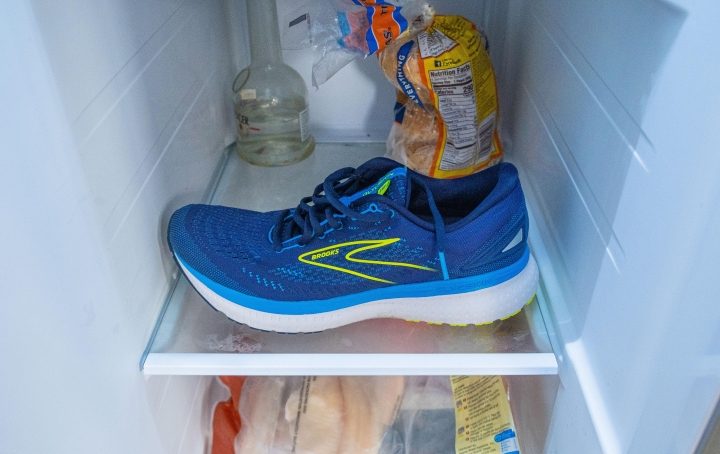 Not a summer running shoe
They are also a bit warm due to all the padding, and as always it could use a heel loop. I would avoid them on hot summer days. I also did my homemade light test and you can see that not a lot of light penetrates through the upper, it's thick!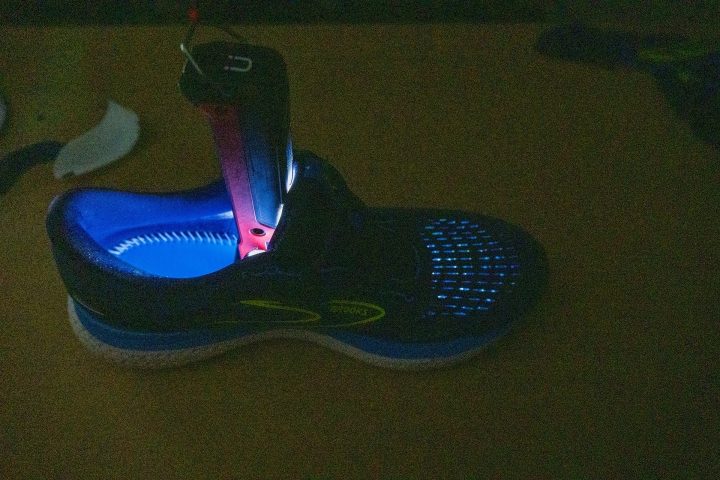 Conclusion
The Brooks Glycerin 19 is inviting and comfortable, there's lots of padding in the upper, and the midsole has a smooth, yet slightly uninspired ride, which for an everyday trainer is not necessarily a bad thing, it's consistent.
I think the $150 price tag is a touch steep for an every-day trainer without anything super sexy to write home about, but if you need comfort, durability, and a tried and true platform that's stable under foot, the Glycerine 19 is worth checking out.