Verdict from 19 experts and 100+ user reviews
8 reasons to buy
A lot of runners thought that the substantial cushioning was terrific and was balanced well with the arch support.
Numerous wearers appreciated the new, sleeker design of the Adrenaline GTS 18.
According to a tester, the shoe was lightweight and capable of enabling a comfortable ride.
One purchaser observed the shoe dried quickly after running under heavy rain.
Several buyers liked that there were various color options available.
The new streamlined upper gave a firm hold yet a non-irritating fit, said a reviewer.
Various consumers commended the shoe's performance on long recovery runs.
Many users felt that it was comfortable enough right out of the box.
4 reasons not to buy
A hole formed in the toe box after only a week of use, one user commented.
A couple of buyers were not amazed by the heel design; one said that it did not give a secure fit, while another stated that it kept pulling the sock down while running.
One wearer felt it had less brace and padding compared to the previous version.
Another expressed that the upper mesh looked like a cheap material.
Bottom line
The GTS 18 has kept the established reputation of the Brooks Adrenaline series by delivering a ride and performance that most users have praised. However, some may not have been impressed by the durability and design elements. Overall, this stability running shoe was approved by consumers as a motion-control option with features that work well for its function.
Tip: see the best running shoes.
Our reviews
I had intended for this to be a long-term review of the Nike Pegasus 34.
However, I have been taking my Brooks Adrenaline GTS 18 out for short recovery runs while reviewing the increasingly punishing Pegasus 34 and found that I simply enjoyed the Adrenaline far more.
"Stop the Madness…running is supposed to be Fun!"
The Pegasus 34s will be on a long boat ride, arriving in Ilula, Tanzania by June.
With springtime right around the corner, and with training mileage increasing, I opted for the comfort and stability of a familiar old friend…the Adrenaline GTS 18s, for the long term review.
I had received the first pair of the GTS 18s, last year, at no cost from Brooks, for testing and evaluation, and enjoyed them so much that I have now purchased a new pair…same model, different color, (black-red-gold, these things look fast).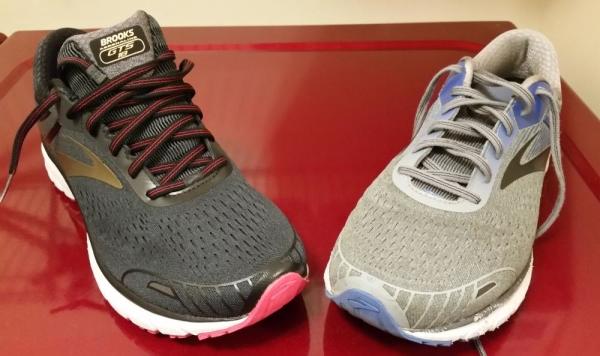 History
Brooks Sports was founded in Philadelphia, Pennsylvania in 1914; Brooks Sports, Inc. is a manufacturer of quality (generally) running shoes and sports apparel. Today, they are based in the Seattle, Washington area of the U.S.A.
Best Suited for
First off, let's look at who might be best suited to enjoy these shoes the most.
I would say that any runner looking for a well-built stability road running shoe, with above average durability and moderate cushioning, would appreciate this model. This model also offers excellent flexibility and a smooth ride.
The toe box width is ample, while toe box height is just enough. There is no limit to the distances that the GTS 18 is suited for; from a 5k to marathon distances…the sky really is the limit with this shoe.
Outsole
The outsole heel area is made of HPR-plus, a durable high abrasion resistant rubber compound and in the forefoot, a softer blown rubber is used for added cushioning. The HPR-plus also offers excellent adhesion and a quiet gait.
This combination of technologies has proven to be world class, as good as with any brand.
Midsole
The midsole is the heart of any running shoe.
The midsole cushioning uses the proven BioMoGo foam and DNA. The BioMoGo foam is bio-degradable, designed intentionally so that it will not be left sitting around in a landfill for a thousand years.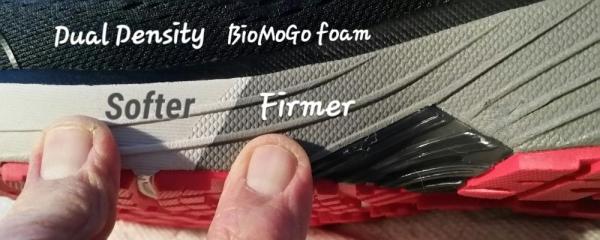 Brook's DNA is an adaptive non-Newtonian material that adapts to your effort and intensity, becoming stiffer when pushed hard and then softer while cruising easy. Not a bad goal to have, I think it works.
However, I don't know how much the DNA actually contributes to the overall performance of this shoe.
I do know that the BioMoGo foam is as good as or better than any foam material in use today, they could likely just leave out the DNA, and not affect anything, but each sports shoe company needs a little something extra, for the brochure.
Extra support is provided by a denser plastic material located within the midsole, which helps keep your feet from rolling (pronating) to far inward. A lofty invention named appropriately: the "Dynamic Roll bar."
Upper
The uppers have been completely redesigned since last year.
These new uppers are composed of an engineered mesh that is precisely positioned and composed of thin overlays.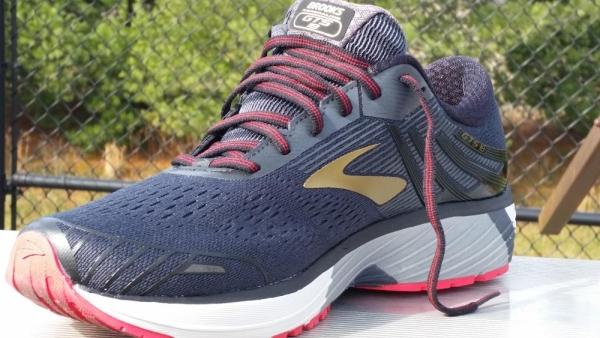 Not a stitch can be found on anything other than the panels of material along the rows of shoelace eyelets. The toe box holds its shape well and, is designed around an internally placed structure with overlays on the outside.
The tongue is well padded and stays put; the laces are the flat and stretchy type that are comfortable and stay tied. The collar is well padded and comfortable with little if any heel slippage.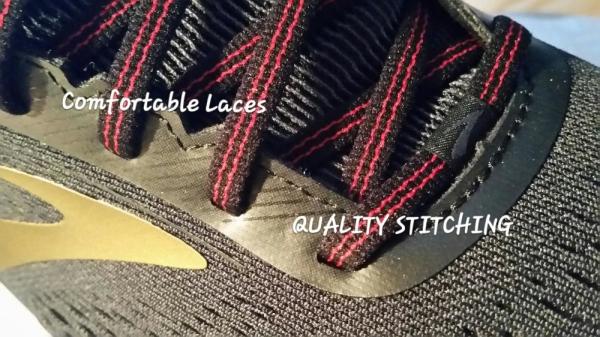 I could not find any really effective reflectors. There seems to have been an effort to have some reflective material on the heels and toes, but the material must be very low grade.
I am surprised that Brooks, of all companies, has elected to save money on safety, perhaps it is simply a mistake. I will supplement them on my shoes with 3M material, cut and glued in place.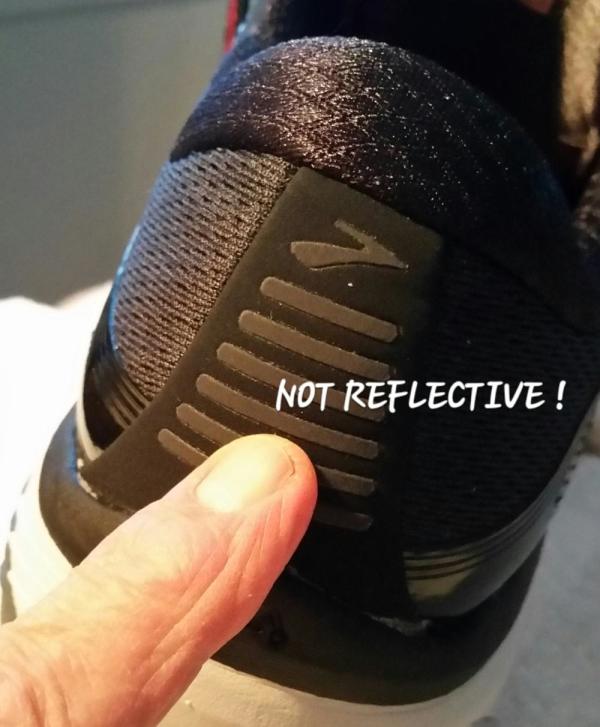 The Running
The Asics GT 2000 series, but the BioMoGo hasn't lost any of that new shoe feel…even at 250 miles.
Recently, I have been attempting to transition to more of a midfoot strike, landing less on the forefoot, trying to give my calves a break. I have found these shoes to be excellent in aiding me in my transition to this new gait.
I found the GTS 18 to be a great all-around running shoe, accommodating a wide variety of running styles and distances.
The GTS 18 is an easy shoe to run in, for me it is easier to simply turn on my mental cruise control, concentrate on breathing, and say good-bye to worries of sore toes and battered soles.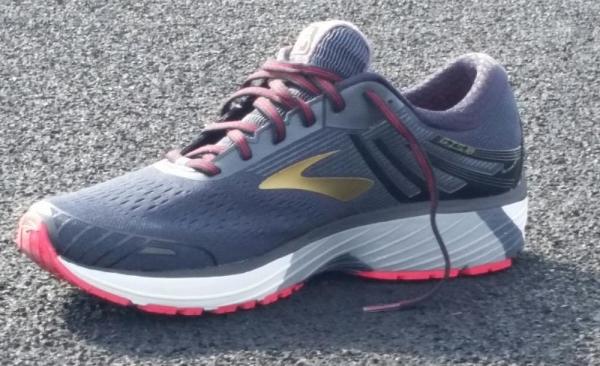 My last Half Marathon was the U.S. AIR FORCE Half in Dayton, Ohio, and with the beautiful red Brooks Launch 3.
Unfortunately, I lost one toenail and blackened another, all while suffering unnecessary punishment to the bottoms of my feet…"Stop the Madness, Again!"
As a result, the Launches have joined the Pegasus 34s, going to Africa. I will use my other Brooks Launch (4s) as slippers, around the house.
I have been told by more than one expert, over the years, that I am a neutral runner. However, the moderate amount of stability provided by the GTS 18 seems to make my runs a little easier, providing some added support felt mostly at that magic mile 9, and beyond.
My first pair of the GTS 18s has been relegated to working at the store. They are perfectly suited for providing the cushioning needed for long days on a hard concrete floor and, have already been splashed with paint.
My new pair is strictly for running…I am keeping a daily log to document mileage.
Specifications
| | |
| --- | --- |
| Size | 12 D. U.S./46 E.U./12 U.K. |
| Weight | 11.5 oz 326 gr. |
| Heel to Toe Drop | 12mm. |
| Arch Support | Medium |
| Pronation Category | Light Support/Stability |
| Toe Box Width | Medium |
| Toe Box Height | Medium-Low |
| Flexibility | Medium |
| Testers Weight | 147 lbs. |
Summary
Brooks line.
My familiarity goes all the way back to the 11th model of this shoe series. And, I have relied on Brooks BioMoGo/DNA…putting more miles on this dependable technology combo than on any other.
I see no reason why these shoes could not go beyond 500 miles.
Recently, I had the opportunity to look over several more copies of the Brooks Ghost 10, which were similar to the defective pair I recently reviewed for RunRepeat.com. The copies in the store were exactly like the ones I reviewed months ago and, are still poorly built.
If you look at the new Brooks Ghost 10 and examine the fit and placement of the upper mesh material in the forefoot, they are often visibly way off. In some cases, the forefoot areas are wider on one shoe than on the other.
This type of discrepancy is a definitive sign of poor manufacturing methods and quality control. Brooks cannot simply throw out safety concerns, and fail in quality control, and remain viable.
Check my earlier review of the GTS 18 here.
My thanks to my friend Tony, for his tireless help, in making me a better writer.
Run Happy... Run Safe... No Worries...☺
Today is an ultra-competitive and innovative time in the running shoe industry, full of new varieties of cushioning, engineered mesh, woven uppers, and 3D printed technologies. It cannot be easy to get to the front of this fast-moving Peleton, but I believe Brooks is moving up.
This new Brooks Adrenaline GTS 18 has certainly not been left to die in the back corner of some engineering lab out in Seattle, this 18th version is clearly their best effort to date. It is truly a bold update to their bestselling model encompassing so many changes.
Let's have a good close look at the new Brooks Adrenaline GTS 18 and see if it is really lighter, softer, faster, more responsive and just as durable as its previous versions. Personally, I do find it far more aesthetically pleasing.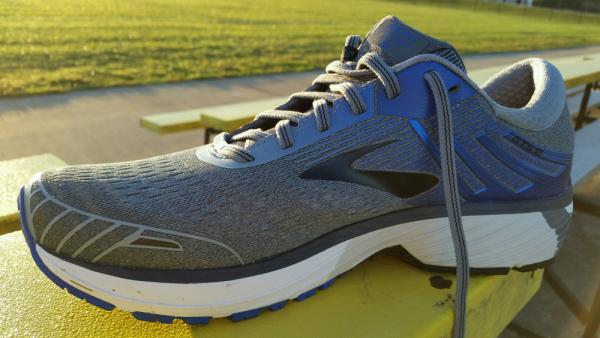 Founded in Philadelphia, Pennsylvania in 1914, Brooks Sports, Inc. is a manufacturer of quality running shoes and sports apparel based in Seattle, Washington, U.S.A.
From the bottom up, the outsole has a new design from heel to toe, a pattern that really does run a little quieter than last year's GTS, and provides a little more ground contact, increasing both durability and traction.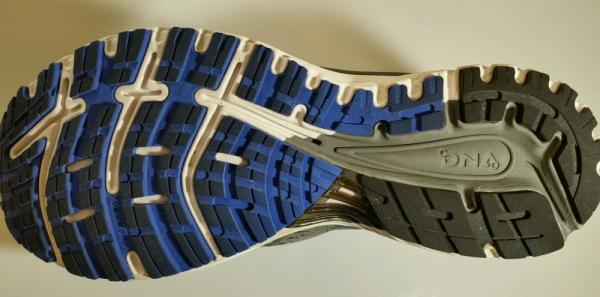 The outsole heel area is made of HPR-plus, a durable high abrasion resistant rubber compound and in the forefoot, a more cushioned blown rubber is used.
The midsole cushioning uses the proven DNA-BioMoGo, making for a more responsive softer ride. However, a longer run (discussed later in this review) will tell us more.
Image shows soft forefoot cushioning at green arrow and firmer material used for pronation control at red arrow.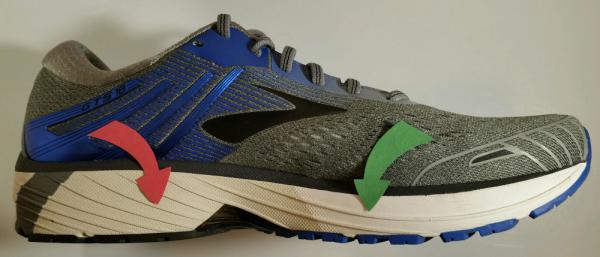 The uppers are totally new and composed of beautifully engineered mesh with 3D overlays and not a stitch to be found other than on the panels of material along the rows of shoelace eyelets.
The stitched on Toebox is gone, made unnecessary with the engineered mesh and strategically placed printed overlays.
As with last year's model, flat laces and a well-padded tongue add to comfort. There is plenty of ankle clearance, even when wearing thick socks and running on an uneven roadway.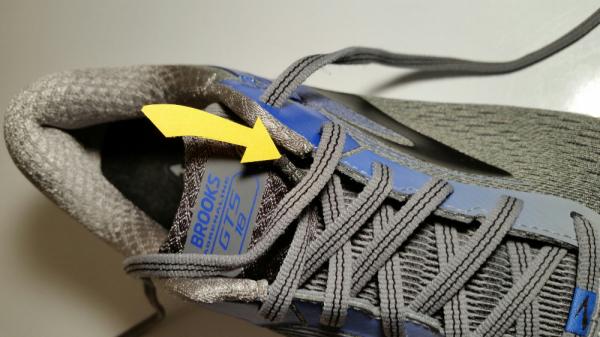 The offset lace keeper on the tongue does a good job of keeping the tongue from slipping. However, the 360-degree reflector coverage enjoyed on last year's version is now sadly gone.
The Run
This is the best time of the year for running; depending on where you live it is either springtime or autumn.
On the first run with these new Brooks, I was out the door at 3:00 with Sara my terrier dog, immediately I knew that these shoes were going to be fun.
Later on, I went back out at 6:00 in the morning fog for an easy jog that turned into a little longer 12k tour of Southern Indiana. It was during this second run that the Adrenaline GTS 18 showed me that a quick a turnover is so much easier than in any shoe I can remember.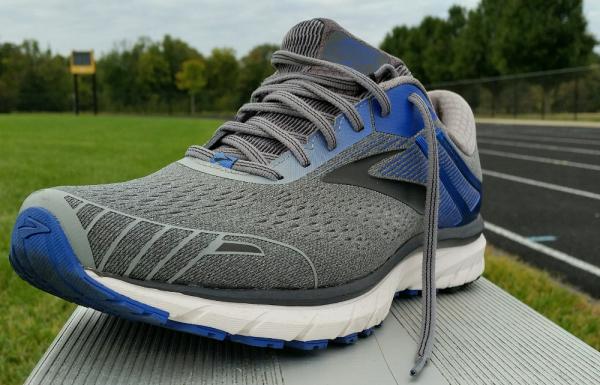 Generally, I run mostly on the midfoot, with a little touchdown of the heel, these shoes make it easy to run fast.
Runningwarehouse.com has provided a "DNA have always been at the forefront of innovation with cushioning materials.
This morning's run, simply stated, was utterly enjoyable, even the hills on my daily route seemed easier.
It may sound like this is coming from a Brooks salesman but I assure you, I am not. If you will read my recent critiques of Brooks Launch, the Asics Kayano 23 and 24 models, you will find that my reviews are both honest and acute.
At some time, a decision was made to eliminate the reflectors from this year's model, I think this was a mistake.
Specifications
Size 45 EU 11.5UK 12 U.S.
Weight 326 gr. 11.5 oz.
Arch type Medium
Support Stability *
Ankle clearance Yes
Flexibility Medium
Heel-Toe offset 12mm
Above toe Clearance Medium-Low
Toe box Width Medium
Miles Tested 60
Tester's weight 67 kgs.
Reflectors None
Now, a thought concerning light to moderate stability shoes. You see, I believe stability features are like guardrails on a mountain road, they keep your Volkswagen from plummeting into the village below, proving themselves reassuring and non-imposing, unless needed.
*Neutral runners should never shy away from a shoe such as the Adrenaline GTS 18 simply because of such features.
After 50 miles
After ten more days in my new shoes, the outer soles showed almost no indication of wear. The insert/sockliner is breaking in and allowing for a very little bit more room above my toes.
The Adrenaline is proving to be one of my favorites, I am going to begin rotating between the GTS-18 and the Asics GT 2000 5.
I am still not sure which shoe I will bring to the starting line in November, either the Adrenaline GTS 18 or the Asics GT 2000 5.
Last year on the morning of the race, I sat quietly, looking at my Nike Pegasus shoes and the older Asics GT 2000, trying to decide on the shoe for the big day. One hour prior to the event I picked the Asics and went to the race.
Right out of the box, you can tell that the18th version really is a totally different shoe.
The 18th version has moved way up the road, ahead of last year's model, a major leap forward, and not simply cosmetic changes.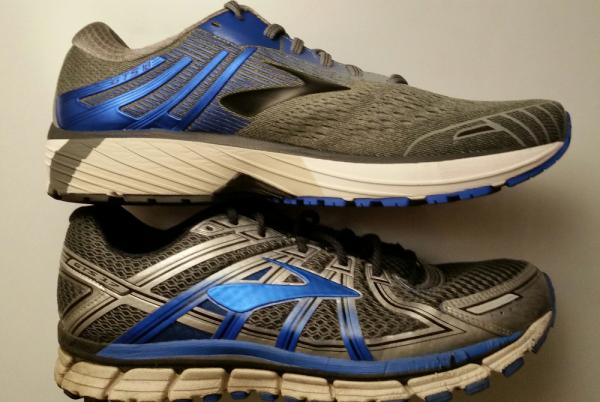 How does the The Saucony Omni 16?
First, I must admit that I have never owned a pair of the Saucony Omni, however, I have heard from several reliable sources that the Omni is analogous to the Adrenaline and, maybe a true alternative.
How does this new model compare to Asics GT 2000 5?
The Brooks is more flexible, 49 grams lighter and feels faster than the Asics GT 2000-5. The GT 2000 has a lot more outsole rubber thickness than the GTS 18, paying a weight penalty but gaining comfort and durability.
The Asics has better forefoot cushioning with another weight penalty for having the gel. Asics gel does not push back at you as you pick up the pace in the same manner as the Brooks DNA.
The Asics GT should outlast the Brooks GTS 18 but the GTS would likely out-run the GT.
Best Suited For
A neutral-stability runner training and competing in the half marathon, weighing less than 90 kgs and with a medium arch. The heel to toe offset is a little high at 12mm and could take some getting used to.
Summary
This is going to be a spectacular 18th year, for the GTS! Their newest success is both fast and lightweight, with a quick geometry that encourages a rapid turnover.
This newest addition to the GTS line will certainly become a stand-alone favorite among runners of every level! However, the race is not over, Paris is not yet in sight.
And rumors have it, that the new Asics GT 2000 6 will also have upgrades as well and the added advantage of FlyteFoam!
Thanks for stopping by. Now, go run!
Brooks Adrenaline GTS 18 Specs
12mm drop
10 oz weight (verified)
Stability shoes with med to high arch support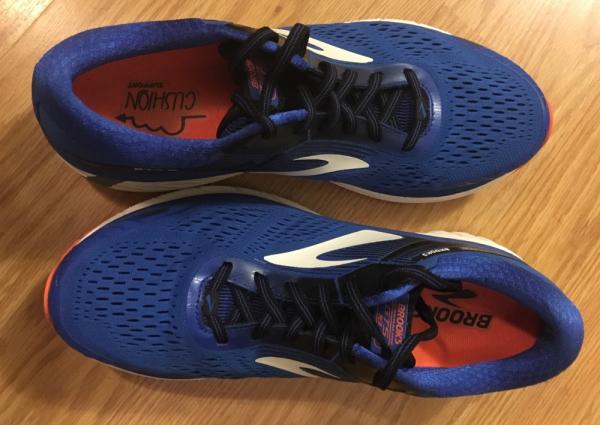 Competition
Pros
Breathes VERY well
Not as large a toe box creates a more snug feel (a pro for me)
Enough cushioning for heel strikers but responds well to speed
Excellent tread work
Strong arch support
Cons
More aggressive stability control (pro or con depending on how much you pronate)
The stiff midsole doesn't allow for the smoothest of transitions
Warmup Pitch (the runner's version of an elevator pitch)
Brooks shoes over 10 years ago.
The GTS 18 feels very light and fairly responsive despite terrain or the type of running (slow miles or quick sprints). From mile 1 to mile 12 (the longest I ran in these shoes) my feet felt supported, breathed well, and never got tired due to lack of cushioning or lack of responsiveness.
Despite the greatness, this shoe is first and foremost a stability shoe.
I have a neutral stride but have worn GTS models in the past without any issues. Unfortunately, I learned that after 4 or 5 miles in these shoes my hip would hurt for the next few days.
I considered maybe it was me but I can go for far longer in my other shoes and have no pain. This is why my score was not higher.
So if you don't need stability then seek out the Launch or the Ghost if you want a Brooks but if you need stability then the GTS 18 is your shoe for the next 500 miles!
Weight, Cushioning & DNA Sole
At only 10oz (advertised and verified) the shoes feel light but the cushioning is more than supportive enough.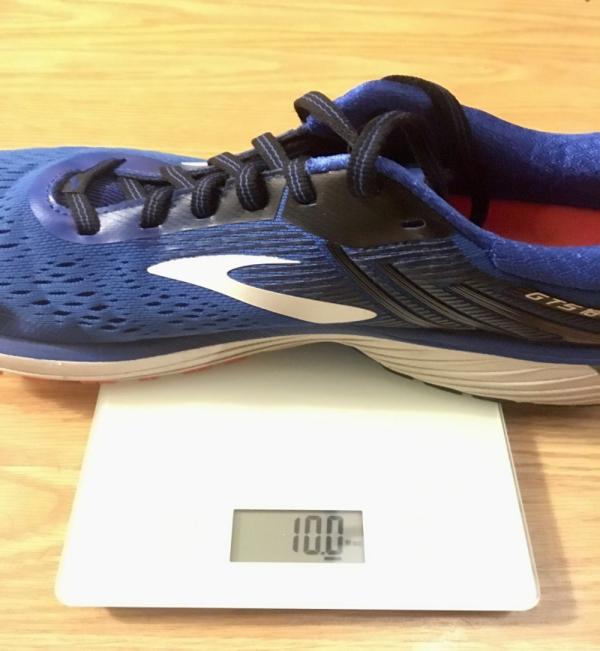 Unlike some other makes and models of shoes, I did not need to use body glide on my heel area to prevent rubbing issues – a welcomed relief!
I would suggest wearing them around the house to allow the DNA sole to adjust more for your individual foot and then start with smaller runs to make sure you are comfortable with the structure.
You'll find the cushioning is still strong but the shoe has now molded nicely and is ready to go.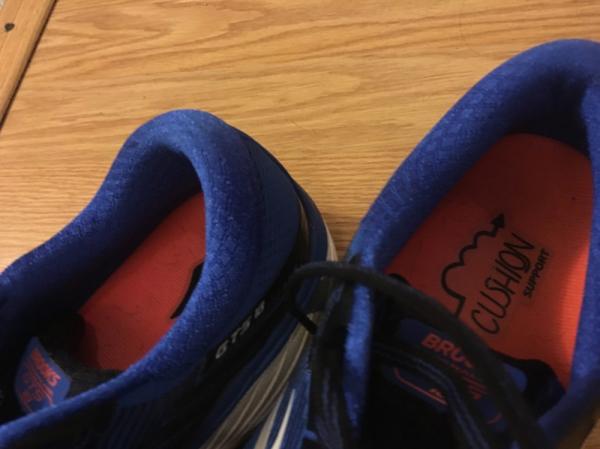 I noticed strong arch support from the moment I opened the box which continued through close to 70 miles (my current mileage).
Brooks structured the sole and insert to have strength enough to provide the stability and support throughout the life of the shoe.
You'll likely get 500 miles from these shoes depending on how hard you push them. No matter what mile I was on or what type of run I did (sprints, tempo, recovery, or long) the shoes felt light on my feet but with good cushioning.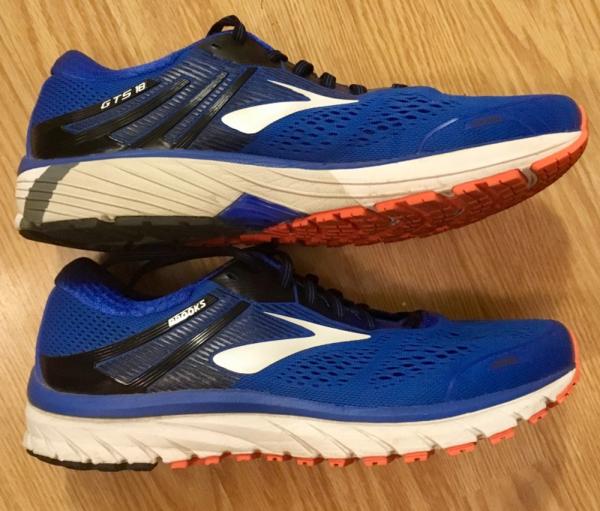 Upper Design & Toebox
Brooks naturally designs their shoes with wider toe boxes.
This is great for most and slightly annoying to me because I have a narrow foot – though I'd still rather have a wider toe box to allow my toes to spread than a narrow or restricting box.
The GTS 18s are slightly narrower than the Launch (my other main pair) but in no way are they restrictive. There is still plenty of room but just not an excessive amount.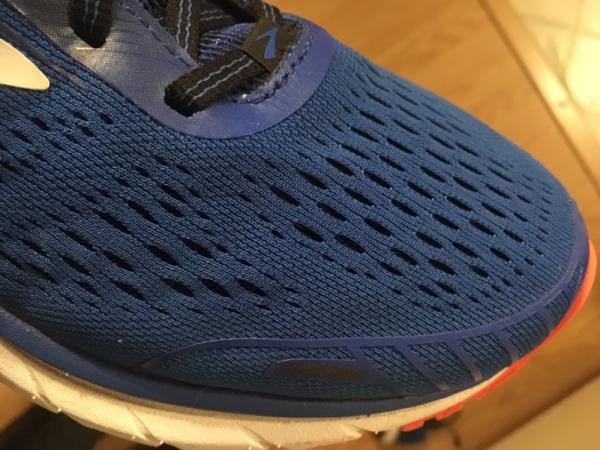 As with other Brooks models, the tongue has a lace hole to help hold it in place. The laces offer a strong lock on the foot which prevents heel slipping without having to worry about using a lace lock.
The structure of the upper area allowed me to tighten my laces without ever feeling as if they were hurting.
This is because the upper gives just enough to keep a stable and solid amount of pressure on the top of the foot throughout the run.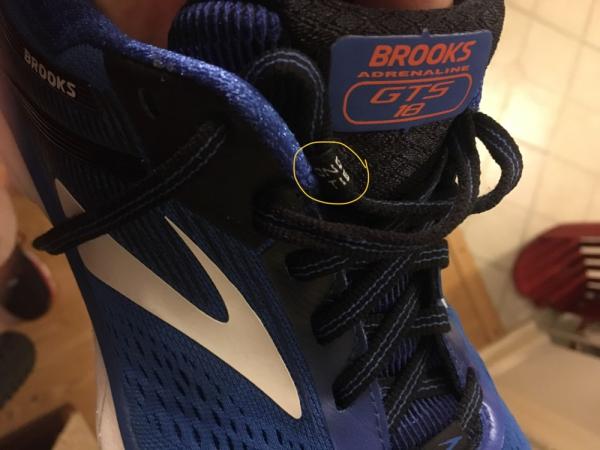 The upper's fabric is light allows for better air flow than I think even my Launches did – which is nothing short of impressive.
In past models, my feet often got hot after so long but that was never an issue with the GTS 18s.
Tread & Sole Stiffness
The tread on the GTS 18 is ready for anything from light trail to road.
Even on wet pavement, the shoes gripped well and my feet never slid. On trails with plenty of gravel sections my feet never needed more tread or support.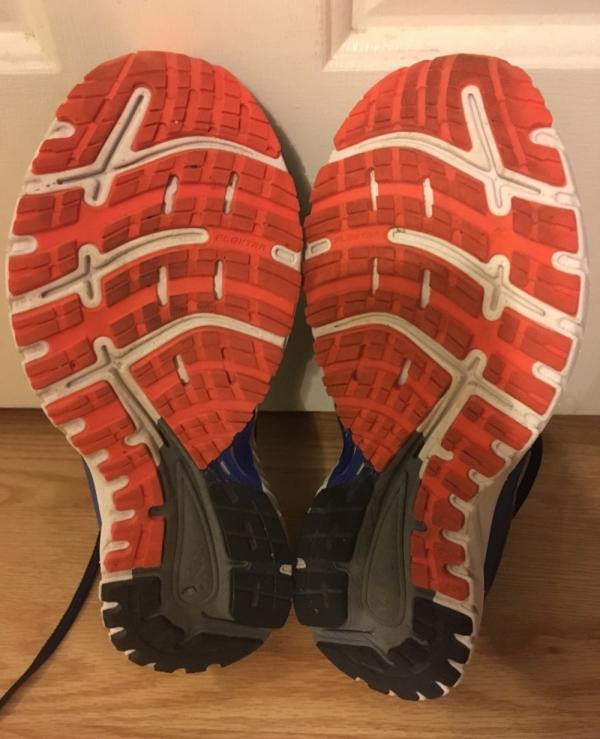 The tread comes up on the toe just enough to protect that area – as is mostly standard with this type of running shoe.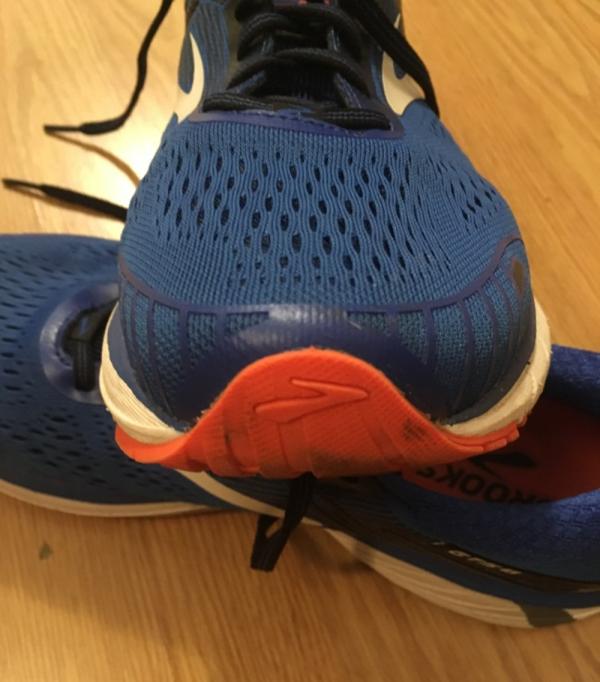 The middle of the sole and tread area is very strong which create a less smooth transition however, this is exactly what you want in a stability shoe meant for any type of terrain.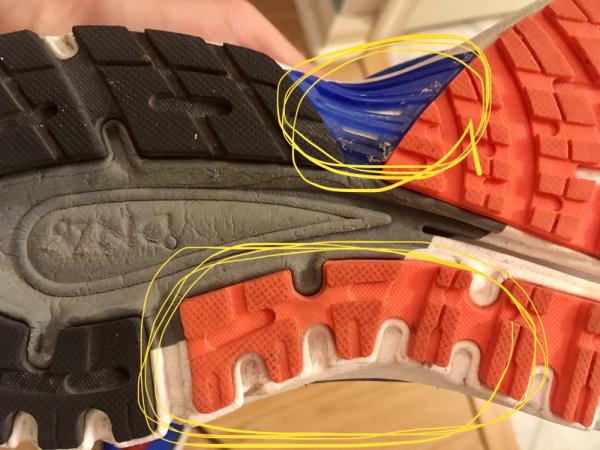 Overall
stability shoe.
I, unfortunately, cannot make this a part of my regular rotation because they affected me in a way that creates pain in my hip.
They breathe well, responded consistently, and have more than enough tread for anything short of going all out aggressive trail running (please seek an appropriate shoe if that is your intention).
The time has come when Brooks has renovated one of their most notorious shoe line, the Adrenaline GTS.
Now, Brooks is well-known for their comfortable shoes and have integrated modern technology into their shoes that have been huge successes for them. For example, the DNA cushion is now in most of their shoes and is liked all around the world.
Will Brooks incorporate new technologies in the Brooks Adrenaline GTS 18? Let's find out!
The New Adrenaline GTS 18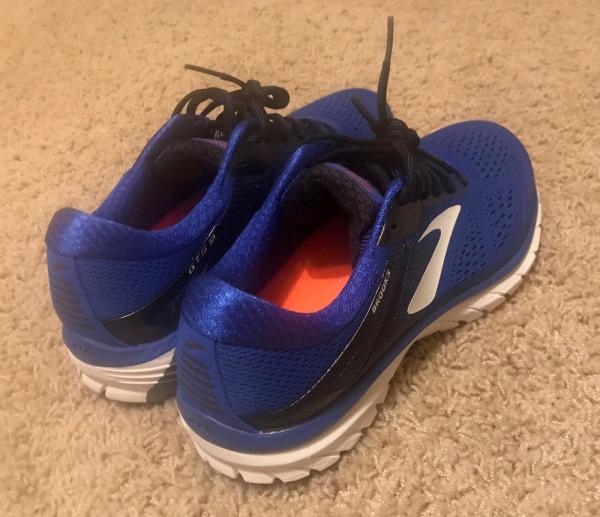 Outsole
For me, Brooks has normally excelled in the rubber outsole with outstanding traction and lacking in technology, referring to the placement/design of the rubber outsole.
With that said, this shoe is another one of those instances. The traction this shoe has is FANTASTIC. It's amazing! I have run in this shoe on many rainy days and my landing and takeoff are the same as if it was not raining. Yes, that good.
The only downside of the outsole is the design factor of it. It doesn't try to provide energy return by incorporating hexagonal pads or anything benefiting the runner.
Furthermore, the one design they tried to incorporate into this shoe to make it more flexible is Flextra. Felxtra is another way of Brooks cutting the rubber into horizontal slices thinking it will make it more flexible. It does not.
The Brooks Adrenaline is still stiff and takes roughly 80 miles to loosen up the shoe. Overall, the outsole is the key part in making this shoe a great update.
The Adrenaline GTS 18's provide excellent traction but lacks energy return and flexibility with its Flextra Technology

Midsole
Now the midsole consists of the typical Brooks DNA cushioning which I referred to earlier. Also, Brooks incorporates a guide rail, to aid the foot in a smooth heel-to-toe transition, and incorporates the Progressive Diagonal RollBar (PDRB for short).
The main purpose of the PDRB is to decrease the likelihood of overpronation because of the major stiffness in the arch. It also acts as a great arch support for those people who need arch support without additional insoles.
I have only one nagging thing that I don't like in the Brooks DNA cushioning which is that I cannot feel any energy return when I run. Comparatively speaking, Brooks has not come close to the energy return of Adidas Boost technology; but, that may not be the main focus right now for Brooks so I am just being nitpicky.
All in all, Brooks does a fantastic job supporting every landing in each step with the incorporation of the guide rail and the Progressive Diagonal RollBar.
With the Guide Rail and Progressive Diagonal RollBar working together, the midsole has great cushioning and support

Upper
Now, this is what really separates the Brooks Adrenaline GTS 18 from its predecessors. Brooks brilliantly incorporates a more streamline upper with breathability that is incredibly impressive!
Not only does the Adrenaline GTS 18 look great because of the aesthetics, the upper feels great too!
The tongue has a great cushion in it so I could tie the shoelaces comfortably tight and feel like my foot is in place and won't slide around. The heel cup also contributes to the unity of foot and shoe especially with the comfortable padding it provides.
The slight negative of the upper, but not really, is the shoelaces. Earlier, when I reviewed the Brooks Asteria, those shoelaces blew me out of this world. They were stretchy and I could tie my shoelaces as tight as I wanted, within reason of course, and they would just stretch. The shoelaces on this shoe have minimal stretch. And that's about it.
The upper is a MASTERPIECE and makes the whole shoe come together as one big success.
Once again Brooks does great on its tongue cushion and its super breathable mesh!

Brooks sets themselves for success with its padded, comfortable heel cup and its appealing streamlined upper

Conclusion
All in all, the Brooks Adrenaline GTS 18 is a great shoe for any distance runner who plans on going longer and needs the extra support for heel-to-toe transition.
With the snug mesh, appealing streamlined upper, durable rubber with great traction, and stability cushioning out of this world, this is a great shoe to wear for running or everyday use.
However, if you don't need the extra cushioning and forced foot correction because of the Progressive Diagonal Rollbar, then this might not be the ideal shoe for you; but, it is definitely worth trying.
I am a 41-year-old neutral runner with a mid-foot strike, about 165 pounds and 6' 1" tall.
I race all distances, from 5ks to marathons, and spend at least half of my year training for an upcoming marathon.
Baptism by Flood
My Brooks Adrenaline GTS 18's came in the mail and I immediately threw them headlong into the middle of my marathon training.
I wanted to get a complete picture of the Adrenaline's training ability, so I did not hesitate to use them exclusively for two weeks of 54-miles-per-week marathon training that included easy runs, steady-state aerobic runs, interval training, track speed work, and long runs, including a 20-miler (see screenshot of my training spreadsheet).

My first workout in the Adrenaline 18's was a 5-mile neighborhood run and it happened to be pouring down rain. These shoes was baptized by flood, and they rose to the challenge.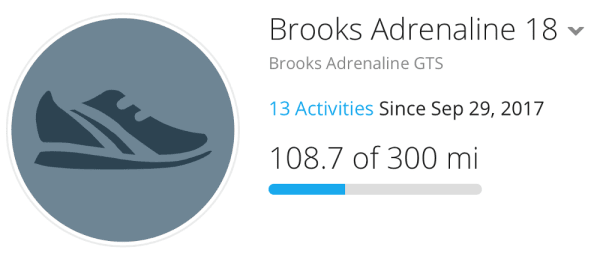 Out of the Box
The first thing I noticed about the fit of the Adrenaline 18's was that they were very plush, fitting my feet very well. I also enjoyed the spacious fit in the toe box, allowing my toes to move and splay freely.
They were narrower in the mid-foot than what I was accustomed to, but my feet still had plenty of space. I'll admit, I was skeptical that the shoes would feel clunky since they had so much more rubber on the bottom than I was used to.
The only thing I did not like about the feel of the Adrenaline 18's was the tall heel. More on that in a minute.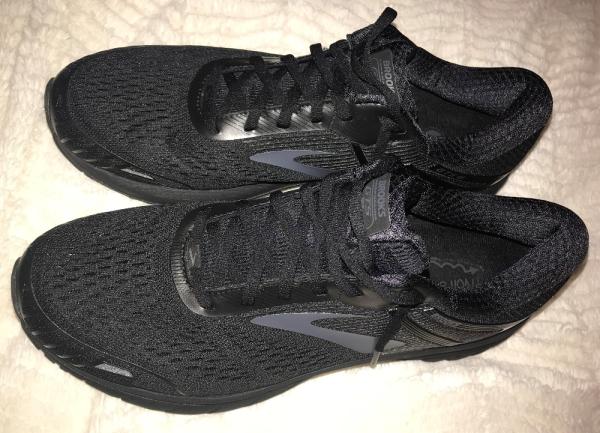 On The Road
As I noted above, my first run was in the middle of a rain shower. Not only that, but my neighborhood roads are rough and uneven, with many potholes and transitions from asphalt to concrete.
Add to that concoction, the periodic vehicles that force me off the road and onto the sidewalk – and vice versa – and the few places where the sidewalk ends, forcing a trail run, and you have a recipe for a run that resembles parkour training.
I fully expected this heavier Brooks stability shoe to be bulky, boxy, and dangerous for a run in my neighborhood, much less a run on wet roads. Not only did the Adrenaline 18's show themselves to be stable on unstable surfaces, the traction on wet surfaces was top notch.
I had run in Adrenalines in the past and did not have a good experience, so I admit I had a negative expectation. That's why I call my Adrenaline 18's my "Stealth" shoes: They came flying in under my radar and shocked me with their abilities on the road.
The only areas of concern I found in my Adrenaline 18's on the road
Heel fit seems a little loose on the run. I experienced some movement in the heel, causing a small blister to form. I tried to get the shoes on as tight as comfortably possible but still found a little slippage in the heel from time to time.
Heel-to-Toe drop seems excessive. I guess I understand the need for some drop in a stability shoe, but it seems to be too much in the Adrenaline 18's. It's almost as if Brooks WANTS me to heel strike. I'm not used to it, so I had a little heel dragging periodically.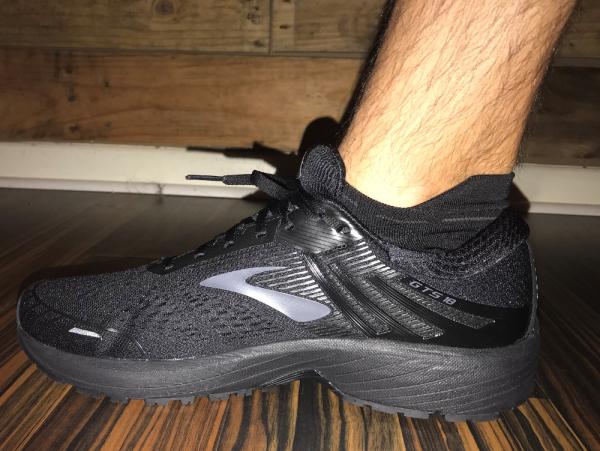 On the Track
Every Monday is #TrackMonday in my home, so I took my Adrenaline 18's to the track. I found them to be cumbersome for 800-meter intervals. They were not flexible or responsive enough for my tastes. It seems obvious to me that the shoe is not built for speed, but for daily training.
Pros
Non-Intrusive Stability
Great Traction
Plush
Durable
Not Too Boxy; Aerodynamic
Cons
Excessive Heel-to-Toe Drop
Too Cumbersome for Speed Work
Heel slippage
Heavy on the Long Hauls
Conclusion
While the Brooks Adrenaline GTS 18 is a very comfortable shoe for wearing, walking, and the occasional short, slow run, I would not run in these full-time.
If I were a beginner with a lot of foot movement, then maybe this shoe would be a good recommendation. In my opinion, however, this shoe would only serve to coddle and support weak feet, without doing anything to strengthen the feet or correct bad patterns.
That being said, I experienced no injury while running in these shoes.
Brooks Adrenaline GTS 18.
As a user of the two older versions (GTS 16 and GTS 17), I become quite excited about this latest version. Considering the performance of the old Adrenaline GTS, I expected a lot from this shoe.
Since the day I purchased the Adrenaline GTS 18, I have been using it on my daily running routine. So far, it impressively satisfies me.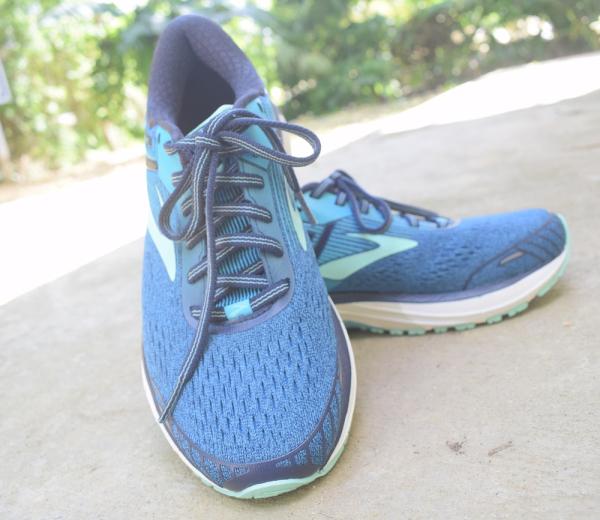 Updates
One of the noticeable updates of the shoe is the upper material.
The new Brooks Adrenaline GTS 18 utilizes a new engineered mesh material that is specifically designed to deliver a more breathable coverage. Along with the new mesh upper is the fewer overlays on the medial and lateral sides of the shoe which provides the foot a more accommodating fit.
Brooks also modified the cushioning system of the shoe. It feels softer than the Adrenaline GTS 17. It also becomes more responsive and flexible.
The Adrenaline GTS 18 features a new outsole configuration. The tread and the entire outsole design provides reliable traction while running on the road. It has also become more flexible because of the presence of the Flextra technology.
Technical Details of the Brooks Adrenaline GTS 18
Upper
The upper of the Brooks Adrenaline GTS 18 features the new engineered mesh upper that delivers a breathable coverage and it is stretchable enough to hug the foot comfortably. The shoe also utilizes a soft fabric lining that provides the foot a sock-like feel.
Just like the Adrenaline GTS 17, the newest iteration uses flat laces that provide the foot a more secure midfoot lockdown. The shoe also has extra eyelets that allow users to achieve a more secure fit.
The tongue and collar remain to be soft and well-padded for a more comfortable running experience.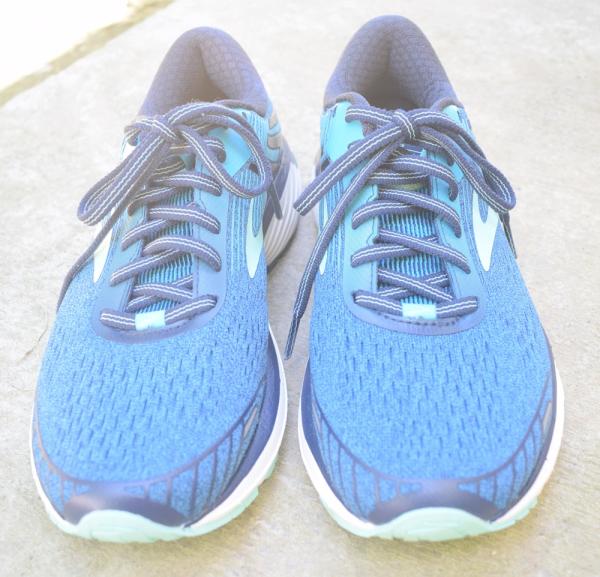 Midsole
The Adrenaline GTS 18 features the BioMoGo DNA midsole technology. This cushioning system has been used in the previous versions, but Brooks slightly modified it to make it softer and responsive.
Based on my test, the cushioning is too soft. As an overpronator, a firmer midsole provides added support and lasting cushioning for long distance runs.
Also in the midsole is the Progressive Diagonal Rollbar (PDRB) that extends from the heel to the forefoot. It is a technology specifically designed to reduce overpronation.
Lastly, the shoe has a removable sock liner that provides added support and cushioning. It also enhances the overall fit of the shoe.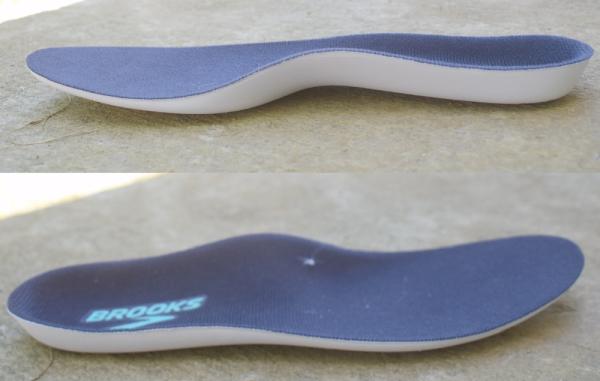 Outsole
Impressively, the outsole of the Brooks Adrenaline GTS 18 provides incredible traction on the road.
Even on slightly wet surfaces, the shoe performs well. The shoe also uses the hard rubber material in the heel area and the soft blown rubber material in the forefoot. These rubber materials provide shoe durability and reliable traction.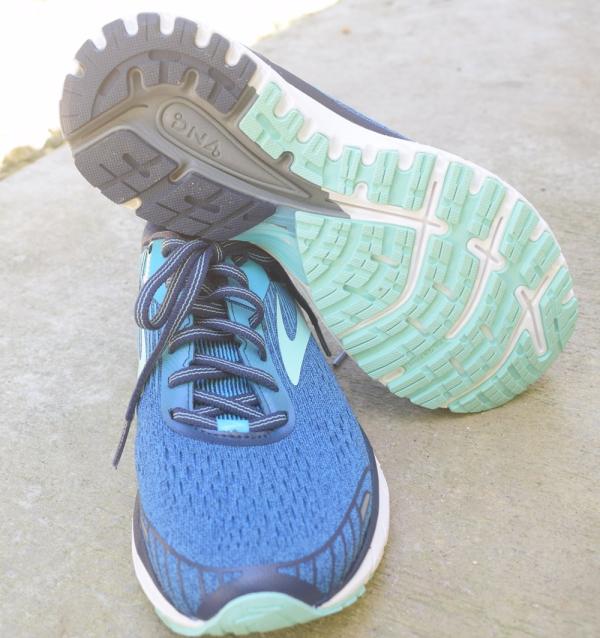 The Flextra technology is also present in the sole unit of the shoe. It provides fine-tuned flexibility for an enhanced running experience.
Fit
I wear a size 8 and the Brooks Adrenaline GTS 18 fits true to size. The shoe delivers a secure midfoot lockdown and a snug fit in the heel area. It has a medium width and the toe box is roomy.
I found the extra eyelets very useful as well in securing my heel, especially on uphill and downhill runs. Since the tongue is generously padded, I can tighten the laces as tight as possible without putting the pressure on my foot.
Comfort & Breathability
I also own a pair of Mizuno Wave Inspire 13 and I liked the comfort and breathability it provides for both long and short-distance runs.
The Adrenaline GTS 18 provides the same level of comfort and breathability. It keeps my foot cool and dry. Also, both shoes use a stretchy and light mesh material that provides an enhanced fit.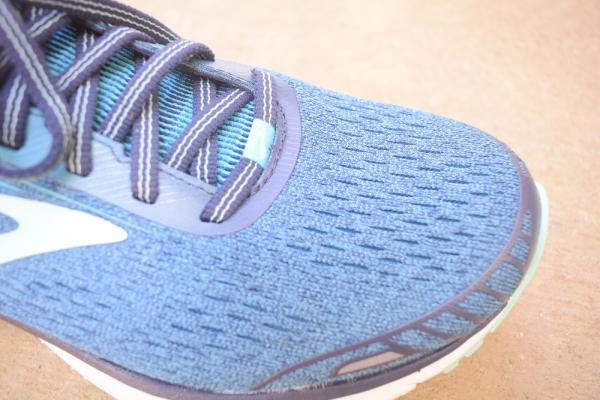 Support
The Brooks Adrenaline GTS 18 provides a high level of support.
Thanks to the Progressive Diagonal Rollbar that also helps in reducing excess pronation. The Progressive Diagonal Rollbar is made of tri-density foam that delivers the support and responsiveness necessary for overpronators.
Overall, the shoe made my running experience more stable and responsive.
Pros
Provides high-level of support
Breathable upper coverage
Padded tongue and collar give additional comfort
Tongue stays in place because of the side loop
Durable construction
Reliable traction even on wet surfaces
Flexible
Reasonably-priced
Cons
The cushioning is too soft and not reliable enough when used on long-distance runs
Overall Impression of the Brooks Adrenaline GTS 18
Compared to the previous Adrenaline GTS versions and the other Adrenaline GTS 18 is the most supportive shoe to date.
The shoe provides high-level of support, comfort, and flexibility. It is lightweight and fast, making it an ideal shoe for daily short runs. Lastly, the shoe is durable and reasonably-priced.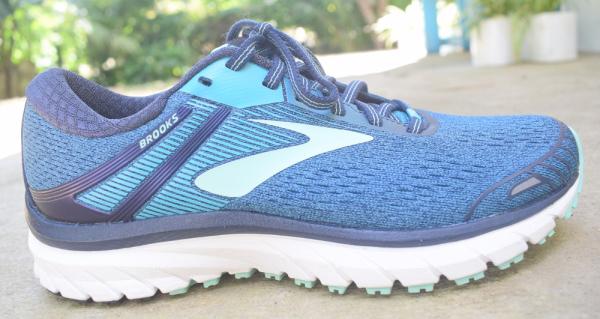 Brooks.
I own a pair of Mizuno Wave Inspire 13 and Asics Gel Kayano 24. So far, the two shoes performed well and provided me the support I needed on my daily runs.
I heard a lot of good things about the Brooks Adrenaline GTS 17 and so, I've decided to give the GTS 18 a try. The shoe has been my partner on my long-distance and short runs.
Generally, I find the shoe supportive and comfortable. I also find the overall fit satisfying.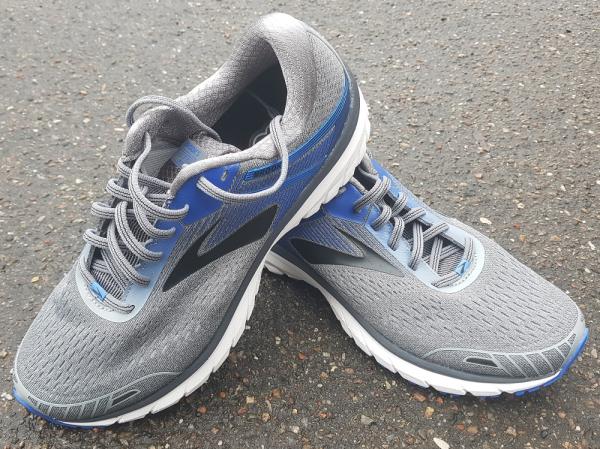 Looks
I've browsed several pictures of the Adrenaline GTS 17 on the internet. Compared to the new iteration, I immediately noticed the changes in the upper.
I like the aesthetic design of the shoe. It is more eye-catching than the older version. I also love the reflective detailing in the heel area of the shoe.
Support
When it comes to support, the Brooks Adrenaline GTS 18 is truly impressive.
Now, I understand why most people from the running community liked the Adrenaline GTS model. In the GTS 18, Brooks features the Progressive Diagonal Rollbar (PDRB) technology which is specifically designed to reduce overpronation.
Surprisingly, it works well for me. The shoe provides me the stability I need to have a more efficient and satisfying running experience.
The shoe also has a removable insole. It is made from lightweight foam. It provides my foot added support and it enhances the overall comfort of the shoe.
Comfort & Breathability
The Brooks Adrenaline GTS 18 is impressively breathable.
The main factor that affects the breathability is the engineered mesh upper. It provides the foot a breathable coverage. I also love the internal fabric lining. It provides an all-day comfort to my feet.
On my long-distance runs, I did not feel the burning sensation in my feet. I also like the smooth fabric in the heel.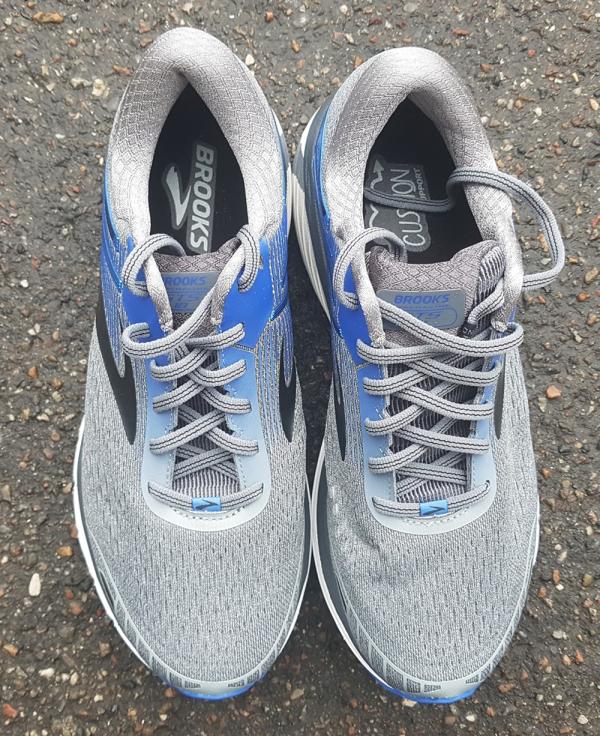 Fit
I wear a size 9 and I love the overall fit of the Adrenaline GTS 18.
From the heel to the forefoot, the fit is just right. The toe box is spacious enough and allows my toes to move comfortably. The heel is generously padded and secures my heel comfortably.
Since the shoe has extra eyelets, I can further secure my heel whenever necessary. I haven't tried using the extra eyelets though, but I think they are very useful.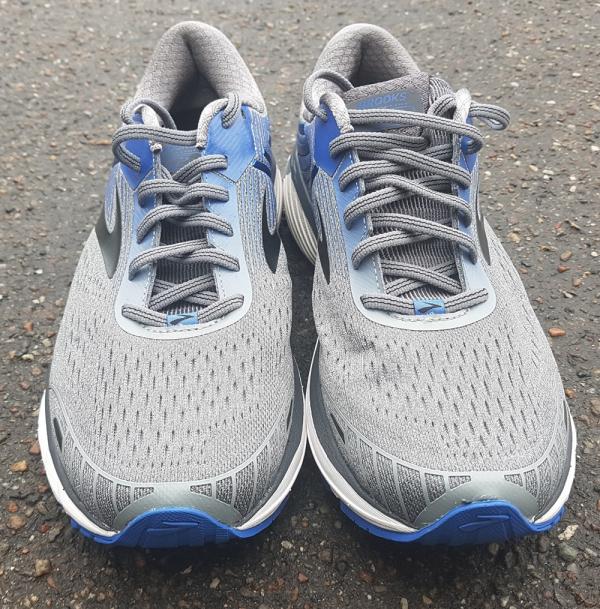 The flat laces provide my foot a secure midfoot lockdown.
Since the tongue is also well-padded, I can tighten the laces without hurting my feet. Lastly, the removable insole also enhances the overall fit of the shoe.
Durability
Compared to my Wave Inspire 13 and Kayano 24, I think the Adrenaline GTS 18 is the least durable.
After a few miles of running, I already noticed a slight wear in the sole unit of the shoe. Brooks utilizes a blown rubber and hard rubber in the outsole for durability. However, it is not as durable as what I've expected. I also noticed a light tear in the upper mesh which made me more disappointed.
Traction
The Brooks Adrenaline GTS 18 has a light tread pattern on the outsole.
The outsole configuration works well on paved tracks. I have no issues with the shoe on dry roads. However, on wet surfaces, the shoe is less grippy. I don't advise runners to use this shoe on wet running conditions.
Good Points
Great looks and design
Breathable and comfortable
Exceptional support
Excellent fit
Affordable
Bad Points
Sole unit wears out quickly
Less grippy on wet surfaces
The Brooks Adrenaline line has long been a favorite of mine due to its ample support and cushion, and it's wide footprint that accommodates my abnormally huge feet well. This iteration is by far my favorite of the line.
The look, feel and fit of the shoe has been refreshed, and every time I put them on my heart races in anticipation of a good run.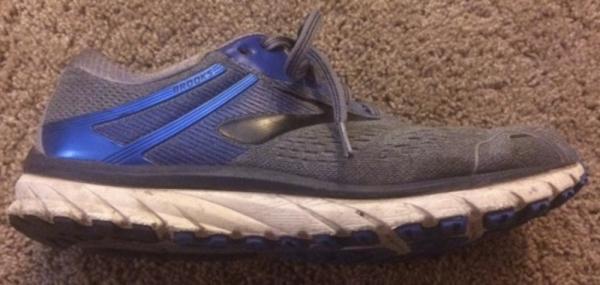 Comfort - Do I ever have to take them off?
The GTS line has never been an uncomfortable shoe, but what they did with this shoe is just incredible!
The fit of the shoe is perfect for me, there is so much room in the toe box to move, the liner is smooth and well cushioned, and the overall feel is that of a new pair of socks.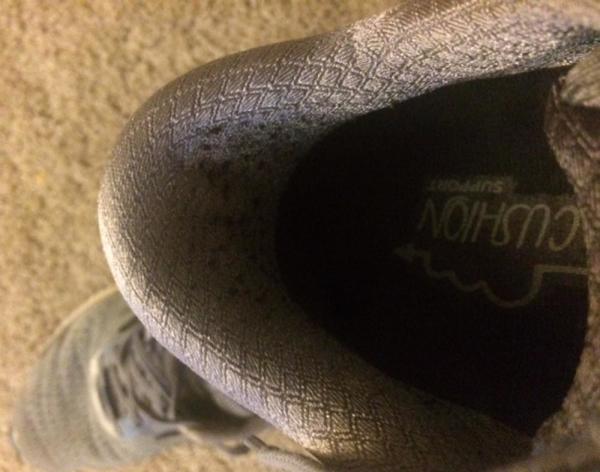 Midsole - You'll feel like you're walking on clouds
This shoe has more cushioning than it has any right to. The midsole is soft and comfortable, and yet it doesn't get in the way of responsiveness.
My feet and joints love the soft landing on the heel, and at toe-off, I have a good feel of the ground. They took a good pounding from me as I trained for my first half marathon. At 300 miles, I did notice the foam was no longer supportive and sadly had to retire these for running.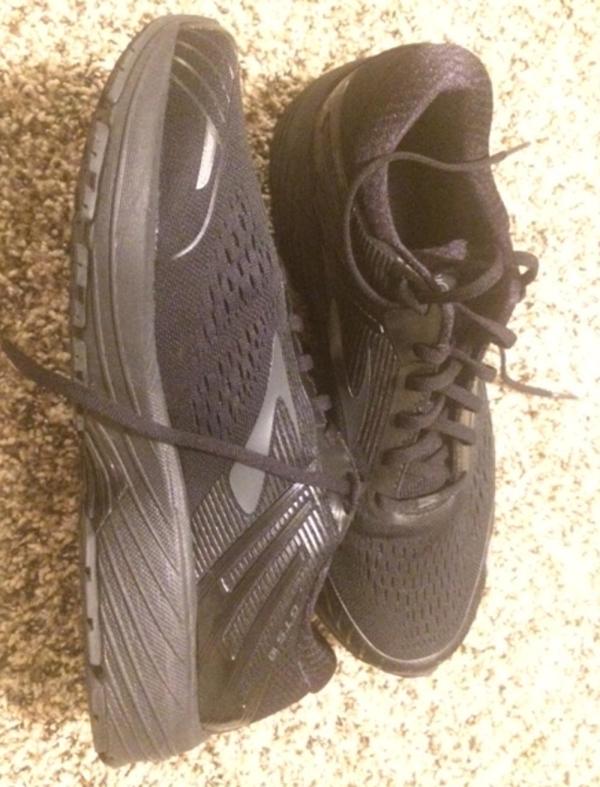 Outsole - A good reliable grip in all conditions
I never once felt that I was losing control in this shoe, and I went through snow, rain, gravel, and mud. The only time I felt uneasy was in ice, and this shoe is definitely not designed for that.
The lugs definitely felt more durable than they have in past iterations where I experienced lugs coming off the shoe. The midsole wore out before the outsole was ready to give up in my experience.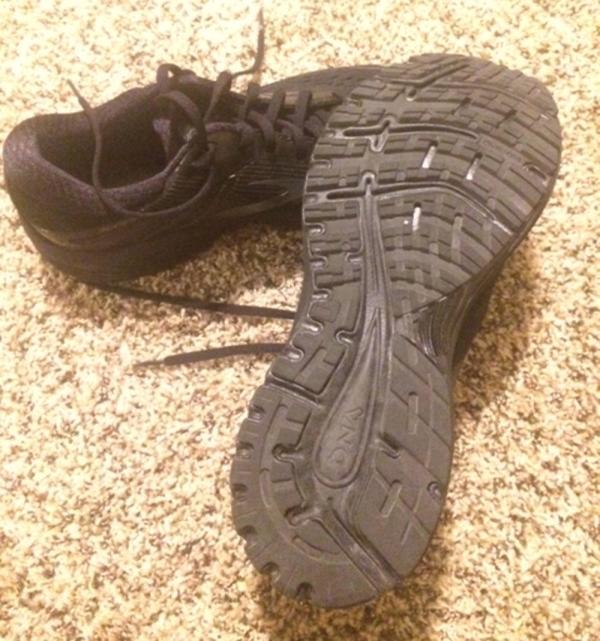 Upper - seamless and well ventilated
The upper on this shoe utilizes a seamless design with a minimal facade. It feels like the air can flow right through and adds to that sock like feel. In my opinion, the style of this shoe is fantastic, it's not bulky at all and there is not plastic fascia to pinch my big toe as I run.
The shoe is quite the opposite of waterproof when it rains, it goes right through the mesh material. This is a plus and a negative. While my feet get wet when I run in the rain or snow (I should get more appropriate shoes for snow, I know), the shoes also dry extremely quickly and are ready to go the next day.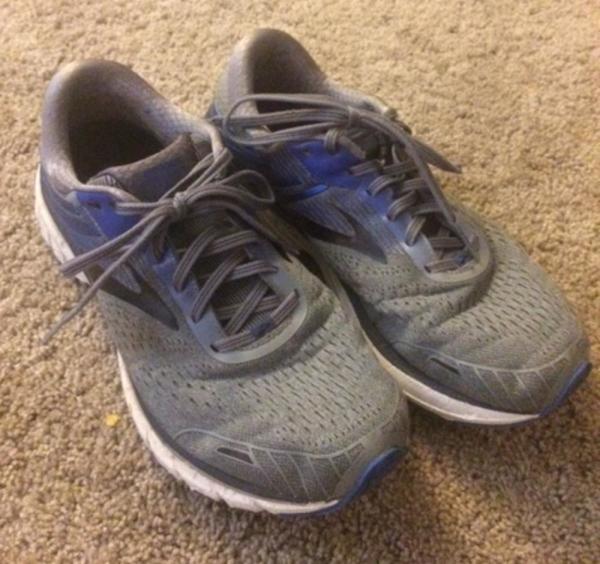 Support - There is a lot going on here
The dual density EVA foam with midsole posting really keeps your foot moving the way it should.
Couple that with a heel counter that hugs you and keeps you locked in and wide toe box, and this shoe is perfect for a mild to moderate over-pronator. I lace lock this shoe and never question that it is going to guide my foot for miles.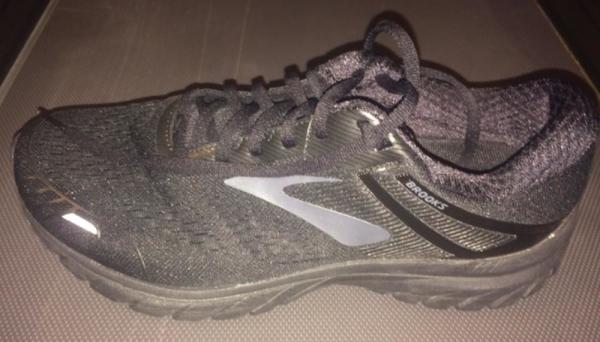 Value - Sometimes you just need to shell out the cash
This shoe is one of the most supportive, comfortable and versatile shoes on the market. There is a reason for its price tag. You get a whole lot out of the 120 dollars you plunk into these shoes.
Overall - Quite possibly my favorite shoe of all time.
The Brooks; it has the perfect amount of support and cushion to keep you running miles at a time, and is surprisingly lightweight for the amount of stability it offers.
I pounded these shoes into the ground and enjoyed every minute of it. I am now on my second pair and have no regrets. The only gripe I have is that it would be nice if the extra wide came in more colors, but that is insignificant compared to the miles of joyful running I experience in this shoe.
Brooks has been one of the top running shoe companies over the past several years, and it only seems to be gaining steam. More and more runners seem to be switching over to Brooks as they have a shoe for pretty much everyone.
The Adrenaline GTS (go-to shoe) is Brooks' everyday stability trainer, fitting in somewhere between the light, responsive Ravenna and the well-cushioned Beast. It has been a best seller for those looking for a shoe that can pile on the miles while providing non-intrusive stability features that keep the foot from excessively rolling inward through each step.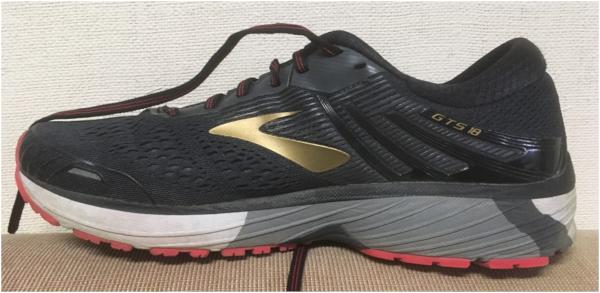 The Adrenaline GTS 18 provides a soft, stable, comfortable ride over any terrain. While the shoe has some response if needed, it is probably best fit for easy/recovery runs, long runs, with enough juice for tempo runs. I would place it closer to a "plush ride" than "responsive" on a scale with those options at either end.
Midsole & stability features
Brooks designed stability into this shoe by carefully placing a much denser midsole material on the medial side of the shoe, beneath where the inside of the foot sits. Brooks' traditional midsole "BioMoGo/DNA" material is used throughout the rest of the midsole.
The gray region of foam visible in the figure below is the dense material, and the lighter/white material is the BioMoGo foam. Brooks also included a small plastic piece just underneath the dense foam that works to keep the shoe from twisting throughout the process of taking a step.
These materials work together to provide a supportive and cushiony ride. The support is in my opinion, welcomed and comfortable. It provides a stable feel with no "jabbing" or "thrusting" of the material into the foot while running.
The support is subtle enough that I could not notice it until I compared the feel of this shoe to the Ghost (Essentially Brooks' neutral version of this shoe), which tended to allow my foot to fold in more than I liked.
Heel-toe offset
With a heel-toe offset of 12mm, this shoe is geared towards runners who heel strike (land heel first, then roll through the shoe and push off from the toes) as opposed to toe strike.
There is plenty of cushion in the heel of the shoe (somewhere around 30mm) that absorbs the impact of landing heel-first over and over, and also enough up front to protect the foot/toes over a long run.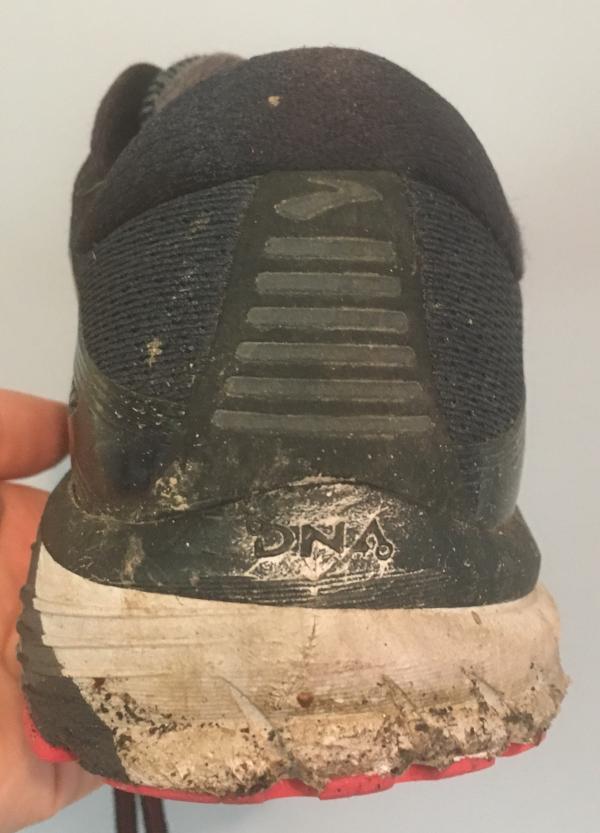 Durability
I have gone through three pairs of the Adrenaline GTS 18, and am on my fourth one right now. They had consistently gotten me between 450-500 miles before I moved on from them.
Figure 2 shows my current pair which have just under 200 miles on them at this point. In my experience, these shoes feel phenomenal (very cushiony, and bouncy) for the first 20-30 miles on them, then drop down just a little bit to "very comfortable."
This is probably the case for most shoes. Even though they are not quite as comfortable as when they were brand new, the shoes seem to stay at the level of "very comfortable" for a very long time, and I only begin to notice a significant decline in the midsole well after 400 miles.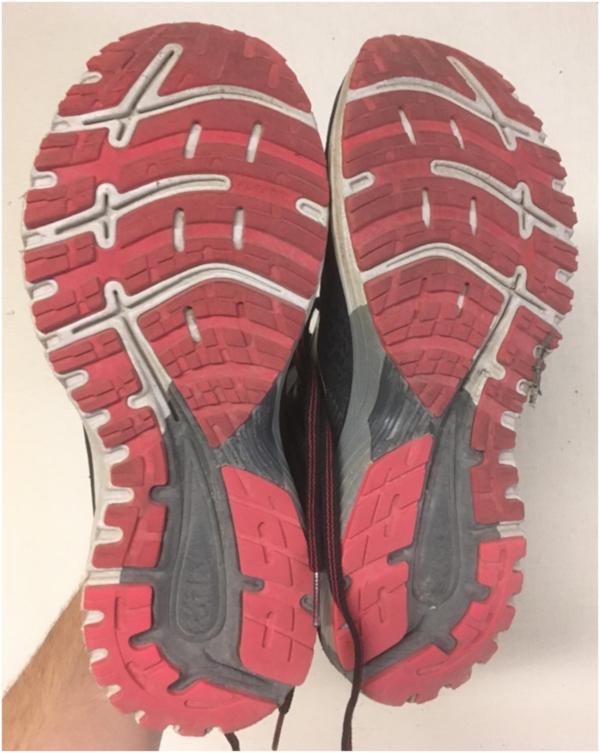 The tread/outsole of these shoes seems to go before the midsole (at least in my experience). Most of the runs in this pair were done on roads which could be the cause of the quick breakdown, running on grass/track/trails should not lead to this as rapidly.
Outsole
The tread on the shoe is very good on any surface. It grips well to roads whether they are wet or dry, and also performs well in grass or on trails. The only complaint I have is the speed at which it wears away.
Fit & comfort
The upper on this shoe is made from an engineered mesh with small openings, that provides plenty of breathability and some flexibility. This is different from previous iterations which featured a more typical mesh with larger openings.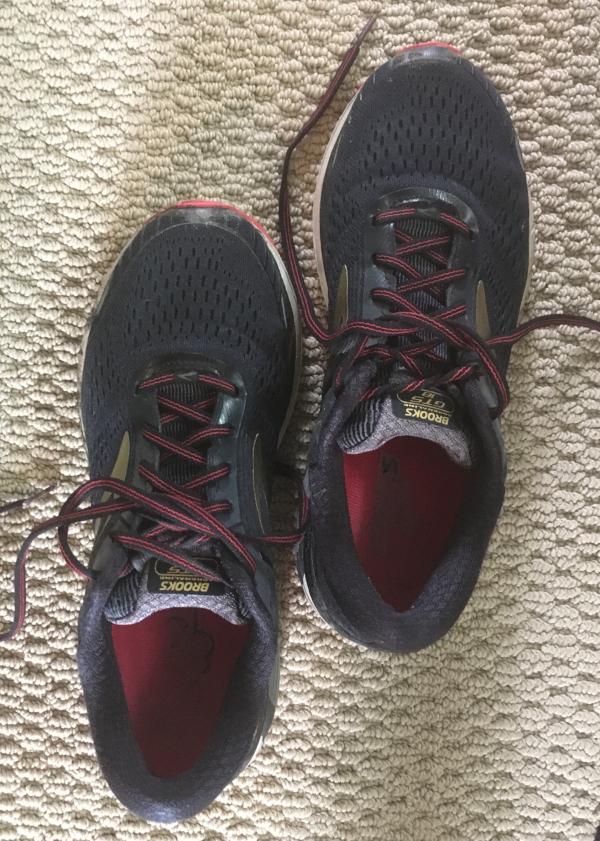 The toe box is plenty wide, maybe a little too wide, allowing for some side to side movement of the foot. Additionally, the heel pocket provides ample room for the heel, while holding it in place well.
An extra shoestring loop is sewn into the tongue which helps keep the tongue from sliding down the shoe as it moves. It is a comfortable shoe.
Conclusion
In conclusion, the Brooks Adrenaline GTS 18 is a tried and trusted training shoe that thousands of runners have enjoyed. It allows for a soft, cushioned run and protects the knees/rest of the body from feeling the effects of pronation.
The newly designed upper keeps things cool during hot summer runs, and the shoe allows plenty of space, avoiding hot spots and blisters. If you need a reliable shoe that can handle high mileage and keep up with your training, this shoe is for you!
Good to know
While it has become softer and lighter than its predecessor, the Brooks Adrenaline GTS 18 still intends to provide the familiar experience, also with the shoe's improved flexibility which is comparable to its latest version, the Adrenaline GTS 19. This shoe was designed for runners who need additional arch support. It's also made to be durable enough to use for daily road-running.
Now with a streamlined design, the upper is more focused on delivering a sustained form without the risk of irritation or restriction. A newly-designed heel cup that tilts forward keeps the heel locked in place.
The midsole is now less firm and more flexible to allow a smoother heel-to-toe transition. It still makes use of the BioMoGo DNA technology and the PDRB or Progressive Diagonal Roll Bar®, which work together in distributing support where needed while preventing overpronated foot motion.
The design of the outsole is now more refined to improve traction and durability. It is still made of HPR Plus, which is a rubber compound that has a high resistance to abrasion. The outsole ascertains grip and protection for both the foot and the shoe.
There is reinforced blown rubber in some regions of the outsole, particularly the heel and forefoot. It aims to provide a responsive push with every toe-off.
The forefoot area has Flextra, a compound that offers varying degrees of flexibility according to the weight and gender of the runner, ensuring an intuitive fit.
This version also features the Stable Pod Configuration, which guarantees a balanced heel-to-toe transition.
Omni Grooves, small trenches in the outsole, work together with the Omega Flex Grooves to encourage the natural flexibility of the foot.
The enhanced BioMoGo DNA midsole foam guarantees a softer and more adaptable underfoot feel. This gel-based cushioning is more malleable than conventional EVA, therefore resulting in a more dynamic run. BioMoGo is created using biodegradable materials, so it is environment-friendly.
The profile sock liner is also of BioMoGo foam. It delivers more cushioning and a contoured underfoot experience.
The S-257 Cushsole compound makes the midsole durable and resilient. It also presents additional reinforcement and more cushioning with every stride.
The updated Progressive Diagonal Roll Bar® brings support, but with a more leveled transition. It keeps the body properly aligned with every step while also correcting the position of the arch, thus preventing discomfort caused by overpronation.
The midfoot area has DRB Accel, a thermoplastic polyurethane unit that offers a balanced hold to the underside of the foot and provides torsional rigidity to reduce muscle strain and fatigue while running.
With a full-length segmented Caterpillar Crash Pad, the shoe adjusts to each footfall, no matter how it lands, ensuring the smoothest possible ride. It works by minimizing impact, absorbing shock, and localizing stability to the area that needs it the most.
The sole unit and the upper are now structured using Strobel lasting to promote a seamless appearance that follows the natural shape of the foot.
The shoes upper material is also the same material used in one of the Brooks running shoes, the Transcend 6. It is a newly-engineered, streamlined mesh upper which lends the Adrenaline GTS 18 a sleeker look and a more comfortable feel.
The inner sleeve is made of Element Lining, which has a moisture-control capability. Its purpose is to keep the foot cool and dry throughout the running session.
An internal saddle secures the midfoot and prevents the risk of interior foot-wobbling.
The subtle 3D Print overlays are present to endorse a more accommodating and modernized fit. As a result, the upper becomes breathable yet structurally assistive.
There is an asymmetrical saddle on the midfoot area that has an adjustment feature to prevent unnecessary wobbling of the foot.
Rankings
How Brooks Adrenaline GTS 18 ranks compared to all other shoes
Popularity
The current trend of Brooks Adrenaline GTS 18.