Verdict from 14 experts and 100+ user reviews
6 reasons to buy
Its virtually no break-in period is adored by some users.
A considerable number of wearers love this boot's lightweight construction.
The X Ultra 3 Mid GTX is a comfortable boot, based on a handful of customer and expert reviews.
Several outdoor enthusiasts commend its waterproofing as it keeps their feet dry on wet encounters.
It is a very supportive boot, as mentioned by a lot of satisfied wearers.
According to numerous hikers and a couple of experts, its traction on a variety of surfaces is remarkable.
3 reasons not to buy
A small group of testers had to give it a low rating in durability. The material used in the upper of the X Ultra 3 Mid GTX is less resistant to abrasion.
Its lack of cushioning underfoot has dismayed plenty of owners.
A few users state that the X Ultra 3 Mid GTX from Salomon runs narrow.
Bottom line
The excellent trail performance of the Salomon X Ultra series, the 3 Mid GTX included, gained commendations from its users. Support, comfort, and waterproofing were packed in a light build. On the other hand, it received negative remarks for its narrow sizing and insufficient cushioning.
To sum up, the Salomon X Ultra 3 Mid GTX is a good choice for those who want a light yet supportive gear. However, to get the best out of it, one must not use it frequently on untamed trails; wearing it with an aftermarket insole can also help.
Tip: see the best hiking boots.
Our reviews
Marketed by Salomon as a bestseller thanks to Descent Control technology, and being a bit of a Salomon "fan", I felt the need to investigate for myself, the X Ultra Mid 3 GTX.
There is a lot to like about this shoe and coming from someone who is not wearing the shoe for the odd hike, but for daily work, this comes as high praise. The price is a fair trade for the features you receive.
Design
The Salomon Ultra is an amazing boot for its category – that of a lightweight hiking boot. I can honestly say it almost felt like I wasn't wearing a hiking boot, it was that comfortable!
The tread of the boot is amazing; the grip on the sole is great even with beach sand and amongst rocks. In muddy conditions, provided it's not a clay mud that sticks, the grip is solid and can't be faulted.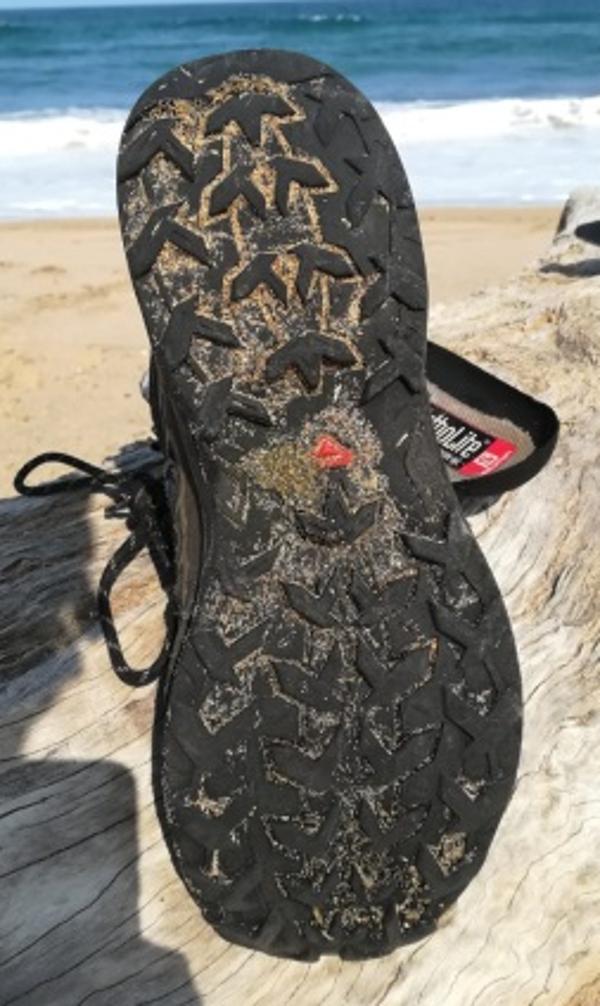 With a shaped footbed and the orthopedic cushion support, this boot was heaven on my feet in the rough terrain. With the added, not real pleasure, of being a plantar fasciitis sufferer I was really impressed with the cushion support.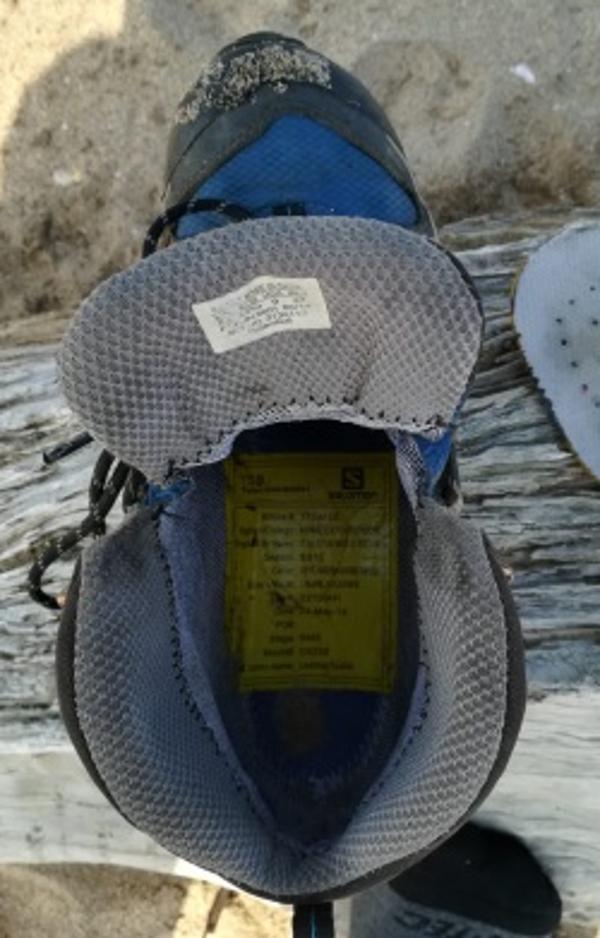 The inner soles are also easily removable to allow for cleaning and dirt removal, a must at the end of each day's hiking.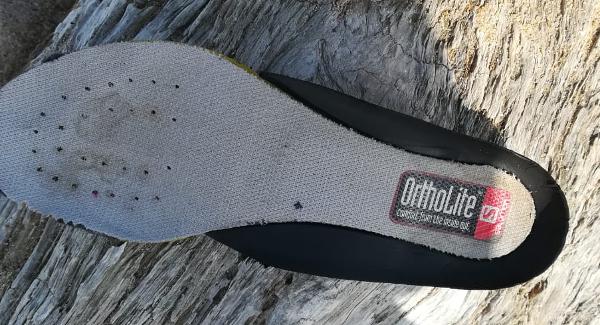 The breathable Gore-Tex keeps your feet dry, but in light rain or long wet grass they unfortunately still get slightly wet. However, the protective rubber toe cap is great for added protection in descents and makes for easy cleaning.
I must say, particularly in my line of work, the fast tying laces are amazing for donning the boot on and off, something I do regularly. Being near the sea, the metal eyelets have however corroded slightly.
In almost any condition – rocky and wet, muddy or sandy conditions this boot maintained well and performed as promised, definitely a king in its category.
Comfort & Style
Coming in at about 500g per shoe (size dependent) it is relatively light and fits like a glove.
I wear a comparatively small boot to most, 42.5, and have a wide foot but with great relief did not experience any blisters with this shoe. While offering the comfort of a trail shoe you get the support of a hiking boot, kind of the best of both worlds in one shoe.
Durability
Durability is sadly where this shoe falls short. I wear this shoe on almost a daily basis in every weather condition and terrain imaginable.
Although Salomon offers a 2-year quality warranty on most of their products, this shoe did not last a year before the boot tore on the toe bend section. Regrettably no repair possible.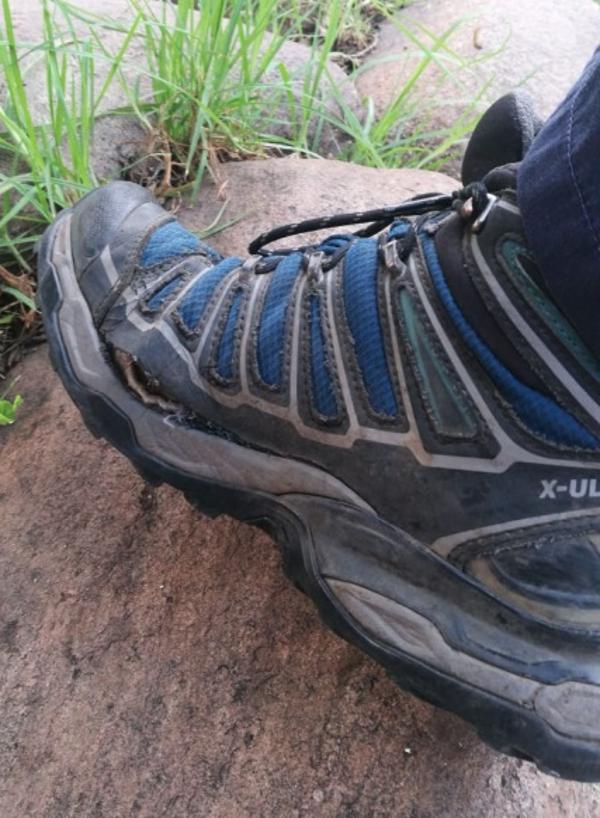 In all fairness, it is a lightweight boot, not for load bearing. If you are an occasional hiker or weekend warrior then the durability will no doubt be much better than the daily testing I put it through.
What's not to like
The boot sits just below the ankle, so not much ankle support if you are hiking in rough terrain.
If you are looking for a more structured hiking boot for extended climbs or when carrying a heavy pack you might want to consider the Salomon Quest, but with the higher ankle protection be prepared for the higher price tag.
Overall
Besides the durability of the boot, its biggest downfall, I have enjoyed wearing it for its year's lifespan.
Good to know
The 3rd version of the Salomon X Ultra Mid GTX had a significant reduction in weight. The multi-functional boot's upper now comes with a blend of lighter materials and updated lacing hardware. A Gore-Tex membrane also lines the inner bootie.
It features the proprietary Advanced Chassis technology. It is a sole unit which includes an injected EVA midsole, TPU frame, and a rubber outsole. These components work together to achieve active comfort and a more controlled, ground-sensitive ride.
The Salomon X Ultra 3 Mid GTX is a fairly true-to-size boot for male and female day hikers. Its lace-up closure works with the Sensifit technology (visible on the upper as overlays) to grant a customized, snug fit. Additionally, the women's version is created with an asymmetric Sensifit and a gender-specific last for fit optimization.
The high-traction Contagrip outsole is constructed using two different rubber densities which offer a balance between grip and durability. Its aggressive lug pattern bites on various terrain types. The flex lines increase flexibility for fatigue reduction. Also, the Descent Control technology enhances grip when tackling downhill slopes.
This mid-cut day hiking boot features the Advanced Chassis technology. It has an injected EVA midsole and a TPU heel frame which extends a bit to the foot arch. These components render cushioning and motion control, respectively. Together, they yield a more efficient and responsive stride. The women's version is created with an asymmetric chassis which provides more support to the inner arch.
A breathable Ortholite insole enhances comfort by wicking away moisture. Salomon engineers also added an EVA shaped footbed that conforms to the foot for optimal cushioning.
The upper of the mid-top, GTX version of the Salomon X Ultra 3 combines PU coated leather, softshell and water-resistant textile. It is lined with a moderately insulated Gore-Tex Performance Comfort laminate which is designed for changing weather conditions. These materials render waterproofing and breathability.
The brand designers added a mudguard (along the base of the boot) and toe and heel cap to provide protection. Its rear pull tab facilitates easy on and off. Its set of webbing eyelets and open metal hooks are part of its lace-up closure. Its tongue and cuff are padded for a plush feel.
Both the X Ultra 3 Mid GTX and Quest 4D 3 GTX are best-selling waterproof boots from Salomon. But what are their key differences?
Use. The X Ultra 3 Mid GTX is a mid-top boot designed for day hiking in technical terrains. It comes with features like descent control, lightweight EVA midsole for energy return, and advanced chassis for stability. The Quest 4D 3 GTX, on the other hand, is a comfortable walking boot that can be used for backpacking. It is lightweight and provides sufficient cushioning so you can carry on walking for long hours and get to the campsite with happy feet. Chevron lugs offer enhanced grip and traction, and the advanced 4D chassis boosts foot control and active comfort.
Price. The Quest 4D 3 GTX is almost twice the price of the X Ultra Mid GTX. Contributing to its hefty price tag is the tough upper that's made of leather and textile. If you're looking for a heavy-duty backpacking boot and your budget allows you to, go for the 4D 3 GTX. However, if you're after an affordable hiking shoe, the X Ultra 3 Mid GTX will definitely work.
Weight. The Quest 4D 3 GTX weighs much more than X Ultra Mid GTX. It isn't surprising because backpacking boots are designed to support your body when you're carrying a heavy load. They're also more robust and provide more coverage than regular hiking boots.
Rankings
How Salomon X Ultra 3 Mid GTX ranks compared to all other shoes
Popularity
The current trend of Salomon X Ultra 3 Mid GTX.