With such a plethora of walking shoes available on the market, choosing the right one can sometimes become a daunting task. But it shouldn't be. It should be as easy as putting on a pair of slip-on walking shoes.
What makes slip-on walking shoes quite appealing is the fact that there are no adjustable straps or laces to fondle with. The mouth of these trainers is big enough to accommodate the foot coming in and out without any hassle. There are also a variety of designs to choose from that you won't have to worry about compromising your fashion sense if you do pick a comfortable pair of slip-on walking shoes.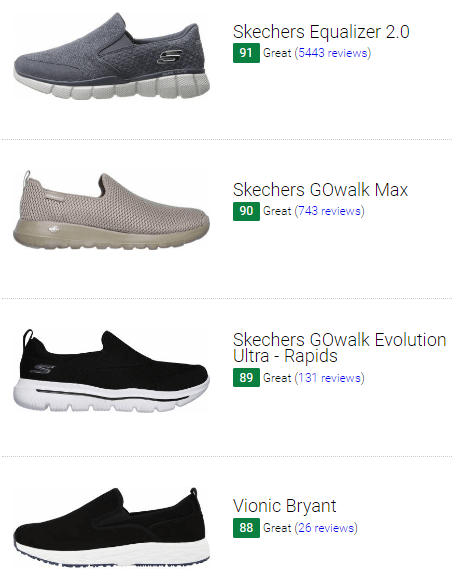 Best slip-on walking shoes for men - May 2019
What to expect from the best slip-on walking shoes
Upper
The upper material of slip-on walking shoes is usually made of mesh, faux leather, and jersey knit. These types of materials allow the top to be soft and pliable so that the foot can move and expand freely.
Men's slip-on walking shoes are pretty straightforward as they usually have full instep coverage. A good example of this is the Skechers Equalizer 2.0 which has a high instep with elastic gussets on the sides so the foot slides in or out easily. On the other hand, women's slip-on walking shoes come in various top constructions. Some models have uppers that do not cover the instep while others have elastic straps for aesthetic purposes and a secure fit.
There are instances where you will see laces or straps on slip-on walking shoes which may be contradicting to the term "slip-on" but these structures are usually present as decorative elements. As long as you don't have to tie or unstrap anything to put on or remove the trainer, then they still fall under the "slip-on" category.
Midsole
The midsole of slip-on walking shoes is designed to deliver maximum underfoot comfort. The most commonly used compound for this platform is the ethylene-vinyl acetate (EVA) foam. This material is lightweight and though it compresses easily to absorb pressure, it quickly returns to its original state to be ready for the next step.
Inside the trainer is an insole that may or may not be removable. They are usually made from memory foam or an iteration of it to provide long-lasting comfort and relief. The top is covered in a breathable fabric that helps wick moisture away from the foot.
Outsole
Slip-on walking shoes usually employ a single cushioning unit for both the midsole and the outsole. These are constructed in such a way that the bottom portion, the one that comes in contact with the ground, is firmer to withstand abrasion. In some cases, there are rubber pods placed strategically in key areas to enhance durability and provide additional grip. Of course, there are pairs of slip-on walking shoes that employ full-length rubber outsoles too.
In some slip-on walking shoes from Skechers, there are specialized structures on the outsole like the Goga Pillars or Ultra Pillars. These button-like structures provide adaptive cushioning to distribute pressure evenly.
Benefits of wearing slip-on walking shoes
With no structures that regulate the fit, putting on slip-on walking shoes is as easy as sliding your foot in. You don't have to untie or unstrap anything. And removing them is just as easy. If you're always in a hurry and you want to be out the front door in a matter of seconds, then a pair of comfortable walking shoes would suit you just fine.
Great for people with mobility issues
The problem with trainers that employ straps or laces is that you either have to bend, sit, or kneel so that you can put it on. If you have mobility issues or you are experiencing pain or discomfort on your joints and muscles when bending down, then it may be time for you to look into purchasing a pair of no-fuss slip-on walking shoes.
You forget you're wearing them
With no laces to get untied or straps that get snagged, it's not hard to forget you're wearing slip-on walking shoes. Another factor that could help you take your mind off of your feet is that most of these trainers are lightweight. Lightweight walking shoes come in different styles but many of them sport the slip-on construction.
Frequently asked questions
How do you know if the model you ordered is right for you?
The moment you put on your brand new slip-on walking shoes, they should feel comfortable. There should not be any structures that feel off, like seams that dig into the skin or the edges of the upper causing some discomfort on the instep or the back of the collar. Also, despite being easy to wear or take off, slip-on walking shoes should not fly off when you start to walk. Your heel should not slide out. If this happens, there's a good chance that you got a bigger size than you should have. The great news is reputable online retailers allow you to return your pair, usually free of charge, for a better fitting one.
What brands offer this type of walking shoes?
The most popular brand for slip-on walking shoes for men and women is Skechers. The reason behind this is that the brand offers a wide selection of styles and colorways, not to mention the availability of wide widths in some models. However, if you're not a fan of Skechers, there are also slip-on walking shoes offered by New Balance, Vionic, and Propet. For women who like to mix comfort, style, and functionality, Ryka walking shoes are also a good option.
How much do these trainers cost?
Slip-on walking shoes cost somewhere between $55 to $80. But RunRepeat helps you find the best slip-on walking shoes that fit in your budget. RunRepeat sifts through numerous online offers to find you the lowest offering for the trainer of your choice. So, even if there are no sales, you can get a pair of slip-on walking shoes for as low as $25.
Are there slip-on walking shoes with arch support?
Yes, there are slip-on walking shoes with arch support like the New Balance 1200 and Vionic Bryant for men and the Vionic Dash and Ryka Felicity and Ryka Klick for women. New Balance, Brooks, and Avia also offer walking shoes with stability and motion control features however they typically don't come in a slip-on style.
Did you know…
… that slip-on walking shoes were designed after the Native American moccasin? Moccasins are made of deerskin or other soft leather that is stitched together at the top which may or may not have an extra piece of fabric for the vamp. The sole is also made of leather but it has not been processed, making it soft and flexible. There is also embroidery or beads embellishing the shoe for aesthetic purposes. Despite their soft construction, moccasins are intended for outdoor use.
… that loafers are one of the most popular slip-on walking shoe designs? The first ever loafer was created in 1926 by Wildsmith Shoes for King George VI, a comfortable alternative to dress shoes to be worn inside the house. It was called the Wildsmith Loafer and became popular with royalties and landed gentry.
… that Weejuns, a famous type of loafers, are not of American origin? Weejun, a corruption of the last syllables of Norwegian, was created by G.H. Bass but was inspired by shoes made by Norwegian fishermen. During the offseason, the fishermen created these shoes and sold them as resort slippers to Europeans. It soon became a favorite find for American tourists which led to shoe companies like G.H. Bass to become interested in them and improved the design.
8 best slip-on walking shoes
Skechers Equalizer 2.0
Skechers GOwalk Max
Skechers GOwalk Evolution Ultra - Rapids
Skechers GOwalk 4 - Incredible
Vionic Bryant
Skechers GOwalk 5
New Balance 770
New Balance 1200
This shoe has recently been added to RunRepeat. There are still not enough reviews for us to assign it a
CoreScore
.
CoreScore
A score from 1 to 100 that summarizes opinions from users and experts. The average CoreScore is 78.
More...