Overall ranking lists
Inov-8 categories
Offroad running is never the same again with Inov-8. The shoe manufacturer supports the natural running evolution by providing a wide range of athletic pairs for various purposes, such as mountaineering, track racing, fell running, obstacle course racing, fitness, weightlifting, cross training and trail running among others. These pairs are available in men's, women's and kids' sizes with a unique blend of protection and performance. Inov-8 running shoes are functional yet minimal and lightweight, allowing for better flexibility for the committed athlete. Based on reviews, the best models from this niche athletic brand are the Inov-8 Mudclaw 265, Inov-8 X-Talon 212 and the Inov-8 Bare-Grip 200 among others.
Inov-8 Running Shoes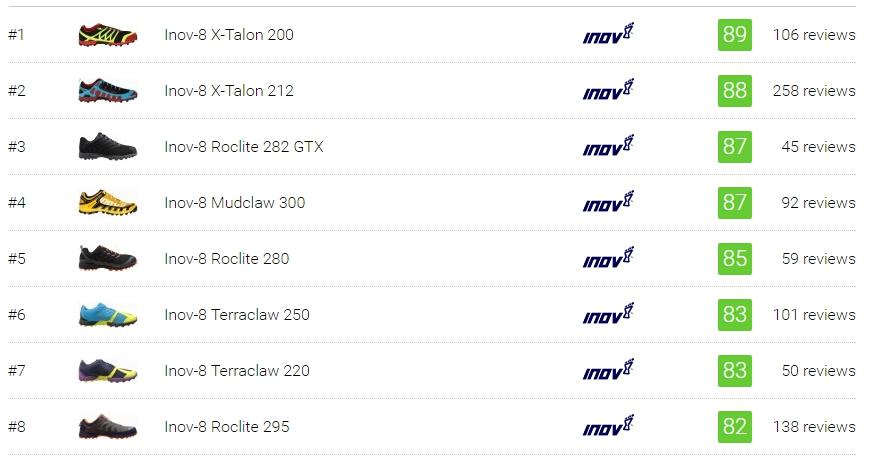 Inov-8 running shoes are designed and developed to adapt to varied environments. In fact, these are used by elite athletes that pursue different disciplines. The team behind the niche brand has always been passionate in running, which drives them to make better technologies and new features to keep their pairs reliable and supportive. Not all Inov-8 running shoes have high ratings, so seeking the advice of professional shoe reviewers will be the best course in buying your first pair. If you want to get the best experience in grit and glory, Inov-8 running shoes are some of your best bets.
Based on 100, 00 reviews about shoes, runners and athletes trust Inov-8 and the brand's collection of performance footwear. The niche brand's athletic range of shoes is among the most talked-about products in the market. Read to know more about Inov-8 and why its collections deserve to be award-winning.
How can Inov-8 shoes make you a flexible runner?
If you want to enhance your natural running movement, you need a light and minimal platform that could bring your soles closer to the ground. The Inov-8 low drop shoes could be a great investment since their minimal-structured platform will not hinder your natural range dynamics. The Inov-8 minimalist shoes also have the same features, but you can expect some cushioning to help you transition to barefoot running smoothly.
Pronation control is present in Inov-8 motion control shoes and Inov-8 stability shoes. Over pronators, especially those with a severe pronation case, should invest in the said shoes for proper gait correction, cushioning and support. As for under pronators and neutral pronators, the flexibility, comfort and natural fit of Inov-8 neutral shoes will do wonders for them.
Racing in Inov-8 race shoes will guarantee an improvement in speed and performance. Incorporated with the latest racing technologies, these models will keep you light, as well as protected from shock forces and irregularities on the trail and track.
Runners would either run on the track or trail, or even both. The Inov-8 trail shoes will provide the comfort, performance and protection you need in handling rugged terrain. On the other hand, Inov-8 road shoes will have shock attenuation properties, comfort and support you need to conquer miles of pavement.
Why are the best Inov-8 running shoes popular?
Pricing. Inov-8 shoes have varied shoe models that fit both entry-level and advanced runners. Whatever your level of experience, you will surely get a pair that will fit your fitness routine and improve your running performance. The best Inov-8 shoes can be bought within a price range of $90 to $170. Their trail shoes are more likely to be expensive since they are focused on developing their range of off-road running collections.
Footwear technologies. The best Inov-8 shoes are created with top-quality materials and state-of-the-art shoe innovations. When it comes to outsole technologies, the brand feature 5 different outsole compounds, namely: Dual-C, Sticky, Fusion, Endurance and Tri-C. These compounds are used for different outsole categories, such as Off-Road, Tri & Road and Functional Fitness. Fit technologies come in two kinds: the Standard Fit and Precision Fit. Lastly, the Arrow Shoc Zone is developed as the brand's cushioning technology, featuring varied heel to toe drops (9 mm, 6 mm, 3 mm and zero drop).
Popularity. The shoe brand, Inov-8, is popularly known to have some of the best shoe offerings for off-road running. Despite focusing on this niche, the brand could still offer a lot in other running categories, such as track and minimalist running. In fact, running authorities, like Outside Magazine, Trail Runner and Runner's World, are keener to discover the new releases from the brand since their shoes have garnered high ratings and numerous awards from the past. Some of the accolades awarded to the best Inov-8 shoes are "Editor's Choice" and "Best Trail Shoes".
This shoe has recently been added to RunRepeat. There are still not enough reviews for us to assign it a
Corescore
.
Corescore
A score from 1 to 100 that summarizes opinions from users and experts. The average Corescore is 78.
More...