The Nike Precision releases have always satisfied those players who are on a budget, and the Precision 6 is not an exception. This budget shoe from Nike delivers on aspects that matter when it comes to performance. It's even comfortable enough to be worn the whole day without much issue. Indeed, you will get your money's worth with the Nike Precision 6.
Pros
Effective grip on clean courts
Very comfortable in-shoe feel
Wide and stable base
Good ankle support
Nice court feel
True to size
Smooth heel-to-toe transition
Totally lightweight
Breathable upper
Really affordable
OK for outdoors
Cons
Dust-prone outsole
Little impact protection
Upper lacks durability
Not for wide-footers
Who should buy the
Nike Precision 6
This budget shoe from Nike is a nice match for athletes who:
usually play their games indoors
look for a performer that does not break the bank
search for basketball shoes that also double as their everyday sneakers
are agile and would want light footwear
have narrow to normal-sized feet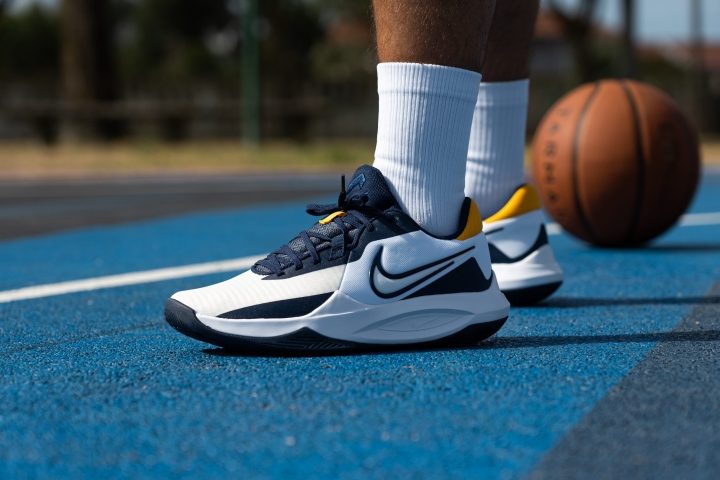 Who should NOT buy this budget basketball shoe from Nike
This shoe is not for bigger and more aggressive players who like a lot of cushioning.
They are better off with the Nike LeBron 19 and other offers from LeBron James's much-celebrated line of signature shoes. These picks are also good for players who have wide feet.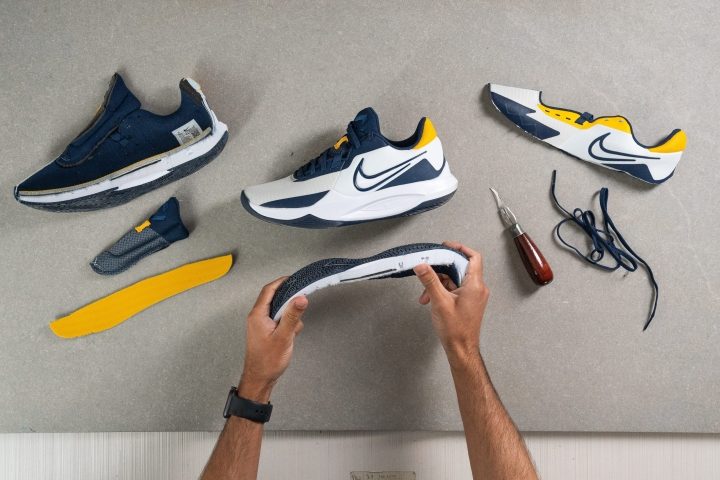 The Precision 6's upper means comfort
"I can't say anymore how much comfort I had in this shoe," an expert reports. He also adds that he wears this Nike shoe the whole day, every day! Others also report that the shoe's upper conforms well to the shape of the foot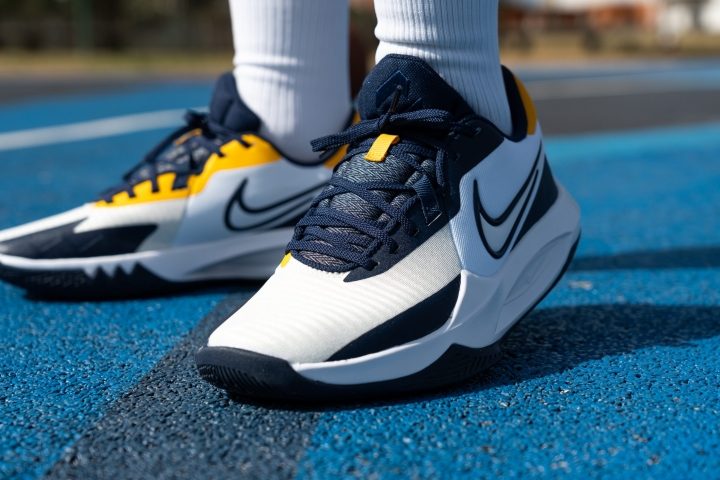 One wearer also noted that the tongue feels "nice and cozy on top of your foot."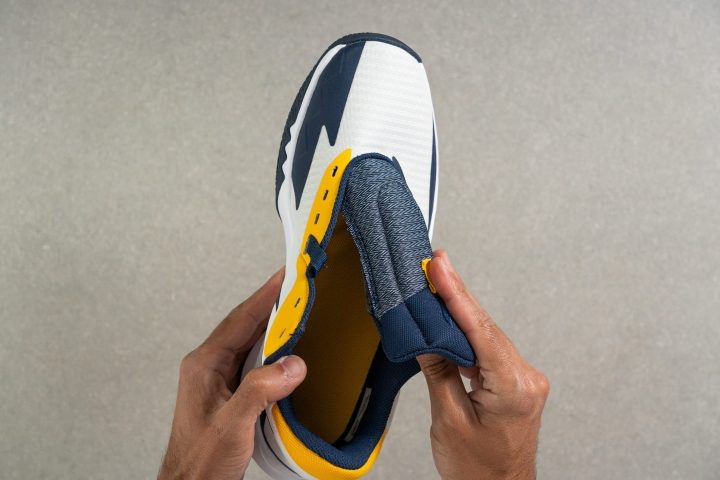 And it is also notably more padded than most basketball shoe tongues.
Fact check
We measured it at 11.9 mm which is indeed thicker than the average 9.5 mm.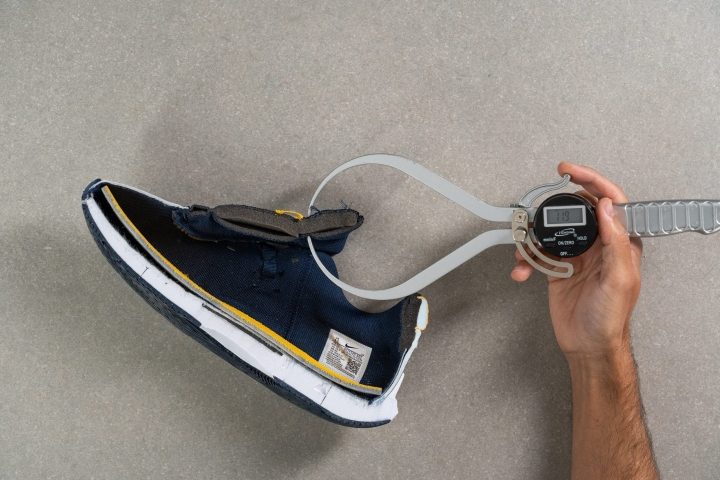 There is also a reviewer who reports that the shoe overall is just a delight to wear.
In addition to all the compliments received by the Precision 6, we also found that it is quite breathable.
Nike Precision 6 (breathable) vs. Nike Lebron NXXT GEN (barely breathable)
Judging by the amount of smoke passing through the fabric, we rated it as 4 out 5 on our breathability scale where 5 is the most breathable.
Upper has no reinforcements
One of the reviewers reports that the upper actually "doesn't feel like super cheap."
Fact check
It may not FEEL cheap, but when we put the upper through our Dremel durability test, it quickly revealed its budget-friendly nature.
Toe drags are definitely not a good idea in the Nike Precision 6.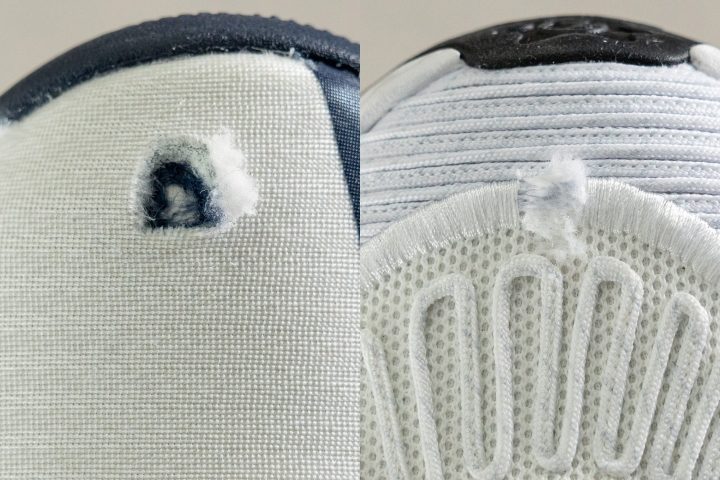 Nike Precision 6 (affordable shoe) vs. Nike Cosmic Unity 3 (expensive premium-quality shoe) after the same test
Taking a close-up microscope shot of the material, it looks like a cute little sweater (not an armored tank).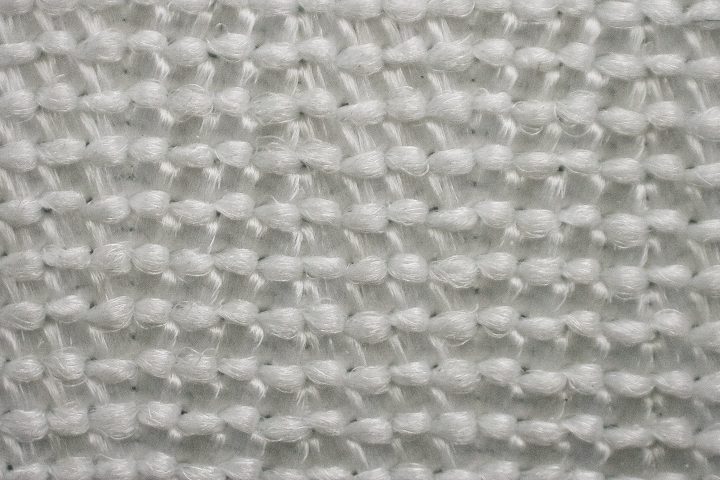 Stable and supportive (one of the widest platforms on the market!)
When it comes to foot containment, the Nike Precision 6 is surely not a bummer. According to one avid reviewer, this shoe has a wide base and a "super sharp" outrigger that help keep the foot on the footbed even during the most intense movements.
Fact check
This is one of the widest footprints we've seen in our lab for sure! In the widest part of the forefoot (116.7 mm), this Nike shoe is 4.5 mm wider than average. And in the heel (91 mm), it is 1.4 mm wider.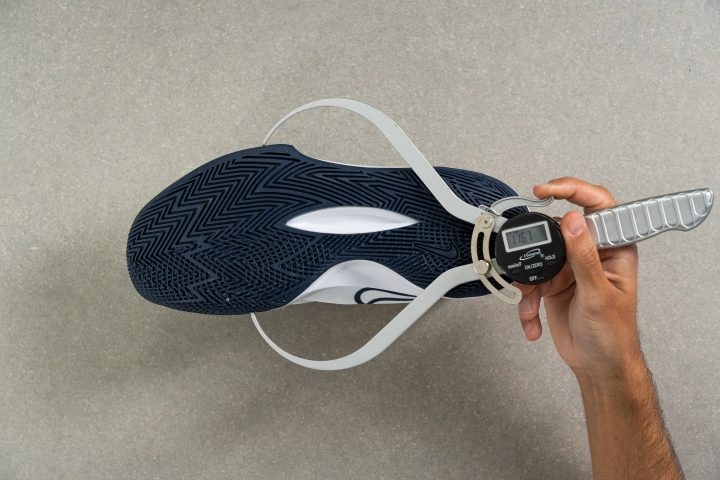 This is a major contributor to the shoe's lateral stability. There have been no complaints from the players in this regard.
Our only concern was the lack of stiffness in the shoe's heel counter. In a manual assessment, we rated it as 2 out 5, where 5 is the stiffest. And yet, the reviewers never found ankle support or foot containment to be an issue.
The grip is highly dependable on clean courts
Experts are unanimous in saying that this shoe's traction works, as long as the game is played on indoor and well-kept courts. They say that it's "truly grippy" on the hardwood. There is even one expert who says that its traction is "perhaps the best feature" of this basketball shoe.
However, there are reports that the grip strength gets a bit of a downgrade when there is dust. Fortunately, a "very easy wipe" is all that's needed according to one player. Because of this, he still concludes that the Nike Precision 6 still has "very solid traction."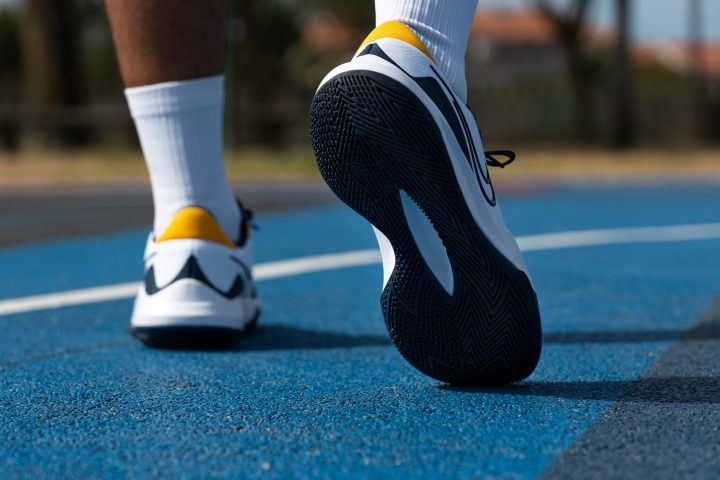 Looks promising for outdoor use!
The Nike Precision 6 is full of surprises. We wouldn't expect a budget shoe like this to perform well outdoors but it seems to work just fine! After all, it's got a thick and hard layer of rubber for an outsole.
Fact check
Looking at the rubber thickness at the heel, we found it to be 3.9 mm. This is on par with most of the premium basketball shoes on the market.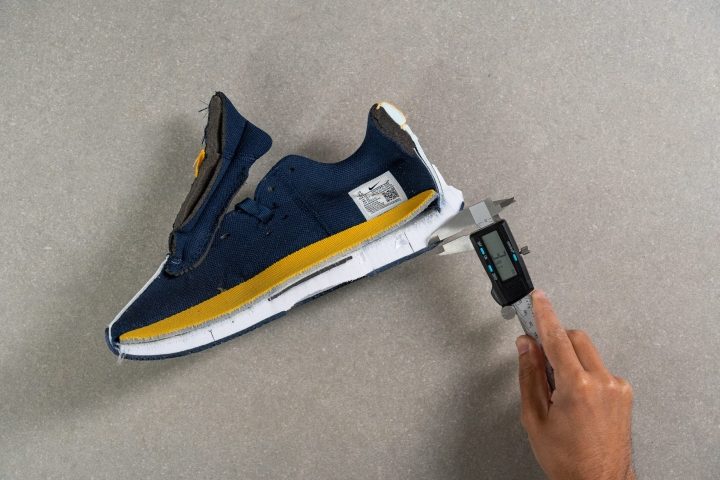 Fact check
But what's truly amazing is how hard it is. The rubber on this Nike shoe is by far THE hardest in our collection of basketball shoes! What a nice surprise!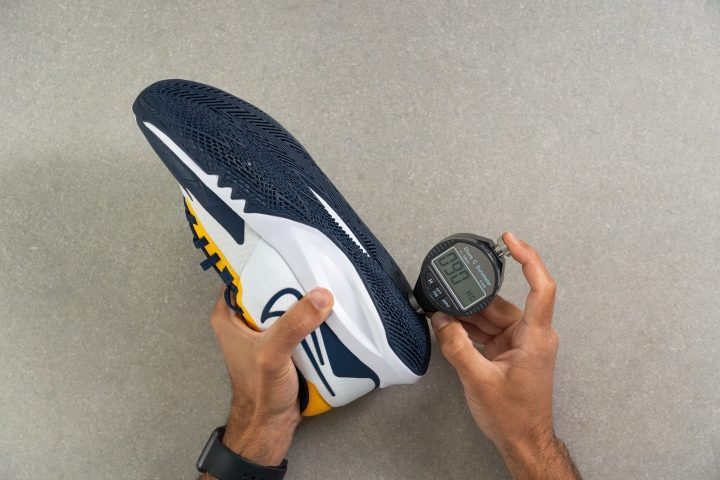 Your steps are going to be smooth
The Nike Precision 6 has all the characteristics that ensure smooth heel-to-toe transitions: it has rounded ends, the midfoot is stiff, and the forefoot has some flex to it.
Because of this, an avid reviewer gleefully reports that his steps are very smooth and "have a rocking chair motion" that he likes.
Fact check
In our manual flexibility test presented above, we rated the shoe's longitudinal and torsional flexibility as 4 out of 5 (5 being the stiffest).
However, our gauge test showed that the Precision 6 is still more flexible than average (by 24%)
Disclaimer: We take four measurements and calculate the average, excluding the outliers. The video above shows only one of the measurements.
The Precision 6 is all about court feel
Players who function mostly as guards are happy with this basketball shoe from Nike. One of them says that it is low to the ground and that it has a great court feel. The tooling is also a bit firm, so its responsiveness is high.
Given this, wearers get more control over their movements, and quick cuts and turns are not difficult to execute.
Fact check
Do expect firm cushioning in the Precision 6. Our durometer test shows that its foam is 11% firmer than the average of our lab-tested basketball shoes.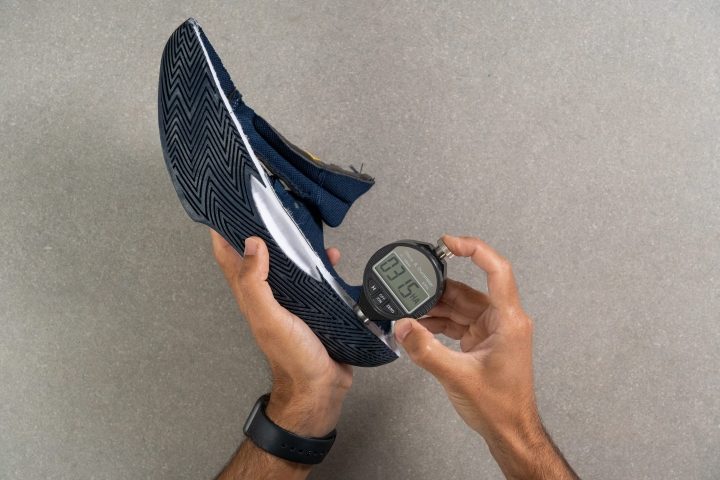 Disclaimer: We take four measurements and calculate the average, excluding the outliers. The photo above shows only one of the measurements.
Fact check
And if you're wondering how tall the shoe's platform actually is, it is quite average. Using a pair of calipers, we measured the heel stack at 27.7 mm (average: 28.7 mm) and its forefoot stack at 21 mm (average: 21.5 mm).
The heel-to-toe drop of 6.7 mm is also within the medium range of basketball shoes (7.2 mm).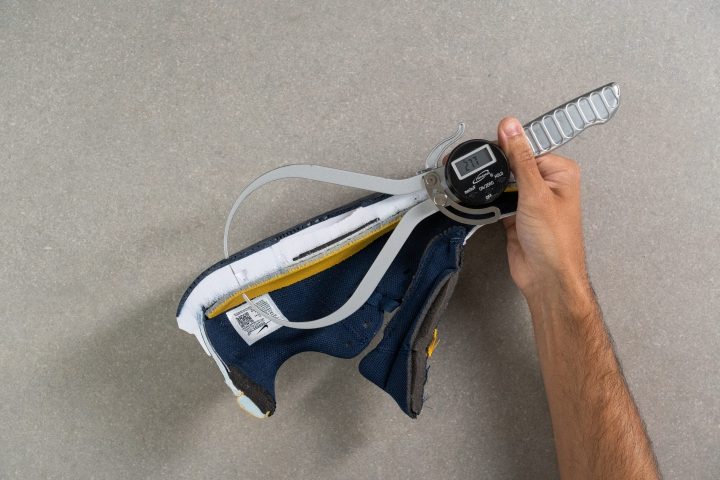 ...but court feel comes with a price
The court feel that the Nike Precision 6 delivers comes with a performance setback. One expert says that the cushioning, even at the heel where it's most needed, is "nothing to write home about." It is stiff so it does not give that much impact protection during landings and strikes. "It kinda sucks," he adds.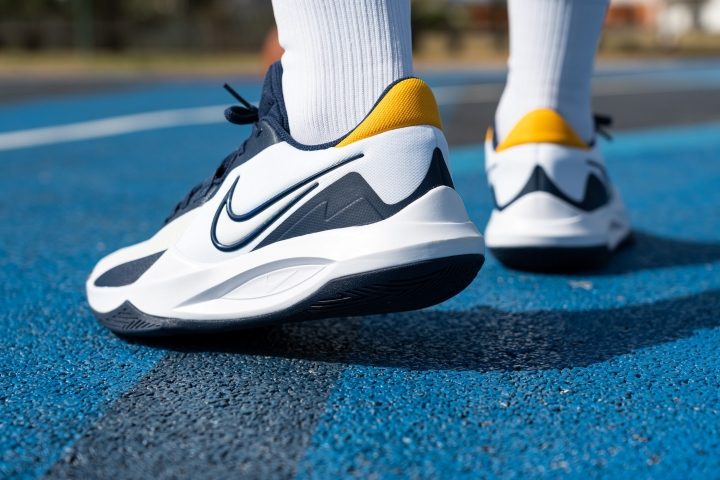 An expert, however, explains that this is totally understandable given the shoe's affordable price. According to him, pricy cushioning techs are the first to go to bring the price of the shoe down. Indeed, you win some and lose some with this one.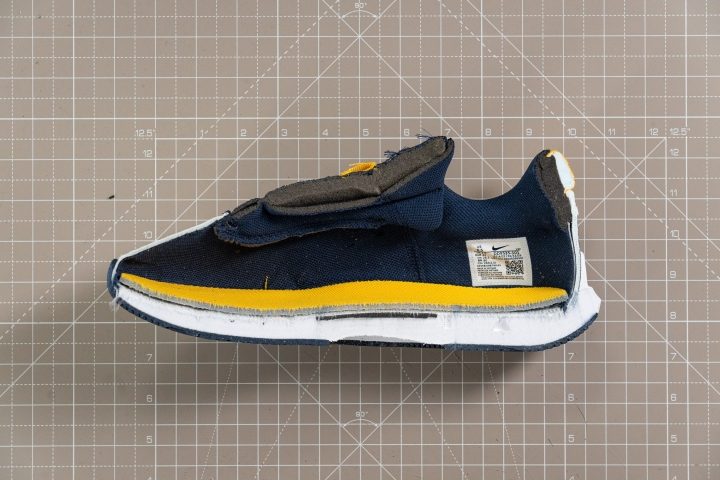 Light as a feather
At 341 grams (12 oz), the Nike Precision 6 easily puts to shame many basketball shoes on our record. The average weight of basketball shoes is 13.6 oz, that's 386 grams.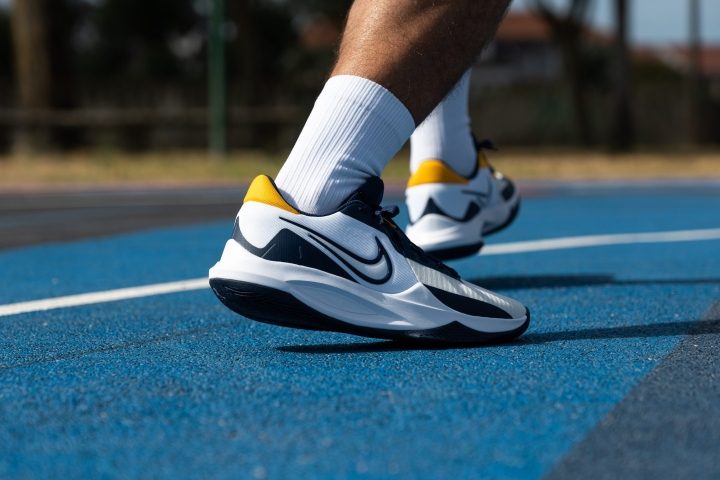 The shoe is indeed light and responsive, so it's safe to say that this one delivers agility and speed. "It felt like I really didn't have shoes on," an expert says.
Get your usual size
The Nike Precision 6 has a true-to-size fit, so there is no need for size adjustments unless you have really wide feet. The shoe is also "super easy to put on" according to one reviewer.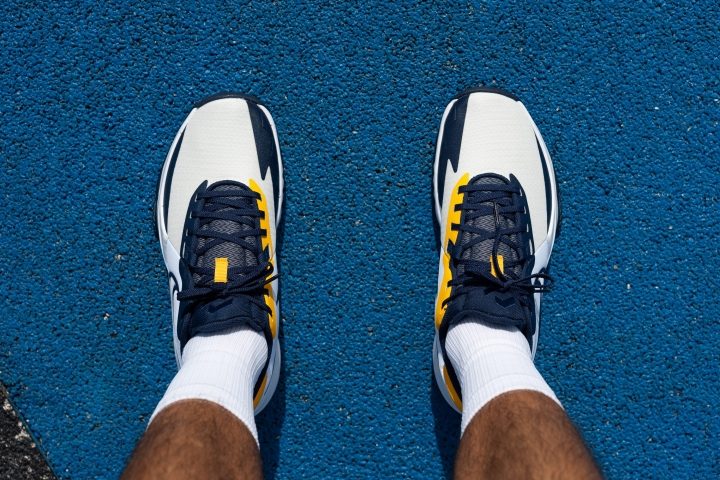 Fact check
Based on our toebox measurements, the Nike Precision 6 falls into the medium-width category.