The highlight of the Inov-8 X-Talon 260 Ultra was apparently its roomy forefoot design because people never failed to praise it. Wide-footed consumers were happy with such a feature in a trail shoe. The rest of the parts were deemed efficient, as well. On the other hand, an observation was directed towards a required break-in period for this shoe.
---
Verdict from 1 expert and 100+ user reviews
5 reasons to buy
Those who have wide feet were happy because of the Inov-8 X-Talon 260 Ultra's roomy toe box.
The heel section of the upper grasped the foot securely, according to several testers.
The traction capacity of the outsole was generally appreciated.
People liked the water-repellent upper of this shoe.
The durability of the components was deemed dependable.
1 reason not to buy
A tester stated that a break-in period was required before fully experiencing a comfortable in-shoe wrap.
Bottom line
The highlight of the Inov-8 X-Talon 260 Ultra was apparently its roomy forefoot design because people never failed to praise it. Wide-footed consumers were happy with such a feature in a trail shoe. The rest of the parts were deemed efficient, as well. On the other hand, an observation was directed towards a required break-in period for this shoe.
Best price from 50 shops
We earn affiliate commissions at no extra cost to you when you buy through us.
63% say it's true to size.
Our reviews
There really is nothing like the sense of freedom you get when running across an open mountain—endorphins flowing, legs pumping. It would be a pity if a poor choice of shoe and bad grip ruined that.
I have been running in a pair of Asics FujiRunnegade 2 for a couple of years and while I really like them, they find their niche in grass and mud. They are lightweight, low drop, thin-soled fell shoes, which perform admirably on such terrain.
But, having spread my wings and begun to explore some different territory with more varied terrain, I decided that I needed something more versatile, protective and a little more substantial. Enter the Inov-8 X-Talon 260 Ultra.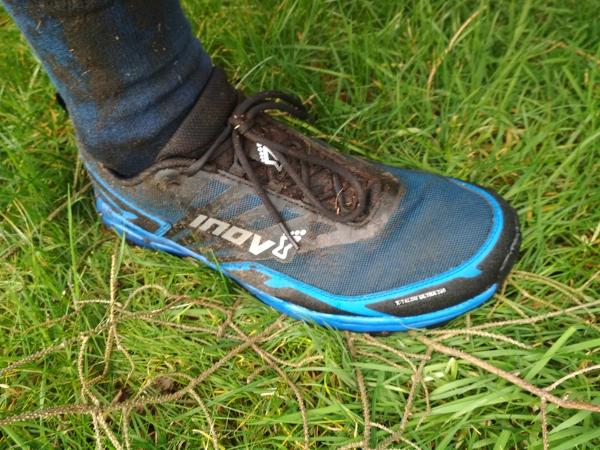 I have run hard trails in a pair of Inov-8 Roclite 305 for a while so needed no selling on the Inov-8 brand. They are rightly known for making some of the best off-road shoes around, and my experience with the Roclites only encouraged me to explore their range further.
The common features across the two models include the 8mm drop, Powerflow midsole which I have found to be an unbeatable combination of supportive, responsive, and comfortable, and Metaflex groove in the forefoot, which helps things feel lively up front.
When unboxing the X-Talon Ultra, I had a few misgivings. Although the low weight of the shoe is immediately apparent, the shoe itself is substantial! This is no traditional, minimalist fell shoe.
It has a large, wide toe box, which seemed just a little too bulky for my liking. Also, it has a high heel counter and collar, and it really looks like a shoe you climb into rather than slip-on.
The DWR coated 'ballistic nylon' used for the upper is heavy-duty stuff too; it is definitely not going to degrade any time soon. Also, the large toe bumper, moulded over the toes and extending back to the midfoot at the sides get you the feeling that this shoe is going to be a tank.
On foot, the shoe is indeed substantial. It sizes a 4 on Inov-8's fit scale where 1 is the most precise, close-fitting, and 5 is widest. The room upfront isn't just a matter of width. It is a matter of height and length, too.
I was a little concerned that my foot could get lost in it and move around too much, which usually causes me some problems. Further back, these concerns are mitigated in that the shoe seems to have quite a standard fitting.
The upper is overlaid with stripes of rubber extending from the lace loops and adds strength without rigidity where it is drawn in around the foot.
The rubber overlays have a functional and aesthetic purpose, providing structure and added protection and blending with the large Inov-8 branding on the side.
In terms of the design, this probably isn't one for the fashionistas. It is utilitarian, rugged, and functional, which is fine for the hardcore mountain running contingent.
However, I can't help thinking that if Inov-8 focused on aesthetics across the range, they would appeal more to the mass market. Their 2020 offerings certainly seemed to have improved in this regard.
The lacing channel on the shoe is narrow with the loops facing inward towards each other. When secured with the thick, round laces the upper really draws in, adding to the snug, protective feel.
Given that the forefoot is wide and the lace area narrow, there is some bunching of the upper at the junction of the two. This isn't visually appealing and gave rise to some concerns that the bunched upper could cause me some discomfort. Someone with a particularly wide foot may not experience this bunching.
Below the laces, the tongue is wide and well-cushioned without being bulky. It is attached to the upper with an elasticated material, which helps keep it in place and reduce the likelihood of any debris ingress.
There is also a lace loop to keep the tongue in place. The shoe has gaiter attachment points designed for Inov-8's All-Terrain gaiter. But, given the layout of the lugs on the sole, I would be confident you could use another style of gaiter if you so wished.
My first outing in the shoe was a 20km run with varied terrain from a grass track, muddy lanes to open mountain and on to hard-packed trail and road. I think that's a pretty good testbed for a shoe designed for long-distance off-road running.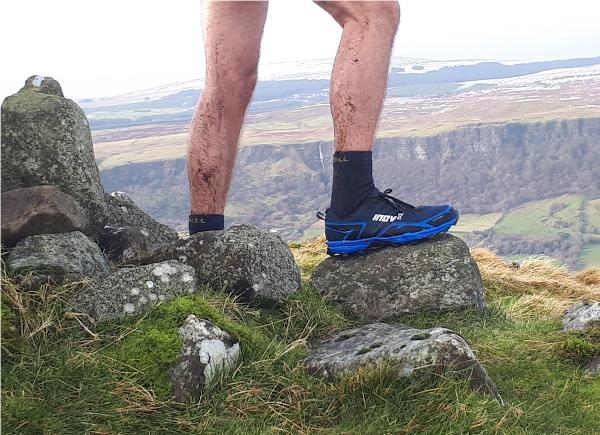 In reality, if you are running an Ultra type race, you are invariably going to experience a range of terrain. Comfort underfoot was excellent as I expected it would be—not the same level of comfort I get from the Roclite, but certainly, more than my Asics fell shoes.
The bunching upper didn't bring itself to my attention, so although it is visually unappealing, it isn't especially problematic.
I have found the grip of the X-Talon Ultra to be excellent across nearly every surface, and my expectations were very high! The Irish climate tends to be wetter than most, which necessitates a shoe with reliable grip, so I didn't expect Inov-8 (a UK company) to let me down in this regard.
Inov-8's Dual-C sticky grip rubber in aggressive 8mm lug form is very impressive. The lug layout is designed to grip fast and shed debris efficiently from the outsole.
I have taken them across some unforgiving terrain, heavy, waterlogged peaty ground, steep grassy slopes, and rocky mountain paths, and they haven't ever let me down. The grip on steep green slopes is particularly impressive and inspires much confidence on a fast, technical descent.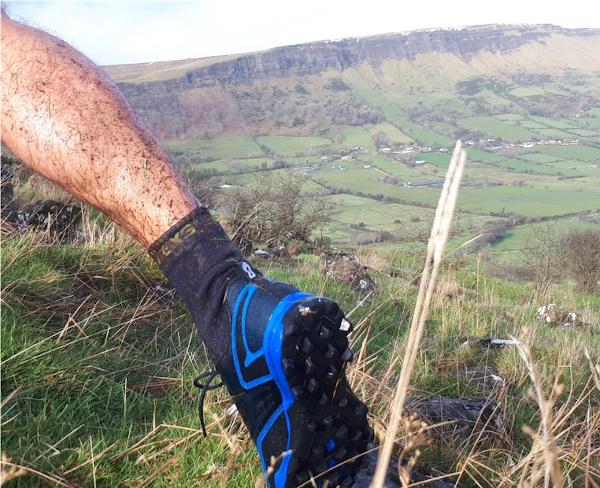 On a run with a friend who was wearing Inov-8 Mudclaw, there wasn't one instance where the soft ground specialist outperformed the X-Talon.
I like the X-Talon Ultra, and it will be my first choice for long mountain runs, but I do have a few gripes.
Ideally, I would like it to have a more precise fit and be a little softer in places. The heel counter and collar ride high around the ankle and Achilles, which can sometimes cause irritation.
I feel that if these were lower on foot I'd have a bit more freedom and flexibility on technical terrain. Maybe a thicker insole will improve these points. It's certainly something I will be trying.
I have put the X-Talon 260 Ultra through some brutal trials from stream crossings, to snow to shin-deep boggy ground and everything else aside, and they haven't blinked once.
This is a shoe I feel I can go anywhere in, and I honestly can't think of another on the market that can do it all in such a solid yet lightweight package.
In essence, this is quite a simple shoe, yet you are left with the feeling that some very deep thought has gone into it—there is nothing unnecessary included, yet it doesn't feel lacking in any way. Truly impressive.
Scoring
-5 for bunching upper
-5 for too high collar and heel counter
Updates to Inov-8 X-Talon 260 Ultra
The Inov-8 X-Talon 260 Ultra is a running shoe for neutral pronators. The entire silhouette has also been configured for the trails, particularly surfaces that are soft or muddy. Evenly spaced gripping lugs provide traction and prevent mud retention.
The upper unit of this trail companion uses ballistic nylon to protect against scratching and tearing. A DWR (durable water repellent) coating keeps the foot dry when tackling shallow bodies of water or mildly wet conditions.
Size and fit
The Inov-8 X-Talon 260 Ultra is true to size. Runners are welcome to get a pair with their usual sizing preferences in mind. When it comes to width, the available options are D – Medium and B – Medium for men and women, respectively. The semi-curved shape of this shoe's last mimics the natural outline of the human foot.
Outsole
STICKY GRIP rubber is used for the outsole unit of the Inov-8 X-Talon 260 Ultra. This full-length layer is responsible for protecting the rest of the platform from the abrasive nature of the unpredictable outdoor terrains. It has a grippy characteristic to enable surface control. The outsole of this shoe is as aggressive as the outsole of the Salomon Speedcross 5 trail shoe.
8-millimeter gripping lugs are patterned on the rubber exterior. These aggressive protrusions are meant to clamp onto soft surfaces, preventing the foot from slipping during the run. They are also widely spaced, which means that they shed off mud naturally.
The META-FLEX groove allows the forefoot section of the platform to bend in conjunction with the toe joints as the foot prepares for the liftoff.
Midsole
The midsole unit of the Inov-8 X-Talon 260 Ultra utilizes the POWERFLOW technology. Compared to the usual choices on the market, this full-length foam is touted to be 10% more effective at absorbing impact shock during the foot-strike and 15% more capable of energizing each step.
Upper
Ballistic nylon is used for the upper unit of the X-Talon 260 Ultra. This material is light yet resilient against abrasion and tearing.
A durable water repellent (DWR) coating offers mild protection against splashes and wet conditions.
Stitched on the heel and forefoot are layers of faux leather. These add-ons maintain the structural integrity of the façade while also acting as defenses against trail debris and rough surfaces.
The midfoot section has printed overlays that help in securing the foot and avoiding in-shoe quivering.
A pull tab is stitched to the back of the collar. This fabric loop makes it easy to wear and remove the Inov-8 X-Talon 260 Ultra.
Rankings
How Inov-8 X-Talon 260 Ultra ranks compared to all other shoes
Popularity
The current trend of Inov-8 X-Talon 260 Ultra.