These are the new Inov8 Roclite 290s which are one of the pairs that Inov8 have released to replace the old Roclite 280s. I am a big fan of the 280s and wore a pair on and off for a couple of years until I felt they had seen enough action and needed to be retired to the loft.
I really liked the light and airy feeling of the 280s and the excellent grip from the chunky studs gave me lots of confidence going up and down trails. So the big question is, does the new arrival live up to its illustrious forebearer?
Design
The design here is quite different from the old Roclites. The 290s feel more like a road shoe as there is much more padding around the ankle collar and tongue and the upper is made from a soft road shoe like material.
The sole is like a traditional trail shoe with shortish, well placed studs with support between the forefoot and the heel. In between the sole and the upper is a thin layer of padding, giving a heel to toe drop of 4mm whilst providing a good amount of cushioning on trails.
The new design came along with bright colours. Don't worry as there are others if you don't want to stand out quite so much and it gives the 290s a softer look compared to the tough mudder style of the previous version. Personally, I think they look great.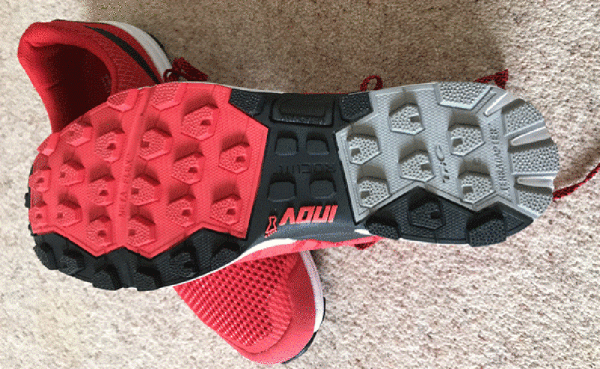 Feel
The upper is soft providing quite a cosseting fit around the toes, not tight like some the precision fit shoes from Inov8, similar to flyknit road shoes and more comfortable than some of Inov8's more fell run based shoes.
I wear a 10.5 in all running shoes and the 10.5s fitted me fine. If I was between sizes I would go up rather than down due to the snug upper but generally they run true to size.
The adapterweb lacing system allowed for plenty of adjustment to give a snug and secure fit and laces were really grippy so there was no chance of them coming undone mid run.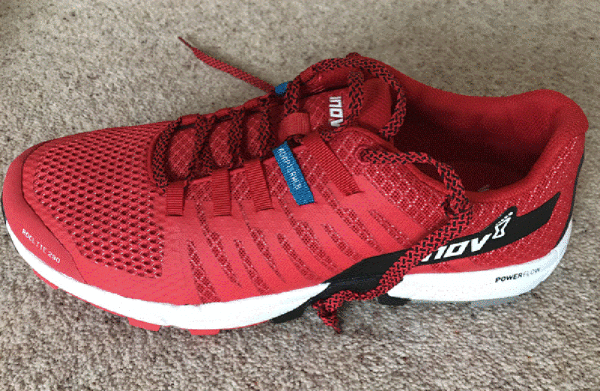 I have run with the 290s on the road to reach a trail and they felt fine. I wouldn't run too far on the road on them mainly because I think the sole tread would wear out.
The Powerflow midsole gave plenty of cushioning and energy return on the road but once you reach the trail these shoes come in to their own. The grip is great and the low heel to toe drop allows for quick direction changes and all the stability you could want.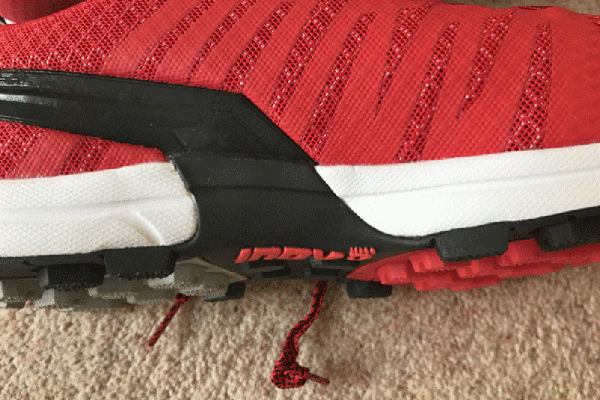 I have only worn them in the spring and summer so not too much mud but up and down trails they felt great. As long as the trails are not too far away the 290s make a good road to trail shoe, perhaps a bit heavy for all out racing but certainly a comfortable place for your feet to spend the day.
What about underneath?
You get lots of fancy words all over the Roclites, especially on the sole, but basically you get the tried and tested tread design from previous Inov8s. The studs are well spaced to not collect debris and provide plenty of grip on grass and packed trails. The Meta-shank rock plate works well giving plenty of protection from sharp rocks without feeling too stiff and rigid.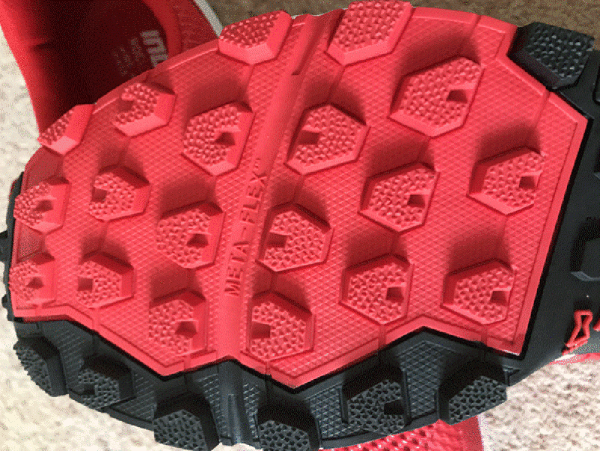 I doubt there would be enough grip for deep, wet mud (back to the Mudclaws for winter) but for spring, summer and autumn they will give me plenty of confidence to charge up and down trails. Too much road running will no doubt wear down the tread from the studs eventually but they seem to be holding up well so far.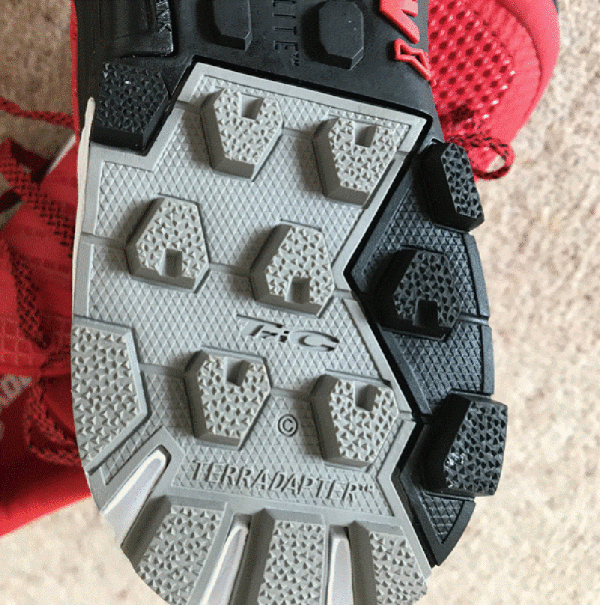 Performance
In my opinion, the Roclites are more about long distance comfort than all out speed. They don't feel super heavy but not super light either. The tread and cushioning allow you to run at a good pace that you can keep up for a fair while.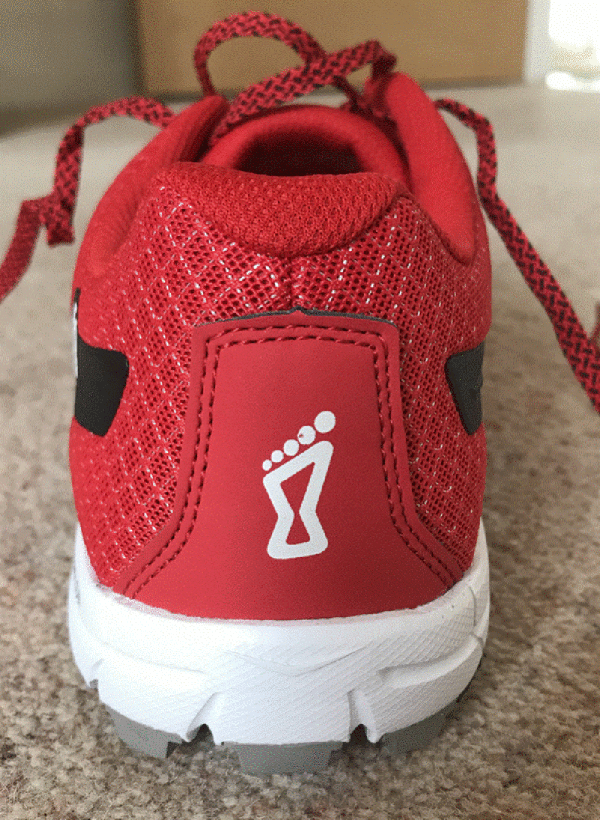 I have run a few Parkruns and 5 to 10k training runs in the 290s so far and they felt springy and forgiving and my feet and legs felt like they had been well cushioned and protected throughout.
Conclusion
The new Roclites are a more than adequate replacement for my old ones. In terms of comfort and style I think they are a definite improvement.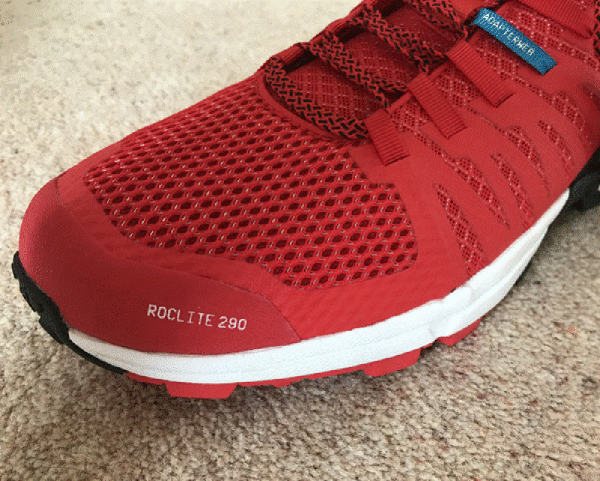 I would be much happier running from road to trail in the 290s and they are a definite all day shoe for me. I will keep them for the drier months as the upper does not look as though it would fare that well against deep mud but I have not tested this out.
So these probably aren't the shoe if you are looking for a winter blaster or obstacle race shoe, they are far too comfy and good looking for that.
Otherwise, Inov8 have done it again by making an already good shoe sharper looking and more comfortable.