3 Best Columbia Hiking Boots in 2023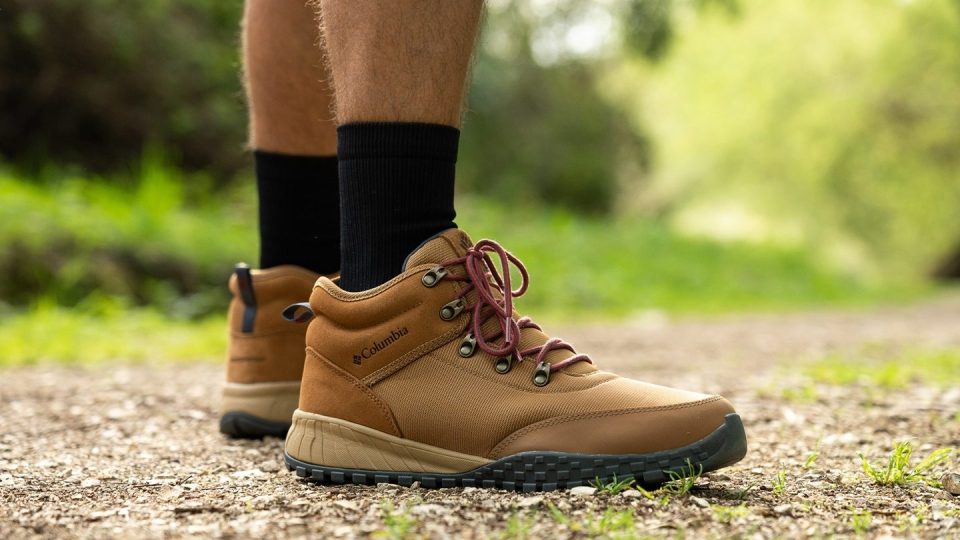 We earn affiliate commissions at no extra cost to you when you buy through us. Why trust us
You can't hear the brand name Columbia and not get a lightbulb moment that gives you the desire to hike. And that desire—whether you need something versatile, or you fancy a pair that looks dapper both on and off the trail—will be satiated with our top picks.
For us to come up with the best hiking boots from this brand, we've put Columbia trail boots to the test. We bought each pair and wore the hell out of them until we decided which were the best ones. Wear testing wasn't the sole basis of our tests, though. We also subjected them to lab tests. We feature in this article the kicks that we highly recommend.
Best Columbia hiking boot overall

























What makes it the best?
A versatile boot that blends in on the trail or around the city, the Columbia Fairbanks Mid is our choice for the best Columbia hiking boot overall. This lightweight, waterproof boot is supremely comfortable from the get-go and has a durable outsole that goes the distance.
This boot withstood a good dunking in running water. A closer look at the synthetic upper shows an incredibly dense weave that doesn't let water enter the boot. Yet, for such comprehensive waterproofing, the Fairbanks Mid is still 3.9 oz (112g) lighter than the average impermeable hiking boot! It is our preferred choice for light hikes on rainy days.
The cushy midsole is a cut above the rest and feels like a comforting hug from the moment we slide our feet into the boot. We measured the softness with a durometer, and all became clear – this boot is 29% softer than average! Coupled with the 12 mm padded tongue and the comfy padding around the collar, this flexible boot prioritizes all-day comfort.
The 3.5 mm lugs work well on damp, moderate surfaces, and showed no wear, even after our test hikes. We found it to be amongst the harder outsoles we have tested. Measuring 89.4 HC compared to the average of 87.5 HC, we fully expect to spend many more happy miles together with the Columbia Fairbanks Mid!
With very minimal support, this boot feels more like a mid-height sneaker than a serious hiking boot. We therefore don't recommend it to hikers looking for a supportive boot for more demanding hikes.
Pros
Remarkably light
Head-turning looks
Excellent waterproofing
Good grip on mild terrain
Hard-wearing outsole
Soft cushioning
Flexible design
Fits as expected
Cons
Not a true hiking boot
Lacks support and stability
Full review of Columbia Fairbanks Mid
Best Columbia hiking boots for winter



























What makes it the best?
Even though we tried out a number of hiking boots, it's a no-brainer which is the best winter hiking boot from Colombia. The Bugaboot III offers unparalleled warmth, rock-solid stability, and a midsole that performs phenomenally in the cold.
With 200g of insulation packed all around the boot, the Colombia Bugaboot III is no match for sub-zero temperatures. Our feet even felt wonderfully insulated from the frozen ground, and on closer inspection in the lab, it was easy to see why. With a heel stack of 46.9 mm, there is an extra 1 cm of material between our foot and the earth, compared to the average hiking boot! Cold feet begone!
With the extra-high collar and a wide platform underfoot, our ankles weren't going anywhere, even when hiking over rocky, uneven trails. We measured the midsole with a caliper and we were astounded to find the boot is 1 cm wider than average: 124.6 mm at the forefoot. Even with the insulated padding, this ultra-wide platform helps us to feel confident and surefooted on slushy trails.
The cushioning is perfect; both comfortable and protective. For reference, we measured the softness of the midsole with a durometer at room temperature, finding it to be 27.5 HA (the average for hiking boots is 29 HA). Next, we left the boot in the freezer for 20 minutes before testing it again. The durometer showed a 21.5% increase in hardness to 32.5 HA. This is good news for winter hikers, since the boot works as expected, even when it's cold out.
We measured the stack height in the heel and forefoot to calculate the heel-to-toe drop. At 16.2 mm, the drop is 5 mm higher than average. This leads to a less natural feel in the boot and may be uncomfortable for some hikers.
Pros
Jaw-dropping comfort
Remarkable insulation
Watertight upper
Excellent durability
Plenty of cushioning
High level of support
Reliable grip
Affordable for its kind
Cons
Restrictive toebox
Heavier than average
Full review of Columbia Bugaboot III
Best Columbia hiking boots for urban hiking








































What makes it the best?
We tested Columbia hiking boots in our city adventures and the lab and discovered Fairbanks Omni-Heat Boot is the ultimate urban hiker. Its airy and maneuverable nature feels like high-cut sneakers on foot. Together with the Omni-Tech lining that provides toasty insulation, we experience premium comfort like no other in our outdoor escapades.
Fairbanks deviates from the usual winter boot by lowering its stack for less weight and more flex. Weighing 15.5 oz (439g), it's much lighter than the average hiking boot (18.4 oz/521g). It leads our lab flex test so far, requiring the lowest force (16.6N) to bend to 90°. This is a mindblowing 58.5% lower than average. Even with the lower-than-average stack, it still feels comfy on foot. Fairbanks compensates with a velvet foam that our durometer measures to be 25.0% softer than average.
Another feature that highlights comfort is the boot's warm insulation. Its Cordura upper effectively blocks snow and cold winds. Upon checking with our microscope, this fabric is tightly woven. We remain toasty the whole day thanks to the Omni-Tech lining that traps our body heat inside. Packed with 200 grams of insulation, we have no worries of cold feet.
If temperatures don't drop below 40°F (5°C), Fairbanks Omni-Heat will feel like an oven. Save this boot for colder seasons.
Pros
Extremely lightweight
Keeps you warm in cold weather
Effective waterproofing
Amazingly comfortable
Zero break-in period
Soft cushioning
Exceptionally flexible
Hard-wearing outsole
Reasonably priced
Stylish design
Cons
Not for serious hiking
Not so sturdy Cordura
Full review of Columbia Fairbanks Omni-Heat Boot
Comparison of the 3 best Columbia hiking boots
| | | | | |
| --- | --- | --- | --- | --- |
| Best | | | | |
| CoreScore | | | | |
| Users rating | | | | |
| Experts | | | | |
| Best price | | | | |
| Ranking | | | | |
| Popularity | | | | |
| # of colorways | | | | |
How we test hiking boots
Producing unbiased and object-based reviews is core to RunRepeat's existence. To hit that mark every single time, we live by the following tenets:
We purchase Columbia hiking boots using our own funds. This way, we can be our own voice, not being influenced by external factors.
We spend weeks testing every Columbia pair, putting each one through a rigorous process that involves a variety of terrain and weather conditions.
To make our reviews as substantiated as ever, we also acquired facts and proof of how the shoe performs in terms of durability, breathability, water tightness, and more. We also measure the parts and other important elements of the shoes relating to support, stability, and fit among others.