Verdict from 28 experts and 100+ user reviews
7 reasons to buy
Grip: Hundreds of trail runners find the Speedcross 5 to be "off-the-charts" in terms of traction on loose and soft terrain. Its aggressive, deep, arrow-shaped lugs feel like "cleats for off-road."
Fit: From the first step-in, the upper hugs the foot comfortably and "disappears." The lockdown also stays secure even on longer runs over 10 miles.
Rock protection: Adventure seekers are happy about not feeling any pokey, sharp rocks underfoot. The fierce front cap also keeps the toes pain-free when catching stones.
Stability: Quite a few runners feel confident and surefooted thanks to the shoe's wide landing area. The midsole cup in the heel also gives a welcome touch of ankle support.
Moisture resistance: Although it's not a waterproof trail shoe, it has a decent amount of protection from splashes and snow.
Ease of lacing: The toggle laces make it very quick and effortless to adjust the fit. The lace pocket is also there to hide the leftover strings.
Ride: The firm cushioning feels smooth and supportive enough for going long, slow miles
3 reasons not to buy
Not for hard surfaces: Using the Speedcross on paved roads and hard terrain not only feels unpleasant but also causes premature abrasion. More than a few trail goers complained about worn off rubber and lugs within a few weeks of use.
Not for warmer temps: The shoe feels hot and has poor water drainage. Thus, most runners recommend it for colder months.
High heel: Some experts find the 10-mm heel drop too steep for an off-trail shoe. They say that it detracts from the ground feel and control.
Bottom line
The pride of Salomon's trail shoe collection, the Speedcross keeps proving itself as a beast of unnegotiable terrain. This burly trainer "eats up" all those muddy, grassy, rocky, and snowy surfaces with its unparalleled grip.
So, if you plan to get off the beaten path on your next hike, long run, or race, the Speedcross 5 is one to consider.
If you prefer a waterproof edition, Salomon Speedcross 5 GTX is also available.
Tip: see the best trail running shoes.
Our reviews
A cursory glance at the sole of this shoe beacons the question of whether to run trails in these or tenderize meat with them? Whatever your answer, this shoe would achieve either one with ease.
The Salomon Speedcross is the archetype of the trail running shoe. An aggressive sole combined with a sleek, lightweight body makes this a specialty trail running shoe to be reckoned with.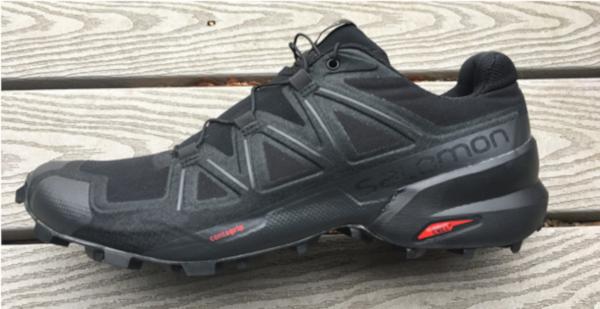 Specs
| | |
| --- | --- |
| Stack | 30mm |
| Drop | 10mm |
| Weight | 11oz |
Fit
The Salomon Speedcross 5 fits like a glove. From the second time I put these shoes on, they were snug but not too tight, pliable but not sloppy. The shoe has a light feel to it.
This is my first pair of Salomon shoes, and I have always been a little skeptical of the super-tiny lace system and the Quicklace technology, but I am officially a convert. My worries of the skinny lacing cutting into the tops of my feet and the Quicklace system repeatedly slipping were quickly assuaged on my first run.
The tongue padding helps the laces distribute the pressure nicely, and the Quicklace system never failed or even slightly loosened. In fact, I had to stop once in order to loosen it because I had cinched it down too tightly for the steepness of the terrain.
The trademark SensiFit design of the upper construction ties nicely into the lacing system creating a snug fit that really hugs your foot.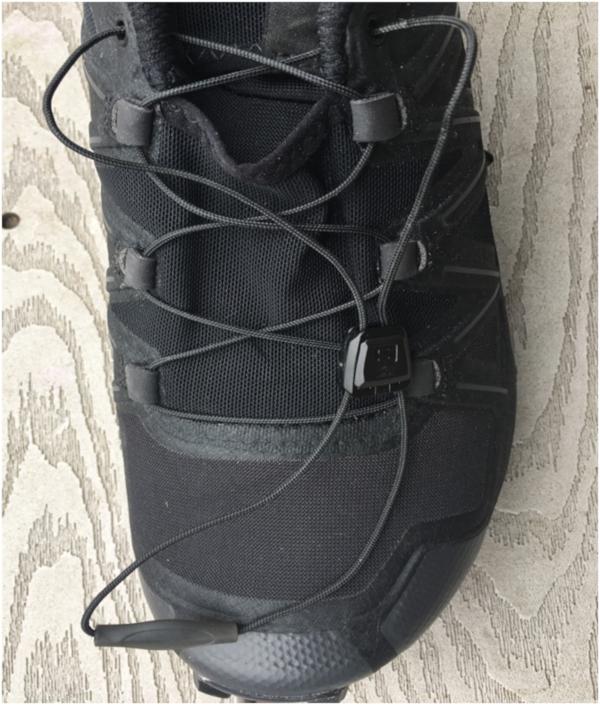 Performance
The western Montana springtime weather threw snow, crusty ice, and mud at these shoes and the Salomon Speedcross 5 responded with traction, traction, and more traction.
During most of my time getting to know this shoe, I felt like an Ibis picking through puddles of mud, ice, and slush, hungrily searching for the trail. These shoes were made for these conditions. The superior traction gave my foot confident purchase uphill, downhill and laterally.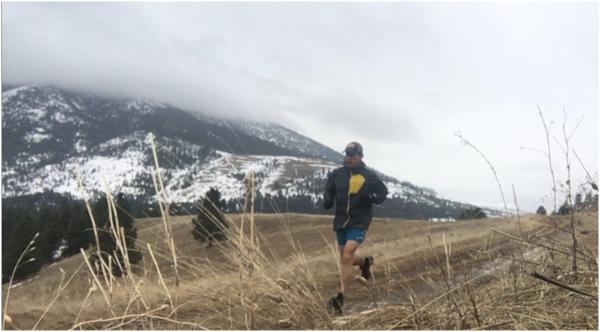 The lug pattern is well thought out, with studs positioned in opposing directions for optimal grip in multiple directions. The Contragrip outsole material is especially adept at gripping loose, wet and slippery surfaces.
Combined with the deep 4mm lugs, there is little in the way of aggressive terrain that this shoe can't handle. My test runs in this shoe have been on loose, wet single track and dirt roads between 10-12% grade that is partially covered with snow and slush and there was never a moment of doubt when it came to traction.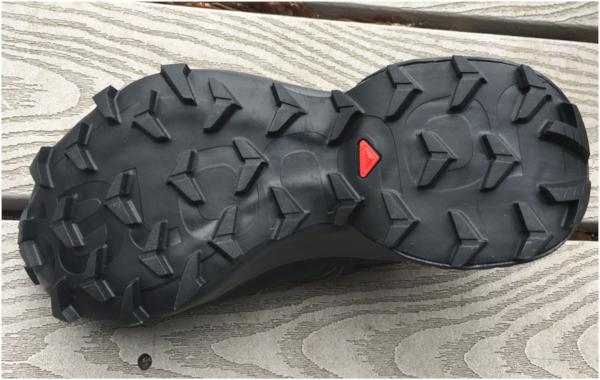 The upper material is constructed using a no-stitch welding technique that creates nice seamless transitions between the fabric and rubber.
The strategic vents on the sides allow for good breathability and water drainage. However, the ample tongue wanted to hold on to more water than I liked.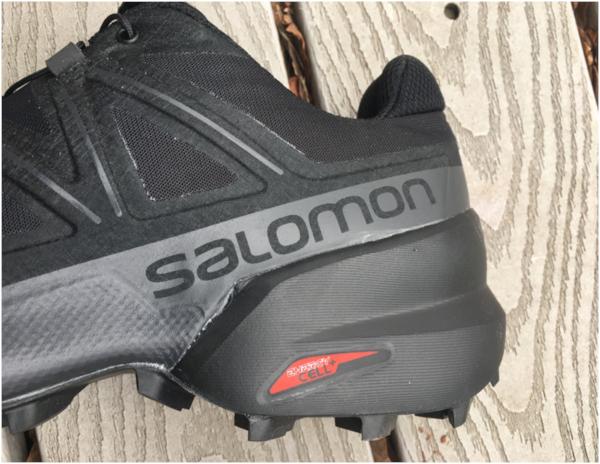 The trademark midsole EnergyCell is touted as providing a rebound in the step. While I did not notice this initially, I did feel like the cushion provided in the midsole was just right.
The Speedcross 5 sits somewhere between a medially and maximally cushioned shoe, and for its intended use, I think it hits the mark spot-on for cushion.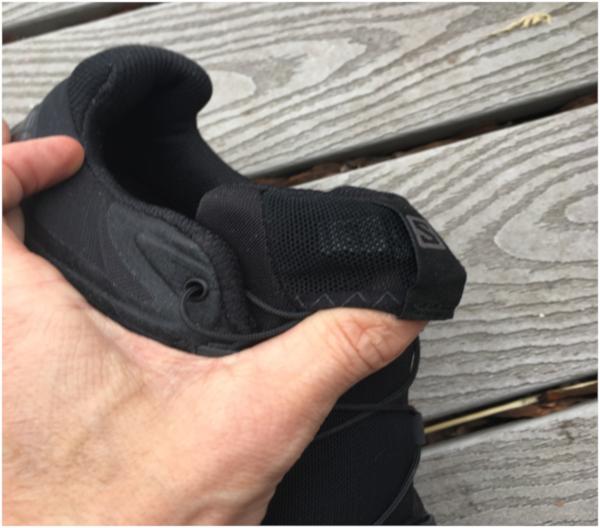 The lace pocket is a nice touch. Whether you just like things clean and tidy or maybe worry about the cordage snagging on a rock or branch, this solves the problem and gets the lacing system out of the way.

The toe guard is nicely reinforced with a stout rubber coating and an aggressive flap of thick rubber at the terminus for higher impacts.
The rubberized side walls offer ample protection without adding weight. My feet felt comfortable and secure in these shoes, even on very rocky, technical trails.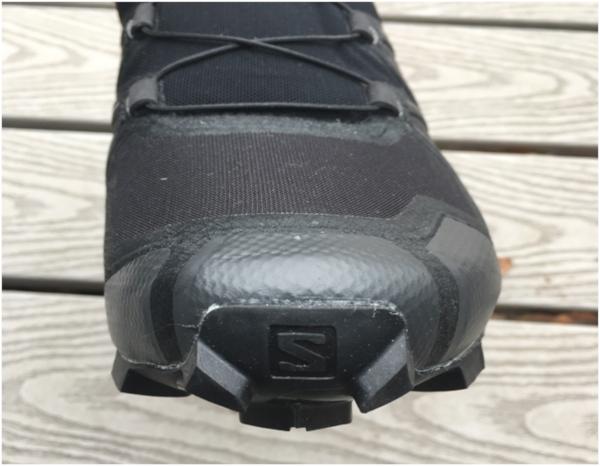 Even with the reinforced toe area, the shoe has a tremendously generous flex. Right out of the box the shoe felt ready to go and never too stiff.
The 30mm stack height worried me a little at first since the shoe doesn't boast a particularly wide platform, but even in varied terrain, the shoe felt stable and never tippy.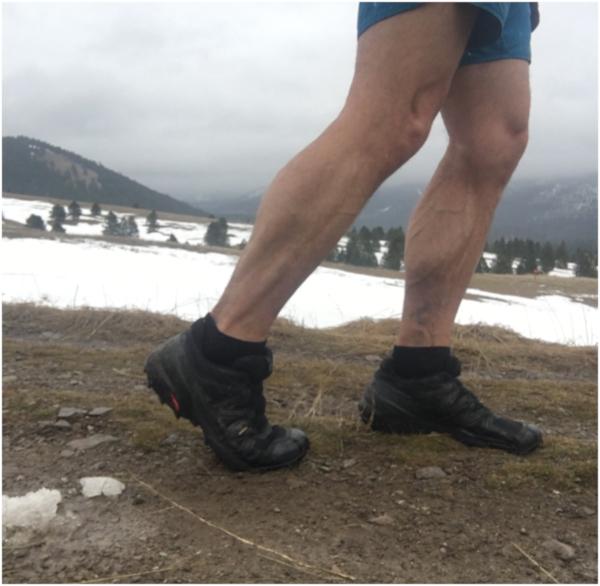 The spacing of the lugs is also noteworthy. Some other comparable shoes that I have run in like the Saucony Peregrine and the inov8 x-talon have had issues with clumped mud on the sole.
I have yet to experience this with the Salomon Speedcross 5, and I attribute that to the mindful spacing of the lugs.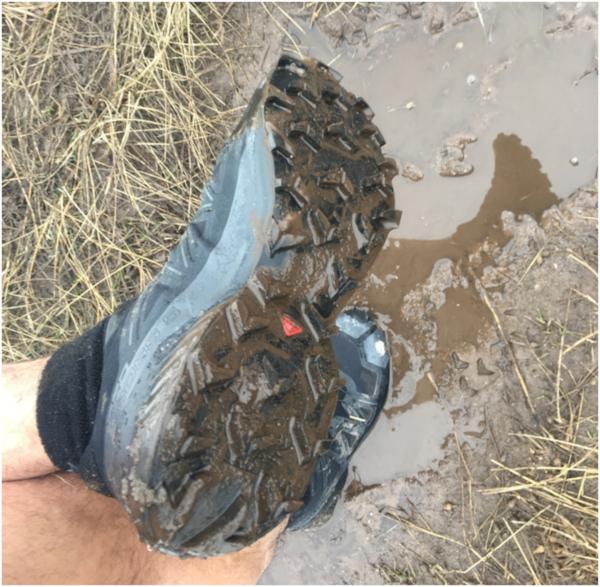 Durability
The Speedcross 5 is built tough. The welded rubberized border between the sole and the upper is super solid. It's thick enough to offer protection and constructed well enough to keep the shoe from falling apart at a common area of construction failure.
The tight weave of the upper fabric has yet to show signs of wear after a little over 70 miles of running. The Contragrip sole is tough, but I worry that on runs that use paved stretches to link up trails that it might wear faster than normal.
While the shoe was not uncomfortable on the road, it did produce a "clickity-clackity" noise that got a little annoying on the stretch of pavement between my house and the trailhead. With that said, the shoe is probably best left solely on the trail (the more rugged, the better).
Pros
Aggressive tread
High traction/responsive
Light and comfortable feel
Cons
Limited by the specificity of use
Thick tongue holds water
Overall
The Salomon Speedcross 5 is an impressive shoe. Its performance on difficult, steep and rugged trails is bar none. Traction is this shoes middle name.
The comfort and airy feel, combined with ample sidewall and toe protection make it an obvious choice for technical trails. However, the specificity of the shoe limits its use.
If you're looking for an all-around trail shoe that can segue from road to trail easily this is not the shoe for you. On the other hand, if you want to add a heavy hitting member to your trail arsenal to be used when conditions and terrain dictate, look no further. The aggressive tread alone will win you over.
Salomon's Speedcross is a well-known design to many that enjoy a rugged trail running. The 5th in the series, this version is an update to the Speedcross 4 with more aggressive lugs, a wider toe area, slightly stiffer heel support, and a more cushioned upper.
This being my first time with the Speedcross series, I was pleasantly surprised at how comfortable, form-fitting, and responsive the shoes were, especially for the giant lugs.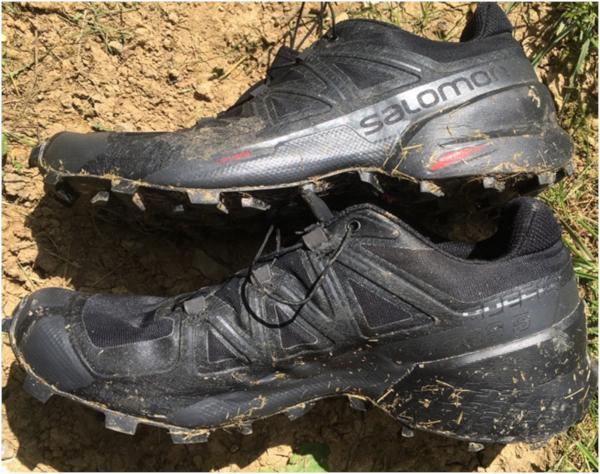 After a little over 60 miles on the trails and some pavement, these shoes show very little signs of wear and will likely last for a few years of moderate use (thinking 400 miles easily). All of this and it is still a very affordable shoe when compared to similar ones from competitors.
The review - from the ground up…
Tread & midsole
The tread consists of chevron designed lugs, and the whole area is made of rubber. Salomon calls it Contragrip TA. The lugs are not only well spaced for efficiency, but also multidirectional.
This coupled with the Energycell+ midsole, results in an unparalleled level of grip as well as impressive responsiveness to help prevent fatigue. To be clear, that responsiveness is not a spongy type of feeling but more of a supportive rebound.
Of course, the high grip can also mean slightly slower times for races, but it can also make the difference between your feet sliding out and keeping a nice stride.
Here's what I did: I took them out on dry conditions, then wet conditions, then downright muddy conditions… but that wasn't enough for the lugs, and they wanted more!
So, I took them from my rocky trails in Virginia, and we flew to Seattle (for completely unrelated reasons) and ventured out into the forests where the trail I chose had section is best described as soggy mulch.
The Speedcross 5 did not care where they were, and if anything, they beckoned me to go running when the conditions were messy. We gripped and ripped our ways through the flats, hills, and downhills no matter trail conditions.
All the while, my feet felt comfortable and enjoyed the responsiveness provided as well as the grip. Oh, and that responsiveness from the midsole was obvious even in the soggy mulch. Which was never so much appreciated as it was when I saw a sign about a cougar in the area where I was running… we flew back to Virginia!
Insert (AKA sockliner)
I do not usually dedicate a section insert itself, but this time I needed to. Salomon uses a molded OrthoLite insert which was designed for comfort, breathability, and durability.
Unfortunately, the mold of this gave me a blister on the arch of each foot. With a quick internet search and a couple of questions to other trail runners, I found that while this does seem to happen for a few people, it is not at all common.
Apparently, I have that unlucky foot shape and/or running style. A quick visit to my local running store for some new insoles and I was back in business. While odds are you will not experience this issue, I mention it mostly to let everyone know that it is not the shoe design – just the insert.
Upper & toe box
The toe box is another plus for this shoe. It is big enough for splaying of the toes, which to me is just natural but not so wide that it felt overly roomy.
Combined with the knit and welded features of the upper to keep out debris but allow breathability and Salomon have created a shoe that feels more like a slipper when I put it on.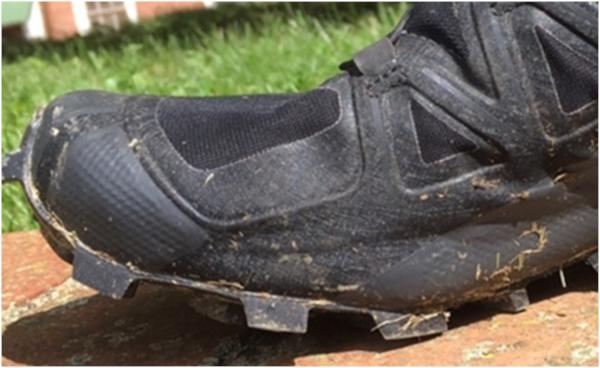 This upper cushioning is so comfortable that when the lugs do finally wear flat, I will still make these my walking shoes for around town.
While the breathability is not as high as some manufacturers might provide in a normal road shoe it also never caused me to have hot or overly sweaty feet. They are greatly appreciated since the temperatures have been climbing lately.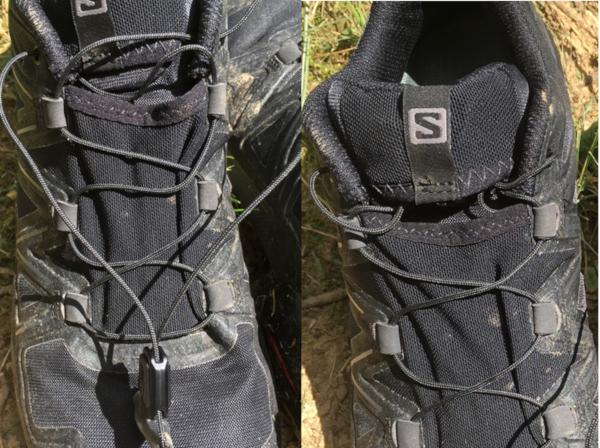 The lacing system is one of the most recognized things about the Salomon line-up. They incorporate a drawstring system that easily tucks into a pocket at the top of the tongue. With a quick release feature, they make it simple to get on and off – which really comes in handy when a rock does get in your shoe!
I particularly liked being able to tuck the laces because it meant no little twigs or branches were going to catch my shoestring and cause me to have to stop just for a retie. Though it took me once or twice to perfect lacing them to just the right spot, I came to enjoy this design.
Heel
Since I never had a Salomon shoe before and never tried on the Speedcross 4, I cannot say exactly how these fit differently when compared to previous versions. To me, the heel felt snug and supportive, and the cushioning was plenty there.
That, as it turns out, is on purpose as Salomon designed these for runners that heel-strike. That doesn't mean that mid-foot or forefoot strikers are left out, just that heel strikers can finally relax knowing they will not feel any pain when they finish a run.
The grip provided by the heel cup was also surprising to me because I initially thought they sat a little low. I'm overly paranoid about my heel slipping while running, but this never occurred – not once!
They did not even need a break-in period but provided this grip from the second I started walking around to get my feet acclimated to well through digging in on my toes to climb a hill.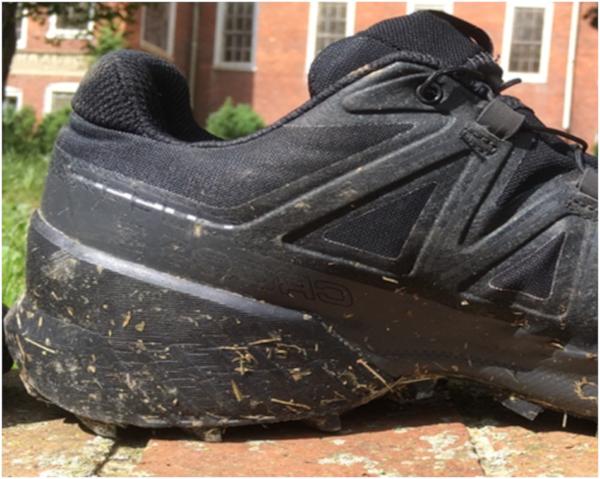 Heel to toe drop
There is a 10mm drop from heel to toe, so while not overly aggressive, it is still a bit higher than what I have been used to. My previous version of trail shoes were 0 drops, and through them, I became a consistent mid-foot striker.
This increase did cause me to heel strike a bit more often, but it was very welcomed because it also allowed me to do so without feeling any pain the next day. These will work well for any style of runner.
Pros
Excellent grip
Good cushioned support
Convenient lacing system
Good breathability
Comfortable upper mesh
Affordable
Cons
Takes a few times to get used to the lacing system (but then I loved it)
Had to replace the insert – but from talking to other users I was the outlier with this issue
Overall
The Salomon Speedcross 5 was designed for a rugged run, but they provide great traction, support, and breathability on any type of trail.
Whether it is gravel, dirt, mud, snow, or soggy mulch, these trail shoes are ready for action! While they may not provide the fastest times, the extra grip and good cushioning is worth the trade.
The Speedcross 5 is the latest installment in the Salomon Speedcross series of trail running shoes. This is my first pair of Speedcross trail runners (and my first pair of Salomon shoes in general).
While there are some minor issues related to overall comfort, these shoes are absolute trail crushers and have already carried me across the finish line for my first ultramarathon.
This is my review for my first (and definitely not last) pair of Salomon Speedcross 5!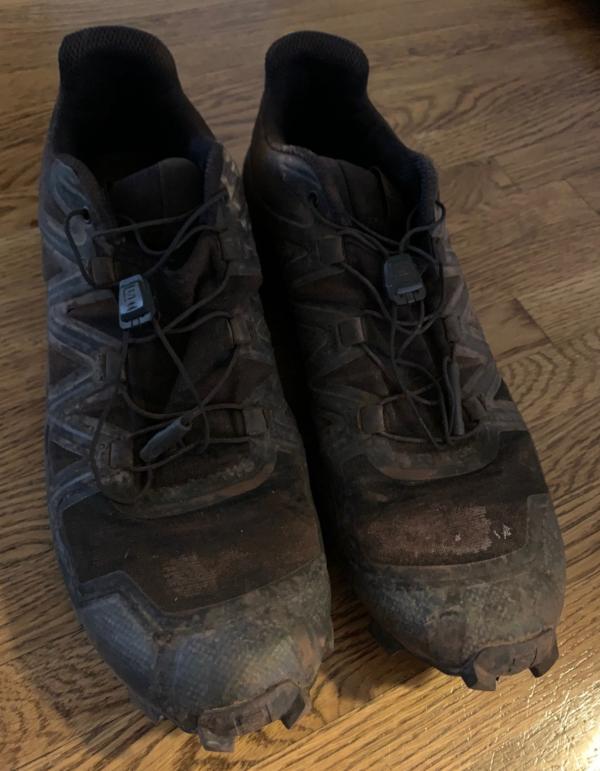 Comfort
The Speedcross 5 utilizes the EnergyCell+ midsole. This gives them an extremely generous amount of cushion.
Even in comparison to some of my other road running shoes, the amount of cushion present in these shoes kept my feet feeling fresh and relaxed throughout my trail runs.
Like most other Salmon running shoes, the Speedcross 5 utilizes the Salomon Quicklace system. This is fantastic on two different levels.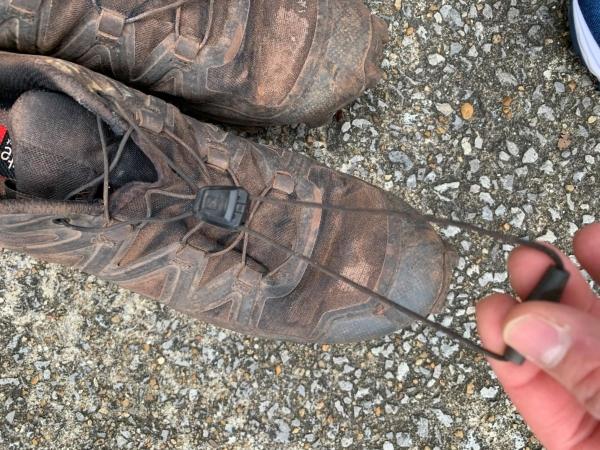 First, it allows you to get tie your shoes much faster than laces, which helps shave some time off of scenarios where you have to remove your shoes for debris (which is not very often with these shoes, see below in "Performance" for more details") or to change socks.
Second, you can hone in on the perfect level of tightness for your laces a little more easily.
The upper utilizes Salomon SensiFit technology. This is intended to provide an almost customized fit around your midfoot, thus providing more comfort and better performance.
Sadly, this does not do as well in practice for my feet as it does in theory, especially for long runs.
The way that the shoe hugs my midfoot is acceptable until I reach distances beyond 20 miles. Once I go beyond 20 miles, I start to get hotspots on the outside of my foot.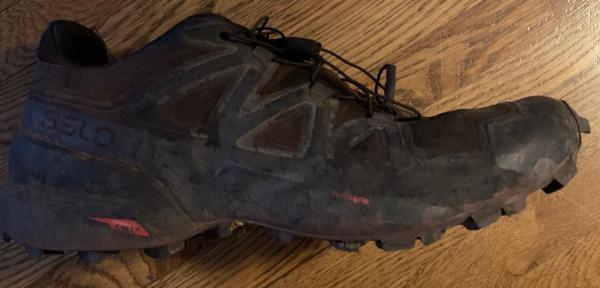 They are not bad enough to abandon these shoes as my trail running shoes. They are bad enough, however, to consider getting a different pair of trail runners for my upcoming 50-mile race.
Performance
Let me be clear about something before proceeding: these shoes are intended to be used on extremely rugged terrain. These shoes are not meant to be used in hybrid road/trail scenarios.
There are much better options out there for hybrid scenarios. That being said, if you are looking for trail running shoes that can protect you on rugged terrain, these are one of the best options out there.
The Speedcross 5 utilizes the ContaGrip TA outsole. This outsole aggressively lugged. The lugs are chevron-shaped. This is meant to give you a better push-off grip and better braking grips in a variety of different running conditions.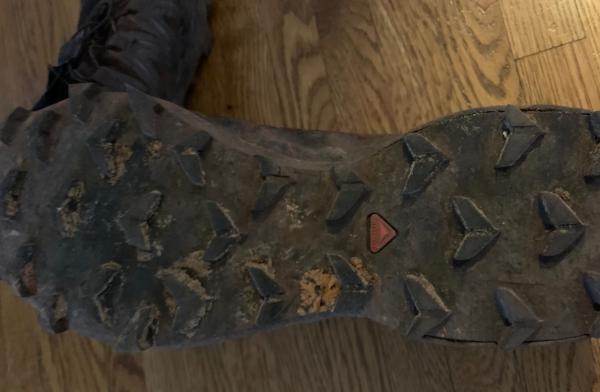 So far, I have used these on rocky trails in wet and dry conditions and I can attest to the push-off and braking grip.
These lugs will grab onto surfaces and give you the traction needed to not tumble down the side of the mountain that you originally intended to run down.
The Quicklace system keeps the laces locked. My experience was that I only needed to stop and adjust the fit once, and that was simply because my feet were swelling. The laces stayed tight with no additional tweaks.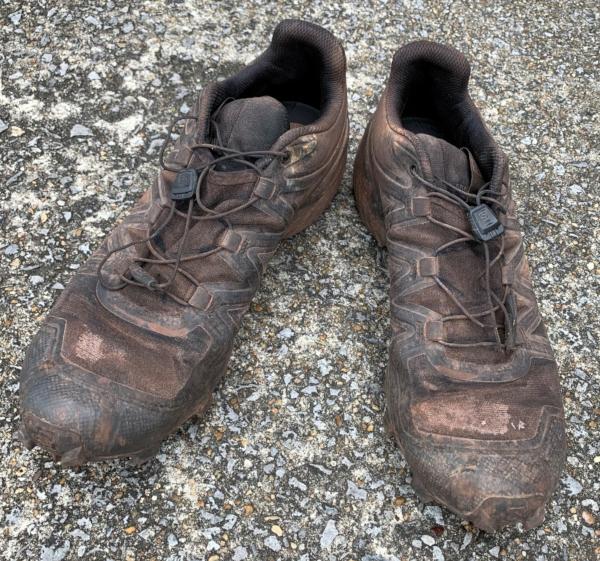 The upper does a great job of preventing debris from getting into the shoe. This is huge when you run on terrain that has a lot of small rocks. While I cannot say that they will prevent debris from getting into your shoes 100% of the time, they will prevent it 95% of the time.
The Speedcross 5 also utilizes the EnergyCell+ midsole compound. This compound is designed to give you a bit more rebound which, in turn, distributes energy more efficiently. It is also designed to be more cushioned and durable.
After finishing my race, I was surprisingly pain and ache free, especially in my knees. I absolutely attribute that to the way that the midsoles handled the rough conditions.
Durability
The ContaGrip TA outsole is very, very tough. I ran across extremely sharp rocks throughout the course of my ultramarathon.
While my feet were slightly beaten up, they felt way better than I would have imagined considering that I just completed an ultramarathon on very rugged, mountainous terrain.
They are also extremely resistant to damage, as can be seen from the lack of damage on these shoes after 90ish total miles and one 50 km race.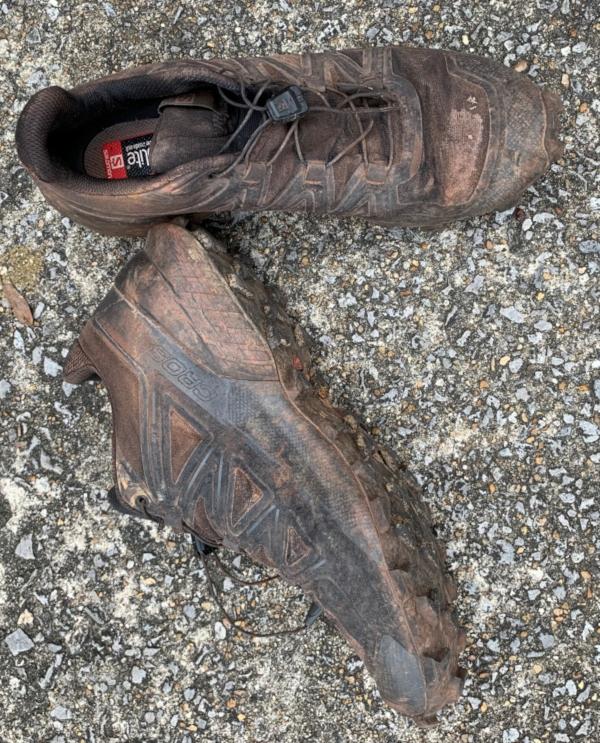 Also, as you can see from my picture above, the outers on my shoes have been put through the ringer. They are still in great shape.
These shoes are meant to take a beating, and they take it in stride. I have even taken them slightly off-trail where rocks, twigs, and vines have done their best to tear my shoes apart. I do not have a single rip anywhere to be seen on either of my shoes.
These are tough shoes. If I had to guess, I think that these shoes could take another 300 miles of abuse from me.
And, while that is purely a guess, I can say with complete honesty that these shoes look like new (with the exception of the dirt) after 90ish miles.
Conclusion
The Salomon Speedcross 5 is my first pair of Salomon trail runners.
In a lot of ways, it is my first pair of "serious" trail running shoes, as well. I was nervous about using these for my first trail ultramarathon because they were so different from trail runners that I have used in the past. I am beyond thrilled with my decision to use them, though.
I truly believe that I may have not finished if I would have used a less aggressive shoe. I fully intend to use these shoes on my trail races that are 50 km and less as well as an upcoming obstacle course race.
I would highly recommend these to anyone who wants a rugged trail runner than can take some abuse!
Good to know
The Salomon Speedcross 5 is a running shoe for neutral pronators that features important updates in the upper and the midsole. The shoe now uses a Nylon mesh to ensure a form-welcoming coverage that's able to prevent debris from entering the foot-chamber.
The midsole of the shoe has been updated by adding new technology - the EnergyCell+. Underfoot cushioning is the responsibility of the EnergyCell+, a full-length compound that provides springy steps. It is protected by the Contagrip® TA rubber compound, an aggressive layer that features prominent and opposite-facing gripping lugs for surface control.
The Salomon Speedcross 5 was constructed to be true to size. People who want to grab a pair are welcome to use their usual sizing expectations to achieve a pleasant and secure running experience. When it comes to width, the available options are D – Medium and B – Medium for men and women, respectively. The semi-curved shape of this trail shoe's last mimics the natural outline of the human foot.
Just like in the popular Salomon Sense Ride 2, the outsole unit of the Salomon Speedcross 5 uses the Contagrip® TA, a rubber compound that is meant to protect the rest of the underfoot platform from wear-and-tear. This layer is also designed to provide surface traction, an essential element to running.
Extra ground adherence is given by prominent gripping lugs that are pattered all over the surface of the external pad. These protrusions act like claws, ensuring that movement over uneven topography is well-realized. The opposite-facing design is for upward and downward traversals.
Cushioning is given by the EnergyCell™+, a durable piece of foam that is meant to deliver springy performances. This full-length platform is also designed to maintain an energized performance through its long-lasting shape and robustness.
The Ortholite® sockliner is placed right above the primary cushioning unit. This add-on offers extra support for the underfoot. It has a curved arch design that cushions the midfoot, saving it from fatigue. Antimicrobial and anti-moisture capacities prevent odor-causing bacteria from affecting the health and cleanliness of the foot.
The external part of the Salomon Speedcross 5's upper unit is made of nylon mesh, a stretchy material that welcomes the outline of the foot without being too loose or too constricting. Mild breathability is given by minute ventilation pores that pockmark the fabric. The close-knit design of the nylon mesh prevents trail debris from entering the foot-chamber.
Synthetic overlays are welded onto the façade. These shield-like Sensifit™ layers are meant to preserve the structural integrity of the upper, maintaining its erect form. They also help the lacing system when it comes to securing the foot in place as they're directly connected to the loops that make up the eyelets.
The Quicklace® lacing method is used for the Speedcross 5. This system is made up of thin, stretchy strings that loop through discrete eyelets on the instep. These laces do not require looping and tying. A single-pull movement is only needed to adjust the fit.
A lace pocket is fashioned over the tongue unit of this running shoe. This feature is meant to be an area into which the extra length of the single-pull laces can be tucked, thus giving a cleaner look and a hassle-free run.
The padded tongue and collar are designed to cushion the upper dimensions of the foot. These cushioned portions of the shoe are also tasked with preventing in-shoe wobbling and accidental shoe removals.
Many pundits and consumers consider Salomon to set high standards when it comes to performance and general quality of their products. The Speedcross series is just one element in the company's design philosophy of superb functionality, and it continues to determine expectations, particularly when it comes to the roster of trail running shoes from other brands. Salomon is not the gold standard, but they're continually raising the bar.
Here are some running shoes from other companies that bear a resemblance to Salomon's Speedcross line:
Altra Lone Peak
The Lone Peak line has been one of the most prominent Altra running shoes. The products that are in this family are meant to provide high-tier performance on various types of terrain. The outsole units of the iterations feature multidirectional gripping lugs and extra nodes on the perimeter to ensure multi-surface grip and uniform steadiness. The Zero Drop platforms enable near-barefoot experience since the heel, and forefoot heights are the same. The StoneGuard™ technology makes sure to protect the foot and the midsole foam from the abrasive nature of the trails.
Trail running enthusiasts respect the beginnings, and subsequent evolution, of the Lone Peak. While the earlier models didn't have bulky designs, they employed old features like the exclusive use of stitched-on overlays and open-weave mesh. Later versions like the Altra Lone Peak 4.0 still has stitch-reinforcements, but they're fewer and less obtrusive to the overall design. Runners can even enjoy a cover system that is made of quick-drying mesh. Small yet transformative changes allow this series to go beyond merely being run-of-the-mill.
Brooks Caldera
The Brooks Caldera is a relatively new roster of trail shoes, and it slightly veers off from the substantial midsole designs of many Brooks footwear, employing mid-level platform heights that offer adequate cushioning without sacrificing ground feel. The BioMoGo DNA is the technology that's used for the midsole units of these products. The full-length, form-accommodating foam is made from environmentally friendly components so those who are conscious about the health of the environment can appreciate such a revolutionary aspect.
People have flocked to the Caldera shoes because of modern designs. Unlike most products that are in the market, the Calderas don't have large frames and substantial weights. The appealing designs were thought to be welcoming.
In fact, the Brooks Caldera 3 is an example of a shoe that is not restrained by unnecessary accoutrements. Its use of breathable mesh and thin synthetic prints further reduce its overall weight, making it the lightest in the series. People have called it a versatile product that looks and feels premium.
Hoka One One Speedgoat
Like the Speedcross 5, the Speedgoat line from Hoka One One has enjoyed praise from people because of its high-tier performance and use of next-level technologies. The difference between the Speedgoat and Salomon's own contribution to the world of trail running lies in the midsole. The Hoka One One models utilize max cushioning to exaggerate protection from landing impact and heighten the responsiveness of each step.
The Hoka One One Speedgoat 3 continues to build upon the foundation set by its predecessors, though its subtle changes are meant to foster high levels of comfort and freedom of movement. Specifically, the upper unit of this shoe shifts from industry-standard mesh to the cloth-like engineered mesh. Its overlay system is also noticeably thinner and less bombastic to the eyes. Such a design is a fresh perspective to a shoe that values maximum support and protection over the unpredictable terrains.
Saucony Peregrine
Saucony's register of Peregrine shoes has enjoyed years of prominence in the industry for their accessible prices, highly eye-catching designs, and top-of-the-line components. The EVERUN topsole has been particularly lauded for being bouncy and resistant to breakdown. Runners who are graced with this Saucony tech have always felt as though the underfoot experience is as comfy as the first time they tried on the shoe. The Peregrines have also been praised for the smooth and uncluttered upper designs, as well as the generous helping of traction lugs that seem to look like sharp teeth. An example of this series is the Saucony Peregrine 8.
Rankings
How Salomon Speedcross 5 ranks compared to all other shoes
Popularity
The current trend of Salomon Speedcross 5.