Who should buy the On Cloudnova
The Cloudnova excels in its primary design purpose - daily wear on the city streets. One of the testers has named it "the best everyday sneaker out there" with some testers even comparing it to that cozy hoodie you wear all week long. The lightweight nature of the shoe also makes it practical footwear for traveling.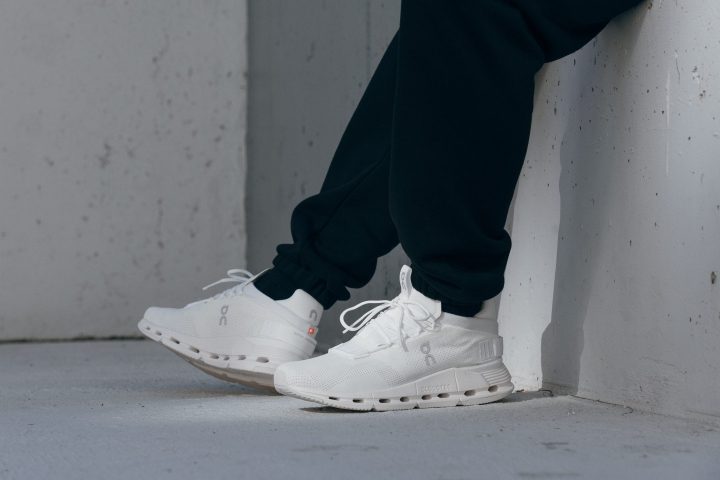 If you are not willing to sacrifice style for comfort, you can get both with the Cloudnova. A lot of reviewers agree that there is an exclusivity to the trainer: "people are gonna definitely be asking what you're wearing," and "they are made to make you be seen."
Who should not buy the shoe
Some of the main reasons why people turn away from the shoe are its high asking price and a bit fiddly bootie design.
If you want an On Cloud shoe that is much easier to put on, go for the On Cloud 5.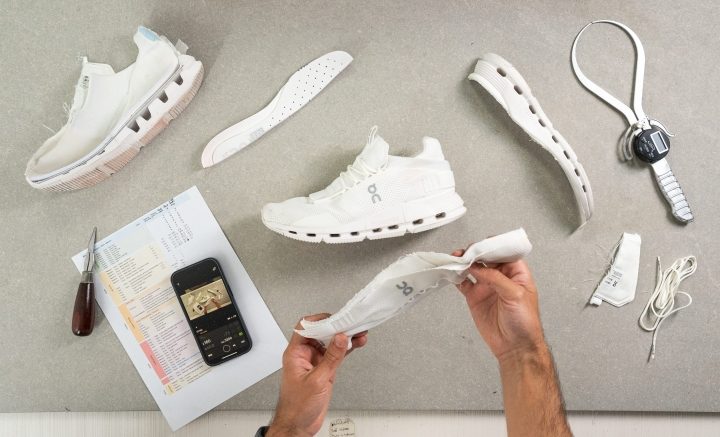 Walk 500 miles and walk 500 more with the Cloudnova
The comfort of this On Cloud shoe reveals itself on daily walks of any distance, be it a short stroll or 10+ miles of a walking trip.
Those who walked a lot in this On Cloud pair report that it felt comfortable all throughout the walk and never hurt their feet. As one of them says "[after 20km] I hardly felt tired nor even wearing something on my feet."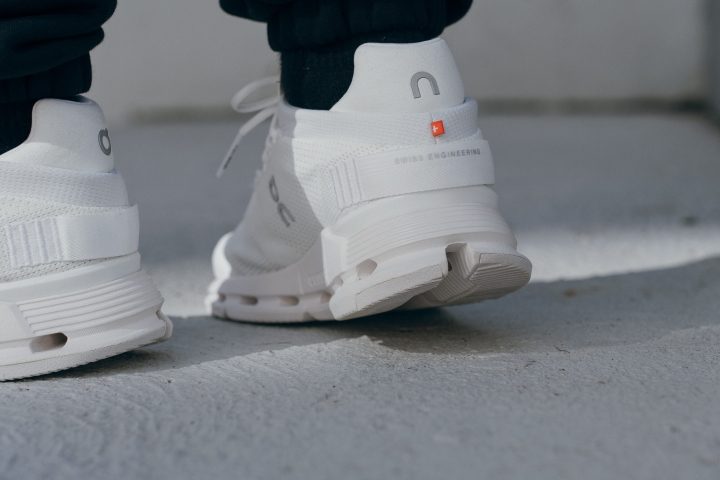 Some comments came from the healthcare workers who have worn the Cloudnova for their long shifts (8-12 hours). They praise the shoe for keeping their feet and legs pain-free: "I tell anyone who asks to buy some!", "Immediately noticing a difference, now I am hooked!" A guy who spends 8-10 hours a day on concrete and a thin rug also feels a big difference with the Cloudnova compared to Skechers.
Breathable, but not for hot summer days
As you can see from our breathability test below, the Cloudnova has a moderate amount of ventilation in the upper. The smoke is coming out rather slowly.
You can also see the most breathable parts of the shoe's upprt in our transparency test.
Comfy cushioning
Overall, the wearers are delighted with the well-cushioned ride of this On Cloud shoe. They find it very satisfying to walk in for extended periods.
Fact check
To check how well-cushioned the Cloudnova is on paper, we have measured the softness of its foam as well as the thickness and heel-to-toe drop.
Measuring the midsole softness with a durometer, we found that it strikes a fine balance between soft and firm.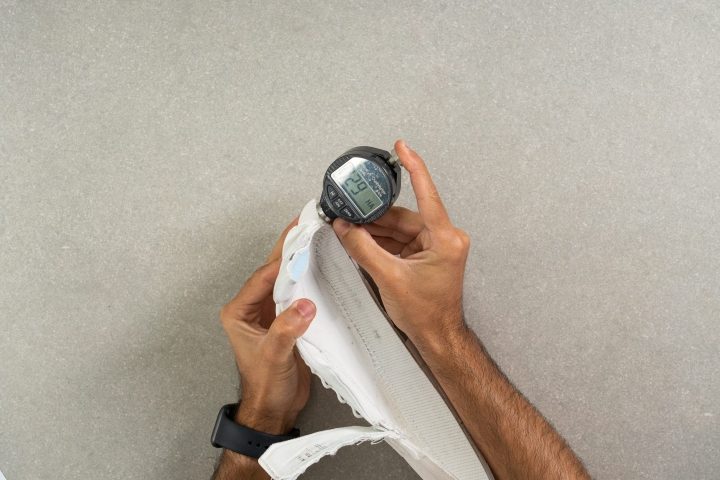 Disclaimer: We take the measurement 5 times to ensure efficiency. The photo shows one of the takes we made with the durometer.
The foam is also prone to firming up in cold temperatures. After being exposed to cold for 20 minutes in the freezer, the Cloudnova's cushioning got 47.6% denser. This is good to keep in mind if you intend to take the shoe out on a chilly day.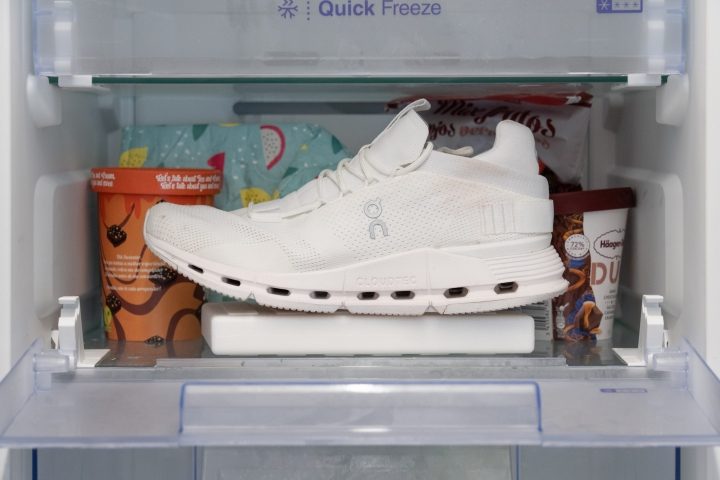 Fact check
The On Cloudnova also comes with a fairly generous stack height. It is 33.3 mm in the heel. For comparison, the average for running shoes is 32.6 mm.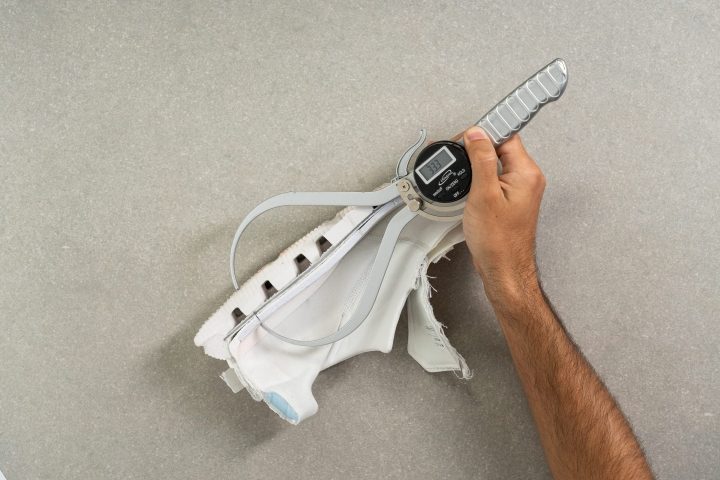 Disclaimer: Insole thickness is included in the stack measurements. At 5.2 mm, it is generously padded in the On Cloudnova.
Fact check
According to On, the heel-to-toe drop on the Cloudnova is 14 mm. We measured it at 15.5 mm which is not too big of a deviation.
The shoe has an ample level of flexibility
Th On Cloudnova cannot be described as a stiff shoe and yet, it cannot be rolled up like a minimalist shoe either. We can tell that it is moderately flexibly based on the measurements:
The shoe is also quite pliable when it comes to longtitudal and torsional flexibility. In our subjective assessment, we gave the shoe 2 out 5 (where 5 is the stiffest) on this aspect.
On Cloudnova feels stable for a neutral shoe
Despite not offering any additional arch support, the Cloudnova shows up as a stable neutral running shoe.
The contributing factors seem to be the shoe's moderately firm and wide sole.
Fact check
The shoe is nice and wide in both the forefoot and the heel. In the forefoot it is 116.9 mm wide (5.1 mm wider than average) and in the heel it is 91.1 mm (2.3 mm wider).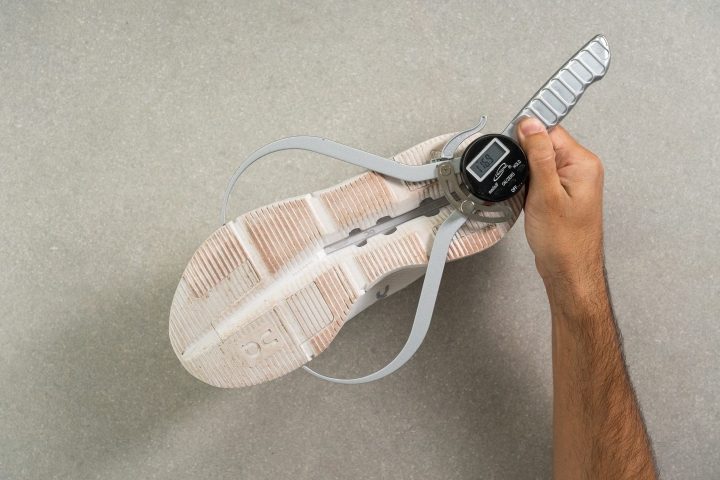 Reflective elements
The reflective logo has been appreciated by those who walk in the darker hours.
Fits nice and snug but bootie is not for everyone
Nearly every buyer reports that the Cloudnova feels comfortable out of the box and the fit is only getting better with use. Some also describe it as snug-fitting "without feeling suffocated."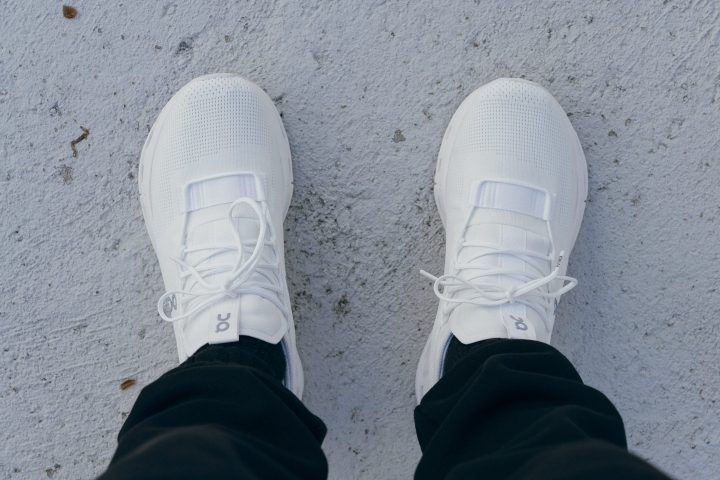 Fact check
The toebox on the Cloudnova is not necessarily wide but it is quite roomy (in a good way) for an average-sized foot. We measured its widest part at 97.1 mm.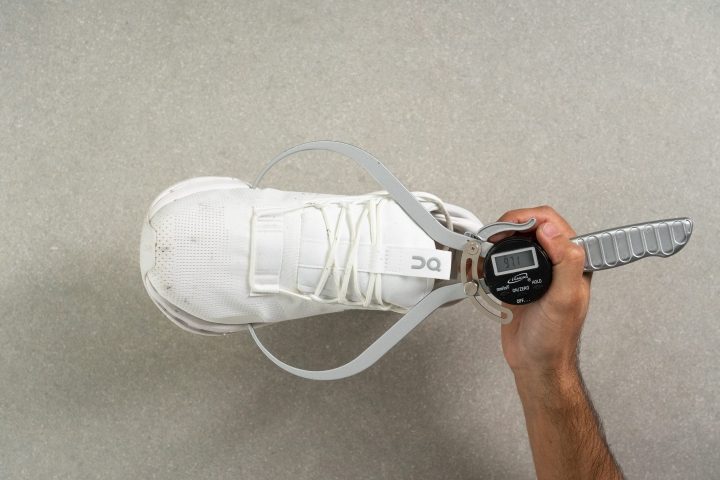 One of the reviewers found it handy that the laces can be conveniently tucked under the tongue.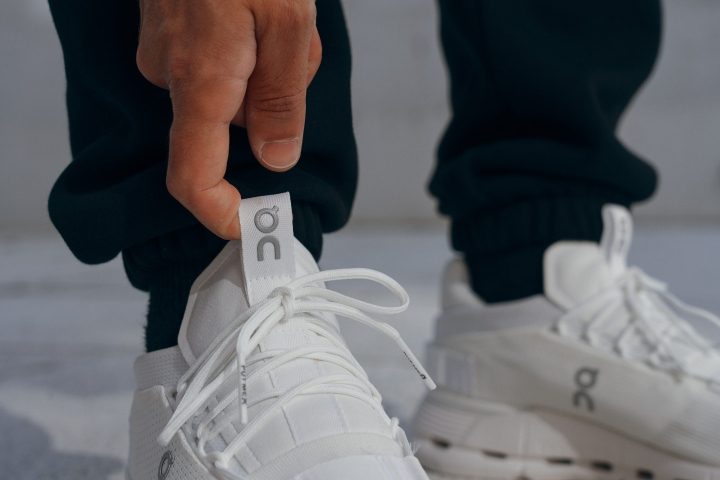 It is also important to mention that the shoe has an unconventional mid-cut bootie. A few people had issues with it for two reasons:
it rubs the ankle if they don't wear ankle socks,
it takes a bit more effort than usual to put on the shoe.
However, most people didn't find these to be deal-breakers.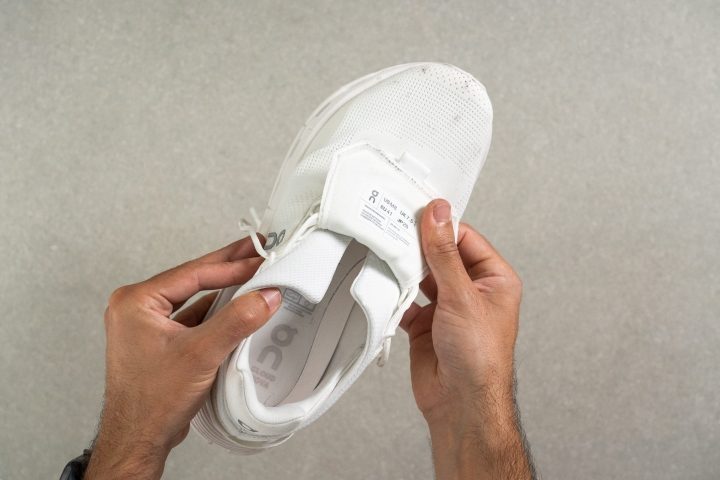 We are surprised not to see any complaints regarding lace bites at the shoe's tongue is much thinner than average. At 2.9 mm, it is 2.9 mm thinner than average.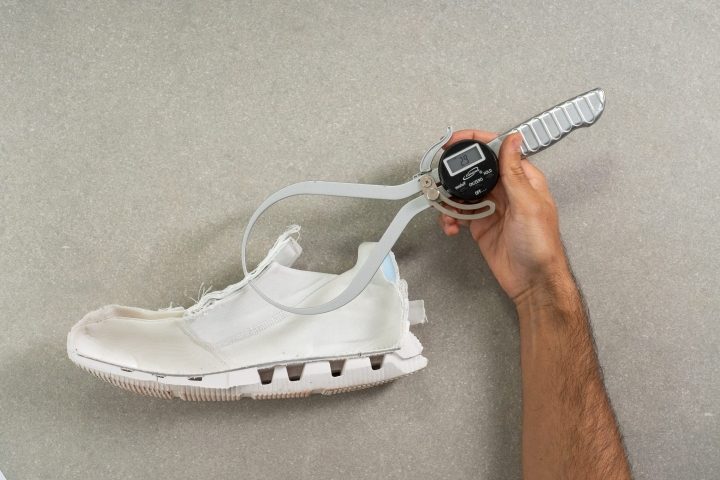 The shoe has a flexible heel counter (we assessed it as 2 out of 5) but it seems to lock the foot down securely. No heel slips have been reported.
Swiss quality of the On Cloudnova
Those who have worn the shoe for about a year mention that "they hold up very well" and "didn't wear out."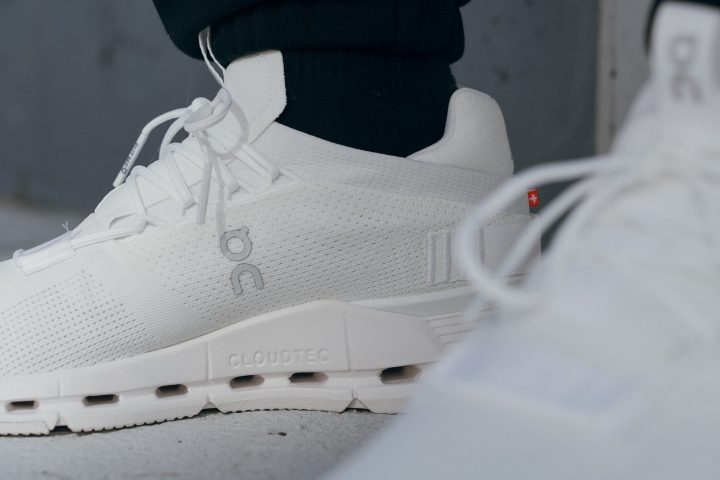 Others have taken note of the shoe's well-made construction and quality, even "luxurious" materials.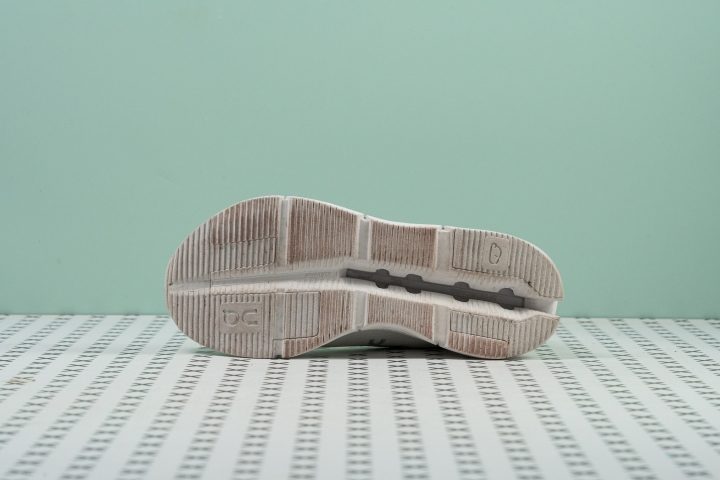 Like any other On Cloud shoe, it catches every pebble
Unfortunately, this is a flaw that comes in every On shoe due to their unique midsole design with large flex grooves. It's not a big issue if you stick to paved roads or hard-packed trails. But if you do walk over some small rocks, there is a high chance of one getting stuck in the gap, forcing you to stop and knock it out.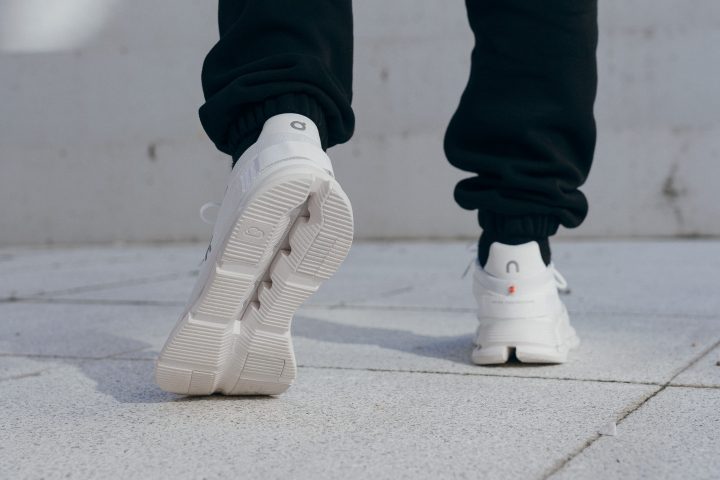 Light as a cloud
On shoes, in general, have been keeping their footwear in the lightweight category. But the Cloudnova (9.5 oz / 269 g) beats weight records not only among walking shoes across the board (average: 11.3 oz / 321 g) but also among the On Cloud shoes (average: 9.8 oz / 277 g).
Style is an eye-catcher
"Looks cool as hell." Even before trying the shoe on, many people were sold on its visuals. It's got a unique street/athleisure appeal which is described as cute, attractive, sleek, and minimalist. As for the latter, one lady especially likes that it "even makes [her] foot look smaller than it is."
The color selection has received plenty of praise as well. "I'm going to get this shoe in as many colorways as I can," says one of the happy wearers.
A touch of sustainability
On is gradually becoming one of the brands that introduce a sustainable approach to its footwear. The percentage varies depending on the model but in the Cloudnova recycled content makes up 10% of the shoe.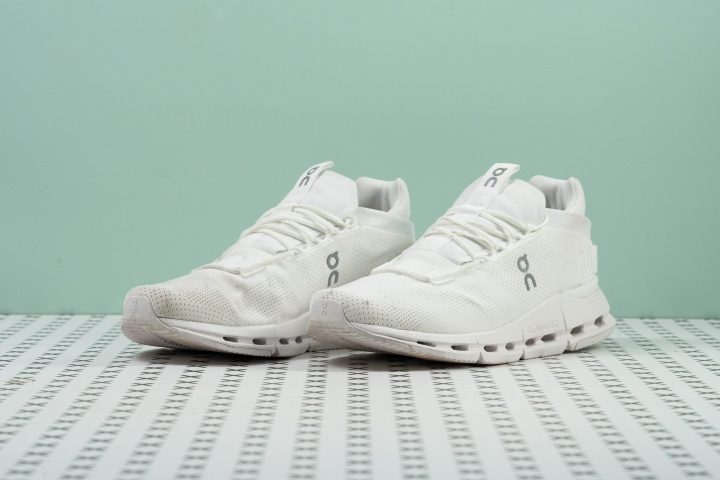 Complete lab-specs overview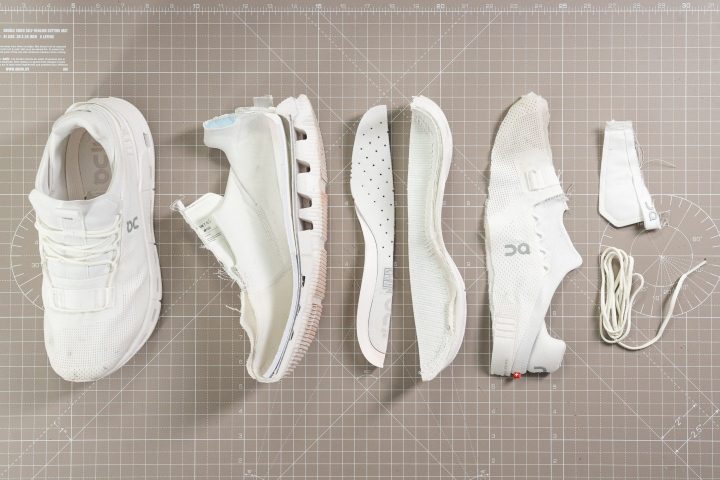 On Cloudnova
Average
Whole shoe

Weight (g)
285
270
Drop (mm)
15.5
9.5
Flexibility of the shoe (N)
29.9
30.7
Flexibility of the shoe (Freezer 20 min) (N)
51.0
43.0

Flexibility of the shoe (% of change)

70.9
43.4
Longitudinal flexibility (1-5 scale, 5 being the stiffest)
2
3.1
Torsional flexibility (1-5 scale, 5 being the stiffest)
2
3.2
Upper

Thickness - Tongue (mm)
2.9
5.8
Width Upper - Forefoot (mm)
97.1
98.2
Width Upper - Heel (mm)
70.0
75.3
Flexibility of the heel counter (1-5 scale, 5 being the stiffest)
2
2.8
Tongue: gusset type
none
-
Heel: pull tab
none
-
Midsole

Width Midsole - Forefoot (mm)
116.9
111.8
Width Midsole - Heel (mm)
91.1
88.8
Stack - Forefoot with insole (mm)
17.8
24.3
Stack - Heel with insole (mm)
33.3
32.6
Durometer Midsole Heel (Room temperature) (HA)
29.9
27.4
Durometer Midsole - Heel (Freezer 20 minutes)
42.8
34.5
Durometer Midsole - Heel (% of change) (TEST)
47.6
24.9
Outsole

Outsole thickness (Heel) (mm)
2.8
3.5
Durometer Outsole Heel (Room temperature) (HC)
83.5
80.8
Insole
Insole Heel Thickness (mm)
5.2
4.5
Insole: removable
yes
-
Compare popularity
Interactive
Compare the popularity of another shoe to On Cloudnova: