If you're a runner and you're unsure what lies ahead in the trails, this is where the Merrell Agility Peak 4 hits home. Runners love the colorways and the wilder they are, the more compliments they get. A letdown of this trail shoe is that it's not fast, so it shines at slower paces. Think recovery runs, jogs and hikes.
Pros
Ample protection
Delivers ground feel
Multisurface traction
Glove-like fit
Comfortable upper
Lightweight
Excellent lockdown
Cons
Not for fast runs
Lacks ventilation
Difficult entry
Who should buy the
Merrell Agility Peak 4
The Merrell Agility Peak 4 might be for you if:
You are after a shoe with adequate cushioning suitable for beginner to intermediate trail runners, heavy runners, and ultra runners.

You are looking for footwear with the ability to tackle various surfaces.

A pair of kicks for wearers who are into mountain running and trail hiking.

You love bulky-looking footgear yet light to wear.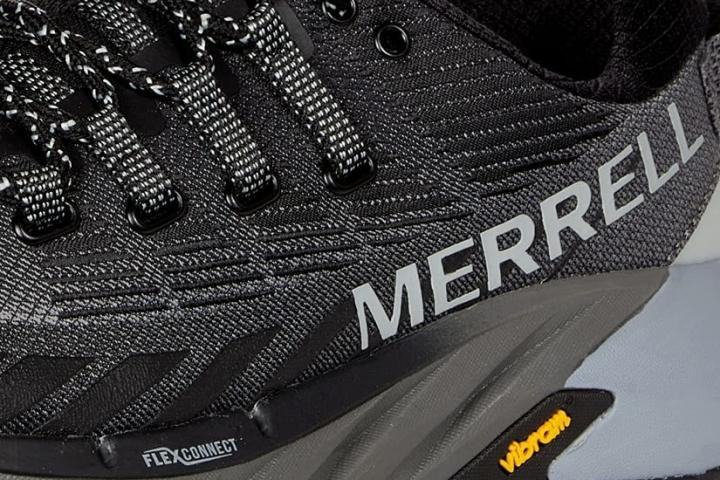 Merrell Agility Peak 4 vs. 3
Lighter, more protective ride: This is owed to the more featherweight but more abundant FloatPro foam of the shoe. It cradles the foot and absorbs impact effectively without adding any bulk.
Better grip: With an updated Vibram Megagrip outsole, the shoe has better traction than its precursor, and can handle more terrain.
More protection: Designed with a rock plate, the shoe keeps the foot safe from any abrasive and sharp ground elements.
Enhanced lockdown: With a new tongue design (gusseted/attached to the sides), the heel and midfoot feel more secure.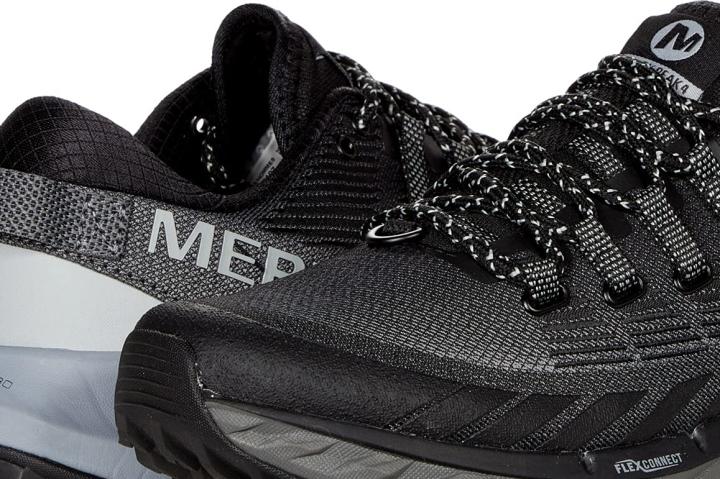 Merrell Agility Peak 4: Run all-terrain with protection
There are three elements of the Agility Peak 4 that make it such a versatile and protective shoe: (1) copious amount of cushion, (2) rock plate, and (3) grippy Vibram Megagrip outsole. Combined all together, they help mute out impact shock and keep the foot well-shielded from harsh ground elements.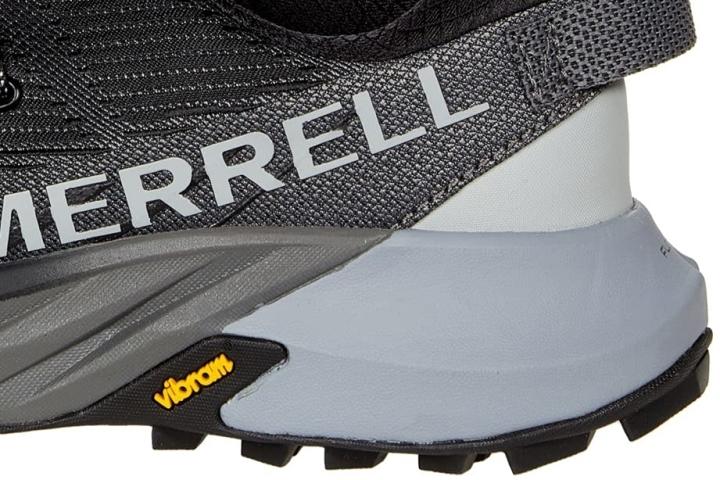 Its very clingy outsole makes the Agility Peak a true multi-terrain trail shoe. Throw just about anything at it, and it can handle it with ease.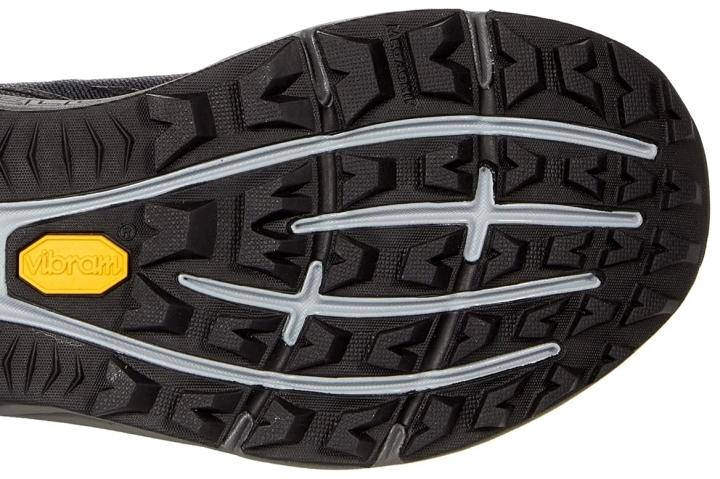 The Merrell Agility Peak 4 is suitable for surfaces like rough and rocky terrain, mountains, woodland trails, and steep, technical terrain, while it may not be appropriate for steep, muddy terrains, long, flat trails, and wet rocks. This footgear is also great for middle to long-distance trail activities.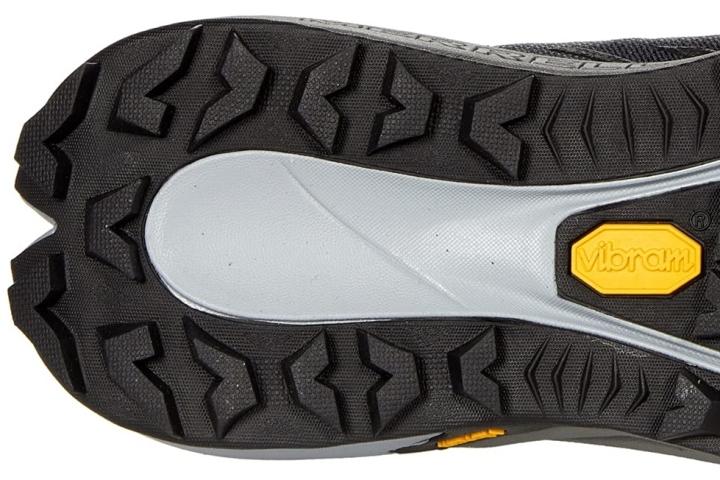 The Merrell Agility Peak 4's comfiness
The Agility Peak 4's rock plate, reinforced toe section, and thick upper do their jobs "excellently." Trail runners claim that they never felt any poking, brushing, or banging on their feet.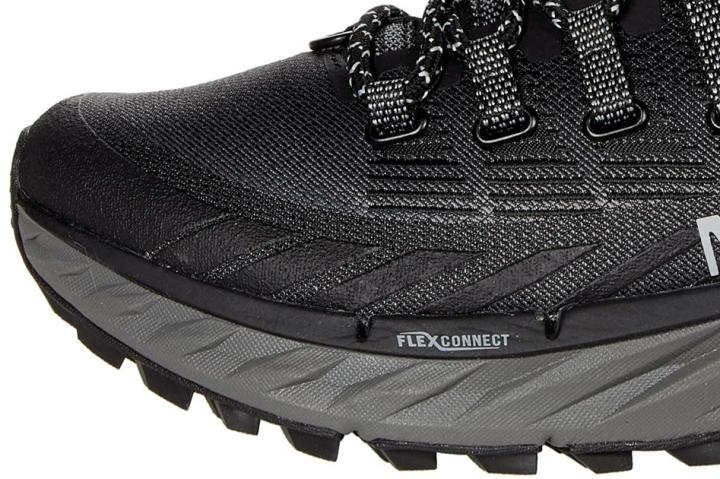 The upper fits "like a glove" and molds into the contours of the foot, reported several testers. It's "precise" without being constrictive.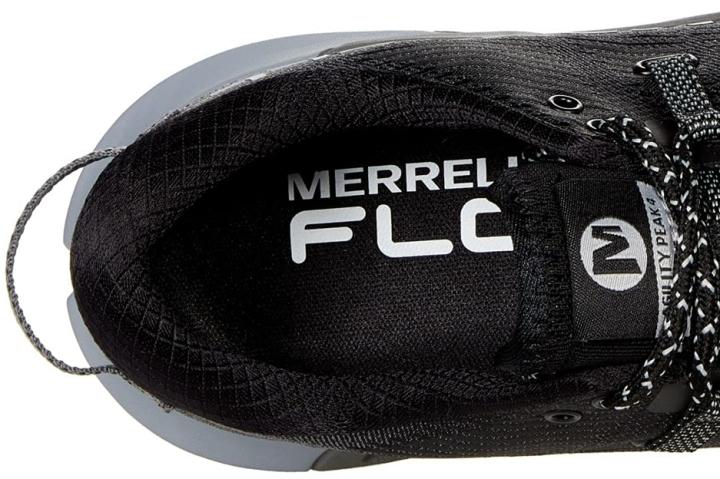 The shoe has a Hoka-like cushion, plus a plush upper. According to wearers, the shoe is very pleasing to the foot, it feels like wearing slippers.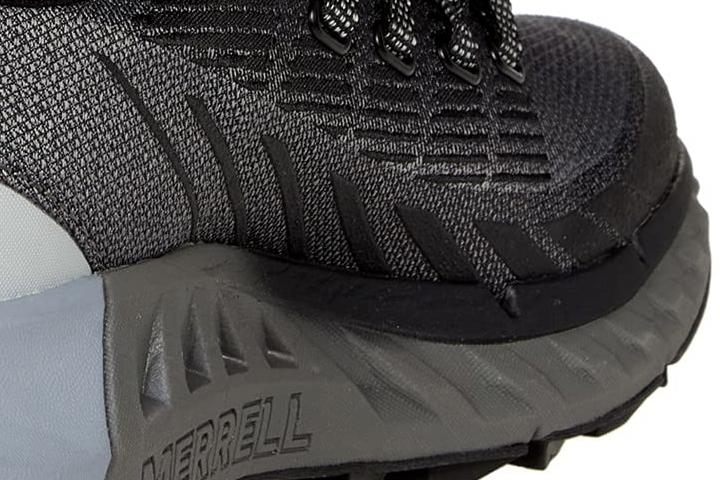 A shield against unwanted elements
Its gusseted tongue helps with the shoe's overall lockdown and keeps small rocks from entering.