Luka Doncic's signature line with Jordan is off to a good start with the Luka 1. Fairly anticipated by fans, this Jordan basketball shoe does not disappoint when it comes to making its wearer more nimble and agile on the court. The shoe is really in the business of fueling every step and catapulting every jump. Guards like Luka himself are having their heyday with this!
Pros
Impressive grip
Nice impact protection
Amazing energy return
Comfortable upper materials
Breathable
No-frills foot lockdown
Stable steps
No need for break-in
Cons
Cheap-feeling materials
Not for outdoors
Who should buy the Jordan
Luka

1

The Jordan Luka 1 is going to be a nice match for the following:
nimble athletes and guards who play very much like Luka Doncic himself
athletes who play mostly indoors
players looking for a more affordable basketball shoe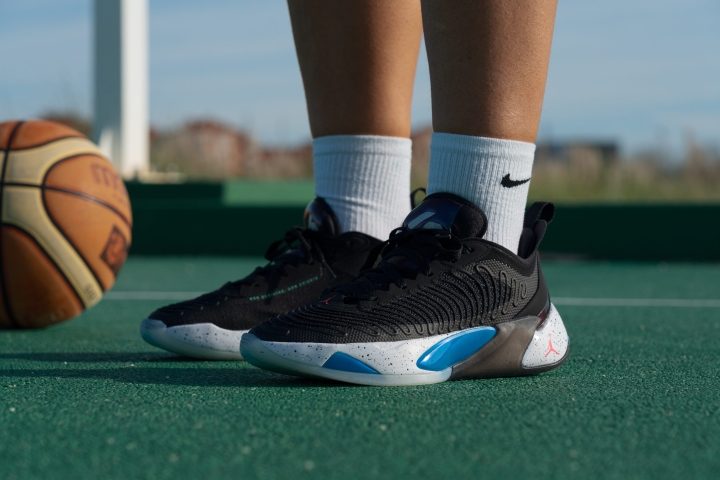 Who should NOT buy this basketball shoe from the Jordan brand
The Jordan Luka 1 is not for you if you are a fan of the fanciest and flashiest. With the materials being described by reviewers as "not premium" and "pretty cheap," then this shoe has no leg to stand especially against heavy favorites Air Jordan 36 and the Nike LeBron 19.
Outdoor hoopers are not going to have fun in this shoe as well. They are better off with the Nike Cosmic Unity, which consistently gets praises for its outdoor playability and really nice looks.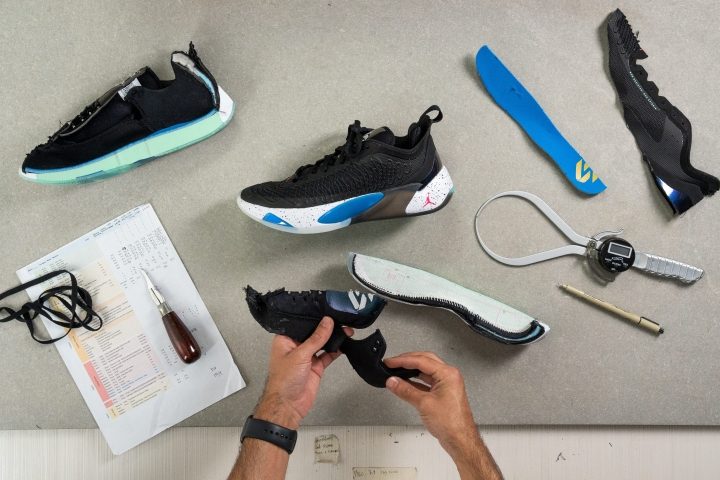 A grip that you can trust
Two experts report that the Jordan Luka 1 has "pretty good" and "freaking amazing" traction. They say that they do not have problems with quicks cuts and turns. They are really able to stop on a dime on a clean court.
Another detail-oriented reviewer agrees, and he even declares that the outsole's performance is "tremendous for getting a ton of grip" on courts. He even goes further and says that this shoe simply has the best traction on the hardwood.
The Luka 1 is sensitive to dust
One of the reviewers, however, notices that the outsole really attracts quite a lot of dust. Wiping is really necessary if we are to consistently have a nice grip all throughout the game.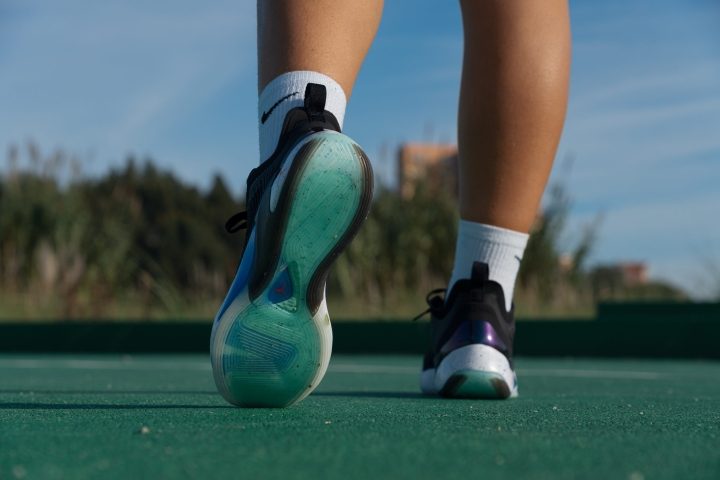 Heat it as you ride it
Another important thing to note is the outsole's seeming sensitivity to heat. An expert points out that the sole bites much more effectively in higher temperatures. You can liken it to an engine that needs some warming up.
Once warmed up, the shoe becomes more nimble and agile, and the reviewer reports being able to move freely in it.
It works the other way around too. The colder the temperature outside, the stiffer and more slippery the shoe becomes.
Fact check
After being exposed to cold temperatures for 20 minutes in our freezer, the Luka 1 got 41% stiffer.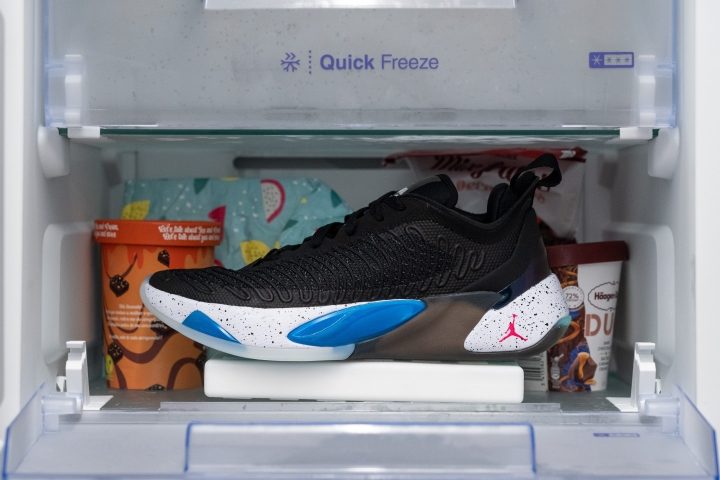 Speaking of heat, it is a breathable shoe
Even though ventilation is primarily concentrated in the tongue area of the shoe, it doesn't skimp on breathability.
In the transparency test below, you can see large ventilation holes throughout the tongue as well as some light passing through the upper material near the ankle bone.
Just do NOT take the shoe outdoors
To the touch, the outsole rubber feels malleable and the pattern is not that deeply engraved. Because of this, a player says that he absolutely does not use this shoe in his outdoor basketball sessions.
Fact check
Indeed, the Luka 1 won't be your best bet on an outdoor court. Its rubber outsole is only 3 mm, which is 0.5 mm thinner than the average.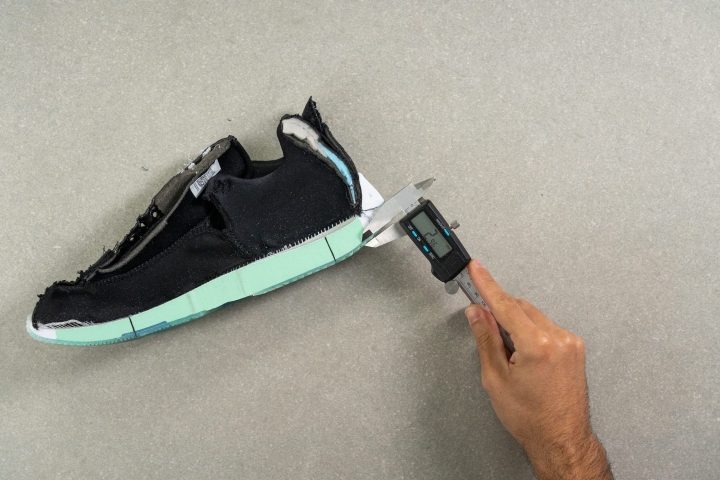 Fact check
In addition, the rubber is a bit softer than average too. This typically translates to less abrasion-resistant.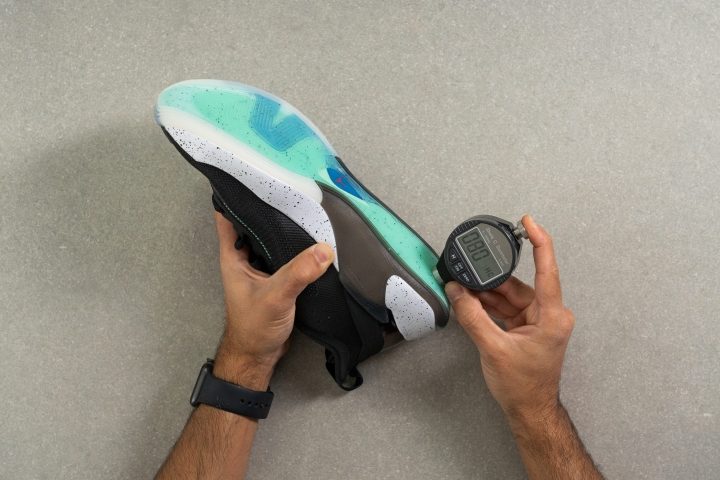 Feel some nice cushioning in the Luka 1
An avid reviewer shares that the Jordan Luka 1 has "nice cushioning right off the bat," further saying that it feels quite soft and this contributes greatly to the whole experience of comfort. While it is not as prominent as other shoes like the Nike LeBrons, another expert agrees that compression is really there, especially in the rear area where heel strikes hit the hardest obviously.
Fact check
The reviewers' experiences can be backed up by our durometer measurements. The Luka 1 turns out to be 18% softer than the average across basketball shoes.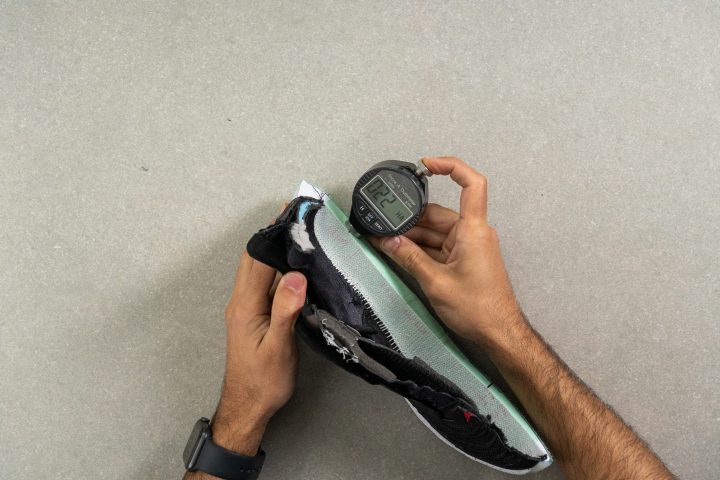 Disclaimer: We take the durometer measurements 5 times to ensure accuracy. The photo shows one of the takes.
Jordan Luka 1 means energy return
Luka Doncic is a guard, so it should not be surprising that his signature is biased toward the guard's movements.
An expert says that it's not really that foam that does most of the trick, it's actually the shank inserted in the midsole. This shank is simply "giving so much diving board effect," making the wearer jump higher and his runs much more energized. This expert says that this ability for an "efficient push-off" makes this shoe such a valuable pick, especially since it comes with beastly traction.
Fact check
The stiffness of the shank can also be traced in our flexibility measurements. The shoe is not the most flexible. It is rigid both longitudinally and torsionally.
After subjecting it to manual twist tests, a reviewer concludes that the shoe is "very firm, very stiff" so twists can be safely avoided.
Fact check
The Jordan Luka 1 receives 5 out of 5 (where 5 is the stiffest) on our subjective flexibility assessment too.
The Luka 1 wraps around the foot comfortably
The materials are nothing premium, but they sure get the job done. A player reports that this shoe feels comfortable straight out of the box. He says that it feels already broken in on his first wear! Another expert says that the materials are "super duper thin" and this enables it to conform to his foot extremely well.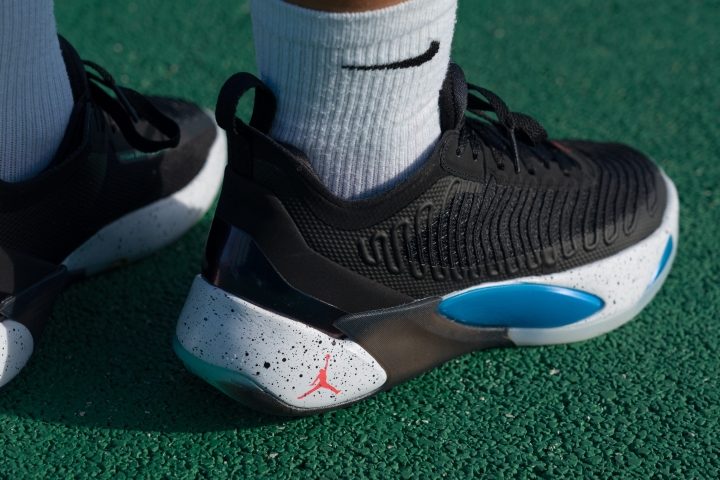 This one's true to size
There is not much to worry about when it comes to fit because the Jordan Luka 1 is true to size, and an expert says that it has a "really secure snug fit."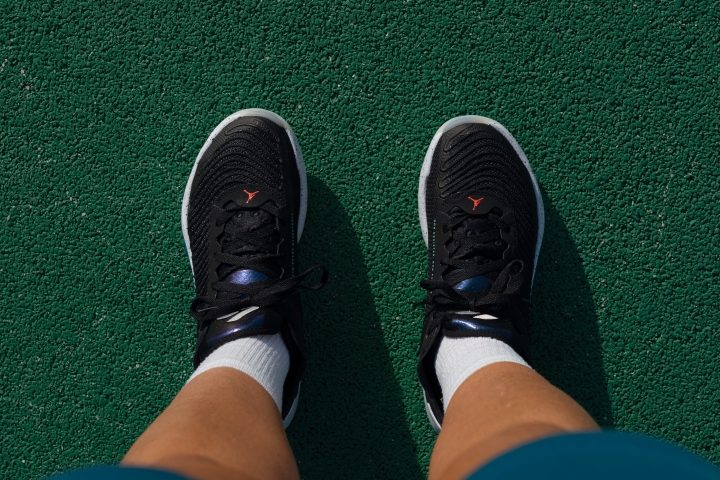 Don't worry about support and lockdown
Support and lockdown are not sources of concern as far as the Jordan Luka 1 is concerned. Aside from the responsive upper material that allows it to have "tremendous containment side-to-side," the shoe also has a fairly wide base that helps keep the foot in place, especially during more aggressive movements.
The heel counter is also very substantial and stiff, helping to keep the ankle in place.
Complete lab-specs overview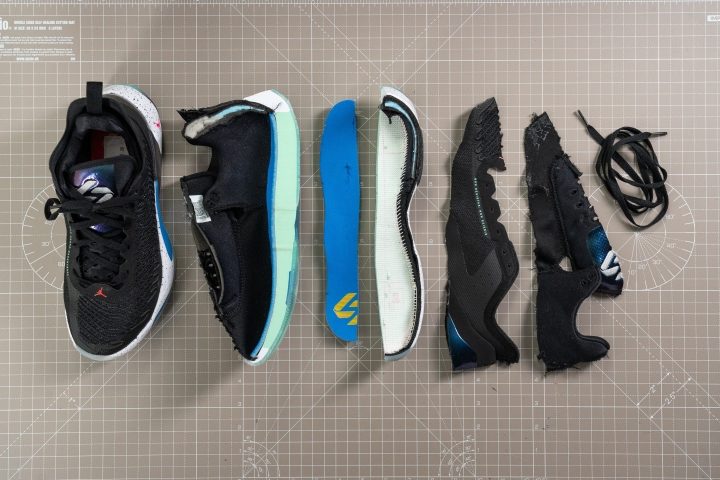 Jordan Luka 1
Average
Whole shoe
Weight (g)
342
360
Drop (mm)
7.0
6.9
Flexibility of the shoe (N)
53.6
54.9
Flexibility of the shoe (Freezer 20 min) (N)
75.7
77.8

Flexibility of the shoe (% of change)

41.2
43.4
Longitudinal flexibility (1-5 scale, 5 being the stiffest)
5
4.2
Torsional flexibility (1-5 scale, 5 being the stiffest)
5
4.5
Upper
Thickness - Tongue (mm)
10.0
9.8
Width Upper - Forefoot (mm)
97.1
97.5
Width Upper - Heel (mm)
79.2
77.0
Flexibility of the heel counter (1-5 scale, 5 being the stiffest)
5
4.3
Tongue: gusset type
both sides (semi-gusseted)
-
Heel: pull tab
none
-
Midsole
Width Midsole - Forefoot (mm)
109.9
109.5
Width Midsole - Heel (mm)
84.6
86.7
Stack - Forefoot with insole (mm)
20.5
20.5
Stack - Heel with insole (mm)
27.5
27.5
Durometer Midsole Heel (Room temperature) (HA)
22.0
26.9
Durometer Midsole - Heel (Freezer 20 minutes)
31.0
39.3
Durometer Midsole - Heel (% of change) (TEST)
40.9
46.0
Outsole
Outsole thickness (Heel) (mm)
3.0
3.5
Durometer Outsole Heel (Room temperature) (HC)
80.0
81.4
Insole
Insole Heel Thickness (mm)
3.1
4.2
Insole: removable
yes
-