7 Best Under Armour Running Shoes in 2023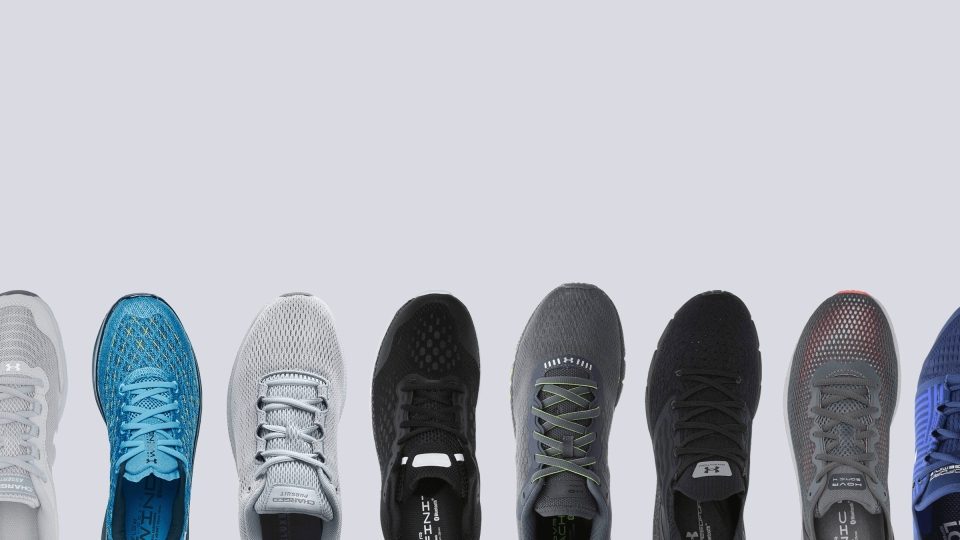 We earn affiliate commissions at no extra cost to you when you buy through us. Why trust us
Under Armour may seem to be a less popular brand when placed alongside the likes of Nike and Adidas. But many people are surprised to find out that UA offers running shoes in the same vein as big brands do. If you are new to the brand, we made this guide to help you pick the right Under Armour running shoe.
We have tested 30+ running shoes from UA to see which ones truly stand out. Some models are ideal for roads and some are for trails. There are versatile daily trainers as well as more niche speed shoes. Finally, you also have the option to select from different price ranges.
We selected our top picks from different categories of Under Armour shoes. Check them out!
Comparison of the 7 best Under Armour running shoes
| | | | | | | | | |
| --- | --- | --- | --- | --- | --- | --- | --- | --- |
| Best | | | | | | | | |
| CoreScore | | | | | | | | |
| Users rating | | | | | | | | |
| Experts | | | | | | | | |
| Best price | | | | | | | | |
| Ranking | | | | | | | | |
| Popularity | | | | | | | | |
| # of colorways | | | | | | | | |
If you want further reading about Under Armour running shoe categories, you may check out our catalog pages:
3 standout qualities of Under Armour running shoes
Novelty
The Under Armour brand is relatively younger compared to many other manufacturers of running shoes. This makes them more in sync with the newer trends and, thus, they are able to offer styles that appeal to the current market.
Exceptional marketing
Brands like Nike and Adidas may succeed in eye-catching ads and straightforward selling tactics, but UA chooses a different route. Under Armour running shoes focus not on the product, but on the consumer and their performance.
Digitally advanced
Under Armour is one of only 2 brands that offer running shoes that can be wirelessly connected to a phone app. This development gets them plus points for combining technology and fitness in a unique way.
Notable technologies of Under Armour runners
Many of the Under Armour running models are named after the most prominent feature present in the shoe. Here are some of these well-known technologies and the benefits they provide to the runner:
HOVR
The HOVR is one of Under Armour's innovations in midsole technology. HOVR running shoes claim a zero-gravity feel because of the midsole's softness and lightness. This results in an efficient energy return that many runners would compare to that of Adidas Boost.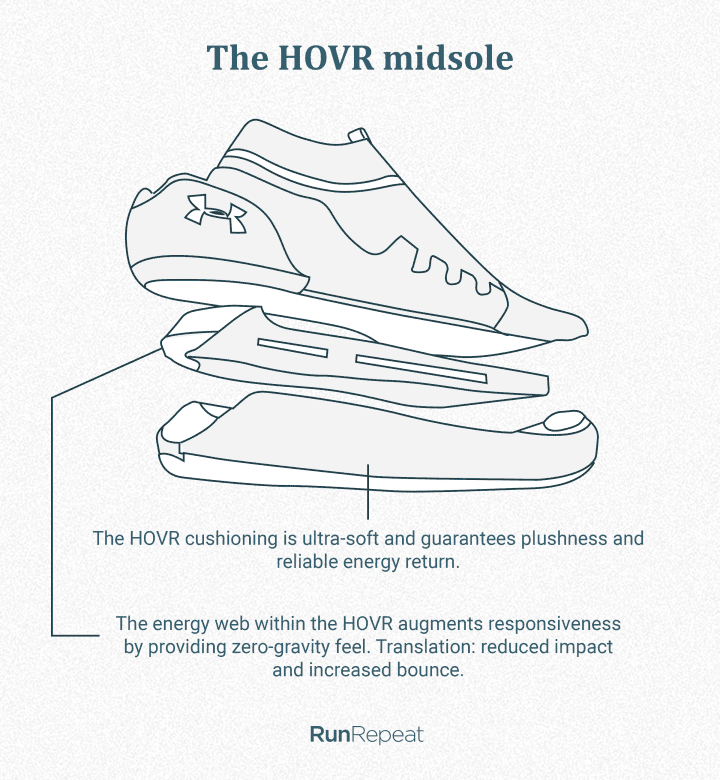 Micro G
Under Armour's Micro G is a midsole component that's 30% thinner than its counterparts. UA running shoes with Micro G are suitable for users who want more ground contact. This technology has also proven effective on other Under Armour shoe categories, such as basketball and training.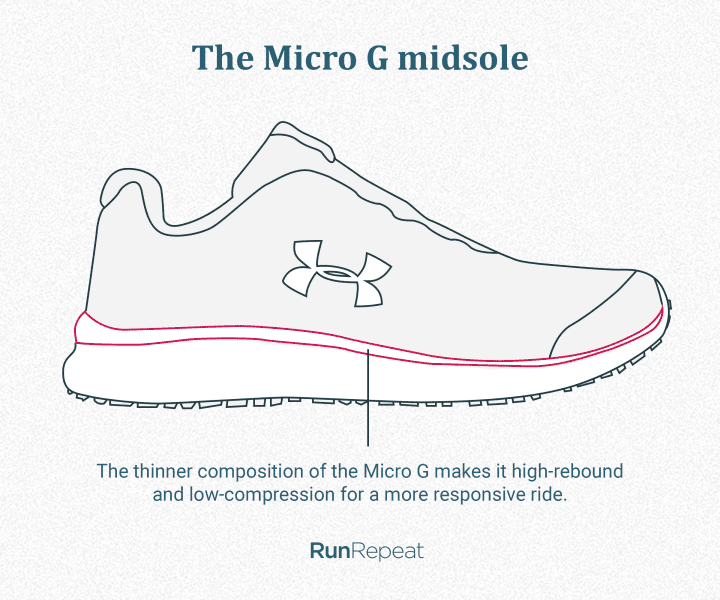 Charged Cushioning
The Charged Cushioning is a dual-density midsole tech that features a firm heel and a soft forefoot. This design encourages a combination of a powerful heel-strike and a springy toe-off.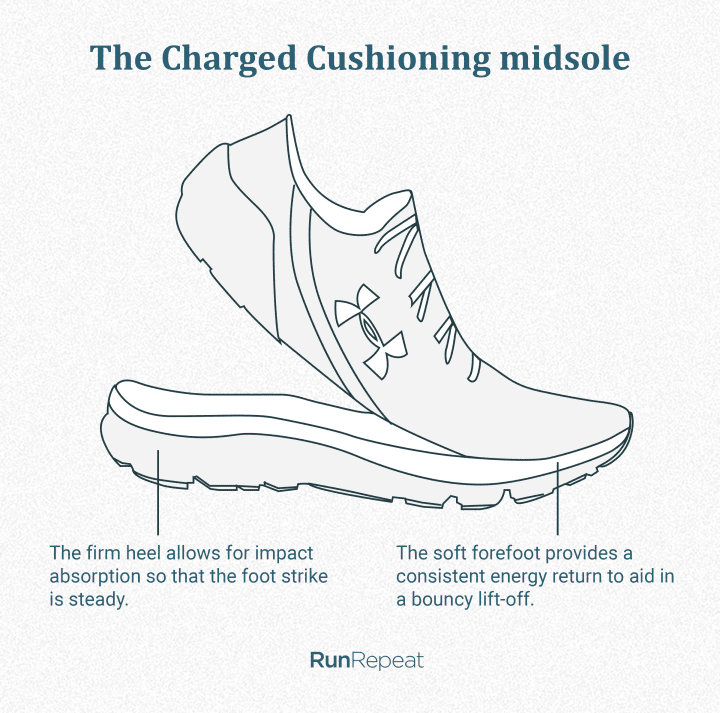 SpeedForm
SpeedForm is an upper with a unique structure: A smooth seamless fabric is fused with a molded heel cup to give a second-skin feel and a secure rearfoot hold. While other brands do have their own upper technology, the SpeedForm's construction is unlike any other.
Runners who are particular to shoes with durable yet lightweight uppers have liked the SpeedForm tech.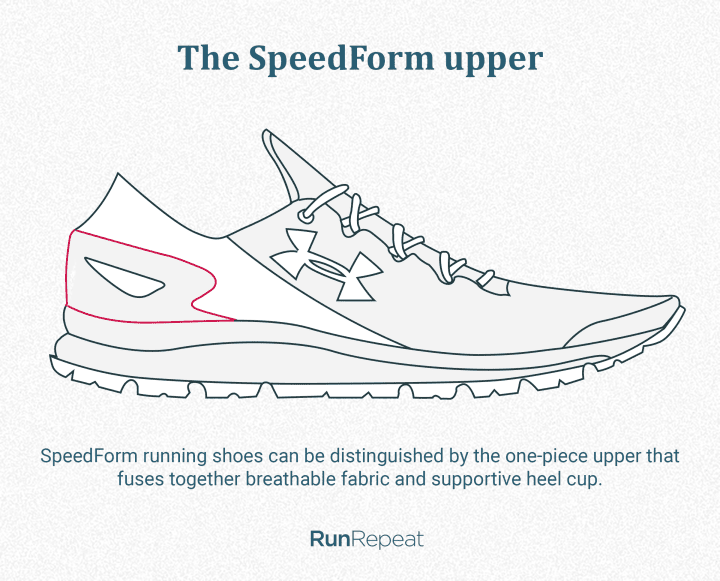 3 factors to consider in choosing the best UA running shoe
Under Armour offers an extensive selection of running shoes, and to help you find the best pair, here are 3 things to look into, in order to easily narrow down their selection:
Where you run
The environment you would be running in is always a good factor in determining the kind of shoe to buy. If you frequent city streets, go for a UA road shoe. If you are more drawn to the great outdoors, the brand's trail shoe is more recommended.
Below is a simple graphic that shows key differences between the two: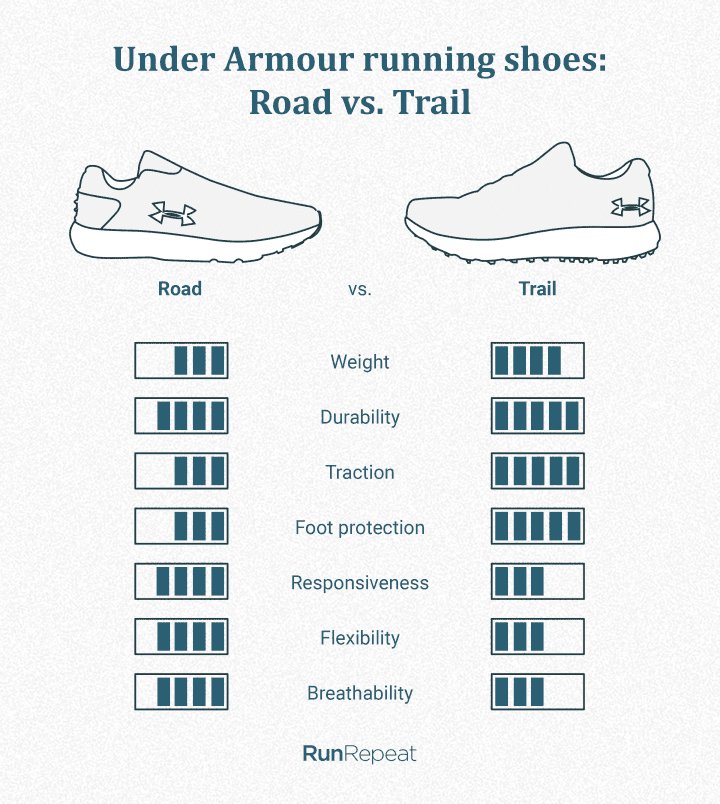 How you run
Choosing the best Under Armour running shoe based on your pronation may not be extremely important, but it could be beneficial (see our detailed study on arch support for further information).
If you are keen on picking an appropriate running shoe for your gait, here is a helpful graphic:
If you have an arch that has a moderate to high height, go for a neutral Under Armour running shoe. These shoes are also perfect if you have a normal gait, or have no issues with foot stability.
On the other hand, a UA stability running shoe is recommended if you need extra support for your arch, or if you have overpronation that you want to correct.
How far you run
You can also consider how frequently or how far you run when choosing a shoe. Under Armour running shoes are categorized in a similar manner to help narrow down choices.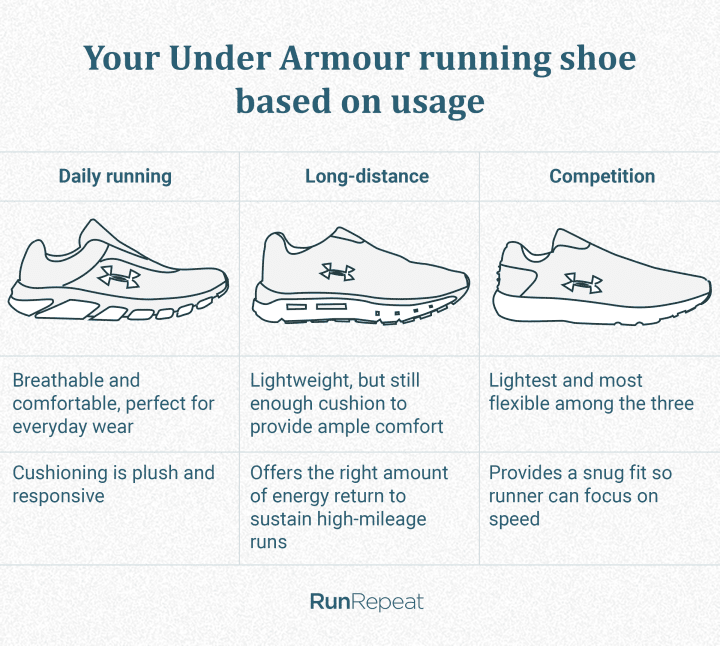 For day-to-day workouts or regular runs, UA daily running shoes are perfect because of their ample cushioning and flexibility. They are designed to keep you comfortable at short distances.
An Under Armour long-distance shoe is suitable for high-mileage runs that don't require speed. They are also relatively cushioned, but are lighter compared to their daily running counterpart.
Last but not least, UA competition shoes are advisable when you want to run in races, or if you need a highly responsive shoe. You can expect these shoes to be snug and lightweight to keep you at a fast pace.
How we test running shoes
To save you time, we spend at least 7 hours reviewing every new Under Armour shoe. As an independent shoe testing lab, we receive no free shoes from the brand to stay unbiased.
Here is our process:
We run 30-50 miles on average in each pair. We take them out to various conditions.
We cut shoes into pieces and measure 30+ data points connected to their performance, such as flexibility. For this parameter, we use the digital force gauge. While the forefoot of the shoe is locked down, we push and bend the heel at a 90-degree angle using the tool. The higher the value the tool will reflect, the stiffer the shoe.