Our reviews
The Divide 2 from Brooks is designed as a transition shoe for road runners looking to do a little off-road running, or as a hybrid shoe that can play on hard and soft surfaces.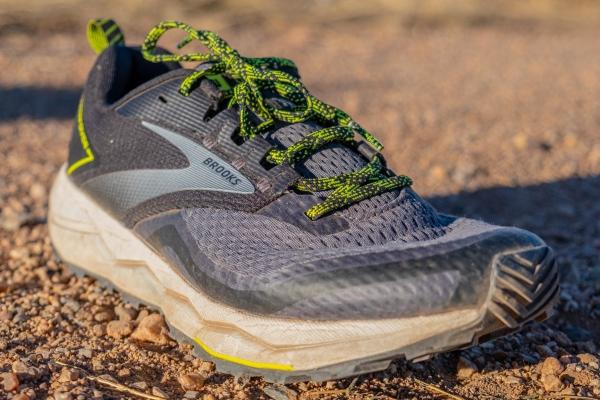 Pros
Upper
The shoe has a nice, breathable air mesh upper with a nice mix of welded overlays. This keeps moisture and debris out while adding a bit of durability.
Tongue
It's a low-profile, padded mesh tongue that doesn't get in the way. It's also gusseted which is a nice feature for a shoe at this price point. Overall, love the stretchy material they use here.
Lacing system
The Divide has some high-quality laces that stay tight. There's a welded eyelet chain instead of the standard lace holes, complete with a secondary top hole. I am actually able to utilize and stabilize the heel a bit, but the laces are too short if you wanted to use both of the top holes.
I honestly don't think it's designed for this, but some may be frustrated by it.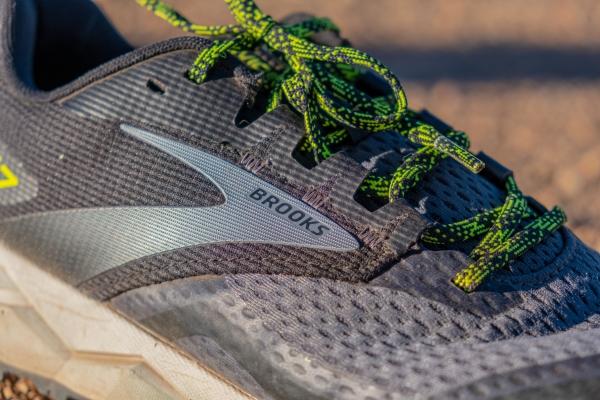 Heel counter
It's stiff but no real problems with slip. Props to Brooks for putting a very large heel loop. I hate when it's a pain to get a finger through these or you need both hands to do it. This is plenty accommodating.
Outsole
Brooks' TrailTack rubber is a great product. It can be an aggressive outsole if the Divide was a dedicated trail runner.
I actually really like this outsole for its intended purpose — it's balanced, works well on hard surfaces, and has enough bite to hit mild to moderately technical trails, which I also tend to find on commuter/mixed-terrain runs.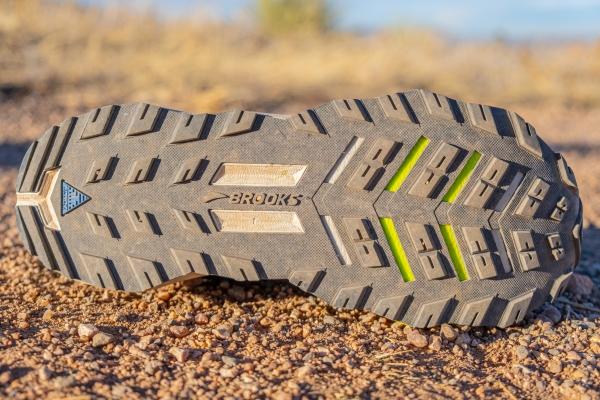 Cons
Midsole
It's a bit dull and uninteresting underfoot. Dare I say, it's kinda like a brick.
The Rock Plate is a nice feature, but not totally needed as the midsole itself is pretty dense and protective. It may stiffen the shoe up a bit more than most want.
Specifics
Fit
The Brooks Divide 2 fits and feels like a road shoe, which is the idea here — to give road runners a similar platform to start exploring off-road.
Comfort
I don't love the midsole. There could be more plushness here, but it protects the foot from rocks nicely and breathes well too. I like how it feels on my foot and I find myself wearing these around town just as much as I run in them, so that says something.
Weight
It weighs 10.6 oz. It could be lighter for sure, especially considering this shoe is built for road runners to try out trail running. Surely, this can be quite hefty for them.
Drop/Stack
32mm stack in the heel
8mm drop
The drop is on the high end for trail shoes, in my book. But again, catering to road runners, I think it was smart to leave the drop squarely in the middle of the range to feel consistent with more road shoes.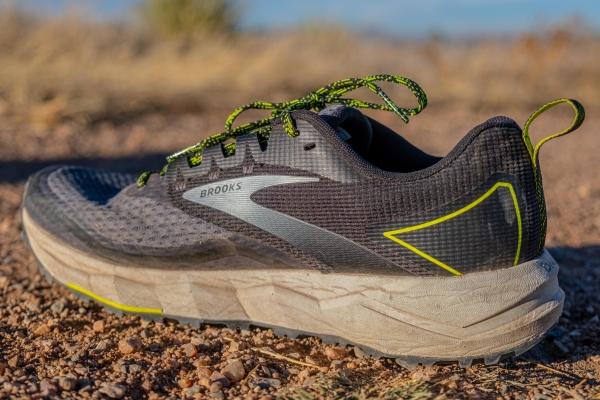 Durability
It's a budget shoe and I am already seeing some creasing on the midsole. However, it has plenty of welded overlays to help with upper wear. I think it's a middle-distance shoe at about 300-400 miles.
Looks
I really dig how this shoe looks. It's almost like a retro-style sneaker with its neon accents.
Price
It retails for $100 which is awesome. I think you can even get the Divide 1 for $75 right now. This is a budget shoe for those who just want to start exploring off-road running before committing to it full-on.
Overall conclusion
I wish the Brooks Divide 2 was livelier, lighter, and plusher, but Brooks does have the exact same shoe and it's called the Catamount. What I do like is if you are an avid road runner, this shoe will be easy to pull out of the box and head to the trails without much adjustment. It's also a stable, balanced shoe that is at home on a lot of different terrains.
For those on a budget or those new to trail running, I think it's an interesting option. And if your style dictates wearing trail shoes around town, it's actually a killer "technical sneaker" in my mind.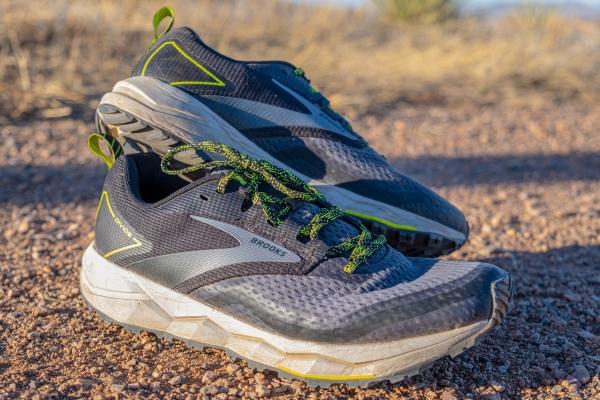 Brooks Divide 2: Perfect for your road-to-trail adventures!
Instead of just being a toned-down, more road-friendly version of the beefy, tank-like Cascadia, Brooks Divide 2 creates an image of its own. Its fit is that of a road shoe and its protection is patterened after trail shoes. Where it shines as a road-to-trail model, though, is in its balanced traction — sufficiently aggressive for the trails but not too much that it doesn't feel at home on road surfaces.
Brooks Divide 2 vs 1: What changed?
The New Air mesh upper is much more accomodating, especially in the forefoot section. It's also a lot more breathable than the first Divide's woven upper.
A less puffy gusseted tongue is also incorporated. Although thinner, it's still as effective in preventing lace bites.
In the heel area, more padding is added. However, this design is more of a let-down as it doesn't produce the same clutch as the previous version.
What is it for?
Speed: Easy to moderate pace
Surfaces:
Paved sections
Moderate urban trail

gravel
blue stone dust
mild single track
On technical terrain, however, you should be wary of doing speed runs in the Divide 2. It doesn't have the lockdown that a technical trail shoe should possesses, you might end up slipping.
Compare popularity
Interactive
Compare the popularity of another shoe to Brooks Divide 2:
Brooks Divide 2 video reviews