One of Brooks' most revered and popular stability shoes gets a well-needed modern update for 2022. This daily runner is loved by many because it's seen as the Jack of all trades running shoe thanks to a bi-directional correction for different over-pronation. With fresher looks, it's now an even more attractive option.
Pros
Fits true to size
Promising durability
Stability for all directions
Improved aesthetics
Phenomenal grip
A firmer, faster midsole
Consistent in all conditions
Reliable daily runner
Cons
High price point for stability aimed at beginners
Midsole is too hard for some
Who should buy
The Brooks Adrenaline GTS 22 is a stability shoe that's perfect for daily runs. It's a perfect choice for medium-paced runs up to half-marathon length. Brooks has made the shoe quite accessible with 4 different widths to accommodate most foot shapes.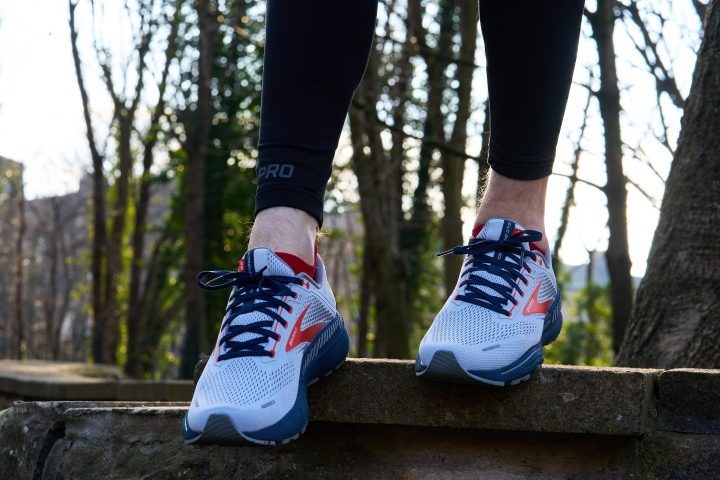 Who should NOT buy
The Adrenaline GTS 22 might not be your best bet if:
You don't over-pronate, while GTS tech is apparently fine for neutral runners, you can shed lots of weight by choosing something like the Ghost 14
Speed is your goal, the Adrenaline GTS is a bit too bulky for this, try the Launch GTS 8 for some more speed
You want something softer, for longer runs (at the cost of speed) the Glycerin GTS 19 is a great choice
With a mesh knit upper, there's plenty of breathability even with plush padding. The material feels stiff and won't stretch much, but the fit is fine so no worries there. It also feels nice and durable.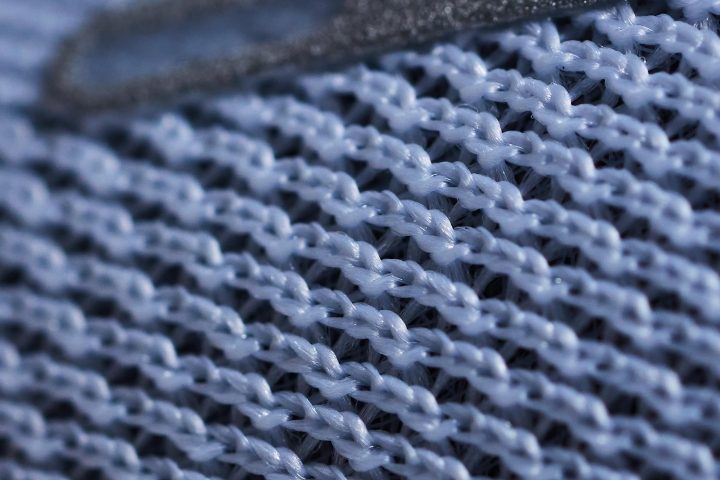 Outsole hardness
Clearly not fearing the wrath of a set of scales, Brooks has added 3.4 mm of outsole grip to the shoe, at 87 HC durometer it's super strong too. This makes for a fair amount of durability and I wouldn't be surprised if these make it well past the 500-mile mark.
Test results
| | |
| --- | --- |
| Adrenaline GTS 22 | 87.0 HC |
| Average | 80.1 HC |
We use an average of four tests. The photo shows one of those tests.
Compared to 207 running shoes
55.5 HC
Outsole hardness
92.8 HC
Number of shoes
The Brooks Adrenaline GTS 22 is billed at weighing 10.2oz (289g), a touch lighter than its predecessor (10.4oz). It is a tiny bit lighter than stability running shoes on average 10.5 oz (298g).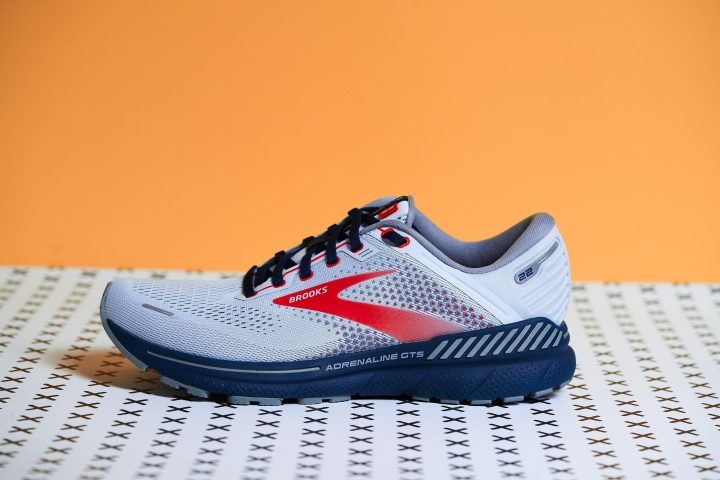 Test results
| | |
| --- | --- |
| Adrenaline GTS 22 | 10.37 oz (294g) |
| Average | 9.42 oz (267g) |
Compared to 227 running shoes
6.03 oz (171g)
Weight
12.56 oz (356g)
Number of shoes
Heel stack
The Adrenaline GTS 22 carries over an aggressive 14.7 mm drop and a 37.4 mm heel stack height. Paired with the supportive GuideRails and heftier weight, it definitely feels like a slow, easy-day trainer.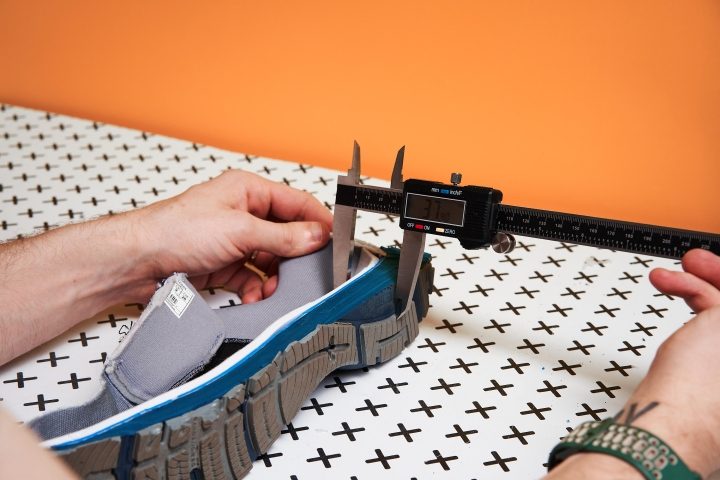 Test results
| | |
| --- | --- |
| Adrenaline GTS 22 | 37.4 mm |
| Average | 33.5 mm |
Compared to 226 running shoes
23.4 mm
Heel stack
42.7 mm
Number of shoes
Midsole softness
Note: a low durometer measurement equals a soft material, whereas a high measure means it's firm.
It feels like Brooks has tried to make the 22 a bit speedier than it was. The Adrenaline 22 brings a bit of energy return into the shoe.
Lateral stability test
The Adrenaline is Brooks' staple GTS (Go-to-stability) shoe, providing overpronators with an alternative to medial posting for a few years.
With the price point of the Brooks Adrenaline GTS 22 I'd tend to think it's marketed at the enthusiastic daily runner. Someone who's cruising 30 miles a week. With a stability system that goes above and beyond, it completely makes sense. However, there's a caveat.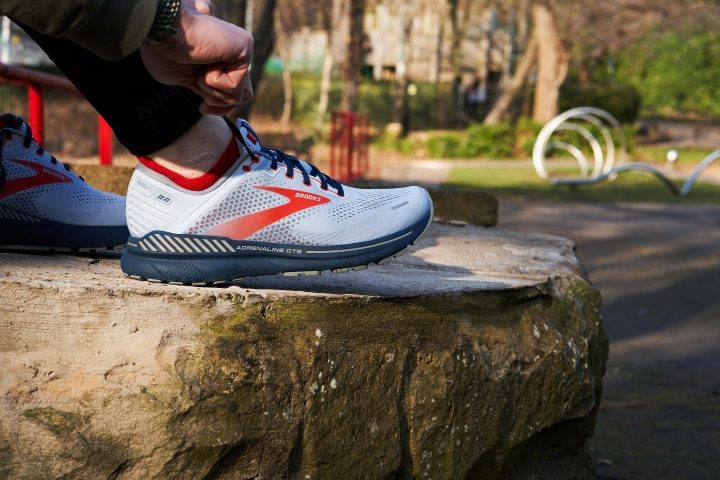 The way the guide rail works is that it initially provides extra support for when your ankle over-pronates (rolls inwards), and pushes your stride to a neutral position.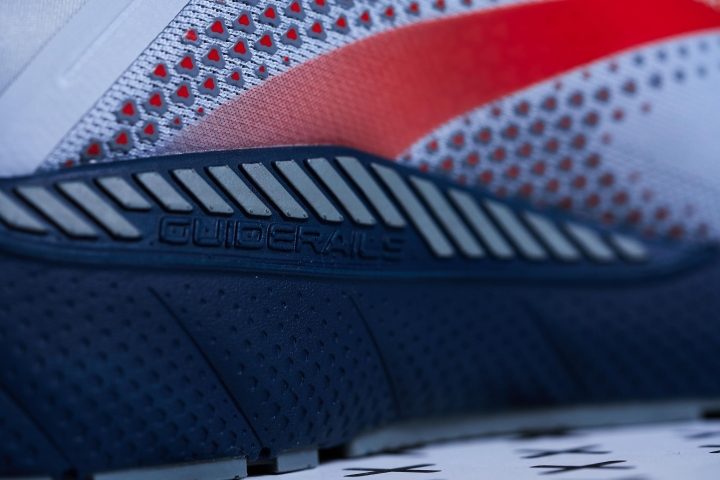 There's then exterior support to stop your foot from rolling too far outwards (which can lead to problems like IT band syndrome). This makes Brooks a great option for almost any runner because you can run in them even if you are a neutral runner. As an over-pronator, I definitely felt the guide rail push me back straight, which is always a good sign, and I also felt the exterior rail push me back inwards. So it definitely works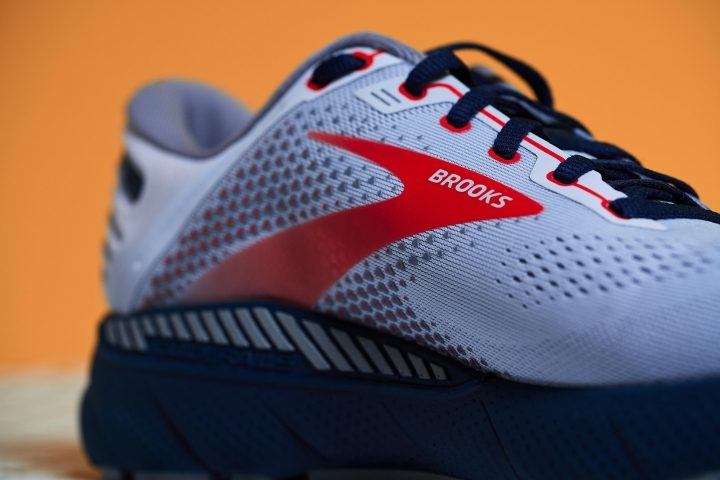 But, and this is a big but, that's a bit pointless if you're then going to lug around a 300g+ shoe as a neutral runner. Moreover, if you're doing 30 miles per week, you probably know more about your pronation than most and can choose shoes accordingly.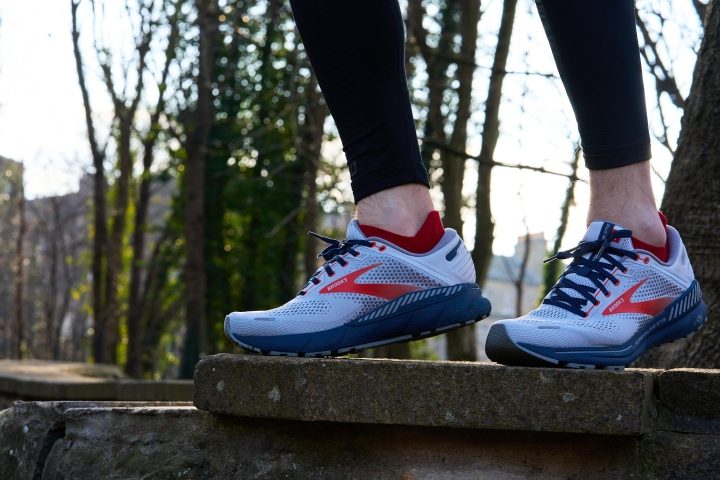 So in practice, I think the support of the Brooks Adrenaline GTS line is best suited to new runners who don't know about their pronation and just want to run injury-free. I just wish the price point would match that.
Heel counter stiffness
There's a good heel cup and the ankle collar fits well. The heel counter has had a bit of an update and is more padded than before, and even stiffer.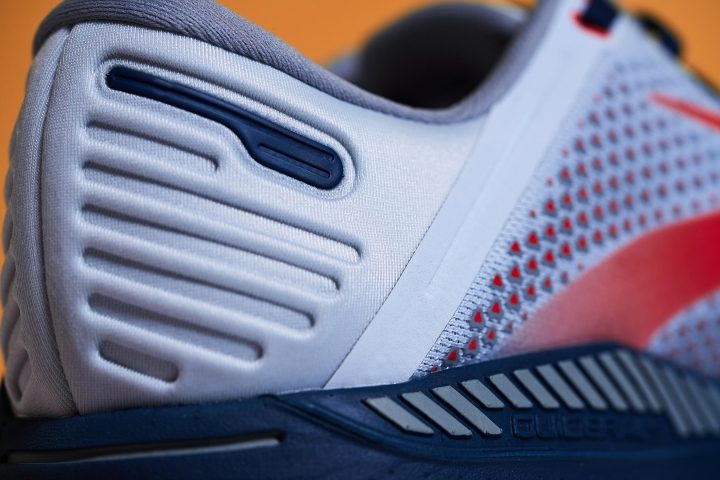 Stiffness
With all of that hard midsole and the GuideRails, it didn't come as a surprise that the Brooks Adrenaline GTS 22 scored highly in our lab testing, needing 40.8N of force to bend the shoe to 45.
The result on the road is a bit dull, but as a daily shoe, it's not a problem for me.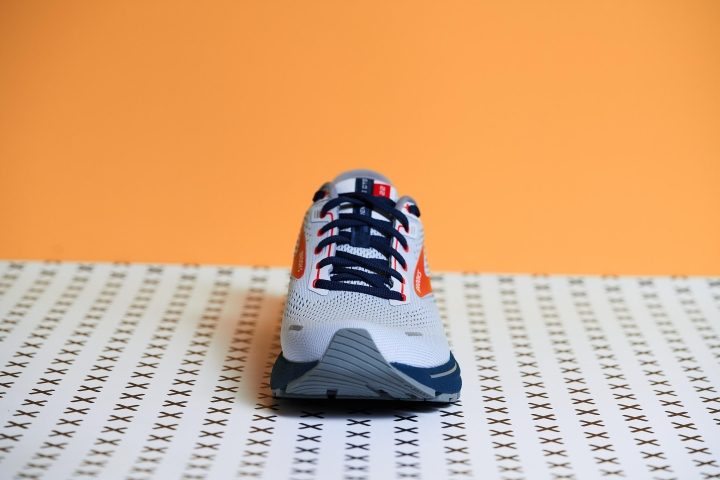 What shone out for me was the consistency of the flex in the midsole, after 20 minutes in the lab freezer it only took 43.5N to get the same degree of flex (average here is 27.7N) which is only a 5.6% difference.
In the lab, we regularly see flexibility changes of 30% (even up to 68.3% from the Brooks Revel 5), so this degree of reliability is very welcome.
Test results
| | |
| --- | --- |
| Adrenaline GTS 22 | 40.8N |
| Average | 29.8N |
We use an average of four tests. The video shows one of those tests.
Compared to 210 running shoes
Number of shoes
Grip / Traction
The grip itself is effective, I felt no slippage on both wet and dry concrete, making sharper turns and downhills confident, and lots of ability to keep pace on the ups.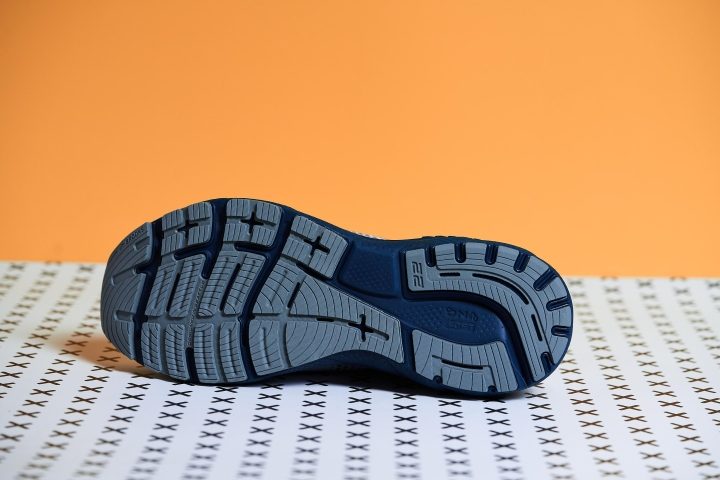 Overall impressions
Maybe Adrenaline is the wrong word. It's obvious that Brooks isn't making super-stylish running shoes that weigh next to nothing and promise to take chunks off of your 10K time.
They do however make a shoe that makes you run as frequently as you want, on whatever experience level. Sure, it's super heavy, and even the updates to the upper won't make you want to wear these out to dinner, but it does what it says on the tin.