We analyzed the MSRP (manufacturers suggested retail price) and lowest available prices of more than 8,000 shoes to understand the average cost of running shoes by category, brand, year, and more.
Top average running shoe price statistics for 2021:
The average MSRP price of a shoe in 2021 is $123.39 while the average available lowest price is $85.15.
The cheapest running shoe was available for $19.80
The most expensive running shoe was available for $300.00
The average US adult labors for 11 hours at work in order to afford each running shoe they buy.
The average price of running shoes by release year
The average MSRP price of a shoe in 2021 is $123.39 while the average available lowest price is $85.15.
On average, shoes released in 2021 are 7.40% more expensive than the average price of shoes at $94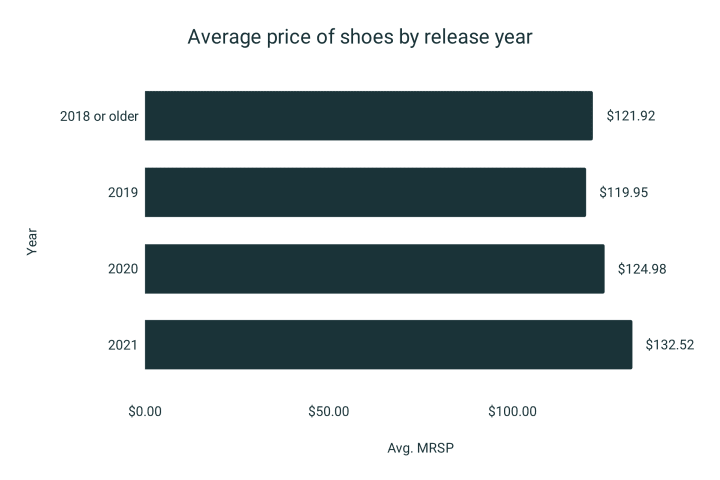 Shoes released in 2021, are 6.04% more expensive than those released in 2020
Shoes released in 2021, are 10.48% more expensive than those released in 2019
The average price of running shoes by arch support
Running shoes with motion control arch support are 17.38% more expensive than neutral running shoes
Stability running shoes are 10.23% more expensive than neutral running shoe
The average price of running shoes by pronation
Running shoes to compensate for overpronation are 8.82% more expensive than the average pair of running shoes
Running shoes to compensate for severe overpronation are 15.79% more expensive than the average pair of running shoes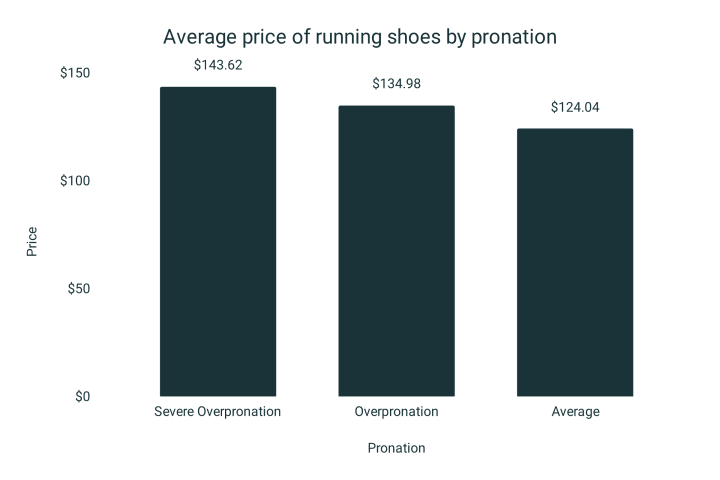 The average price of running shoes by strike pattern
Running shoes with a forefoot or midfoot strike are 6.54% more expensive than the average pair of running shoes
Running shoes with a heel strike are 2.98% more expensive than the average pair of running shoes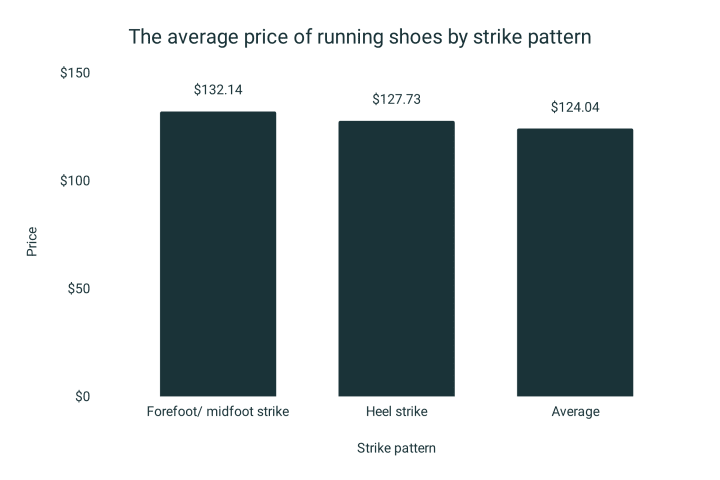 The average price of running shoes by cushioning
Firm running shoes are 6.61% more expensive than the average pair of running shoes
Plush running shoes are only 0.84% more expensive than the average pair of running shoes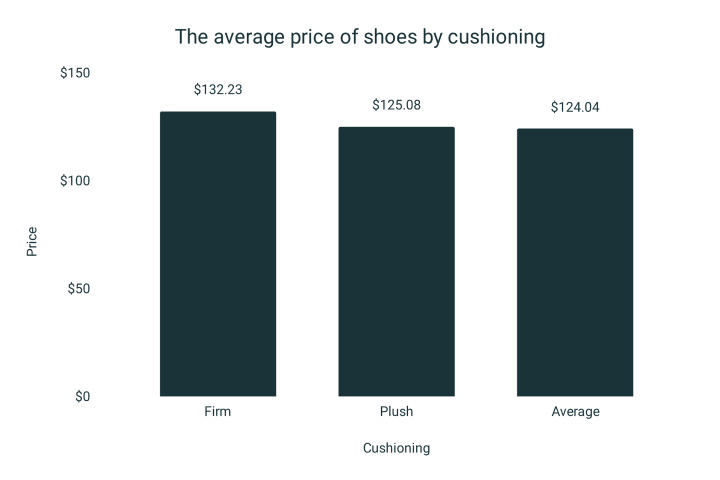 The average price of popular running shoe brands
Popular brands vary wildly in their average lowest available price of shoes, with the least expensive option being an average of $93.65 and the most expensive costing an average of $179.17
10 most expensive popular running shoe brands by MSRP
Apl - $300.00
Arcteryx - $179.29
On - $160.48
Dynafit - $151.25
Newton - $151.07
Vivobarefoot - $147.14
Mizuno - $147.03
Hoka One - $144.14
La Sportiva - $143.63
Salomon - $143.51
5 least expensive popular running shoes brands by MSRP:
New Balance - $117.16
Salming - $116.88
ASICS - $116.06
Skechers - $114.94
Vibram Fivefingers - $111.11
Merrell - $109.57
Xero Shoes - $104.00
Under Armour - $101.53
PUMA - $98.60
Reebok - $93.36
Average price of all 33 running shoe brands on RunRepeat