Verdict from 13 experts and +100 user reviews
6 reasons to buy
According to some users, the Asics GT 2000 7 is a very comfortable shoe.
Some reviews mentioned that the offers a great level of arch support and stability.
Many users admired the overall design and color options of the GT 2000 7.
Several runners lauded the breathable upper coverage of the shoe.
The shoe runs true to size, a few reviews mentioned.
A few satisfied purchasers said the shoe fits well.
1 reasons not to buy
The shoe is not as durable as the previous model, said some users.
Bottom line
The GT 2000 has been a successful stability shoe model from Asics. The 7th version of the shoe generally gained positive reviews from users. Though some were disappointed because it is not as durable as expected, others are still happy to recommend the shoe. This shoe is great for overpronators who are also looking for comfort and breathability.
Tip: see the best running shoes.
Our reviews
Asics GT-2000 7 has smooth uppers made from multi-layered, super soft materials. The top layer has breathable mesh holes.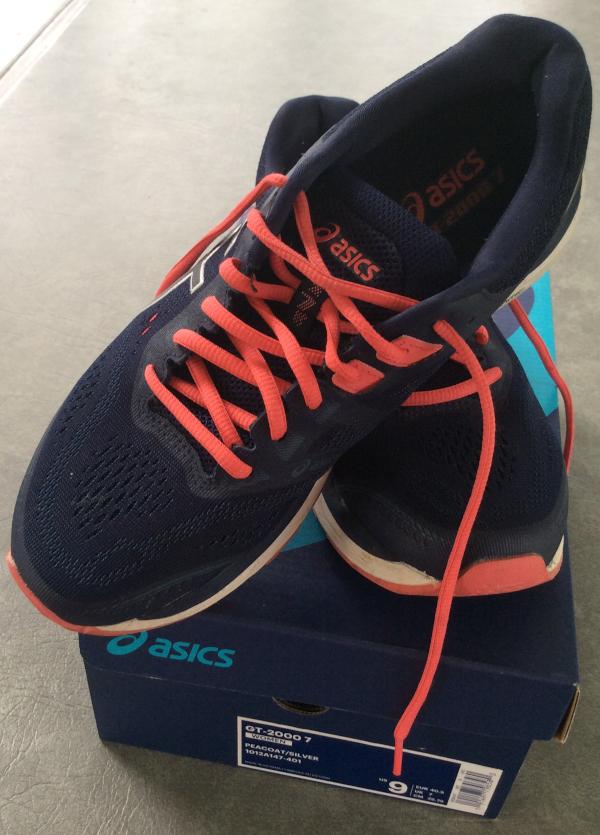 Today, running shoe companies seem to be eliminating upper overlays as much as possible. Asics probably still uses overlays for added durability. However, the downfall is any additional rubber adds to the overall weight.
In my opinion, the toebox feels roomier and wider than most other brands. I can easily wear my heavier running socks without any problems—fortunately, no blisters or calluses ever developed even after 2–3 hour-long runs.
By now, I realize the uppers will never achieve the glove-like fit I prefer. Nonetheless, my toes and upper feet feel comfortable run after run.
Look how good the materials are holding up after 250+ miles—absolutely no frays or holes!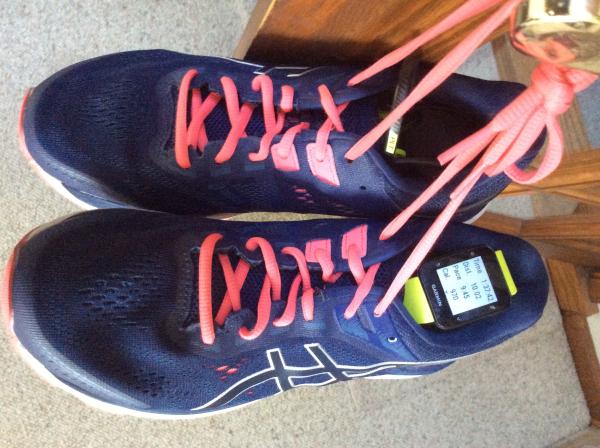 Midsole
In my opinion, the midsole is the meat of a running shoe. However, knowing what quality grade to buy and understanding the difference is challenging.
Shoe manufacturers explain key ingredients using all kinds of action words. Often, it sounds like a foreign language to us consumers.
For example, Asics are made with Flytefoam and SPEVAFOAM combined with a Dynamic DuoMax Support System.
In spite of technical jargons, I am still pleased. Several of my friends are loyal Asics fans, so I gave GT-2000 7 a try.
During my first few trial runs, I felt the midsole absorbing bodily shock nicely. Since I read "it takes midsole foam 24 hours to bounce back to its original shape," I alternated with another brand of 10mm drop shoes.
After 300+ miles, the majority of midsoles start breaking down from the repeated stress of running, but not my GT-2000 7's. The midsoles look and feel fairly new.
However, I am starting to feel ankle pain after 10 mile runs. For this reason, I'd never considered GT-2000 7's for a full 26.2 marathon.
Instead, if I raced in them at all, it would be shorter 5K, and 10K distances and a 13.1 half marathon would be tops.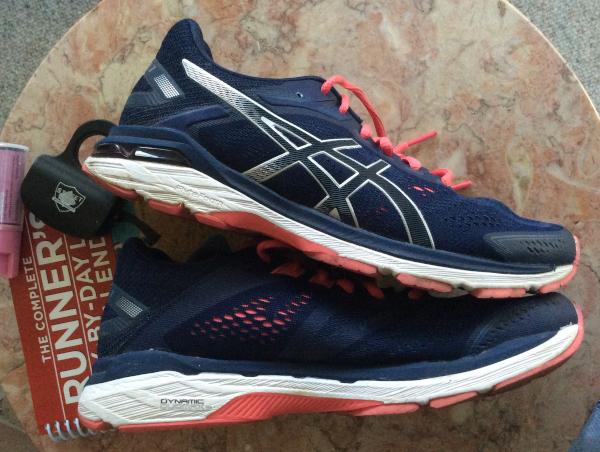 Heel counter
Runners will be happy with Asics strong, durable heel counters. These running shoes are generously padded all the way around. Materials are of higher quality and still very much intact.
There is no movement or breakdown when slipping on or off, even recklessly! Remarkably, they show no visible wear and tear even after months of running.
There's nothing worse than slippage in the heels. One time, I tied both shoes way too loose and immediately knew my heels were not going to hold.
I had to re-tie properly to secure correct positioning. Otherwise, I knew I'd be stopping to adjust later on. I don't know about you, but I don't stop a run unless I absolutely have too!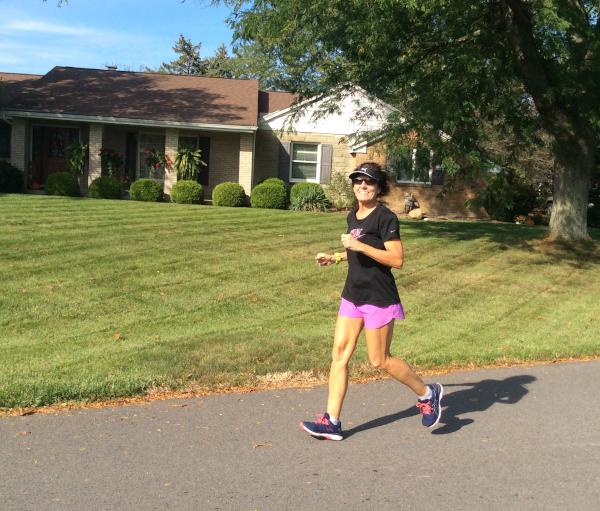 Outsole
Asics outsoles are made with different types of rubber throughout the forefoot and heels. Some outsole materials are more durable than others. Usually, it's the softer rubber that doesn't last as long.
Even though I continuously work on my running form and try not to heel strike, both back heels wore right down. If you look closely, you'll notice several grooves are eroding.
If I run a couple hundred more miles, my heels may be into the midsole!
Repeated pounding against the pavement has certainly taken its toll on these Asics outsoles. Rubber is being pushed in and starting to wear down at the forefront. Both front tips, however, are still in excellent shape, so if no one turns the shoes over, they'd never know!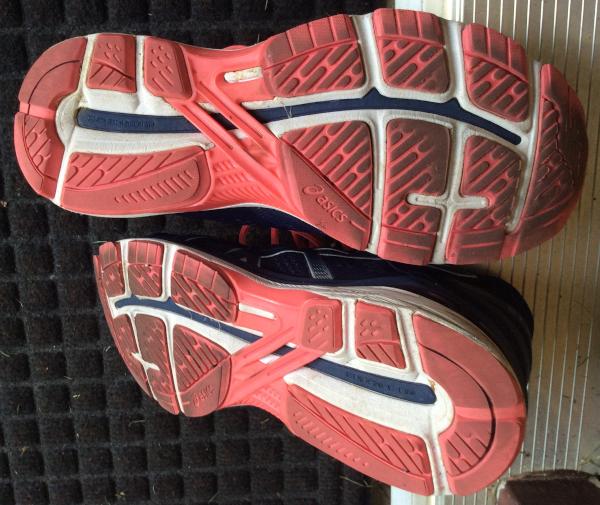 Tongue/laces/eyelets
Asics tongue scores an A+ for extra length combined with high-quality padding. Runners will appreciate the comfortable mesh material. My favorite aspect is how effortless each tongue lays out and pulls into place.
The shoelaces are strong, colorful, and formed in a nicely rounded shape. Best of all the laces are extra long for tying quick double knots. They slip through big, well-cut-out eyelets with minimal, attractive overalls.
Asics GT-2000 7's outsole probably won't withstand 200 more running miles, but the upper construction certainly will. Soon, I may be wearing these Asics around town because look how lovely peacock blue coordinates with jeans!
Ideally, they'll make a great walking shoe, especially when visiting Cedar Point Amusement Park in Sandusky, Ohio. My guess is Asics GT-2000 7 will achieve their 400–500+ mile limit, even if it's not all running.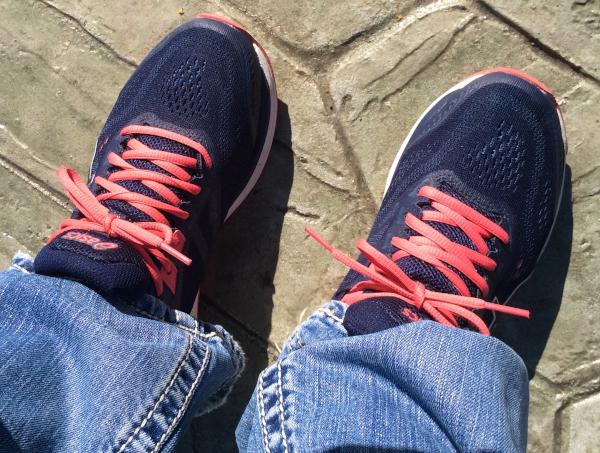 Specs
Type: Stability trainer
Drop: 10 mm
Weight: 9.6 (Women); 10.6 (Men)
Price: Sale = $59.95–85.95 (was $120.00!)
| | |
| --- | --- |
| Pros | Cons |
| Deters pronation | Heavy for racing |
| Firmly locks and holds heels | Not suitable for a marathon distance |
| Foam/gel absorbs shock | Less flexibility |
| Durable | Soft outsole heels wear down |
Conclusion
Overall, I'm happy I gave Asics brand a chance—no doubt I will purchase again. But, being a distance runner, I'd prefer a more lightweight, racing model. Therefore, after research, I'll visit a couple running shoe stores and try on several pairs.
I'm sure I will wait to purchase, though because I need to save money for higher priorities. Luckily, I learned to buy the perfect model right before the next newest version comes out.
It sounds like a hassle following release dates and definitely will try my patience, but it will be a lesson keeping my instant gratification in check!
Before long, I'll hear "cha-ching" at the cash register when I buy a different Asics model. Maybe Asics Gel Nimbus or Gel Kayano can withstand the full 26.2 marathon miles.
Either way, hopefully, you'll read another Runrepeat.com review next year. Perhaps, Fall 2021?
Until then, Happy running!
Good to know
The outsole is made up two kinds of Asics High Abrasion Rubbers otherwise known as AHAR. The first one is the standard AHAR which is a blown rubber compound placed on the forefoot area for a more responsive cushioning and better flexibility. The second kind is known as the AHAR+ which was specifically placed on the heel. It is more durable than the standard AHAR because the material it's made of is carbon rubber - a compound that exhibits exceptional durability.
The midsole has been designed with the I.G.S or Impact Guidance System Technology from Asics. It is a design philosophy that links components together to allow a more natural gait transition throughout the running cycle. It's not just one feature functioning, but a link between interdependent parts to produce optimal movement.
Because of the Asics GT 2000 7 is a stability shoe, it minimizes the excessive rolling inward of the foot. It has components, especially on the midsole that allows it to deliver this benefit. First, is the DuoMax Support, which is a firm sponge that reduces the stress on the foot. The main platform was similarly designed to a wedge – higher on one side, then tapering into a side that's thinner. The higher part of the platform is the DuoMax Support. The thinner side is made up of the Flytefoam material which uses organic fibers that bounce back to their original shape when pressure is lifted, supplying the shoe with consistent responsiveness.
On the rear and forefoot areas are gel cushioning technologies. These gel pads are silicone-based, and help with shock absorption upon impact, as well as improve the overall cushioning of the shoe.
Also on the midsole is a Trusstic System. Aside from the DuoMax rubber, it also has this system which is located in the middle part of the platform. It prevents the foot from twisting by providing rigidity and structural integrity.
For optimal movement, there's also the Guidance Line Technology on the midsole. It also enhances the performance of the runner by reducing the imbalance caused by the shift in a runner's center of pressure.
The upper is made up of a material called Jacquard mesh. Compared to the regular mesh, this type of material is more durable. It doesn't lose its lightweight breathability. Because of how tightly the threads are woven, this mesh maintains its shape but loosens in the right areas, allowing the foot to move naturally.
Also on the upper are different overlays. The first one is an overlay on the heel which serves as a clutching system. It improves the fit of the shoe, as well as minimally stabilize the heel. The overlay on the sides slightly secures the midfoot from moving.
A standard lace-up closure has been added to the Asics GT 2000 7. Tightening the laces will ensure that the fit on the midfoot is securing, preventing accidental slipping off of the shoe while the runner is in motion. Although the lacing is traditional, the eyelets were designed to be discreet, helping disperse the tension on the laces.
For additional comfort and cushioning, a molded EVA sock liner was added to the shoe's inside. This layer was made with anti-bacterial material that helps absorb foot sweat, as well as reduce odor and moisture for an inside environment that's ideal.
Rankings
How Asics GT 2000 7 ranks compared to all other shoes
Popularity
The current trend of Asics GT 2000 7.