Okay, this is a seriously comfy hiking boot. Super lightweight with an extra-plush midsole and bold styling, this may be a beautiful-looking boot, but potentially loses some ground on trails compared to more focused options.
Pros
Awesome for maintained trails and easy hikes
Among the lightest hiking boots we tested
Insanely breathable
Eclectic colorways
Groundbreaking grip
The plushest midsole in any hiking boot
Durable outsole with aggressive lugs
Perfect for urban hiking
Drains quickly
Requires no break-in
Cons
Difficult to put on due to the tight heel collar
High-cut socks are a must
Not supportive enough for heavy loads or technical terrain
Adidas Terrex Free Hiker review and lab test
The Adidas Terrex Free Hiker is a super-modern, super-comfy, super-noticeable hiking boot. With plenty to compliment, there are also some bugbears which may be enough to convince people who need a serious boot to take them off-road.
Who should buy this hiking shoe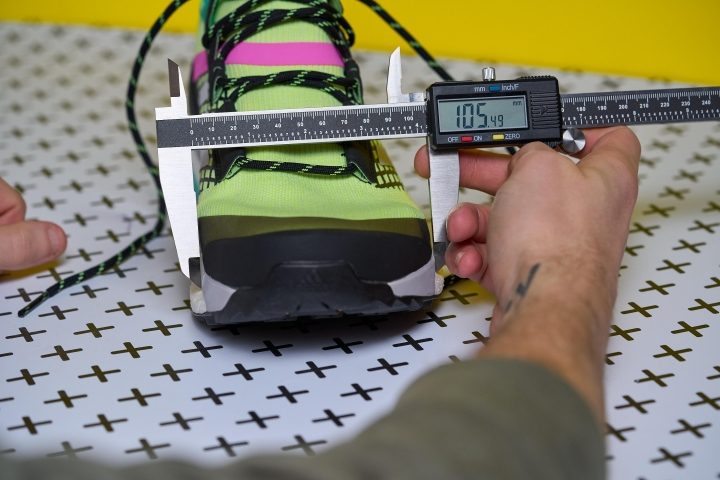 The Adidas Terrex Free Hiker is a stylish hiking boot with a sock-like fit that's great for well-beaten trails and gravel paths. With an emphasis on street style and plush comfort, these are an all-day, easy-going boot aimed at more urban environments.
Who should NOT buy the Adidas Terrex Free Hiker
Being more of a fashion boot, you may want to reconsider if you:
Weighs next to nothing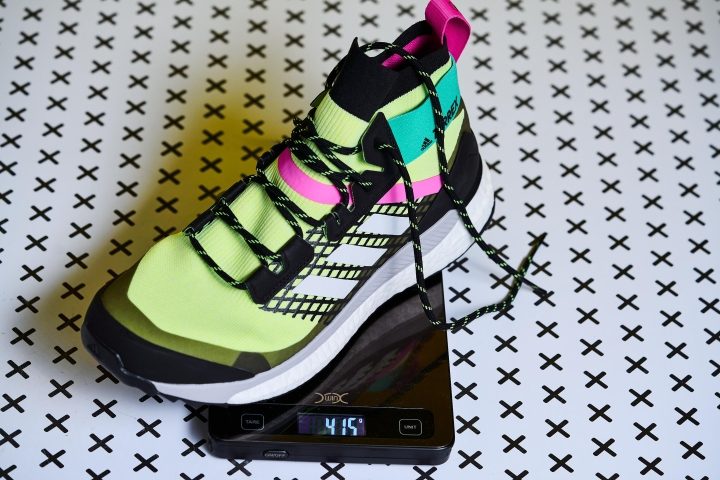 Coming in at 14.6oz (415g) the Adidas Terrex Free Hiker is one of the lightest hiking boots on the market, just trailing my favorite hiking boot, the Salomon X Ultra 4 Mid GTX. It's marketed as being under the 14.1oz (400g) mark, but I found this to be a bit heavier in a US 10.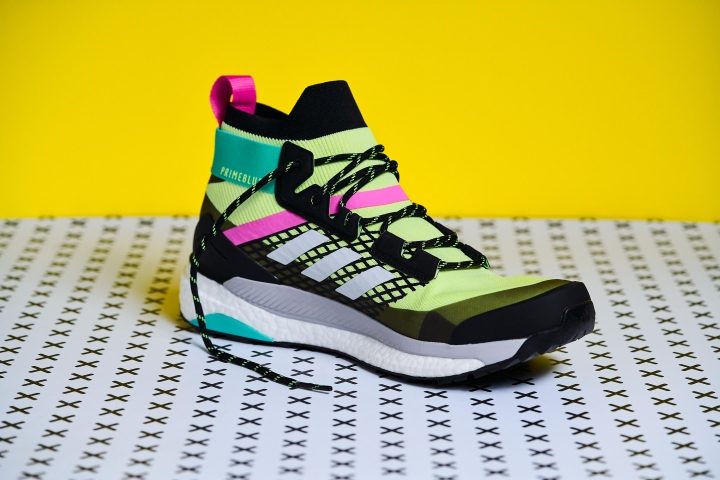 The featherweight design comes down to the superlight 'Ultraboost' foam and the low-key knitted sock liner that constitutes an upper.
Is the Adidas Terrex Free Hiker a hiking boot?
I have a sneaking suspicion that the Terrex Free Hiker is not really a hiking boot. Sure, it looks a bit like a hiking boot, and Adidas markets it as a hiking boot, but there are a few warning signs that suggest it might not be a brilliant choice for out on trails.
Firstly, the boots' most notable feature, the colorways. Adidas is standing out from the crowd of mundane beiges, greys, and blacks, which is great to see. But different iterations have different materials, and therefore will respond differently to conditions.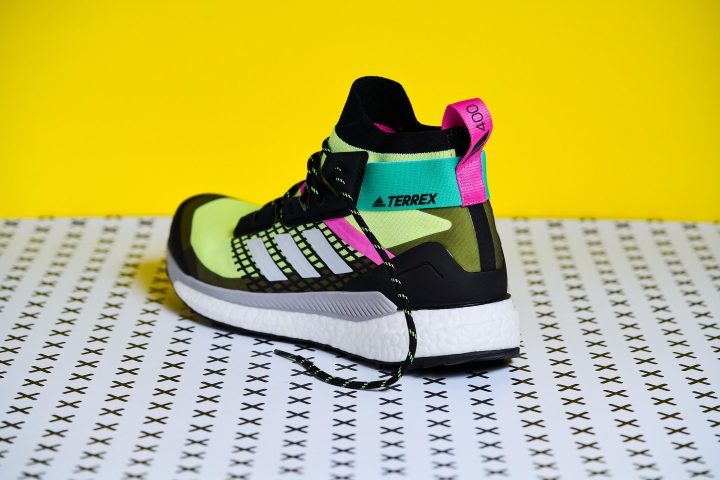 This follows more of a pattern seen in the sneaker market, where the same silhouette will be released in multiple materials. This isn't an instant deal-breaker for me, but it's definitely something to bear in mind.
An Ultra-comfortable midsole, but for how long?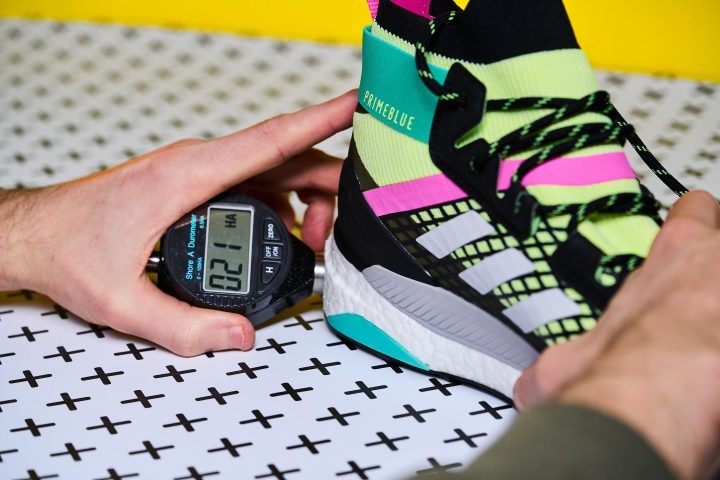 The three-stripe "ultraboost" foam has been making waves on the running and sneaker scene for some time now. Super soft at 21HA (average is 29HA), the midsole feels a lot more comfortable straight away than most hiking boots.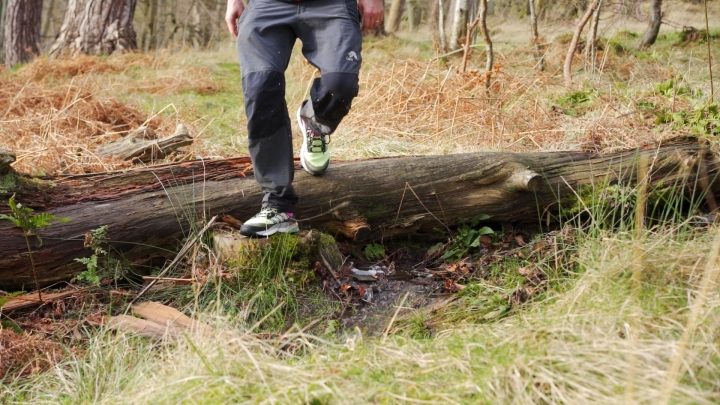 Again, this departure from the mainstream design of hiking boots may not be as great as it seems. Whilst it's certainly comfortable underfoot, I'd usually plan to get 750 miles out of a pair of hiking boots before the outsole gives in.
Looking at the Ultraboost foam (with previous experience of their running shoes), I'm worried that the foam might be next to useless after 300 miles.
The Adidas Terrex Free Hiker has the flex of a proper boot
This is one of the areas that the Free hiker really excelled. With a flexibility score of 42.1N (average score for boots in 37.4N), there's some stiffness for support underfoot, which is welcome after the soft midsole.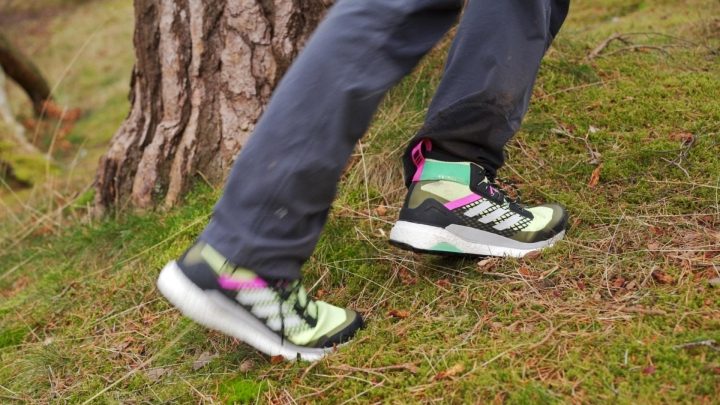 On flatter ground, you can feel the shoe giving some energy back, and on the uphills, there's a good amount of pressure going into gripping the terrain.
Requires more support
The knitted upper is a nice idea, and I love seeing a brand experiment with materials, but the huge issue is the lack of support and lockdown in the boot.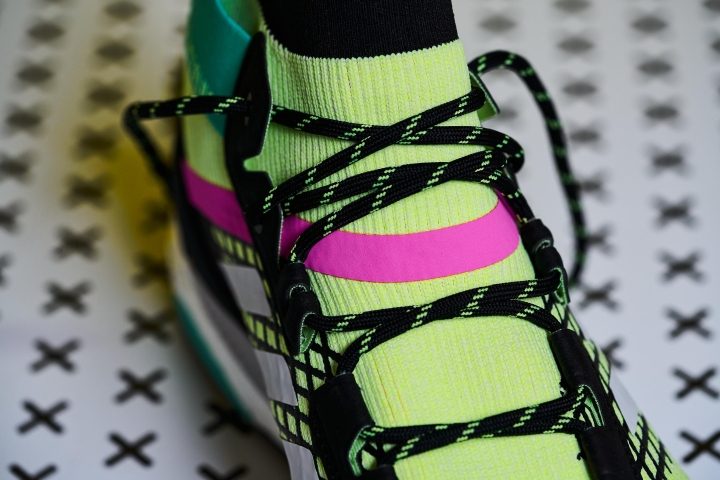 Usually, the lacing on a hiking boot (or any technical footwear from running shoes to weightlifting shoes), is meant not just to keep the shoe tight on the top, but strap your foot and ankle into place to avoid injuries caused by excessive movement.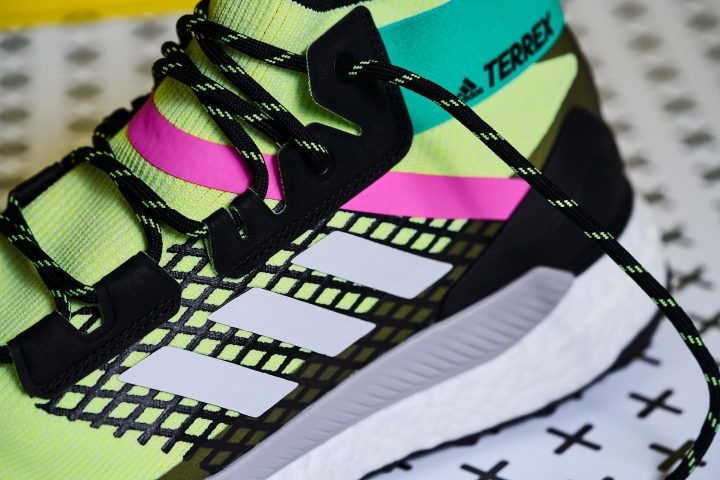 The elastic nature of the upper means that this simply can not happen. Even though Adidas has molded a hard plastic heel cup and added an elastic strap to the heel, the lacing fails to implement them properly.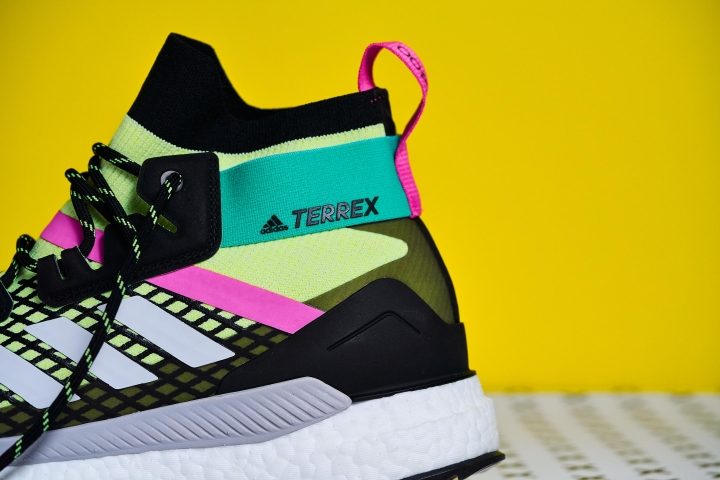 This is the main reason I wouldn't suggest the Adidas Terrex Free Hiker to anyone looking to rely on it for a proper hike.
The Adidas Terrex Free Hiker runs a little large
The boot is also slightly long, which is quite common for hiking boots, to accommodate thicker socks. If you're planning on wearing these casually with normal socks, I'd suggest dropping half a size to stop your foot from sliding around.
Phenomenal Grip
Adidas have got their grip dialed in almost perfectly. With a continental outsole molded into 57 lugs, each 4.77mm deep, the boot doesn't have any issues with different terrain.
The rubber is incredibly durable as well, I reckon if Adidas put a more traditional midsole and upper in place these boots could last 750 miles+, maybe even 1,000!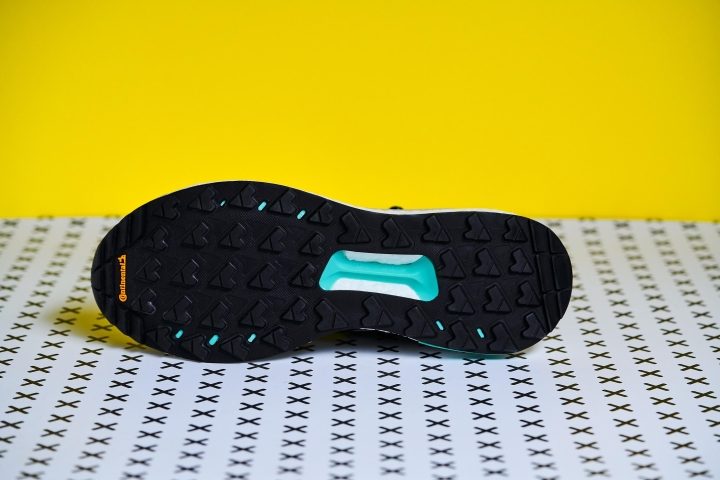 The Adidas Terrex Free Hiker is as waterproof and breathable as it looks
I wasn't expecting any protection from water in the Adidas Terrex Free Hiker, so they didn't disappoint when my toes came out soaking after a brief encounter with a puddle.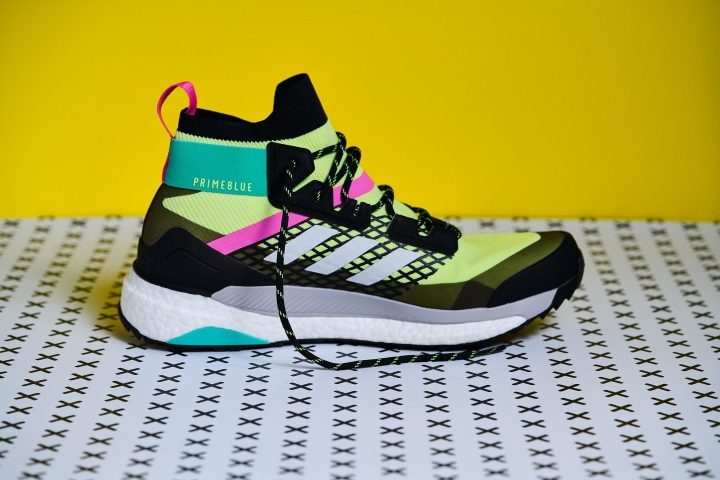 The flipside here is that the upper is extremely breathable and dries very quickly. You can always opt for the Adidas Terrex Free Hiker GTX which is more waterproof but less breathable, depending on what you're looking for.
Conclusion
I sometimes feel harsh on boots like this, but the Adidas Terrex Free Hiker is missing some of the fundamentals of a solid (and safe!) hiking boot, namely support and durability.
That being said, if you're after the shoe for its looks, and don't plan to rely on these for long, or technical trails, then you're looking at an incredibly grippy, super-plush shoe!
Complete lab-specs overview
Adidas Terrex Free Hiker
Whole shoe

Weight (g)

415

Drop (mm)

10

Flexibility of the shoe (N)

42.1

Flexibility of the shoe (Freezer 20 min) (N)

54.3

Flexibility of the shoe (% of change)

29.1
Lace slip test with the knot (N)

35

Longitudinal flexibility (1-5 scale, 5 being the stiffest)

4.0

Torsional flexibility (1-5 scale, 5 being the stiffest)

3.0

Upper

Thickness - Tongue (mm)

4.45

Width Upper - Forefoot (mm)
105.49
Width Upper - Heel (mm)

81.46

Lace Stretch (1-5 scale, 5 being the most stretchy)

3.0

Flexibility of the heel counter (1-5 scale, 5 being the stiffest)
1.0
Thickness of Heel Counter (mm)
8.33
Toe Guard
Yes
Durometer Toe Guard (Room temperature) (HA)
62.5
Tongue: gusset type
Full
Heel: pull tab
Yes
Midsole

Width Midsole - Forefoot (mm)
116.37
Width Midsole - Heel (mm)
92.35
Stack - Forefoot with insole (mm)

23

Stack - Heel with insole (mm)

33

Durometer Midsole Heel (Room temperature) (HA)
21.0
Durometer Midsole Heel (Freezer) (HA)
30
Outsole

Outsole thickness (Heel) (mm)
7.34
Lugs Depth (mm)
4.77
Lugs (Amount)
57
Durometer Outsole Heel (Room temperature) (HC)

80

Insole
Insole Heel Thickness (mm)

6.03

Insole: removable

Yes