Under Armour HOVR Velociti 2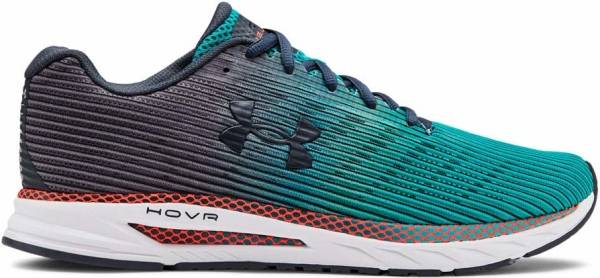 The Under Armour HOVR Velociti 2 has received a significant number of positive reviews. Users are particularly happy with the shoe's comfort level, as well as the functionalities of its elements. Many are also satisfied with the fit and feel that the shoe delivers. Meanwhile, some were not content with the weight and protective degree of the HOVR Velociti 2. Overall, the shoe emerges to be a recommendable running gear with comfortable cushioning and dependable features.
---
Verdict from 11 experts and 84 user reviews
6 reasons to buy
Many runners consider the Under Armour HOVR Velociti 2 to be a comfortable running shoe. Others emphasize that it did not require a break-in period.
The upper of the shoe encases the foot snugly while still providing ample toe room, according to several wearers.
The HOVR foam midsole is responsive, as stated by various users.
A number of reviewers have experienced a snug heel fit with the shoe.
Users are pleased with the outsole because of its fantastic traction and reliable tread, especially on slushy roads or rain-slicked pavements.
The midsole of the shoe is neither too soft nor too firm; it is just the right amount of support and plushness, many reviewers have written.
2 reasons not to buy
The HOVR Velociti 2 is a bit heavy compared to other running shoes that claim to be "lightweight," according to some buyers.
A few users find that the sole unit does not offer much underfoot protection.
Bottom line
The Under Armour HOVR Velociti 2 has received a significant number of positive reviews. Users are particularly happy with the shoe's comfort level, as well as the functionalities of its elements. Many are also satisfied with the fit and feel that the shoe delivers. Meanwhile, some were not content with the weight and protective degree of the HOVR Velociti 2. Overall, the shoe emerges to be a recommendable running gear with comfortable cushioning and dependable features.
Best price from 30 shops
We earn affiliate commissions at no extra cost to you when you buy through us.
75% say it's true to size.
Our reviews
They look neat, really vibrant colour in the blue and orange combo. They have a decent amount of outsole and smart threading.
Due to the amount of outsole, this could be a daily trainer with maybe 6-800K in them.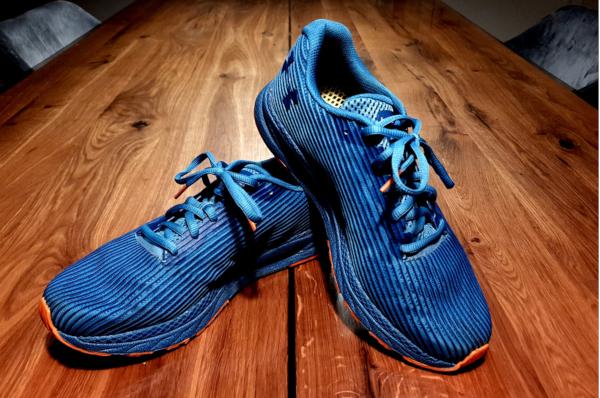 Upper
The upper fabric is a stretchable mesh with a linear pattern. The only overlay to the fabric is the UA logo, which pleases me.
I prefer shoes without too many overlays because they remind me of old-fashioned tennis shoes. To me, it looks sleeker with a more subtle design.
Size & feel
True to size (probably). Following their size chart, I ordered EU size 41. However, I should perhaps have ordered 42, which tends to be my normal size.
The shoes upper is very comfortable. It is perfectly balanced between being firm and stretchable. Meaning, it molds to your feet, giving you a nice secure sensation, without being too confining.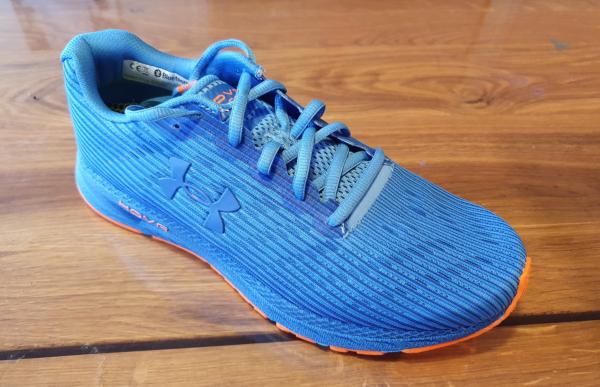 The toe box is less roomy than the Asics Gel Kayano 26 but more spacious than most Hoka One One Clifton 6. The tongue is not gusseted, which would have been a plus. However, it does not seem to move too much around as it is.
The lacing is firm and seems very durable. It seems to be the kind of lacing that doesn't come loose, with a lot of "self-friction." However, the shoelaces are relatively short. In fact, so short that I couldn't tie my shoes with a runners knot.
MapMyRun
Shoe and foot pod combined into one! This shoe has a chip building that tracks a lot of useful running data. There's time, distance, cadence, pace, stride length, ground contact time, and then one more quite interesting stat – your footstrike angle.
Do you know if you are a heel striker, midfoot or forefoot runner? This shoe will tell you.
Do you plan on becoming a midfoot striker? This shoe can help you monitor your progress.
First run
The first time trying them, I feel that they might be just slightly undersized. But time will tell if they expand a bit once broken in.
They feel a bit tight on the outside of your pinky toe, but other than that, they feel relatively roomy. Half a size up, and I think they would be perfect with a bit of wiggle room.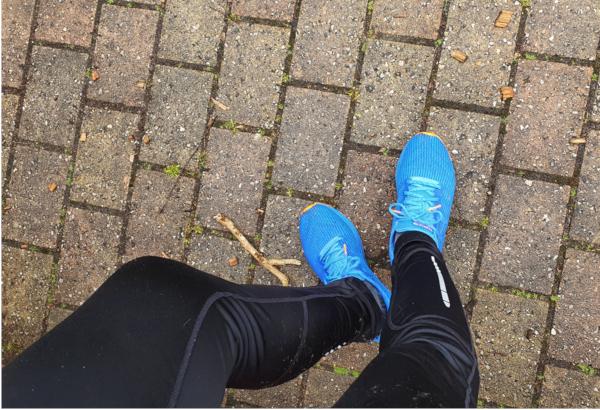 The heel counter feels soft, but I do feel a bit of heel slippage. This could maybe have been avoided if the laces were long enough to be able to tie a runner's knot.
I'm used to running in shoes with 4 or 5mm offset, and I do feel the extra 3mm in this shoe. The sole seems firm and responsive, but not so much that it's uncomfortable.
They feel pretty fast and racy despite the relatively large weight of 255g at a size 9. Considering these shoes are being marketed as racing shoes, I think they should have been a bit lighter.
After 80K
Great fit and feel! The ordered size turned out perfect after a few runs, as the shoe expands a bit. I do not feel any pressure points at all, even after 18K, and I would consider this shoe to be very comfortable.
The shoe fits my foot form better than the equivalently weighing Hoka One One Clifton 6, in which I've experienced a bit of chafing on the insides of my feet.
I experienced no trouble with chafing or pressure points in the UA Velocity 2. I believe it would even be comfortable to run half-marathon distances.
For marathon+ distances, they are perhaps a bit on the firm side. The soles are intermediately soft, quite a bit firmer than the Clifton 6's, but on the other hand, they do have a bit of a spring to them, and they are responsive.
The shoe threading does not pick up too many pebbles and other debris, and I can barely see any wear or deformations after my first 80K. I really enjoy running in them!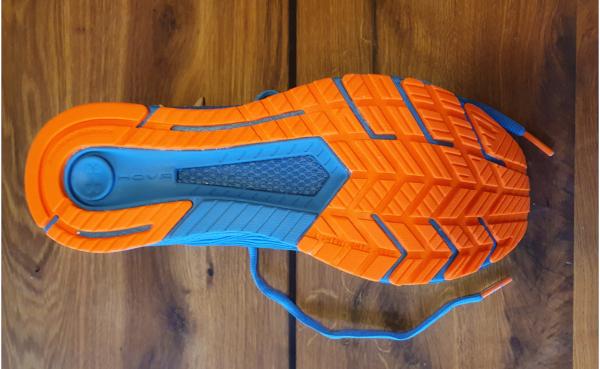 Stability
The shoe is not considered a stability shoe. However, they feel quite stable to me, and I tend to overpronate slightly.
Compared to a shoe like the Nike Pegasus 36, they are a lot more stable! I believe this is due to the width of the base and the not-too-soft sole, which gives some resistance to flexing and twisting.
Design & appearance
This shoe comes in a lot of neat color choices! I acquired a blue/orange colour combination, but the grey/yellow or black version looks awesome.
What I like about the design is subtle upper with tone-on-tone colours, subtle logo, and sparing use of reflex colours.
The heel counter and collar are intermediately padded. The upper material is breathable and flexible, giving you wiggle room while still securing your foot.
Improvement points
I really like the shoe: the fit, the feel, the appearance.
I would have loved it if the shoe were just a bit lighter. In my opinion, they could have spared some weight on the upper material, which is more dense than I believe it needs to be, and on the heel counter and collar which area bit to the padded side.
At 200-220g, this shoe would simply be perfect! At 255g, I would consider the shoes a very decent pair of daily trainers.
Summary
Sleek design with nice colour options
Well-constructed
Well-fitting and comfortable
Build-in tracking with interesting data
Really cheap
At 255g a bit on the heavy side when considered a racing shoe
Too short lace
At 10mm drop, the incline is a bit steep for midfoot striking
My first Under Armour shoe and I must admit I am pleasantly surprised. The HOVR Velociti 2 is claimed to be the fast option from Under Armour, and when you slip the shoe on, you most certainly understand why.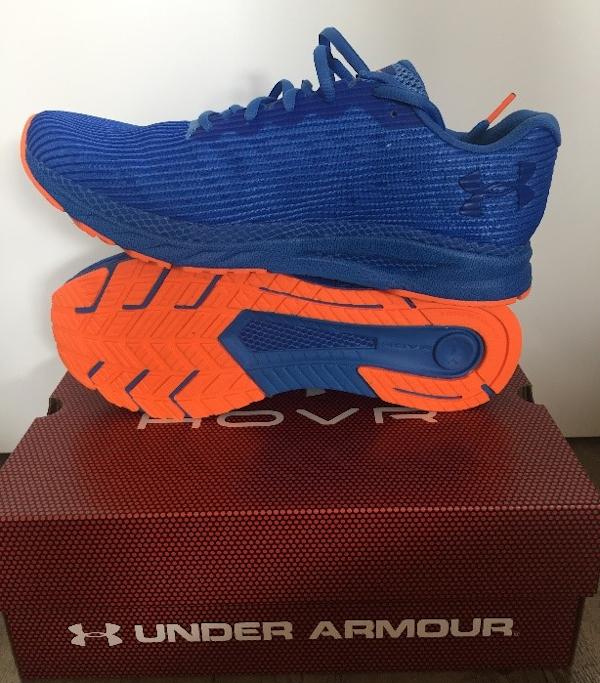 Specs for my version
Stack height: 23mm heel/15 mm forefoot (8mm drop)
Weight: 305g/10.7 oz (M US 10.5/EU 44 2/3)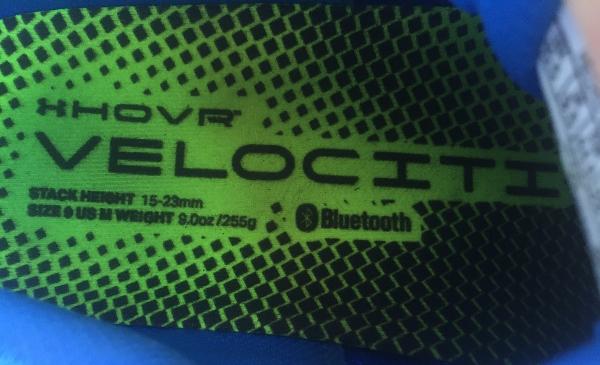 First impressions and fit
First impressions were good. The shoes have a nice look—simple and easily approachable. I can imagine wearing them casually from time to time. Fit-wise, I went true to size and out of the box they are more on the narrow side.
The collar fits nice and secures the heel. The midfoot area feels snug and the toe box is quite lean. Nonetheless, the material in the forefoot is stretchy enough to accommodate various feet type.
I would consider them somewhat between comfortable and performance-oriented snug. Your feet are locked down for sure without slipping and sliding around. What I gladly noted was the fact that the stack height is printed on the sock liner.
The upper
The upper is on the simpler side, which I really appreciated. There are no unnecessary overlays.
The streamlined mesh upper is breathable, comfortable, stretchy, and forgiving. It breaks in nicely to allow a little more room for those who need it (according to UA it fits the anatomical needs of men and women likewise).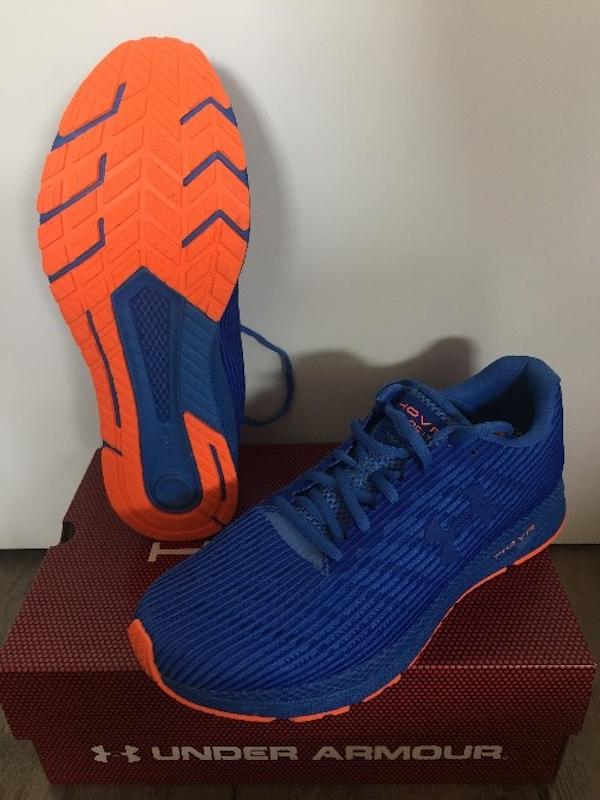 It is still on the narrow-snug side and reminds me of a lot of a racing-race day shoe or a fast-paced trainer.
The lacing system is very simple as well, and the length of the laces is right where it needs to be. The tongue is not gusseted but did not cause any issues and was locked down well on foot.
The midsole
The midsole is built from UA HOVRTM FOAM with a MESH ENERGY WEB. This combination is supposed to eliminate impact and return energy during toe-off. The midsole is on the firmer side and offers nice ground contact.
It is not ideal for slow long(er) runs, but it shines while picking up the pace.
The outsole
Almost the entire outsole is covered in rubber, which looks and feels very long-lasting. A difference is noticeable though between the mid/forefoot area and the heel. It looks like there is a thin layer of rubber on top of the other.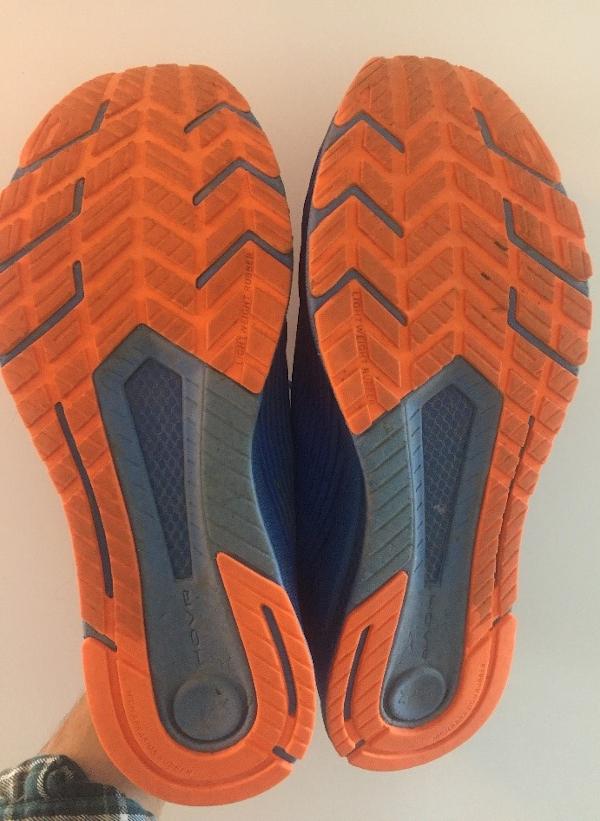 The forefoot/midfoot rubber shows considerably more wear and tear. I just suspect it to be a little lighter and springier. But overall, I expect the outsole to last quite some time since wear and tear are at a minimum after 50 miles.
Ride, durability, performance
The ride is surprisingly stable and offers enough protection for longer runs. The shoes feel most at home when picking up the pace. The fit of the shoe really encourages faster paces, since it feels so much like a racing, lightweight trainer—although on the scale it quite is not.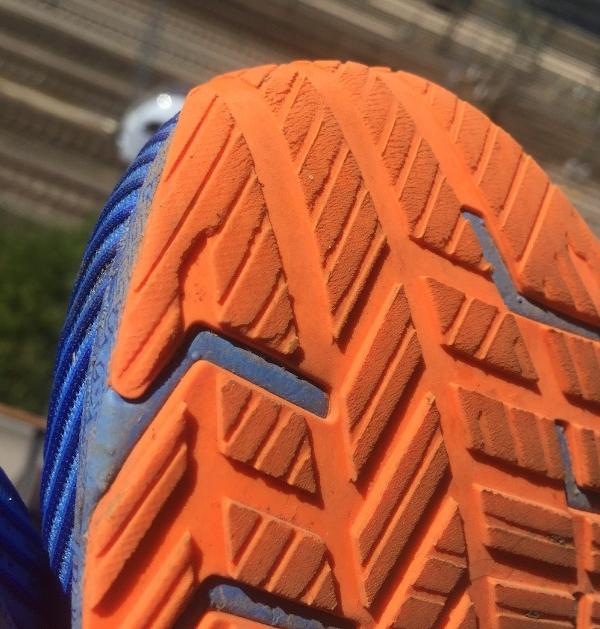 I had no issues whatsoever with the shoe, except for it being on the narrower side. Surprisingly, this caused no hotspots or anything else. Meaning, comfort in the shoe is still good, but I would probably not take them for the longest or recovery days.
On the other hand, I can see them as a lightweight-daily trainer for sure. They offer plenty of durability for daily use and enough cushioning for most paces.
I appreciated the performance overall and was pleasantly surprised by the shoes well-built quality, durability, and secure, yet comfortable fit.
Dislikes
Actually, very little to mention here. The toe box is a little narrow for me, but the upper is forgiving enough, so it is not really bothering on shorter or faster runs. Major dislike is the weight.
Although they feel a lot lighter on foot than what the scale says, this is a little drawback for me. UA could probably remove some more rubber and make the shoe lighter without messing with its performance.
Final thoughts
If you are looking for a durable daily trainer, encouraging faster paces, I can recommend the UA HOVR Velociti 2 for sure. The downside for me here is the advertising—as lightweight-trainer/race option. I think there are lighter models out there.
Another major plus is the value of the shoe. They are surprisingly cheap, and yet you still get a kind of do-it-all-pace-oriented trainer. I could see the shoe in a gym workout—treadmill combination as well.
An additional gimmick is the Bluetooth connection of the shoes. And, what surprised me here was that I was able to connect the shoes with my Polar watch. Therefore, I did not even need to install another app on my mobile phone.
In conclusion, I have to say. I was pleasantly surprised quite often by this slightly overweight trainer of Under Armour.
Disclaimer: This shoe was sent to me by Under Armour/RunRepeat to review, whatsoever all opinions are my own.
Upon receiving the Under Armour HOVR Velociti 2, first impressions were very good. Opening the box revealed the striking colours. The bright blue and orange are a great combination, guaranteed to stand out.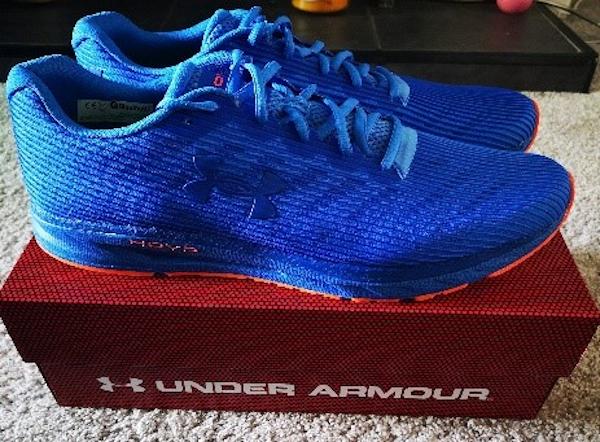 On the underside lid of the box, it was apparent that these were also more than just a "normal" pair of trainers. They have a built-in GPS tracker which works with "MapMyRun" app via a smartphone.
Even before I tried them on, I downloaded the app and went through the easy setup and synced them with the trainers.
Materials
The trainers look well-made and feel of high quality. They are surprisingly light given they have additional tech in to allow for the Bluetooth connection with your smartphone.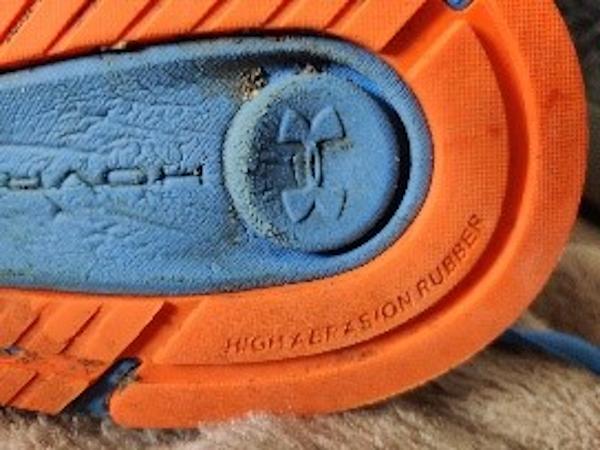 The upper material is made from a breathable mesh. I found during runs that my feet didn't get too hot and therefore swell as I have found with other trainers. There is plenty of cushioning around the heel of the foot, offering comfortable support.
The laces were large enough to allow for a double knot but not too long that you are left with a lot of spare lace hanging down the side. The base of the shoe is very well-constricted, plenty of support whilst running.
The whole construction of the shoe gives the impression of obtaining a lot of mileage out of the trainers. On the base, the orange material is advertised as "lightweight rubber", and by the heel, it states "high abrasion rubber".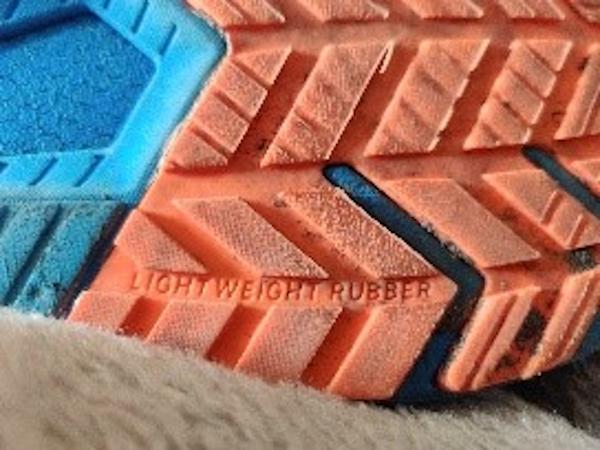 Let's see how they fare.
First training runs
Once I had set up and synced the trainers with the app, I set off on my run. The trainer is very comfortable. I have found with other trainers that after a while, my little toes start to feel squashed and go slightly numb.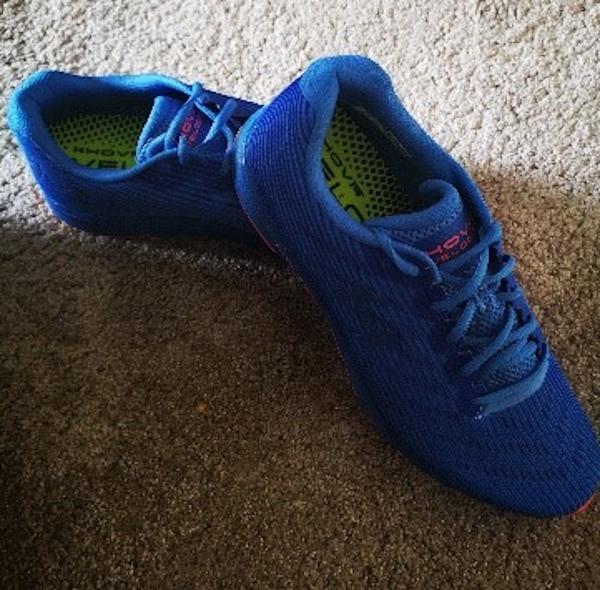 I concluded that this must be either my feet swelling or the trainers being too narrow—no such problems with the Velociti. The trainers didn't need "wearing in" as they were perfect from the first run.
MapMyRun app
I usually run with my Garmin watch, and when syncing this up to my phone post-run, I upload to Strava. Since these trainers work with my phone via Bluetooth, I decided to give this a go.
The app is very intuitive, giving feedback live on cadence and eases you into the run and advises a cool down as well as high and low-intensity intervals. This is motivational and helps to break up your runs.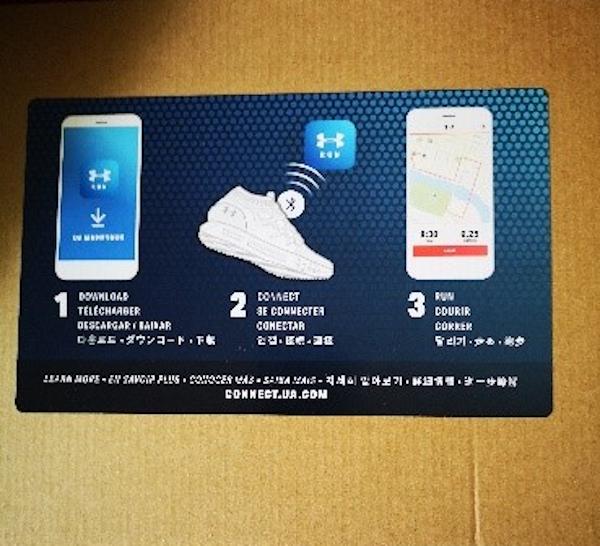 I always ensure I sync the trainers up to the app before the run and also look at the post-run data and feedback on how to improve my training, something that is standard and not a paid extra as with some other apps.
Final thoughts
I have used a variety of different brands of trainer throughout my training and various events in which I have participated. I have had some good and bad experiences, deciding to stick with what I know.
I typically stick with the different iterations of the Brooks running brand. I had used UA before and had no issues but not put the number of miles on those as I have my Brooks.
I was very keen to try the Velociti 2, not only do I think they are very easy on the eye. But, I was, as a tech fanatic, eager to see how the built-in tracker worked in practice.
During the lockdown, I have not been out as often as I usually would and have a total of 145km completed on them. The trainer has stood up very well to a variety of terrains and weathers.
The "lightweight" and "high abrasion" rubber appears to be holding up well—minimal markings to show wear.
The upper mesh shows no wear and could be mistaken for a new pair of trainers. The collar of the trainer also has very little wear. I have found previously that this had always been the first part to show wear.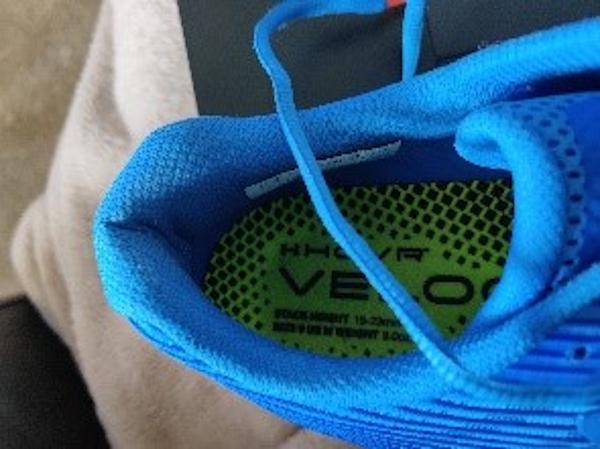 Overall score
Ultimately, the trainers have exceeded my expectations as a pair of trainers and tech. I would highly recommend and will definitely consider the UA brand alongside Brooks when purchasing future trainers.
I find the coaching that comes with the app both during and post-run is extremely helpful in both training and injury prevention. I have not used all of its features at present but look forward to learning more about what the app can do to assist in increasing my distances and improving my times.
Updates to Under Armour HOVR Velociti 2
The second version of the Velociti model from Under Armour offers several updates from its previous iteration. This shoe brings to the market a balance of cushioning, breathability, and flexibility perfect for tempo runs. Neutral pronators with a "need for speed" will enjoy the shoe, including its sleek appearance.
While the earlier edition of the Velociti has used Charged Cushioning and SpeedForm technologies, the HOVR Velociti 2 utilizes HOVR cushioning and Micro G foam. These features combine to provide a lightweight, snappy ride and maximum energy return.
With the new HOVR foam comes the connectivity function that is popular in other Under Armour running shoes; this is called the Record Sensor. The technology works by tracking and analyzing the user's running metrics; the information is then used to generate methods on how to improve performance.
The shoe's one-piece upper material is specially constructed to give a light and breathable feel to the foot. It is also intended to meet the anatomical needs of each gender.
Size and fit
The Under Armour HOVR Velociti 2 is designed for neutral pronators. Thus, its dimensions are intended to fit the anatomical structure of high-arched individuals. These include a medium midfoot volume and arch height, as well as moderate height and width of the toe box. The shoe also considers an average heel width, although many wearers have found the rearfoot fit to be snug.
Outsole
A two-part outsole structure is present in the HOVR Velociti 2. Underneath the heel area is a high-abrasion rubber compound that covers a large surface area of the shoe, allowing for impact durability and fluid mobility. This material also helps absorb impact from ground contact.
Meanwhile, in the forefoot area is a piece of blown rubber that offers a springy feel. This benefit is especially useful during toe-offs. The Ghost 11 from Brooks has a similar outsole combination of two types of rubber.
The outsole of the HOVR Velociti 2 has a unique shape that gives it a lightweight finish but not at the expense of traction and durability.
Midsole
The HOVR cushioning system is the main midsole component of the Under Armour Velociti 2. The brand describes the HOVR foam to provide "zero-gravity" feel while running, which allows the runner to sustain the energy that ensures a consistent stride. The material is a combination of lightness, comfort, responsiveness, and durability.
The HOVR foam is uniquely structured as it integrates with a compressed mesh, called Energy Web, which augments the responsive quality of the midsole. The Energy Web also keeps the shape of the HOVR foam by converting impact into energy and returning it promptly.
The Energy Web is outlined by Micro G foam. This element keeps the ride stable and snappy by transforming landings into powerful takeoffs.
An embedded Record Sensor connects to a smartphone through Bluetooth and works with Under Armour's own app to store, analyze, and manage running information to improve the performance of the user.
A removable 3D-molded sockliner cradles the foot and reduces the risk of slippage. It also contributes to a soft in-shoe feel.
Upper
The engineered mesh upper of the Under Armour HOVR Velociti 2 presents a lightweight and breathable coverage. The material also offers stretch and structure where necessary, eliminating the need for overlays.
A set of reflective elements on the tongue, heel, and the Under Armour logo permits increased visibility during low-light runs.
Rankings
How Under Armour HOVR Velociti 2 ranks compared to all other shoes
Popularity
The current trend of Under Armour HOVR Velociti 2.