Under Armour HOVR Guardian 2
Runners who require extra support for the foot can certainly enjoy the Under Armour HOVR Guardian 2. This model aims to provide a cushioning experience that can ease any excess strain on the tendons and muscles. Also, it offers breathability, in-shoe security, and durability as it has a performance-ready construction that is mindful of the performance of the wearer.
---
Verdict from 4 experts and 100+ user reviews
5 reasons to buy
The stability mechanisms that are present in the Under Armour HOVR Guardian 2 are welcomed by those who have overpronated foot motion.
Some users have noted that the underfoot platform is able to ease the strain on the tendons and muscles of the underfoot, thus averting tendonitis and other potential injuries.
People appreciated the fact that a sensor is present to permit the runner to track their performance via the Under Armour's app.
The durability of the materials is welcomed by many consumers.
Breathability is a trait that people have come to observe from this performance footwear.
2 reasons not to buy
A few testers are claiming that the midfoot support is not as obvious nor as efficient at correcting pronation as expected.
The forefoot section is a bit restrictive, according to a couple of purchasers.
Bottom line
Runners who require extra support for the foot can certainly enjoy the Under Armour HOVR Guardian 2. This model aims to provide a cushioning experience that can ease any excess strain on the tendons and muscles. Also, it offers breathability, in-shoe security, and durability as it has a performance-ready construction that is mindful of the performance of the wearer.
Best price from 30 shops
We earn affiliate commissions at no extra cost to you when you buy through us.
79% say it's true to size.

Our reviews
Ever forget your watch or phone when heading for a run? No? Me neither but if you do or just fancy running free, the HOVR range from Under Armour may be just the thing you're looking for.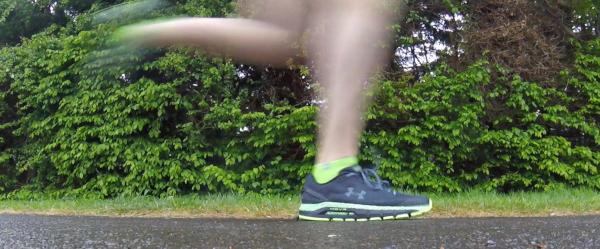 These shoes come with some incredible technology, tracking not just your pace, distance, and time but your cadence, foot strike angle, ground contact time, and stride length, a level of detail that can help you make small changes to the way you run to be as efficient as possible.
Outside of the technology, these shoes are aimed to provide support over longer runs; they provide a cushioned experience, and all of the support features you need as an overpronator.
Some key features are:
Rigid heel counter
Medial post chassis
Dual tongue locking loops
Reflective sections
High abrasion rubber sole
Plush cushioning throughout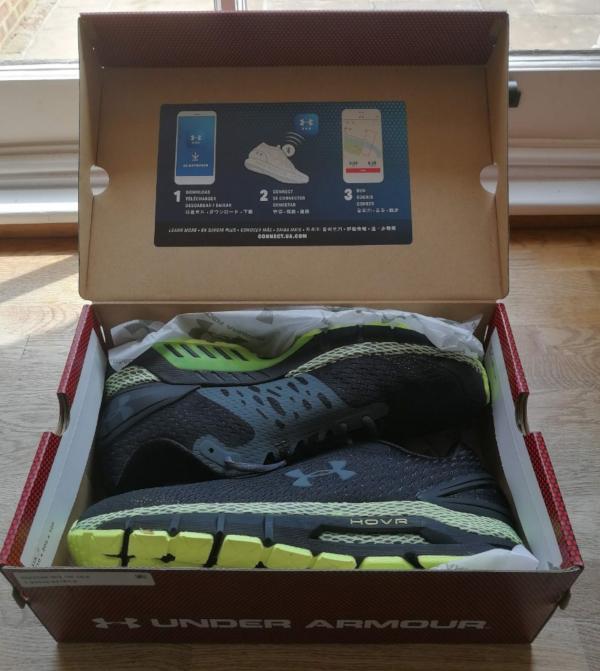 Rotation
To give some context to what I'm comparing the HOVR Guardian 2 with, the shoes I currently switch between are -
In the past, I've heavily relied upon support shoes but as shown from above, I'm slowly moving towards a lighter support level.
Core metrics
Weight: 352g (Men's UK size 9.5)
Offset: 8MM
Type: Support
Connectivity
It's difficult to know where to start with the HOVR technology. As with a lot of other runners, I love data, digging into how I performed after a run and where I can look to improve. The HOVR technology adds a whole new dimension to this daily review even if I never seemed to be within my target for the key metrics.
The metrics don't stop at the usual pace, time and distance, using the Map My Run application you're able to see-
Stride length
Foot strike angle
Cadence
Ground contact time
All of these are then compared to a suggested baseline based on your height, weight, or pace which means at the end of each run you can review how you performed compared to their guidelines then look to make changes on your next run.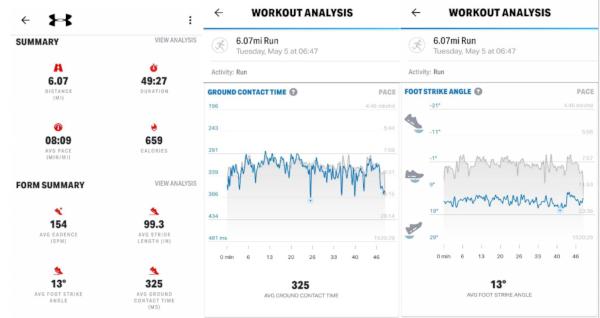 When it comes to connecting your phone to the shoes this is also super simple, all you need to do is download the application (sign up if you haven't got an account), add gear and shake the right shoe then within a few seconds the shoe will be connected and you're ready to go. Each time you finish a run just open the app, and if the run hasn't appeared to shake the right shoe and up it will come.
One other great aspect is the live view, although not exhaustive you're able to see your cadence in real-time through the application, allowing you to make minor adjustments. Just be careful if you're running on trails.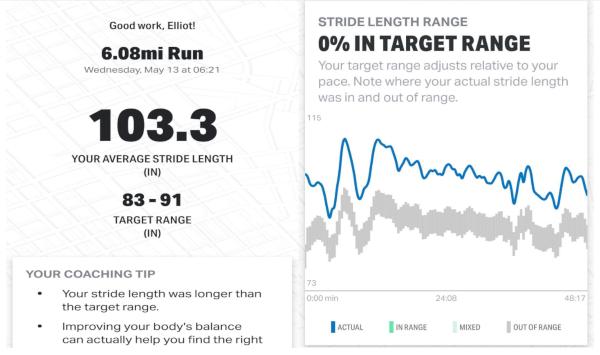 Upper
These aren't the best-looking shoes in my option, they're quite bulky and fairly limited in their colourways but at the end of the day, they're certainly not the worst looking and they're for running not fashion (I used to own a pair of Noosa Tris that looked like 60s carpet).
Outside of the looks, they are very breathable with meshing across the shoe, have various reflective panels ensuring you'll be seen at night or early in the morning, and feature two tongue loops ensuring that the thick tongue is kept in place throughout your run.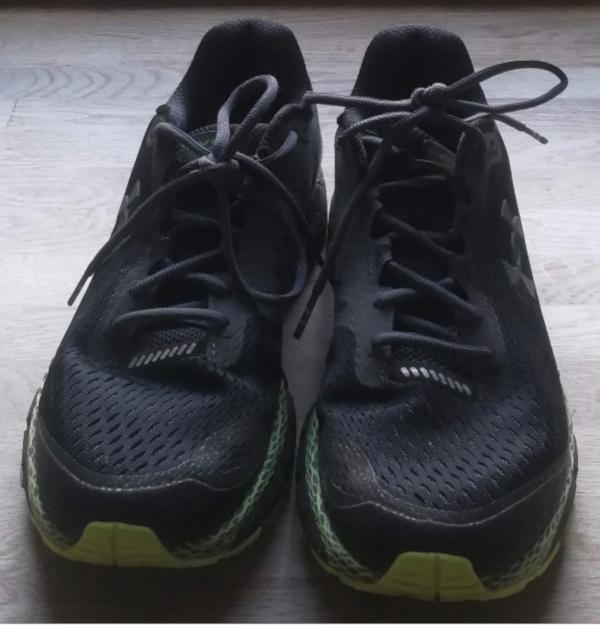 In terms of support and cushioning in the upper, these shoes provide a very plush cushioning experience both around the ankle and through a thick tongue which are both well received, they also feature an external heel counter ensuring your heel is locked in place.
Durability is my only concern for the upper. Admittedly, I spend most of my time running on trails which aren't usually the kindest to my shoes but after around 50 miles being covered, I wouldn't necessarily expect the damage.
Midsole
The Guardian 2s certainly deliver when it comes to support.
If you're someone that needs a support shoe due to overpronation, these will certainly give you the support you need to be confident taking on longer runs. For me, however, I found them too supportive (there is a middle ground somewhere for my legs).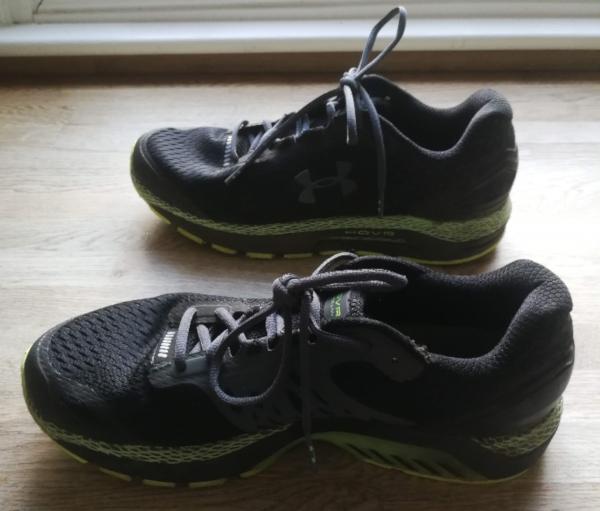 With all this support there is a trade-off, these shoes are heavy.
From my experience running in them, I wasn't able to feel a real connection with the road nor was I able to feel a strong energy return. They felt slow, therefore, I will be using them mainly for my recovery runs where the additional support and cushioning is needed.
Outsole
The outsoles for these are great grip-wise; they were fine to come rain or shine and on some steep downhill trails, they were able to hold their own.
Given the high abrasion rubber, I didn't notice any wear or tear after my first 50 miles and the only one drawback was that stones or sticks can get stuck in the bottom, most of the time they come out but it can be frustrating.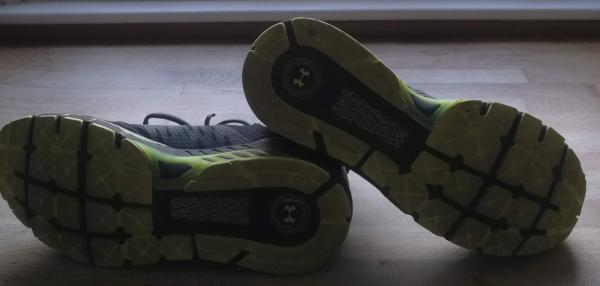 In terms of support, you'll notice the arch support on the inside of each shoe which works great at giving your arch the needed support and guiding your foot forwards rather than rolling.
Given their bright coloured sole, these are also great detail for those dark runs ensuring you're seen from all angles when combined with the upper panels.
Pros
Arch support
Connectivity
Reflective panels
Dual tongue locking loops
Plush Cushioning
Breathability
Cons
Support can take some time to get used to
Looks and limited colourways
Firm underfoot
Heavy
Lack of energy return
Conclusion
If like me you've ever been fascinated to understand more about your running form and how you can improve, the HOVR range is a great option. The app is simple and the insights it delivers are amazing, making them well worth the price tag.
Would I choose the Guardian 2 though?
If you're looking for a top support shoe to help with your overpronation and to learn more about your form these are a good choice.
Unfortunately for me, there was too much support. They were too firm and rigid when running but this is a very specific experience. I've spent a lot of time building up to move from more supportive shoes towards the neutral end of the spectrum and these are up there with some of the most supportive shoes I've tried out (certainly rival the Kayanos).
All in all, I enjoyed running in the Guardian 2s. The data is definitely a standout feature for these shoes and they do provide a comfortable if somewhat disconnected ride for runners looking for a firm supportive shoe that will help guide you to improve your running form.
Under Armour is a brand that I know well, I've been using their apparel for a decade. Until now, I've never tried their shoes, but I was willing to give some a go. I was testing the HOVR Guardian 2, and with all the talk/hype around the Machina, I was like a kid at Christmas on the day that these arrived.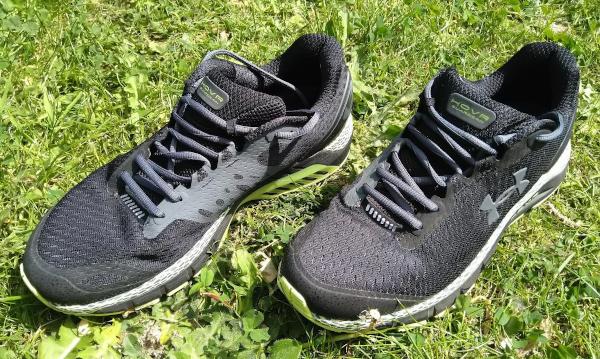 The facts
Purchase price - £130(RRP)
Surface - Road
Foot Type - Overpronation
Drop - 8mm
Tech - Bluetooth connectivity for a range of metrics
For this review, I have covered 84km/52 miles over eight runs.
I'll be honest, with all the hype around the Machina, I'd missed the fact that the Guardians also came packed with tech, so I'll talk about the shoe first and the tech second.

I'm not a massive fan of black trainers, but the details in grey and yellow make for an attractive and striking shoe. I'm surprised that there are only two colourways available, the black here, and then a white option.
The mesh of the upper is nice and light and has a good amount of breathability to it, maintaining a good level of comfort in combination with a reasonably plush sock liner. In addition to this, the heel collar is well padded, making for an excellent fit.
I do, however, have issues with the upper in several places; if there is padding, the fit is good. If there is no padding, the fit is poor, and that makes for a miserable running experience.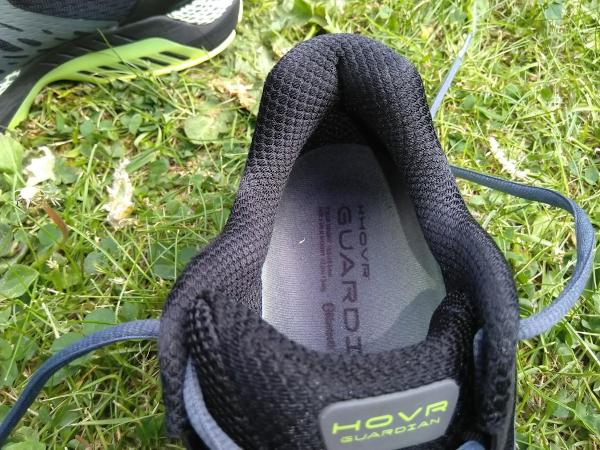 I have a relatively steep instep and a shallow forefoot. This does not work well in the Guardians. I tried a few lacing patterns, but couldn't find one that would bring the upper around my foot to prevent slipping.
If you aren't afflicted with a shallow forefoot, like me, I can see the Guardians being comfortable, especially if you like a little extra width in the toe box—they really do offer great accommodation in this area.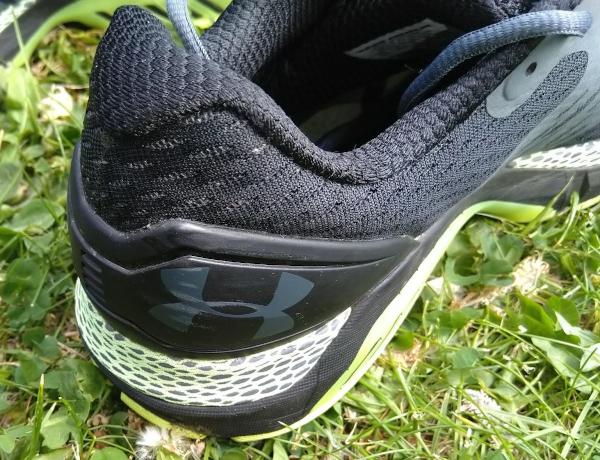 Unfortunately, this is not my only gripe with the upper. If you aren't comfortable, then little things become big things. Without wishing to contradict myself, I'm returning to the rear of the upper; not the heel collar, but the heel cup. It's huge! I couldn't believe it!!
I wore these shoes on a couple of walks just to break them in a little and had no issues whatsoever. To my shock, and frustration, run in the Guardians on any gradient, and there is slipping in the heel cup. It's great that the collar is so padded as it prevents the running experience from falling apart completely.
As a midfoot runner, I knew that these shoes were unlikely to be the perfect fit option for me, so I reverted to running with an overreaching stride to give the Guardians a full and fair workout.
On contacting the ground, the midsole did cushion the blow of the braking action that running with a heel strike brings. Nice!
The roll through the midfoot contact was interesting, but it lacked snap and rebound. I'd love to chat to the architects of this shoe just to gauge if I have it right, but it feels like the Under Armour boffins have created such an adsorbent midsole that there is no energy left to help propel your foot forward.
I get that as a runner, you do the running, but surely given the midsole foam war that is raging right now, you want your shoes to give runners the best experience possible!?! This midsole just doesn't do that; it feels dead, sucking out every bit of energy that you feed it.
I guess in the long run, this might just make you a stronger runner, but at the expense of losing a love of running, I don't think that's a trade-off worth making. It is strange that given the apparent flexibility of the shoe that the midsole is just so 'flat' that it kills off any feeling of responsiveness.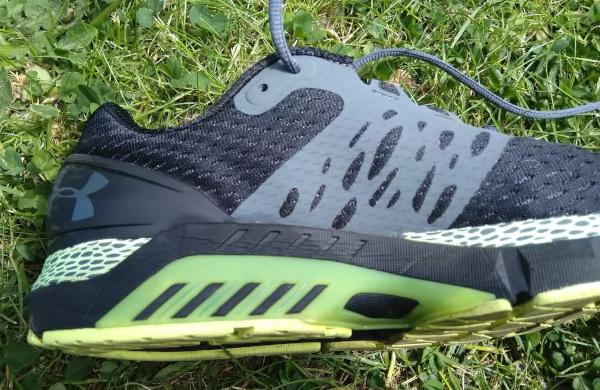 The positive to the midsole is that the structure of the shoe offers good support for overpronators. I completed training runs up to half marathon distances and felt no ill effects. The yellow skeletal frame you see sitting under the arch of the foot looks after your arches and foot roll up there with the best shoes I've run in.
As a fan of Adidas, I've been used to premium rubber ensuring good quality traction for the better part of the decade; the Guardians took me back to when blown rubber was the choice for top-end shoes. I must admit that it's better than I remember.
I didn't complete any runs in wet weather because mother nature has quite literally been shining down on my little patch of the world for the last few weeks. I have managed to take the shoes from the road, to trail paths and onto the less well-trodden ground and they have performed admirably on all three surfaces.
To complement the good traction of the Guardians, the depth of rubber given to these shoes is impressive, and any questions about the durability of the sole are answered by the fact that the Under Armour have garnished the heel of the shoe with 'High Abrasion Rubber' just where you need it most, for a heel striker!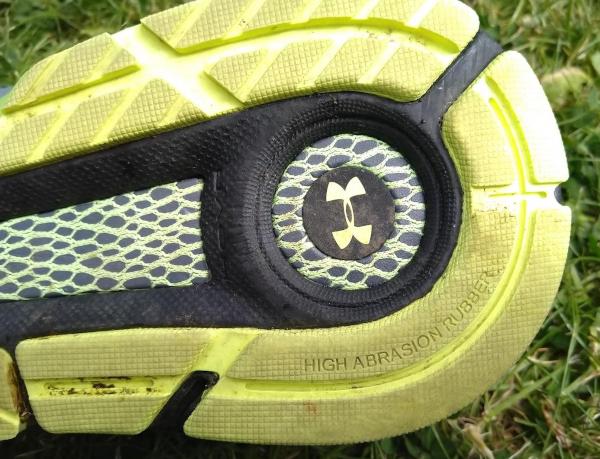 Now, the hidden part of the Guardians is the tech. Sandwiched into the right shoe is a world of gadgetry that includes Bluetooth, I assume one or more accelerometers and a power source.
A quick bit of research shows that the fear of running out of power is one that can be put to rest; the power will outlast the expected lifetime of the material parts of the shoe.
Taking the Guardians out on their first couple of runs, I didn't bother to bring my phone with me (MapMyRun is The Under Armour app of choice), but the astonishing revelation was that the shoes stored my run data and uploaded it regardless! A nice touch!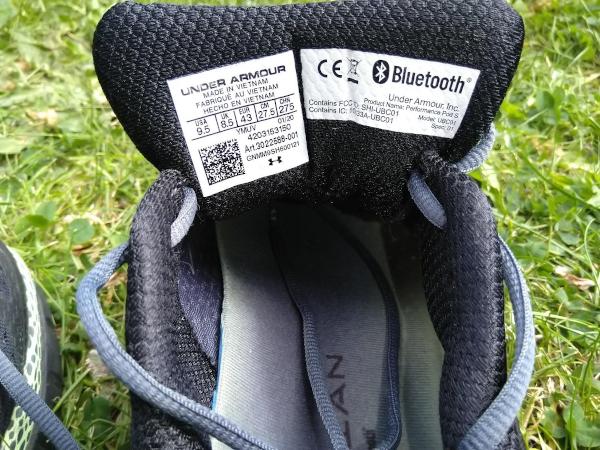 There are a whole host of metrics which will be of interest to a (semi) experienced data-driven runner; cadence, GTC (ground contact time), stride length and average foot angle strike are all included as well as the expected distance (without GPS remember) and time, with the simple average pace calculation and an estimate of calories burnt.
I recorded one run with my Garmin at 8.15km and the shoes managed to capture 7.92km; not bad considering the different methods used. The elapsed times were pretty similar (only 8 seconds different here) so not enough to account for the list 200m—Usain Bolt I am not! Or Ross Barkley—come to think of it!
The MapMyRun interface is fairly inoffensive, but I am a seasoned Garmin and Strava user, so it was going to take something real tip end to convince me this was a better option.
Unfortunately, when trying to use the shoes with a live tracked run, things didn't work out great; the app only recorded part of the run and stacks of data was lost. I decided not to push this any further as the frustration factor was high!
I can see shoe tech has come a long way in a short time, but I'm not going to be ditching my Garmin just yet; I don't like to carry my phone in my hand, and I do like instant feedback.
All that I can say is that if you are a phone-runner, the motivational feedback and coaching that the app offers, may just appeal to you, which means looking into the Under Armour offerings could offer some great results for you.
Pros
The Guardians are only at the upper end of the 'reasonable' price range if you are looking for a serious pair of running shoes. In some ways, mainly with regards to the tech, you are getting a lot for your money and a good level of durability to boot!
Cons
I'm a runner who enjoys the experience of running; these shoes don't allow me to connect on the level that I'm looking for. I'm interested in enhancing my running, and for me, the most important part of a modern shoe is the midsole. This is the biggest letdown in putting on a pair of Guardians because the ride is so hard.
Verdict
If you are new to running, need extra motivation, or don't really care about historical data (MapMyRun does not integrate with Strava!) and require solid, sensible support in your shoes, then the Guardians are worth investigating properly and potentially investing in.
If, on the other hand, you know what your running aims are, love to look back at your historical data, all in one place, and like a comforting midsole with some rebound, these are a non-starter.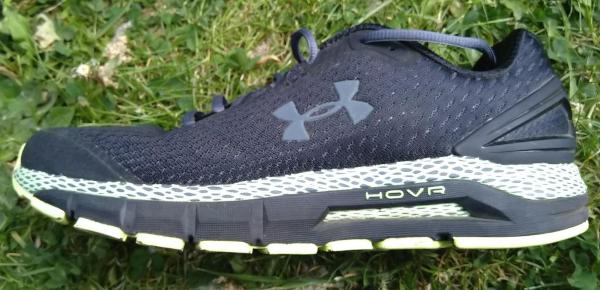 I like to finish on a positive, and this is actually a big positive: I started by wearing these shoes for walking. They are great casual shoes, they offer all the support that I need, they look good, and even after a day out on my feet, I still feel good for a run when I get home.
I will continue to use the Guardians to look after my feet, just not in the way Under Armour intended, unless I'm running for a bus…
Unboxing the Guardian 2, I was not impressed. It seemed to me like a standard running shoe, nothing fancy about it. You can tell at once that the shoe is heavy and stiff. The appearance as well is not something that is standing out.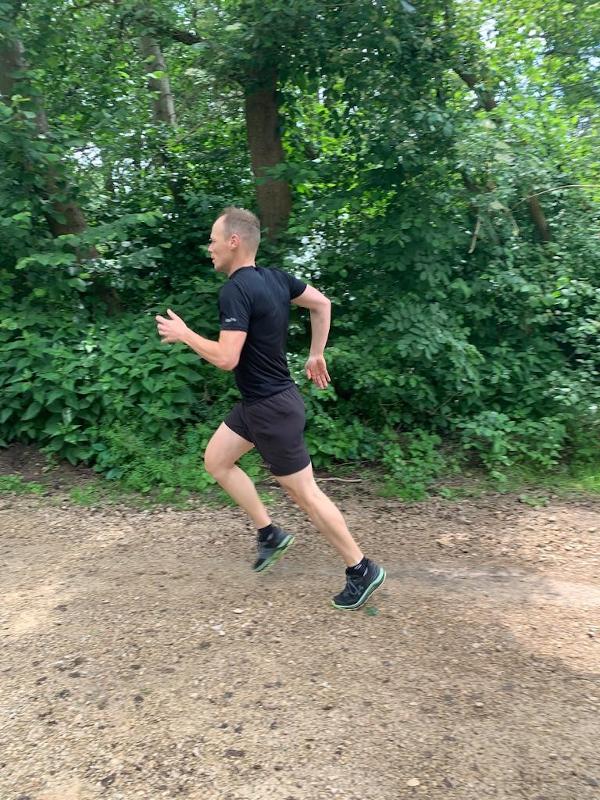 What is something special is the sensor pod in the right shoe that you can connect to the Under Armour app, MapMyRun, that is downloadable for Apple and android system.
But before going into detail, let's have an overview.
| | | |
| --- | --- | --- |
| | Shoe facts | My comment |
| Weight | 326 grams | This is really heavy, comparable to the Asics Kayano |
| Price | $130 | A competitive price |
| Drop | 8 mm | Nearly an "aggressive" drop for this heavy shoe |
| Special | Shoe sensor/connectable to MapMyRun app | Nice possibilities but not something a frequent runner will use |
| Color | Three different color schemes for men, two for women | Nothing special here |
| Features | HOVR Technology (energy return), compression mesh, solid rubber outsole, and some more | It has a long list of features, but nothing that stands out. From my point of view, the shoe has all the features that are state of the art but nothing fancy new. |
Under Armour positions the shoe in the "high mileage" section and recommends to use it on long runs. But, doing my first runs, it quickly became obvious to me that I have to distinguish two types of runners here.
First runners, I named "running beginners "or those doing one or max two runs a week and possesses only one running shoe.
Second is the "running intermediate or running expert "who therefore is doing 3+ runs a week and owns more than three shoes (Friends of mine have up to 10 in parallel).
Reasons to buy the shoe for a running beginner
A running beginner needs a very versatile and stable shoe as the muscles and tendons usually are not used to the stress running will put on the foot. So, stability is something that comes in handy.
It should be an allrounder as well as the shoe will be run on different terrain. So, let's have a look.
Price
The price for the Guardian 2 is highly competitive, coming in at $130. Shoes dominate the "heavyweight" section like the Asics Kayano that borders the 200-dollar mark.
Supported terrain
I can safely say that the Guardian 2 can be run on nearly all terrain except heavy trails. If the trails get difficult, the traction and rock protection is simply not good enough. But, that is to be expected as it is not a trail shoe.
Support/cushioning
The Guardian is a lot like the company's Infinite, a plush neutral trainer. It uses a thick layer of HOVR foam to take out the sting from running on hard surfaces.
But, the Guardian dials up stability by using two densities of foam in the surrounding frame, essentially adding a medial post under the arch.
There's also a "TPU chassis," a plastic insert into the medial post to further add support in that area. This should be good for any running beginner, and there is not much lacking here.
Durability/wear and tear
Due to the thick rubber sole, it can safely be said that this shoe will not show any signs of wear and tear soon. After nearly 50k of running, it still looks like it is brand new. So, this is a shoe built to last.
MapMyRun feature
It is pretty straightforward to install the MapMyRun App on your cellphone and connect your shoe. Then, you just have to start the recording and move.
The data stored can be viewed on the app or the Internet, and it is for FREE!! Big thumbs up for Under Armour here.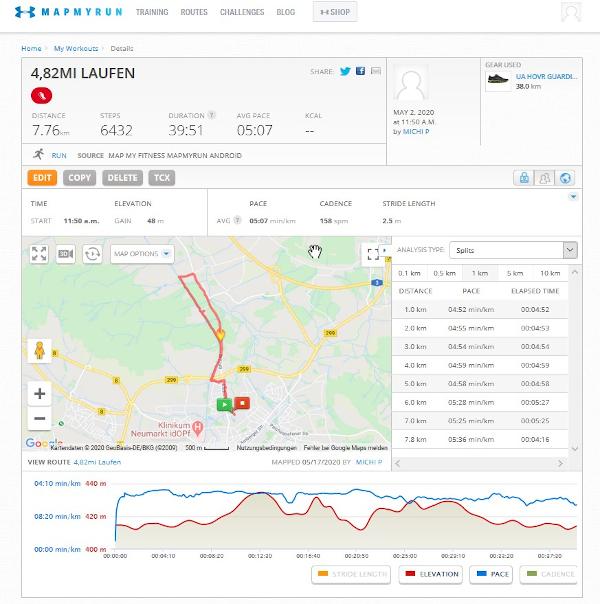 The picture above shows an overview of the data that is collected and displayed. For further details and comparison to data recorded by my Garmin Fenix 5, please have a look at RunRepeats YouTube channel where you can find my review as well.
As most running beginners will not have a sports smartwatch in their possession, this is really a nice feature as the shoe's owner is encouraged to dive into the collected data and do more runs to compare.
Unfortunately, I am missing some guidance system that would give recommendations to runners improving there running style like, for example, increase cadence or increase step length. Nevertheless, I think this feature is standing out to competitors.
All in all, I can recommend running beginners to consider buying the Under Armour Guardian 2, after having a look at all the different aspects.
Reasons NOT to buy the shoe for running intermediates/experts
If I look at the shoe out of my perspective, considering myself at least an intermediate runner, I come to a completely different conclusion.
Supported terrain
I simply can't find an environment where I would prefer the Guardian 2 to any shoe I own.
For a track session, it is way to heavy and stiff. It would never come to my mind using it there as I use spiked shoes or at least a lightweight shoe (like the Saucony Fastwitch) to have a fluid movement.
It's the same on Tarmac even on long runs. With over 300 grams, the feeling is that I wear some weights while running. Going for long runs, I wear my Skechers Go Run most of the time, and they are enough from a stability point of view.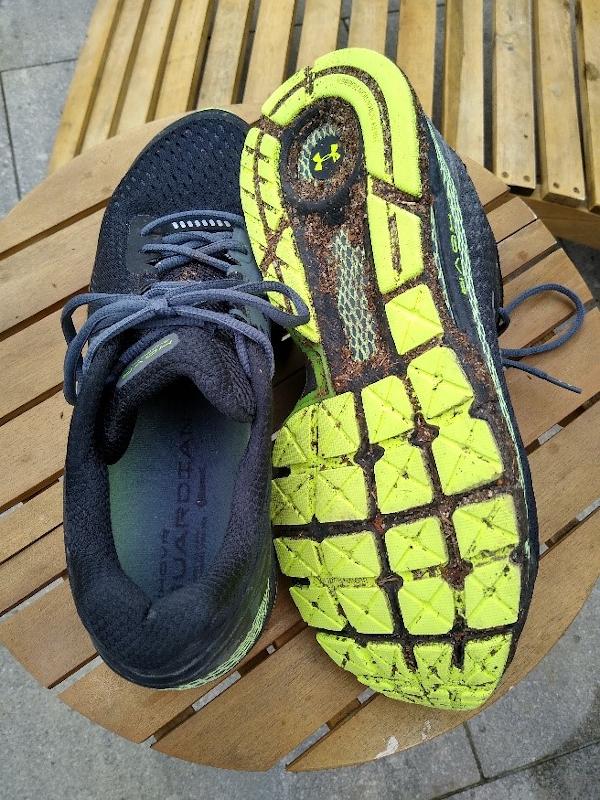 On gravel, the Guardian 2 is doing okay but not standing out. I use my New Balance Gobi there, and for real trails, nothing comes near my Asics Gel Fuji Trabuco 7.
I guess most of the expert runners will have a cupboard of shoes as well and will have the same thoughts.
MapMyRun functionality
Doing multiple runs a week, I don't want to take my cellphone with me. That's why I own a Garmin Fenix 5 together with a heart strap so that I don't need anything further, especially as I trust my Fenix data more in comparison with MapMyRun data.
Therefore, the sensor in the shoe is providing me with zero benefits.
Long Runs (on tarmac)
This is where the shoe should excel, but I am not convinced. The shoe is solid—that's for sure—but not standing out in any section.
Even for the long runs, I miss the dynamic/fluid motion that is possible with shoes of less weight. Just to mention I wouldn't use an Asics Kayano or a Saucony Guide as well out of the same reasoning.
Here you can find all my comments in an overview:
| | | |
| --- | --- | --- |
| | Running beginner | Running intermediate/expert |
| Track | I would not recommend it for beginners | Too heavy and too much stability' which I don't need on a track |
| Tarmac | A solid shoe for tarmac, especially if a running beginner doesn't have the ideal running weight yet. | Too heavy and stiff—I would use a lightweight shoe (like Saucony Fastwitch) |
| Gravel | The best environment for this shoe for a running beginner | The best environment for this shoe for an intermediate/expert, wouldn't buy it for this use though (going with a trail shoe instead). |
| Trail | Due to the lack of grip and rock plate, I would skip this environment if running that shoe | Not enough grip and no rock plate—I would use a trail shoe (like Asics Trabuco) |
| Wear and tear | No complaints here. The shoe should be good for up to 1000 km. | No complaints here. The shoe should be good for up to 1000 km. |
| Special | Mapmyrun functionality is especially interesting for beginners with no sports watch. Big plus here. | As every focused runner has with a high probability a GPS watch, the MapMyRun features are not needed or used quite likely. |
Updates to Under Armour HOVR Guardian 2
The Under Armour HOVR Guardian 2 is an update to a stability running shoe debut that offers support to overpronators. The UA HOVR™ midsole technology and the stability chassis are retained from the first version. Still, the upper unit has been reconfigured to be more seamless than what had come before.
Size and fit
The standard sizing measurements have become the basis of the creation of the HOVR Guardian 2. This Under Armour running shoe aims to permit the usual sizing expectations of consumers. Still, it is highly beneficial to test the shoe first or to study various reviews that tackle the size aspect for enjoyable wear.
Under Armour adheres to the typical performance shoe designs that have been known to deliver optimum comfort throughout the running session. The platform of this running shoe, though optimized for arch support and pronation correction, welcomes the natural curvature of the human foot. The upper is also a contributor to an agreeable wrap as its fabrics are stretchy and uncluttered.
Outsole
The heel part and the perimeter of the Under Armour HOVR Guardian 2's outsole unit are made of high abrasion rubber. The durable nature of this element is meant to protect the base of the midsole from wear-and-tear. Also, it offers traction to maintain surface control and sureness of movement.
The forefoot section of the external pad uses a blown rubber. This variant of carbon rubber is equally traction-ready and durable. Yet, it has a spongy configuration to add a bit of oomph to the underfoot experience. Moreover, its presence doesn't limit what flexibility the forefoot section of the platform can provide.
Flex grooves are patterned on the forefoot part. These shallow trenches make the shoe as flexible as possible to permit the natural bending capacity of the toes as they go for the toe-off phase.
Midsole
The midsole unit of the Under Armour HOVR Guardian 2 is primarily made of the UA HOVR™ technology, a multifaceted cushioning piece that offers consistent yet highly supportive underfoot presence. The first element is a core piece that is wrapped in a mesh called Energy Web. The purpose of this design is to preserve the form and efficacy of the foam, keeping it from sagging or losing structure.
A foam carrier has the job of carrying the HOVR™ foam and maintaining its position at the center of the shoe. It handles the brunt of the landing forces generated by the foot-strike.
The medial post chassis is a raised inner midfoot portion that is buttressed by a thermoplastic cage. This feature is designed for the overpronator who wants to stabilize the gait and prevent the arch from buckling at any point in the running session.
Upper
The upper unit of the Under Armour HOVR Guardian 2 is made of engineered mesh. This element is tasked with providing a smooth and secure wrap. It has breathing holes to maintain cool and dry coverage. Engineered mesh is a well-known tech that is used by many running shoe series, including the Saucony Kinvara.
Printed overlays grace the sides, the eyestays, and the forefoot section. These thin prints preserve the durability of the upper while also helping in the attainment of a snug wrap.
The rear part features a thermoplastic heel counter. The goal of this accouterment is to hold the heel of the foot in place.
The padded tongue and collar of this running shoe are meant to cushion the topmost portions of the foot. These details protect from impact shock and any discomfort that may arise from the running session.
Rankings
How Under Armour HOVR Guardian 2 ranks compared to all other shoes
Popularity
The current trend of Under Armour HOVR Guardian 2.