A mid-season update to the Endorphin line?! Yes, please!! This is basically the Endorphin Pro 2 with a lighter, more breathable upper, and Saucony found a way to cut an impressive half-ounce off the weight (7.1 ounces vs the Pro 2 at 7.6). If you want a fast, light shoe that can finally really compete with Nike and ASICS, it's here. Its track-like upper and rockered, stiff, propulsive ride are sure to help you crush old PRs.
Pros
Super lightweight
Breathable upper
Cushioned
Responsive ride
Rockered design
Fast feeling
Looks great
True to size
Cons
A bit stiff
Heel slip issues
Tippy
Pricey upgrade
Saucony Endorphin Pro+ review and lab test
Go fast, go light! Saucony finally has a competitive race shoe!
In an interesting update from Saucony, they took the recently released Endorphin Pro 2 and updated the upper, cutting weight and making the shoe feel more like a racing spike with its minimally structured design.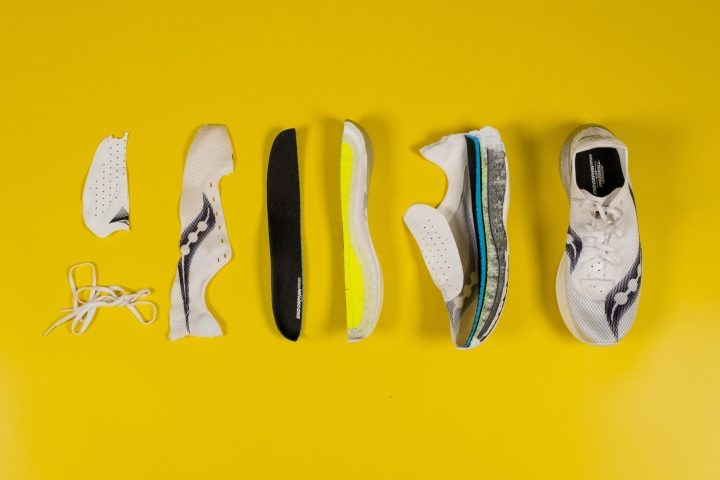 The more breathable upper is a bit more restrictive than the Pro 2 which fits wide feet well, making this update feel more like the Nike in its narrow stature, and let's be honest, it's color and design!
Ultimately though, the complainers of a 7.6 ounce Pro 2 should be happy with the updated weight on Saucony's flagship racing flat.
Who should buy the Saucony Endorphin Pro+
Buy the Endorphin Pro+ if you are a Saucony Endorphin runner and just need that extra weight advantage to give you peace of mind. If you are a speed-runner this is a great shoe, and idea for half-marathons and down in distance.
Who should not buy it
Don't buy this shoe if:
You prefer a slightly softer ride, maybe the Vaporfly or the Metaspeed Sky are for you, but if you've liked the Endorphin Pro in the past, its ride hasn't changed much for this update.
You're not a fast-paced runner. This shoe demands you run fast and on your toes. Check out the Endorphin Speed 2 instead.
Fits like a racing shoe… A bit narrow
The upper fits like a racing spike. There's not much structure or form to the shoe, but there's also not much stretch, making for solid lockdown over the forefoot.
Where this shoe struggles a bit is in the heel. The limp heel counter (scored 1 out of 5 on the stiffness index, 5 being the stiffest) leads to a touch of heel slip without proper lacing. The laces are a touch short too which can make a heel lock lacing pattern a challenge.
It runs a bit narrower than it's predecessor the Pro 2 and feels more like the Vaporfly and other narrower race shoes. If you have a wider foot, stick with the Pro 2.
Enjoyable to run in but not the Pro 2
Whereas the Endorphin Pro 2 was one of the most comfortable race shoes in 2021, the Pro+ loses some of that charm.
It's just not as wide and accomodating, and even though the midsole and outsole are the same as the Pro 2, it feels stiffer.
Saucony removed the stretchy gusseted tongue too which I really liked on the Pro 2 as most racing shoes opt-out of that feature. And the tongue is thin, at just 1.3mm thick, you can feel the laces over the top of your foot when pulled tight.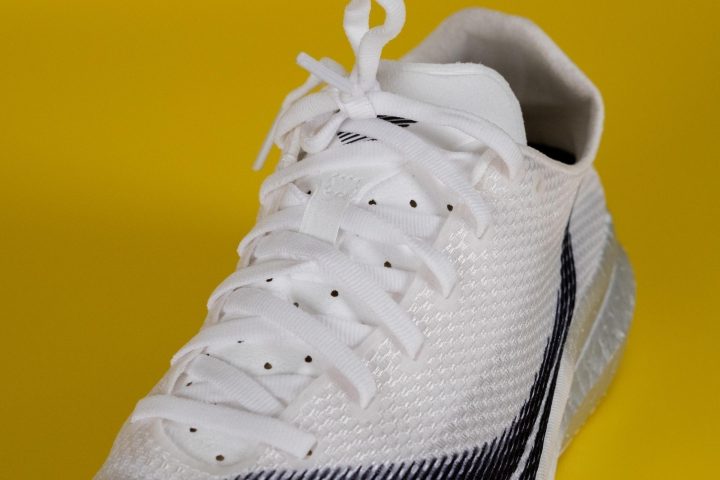 Endorphin Pro+ has a consistent ride
If you are a fast runner who spends a lot of time on your toes, this shoe is magic! Its extremely stiff ride is perfectly paired with its rockered design to give you a smooth, efficient stride underfoot.
It's not as bouncy and the toe-off is not as pronounced as other race flats with a carbon plate, but it efficiently rolls through your gait with effortless ease.
I will mention again though this shoe is extremely stiff. At 86N on our flex test it's way above the average shoe (37N) and above other super shoes (ASICS MetaSpeed Sky 62.9N, Nike Vaporfly Next% 2 83.7N)
I personally love the Endorphin series and the pairing of their Speedroll design with their soft cushioned PB foams and stiff scooped carbon plates make it a joy to race around in.
Need to get used to the narrow platform
All carbon-plated shoes and rockered shoes take a bit of time to adjust to if you are not used to them, but this shoe is pretty easy to get used to in my opinion.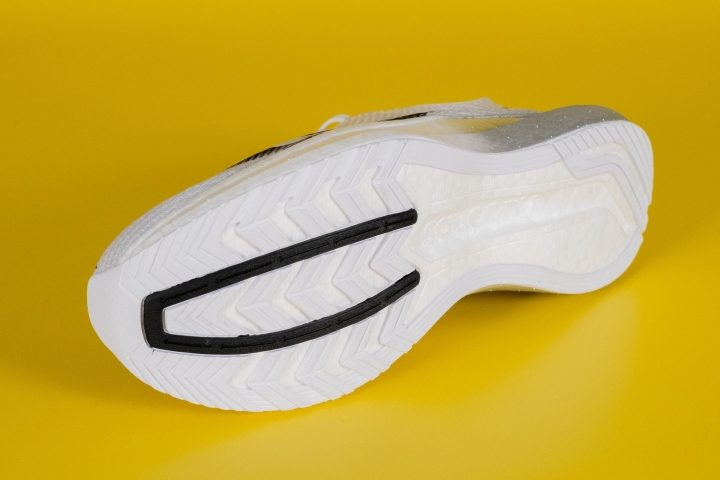 The one part of the learning curve that's a bit steep with this shoe is the unbalanced feeling you get around sharp corners. With tall stacks (27.2mm in the forefoot and 35.9mm in the heel) and a steep drop (8.7mm), they can roll over easily. Beware!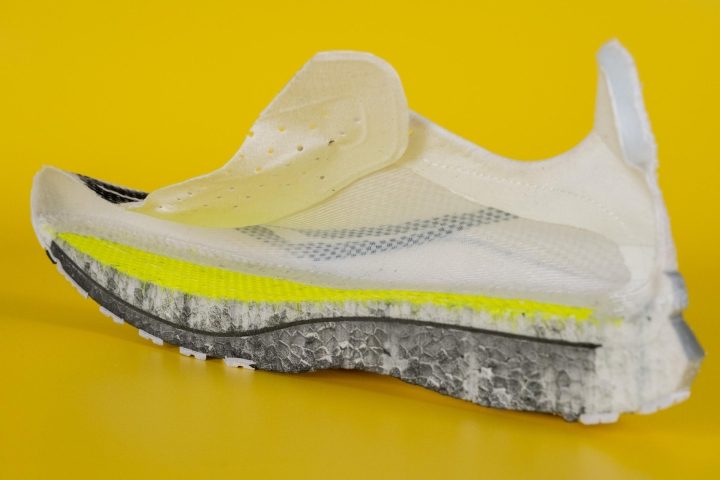 Saucony Endorphin Pro+ nears 7 ounces
At 7.1 ounces (201g) these are insanely light. There are lighter shoes on the market, but nearing the 7-ounce mark is impressive for sure!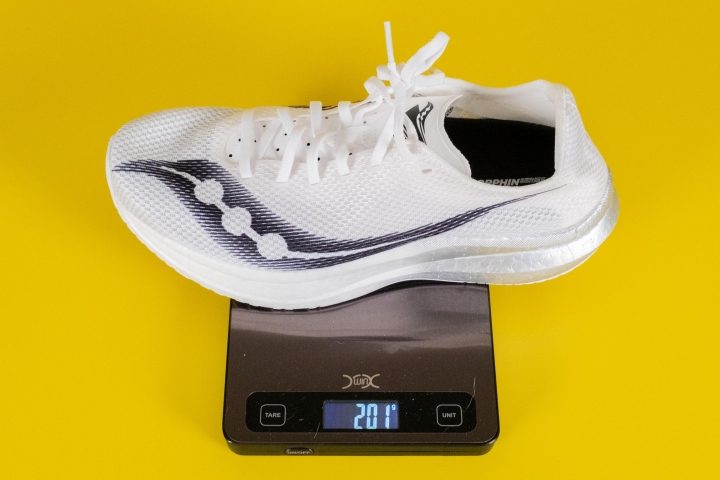 Well done Saucony, I didn't know you had it in you!
Not a trainer, save for race day
It's a race shoe, so durability shouldn't really be something that's a deciding factor, but with a thin (2.5mm) and sparse outsole, and a thin mesh upper, it's probably got about 100-200 miles in them.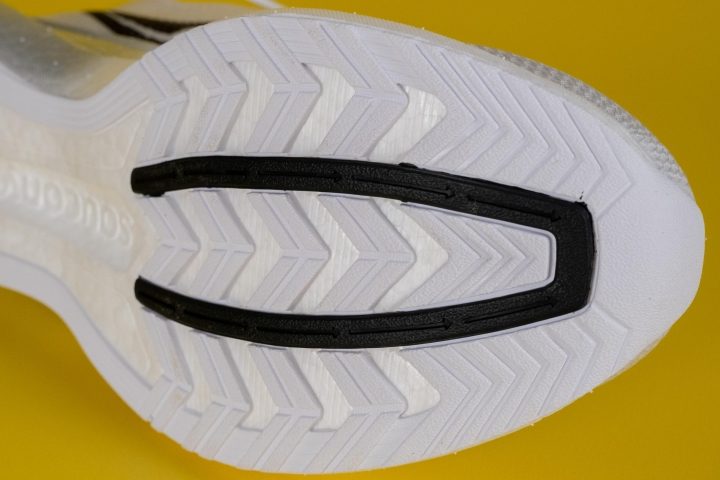 Save them for race day, this is not a trainer.
Limited grip but adequate
Do race shoes need to be super grippy? It's not top of the list for me, as these go straight and fast on hard surfaces, but the outsole durometer is a bit stiff at 82HC (average is 80.2) meaning they may be a touch slick if you're racing in the rain or freezing temps.
There's also a lot of exposed midsole on the bottoms of these shoes, so be careful as you wear down the thin outsole and start running mostly on the PB foam.
Insanely breathability
The all-mesh upper is unobstructed without any welded overlays making this shoe breath extremely well.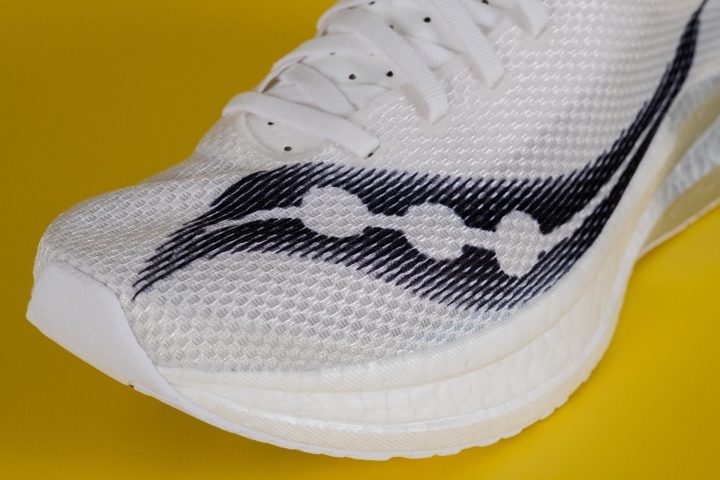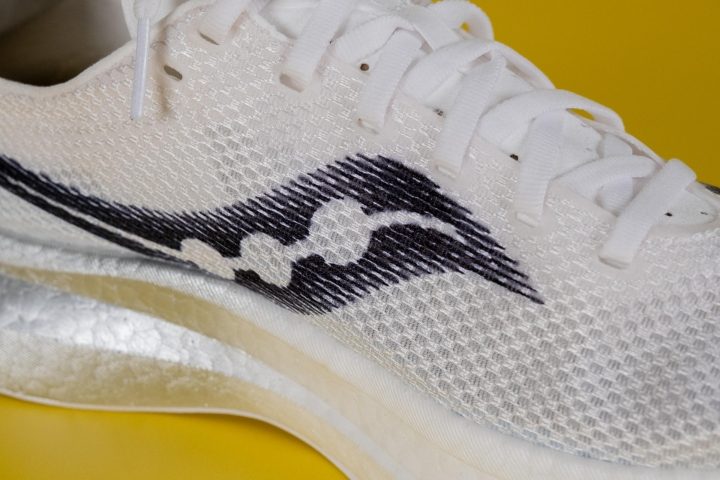 Did they hire someone from Nike
No checkered flags on the Pro+!
Not sure if NASCAR finally secured their trademark back from Saucony, or Saucony just wanted this shoe to look a bit like a VaporFly, but the shoe looks sleek and sexy in its white and black design.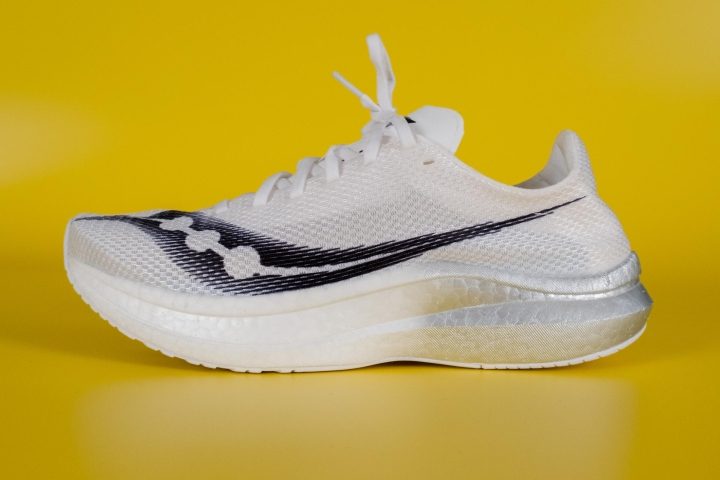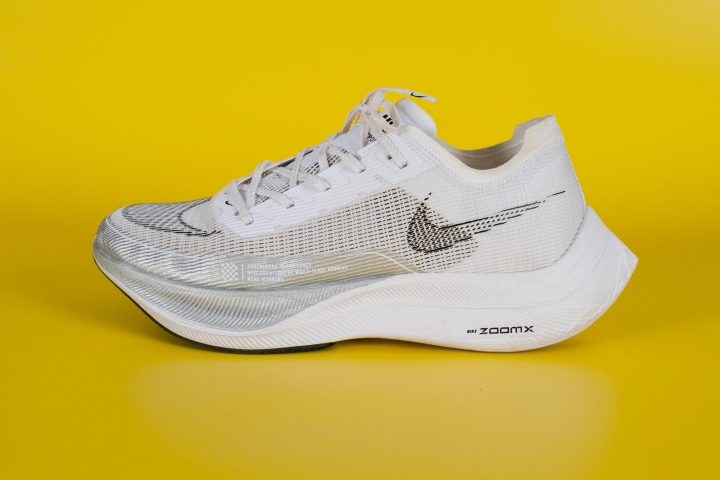 Did they just copy Nike though? Looks eerily similar, even with the silver accent on the midsole, and the Saucony logo looking suspiciously like a swoosh… Nice try Saucony, but I don't think consumers are going to accidentally buy this thinking it was the Vaporfly!
Cold weather doesn't affect the shoe
One surprise is that in our freezer tests, the shoe is really not that affected by cold weather and should perform consistently on chilly race days.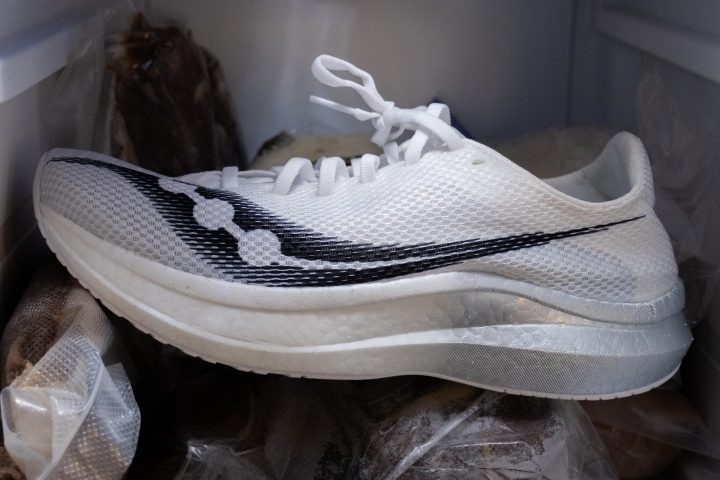 The midsole stiffened up 21.6% (18.5HA at room temp and 22.5HA at cold temps) where the average midsole stiffens 29.7%. And the overall flex of the shoe only stiffened 2.6% (86N at room temp and 88.2N at cold temp) where average shoes stiffen 37.2%.
No night racing in the Endorphin Pro+
Most races are during the day, but if you find yourself out past dark beware. There are no reflective elements on the Pro+. As you can see next to a highly reflective shoe the Pro+ struggles in this department.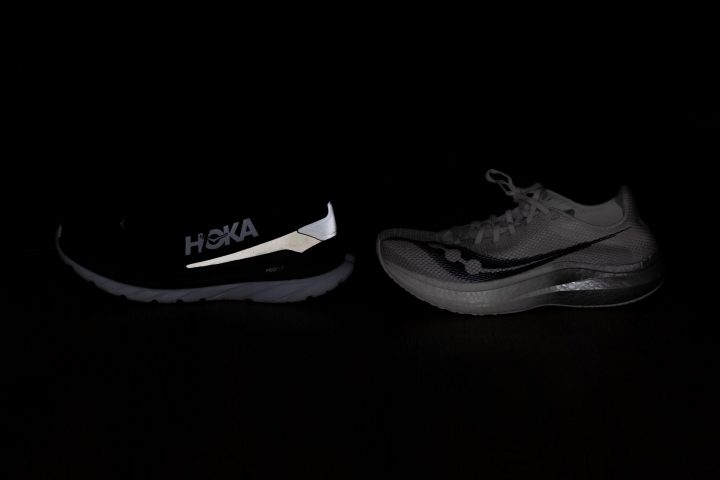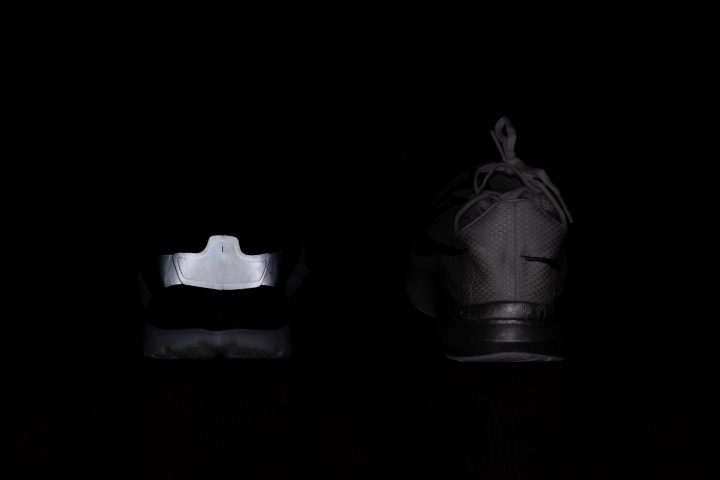 Conclusion
If you want to go fast, and light, and don't like the other super shoes, or are just a Saucony fanatic, this is the shoe to buy.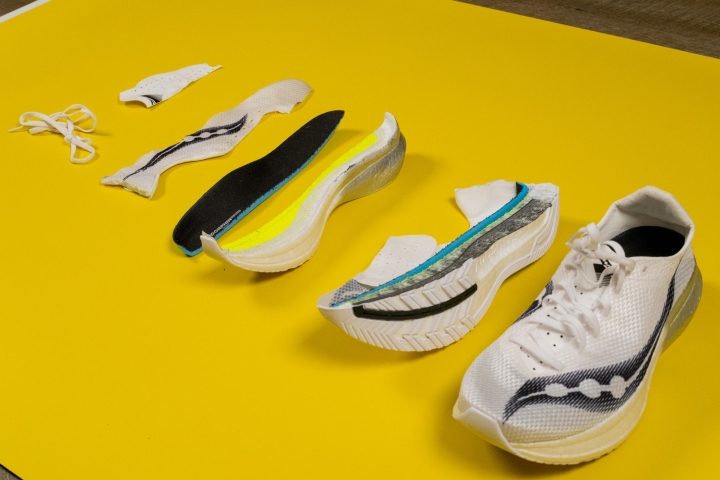 It's the pinnacle of consumer racing design from Saucony in 2021!