Verdict from 28 experts and 100+ user reviews
8 reasons to buy
Gear bloggers rave about the Quest 4D 3 GTX's fantastic surface grip over a variety of surfaces.
This Salomon boot racks tons of praises from professional reviewers for its outstanding ankle support.
Many owners feel quite agile and light wearing this backpacking footgear.
The Salomon Quest 4D 3 GTX hiking boots impress shoe critics with their otherworldly level of comfort.
Numerous users, including seasoned product testers, adore the boot's A-grade waterproofing.
A group of product testers gives it a high score on stability.
The virtually non-existent break-in period of the Salomon Quest 4D 3 GTX is received positively by umpteen backpackers.
Plenty of experienced hikers laud its performance even on wintry conditions.
4 reasons not to buy
Its mid-section is narrow, according to a handful of wearers.
Footwear critics struggle with the Quest 4D 3 GTX's inability to stay cool in warmer conditions.
The hefty price tag of this backpacking gear disappoints a reputable shoe blogger and several online buyers.
A couple of disappointed verified purchasers comment that the sole peels away from the rest of the boot too soon.
Bottom line
Backpacking in the Salomon Quest 4D 3 GTX means experiencing the great outdoors in dry comfort. Users are also provided with excellent ankle support and stability. Even with its long list of benefits, it was able to keep its weight low.
That said, the boot has been reported to have subpar interior ventilation. Overall, the Quest 4D 3 GTX is generally appreciated for its positive qualities, but potential buyers should not expect much when it comes to breathability.
Tip: see the best hiking boots.
Our reviews
The design and how the boots look are the first characteristics that draw my attention when I have to choose a pair of boots over many others.
As for the Salomon Quest 4D 3 GTX, the navy blue colour enhances the great design—simple but practical.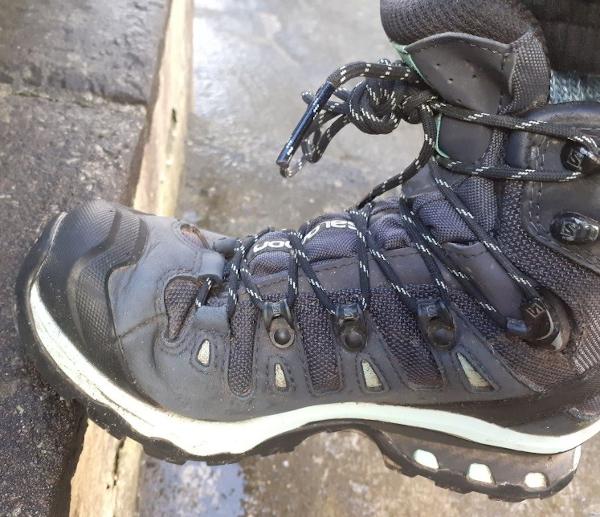 The lace eyelets are symmetrical with a slightly recessed lace eyelet. This seems quite a good option in having your ankle tighten up. Based on your gait or the nature of the hiking, you can adjust how to settle your ankle.
Laces are round, and usually, I don't like them too much as they tempt to unlace even if the knot is done properly.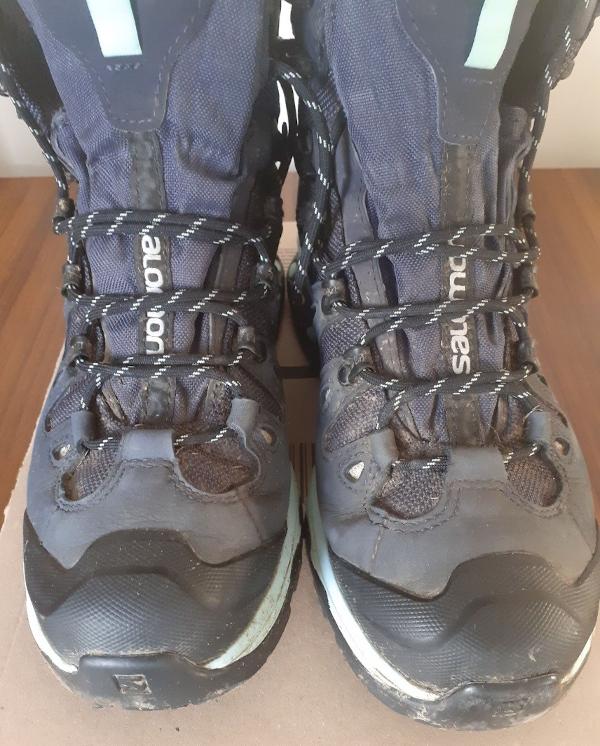 The insole looks a bit stiff, but this did not worry me too much as I always have my own orthotic insole. We have different feet and posture. Therefore, I would suggest that you use insoles that would support you best during your activities.
I have checked the sole. The system is not Vibram, but Contagrip TD. The efficiency of this can be checked only on different terrains and on a different level of hiking.
How they look like when 'alive'
I'm size 5, but I'm always considering a size 6 for my walking boots. This is a general guide though, as it depends mainly on the type of socks that you wear.
The Quest 4D 3 boots wide. But, even if my feet are quite small and tiny, I am always going for the wider ones. We need to take into consideration the space required for the socks and that the feet need extra room for the toes to splay during an intense exercise.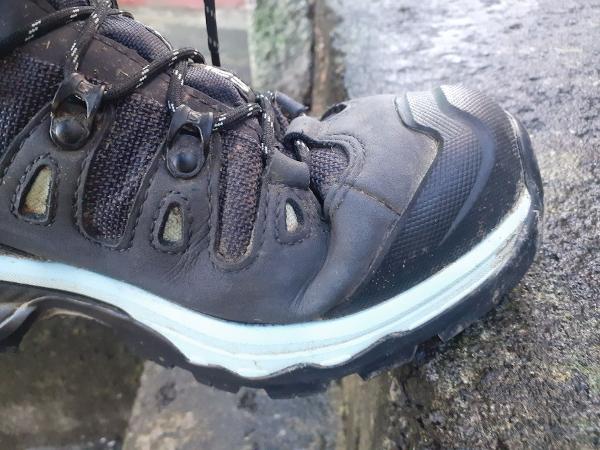 I didn't feel any tightness in any part of my feet and ankle while wearing these boots. The ankle is well-supported both on the front and on the back.
The material is smooth and especially at the level of the calcaneus. There is no weird grip. Hence, these are nice and comfortable to wear.
I'm living in Dartmoor, so the weather does always bring rain and wet conditions. The Contagrip is extraordinary on wet paths and rocks. This grip gives me excellent stability and confidence in hiking, even without my walking sticks.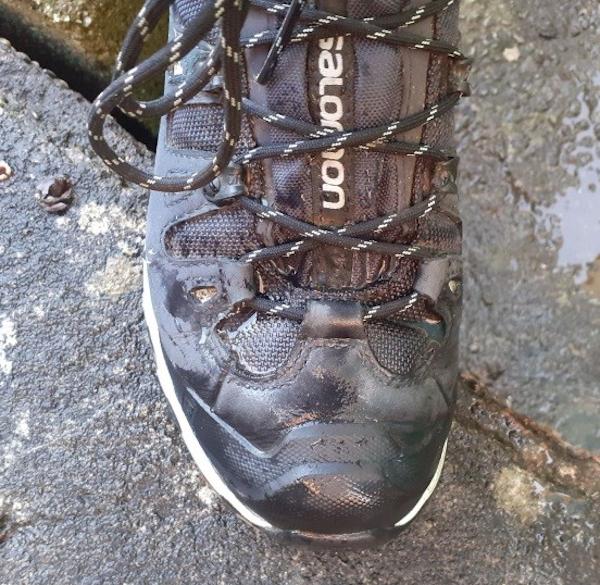 The weight of these boots is noticeably light. This is a good point, especially if you plan to hike/walk for more than 5/6 hours per day. You can argue about the fact that they can be 'too' light, but I consider these boots a good compromise.
For those who want to have a multi-purpose pair of boots, these are an excellent choice. They are good enough for the winter (by keeping your feet warm all the time). Meanwhile, in the summer, they are breathable enough for the feet to not sweat when you walk in higher temperature.
No issues noted for the waterproof characteristics. After a year, they are still in the same good condition without the need to re-condition them.
Durability/performance
I bought these Salomon hiking boots a year ago. And after several miles of bad terrain and weather, they look good as new. No scratches and no part of the boots are peeling off.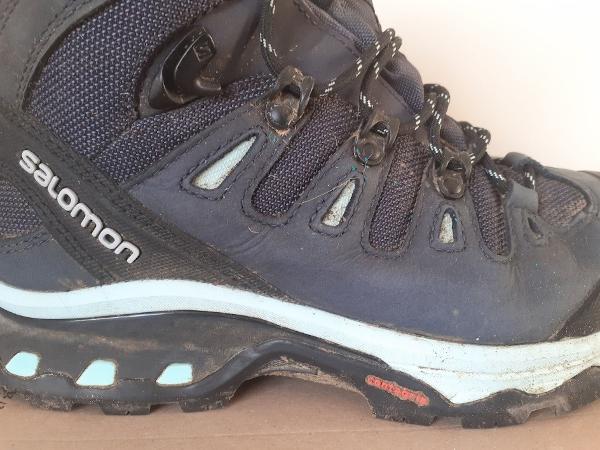 Also, they are very easy to clean. They do not require too much maintenance.
Conclusion
I do like these boots. After a year of intense hiking, they still look new. Considering the cost and the performance that these give so far, I am satisfied.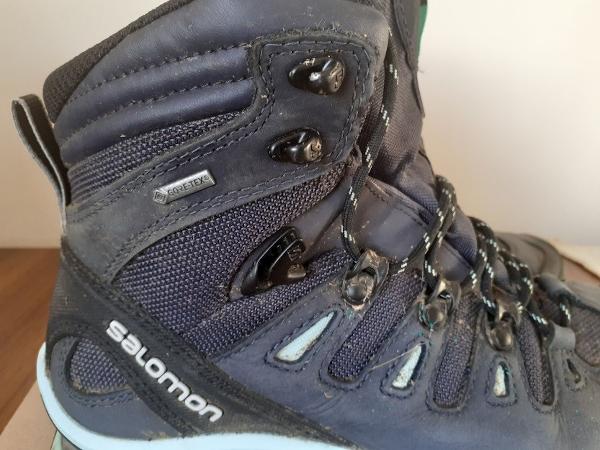 A lightweight pair of walking boots is ideal for me. I feel confident to approach different terrains with all sorts of weather and season.
I will definitely buy them again.
Thumbs up
Nice design
High comfort after many hours of intense hiking
Good grip and stability
Incredibly waterproof
Four season boots
Thumbs down
Round laces—they can't stay tight for long
These might be too light if you require additional ankle support
I was looking for a solid boot with a stable base and good ankle support (for my glass left ankle) that would be suitable for long-distance hiking over various terrain while carrying weight. Did I want it to look good? Of course, but this was a secondary requirement.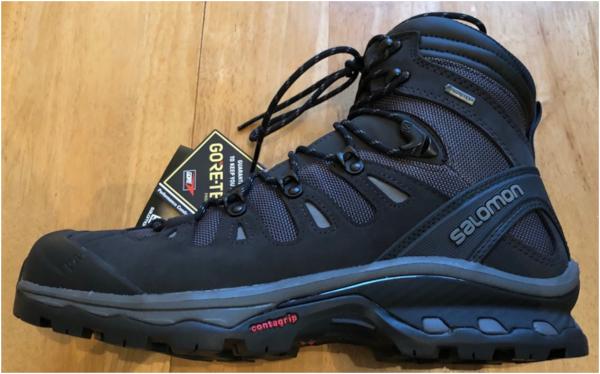 Why did I choose this boot?
I read through various websites publishing surveys on the "top 10 hiking boots" or claims of that nature. While I take information from those sites with a pinch of salt, these boots kept cropping up on many sites, so I decided to look through some consumer reviews.
The key points that kept coming up were "comfortable, stable, supportive" etc. This was music to my ears, so I decided to give them a go.
Aesthetics
When I first opened the box, I thought it was a nice looking boot without blowing my mind. I went for all black versions as I like to keep my boots clean and thought that the darker color would show dirt a bit less than the alternatives.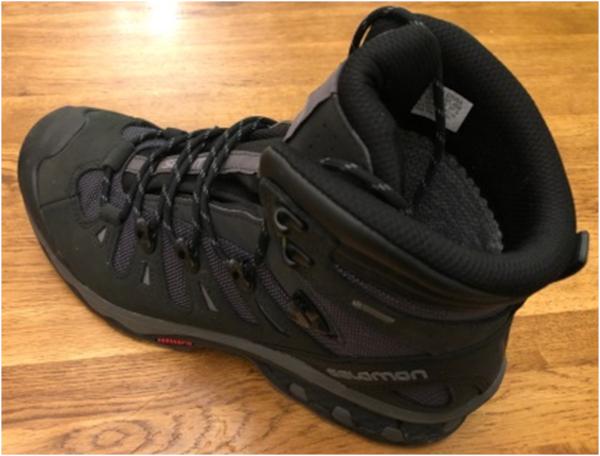 Fit
I felt they were slightly narrower around the mid-section than the previous boots I've owned. So those of you with really wide feet might not find them that comfortable. However, I'm sure the boot will relax after a bit of use and the toe section is nice, plenty of room to allow for ample toe wiggle.
They fit true to shoe size in my opinion. I am a size 9 and tried both the 8.5 and size 9's on, the size 9 had a little extra toe room whilst still being snug in all the right places.
Comfortability
Whilst I won't be so bold as to say they are the comfiest things I've ever tried on as some reviewers would, they are very comfortable, and I believe a bit of breaking in will only increase the comfort level.
Note: At this point slightly off topic, I want to remind you that the socks you choose, play a big part in comfort so don't skimp in that area.
Support & stability
This is where the boot comes into its own for me. The support around the ankle is perfect. It supports well while not cutting off the circulation.
The slightly recessed lace eyelets enable you to draw the back of the boot in as you tighten the laces creating a nice firm wrap-around feel.
The profile is quite chunky at the heel and toe areas. It's great as it allows the user to be confident treading on uneven ground. For someone like me, that is a big bonus.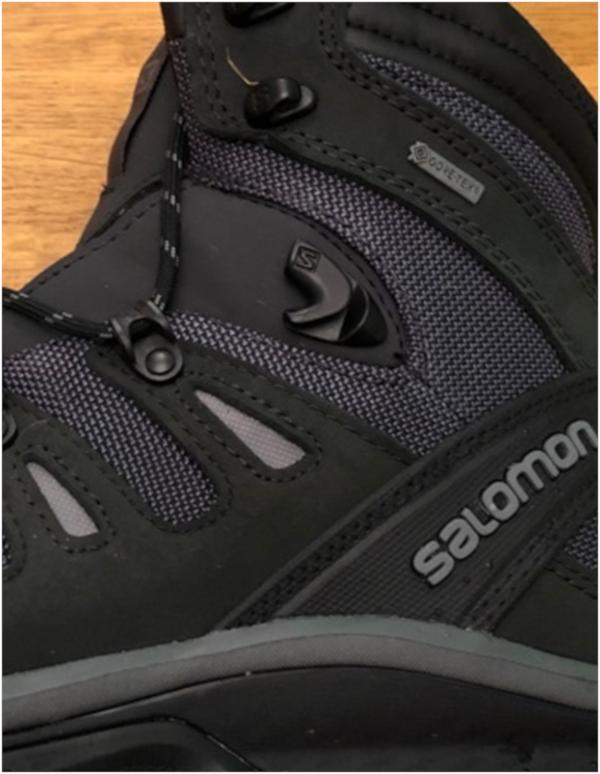 Finally, the boot keeps the foot in one place, preventing unwanted sliding when walking down the hill; this should protect those little piggies from bruising up.
Grip
The grip is fantastic. I walked the same route I have walked for years with my old boots and the difference is chalk and cheese. These things don't budge and what's even better is when you get home, the dirt falls out of the tread, due to the wide grip pattern.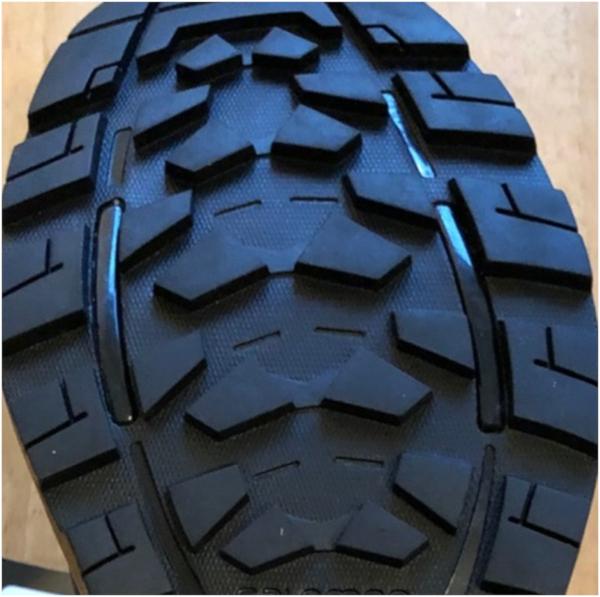 Weight
At around 650 grams per boot (size 9 UK) I would suggest they are a mid-weight boot. I personally am happy to trade a few grams in weight for the extra ankle support, they still feel light enough (yet to try them over a long distance).
Distance
Obviously, this comes with time so unable to provide an honest assessment, however, with Salomon's 2-year warranty - you're covered.
Cost
These things retail for £180 which is a lot of money (even if they are a great boot). However, if you shop around, you will get them for a better price, I paid substantially less than the RRP just by shopping around online.
Good points
Comfortability
Stability
Support
Grip
Aesthetics
2-year warranty
Points to consider
Summary
I really like these boots. They have everything I am looking for in a "proper" hiking boot whilst not costing the earth. They look and feel great and give me so much confidence to be aggressive on terrains where I have to be a bit more cautious before.
I would wholeheartedly recommend you give them a try if they have the characteristics you are after, you won't be disappointed.
Good to know
The Salomon Quest 4D 3 GTX is designed to optimize the walking comfort of the user. It is manufactured with technologies that lessen fatigue during backpacking trips. Just like its predecessor, it incorporates running shoe tech for a lightweight and cushioned performance.
Previously employed with a molded ethylene-vinyl acetate (EVA), the 3rd generation Quest 4D GTX is updated with a dual-density midsole. The denser foam supports the part where the foot rolls. Just like the previous model, this latest piece has the EVA shaped footbed and Ortholite insole for support and cushioning.
The 4D Advanced Chassis makes a return in the third version of the Salomon Quest 4D GTX. It is a lightweight underfoot platform that functions with two midsole parts. It helps stabilize each step and grants foot control.
This iteration of the Quest 4D GTX still comes with a High Traction Contagrip outsole. In comparison with the Quest 4D 2 GTX, its facade features a different lug pattern. It now comes with widely-spaced studs which enhance its self-cleaning ability.
The upper still combines nubuck leather and textile for durability and comfort. Like its older sibling, it is lined with the Gore-Tex Performance Comfort membrane for water protection. In addition, this laminate also offers moderate insulation to optimize the user's performance whatever the outdoor condition is.
The Salomon Quest 4D 3 GTX is offered in standard men's and women's lengths. It is available in medium width. Generally, it runs true to size.
This GTX hiking boot uses a locking eyelet at the ankle. This element allows the users to personalize the tension on the front and at the boot's shaft. This traditional lace-up closure permits customization and grants an overall snug fit.
This boot from Salomon comes with a High Traction Contagrip outsole which bites into diverse types of surfaces. The indentations between the boots are textured which allow the sole to shed off accumulated muck, maintaining a grippy ride. Also, the slight extension of this material at the toe area provides extra security against rock-strewn trails.
This outsole uses a mix of rubber compound and lug geometry suitable for backpacking trails. Different densities are also used to create a balance between traction and durability. Compounds with a high density are used in regions more susceptible to wear. On the other hand, low-density compounds are responsible for gripping.
The midsole of the Salomon Quest 4D 3 GTX has different cushioning components. It has a dual-density EVA unit that grants motion control and stability to the wearer. It also has an EVA shaped footbed for delivering anatomical support. Another component is the OrthoLite insole with a heel cup. It promotes cool and dry underfoot support. The heel cup offers extra plush comfort.
The user gains foot control with Salomon's proprietary 4D Advanced Chassis. This serves as the platform that grants stability and cushioning. It also provides comfort while tackling challenging trails.
Underfoot cushioning of the Quest 4D 3 GTX comes from different components. Its midsole is made of an ethylene-vinyl acetate (EVA) foam which uses two varying densities. This combination optimizes cushioning, provides stability and grants motion control.
Moreover, sitting atop the midsole is an EVA-shaped footbed and OrthoLite sockliner. The former delivers anatomical support. The latter promotes a cool environment and comes with a heel cup for steadiness.
The Salomon's proprietary 4D Advanced Chassis is incorporated into this backpacking boot. It renders a decent amount of stiffness underfoot without limiting the natural movement of the foot. Also, it maximizes energy return for reduced walking fatigue, thus maintaining a comfortable ride even after a long hike. Additionally, it grants stability to users when tackling bumpy trails.
The upper of the Salomon Quest 4D 3 GTX is primarily made of an abrasion-resistant textile which grants comfort and breathability. There are leather overlays (nubuck) surrounding the base of the upper and at the ankle. Aside from enhancing the boot's durability, they also help maintain the boot's structural integrity.
Lining the inside of this high-top backpacking boot is a Gore-Tex Performance Comfort laminate. This technology is optimized to perform in moderate conditions. It protects the foot by preventing the intrusion of water from the outside while allowing the foot to breathe. When the weather gets cold, it also gives a modest amount of insulation to keep the foot cozy.
As added trail protection, for both the boot and the foot, the overlay at the base acts as a mudguard, repelling mud and dirt. The rubber toe and heel caps serve as shields. On the other hand, its cushioned tongue (also gusseted) and collar boost comfort.
The closure system of the Quest 4D 3 GTX employs webbing loops and Salomon logo-embossed metal hooks and hoops. A round lace passes through this hardware and aids in fit management. Lastly, with a pull tab at the back of the boot, users afford a smooth on and off.
Salomon recommends the following care tips to help extend the life of the product:
-Remove grit and mud after each wear. Use a soft, wet brush and clean water. Dry the boots at room temperature and do not use any external heat source. Never machine wash them.
-The brand suggests cleaning the lining periodically to preserve its durability and keep it odor-free. Also, they recommend wearing socks always.
Those who are interested in a pair of Salomon Quest hiking boots may have gotten themselves stuck in checking out the Quest Prime GTX and Quest 4D 3 GTX. How do they differ?
Upper. For a durable and sturdy build, both hiking boots are made of a combination of leather and textile. Their heel and rubber toe caps protect against bumps.
Lining. Both versions use a Gore-Tex lining for weather protection which also shields against outdoor elements. The Quest Prime GTX wears the Extended Comfort laminate. It is optimized to perform in arid, dry conditions thanks to its non-insulated design.
On the other hand, the Quest 4D 3 GTX uses a Performance Comfort lining. It is moderately insulated which enables backpackers to tackle a range of outdoor conditions.
Height. The Quest 4D 3 GTX offers more ankle support thanks to its high-cut design. It comes with two pairs of speed hooks at the shaft for a more customized fit.
Meanwhile, the mid-cut height of the Quest Prime GTX offers more mobility without compromising ankle support. Its lacing system includes a pair of metal hooks at the topmost part of the boot for fit adjustment.
Underfoot support. The Quest Prime GTX and Quest 4D 3 GTX from Salomon sports the 4D Advanced Chassis. It gives lightweight support and maximizes energy return. This mechanism renders a smooth roll-off motion which prevents fatigue even after a long hike.
Midsole. Working with the brand-owned chassis is the boot's EVA midsole. Both boots use a bi-density foam which provides cushioning without adding weight to the user's foot. For the Quest Prime GTX, its midsole houses a nylon shank which enhances support and stability.
Footbed. Both backpacking boots feature an Ortholite footbed. This material offers comfort by wicking moisture away from the foot, and with its open-cell PU construction, breathability is maximized.
Outsole. These Salomon boots are equipped with a High Traction Contagrip outsole. This element adapts and grips on various types of terrain. Despite using the same compound, the facade of the sole used in each boot is personalized depending on the need of the user. The Quest 4D 3 GTX has more aggressive lugs which are widely spaced. On the other hand, the Quest Prime GTX offers a less-burly looking outsole while still keeping a grippy ride.
Rankings
How Salomon Quest 4D 3 GTX ranks compared to all other shoes
Popularity
The current trend of Salomon Quest 4D 3 GTX.