Nike Zoom Freak 2 review
Giannis Antetokounmpo is back on the scene with his second signature sneaker, which he prominently wore through his statement victory in the 2021 NBA Finals. The basketball shoe plays best on indoor hardwood gyms but is still capable outdoors with less longevity.
Who should buy it
Do buy this Nike basketball shoe if you are an explosive perimeter player looking for a minimalist shoe that rides extremely low to the ground and has maximal responsiveness.
Who should NOT buy it
Do not buy this shoe if you are a player who:
prefers sizable cushioning (in this case, consider the Nike Lebron 18)
needs strong midfoot support (the Kyrie 7 is praised for its good ankle support)
Superb, snug, true to size fit
One of the main highlights of Zoom Freak 2 was the outstanding fit. Aptly snug with no dead space, on all types of movements my foot felt secure in the shoe with the great lockdown. True to size worked for me as a slightly wide footer which I'd recommend for most people barring a very wide or long foot shape.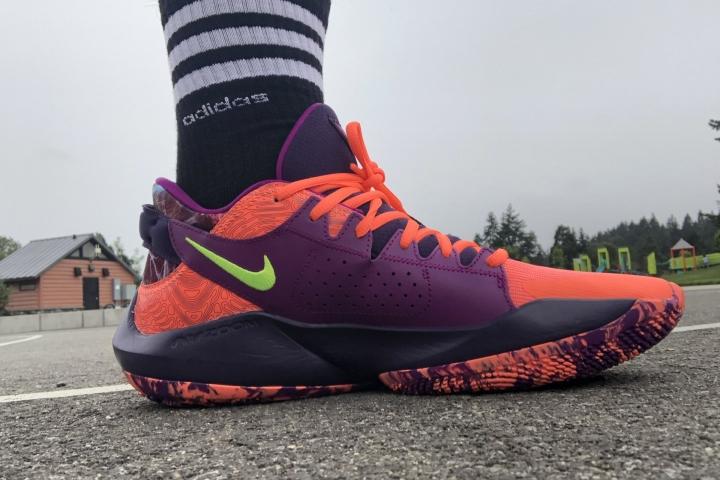 Minimal but noticeable cushioning
The cushion on the Freak 2 is okay - one small forefoot Zoom unit in the forefoot that was felt but not huge with a full-length Phylon that covered the rest of the foot. This is about as minimal as a shoe can get that I'll still enjoy - players who prefer a lower to the ground ride will enjoy these.
The forefoot cushioning provided some impact protection, but was on the firmer side and may not be for players who desire a near-maximal cushioning setup.
Great traction but picks up dust easily
The Zoom Freak 2 has fantastic multidirectional traction both indoors and outdoors. I tested the shoe in both some workouts on an indoor court as well as several shootarounds on an outdoor court. Despite the indoor gym floors being on the dirtier/dustier end(think local community gym), the traction gripped the floor consistently and had a noticeable bite moving in any direction.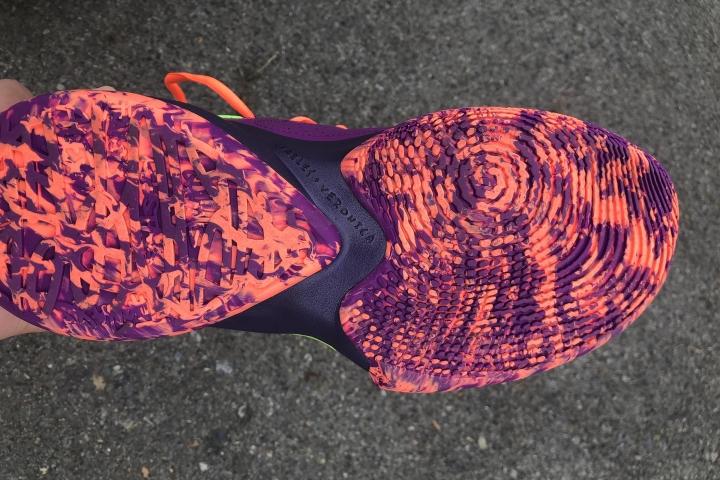 Dust does pick up somewhat quickly on the outsole, especially in the circular pattern under the forefoot, and affects the tractions a bit but wiping the bottoms every few plays should handily clean off any captured dust for the most part.
No break-in time is needed for the Freak 2
The fit, lockdown, traction, and cushion all worked well right away and felt the same in subsequent hoop sessions. The upper material loosened up just a teeny bit after wearing a bit, but it was hardly noticeable and did not make a practical difference for me.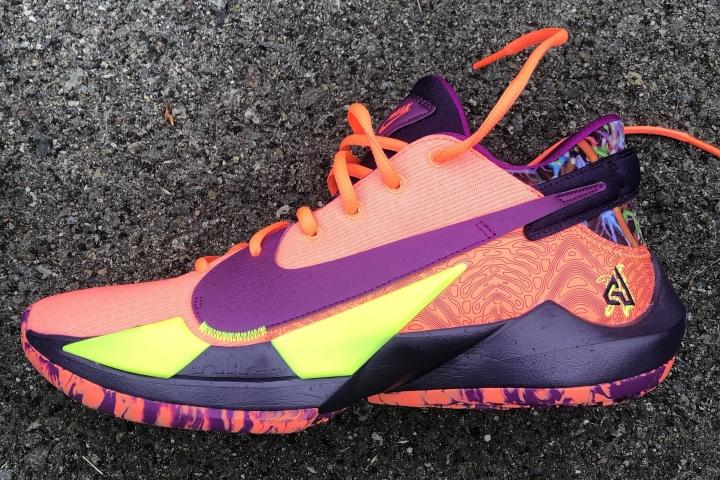 The Zoom Freak 2 is doable for outdoors
I would mostly recommend the Zoom Freak 2s mostly for indoor play, due to the thinner grooves used on the outsole. The shoe will still play the same outdoors and actually hold up decently well in terms of durability, but after using it for a few outdoor sessions it may not likely play well inside due to dirt/dust buildup in the upper forefoot circular traction area.
Weighs slightly light for a basketball shoe
The Zoom Freak 2 weighs 12oz/340g, on the light end for basketball shoes (average weight is 13.6oz/386g). This was no surprise with its minimal cushioning and upper setup. Its weight sits just a tad slower than the popular Nike KD/Nike Kyrie/Nike PG/Under Armour Curry releases.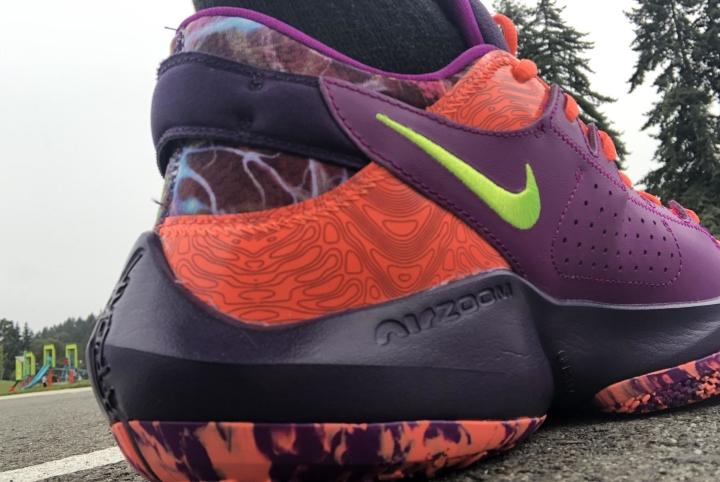 Ventilation is poor
The upper of the Zoom Freak 2 uses a mesh-like upper which was below satisfaction in terms of ventilation. The material did not feel very breathable and despite its thinness, my foot got a bit heated, but not to the point where there was any uncomfortable rubbing. I was also able to notice a small amount of sweat buildup but nothing to the point where it affected performance to any degree.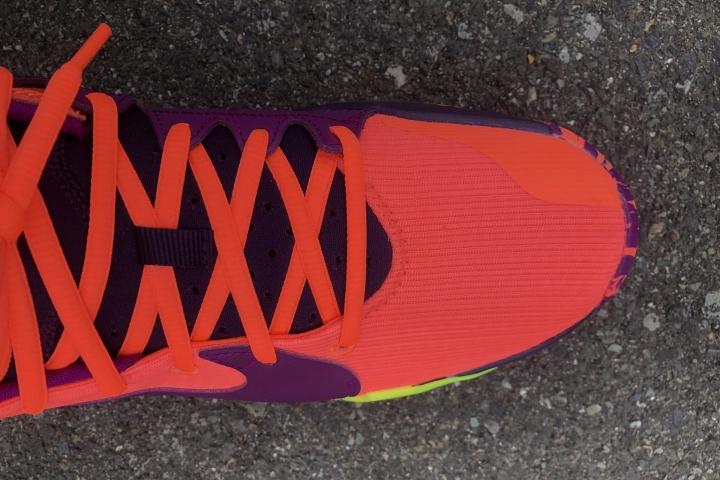 Reliable lockdown in both the heel and lateral positions
Lockdown for me was another one of the high points of the shoes. Great lateral foot with no foot slippage during hard slides and stops, and the upper wrapped around the ankle area nicely where it did appropriately loosely hugged the ankle for good support. The plastic outsole extended up the heel area to act as a heel counter which sufficed well to help keep my heel and foot in place.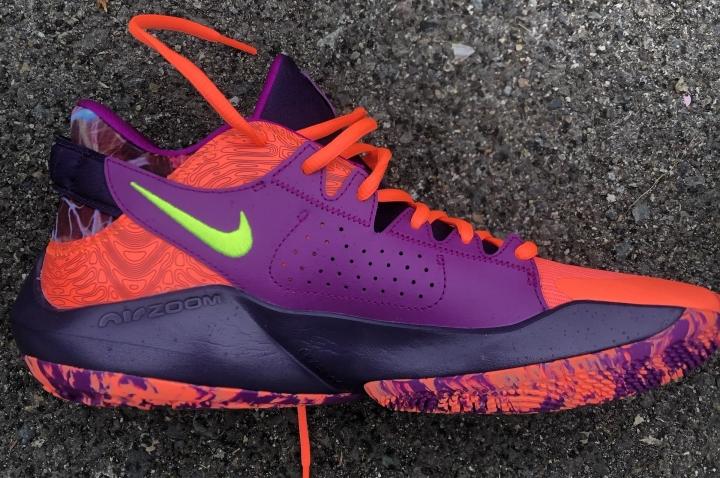 Price is okay if you want a close-to-ground cushion
The retail price for the Nike Zoom Freak 2 is $120 (average price for basketball shoes is $131). For the price, they're a good get if you're a quick guard who values traction and fit and wants a minimal, low to the ground cushion setup. At this price however there do exist plenty of other shoes with noticeably greater cushioning, so do consider the Jordan Zion 1, Under Armour Curry 8, or other models if you prefer shoes with more cushioning.
Compare popularity
Interactive
Compare the popularity of another shoe to Nike Zoom Freak 2: