Nike Renew Ride 2 review and lab test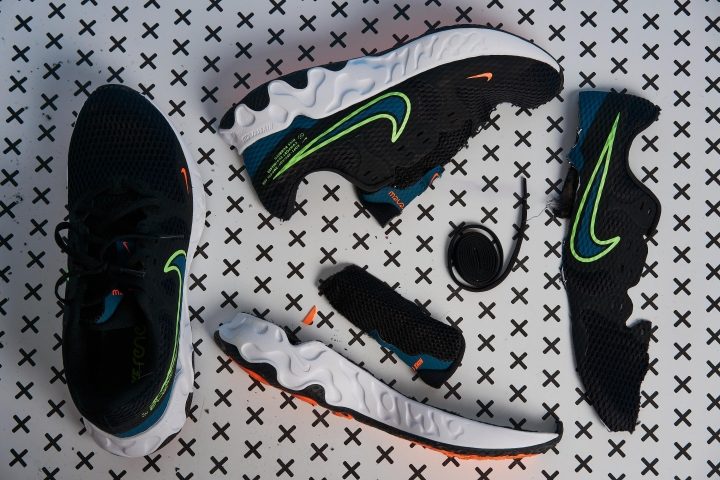 Nike offers up the Renew Ride 2 as a serious contender in the budget running shoe market. During lab testing, we definitely found some stuff we love, as well as a few flaws.
Overall, for the price we love the shoe, it just may not be for serious runners.
Who should buy the Nike Renew Ride 2
The Renew Ride 2 is a perfect everyday shoe for you if:
You're going on shorter runs
You have narrow feet and need a snug fit
You want a durable, well-padded midsole
Who should NOT buy these
While great for all the above, the Renew Ride 2 is not the best choice if:
You want to go on longer (>10km) runs, try something with a more stable shape like the Air Zoom Pegasus 38
You have pronation issues, its best to look at a more specialist shoe, maybe the Air Zoom Odyssey
You have wider feet, Nike usually fits perfectly, so the Nike Jordan React Havoc has the same sort of midsole with a nicer fit.
The Nike Renew Ride 2 doesn't feel so great at first
People are more frequently buying shoes online, and while we can mostly return them, no one wants the hassle of that when a shoe doesn't fit right.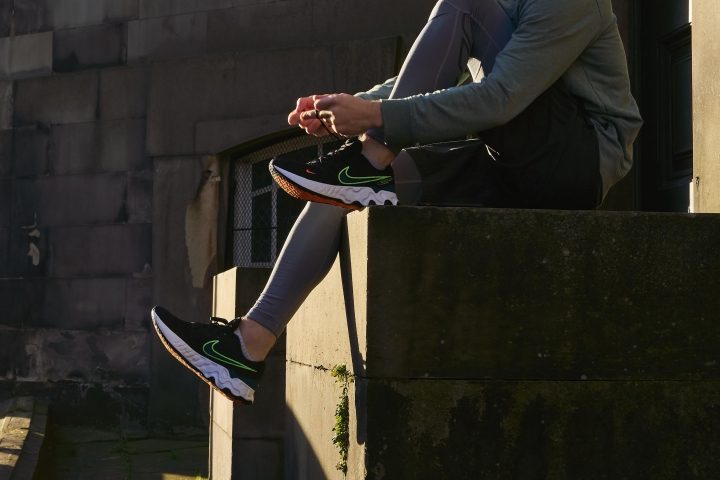 This is why I often suggest Nike running shoes for people because they're the most consistently spot-on with sizing.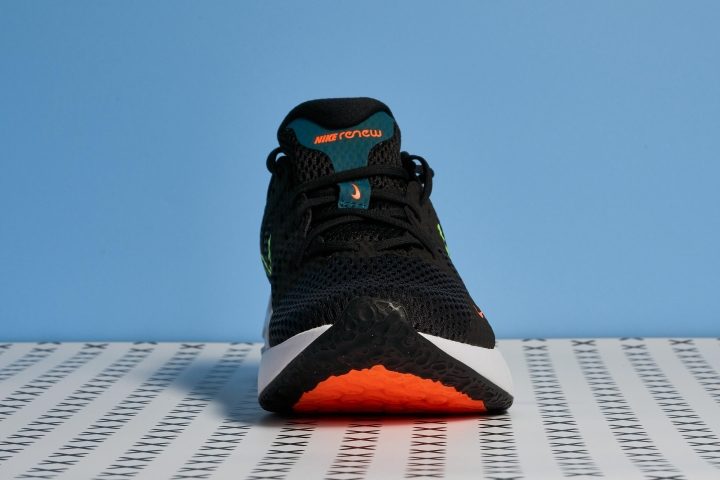 That's why it came as a huge surprise that me that these are so damn narrow. I thought I'd accidentally ordered a child's shoe for my US 10 feet. But no, the Renew Ride 2 is so tight that my foot bulges out between the tongue and the lacing.
Weirdly, when running it doesn't feel as bad as when you first put it on, but it's still not a great sensation. So, order at least half a size up.
There are no complaints about the React foam
Nike first introduced their React foam in basketball shoes, perfect for absorbing heavy impacts from athletes, anything with react is known to hold up well.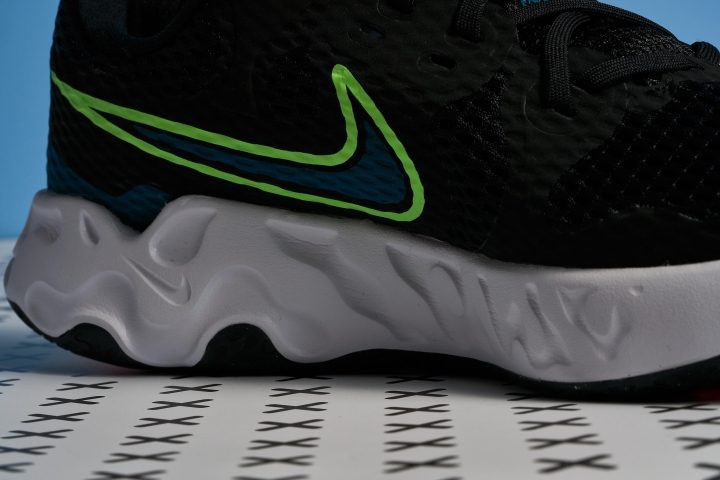 It's nice to see it in Nike's budget running shoes, it suggests the Renew Ride is going to hold up well over time.
On runs, you can feel the comfort of the foam, as well as the power return from each step. This is a rare thing to find in a running shoe and can really add to the feel of the run.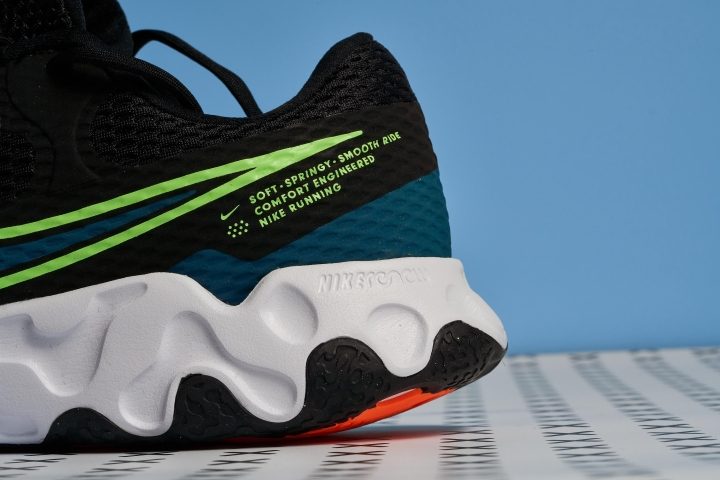 What's more, Nike has been able to keep the Renew Ride 2 at a reasonable weight of 10.7oz (302g) with 37.6mm of foam under the heel.
Well, almost no complaints
While the React foam in the Renew Ride is a great addition, there's an overreliance on it which leads to little else in the shoe that's catered to running.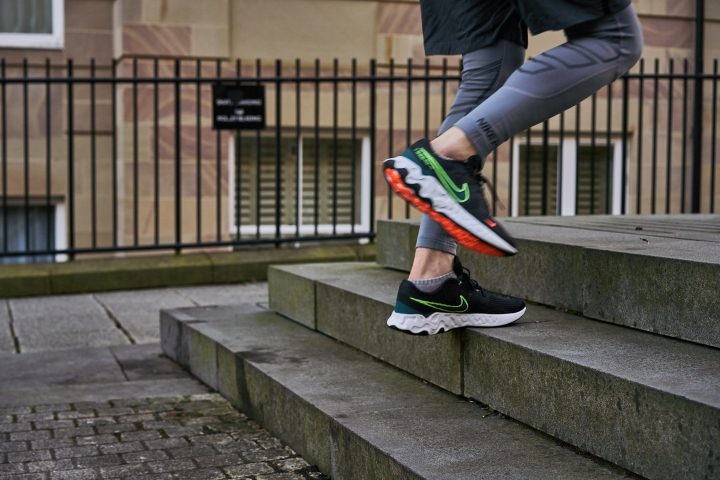 My main concern is the lack of flexibility in the shoe, in testing, I found it took 37.5N of force to bend the shoe into a 45° angle, which is just above our average. But that average is made up of shoes like the Nike ZoomX Vaporfly Next% 2 (83.7N to get to 45°) which relies on a carbon plate for energy return and movement.
When a shoe like this has nothing but foam driving you forward, you need that flexibility to help your foot strike and your stride. Over long runs, I could feel a total lack of energy return and the shoes almost felt like they were sucking power from my stride.
The Nike Renew Ride 2 has some insane grip
The outsole on this shoe is great. The molded rubber that lines react foam feels as though the Renew Ride 2 will grab anything.
More than that, being molded to the midsole means that it's really durable too, which matches the React foam and makes it seem the shoe can like well into 500 miles.
Pretty unstable for a running shoe
I think this is more of a result of the narrow fit and the lack of stability control within the Renew Ride 2, but I felt regularly unstable on my test runs. It's never great to get a shoe that you worry about rolling your ankle in.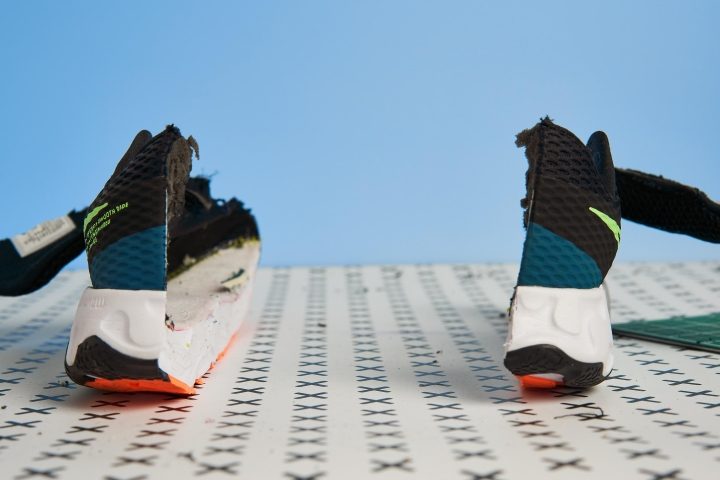 Not the shoe for you if you need motion control
If you overpronate or supinate, you might want to take a look at some stability control shoes. The Nike Renew Ride 2 doesn't offer much in terms of correction for these issues and might end up feeling uncomfortable once you get into your runs.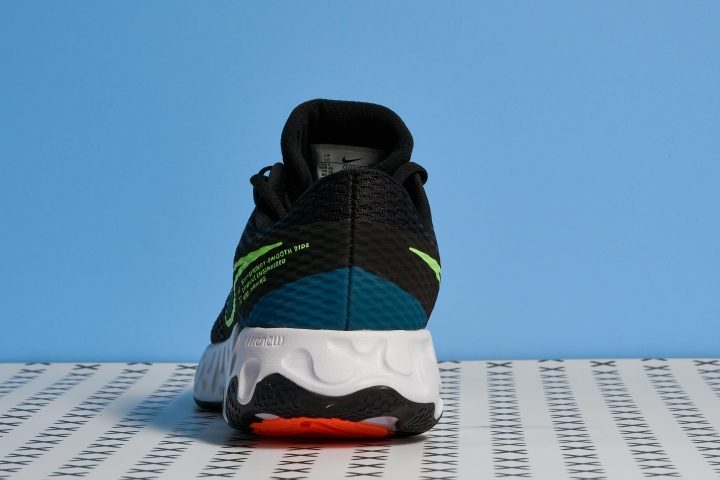 I don't really expect a running shoe that sells for $100 to include anything like that though.
Great looking upper
As budget running shoes go, the Renew Ride 2 looks fantastic. I think these are probably aimed more as a casual workout shoe, maybe with a bit of treadmill running involved in it too.
The colorways on offer don't fit in with what other companies (and Nike) are currently going for in running, which kind of confirms this. If you take a look at the Nike website, you'll see that they usually stick with a design style each year.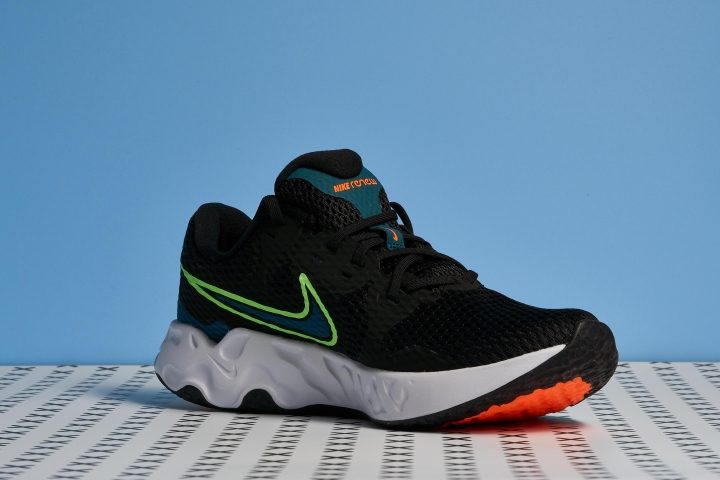 Conclusion
It might seem like I really don't like the Renew Ride 2. That's not entirely true, I wouldn't go for them myself, mostly due to the sizing and stability issues. But, for the price that you can pick these up (especially with deals) they're not a bad exercise shoe.
The Renew Ride 2 has excellent cushioning and durability, alongside a great aesthetic and grip. At this price they're an excellent option for certain users.
Complete lab-specs overview
Renew Ride 2
Average
Whole shoe

Weight (g)

302

270

Drop (mm)

8.3

8.3
Flexibility of the shoe (N)

37.5

37.1

Flexibility of the shoe (Freezer 20 min) (N)

48.5

48

Flexibility of the shoe (% of change)

29.3

34.1

Lace slip test with the knot (N)

11.9

24

Longitudinal flexibility (1-5 scale, 5 being the stiffest)

3.0

3.2

Torsional flexibility (1-5 scale, 5 being the stiffest)

3.0

3.4

Upper

Thickness - Tongue (mm)

6.13

6.2

Width Upper - Forefoot (mm)

98.5

98.7

Width Upper - Heel (mm)

87.1

82.5

Lace Stretch (1-5 scale, 5 being the most stretchy)

3.0

2.7
Flexibility of the heel counter (1-5 scale, 5 being the stiffest)
3.0
3.0
Tongue: gusset type

None

-

Heel: pull tab

None

-

Midsole

Width Midsole - Forefoot (mm)

109.2

112.2

Width Midsole - Heel (mm)

87.2

89.0

Stack - Forefoot with insole (mm)

29.3

24.2

Stack - Heel with insole (mm)

37.6

32.6

Durometer Midsole Heel (Room temperature) (HA)

39.3

26.0

Outsole

Outsole thickness (Heel) (mm)

4.1

3.7

Lugs Depth (mm)

N/A

3.3

Durometer Outsole Heel (Room temperature) (HC)

81.5

81.1

Insole
Insole Heel Thickness (mm)

4.3

4.3

Insole: removable

Yes
Compare popularity
Interactive
Compare the popularity of another shoe to Nike Renew Ride 2: