The Nike Juniper Trail is an affordable off-road shoe that seems ideal for beginners and people who want a little more grip for easy trails. With durable materials, trail-specific design features, and an excellent ground feel, this is an excellent choice for compact dirt and gravel trails.
Pros
Great lockdown
Fits true to size
Lightweight
Comfy
Affordable
Sturdy
Good lacing system
Cons
Forefoot can slip over the edge of the midsole
Lack of rock plate
Grip is pretty bad on anything technical
Nike Juniper Trail Review and Lab Test
Brilliant budget-friendly trail shoe, if you're taking it easy.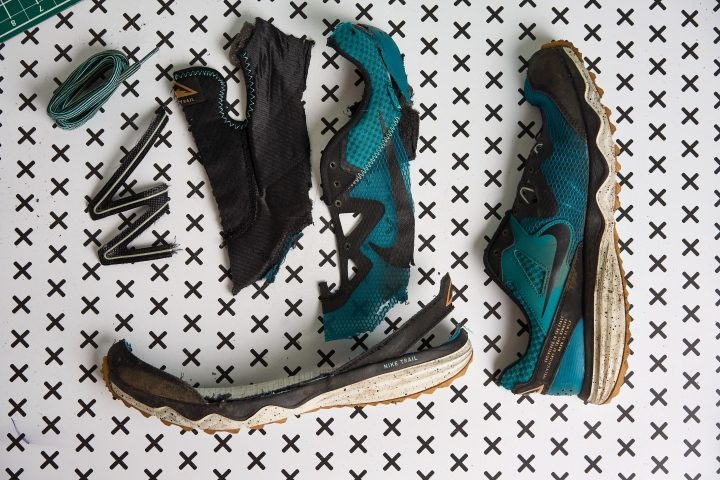 There's a lot that the Juniper Trail is not, but Nike has made an excellent introductory trail shoe (RRP £80) in a market that usually sells shoes for £160+. Sure, a rock plate would be nice, and maybe some better traction, but if you're just getting started, or have a local, gravel/hard dirt trail, these might be the perfect choice for you.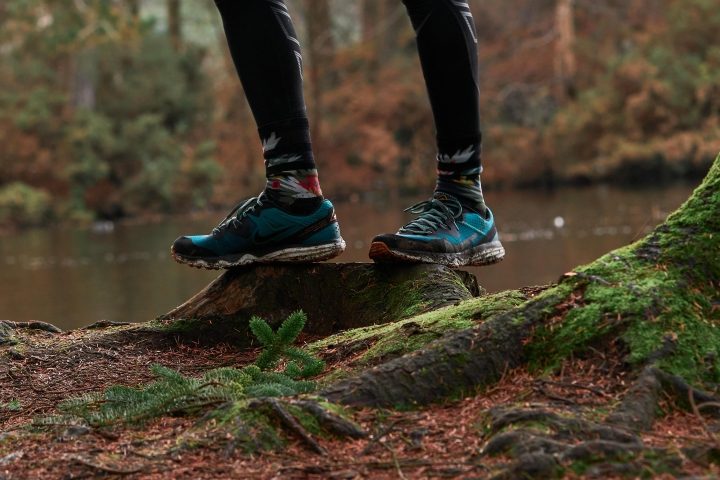 Some might say it's a lack of protection, while others welcome the more natural ground feel offered by Nike's un-named midsole foam, but it's important to note that this shoe is not made for technical terrain.
Who should buy the Nike Juniper Trail
The Nike Juniper Trail is the perfect shoe if you're looking for:
Your first trail running shoe
A shoe that you can take on local, well-built trails
A budget-friendly trail shoe
A nice, roomy toe box

Who should not buy this
It's probably best to avoid the Nike Juniper Trail if:
You're an overpronator and need extra support, try a pair of Stability Trail Shoes instead
You want to run on more technical trails, the Nike Terra Kiger 7 has added features perfect for technical runs
You're looking for something a bit more waterproof, the Nike Pegasus Trail 2 GTX is perfect for wetter conditions
Excellent lockdown: Nike always gets this right.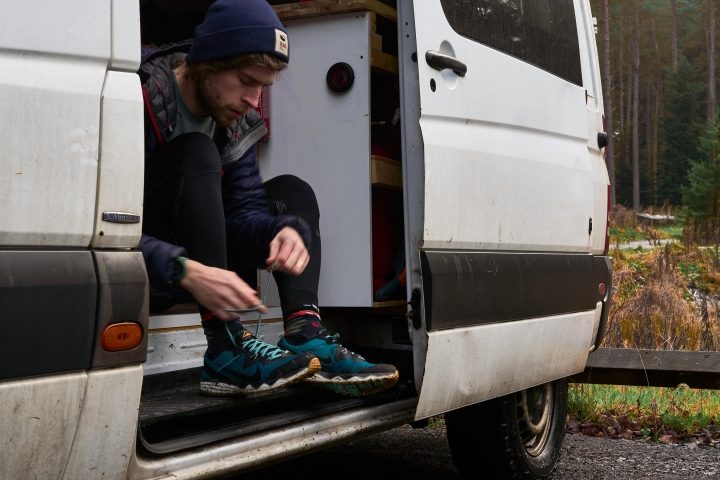 As should be expected from anything made by Nike, the shoe fits pretty perfectly. My foot slipped into the strapped heel and felt cupped and protected from the get-go. I probably put this through a bit more challenging terrain than it's meant for and my heel didn't go anywhere.
The Nike fly lacing system is a dream as well with fast lacing which kept my foot from sliding forward on the downhills. It might be worth investing in some new laces though, the stock ones that come with the shoe are quite slippery (it only took 13.3N to fully untie them in testing).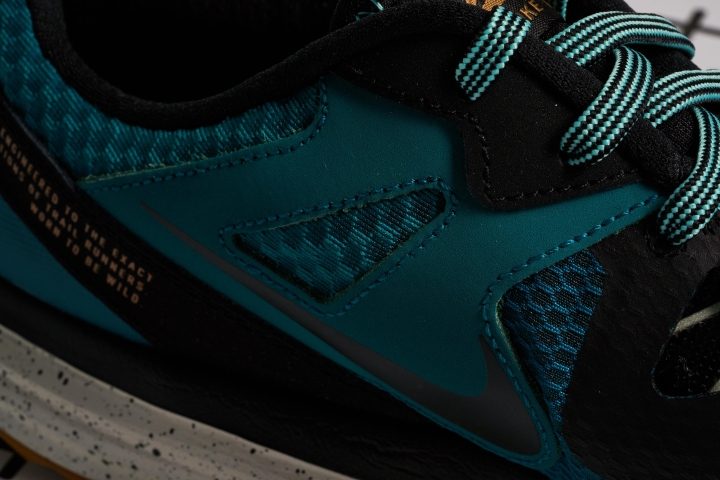 The Nike Juniper Trail toe-box has some problems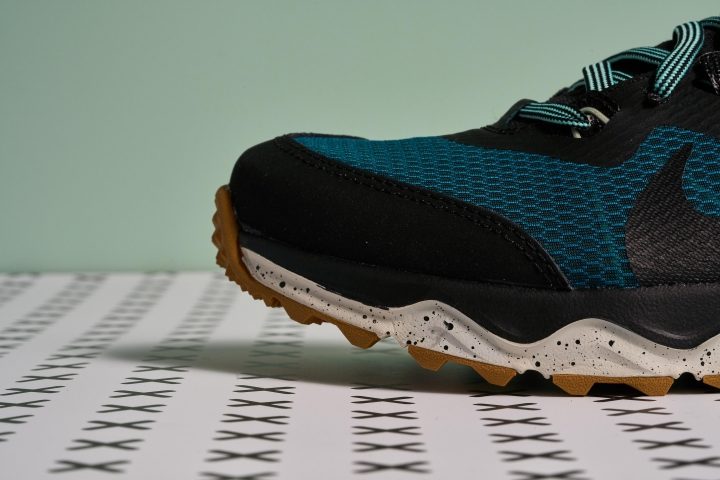 While the fit is great, and I actually quite like the roomy toebox, I did find one issue: it is so roomy that I found my forefoot slipping over the edge of the midsole. At 109.4mm, the midsole at the forefoot is a little on the narrow side, but the toe-box is also pretty wide at 101.7mm while the average is 98.5mm.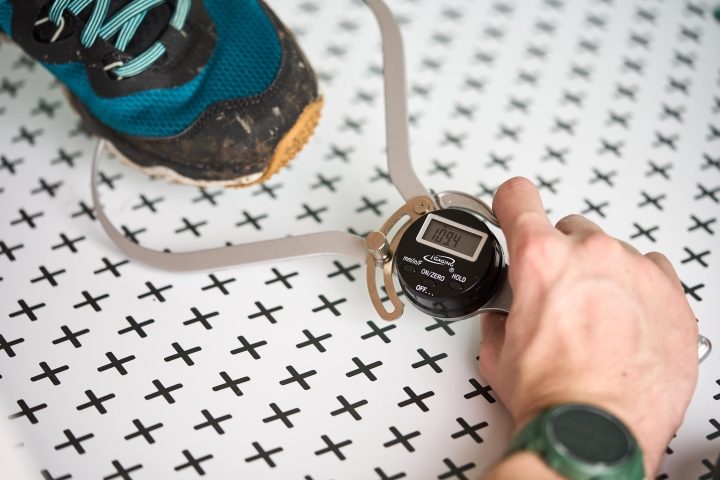 This might not seem like a huge shift away from the average, but paired with stretchier materials in the upper, the foot can easily go over the edge. While in most scenarios this probably won't happen, I felt a bit uncertain tackling any steep downhills for fear of rolling my foot.
A simple, yet effective, midsole
Nike is an industry leader for high-tech midsoles, from Air to React to whatever those little balls were (Joyride). In the Juniper Trail, however, Nike has held itself back. Undoubtedly to keep the cost low for the affordable trail shoe.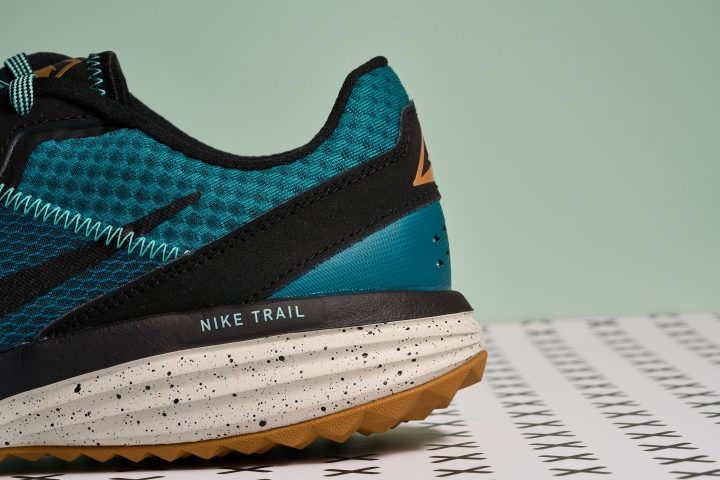 The unbranded foam is probably an EVA, it feels a bit firm underfoot but gives some bounce back. It is quite minimalist though. It lacks a rock plate, a hardened layer within the midsole to protect against sharp rocks and other objects (for a Nike trail shoe with a rock plate, check out the Wildhorse 7).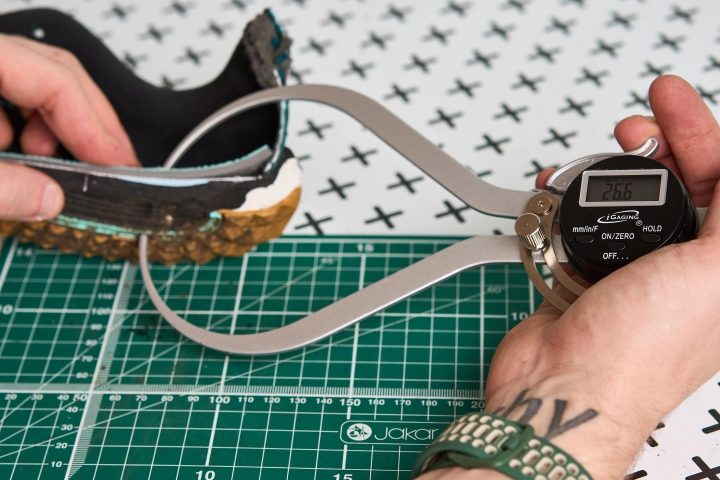 This really does place the trail shoe as one made for clean walking trails, think dog walking tracks in your local woodland. Otherwise, you may be coming back with some really sore feet and risk injury.
If used for that purpose though, the foam gives an excellent ground feel, meaning you can be a bit more at one with your environment.
The Nike Juniper Trail feels almost minimal
Thanks to the EVA foam the Nike Juniper Trail is relatively lightweight, especially at this price point. At 9.6oz (273g) for a US size 10, it's lighter than the more expensive Pegasus Trail 3.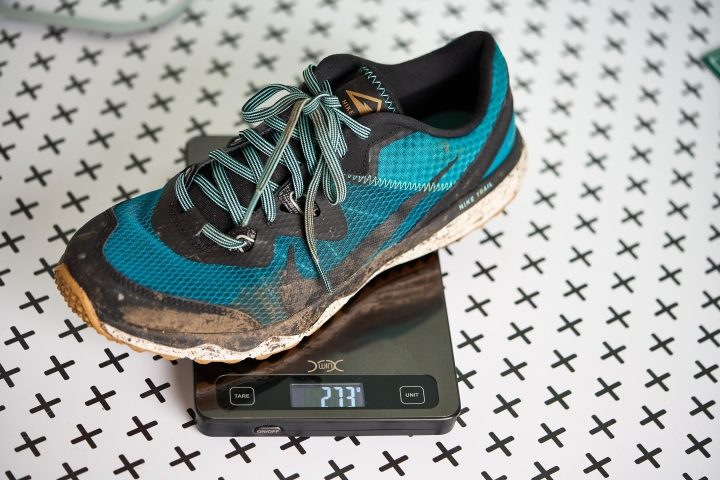 The Juniper also has a 7.6mm drop with is fairly minimalistic. This all feels about right and gives for a robust, neutral run.
There is a lack of support in the arch and this is definitely not a stability shoe.
But the outsole feels too minimal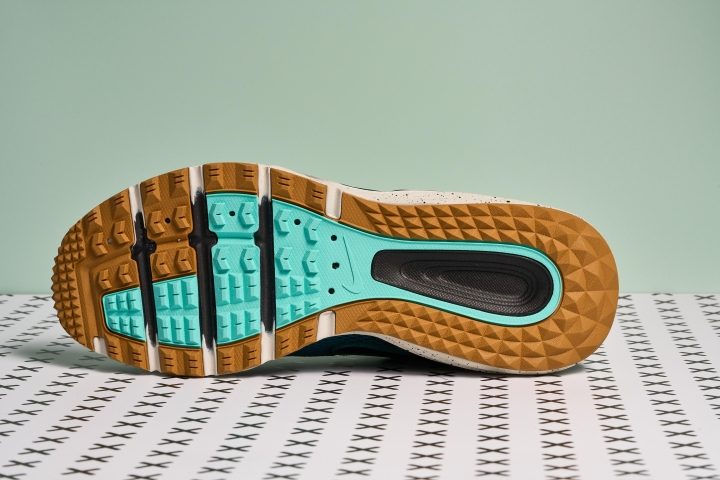 You can tell just by looking at the Juniper Trail that it is in fact somewhere between a road shoe and a trail shoe.
Modern trail running shoes tend to go for relatively deep lugs in very particular patterns to gain traction on a variety of surfaces when wet and dry.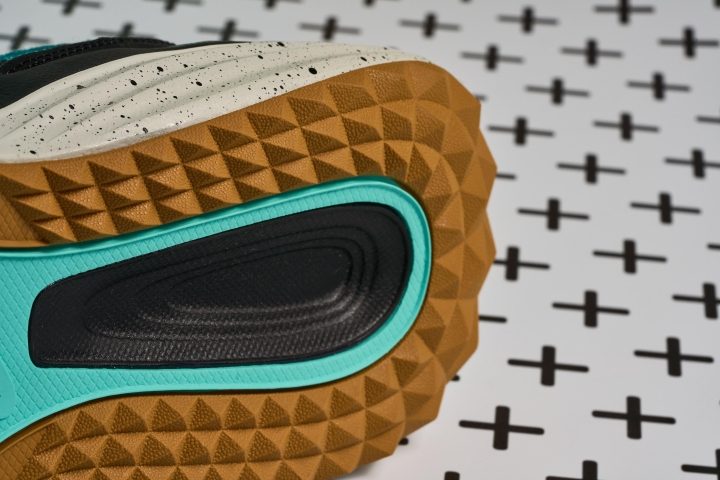 The Juniper seems to have gone for a strange, pyramid design to their lugs around the outside, with only a small section on the forefoot exterior looking like they can really grab onto surfaces.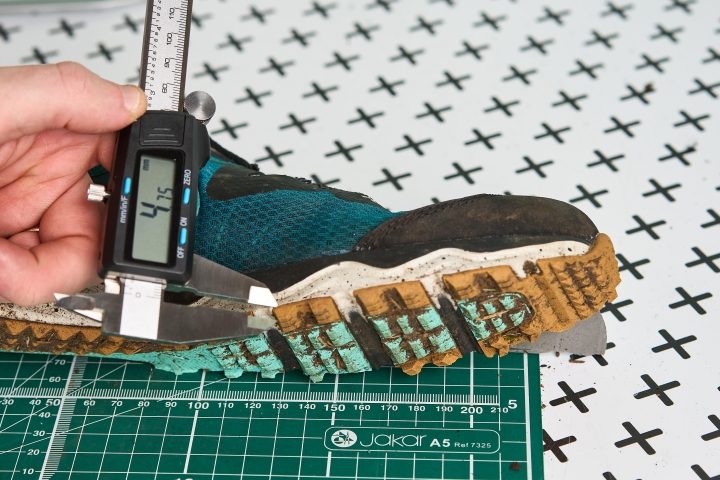 I was skeptical about the grip at first and unfortunately was proven right, on anything wet I felt myself slipping everywhere. The result was me being incredibly wary of downhills, where a slip can easily lead to an injury.
I wish more trail running shoes looked like this
The upper material of the Nike Juniper Trail is a little plasticky, but I expected that for a shoe at this price. The rest of the construction is impressive and I think looks really good.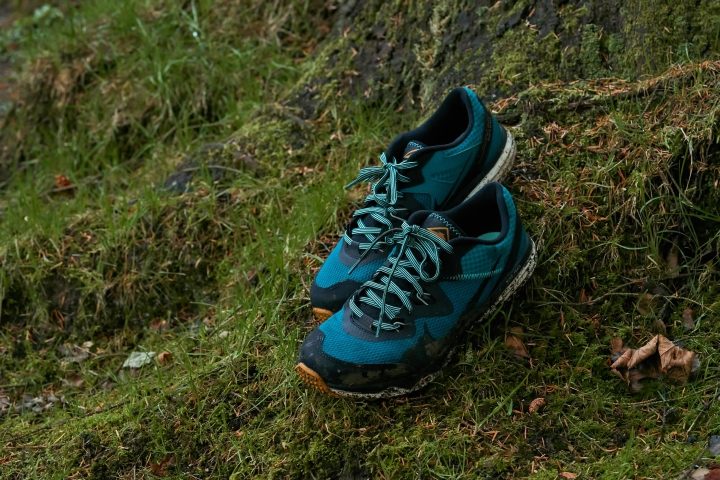 It reminds me more of a tougher sneaker than a trail running shoe, and that's not a bad thing in my opinion.
With leather straps that help with lockdown and reinforced toes, the Juniper looks great.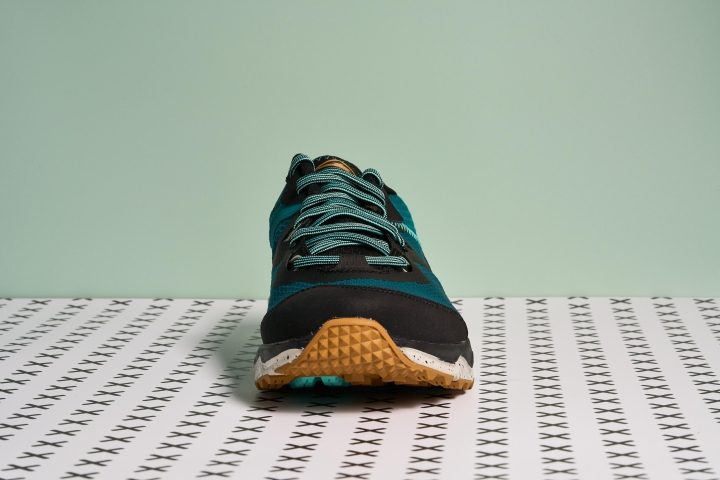 I do wish there were a bit more toe protection though.
Conclusion
The Nike Juniper Trail is, on the surface, a really well-priced trail shoe. Add to that the shoe's weight, comfort, and lacing system and you're 70% of the way there. While the last 30% is more technical, if you're looking for a shoe that can take you away from the roads onto well-maintained dirt tracks, this is for you. For this price we shouldn;t expect something that's going to support you sky-running.