Verdict from 4 experts and 100+ user reviews
6 reasons to buy
Many customers were pleasantly surprised with the colorways the Nike Free RN Flyknit 2017 came in.
Stylish and unique were a few of the adjectives that reviewers used when describing this shoe.
Several users commented on the high level of comfort this product brought them.
The design of the shoes is great for narrow feet, said one tester. This tester ordered the shoes without going a size up or down.
Some testers were blown away at how lightweight and flexible this Nike Free version was.
Most reviewers used the Nike Free RN Flyknit 2017 as casual sneakers and as running shoes for short-distance running.
5 reasons not to buy
The shape of the shoe is narrower than other shoe models.
Reviewers noticed that the outsole sometimes collected small rocks.
The upper material felt too coarse and stiff, based on several reviews.
Several users sensed that the shoes did not have much ankle support.
After about 10 miles of running, a tester wrote that she experienced pain coming from the top of her feet.
Bottom line
The Free RN Flyknit 2017 is another Nike shoe model that attempts to deliver the feeling of being close to the ground. Similar to its predecessor, its aim is to make runners feel a sense of freedom when running. To an extent, the shoes have achieved this goal with its lightweight and flexible design. It is suitable for runners who want a shoe that feels as though it is part of their foot.
Tip: see the best running shoes.
Our reviews
Yes, I ran a marathon in these shoes. Yes, I was not very smart for doing so…
From my not so good experience during the marathon to my everyday use of these shoes now, here's what I experienced over the past year of wear. We all love shoes right? Well here's some details and info on the makes this shoe great.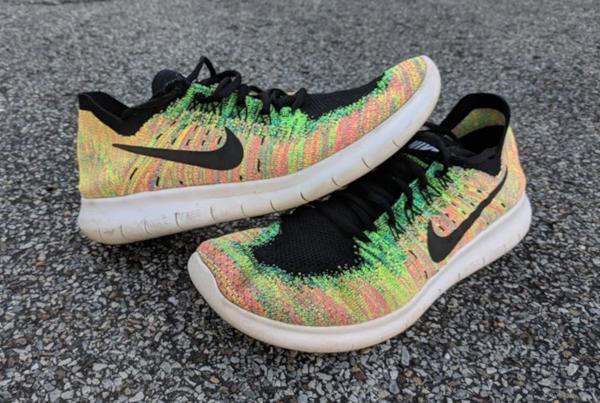 First impression
This shoe is just cool. The main reason I got this shoe initially because of its look. It just is eye-catching and fun. As you take it out of the box, you notice a couple of other qualities. It is light, and it is flexible. All you Free fans will be very familiar with these two high points.
Upper
As you begin to check out the upper, you will see that it's the highlight of the shoe. The knit material is awesome!
It fits like a glove and is greatly flexible. They have also done a solid job with integrating the FlyWire lace system to bring some sense of support on the upper.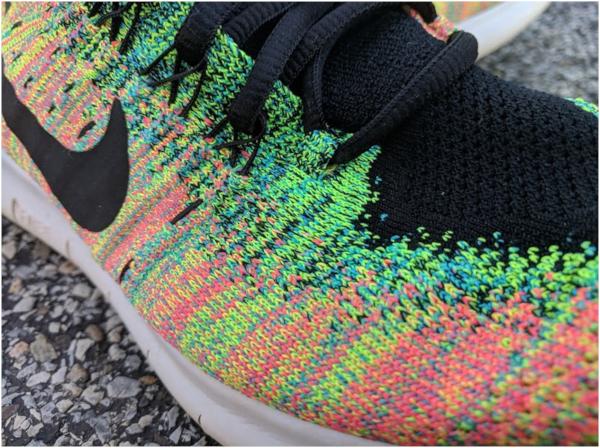 The lacing system is great and allows for a snug fit, as well as bringing support to the highly flexible upper. These are great for hot temperatures. The breathability is solid and is highly recommended during summer days.
Midsole
The midsole is a solid part of the shoe as well. It brings a great cushion feel when walking and running. As you move around in these, you will feel a mild arch that gives support which is a much-appreciated feature.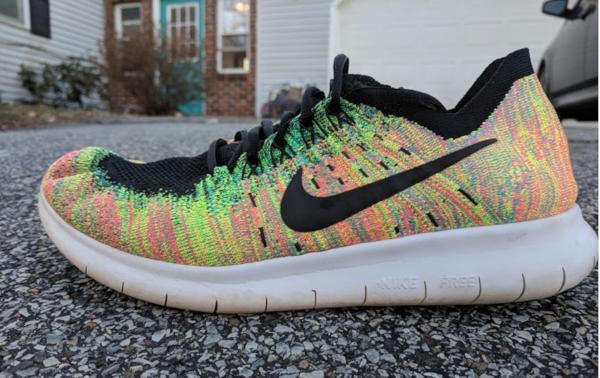 The Nike Free RN Flyknit 2017 brings an 8mm drop like the previous models which was right in my sweet spot. As you know, these are F. The flexibility, and the soft cushion brings a very comfortable mixture.
Outsole
In 2016, Nike Free RN models were given this outsole; in 2017 the same outsole was continued. This outsole is solid for mobility. The groves allow for mobility in any direction.
On the negative side, the stones often get caught in the outsole. You have to make a habit to take them out before each run. Also, the elimination of hard rubber brought on faster wear which is my biggest issue. The 2017 wear is notably better than the 2016 but still, not great.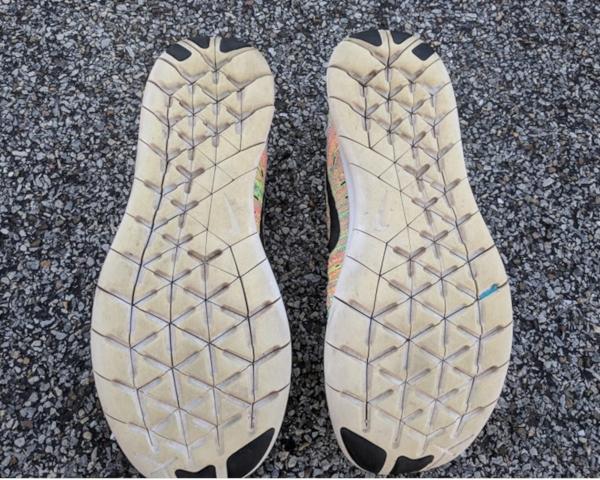 Feel
So, "the feel" is usually the most important quality when I look for a great shoe. I have been an owner of Nike Free shoes for over 10 years. It is hands down "the best feel shoe line" for me.
I love the way they allow you to connect with the ground. The feel of this model falls right in line as previous. This shoe brings on a sense of connection to the body. It has a very snug, sock-like fit which allows your foot to move unhindered in any direction.
In addition, it brings a great feel to the road. It allows your foot musculature to work and therefore strengthen. In simplest terms, it feels like cushioned-barefoot.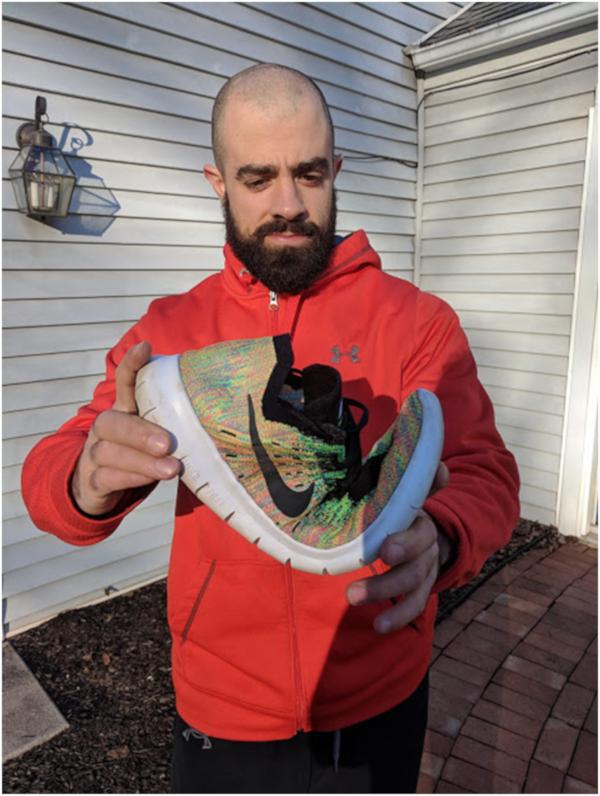 The shoe brought on a solid experience the first 1-3 miles. See, your foot must work in order to perform in these. Your muscles work a lot, and after about 3 miles, my feet begin to fatigue, and then these shoes feel sloppy with running.
If you have any pronation tendency more than mild, DO NOT get these shoes. You will feel very uncomfortable. These are for a neutral runner. If you are using them just for casual wear, that's another story.
The feel was best for me with just walking. It feels like a cozy slipper - I love it!
Performance
I did run a marathon in these shoes. So, you can run long in these if you want, but I would not recommend it.
These shoes perform. They just don't perform at long distances. I chose these to run a marathon because I have always ran in Nike Free shoes and wanted to use something I was comfortable in for the biggest race of my life at the time.
Now that I have been learning, running and training more, I have come to realize that these shoes are better used as a training tool.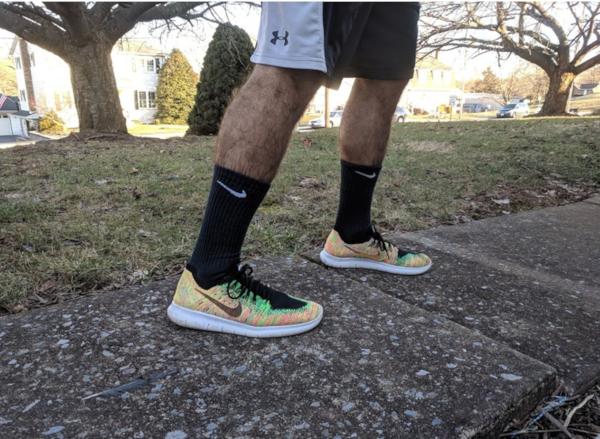 As a tool, these are very high performers. In running, we need to have great foot strength. These shoes help develop that.
These perform perfectly under short, fast-paced runs/speedwork. They bring high speed and high mobility. I love to use these for speed work and have come fond of them for strength training as well.
These are great for off days as well. The cool thing about these is you can wear them casually and still be improving yourself. Everyday walking in these will develop strength in the foot. When I wear these, I feel better while running - It's awesome!
Highs
Free feel
Great look and style
Comfortable
Great speed tool
Awesome fit
Amazing comfort for daily casual use
Lows
Just a tool - not for daily running use
Size is off - they run a size too big with me
ZERO support
Outsole doesn't last long
Quality
Solid quality and for the current price, it's well worth the price
Use
I love it the best currently for casual wear - super comfy
Speed work tool
For neutral runner - great for 5k's
Overall
This shoe will always be dear to my heart, as it's the shoe I wore for my first marathon. I have come to view this as a great shoe as long as it is used appropriately. It is not for marathons but is loved by me for daily casual wear.
If you're looking for a shoe that will provide you with everyday comfort and use, that you can throw in every now and then for speed work, GET IT. You'll love it.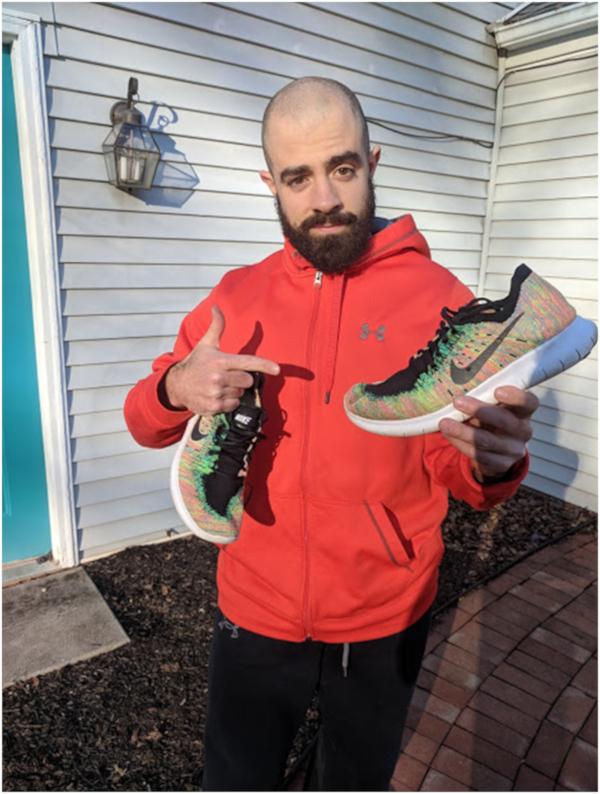 I own a Nike Free RN Flyknit since 2017, months after its release on Brazil. When I started to run in 2015, my first shoe was an All-Star Converse. As you can imagine, my joints complained a lot.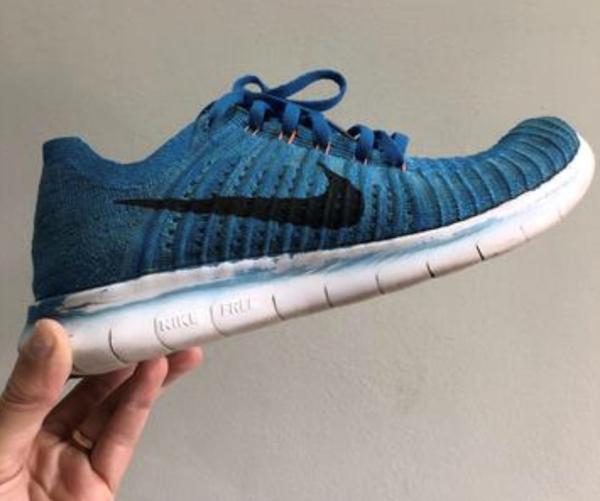 In less than a month, I listened to my body, and I gifted myself a Nike Zoom Winflo. As running became part of my life, I decided to invest in a shoe full of cushioning and technology. Then, I bought an Asics Gel Nimbus that served me well until 2017.
I loved the comfort and cushioning of Asics. However, it was heavy because of the different materials used and technology equipped in the shoe.
I needed something more "simple" and lightweight shoe, even if I have to sacrifice a bit of cushioning. I was already strong enough to a natural step running shoe.
When I checked Nike website, they were launching the Nike Free RN Flyknit. It was love at first sight. I've got a crush on its colorways and concept. It was everything that I was looking for.
Okay, cutting that melodramatic intro, let's go for what matters.
The comfort
The knit upper fits the shape of my foot perfectly. Whenever I use it with my casual outfit, it becomes uncomfortable after hours of use.
The outsole of Nike Free isn't characterized for cushioning. On the contrary, it provides a natural step. Depending on the terrain you run, you might feel rocks, branches and any other obstacles.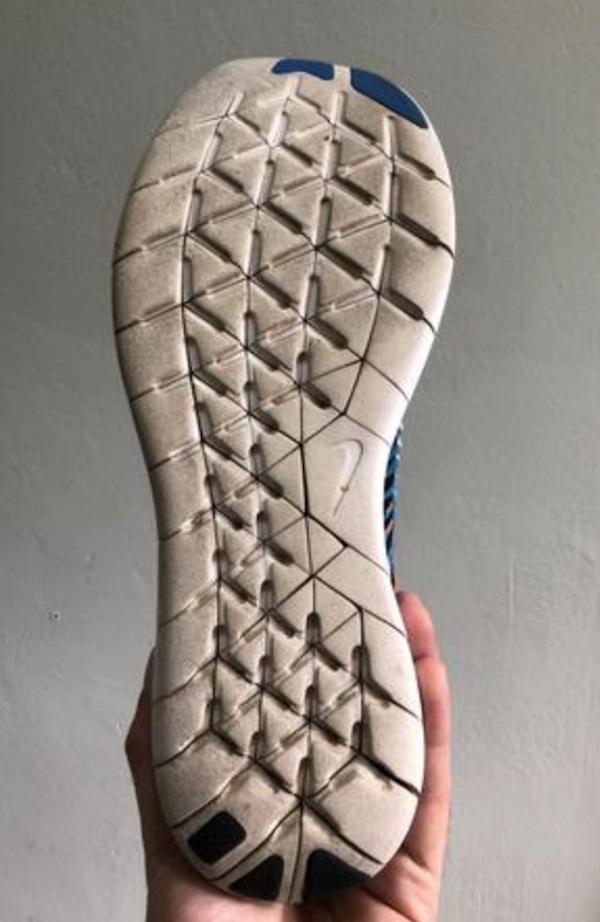 The outsole has several laser cuts that provide more flexibility to the shoe. However, you might have a problem with little rocks that tend to get stuck inside the cuts located in the outsole.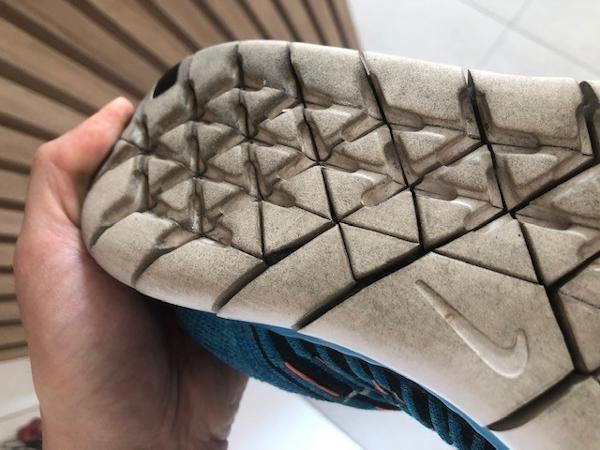 Even with those minor inconveniences, I consider it a very comfortable running shoe. Perhaps, the shoe can be used without socks, but I do not recommend to run without it. I experienced some injuries to my feet due to running without socks.
Adjustment
I would recommend buying a size bigger than your usual. When I tried on at the store, size 10 seems to be a little bit loose, so I purchased size 9.5. However, I didn't count the foot expansion that occurs during the running process.
An important point to be mentioned is the heel support. The shoe has no support on the heel, and it's a little bit awkward when you put it on. It feels unstable.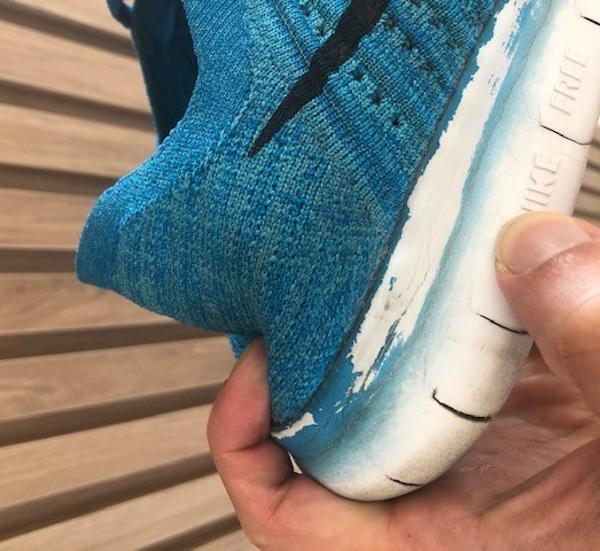 I've got attracted by the concept of "wear it like a sock"—the lacing system called flywire. In my case, it only serves as an aesthetic feature. I could use the shoe without laces without any trouble.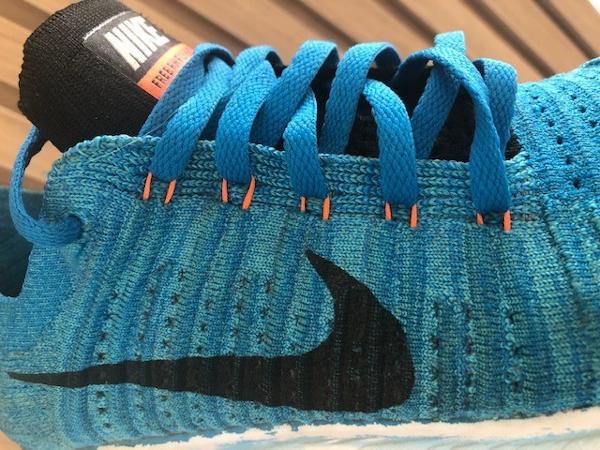 Breathability
The upper provides ventilation that I've never seen in any other running shoe. The knit material is excellent.
Weight
The Nike Free RN Flyknit is the lightest shoe I ever used with only 229g. That light weight makes all difference at the day of the race, mostly if you do your daily routine with a heavier shoe.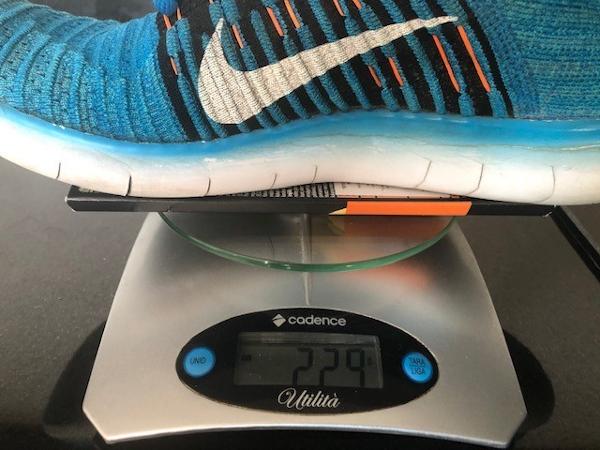 Flexibility
It also has total flexibility. The shoes can be almost 100% bent.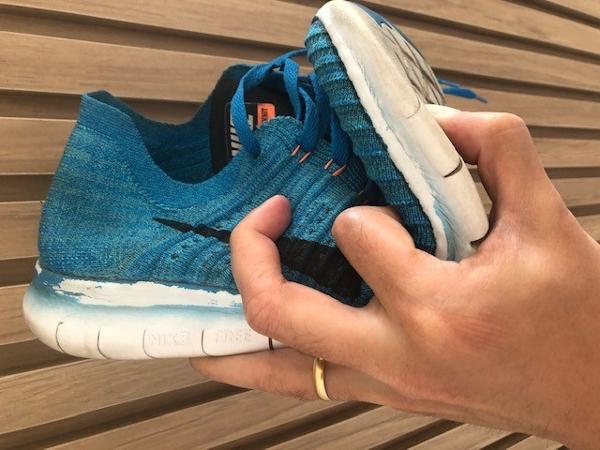 Recommendation
I do recommend that running shoe to an experienced runner who has already adapted to the sport. Actually, I would reserve that shoe to the day of the race.
If you use it on your daily basic training with a heavy sneaker, at race day, you will fly with that Nike Free RN Flyknit! Although for the beginners, I recommend starting with running shoes that have more cushioning to prevent any joint injuries.
Pros
Style
Weight
Breathability
Flexibility
Very comfortable to run in
Natural step
Cons
Heel support
Size is a bit off
Made to be in movement (becomes uncomfortable if you stay seated for a long time)
Rocks get stuck in the outsole due to laser cuts
Lacing system
Good to know
The Free RN Flyknit 2017 has a few updates from its predecessor. The biggest improvement was made on the design of the upper. Replacing the ridged exterior of the shoe is a smoother, one-piece fabric that is overlay-free. This seamless design provides a sock-like fit, which follows the movement of the foot more naturally.
The logo on the tongue was also updated into something slicker and reflective. Replacing the former logo which looked like it was just stamped on, the updated logo now goes well with the modern exterior of the shoes.
The dynamic Flywire technology is still integrated into the lacing system of the shoes, delivering a more customized fit. But the system now has the addition of a single eyelet, found at the bottom, for added security. A set of cables has been removed from the top lace of the shoes to allow more flexibility and a look that's less distracting.
The outsole of the Nike Free RN Flyknit 2017 is unique. It has auxetic structures, which adjust to every step. These structures stretch and expand upon impact, keeping up with the foot's pace and movement. The auxetic outsole also helps give the shoes moderate traction.
The midsole of the Nike Free RN Flyknit 2017 uses a fused Lunar Core to deliver a responsive ride and soft underfoot cushioning to runners. This lightweight material is durable, protecting the shoe from early breakdown.
An IU002 Carrier system is also present in the midsole. This system mainly contributes to the soft cushioning and resilient ride of the shoes. It also gives optimal flexibility when needed.
True to its name, the upper is made up of Flyknit material which conforms to the shape of the foot. Aside from providing zoned stretches, it also allows the shoe to be breathable throughout. The material, which is used in the 2018 version of the Free RN Flyknit, also provides a snug fit.
The heel is rounded in order for the shoe to roll with the ground on heel-strike. There is also a single seam on the inside of the heel so the entire design of the shoe looks like a single piece.
Feather-light Flywire cables work together with the laces to provide the wearer a more customized fit. These tiny cables are strategically placed on the upper of the shoe so when the laces tighten, the rest of the upper tightens as well.
Rankings
How Nike Free RN Flyknit 2017 ranks compared to all other shoes
Popularity
The current trend of Nike Free RN Flyknit 2017.