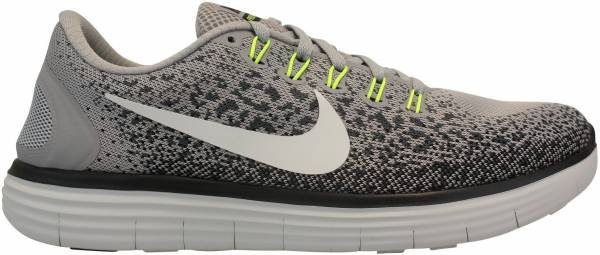 The Nike Free RN Distance made quite a positive impact on a great number of runners. They felt that they were able to run more confidently and freely because of the flexible and accommodating design. The cover system felt like cloth and many wrote that they felt comfortable because of it. On the other hand, there were a few caveats for this model. Most complaints were about its components, which didn't work well for a few consumers. Still, this road shoe pleased those with neutral gaits.
---
Verdict from 14 experts and 100+ user reviews
8 reasons to buy
A tester commented that the underfoot experience felt like walking on pillows; they'd loved their time wearing the Nike Free RN Distance.
People used this running shoe for their daily activities and they felt that it kept them from any muscle or joint pains.
The colors of this shoe were more vibrant in actuality, wrote a tester; they acclimated well to its eye-catching look.
'Enjoyable' was a word that many reviewers used to describe their time wearing this running shoe.
The upper unit's cloth-like quality gained praise from a lot of consumers.
According to runners, the shoelaces stayed in place and they didn't unravel easily.
The mid-sole cushioning system was appreciated because of its capability to keep the feet of the wearer well-cushioned throughout the running session.
The flexibility of the Nike Free RN Distance received acclaim; the users felt that it truly allowed them to move more naturally through the gait cycle.
3 reasons not to buy
The outsole unit's hexagonal grooves didn't last for some testers; they noticed some of them wearing off or peeling away.
The cushioning system made a popping noise that irritated some runners.
The side of a tester's big toe had a blister because the inner fabric kept rubbing against it.
Bottom line
The Nike Free RN Distance made quite a positive impact on a great number of runners. They felt that they were able to run more confidently and freely because of the flexible and accommodating design. The cover system felt like cloth and many wrote that they felt comfortable because of it. On the other hand, there were a few caveats for this model. Most complaints were about its components, which didn't work well for a few consumers. Still, this road shoe pleased those with neutral gaits.
Best price from 30 shops
We earn affiliate commissions at no extra cost to you when you buy through us.
76% say it's true to size.

Our reviews
Let me just say, "wow" I was blown away by this shoe. See, I have worn basically every Free model since its inception and have fallen in love with many but none like this one.
After all the years of running and walking around in this line, my one complaint was none of them were daily trainers. Finally, my wish was filled. Let me walk you through the details.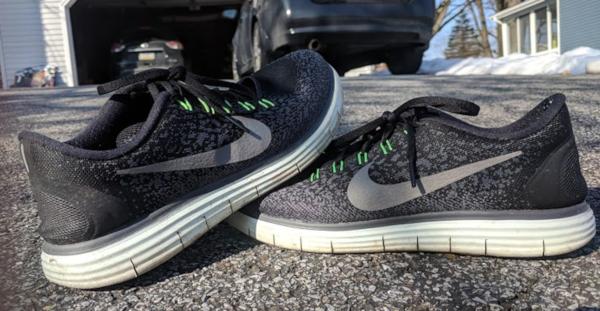 First impression
So plain! I never bought these initially because they just seemed very uninteresting. The look is very basic and does not scream "wear me."
You'll also see quickly that they are flat — the 4mm drop shoe which is very uncommon in Nike shoe lineup. Lastly, you'll see the familiar flexibility and lightness that is found in the Free lineup.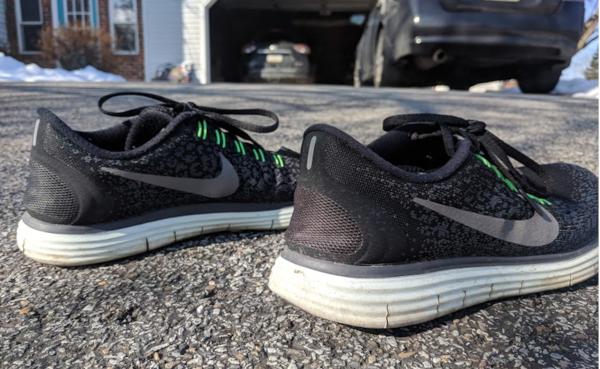 Upper
Nothing extremely notable about the upper in this shoe. Everything is basic, but it works. I absolutely love the idea of keeping it simple and functional.
The upper is all tight mesh. It's very durable and never had any tear or breakdown. Also, extremely breathable. If you do not like a tight fit, I would move up a size for sure.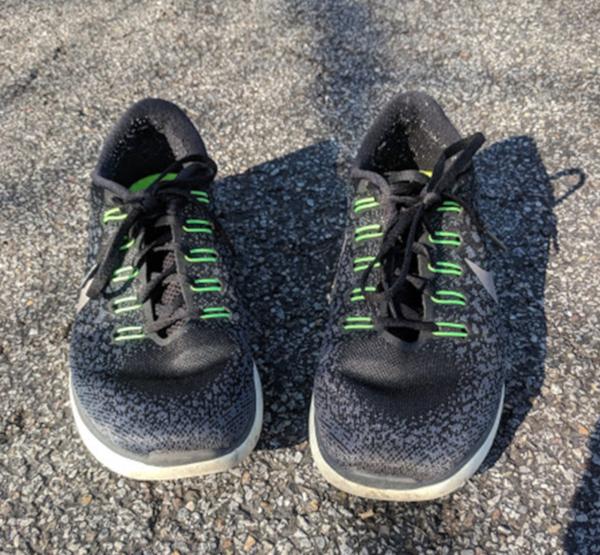 The tongue is ok and tends to slip to the side all the time. The lacing system is great. Love the flywire, it allows for a very snug fit which is a must-have for me.
The toe box is wonderful. Not as narrow as previous Free models. Space in the toe box is a must for healthy foot mechanics.
Midsole
This is where it hits the mark big! Starting with the drop, the 4mm drop is something I've been hoping for in Nike daily trainer lineup, and finally, they answered!
The midsole also brings forth excellent cushion. On top of the cushion, it brings forth minor arch support that the other Free models are lacking.
The flexibility is still there. It's such a beautiful combination of support, freedom, and cushion. Big praise here.
Outsole
The outsole is similar to other recent free models. The bottom is missing the tread but is pretty amazing how good the traction is. I never caught myself slipping once.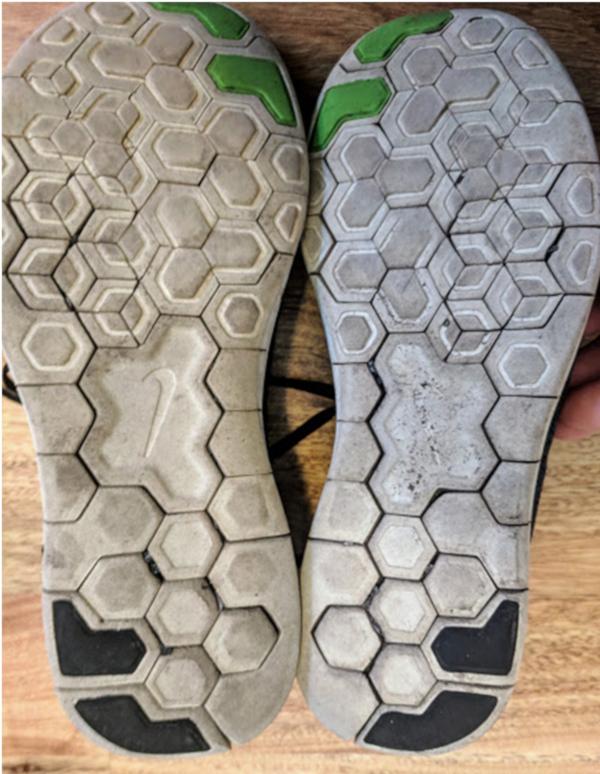 My experience with recent Free models was that the removal of the tread leads to quicker wear. Somehow though, this model does not wear like the others. After 350+ miles the soles are still intact.
The bad, which many have read, are these just grab all the stones. I have to spend time before each run picking the rocks out — a big annoyance for sure.
The feel
This is not your typical Free shoe. I know most of you have tried them, I know they have a bad wrap in the running community. But these are different.
When you put them on, you'll notice the 4mm drop immediately. Me, not being used to anything less than 8mm felt very awkward at first. I had to wean myself into these things. The 4mm drop alters your gait cycle and needs to be adjusted to for sure!
Like most Free models, these fit very snug and feel attached to you. They bring on immediate comfort mixed with stability.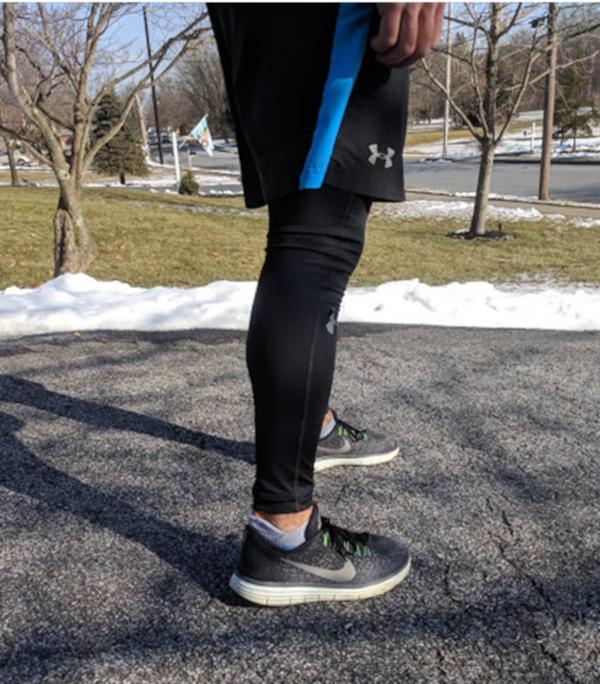 They allow for great mobility in the foot and also bring an awesome arch contact. There isn't necessarily arch support, but these do bring something, which is much more than the traditional Free.
You will feel the responsive feel on the foot which leads the foot to work as you run. However, your foot will not be as challenged with running as the regular free model. This will allow for further distance without fatigue and breakdown.
The biggest takeaway is comfort! Wow, they feel so plush and as you run you will just feel cushion. With a minimalist shoe, the cushion is unbeatable.
Performance
So when I write on performance in any shoe, I have to think of what it's made to do. For this model, the name is Free RN Distance. So, with this shoe I expect this to give me a "free" foot run that will allow me to go far. This shoe meets what the name says!
You will still feel the minimalist barefoot-like run when you throw these things on. With it, however, it brings on the much-needed support and cushion most of us need, in order to run farther. This shoe was money for up to 10 miles which are about double the amount of the regular model.
The cushion in this shoe will carry you for longer runs, for recovery runs and short runs when you feel like crap. I go to this shoe more than any other when I'm just not feeling the best before I run.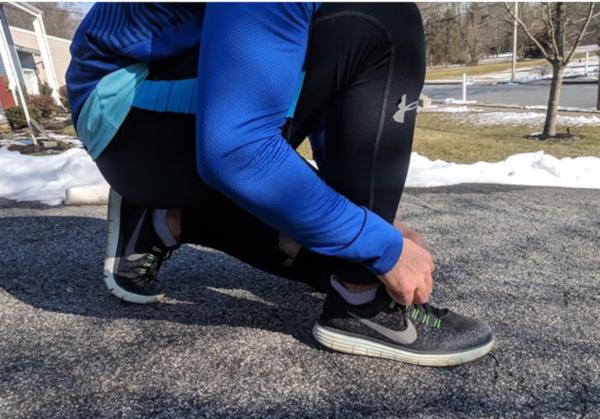 These are the first Free model I use for daily training. Nothing fancy, not a specialized trainer for speed work, this is something you can use for an ordinary run every day if you need. Love it!
Let me just say what? These things last forever! I have put 350+ mile on these things, and they are still alive. I never had a minimalist shoe or a Free model that lasted this long. I am still wearing them. Who knows how long they will last…
The only bad performance measure is that they don't do fast at all. These things are strictly for a moderate, slow paced run. Whenever I do try to go fast they just don't respond. Way to much cushion type feel.
Durability
I have zero complaints about the quality of this shoe. If you are big on buying something that will last long, then buy these. 350+ miles and not much breakdown don't lie.
Use
Daily trainer - Yeah!! Just keep it under 10 miles
Speed Work - Nah.. You'll be unsatisfied
Race Day - Not excited about it for that
Trail - No way!
High
Cushion in minimalism
Value is superb
Free concept that lasts long and goes forever
Cushion
Excellent daily trainer
Low
Not the greatest style, doesn't catch your eye
Upper is bland
Sole catches all the stones in the grooves
Poor speedster
Final thoughts
So in closing, this shoe is for those looking for a minimalist daily training shoe that brings excellent value and durability.
This has been my most used Free shoe and is currently the most used training shoe in my lineup. I have found it perfect for runs 6 or less and use these things multiple times a week.
If you are a Nike Free fan, get this shoe!
Formally, I feel like it's important to note that I have been a fan of Nike and the Free RN series for quite some time now. I ran my first marathon in a pair of Nike Free Run +2, way back in 2009.
At the time, I was convinced of the superiority of the shoe compared to others I had trained in. I was amazed at how light, flexible, and comfortable the shoe was.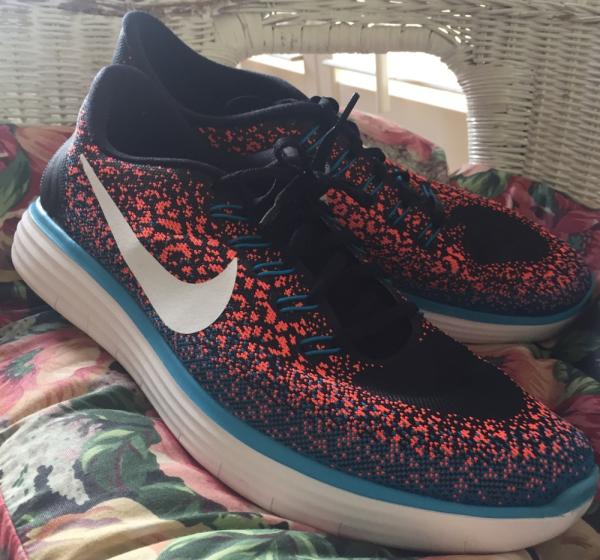 However, I was 19 at the time, and this was a time when my body could handle the impact of the road while wearing such a minimalist shoe.
Over the years, my shoe selection changed and I began running in more "robust" shoes with more support, more cushion, that were subsequently much heavier (Asics, Adidas Boost, Saucony).
Fast forward to 2017 and the last 3 months. I picked up a pair of Free Run Distance off a clearance rack at a Nike outlet store. The clearance was undoubted because of the size (14 shoes sell at a slower rate than the 13 and under sizes). At $50, the gamble associated with testing out the shoe was minimized.
Performance
In the beginning, I decided to put the shoes through their paces (pun intended) exclusively on treadmills around my local gym. This decision was made to help cushion my landing, especially at higher speeds.
Cushioning
Standing at 6'3" and 183 pounds, my legs and back take a beating during my longer and faster runs. Immediately, what I noticed is the resilience of the Lunarlon cushioning.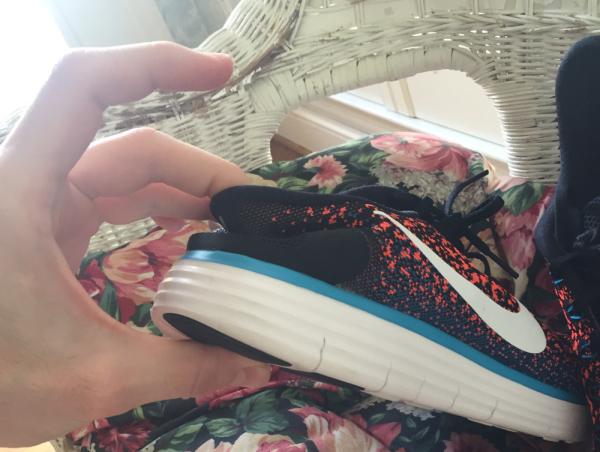 Sole
I expected the sole to wear down after a month's worth of use. However, the sole is still intact and has maintained its shape admirably.
Three months in and the shoe still provides excellent comfort. This is surprising considering the weight of the shoe (A size 14 coming in at a little over 9 oz). I expected "wear and tear" to be a more significant problem.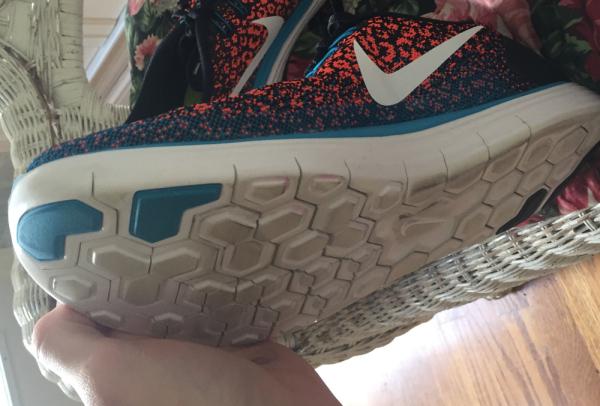 When training, my runs fluctuate between 8 and 16 miles at an 8 mile an hour pace. At this pace, the Lunarlon performs admirably.
The material provides an excellent bounce to each stride, making my runs feel efficient and effortless, which is surprising considering the minimalist heel to toe drop (4mm).
Outsole's flexibility
The outsole is also rather responsive, with the flex grooves offering excellent flexibility. While they do not "glide" me to my next step, I never feel weighed down during my runs.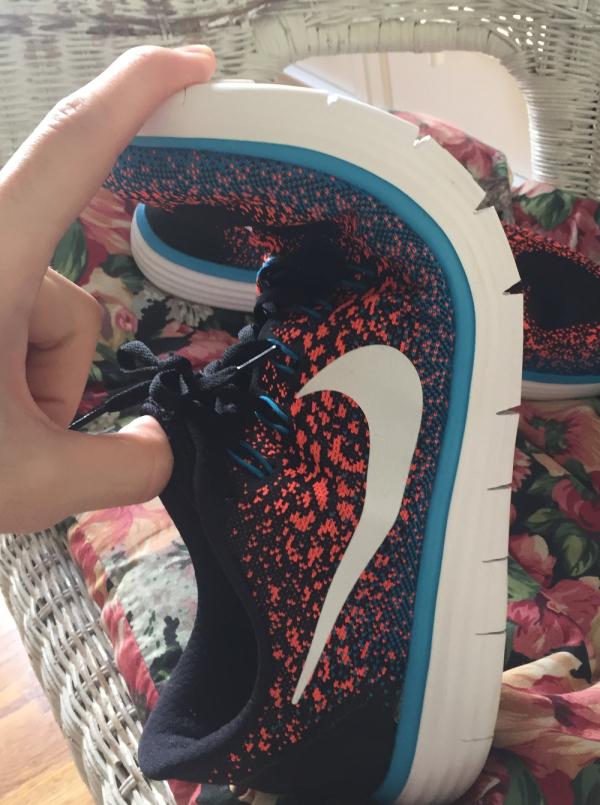 Upper
The upper, a single layer knit with Nike's Flywire cables, wrapped the arch of my foot perfectly. After only three runs, the shoe felt as though it was tailored to my foot.
This leads me to my first complaint about these shoes: comfort comes first. This is particularly obvious when discussing the "deconstructed" mesh heel. Especially on longer runs, the integrity of the heel is challenged.
At around the 10-mile mark of each run, I would become particularly aware of the heel losing its shape, making me feel as though the shoe was going to fly off my foot at any moment.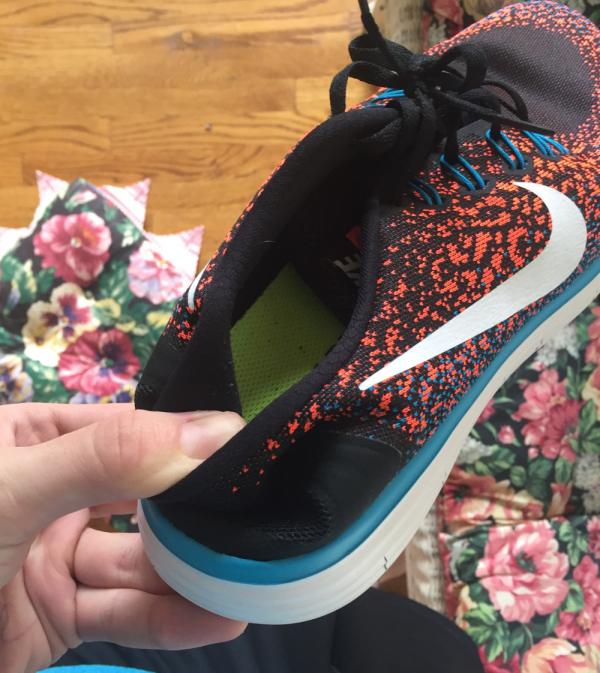 Furthermore, the comfort of the upper becomes a problem if I lace the shoes up tight. When lacing the shoe tighter for added stability, the laces tend to dig into the top of my foot on longer runs.
Upon loosening the laces, my foot begins to slide around the inside of the shoe, where the partial inner sleeve does little to keep my foot in place.
Toe box
The shoe also runs wide, with a boxier toe than most running shoes I have owned, which is a welcomed change considering the size of my foot.
I can honestly say, that my toes were never inconvenienced during runs at any distance. However, when loosening up the laces, my foot tends to slide around more than I would like.
It is also important to note, especially with Nike's, that these shoes run a little small. In most running shoes, I wear a size 13-13.5. With Nike's, my general suggestion is to buy at least a ½ size larger.
Conclusion
In general, I have enjoyed running in these shoes. Simply put, compared to my $200 shoes, in the Nike Free RN, my performance (speed/time/distance) took a hit, but my recovery time was shorter. Even as I transitioned to road running, my body never suffered.
The breathable upper also eliminated overheating. Personally, I have started using these shoes for training, subsequently saving the $200 shoes for race day. While the Free RN Distance doesn't excel in any specific realm, it is comfortable, resilient, and cost friendly. I recommend them.
Updates to Nike Free RN Distance
The Nike Free RN Distance features the natural-motion outsole that had hexagonal flex grooves with six points of flexibility. It allows the foot to move freely and flex to where the foot meant to. It gives flexibility for a comfortable, long distance run.
The shoe comes with a lightweight cushioning that delivers enough support for high mileage runs. The soft foam delivers a great combination of plush comfort and durable support for distance runs.
It also features the single-layer knitted upper that delivers maximum breathability, keeping the foot cool and dry. The upper is engineered with the Flywire cables that comfortable wraps the arch for a more adaptive and supportive fit.
Size and fit
The Free RN Distance has a close-to-the-foot fit just like the other Nike Free shoes. The forefoot and the midfoot area are in shallow volume, providing a snug fit for runners with medium and narrow foot shape. This shoe is absolutely not ideal for wider foot. It is available in standard running shoe size.
Outsole
The Free RN Distance uses the BRS 1000 carbon rubber extended in the entire outsole that delivers durable traction. With the aid of the hexagonal flex grooves that promotes maximum flexibility, the foot can move naturally. The waffle-pattern lugs deliver reliable grip on wet surfaces while giving added cushioning.
Midsole
The shoe has a soft cushioning and it delivers a durable and responsive ride. The fused lunar core gives a lightweight yet responsive cushioning and the IU002 carrier system offers a smooth ride while giving the necessary flexibility needed for comfortable and enhanced performance. This midsole configuration is also used in the Nike Distance 2.
Upper
The upper of the Nike Free RN Distance features a one-layer circular knitted upper that delivers an impressive fit while giving plenty of breathability. It also uses the Nike's Dynamic Flywire cables that provide added support and adaptive fit without adding to much weight to the shoe's overall weight.
Rankings
How Nike Free RN Distance ranks compared to all other shoes
Popularity
The current trend of Nike Free RN Distance.