The Nike Flex Run 2021 is a shoe that puts comfort, sustainability, and usability at the heart of its construction. Even better, it does not tax the weight of the shoe. Ultimately, the Nike Flex Run 2021 won't hurt your feet, your wallet, and most importantly, it won't hurt the environment.
Pros
Fits true to size
Good ground feel
No break-in period
Extremely lightweight
Flexible
Look great
Made with sustainability in mind
Low price point
Toes can wiggle
Cons
Durability issues
Grips dry tarmac only
Short runs only
Nike Flex Run 2021 review and lab test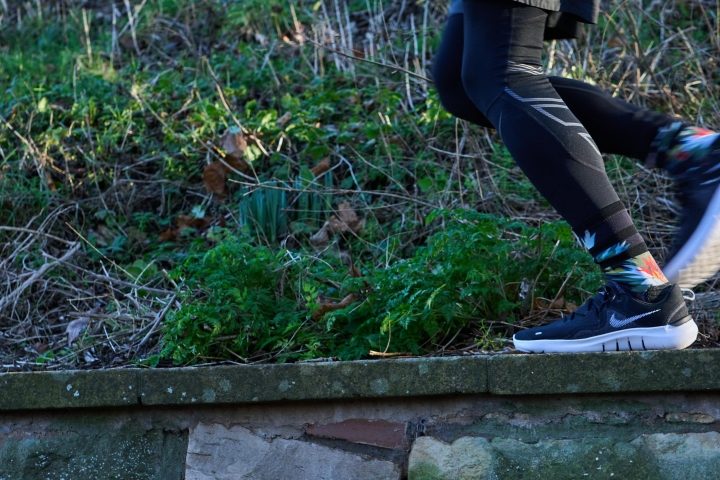 The Nike Flex Series can often divide users, especially those who want to train in them regularly. Being less minimal than alternatives, the Flex Run 2021 looks set to be a good middle-ground for users who would often avoid this shoe.
Who the shoe is for
The Nike Flex Run 2021 is a neutral running shoe that's going to appeal to anyone who dislikes spending large amounts of money on running shoes but still wants a comfy, flexy shoe for shorter runs.
It's also a super-versatile shoe that can be worn casually too.
Who the Nike Flex Run 2021 is not for
It's probably best to avoid the Flex Experience Run 10 if: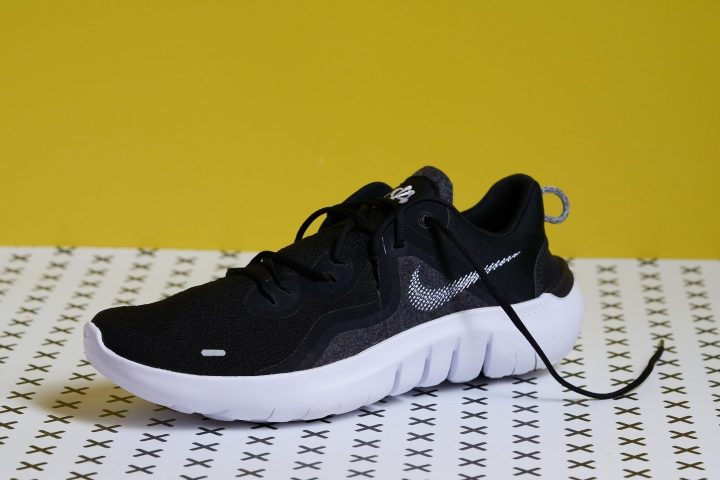 The Nike Flex Run 2021 is lightweight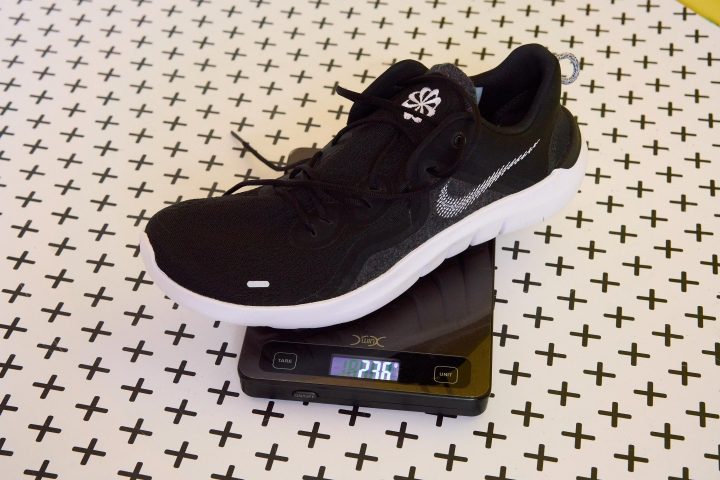 At 8.3oz (236g) the Flex Experience Run 10 is one of the lightest running shoes on the market, especially at this price point. With a super-lightweight upper design and no extra outsole (who needs them!), there's very little to weigh you down.
Let's talk flexibility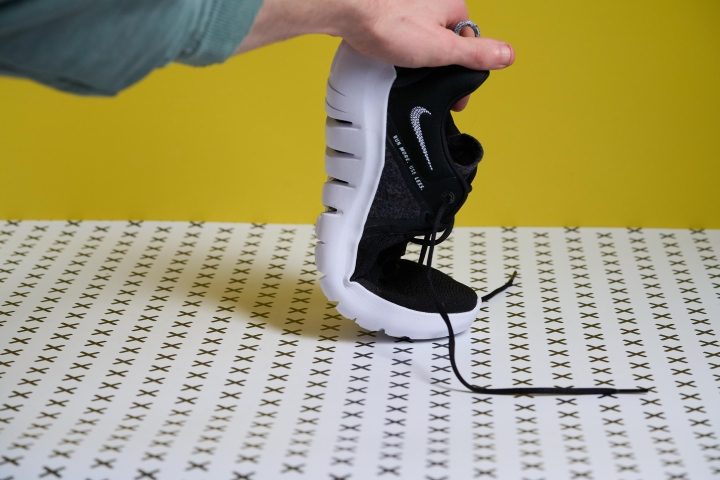 Going strong for nearly 20 years, the Nike Flex design obviously prioritizes the ease of movement for the shoe. Being easy to bend in all directions can help feel as though you're not actually running in a pair of shoes.
We test the flexibility of running shoes by measuring the force needed to bend to 45° both before and after sitting in a freezer for 20 minutes.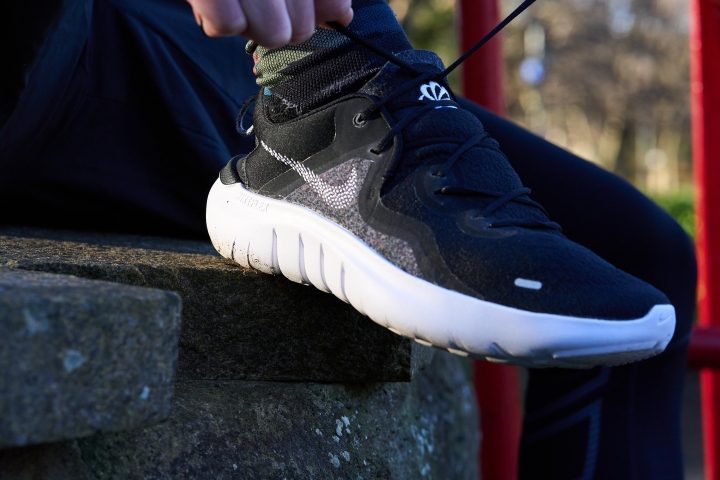 The average shoe needs 34.5N to get that far at room temperature. The Flex Run 2021 needed only 9.2N, making it one of the most flexible shoes we've tested. After 20minutes in the freezer that number shot up to 15.3N which is a 65.4% change. Normally such a huge change would be worrying, at this level of flexibility, I don't notice any noticeable difference in use.
Making a midsole an outsole is a fad
The main way that Nike is trying to cut weight on the Flex Run 2021 is the omission of an outsole. Usually rubber, the outsole is there for grip, protection, durability and -in some cases- motion control.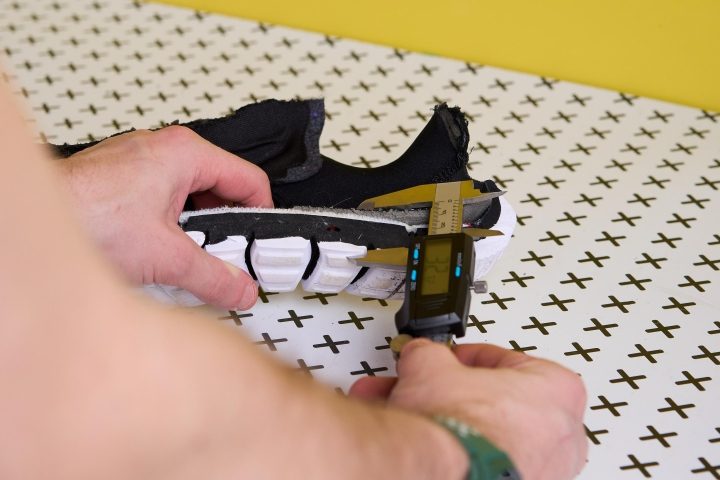 The lack of an outsole means that the midsole needs to be a bit firmer. Seeing as it's only a single type of foam (dual-density foams are very rarely seen at this price point), that firmness is used throughout the entire midsole.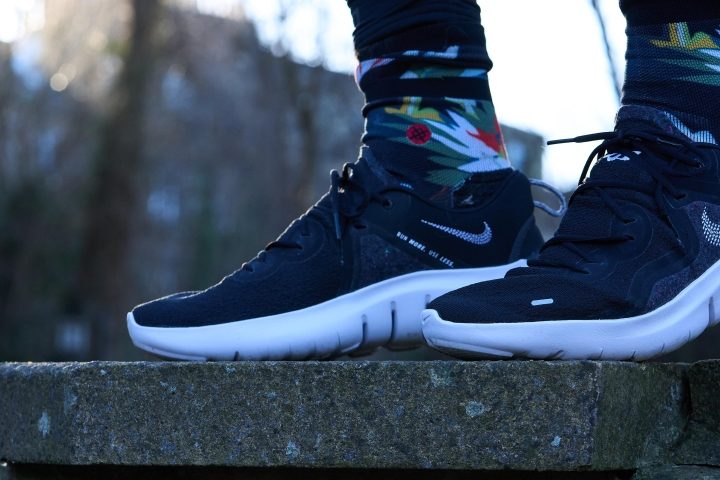 The Nike Flex Run 2021 has a midsole hardness of 44.2HA, which is far above the average of 26.9HA. This makes for a firm ride that didn't feel comfortable to me. I wouldn't recommend the Flex Run 2021 for runs longer than 10km maximum, especially if you're using them frequently.
The Nike Flex Run 2021 feels like it's not there
With a soft, lightweight, and flexible midsole, the shoe is barely noticeable on foot. For runners who love a minimal shoe, that's great. For me, I prefer at least some protection from the constant impact of running.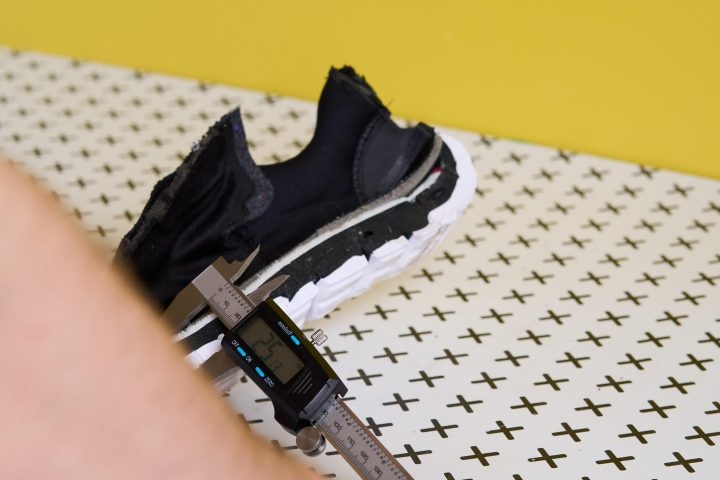 With 25.1 and 32.3mm of forefoot and heel stack respectively, there's a bit more protection underfoot than previous versions of the Nike Flex Run. It's close to the average but still feels a bit hard than I'd like in a daily runner.
For those who love ground feel and find benefits in a closer-to-barefoot style of running, this is a great option, for others, I would definitely be cautious.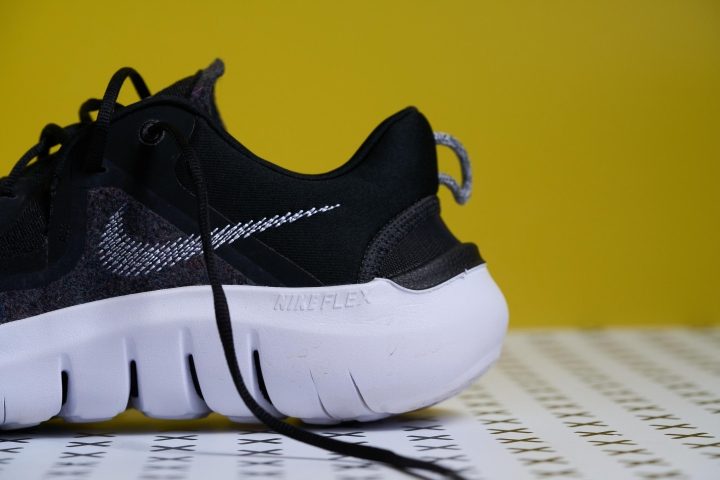 The Nike Flex Run 2021 may have some durability issues
Again, the midsole-as-an-outsole situation is the downfall of the shoe in my opinion. The soft foam is no match for durability in comparison to proper outsoles.
What's more, the midsole is cut into sections that come apart when it flexes, which hoover up small debris like stones and twigs on runs. This can lead to even more wear deeper in the midsole.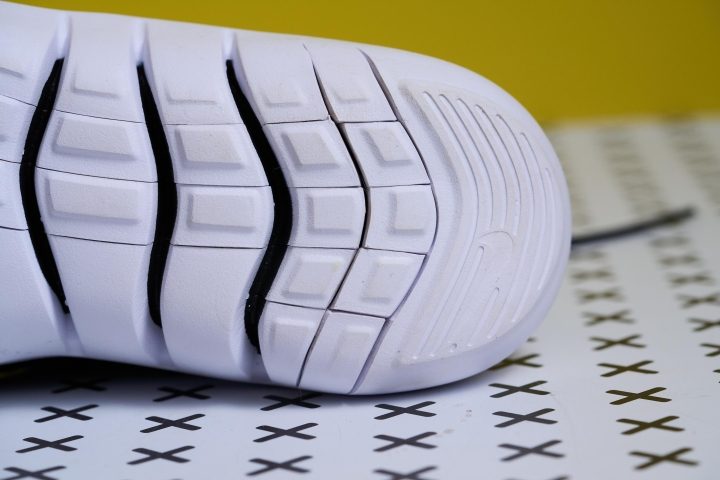 While I might criticize the choice, it is the only way to make such a flexible shoe, so it's a reasonable trade-off if this is what you want.
Finally, a spacious upper
Nike's Flex range was birthed following their "Flyknit Era" which saw uppers constructed of lightweight, elastic knit uppers. The heavily form-fitting uppers have plagued runners with incredibly constrictive shoes, even once Flyknit was mostly left behind.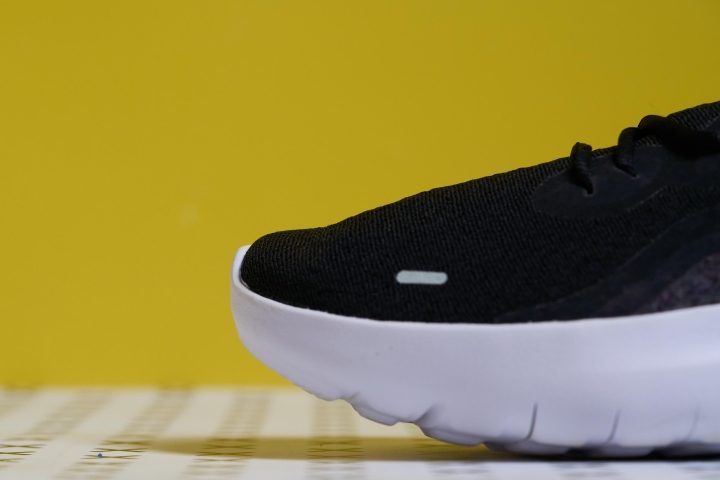 The Flex Run 2021 is one of the standouts from this crowd. With more structure added to the upper (which isn't Flyknit), there is actually space for my toes to wiggle and feet to breathe. It still fits true-to-size and has excellent lockdown, so they've really nailed this part of the shoe.
The Nike Flex Run 2021 has no break-in period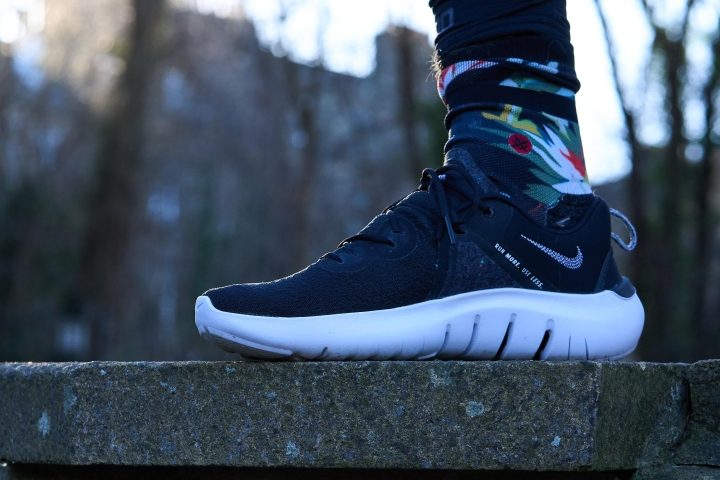 Thanks to that flexibility, the Flex Run 2021was ready to go straight out of the box. The lack of break-in means no blisters and instant use.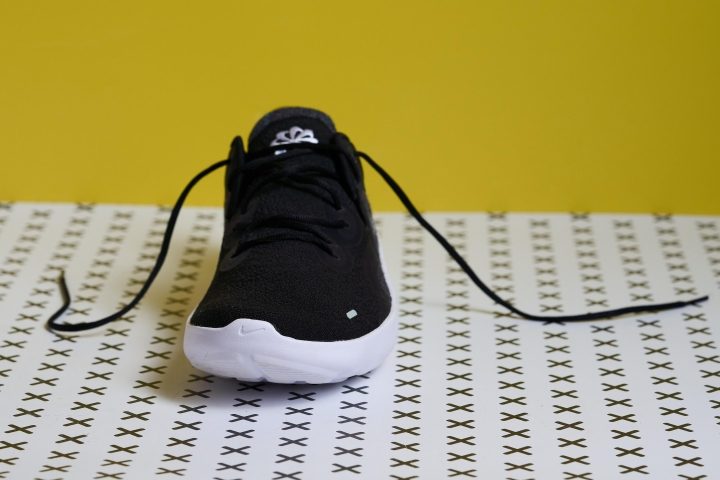 It's relatively minor but it's always a nice extra.
There's a significant lack of grip
If you missed it: the Nike Flex Run 2021 is missing an outsole. For me, this discounts it from reliable use on outdoor runs. With nothing attached to the midsole to keep me locked to the ground the soft foam slips on anything but clean, dry tarmac.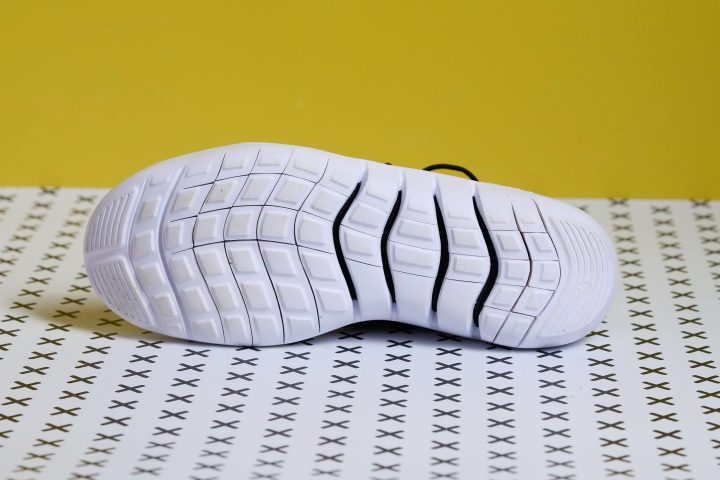 Conclusion
The Nike Flex Run 2021 is a truly lightweight running shoe that aims to be budget-friendly. For this it does incredibly well, it's comfortable, flexible, and has a fair amount of cushioning for shorter runs. I definitely think it's somewhat limited by its price point and is probably best used as an active shoe, rather than a dedicated long-distance runner.
Complete lab-specs overview
Nike Flex Run 21
Average
Whole shoe

Weight (g)

236

270

Drop (mm)

7.2

8.3
Flexibility of the shoe (N)

9.2

34.5

Flexibility of the shoe (Freezer 20 min) (N)
15.3

48

Flexibility of the shoe (% of change)

65.4

34.1

Lace slip test with the knot (N)
28.5

24

Longitudinal flexibility (1-5 scale, 5 being the stiffest)

1.0

3.2

Torsional flexibility (1-5 scale, 5 being the stiffest)

1.0

3.4

Upper

Thickness - Tongue (mm)
3.1

6.2

Width Upper - Forefoot (mm)

99.7

98.7

Width Upper - Heel (mm)

78.8

82.5

Lace Stretch (1-5 scale, 5 being the most stretchy)

3.0

2.7
Flexibility of the heel counter (1-5 scale, 5 being the stiffest)
2.0
3.0
Tongue: gusset type
None

-

Heel: pull tab
Yes

-

Midsole

Width Midsole - Forefoot (mm)
112.5

112.2

Width Midsole - Heel (mm)

85.8

89.0

Stack - Forefoot with insole (mm)

25.1

24.2

Stack - Heel with insole (mm)

32.3

32.6

Durometer Midsole Heel (Room temperature) (HA)

44.2

26.9

Outsole

Outsole thickness (Heel) (mm)

NA

3.7

Lugs Depth (mm)

NA

3.3

Durometer Outsole Heel (Room temperature) (HC)
NA

81.1

Insole
Insole Heel Thickness (mm)

4.7

4.3

Insole: removable
Yes