Verdict from 3 experts and +100 user reviews
6 reasons to buy
A good number of users commented that the New Balance Fresh Foam Roav is very comfortable.
Several testers said that the design of the shoe is stylish.
It is lightweight, according to those who have tried it.
The shoe was good to wear for running, walking, and gym activities as well as casual occasions.
A significant number of users admired the excellent cushioning of the Fresh Foam Roav.
Based on some reviews, the shoe has a wide toe box.
2 reasons not to buy
The integrated tongue is quite bothersome, a few wearers noted.
The New Balance Fresh Foam Roav is not supportive, as mentioned by some buyers.
Bottom line
Based on the positive reviews, the New Balance Fresh Foam Roav is indeed a well-loved running shoe.
This road running companion was evidently excellent when tackling different paved surfaces. The design and comfort level was given attention and received praises. Despite a few issues on the sizing and supportive feature, this running companion is still recommended by many.
Tip: see the best running shoes.
Our reviews
The New Balance Fresh Foam Roav looks good, but I would not recommend this for running. However, if you're looking for an everyday sneakers/trainer, go for it!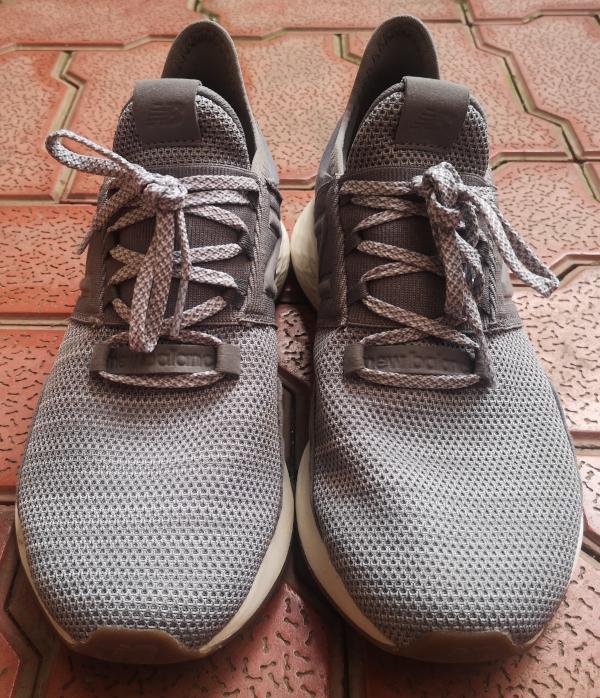 Fresh Foam
What is Fresh Foam, you ask? This is the cushioning used by New Balance. Fresh Foam to New Balance is what Boost is to Adidas.
New Balance takes pride in Fresh Foam as they promote it to be lightweight, comfortable, and responsive—and it is! Your feet won't hurt standing and walking in these all day long.
Ultra Heel Technology
New Balance boasts of their Ultra Heel technology for these model (it's on the shoe description on NB's website), but they could have done better.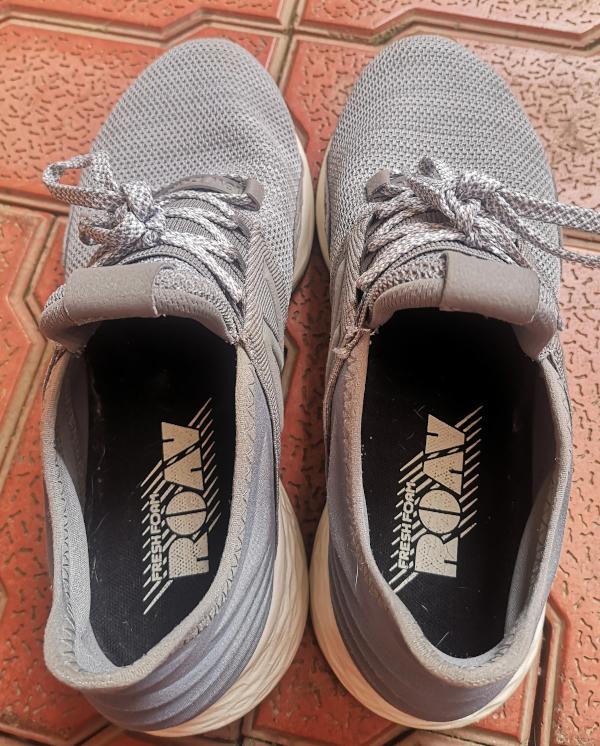 The heel slips, affecting the overall shoe experience. It doesn't provide a secure fit. It sometimes slips when I do intense sessions at the gym, and it slips when I do a sprint run.
Appearance
It looks so fresh and stylish! New Balance definitely did a great job on the look of these shoes. It's a modern take on New Balance running shoes.
I got a few compliments when I first wore these. I use the Fresh Foam Roavs more when going on a stroll and when I have to go from place to place for work and errands.
Weight
The Fresh Foam Roavs are lightweight and comfortable because the upper part is made of mesh. The cushion gives you an extra inch of height.
Fit, toe box & width
I'm usually an 8.5 or 9 in US shoe sizes. I got the 8.5 for these shoes, and they run large!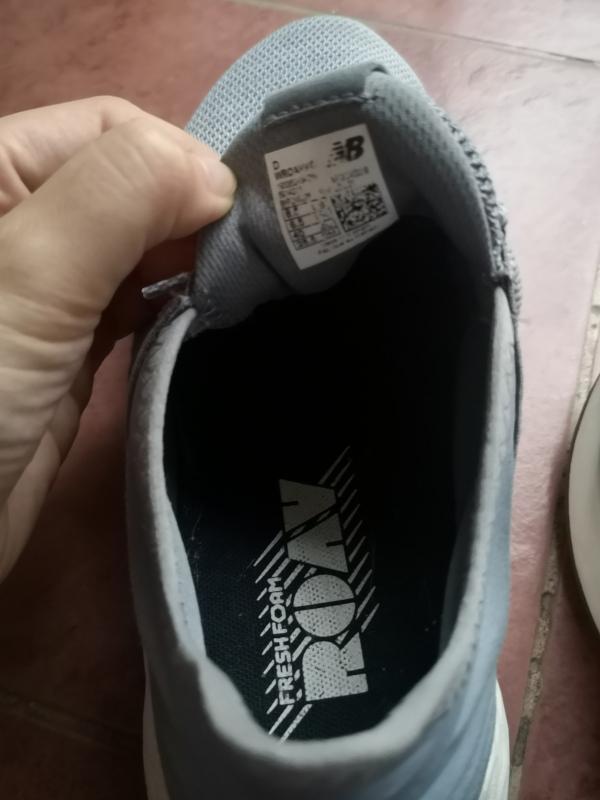 I placed running footpads and wear thick socks just so my feet wouldn't move around much in my shoes. Even with all those, my feet would still tend to move inside.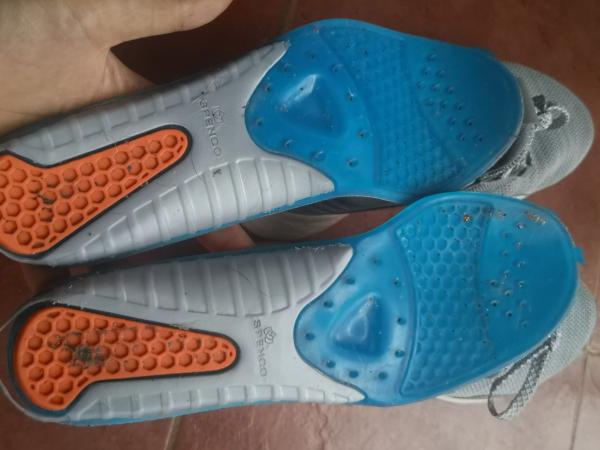 When buying a pair of Fresh Foam Roavs, I suggest that you go a size down. These shoes are great for people with wide feet and toes because you have an option if you want a standard or wide width.
Grip and laces
No problem with the laces as they stay in place. The grip and traction for these shoes are so-so. The heel slips. Nothing special.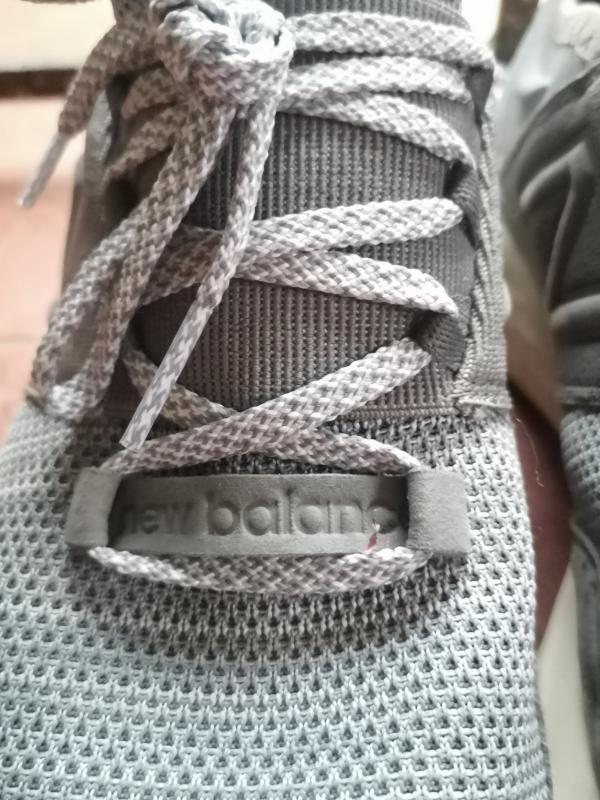 Running performance, experience, and quality
The first few times I used it for a run, I found it to be lightweight, but I slipped in these shoes a couple of times. My ankle hurt for a couple of days.
The Fresh Foam Roavs are cushioned, but my legs still hurt after a run. I would not recommend it if you plan to have an intense workout at the gym (HIIT, circuit, plyometrics, etc.).
I only use it in the gym when I know I'm not going all out (just a few minutes on the treadmill, some light weights, a few squats here and there).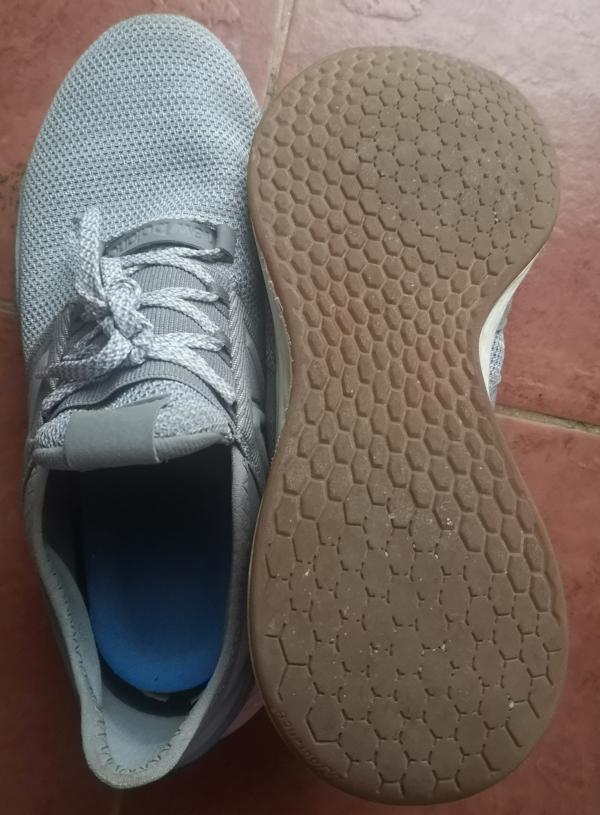 Also, I suggest that you must always wear ankle socks with these because not wearing socks will cause your heel to hurt or blister.
The Fresh Foam Roavs are marketed by New Balance as running shoes for on-the-go athletes with the tagline "from morning miles to the rest of your day", but I find this misleading. Just go find another pair of running shoes.
I'm wearing my pair as I'm writing down this review. It served its purpose well today because I went to work and wanted to be in comfortable shoes.
After work, I went to the gym and did a light workout. It's convenient in that aspect. I wore it all day and felt no pain.
Conclusion
The Fresh Foam Roavs are fine as athleisure shoes, but they lack support as running shoes. It's just more of a daily sneaker and is best when your work requires you to stand or walk all day.
Pros
Lightweight, comfortable and breathable
Cushioned and springy
Affordable and fashionable
Great and super comfy for walking around and standing
Nice range of colorways
Cons
Not that good as a running shoe as you are prone to slipping
Lacks support and the heel slips
The sizing runs large
When I first saw the New Balance Fresh Foam Roav, I must admit, I did think they looked good, but they didn't look like your average running shoe.
Now, that doesn't have to be a bad thing, there are lots of weird-looking running shoes out there that aren't half bad. Looking at the design it reminds me of the Fresh Foam More as well as the Beacon 2. But I wasn't sure the New Balance Roav was designed to be a running shoe.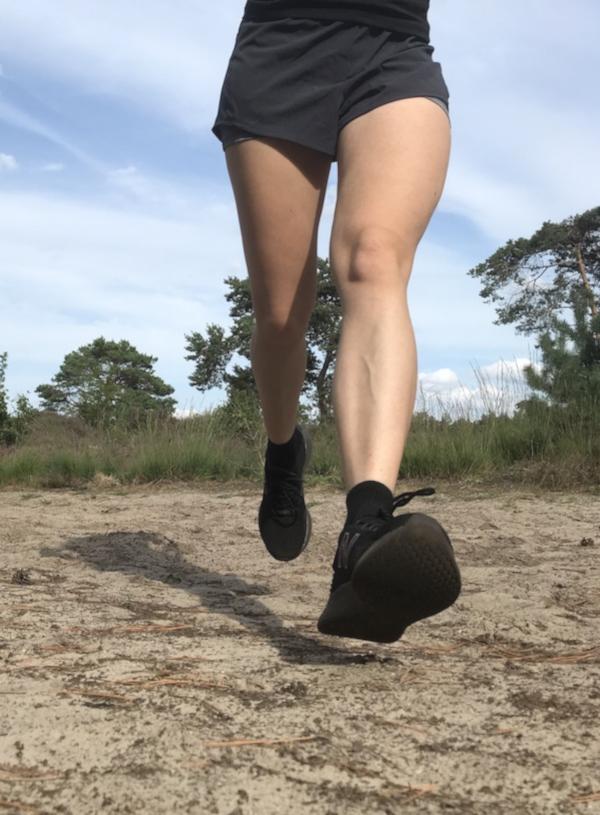 But some research on the New Balance website made clear that they did intend this to be a running shoe.
It was categorised as a running shoe on their website and the description of the shoe made it clear that this shoe was designed for "athletes on-the-go" and it could go from "those morning miles to the rest of your day". Hm, okay. I guess it's a running shoe/sneakers then.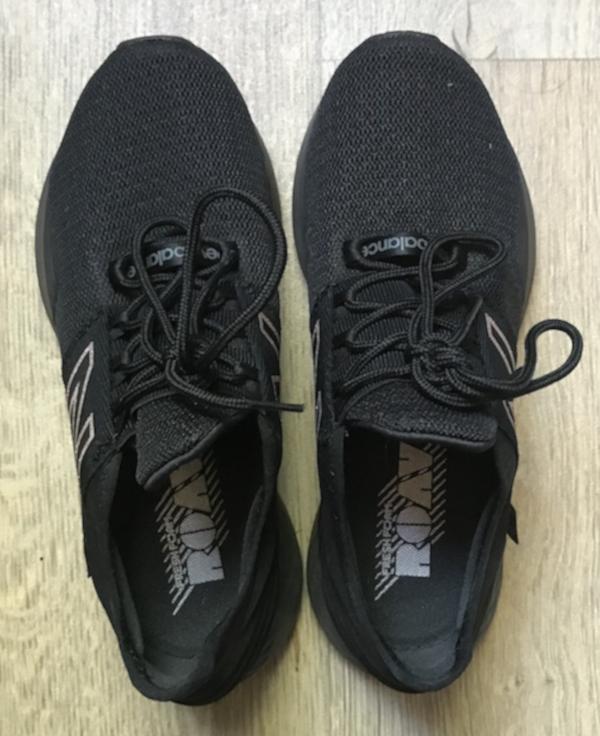 But the New Balance Roav does have a Fresh Foam midsole.
And I've already tried the New Balance 1080 V9 (which is definitely a running shoe) before and liked the Fresh Foam material, so I decided to give the New Balance Roav a try.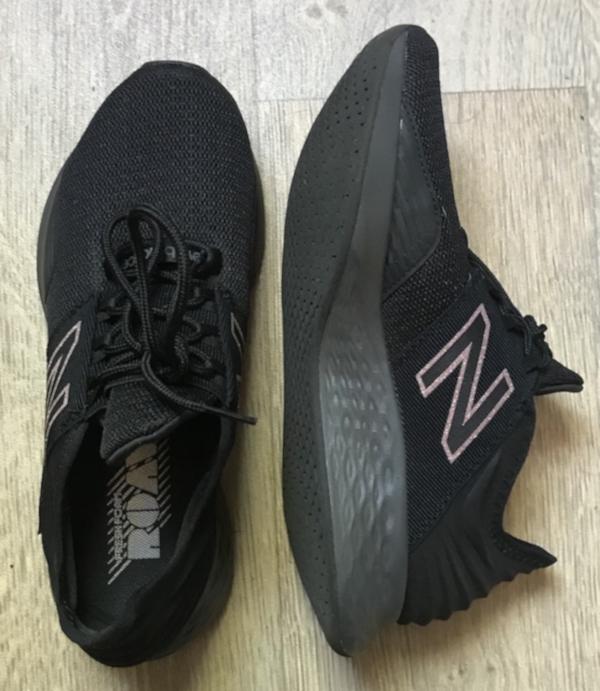 The Fresh Foam Roav is a neutral road running shoe with an 8 mm drop. It's not very heavy as it comes in at 220 grams for the women's model. New Balance doesn't give a stack height, but I'm guessing it's 16 mm in the forefoot and 24 mm heel stack.
Upper
The upper of the Fresh Foam Roav is a one-piece mesh upper. There is a band stitched onto the midfoot to provide some stability.
The tongue and heel counter are minimally padded. There is a bit of stretch in the mesh and there is ample room in the toe box.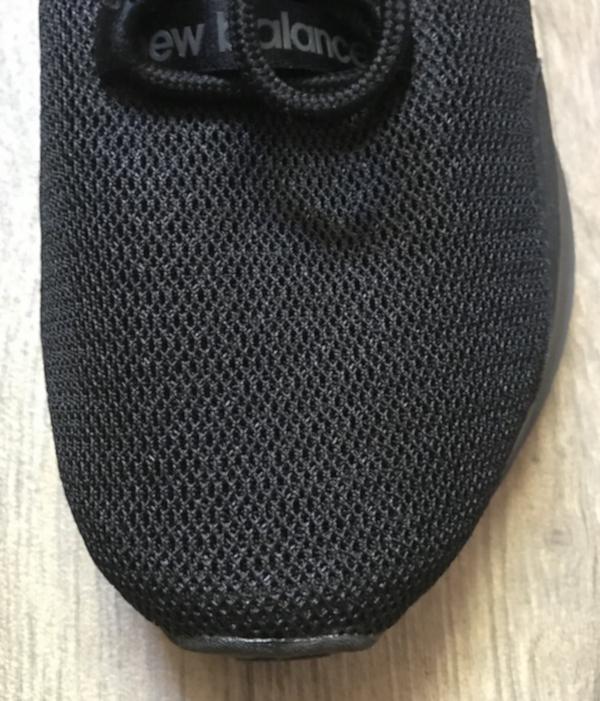 The problem with one-piece uppers is that they are difficult to adjust to your foot.
And in this case, the shoe only has four eyelets on each side with very thick laces and no extra eyelet, so this really limits the way you can adjust the shoe. If I want to lace the shoes a bit more tightly the fabric will fold over itself and create a hotspot.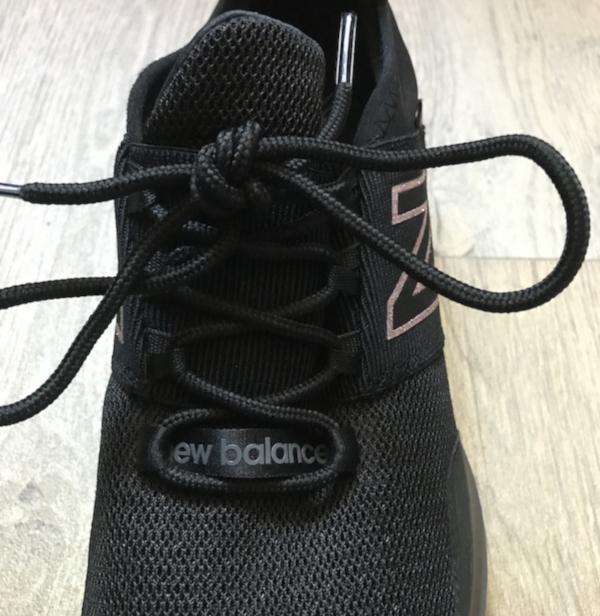 The Roav has the same Ultra Heel as we see in the New Balance Beacon 2. I was a bit sceptical at first, since it's kind of odd-looking and there is hardly any padding. But it wasn't all that bad. It actually was less of a hotspot of me than the heel collar on the 1080 V9.
Midsole
The New Balance Roav has a Fresh Foam midsole which does provide some cushioning, but there isn't a whole lot of it. Thus resulting in quite a bit of ground feel.
This together with the lack of support of the upper makes me feel like I'm just sliding around on top of the midsole. And as a result, I started running with more caution and at a slower pace.
Outsole
The outsole is made of the NDurance rubber, but it doesn't have much profile on and is just flat with a pattern stamped into it. Which doesn't really make it suitable for running anywhere else but roads.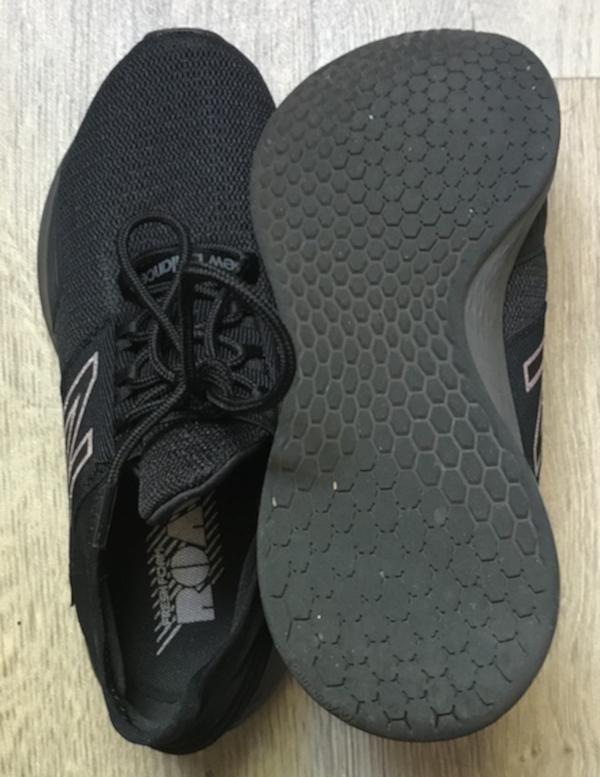 Conclusion
The Roav has a very minimal upper, which does help with the weight of the shoe, but it doesn't provide a lot of support.
It is a stylish shoe, with Fresh Foam and the heel isn't uncomfortable, but the upper is hard to adjust to your foot and it's therefore difficult to get the right lockdown for running.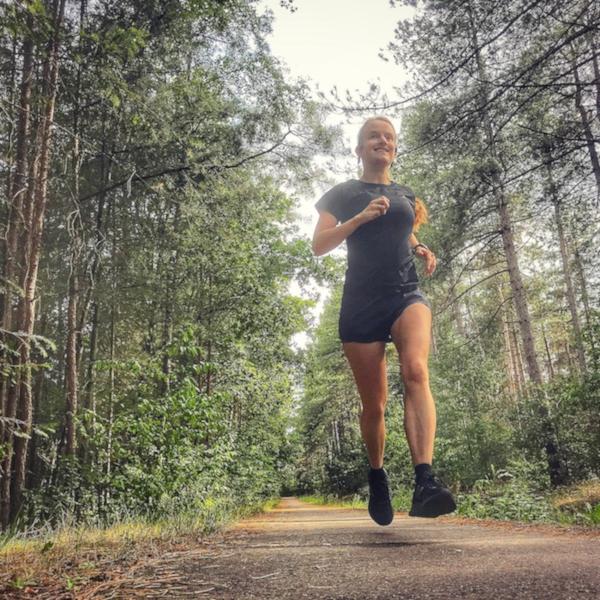 Truth be told, the New Balance Roav isn't an expensive shoe, it's retail price is about $80 and I managed to get it on sale for around $50. But that's not really an excuse, I've bought the Adidas Solar Drive and the Reebok Floatride Energy for similar prices on sale and I find those to be decent all-round running shoes.
If you like New Balance and Fresh Foam and you're looking for a light shoe, you'd probably be better off considering the Beacon 2, which is a lighter shoe and you get more Fresh Foam.
The New Balance Fresh Foam Roav is definitely more of a sneaker than a running shoe. If you're looking for a sneaker with Fresh Foam and you're okay with little support, this might be the shoe for you. But if you're looking for a running shoe, look elsewhere.
Good to know
- The Fresh Foam Roav is a new addition to the New Balance neutral running shoe line. The shoe features the brand's NDurance outsole technology along with the durable rubber material that provides durability to the platform. It also offers added cushioning for all-day comfort.
- Another feature of the shoe is the Fresh Foam midsole that extends from the heel to the forefoot. It focuses on delivering a lightweight, comfortable, and responsive running experience.
- For lightweight breathability, the upper is made of mesh material. It wraps the foot comfortably and it keeps the foot dry throughout the run.
According to New Balance, this road running shoe fits true to size but, some users noticed a discrepancy in the sizing. Although this shoe is supposed to ensure the right size, it still best to try the shoe first before purchasing a pair.
The shoe comes in standard sizing Medium D and 2E- Wide for men and Medium B and D- Wide for women. Like most of the running shoes, the Fresh Foam Roav has a wide toe box. This is vital in ensuring that the toes can spread out naturally and comfortably.
The outsole of the New Balance Fresh Foam Roav is made of NDurance rubber material. It is formulated to provide durability to high wear areas. It also provides the necessary amount of grip for road running.
In addition to the NDurance outsole material, a rubber compound is also added to the outsole. It provides added traction and durability to the platform.
The notable full-length Fresh Foam is integrated into the midsole of the New Balance Roav. The Fresh Foam material is an innovative technology formulated to deliver lightweight cushioning. It promotes a more natural and plushy ride on the roads.
The shoe also comes with a removable insole. It provides additional underfoot cushioning and further enhances the overall fit of the shoe.
In the upper of the New Balance Fresh Foam Roav is a breathable mesh material. This provides lightweight and comfortable foot coverage throughout the run. It is slightly flexible, accommodating a wide range of foot shapes and measurements.
Like the New Balance Fresh Foam Zante v4, a more comfortable fit is encouraged by the cleatie construction.
Along with the cleatie construction is the stretch webbing across the midfoot. The primary focus of which is to deliver a more secure midfoot fit.
A more supportive fit is offered by the ultra heel design. New balance added this feature to hug the back of the foot for a more locked-in fit.
Integrated into the upper section are the lightly padded collar and tongue unit. This feature of the New Balance Fresh Foam Roav provides additional comfort throughout the activity.
The shoe also features a traditional lace-up closure for a more secure and comfortable fit.
How Fresh Foam Roav compares
Corescore: 54-57
3 shoes (0.32% of shoes)
Corescore: 58-61
6 shoes (0.64% of shoes)
Corescore: 62-65
14 shoes (1% of shoes)
Corescore: 66-69
20 shoes (2% of shoes)
Corescore: 70-73
54 shoes (6% of shoes)
Corescore: 74-76
67 shoes (7% of shoes)
Corescore: 77-80
209 shoes (22% of shoes)
Corescore: 81-84
264 shoes (28% of shoes)
Corescore: 85-88
206 shoes (22% of shoes)
Corescore: 89-93
93 shoes (10% of shoes)
Price: £40 - £70
114 shoes (12% of shoes)
Price: £70 - £100
268 shoes (29% of shoes)
Price: £100 - £130
273 shoes (29% of shoes)
Price: £130 - £160
170 shoes (18% of shoes)
Price: £160 - £190
62 shoes (7% of shoes)
Price: £190 - £220
35 shoes (4% of shoes)
Price: £220 - £250
10 shoes (1% of shoes)
Price: £250 - £280
1 shoes (0.11% of shoes)
Price: £280 - £300
2 shoes (0.21% of shoes)
Price: £310 - £330
1 shoes (0.11% of shoes)
Weight: 100g - 135g
6 shoes (0.77% of shoes)
Weight: 136g - 171g
25 shoes (3% of shoes)
Weight: 172g - 207g
48 shoes (6% of shoes)
Weight: 208g - 243g
135 shoes (17% of shoes)
Weight: 244g - 279g
216 shoes (28% of shoes)
Weight: 280g - 315g
235 shoes (30% of shoes)
Weight: 316g - 351g
83 shoes (11% of shoes)
Weight: 352g - 387g
25 shoes (3% of shoes)
Weight: 388g - 423g
7 shoes (0.89% of shoes)
Weight: 424g - 460g
3 shoes (0.38% of shoes)