Verdict from 20 experts and 100+ user reviews
5 reasons to buy
Comfort: Hundreds of buyers are elated with the highly cushioned, soft midsole that keeps their feet comfortable for long runs and all-day wear.
Upper: Droves of testers describe the New Balance 1080 v9 as a fine-fitting shoe that locks the foot well. Some also praise its more streamlined look.
Ride: It feels lively and responsive for a max-cushioned trainer, according to many runners.
Transitions: The 1080 line fans say that with better flex in the forefoot, the shoe feels less stiff compared to the previous versions.
Stability: For a neutral shoe with a high stack, it provides a stable ride, as noted by multiple runners.
2 reasons not to buy
Heel slip: Quite a few reviewers complain about the lack of good hold in the rearfoot. This issue is solved in the 10th iteration of 1080.
Foam firms up: A couple of avid runners note that the cushioning gets stiffer in cold weather.
Bottom line
The New Balance Fresh Foam 1080 v9 continues the brand's premium line of neutral daily trainers. It offers plenty of cushioning for easy, longer miles up to a marathon. You can also expect a comfortable in-shoe feel but the lacking heel lock may require tightening up the laces.
Tip: see the best running shoes.
Our reviews
I like maximally cushioned shoes, so I'd been looking forward to trying the New Balance Fresh Foam 1080 for a while. It wasn't the first New Balance shoe I tested, but it was the first Fresh Foam shoe I got to test, and I was curious about it.
Every big shoe company has its own cushioning material. Nike has Epic React, Adidas has Boost, Asics has its Gel, and New Balance has Fresh Foam.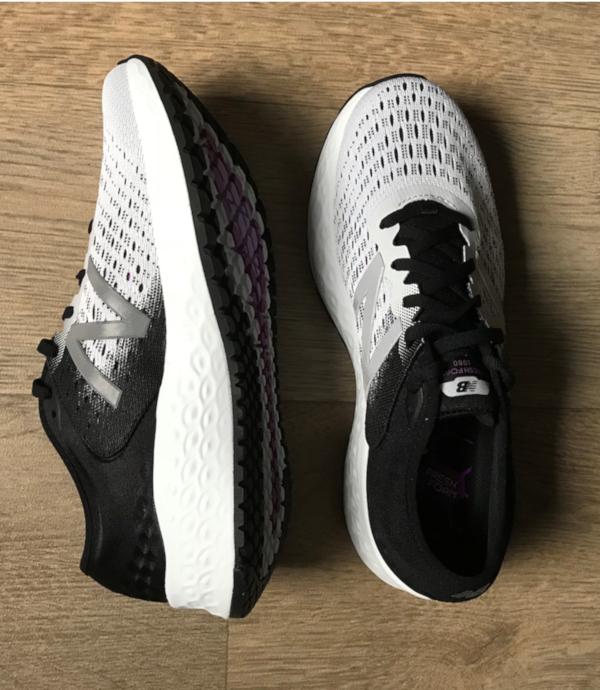 New Balance has made quite a few changes compared to the previous version of this shoe. Obviously, they still used the Fresh Foam in the midsole, but it has been adapted to create a slightly softer ride.
The outsole and upper have also gotten an update. The New Balance Fresh Foam 1080 v9 is a neutral running shoe which weighs 254 grams and has an 8mm drop. It has a heel height of 30mm and a forefoot height of 22mm.
Sometimes, a shoe feels light or heavy regardless of the weight of the shoe itself, but more because of the weight distribution throughout the shoe. This shoe feels surprisingly light for the amount of shoe.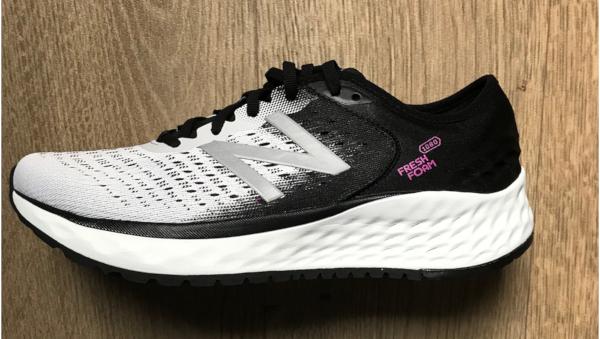 Upper
The upper is made up out of two separate parts. There is the double jacquard mesh on the toe box of the shoe, while the heel counter is made of a much smoother material and has a build in the heel cup.
New Balance calls it the Ultra Heel with their 3D heel counter to improve the fit and comfort. To be honest, I'm not sure why that makes it special, because I don't see how you can even have a 2D heel counter.
This upper is supposed to be sleeker than the one on the 8th version of this shoe, which had more overlays, but it still seems to me that there are still many of components to this upper and maybe some of those could have been eliminated.
Especially in the midfoot, there are some overlapping parts on the in- and outside of this shoe. Although it didn't create any hotspots, I don't think that much overlapping was really necessary.
On the inside of the midfoot, there is an extra piece of colored fabric stitched in to provide a splash of color, but it is hardly noticeable through the jacquard mesh.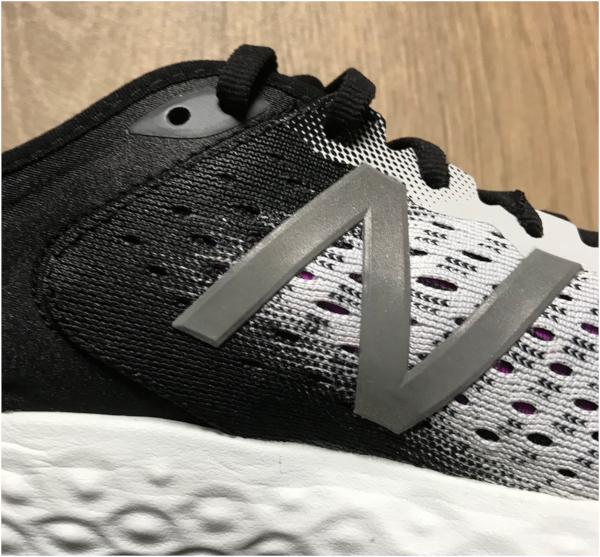 I had some issues with the collar of this shoe. Since there is no padding in the collar and there is only a stitched rim, this would create blisters on my Achilles.
I first tried to fix that with some band-aids, but after a couple of kilometers, the band-aids wouldn't stay in place anymore. I tried sports tape instead, which did stay in place and made it easier for me to run in the shoes. I could only run in them if I taped my Achilles before I went out on a run.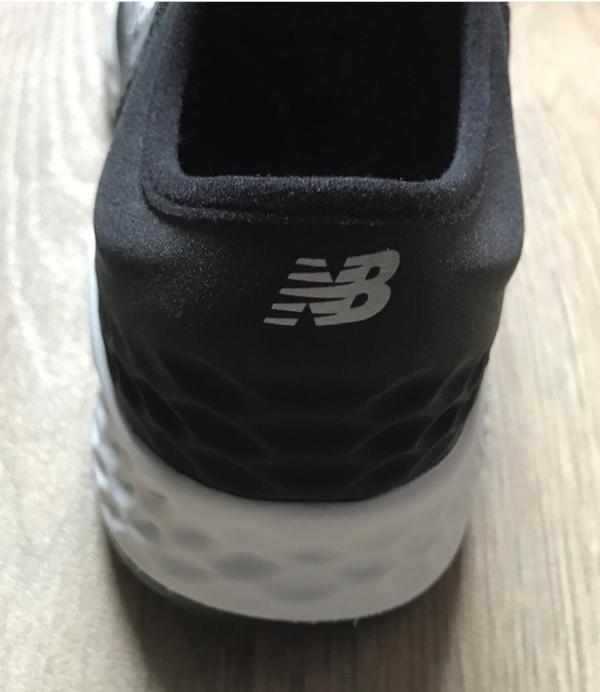 Midsole
Since the midsole of the 1080 v9 is so thick, I was expecting a very plush ride and that I would sink into the midsole a little bit. So, I was quite surprised to find that the Fresh Foam felt different than I had expected.
It was a lot firmer than I had anticipated. Initially, I couldn't really feel any difference in firmness throughout the midsole. It just felt firm and not very flexible to me.
But over time, the midsole softened a bit, and now I can notice that the Fresh Foam is a bit firmer underneath the midfoot than underneath the forefoot and heel. The firmer Fresh Foam underneath the midfoot does help with stability.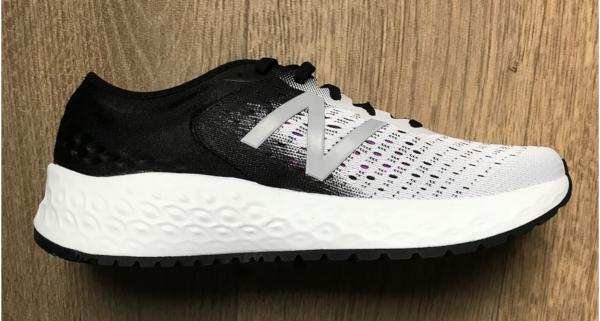 The midsole has laser cut indentations in the shape of diamonds and hexagons, to fit the same patterns on the heel counter and outsole of the shoe.
These appear to be there mainly for aesthetic reasons, although New Balance claims that they are based on data. However, what data and their purpose never became clear to me.
Outsole
The outsole is made out of blown rubber hexagon shaped lugs and has a pressure map painted on it in different colors. The blown rubber appears to be the same density throughout the entire outsole, but the hexagons are different sizes throughout.
The outsole has five flex grooves cut out of the rubber to provide flexibility, but they don't really seem to help much because of the stack height of the 1080 v9.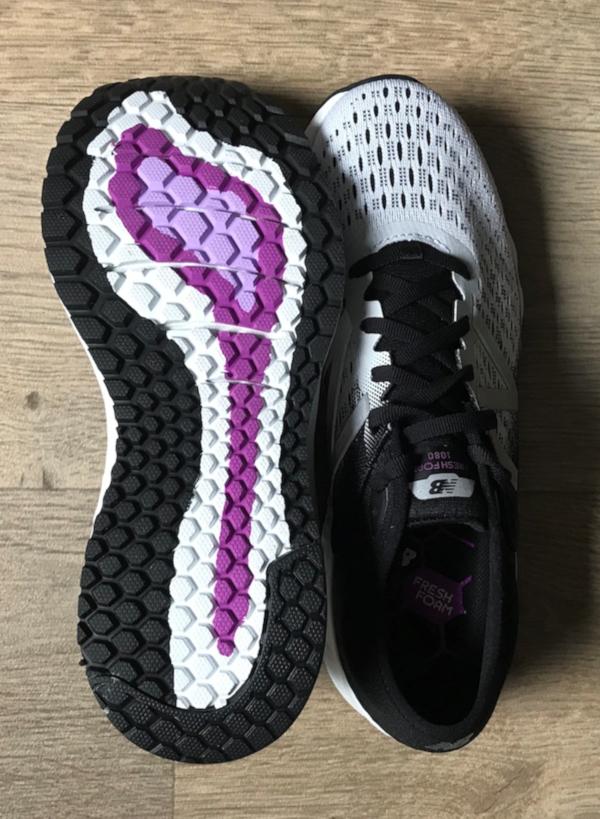 I was surprised to see that the forefoot of the outsole started to wear down after only about 50 kilometers in these shoes. Especially, since I'm a heel striker.
I have no idea why the wear has started underneath the forefoot instead of the heel. Maybe this shoe changed my gait more than I realized.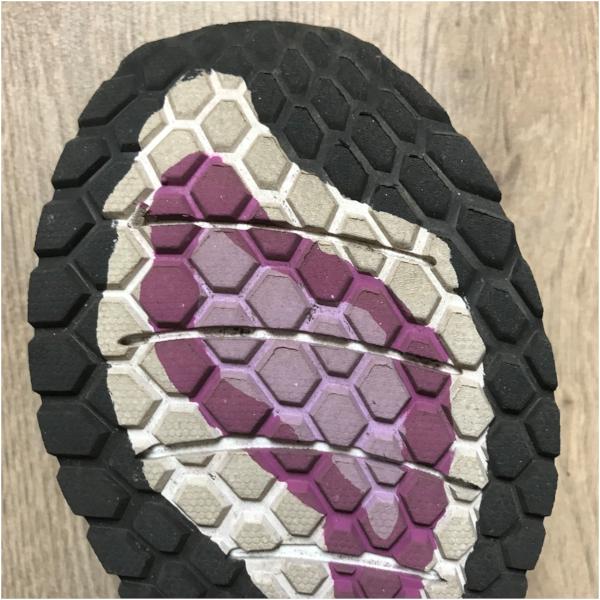 Fit
The 1080 v9 has a wide forefoot, and the toe box is nice and roomy, which is often the case with New Balance running shoes. The sole is even wider than the upper which creates a stable ride.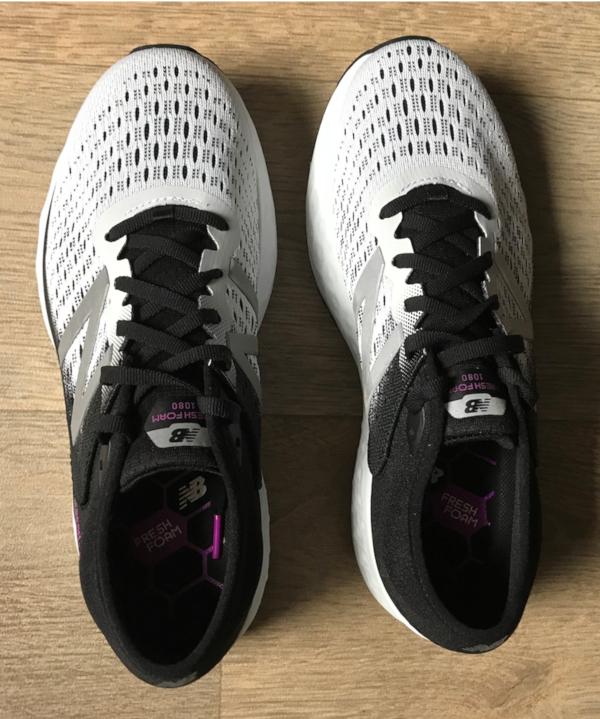 The heel is a bit narrower, which I personally do not mind since I have a bit of a smaller heel. However, the heel of the 1080 v9 is also shallower than I'm used to with other running shoes, which might partially explain the problems I have with the collar of this shoe.
I wore my normal running shoe size with this shoe, and it fits me just fine.
Performance
The 1080 v9 is a nicely cushioned shoe which has a bit of bounce to it. It is not a very fast shoe, but more of a long distance running shoe which you might use for longer training runs or maybe to run a marathon in if you don't have a racing shoe or just prefer more cushion during your marathon.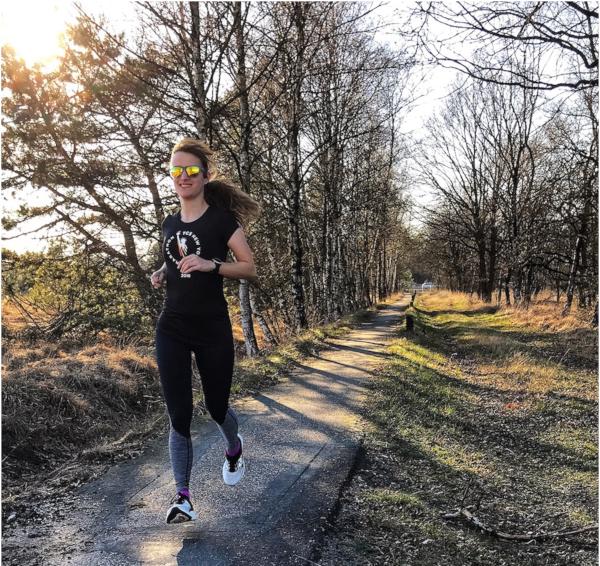 Conclusion
I had my initial doubts about the 1080 v9, and it took me a while to break them in and to fully figure out the best way to run in this shoe. But it has grown on me, and I started to like the Fresh Foam midsole.
I like the Fresh Foam, but I'm not in love with the upper. I would have definitely liked this shoe better if it would have had a padded collar and a smoother transition between the different upper materials. It will be interesting to see if New Balance changes anything about the upper in version number 10.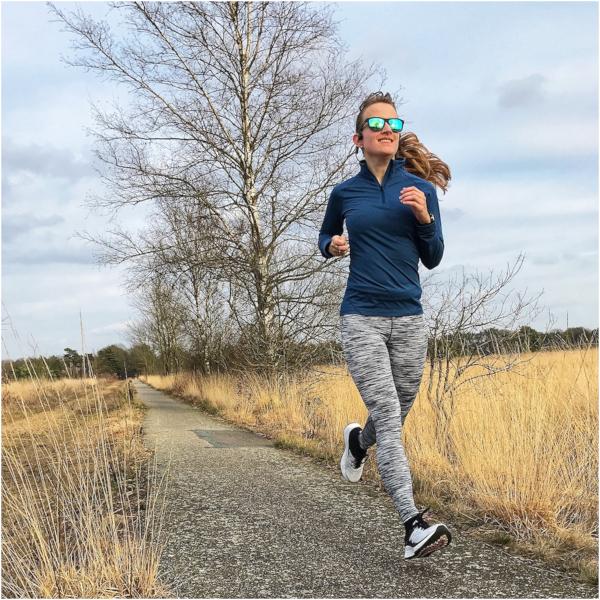 When the mailman came to deliver the package he commented: "I like these types of packages, nice and light". And it certainly didn't weight much. The package contained a pair of the New Balance Fresh Foam 1080 V9.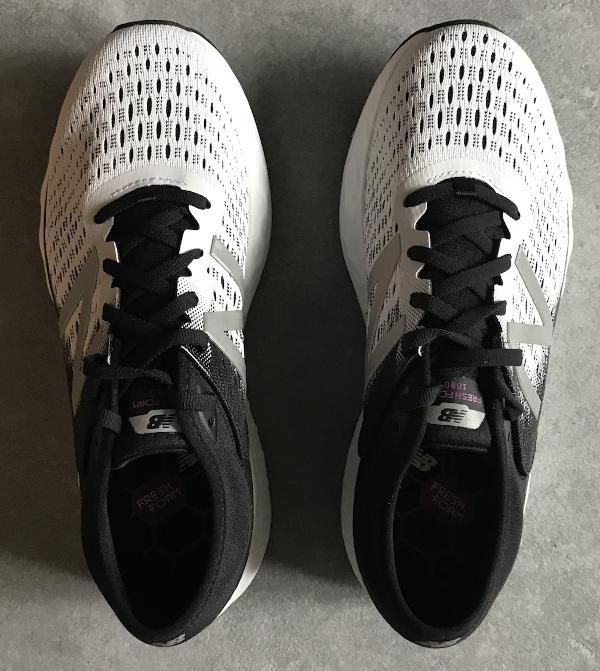 This is the second pair of New Balance shoes I get to test. The 1080 is the maximum cushioning model from New Balance.
And version 9 is supposed to be even softer than version 8. So, when I put these shoes on I was expecting a plush, marshmallow kind of feeling, but the Fresh Foam was surprisingly firm. In that regard it made me think of the Asics Gel Nimbus.
When you squeeze the fresh foam with your fingers it appears to be softer underneath the forefoot and on the medial side of the heel, but while running I don't really notice a difference in foam density throughout the midsole.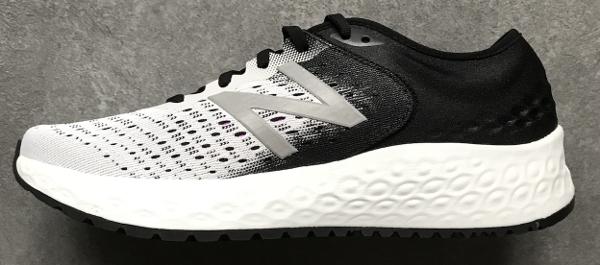 Upper
I always wonder why shoe designers decide to make the toe box of a pair of running shoes white. Because you know it is not going to stay white. I do like the ombre effect, but white?
Really? It's not the first pair of running shoes I've seen this in. The Hoka One One Elevon also has a colorway where the toe box is white.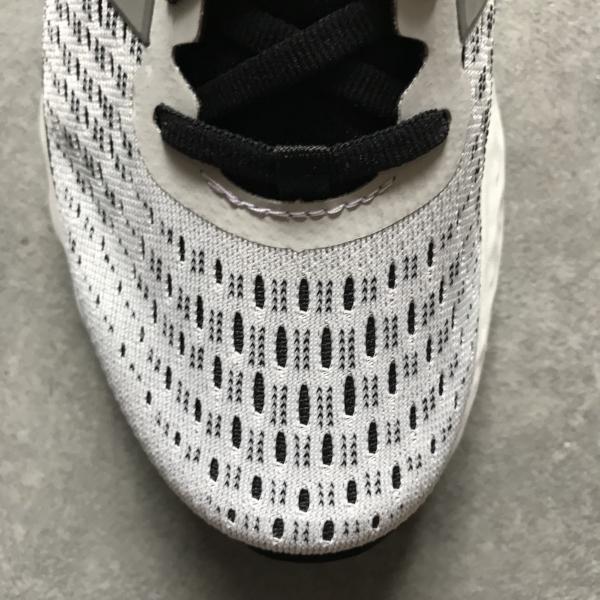 The upper is divided into two parts. The front of the shoe is made out of a double jacquard mesh while the heel counter is made out of a smoother fabric. The heel counter overlaps with the front of the shoe and the two parts are stitched together around the midfoot. I wonder if there wouldn't have been a way to make a smoother transition between the two materials.
The second layer of the jacquard mesh consists of two colors. The fabric around the midfoot is the same color purple as some of the other details of this shoe, while the fabric around the toe box is black.
The purple fabric around the midfoot is also stitched in. Since the holes in the top layer of mesh aren't that big the purple isn't that clearly visible, so to me it seems like more unnecessary stitching inside the upper.
The 3D ultra heel counter is supported by a solid heel cup. The collar of the shoe doesn't have any padding and the top of the collar has a lining which is stitched on.
Since there isn't any padding my Achilles rubs against the lining and it is giving me blisters. So, the only way I can comfortably wear these shoes is by taping my Achilles before I go for a run.
Midsole and outsole
The midsole has laser engraved indentations which on the medial side look a bit more like hexagons and on the lateral side look a bit more like a diamond shape.
New Balance says it is a data-inspired pattern, but their function seems to be merely aesthetic.
The same pattern can be found on the outsole. The blown rubber outsole has a data-inspired pressure map depicted in different colors, but once again the function seems to be esthetic, the rubber appears to be the same throughout the outsole.
The different colours were painted onto the rubber and the lines between the colors are a bit sloppy. Sometimes there's even staining for one color onto the next. Surprisingly the flex grooves on the outsole weren't incorporated into the design of the outsole, but first, the full-length rubber outsole was created and painted after which the flex grooves were cut out.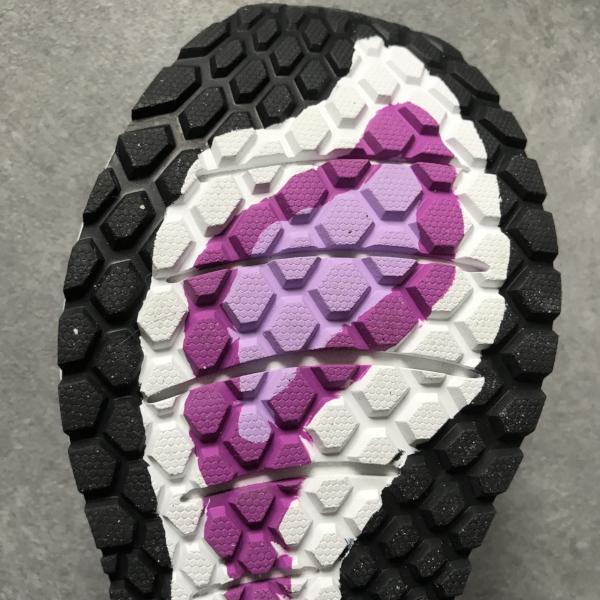 Conclusion
It took quite some time for me to break these shoes in. In the beginning, I found the Fresh Foam to be pretty stiff and not as soft as I had expected.
It felt like I had to work quite hard to run in these shoes in the beginning. But after about 20 kilometers the Fresh Foam became softer and I started to like this shoe.
As a devotee to the New Balance Fresh Foam 1080 v8, I was looking forward to seeing the newest iteration of the 1080 line, the v9.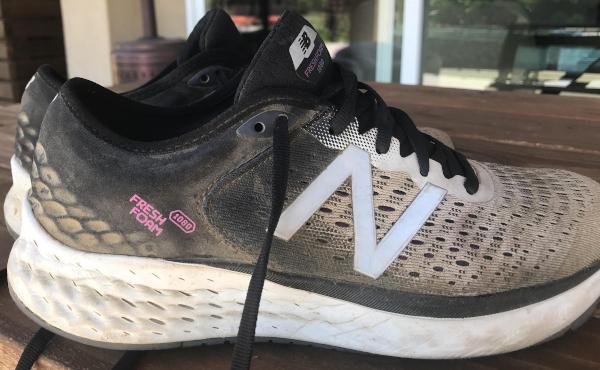 I went into the v9 feeling disappointed with the colors. I was also skeptical about the mesh upper as I've never felt great stability in previous shoes with this design.
My feelings were largely turned around once I had these on for a couple runs.
Appearance
At first glance, I was disappointed with the color options—I prefer flashier and darker colorways for my dusty routes. I got the white/black/voltage violet, which looked killer for the first week or so.
Unfortunately, the white mesh quickly became brown mesh and the laser-engraved Fresh Foam collects dust like a magnet. That's my biggest downside, but we're not here for fashion (are we?).
Upper
My skepticism around the mesh upper wasn't totally unwarranted. I've never loved mesh uppers, especially when it comes to track workouts and cross-training.
The v9 has a "modern double jacquard upper." I have to believe that the double fabric creates that added stability I've felt in this mesh upper so far.
But, for what it's worth, jacquard just means it's a textured pattern rather than printed.
The different fabric of the heel counter also adds to this stability as it's firmer and offers more structure than the forefoot mesh.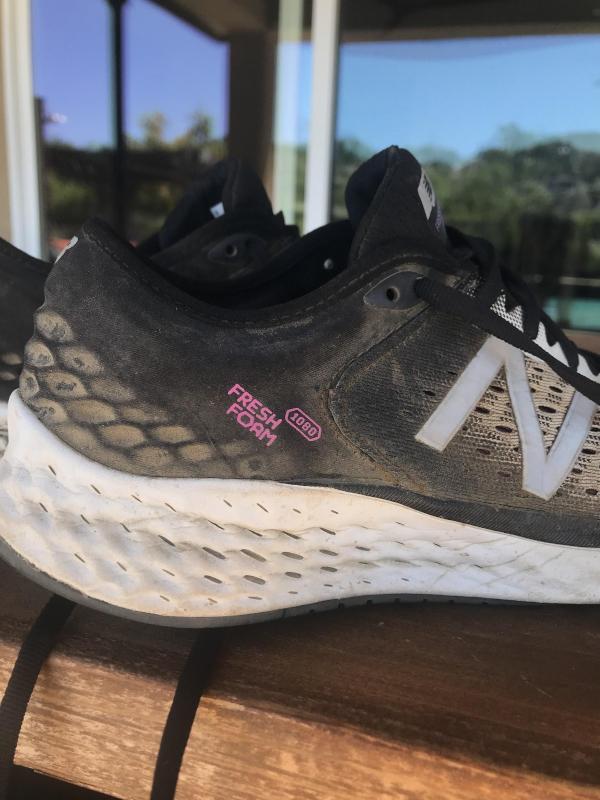 With my insoles, the V8 required tying in with the heel lock, but not so with the V9. I was able to run 8 miles off the bat without any heel slippage.
This was actually surprising because the heel cup isn't very deep. However, the bootie construction of the heel has a back lip that has created a hot spot for me when I'm wearing lower-cut socks.
It's remedied pretty easily for me, but could be a factor for some runners.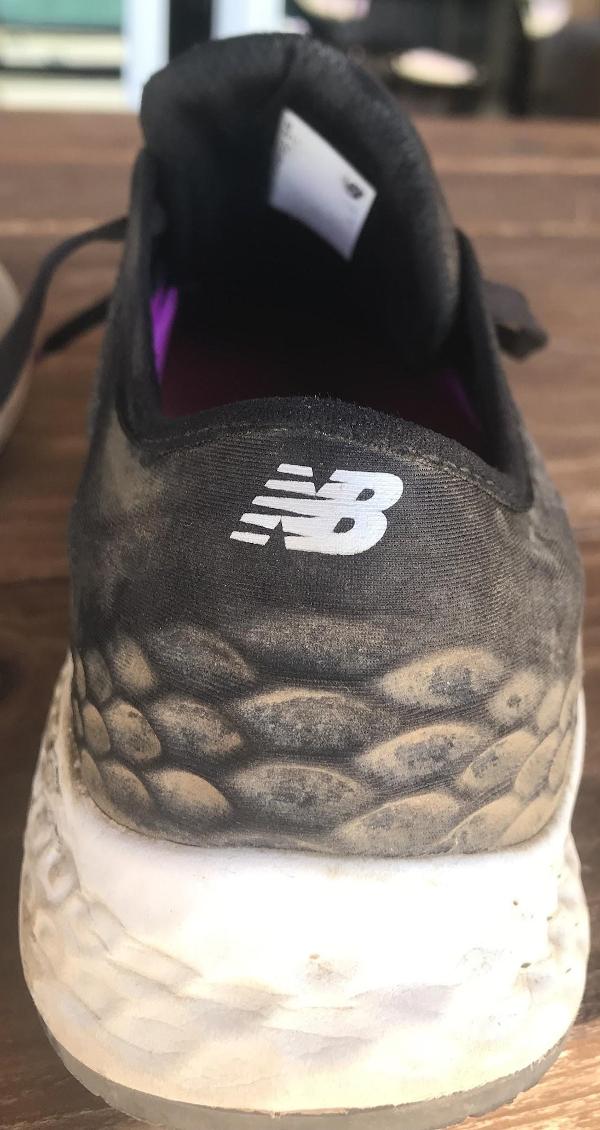 My last point about the upper, the toe box is nice and wide. I have one foot with a big toe bunion and another foot that has had bunion surgery, so a decent toe box is imperative.
I had no hot spots in the toe box and felt my piggies could splay naturally.
Cushioning and midsole
I was happy to see that they were able to increase the cushioning and slightly decrease the weight. This update is certainly something that I felt almost immediately after hitting the road.
The shoe felt responsive and balanced yet plush. I replaced the liner with some insoles immediately and could still feel the firmness of the Fresh Foam in the center of the shoe.
At first, it even made a clicking noise as I started running in the shoe. It didn't bother me, but I did find it odd. It wore off after the first 50 miles or so.
However, the firmness of the center of the foam was prevalent through the next couple hundred miles.
Considering the amount of FreshFoam, I don't consider this shoe to be heavy. I actually felt quite nimble.
I have worn them through several speed workouts without considering the weight difference and stack height.
Outsole
The blown rubber foam creates a very cushioned ride, even with the firmness of the midsole. The stability and comfort of the wide toebox are augmented thanks to the even wider foam outsole.
After 400 miles, the compacting of the foam is evident thanks to the laser-etched design.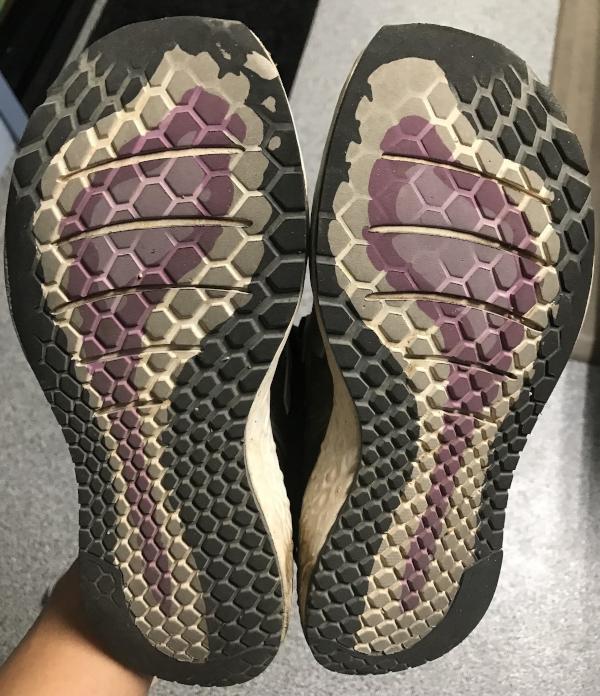 The "data-driven" pressure map painted on the sole has been all but completely ignored by me. But now that I'm looking, it's interesting to see where my wear and tear is focused on this shoe.
Cost and value
At $150, this shoe ain't cheap. With a shoe at this price point, I like to try to milk the miles out for as long as possible. Now having been through about 400 road miles, I'm getting ready to trade these in.
I can feel the leg fatigue and foot pains starting to creep in, which tells me I won't get much more mileage in these shoes without risk of injury.
I'd love to get another 100 miles in them, but it's not worth the trade-off.
Summary
I really like the Fresh Foam 1080v9. I'd give it an overall score of 88. It's not perfect and it is expensive, but it's great for everyday road running.
I've gotten some good mileage out of the shoe and felt the mesh upper was a pleasant surprise in comfort and support.
If you're looking for a plush ride with a touch of firmness, this one is worth a try—just don't expect to keep it looking clean.
I love the New Balance Fresh Foam Beacon. I love them so much that I bought three pairs. I have worn out those three pairs and was looking to shake things up a bit, but I wanted to stay with the New Balance brand because I have been very happy with their product line.
I have worn the Zante's as well as the 1080 v7, and a long time ago, the New Balance 1400. I was looking for a slightly stiffer shoe than the Beacon, but I still wanted comfort and cushioning. My coach suggested that I give them a try...and so here we are.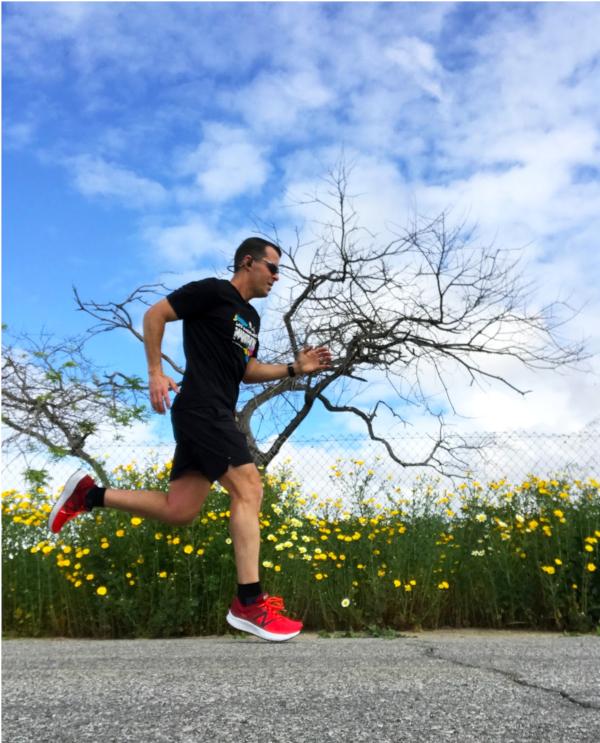 Design
The 1080 v9 has a really nice look. Like the Beacon's, the 1080 is sleek and stylish yet simple. I wanted a fast color (admit it, we all know that colors do in fact make a huge difference in speed, or "perceived" speed.)
I feel faster in shoes that pop! So I bought "Energy Red." It's a great color. They go with anything, and you can spot them a mile away - which is very important for us runners.
We want other people, cars, bikers and the like, to notice us, so, bright colors are not only good for "speed" but safety as well.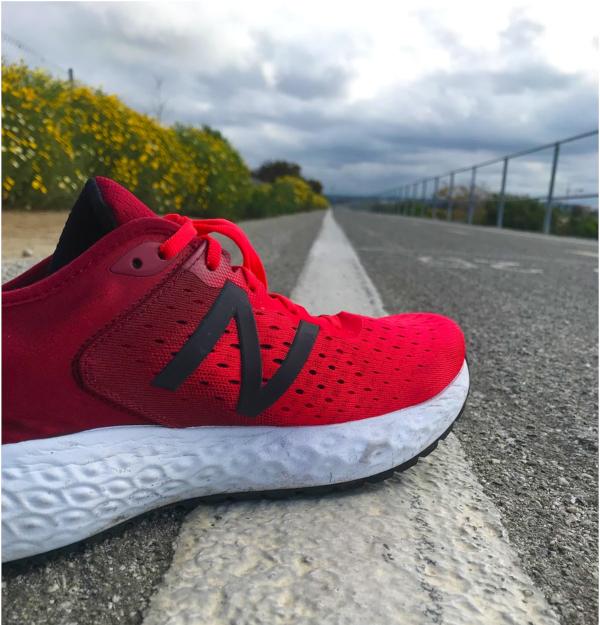 Comfort & durability
I took these for a 6-mile run the day I got them. I was very excited to try some new shoes, and I am always excited when a package of new shoes is delivered.
They felt heavier than the Beacons, but that was to be expected. I slipped them on. They had a nice fit because of the knit upper. They were light and airy and snug but not TOO snug.
My only real complaint and I use that term lightly because it's not a make it or break it an issue, was the fit in the heel. New Balance, for some reason, built in a roll or ridge just below the lip of the shoe.
Not really sure why they did this because it does not make sense to me. I'm not an expert in shoe design nor an expert in foot anatomy, but I would imagine there was a reason for doing this. Maybe to "lock" the heel into the shoe?
Whatever the reason, I slipped them on, and the first thing I noticed was this ridge. It was uncomfortable at first, and I placed my foot in and out several times thinking that maybe I was not putting it on correctly. I know, sounds foolish, but I did it nonetheless.
I wear running insoles in all of my shoes, ones I purchase to replace the ones that come with the shoes. I thought maybe the insoles were too thick for these shoes, so I put the NB fresh foam insoles back in thinking that that would do the trick.
Nope, still felt that ridge. Okay, so maybe, once the shoe was broken in, that feeling would subside, so I tried not to think about it too much.
The shoes felt great. Solid yet springy, sufficient support and once I started running, that ridge feeling did subside a bit. It did not go away completely, but it was not really too much of a bother. It was there, but did not hurt my foot or heel, nor hinder my performance.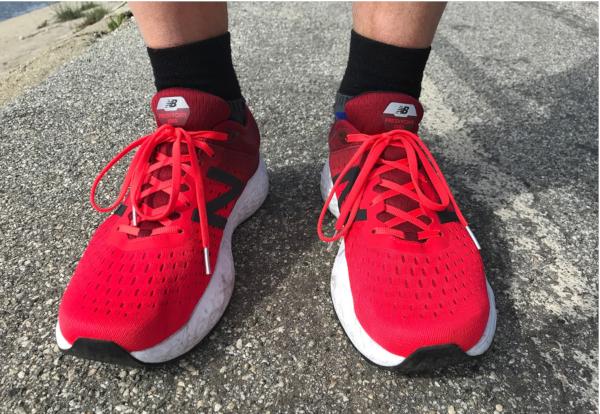 Performance
With only about 8 miles on these shoes, I decided to run the Los Angeles Marathon the Wednesday before the big race. I had not planned on running the marathon, but last minute I decided, what the heck, I'll run the race as a long glorified training run.
My plan was to run it at an easy pace, relaxed, no pressure, and just to have fun. So, trying out the New Balance 1080 in this race was an ideal situation and a no brainer. I was excited to see what they could do and if I would have any issues.
I had a solid run. The shoes were very comfortable, and that "ridge" did not bother me at all. My feet were comfortable, no rubbing or blisters, and my feet did not feel beaten up after 45,000+ steps. Overall, these shoes performed amazingly well almost right out of the box.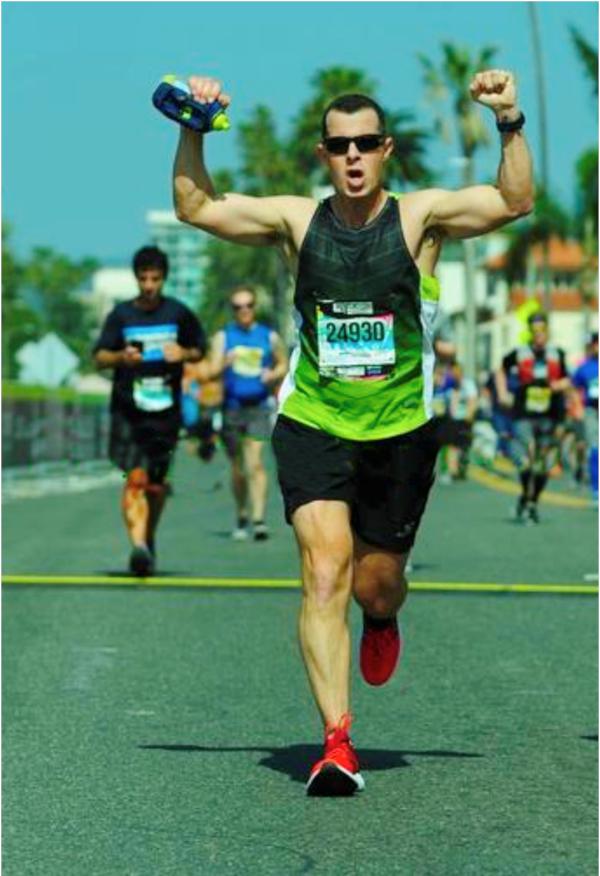 Conclusion
The New Balance Fresh Foam 1080 v9 is a nice solid shoe, great for easy recovery runs, long runs and even speed intervals because of their firm yet springy feel, even though they are a bit on the heavier side.
They are also great on hill repeats! They have the support and bounce needed to bound up and down those hills. Still, my one ding against the new design is that ridge in the heel.
Although it does not bother me as much anymore, I do still feel it slightly and believe that it would be a better shoe without it. I guess my one other mark against the shoes is cost - a tad higher than I would normally spend for a shoe. I try to keep my shoe purchases to around $120, plus or minus a few bucks.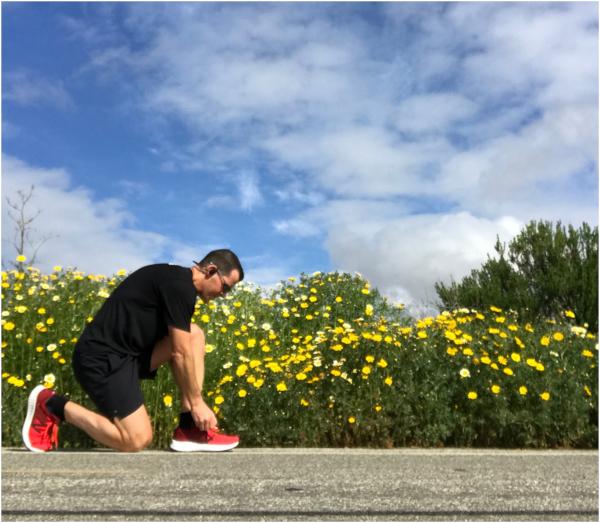 I've already written an 'initial impressions' review for the Fresh Foam 1080 V9, so I won't spend too much time on that. If you want to see more, scroll down to my review below! However, here are the headlines.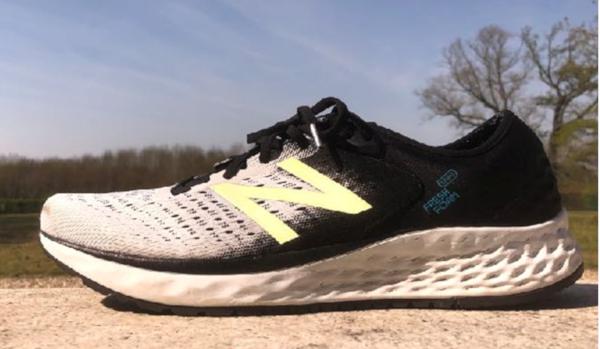 The shoes look great, at least in the "White with Black & Deep Ozone Blue." The only potential downside is there is a lot of white with this spec, perhaps not the best selection for Winter trail runs if you want them to remain this way.
The shoes measure slightly large. I'm a size 10 when measured with a foot ruler but length-wise I could probably have gone down to a 9.5. Despite that, the width was a bit narrow, particularly across the ball of my foot.
On my first run, I was pleasantly surprised by how well the shoe, despite the softness of the midsole, supported the roll of my foot from heel strike through to pushing off at the toes.
Update on issues from the previous review
My first review was based upon my thoughts straight from the box and then after a 5k training run. Since then, I've put the 1080 through 100 kilometers of mixed road and treadmill running.
There were two points I initially noted as issues, one minor and the other more worrying. The first was the loud tap when the shoe impacts the ground.
This is in part due to the harder material for the heel strike region of the outsole, but I'm convinced there is also something different about the geometry of this region compared with other trainers, perhaps to do with the increased return angle at the heel.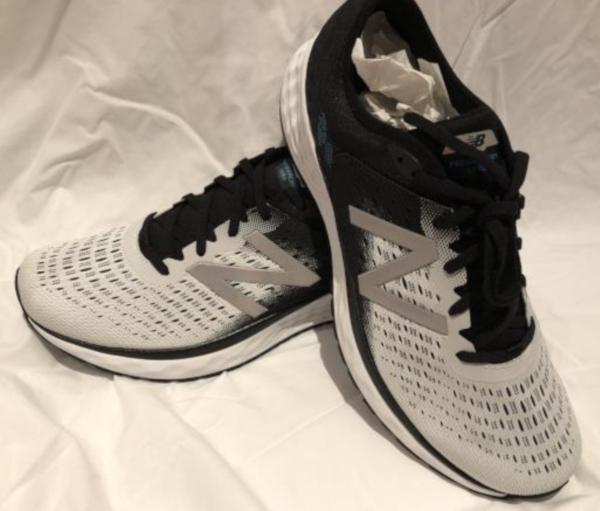 The noise is particularly audible at walking pace. Not a big deal if you don't mind walking into the gym sounding like you're in high heels.
The second point was about the narrowness and the resultant hotspot created on the bone before my little toe. I'm pleased to say this first run was the only time this was an issue. The shoes quickly stretched to accommodate my feet, and I can now run without fear of blisters.
On the aesthetics, one thing I hadn't even noticed initially was the ("Deep Ozone") blue material visible through the aeration holes in the front upper shoe.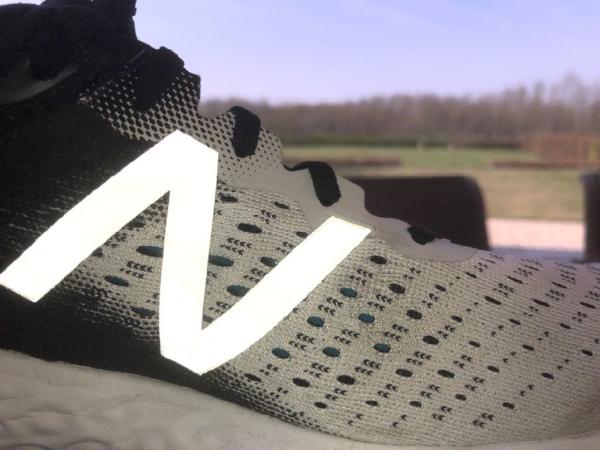 It's a nice feature but very subtle. Too subtle, in my opinion, they could have made more of it. I will also reiterate, I'm a big fan of the reflective logo on the side of the shoe.
Not only does it look good as it flashes past on a dark evening, but it should help you be seen.
Performance
I'm genuinely really impressed by these shoes. As a training shoe, I don't think I've tried anything better. The cushioning of the "Fresh Foam" is really soft and there's noticeably less knee pain after a run in the 1080s than with any of my other shoes aimed at long distance running.
As I mentioned earlier, this comfort still comes with good support through the sole. The initial impact with the ground is absorbed through the moderated deceleration before the now compressed midsole stiffens up for transition through to the forefoot.
The "Fresh Foam" doesn't wallow to either side but encourages smooth and direct progression to the forefoot.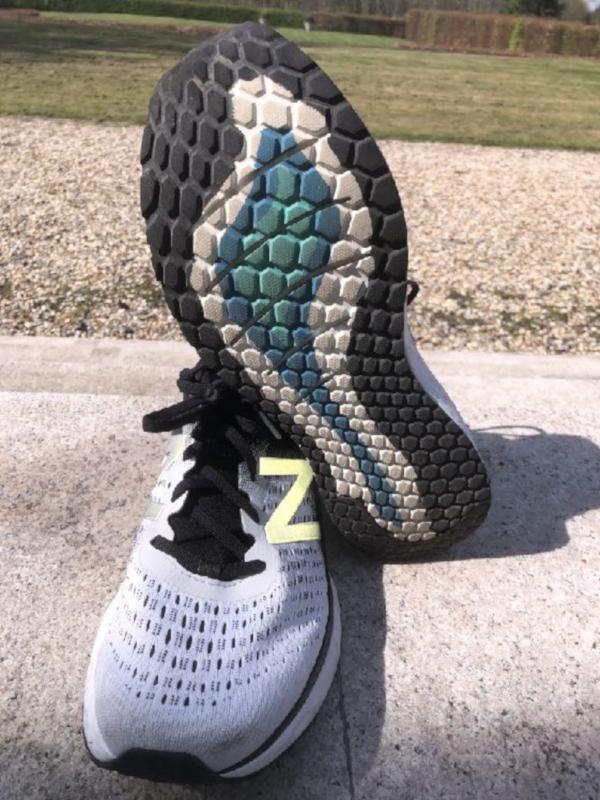 My only concern is with the support of the upper shoe. It's designed to be light and breathable, which it achieves, but this is at the expense of the shoe's structure.
Right from the start, I didn't feel confident taking corners at speed. After one treadmill session, I did a bit of weight training and noticed the 1080s twisting worryingly during side squats.
Admittedly, this is probably not what New Balance had in mind when designing the 1080 V9, but it does highlight to me not to expect too much from this shoe on a tight corner or the inside bend of a running track.
Despite this, the booty style heel box and slightly stretchy laces allow for sliding the shoes on and off easily without tying or untying the laces. Perfect for triathlon transitions, although I would advise wearing socks to prevent rubbing at the Achilles.
However, in a race, even a triathlon, getting the shoe on is a minor point. For me, the power return is not quite good enough.
The shoe does an excellent job of bringing your foot slowly and comfortably to a halt, but the energy is somewhat lost there.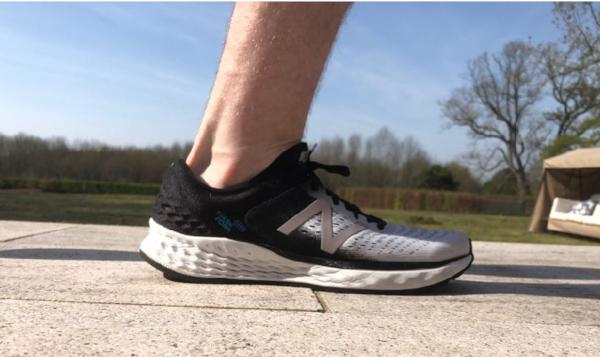 As you move through your stride, you find your calf having to put in the work get the propulsion back out of the toes.
Other manufacturers achieve this with a stiff piece of plastic or even carbon in some instances, running the length of the sole. The 1080 v9 could probably benefit from something similar.
Shoe wear
At this point, the outsole looks near enough brand new. From the heel to the ball, the midsole has exhibited some permanent creasing right from the first run, but this has increased since.
As you would expect from such a soft ride, the midsole appears to be the area that is likely to dictate the total mileage of these shoes of the foot, the graining on the outsole is still visible.
There is a slight increase in wear towards the toe end, which may be partly to do with the shoe being slightly long for my foot.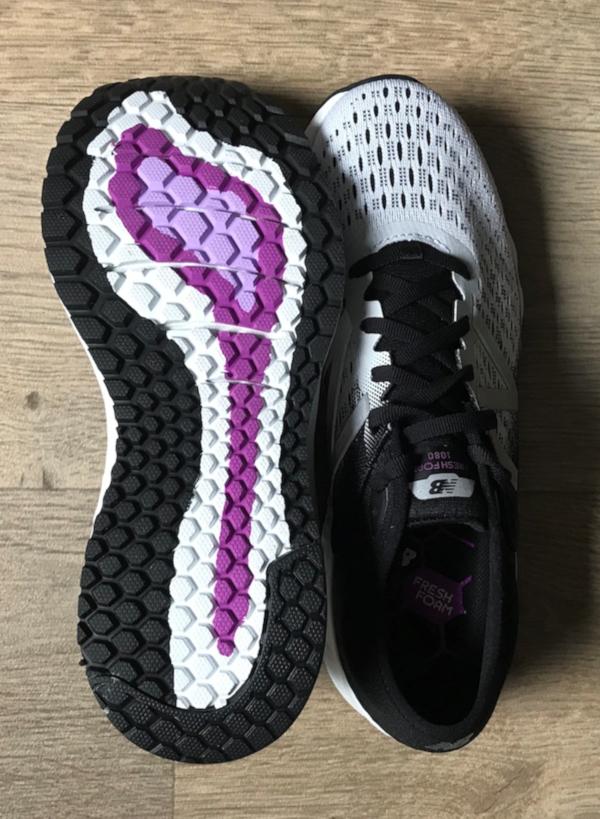 However, I'm certain the outsole will not be the limiting factor on the lifespan of this shoe. There are no tears in the upper fabric, including inside the shoe and insole, so no complaints so far.
Verdict
Overall, I really like what New Balance has achieved with the 1080 V9. I can see these shoes being a great training partner for many more kilometers to come.
On the whole, my complaints are very minor; ultimately I'm satisfied that these shoes can support a high training load without risking injury. I would happily use them for 99% of my running. That final 1% represents racing and is the reason they haven't got full marks for me.
Personally, I would look to something with a better energy return to pull on for race day. As a training shoe though, look no further.
Having completed over 50 miles in the shoes, I can well and truly say they've been such a fantastic choice. If you're looking for a shoe which has a little bit of cushioning and performs really well this is definitely your shoe.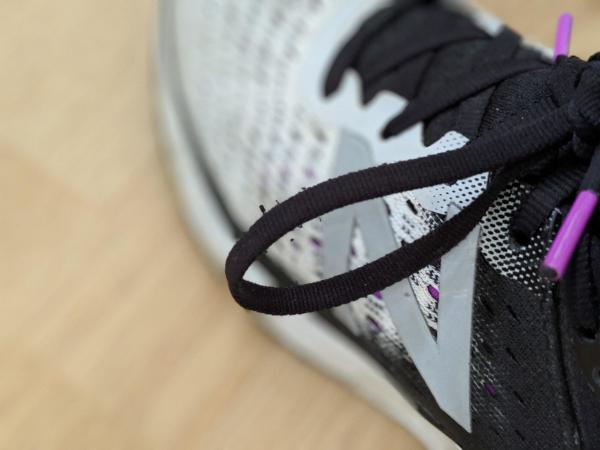 Right from the offset, this is a really good looking shoe, it's so lovely to have which actually is aesthetically pleasing instead of funky neon color!
It's got reflective patches on a shoe which makes it great for night-time running it comes in a variety of neutral colors.
It's a sleek well-built shoe which clearly has been thought about a lot.
Pros
For me, I think the pros of the shoe really outweigh the cons. It looks very trendy and performs very responsively. I've run interval sessions, hill sessions, and long distance in these shoes, with no problems. It feels incredibly light with a slight bounce and never feels uncomfortable.
My feet always tend to expand a lot when I'm running but with this, you really respond to this with the mesh coating allowing the shoe to expand while still remaining showerproof.
I think this is also helped by the elasticated laces which are lovely and soft! The upper portion of the shoe is very good at keeping your foot secure whilst not constructing it too much.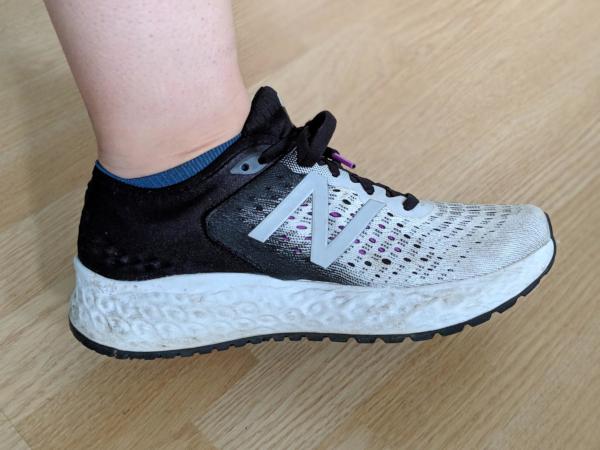 The shoe has an obvious heel of around 30mm but is super comfortable and allows you to feel in a very upright position.
Contraction is good. Its unique pattern means that running on all surfaces is very easy even if they're wet and I haven't noticed any problems whatsoever.
The sole has also remained very well intact and performs exactly as it did when I first received it.
Cons
I believe that the pros really do outweigh the cons with this shoe. The only problems are on runs longer than about 6 miles, as my feet feel fatigued. The shoe doesn't always support my foot as much as I'd like and become very heavy.
I'm also very prone to blisters and have found the longer (and sweatier!) I've been on my feet, the more blisters I get.
I think this is due to the impressive upper of the shoe, it's fantastic at keeping your feet warm in the colder months.
Conclusion
Overall, I cannot recommend this shoe enough! Although the price point is high, its sleek design and clever structure make it a brilliant shoe.
I'd definitely recommend it for a runner who sticks to shorter (up to 10k) distances and is perhaps are looking for a faster run.
I think the only improvement needed for this shoe is its durability and comfort over a long period of time.
I always do my best to avoid being swayed by how a pair of trainers look. I have fought with too many injuries to allow aesthetics to be a factor.
For me, it all comes down to function. That being said, I can still appreciate a good-looking pair of shoes. The "New Balance Fresh Foam 1080v9"s are definitely that, of the 4 available colours mine are the "White with Black & Deep Ozone Blue".
The white forefoot fades into the black heel with a shimmering elegance that screams "fast", imitating mud flicked up the bodywork from a supercar's wheels. The reflective material forming the trademark 'N' on the side of the shoe flashes as the angle of light changes.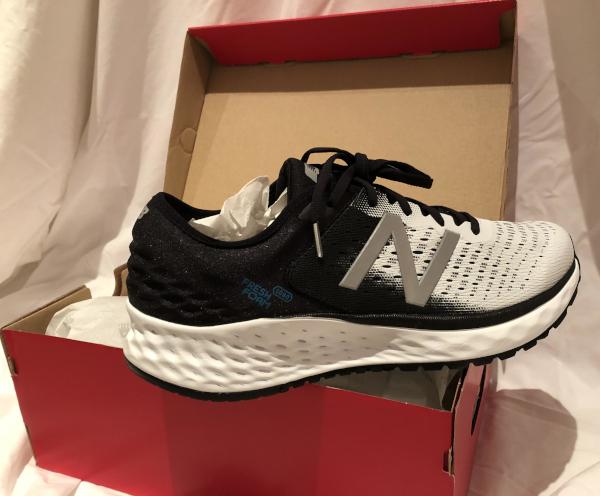 I'm a big fan of anything that improves visibility when out pounding the streets on a Winter evening, without ruining the looks.
One thing to note is the lack of heel loop to help pull a shoe on. While this is not something that I ever use and as such makes no difference to me, I know some triathletes like to see this included for efficient transitions.
Out of the box feel
The heel cup is made from a bootie-like material. There is a small amount of integrated padding but in general, there is a lot less cushioning around the heel and Achilles than on other trainers. Despite the thin wall of the heel cup, it feels like there is a good amount of lateral support.
The minimal padding seems to be a theme of the upper construction. The toe box material is thin and aerated. Provided there's no rubbing, this should be good for ventilation.
The midsole feels very soft to touch and is constructed from the namesake "Fresh Foam". My expectation at this stage is that there will be a lot of cushioning but with a limited rebound. In fairness, this is how New Balance market the shoe, centered around 'comfort and support'.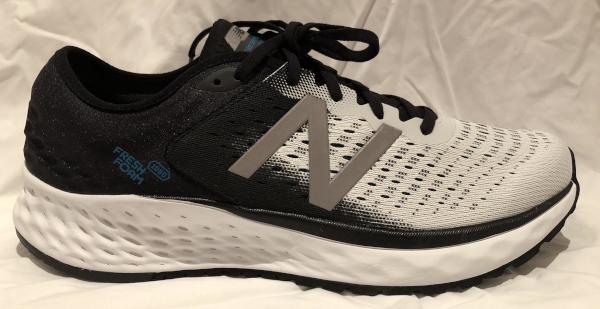 Despite the softness, the shoe is very stiff through the sole. The outsole is relatively thick with significantly contoured tread.
This should give a good grip for both on and off-road running. It is made up of one rubber compound for most of the surface, with a harder compound reserved for the heel strike, first contact region.
Technical
According to the official New Balance store, the trainers weigh in at 294g.
There is no mention of what shoe size this is based on but my pair of size 10s is 315g per shoe. Relatively heavy among the running shoe world, but not unusual for a training shoe with so much cushioning. Probably not one for a 5k PB though.
First wear
My feet measure near enough exactly a UK size 10 on a scale. Straight from the off, these shoes looked large and my initial thoughts were backed up when trying them on. While there appears to be an appropriate amount of space for my toes, the heel does not feel secure.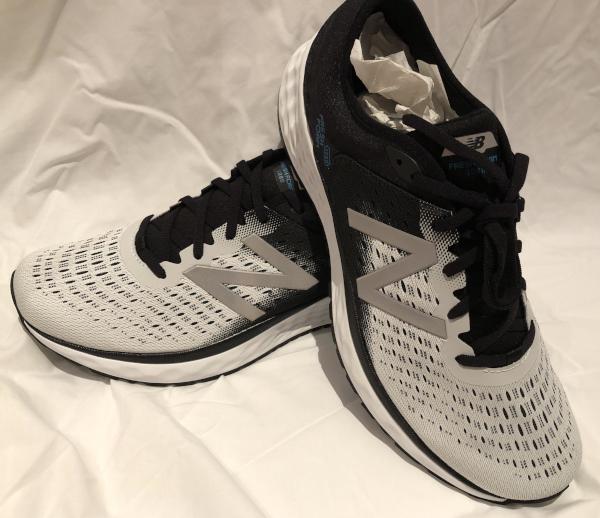 This may be in part down to the reduced cushioning around the heel cup.
This is partially alleviated by using the heel lock lacing and I'm pleased to see the laces are long enough to support this feature. As expected, the sole is very soft, particularly when applying weight directly through one heel.
First run performance
I took the 1080s out for their first miles, a brisk 5k, building towards the end. While the heel strike was very soft, as expected, I was surprised by how well the sole controlled the motion of the foot. Each stride was one smooth motion from heel strike through to pushing off with the toes, without lateral roll. The stiffness was evident. I have a fairly severe overpronation, particularly in my right foot, but the 1080s seemed to support my arch well.
The soft impact felt like it would support much longer runs without the usual runner's knee pains as well. However, since there is significant compression in the heel, your feet effectively never see the quoted 8mm heel-toe drop. I would anticipate this is closer to a neutral shoe and feels like there is more work required in the push off from your forefoot.
There were only two downsides I noted on this run. The first is not really a downside in my opinion but other people might see it differently. The shoes are quite loud.
The harder rubber compound forming the heel portion of the outsole taps against the pavement on impact, audible enough that I thought it worth mentioning. On the other hand, this suggests to me that the material is relatively durable and should allow for high mileage before it fails.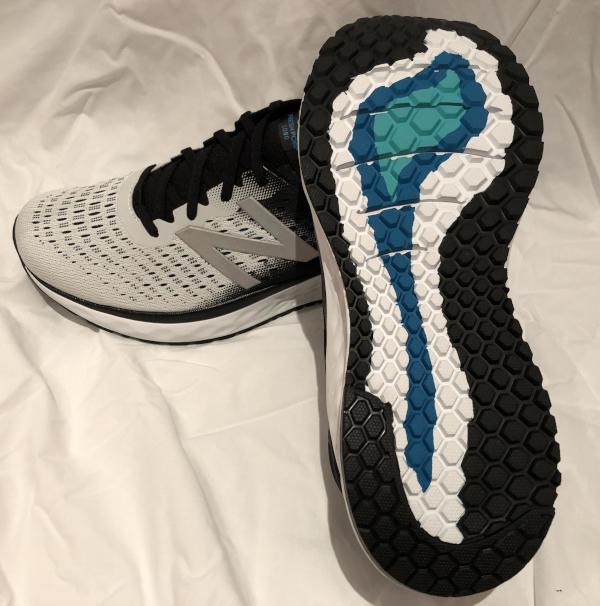 The second downside is the shoe width. Despite noting earlier that these shoes felt slightly large in length, they're a bit tight across the ball of my foot. The result was the hot patch every runner knows, on the bone just before my little toe. I'm hopeful that a few more short runs will stretch out the shoes and enable me to up the mileage without blisters. I will also make it clear, my feet are slightly on the wider side.
All in all, I'm so far impressed with the "New Balance Fresh Foam 1080v9"s. At this stage, I'm confident in their ability to support a high training load and prevent injury.
I have been using the New Balance Fresh Foam 1080 v9 for marathon training and have been running long distances in them (up to 18 miles at a time). I have run 60 miles in these trainers before review.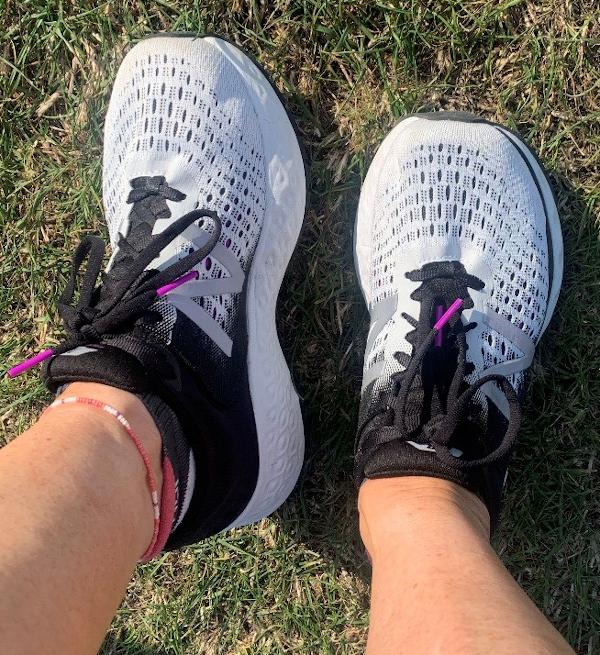 The first thing you notice with these trainers is how cushioned they are despite being neutral shoes, which often seem to lack support and padding.
I have worn neutral shoes in the past, and my feet can get a bit blistered up. But, I did not get any blisters with these trainers.
The trainer feels very soft, but not in a lazy way. The forefoot felt 'snappy' with the rearfoot fitted with a crash pad, which is made of hard rubber.
Although the trainer is soft, this isn't a trainer I would wear for shorter distances. I felt like when I quickened my pace, my calves were quite achy from having to work a bit harder due to the softness of the shoe.
Upper
The shoe is attractive, and I wore the black and white with tiny purple detail. I'm not sure how these trainers would fair in the UK winter.
Also, it would probably be dirty within a couple of weeks—I would likely purchase a darker colour. Regardless, I received lots of compliments when I wore the shoe.
The tongue is padded and comfortable, and the lace length is generous. Meanwhile, the toe box is slightly raised, which keeps the stride transition smooth.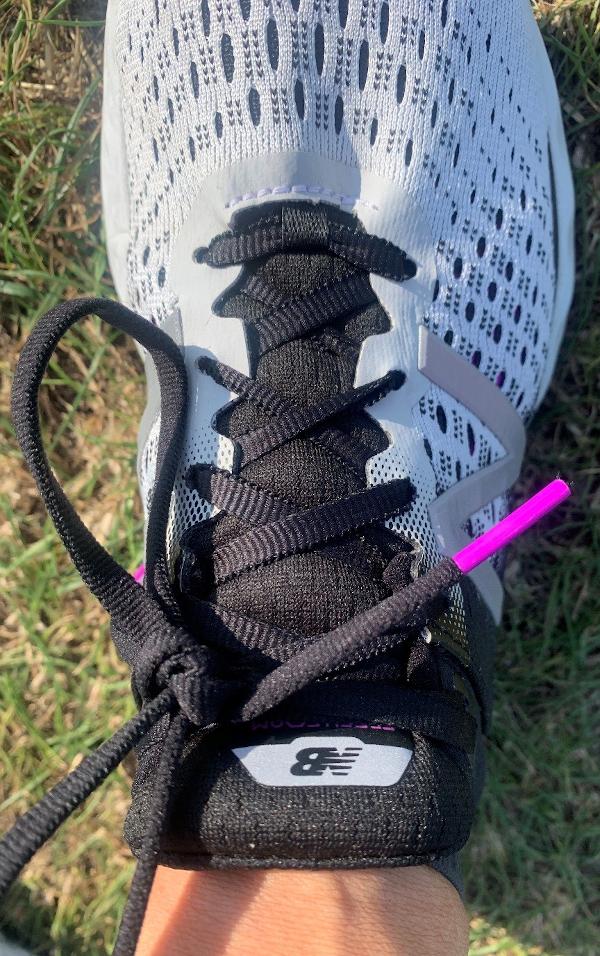 The shoe is breathable and comfortable, but I felt movement on the heel. This could be because I was testing the extra wide fit, which made the toe box extremely roomy.
Sole
The trainer has added a fresh foam material, which has made the landing soft but not sinkable. The sole of the trainer has a hexagon design, which sheds water quite quickly, making it extra grippy.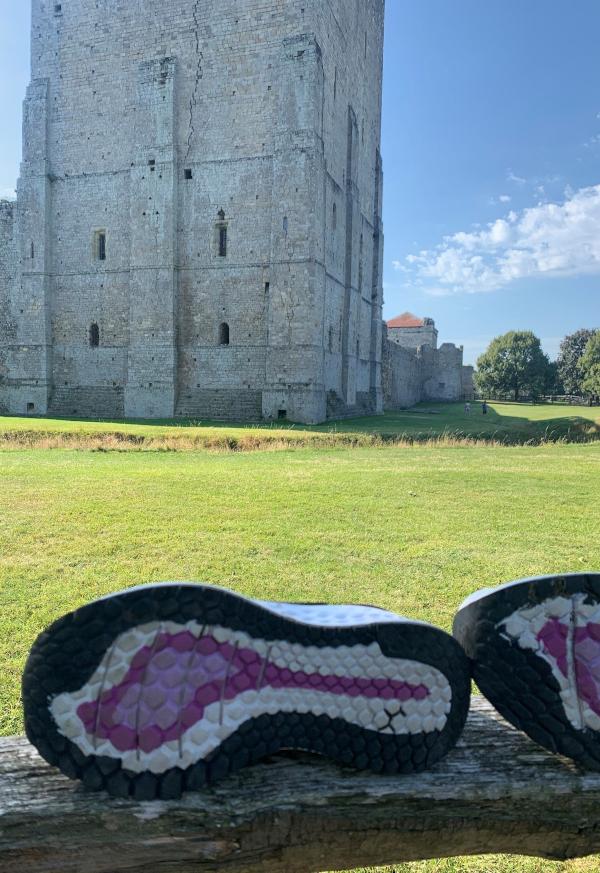 I found that the shoe rolled quite well from heel to toe. This is made easier by the upturn of the toe, ensuring a smooth transition with toe-off.
Achilles dip - High back for Achilles but rubs slightly; soft
Size fit - Slightly bigger than usual size
Arch support - Very supportive; I have high arches, and the support was nice and snug.
Ventilation - Airy without water being able to get in
Type of trainer - Neutral but very padded
Heel cushioning - Soft
Midsole - Fill length, fresh foam
Heel drop - 8mm
Widths available - Narrow, regular, wide (reviewed), extra wide
Best used - Road. Treadmill and flat trail
Weight - 245 grams (size 5.5)
Overall, I found that the trainer offered a smooth and cushioned ride, but the back grip could have been better. The heel doesn't feel very deep or very supportive, which didn't make my foot feel secure.
The padding is impressive though, considering it is a neutral shoe—the support on the arch felt comfortable. Also, the shoe felt quite light, considering that it looks quite chunky.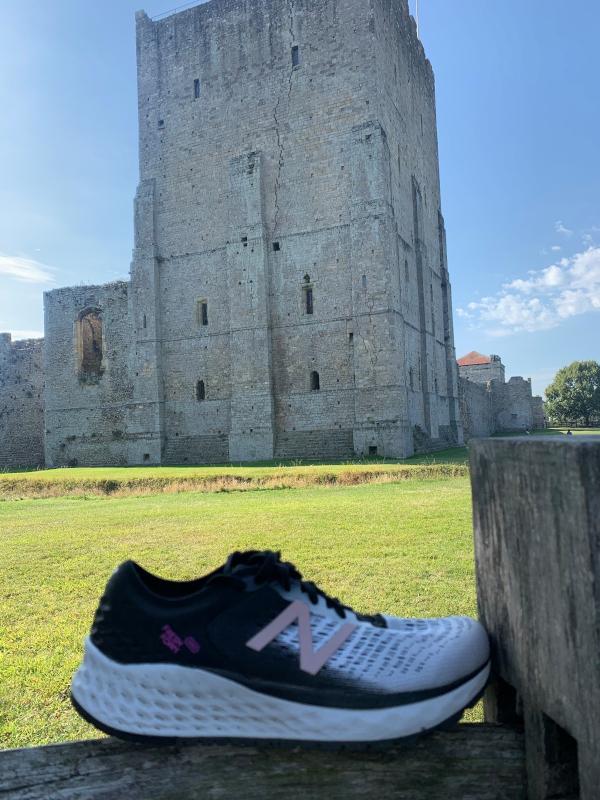 I like these trainers but not for long distances and would recommend them for shorter distances. The shoe has been softened from previous versions with fresh foam, making the forefoot flexible and less stiff.
My only complaint about the shoe, apart from the slipping heel, is that there is no heel loop to pull the shoe on.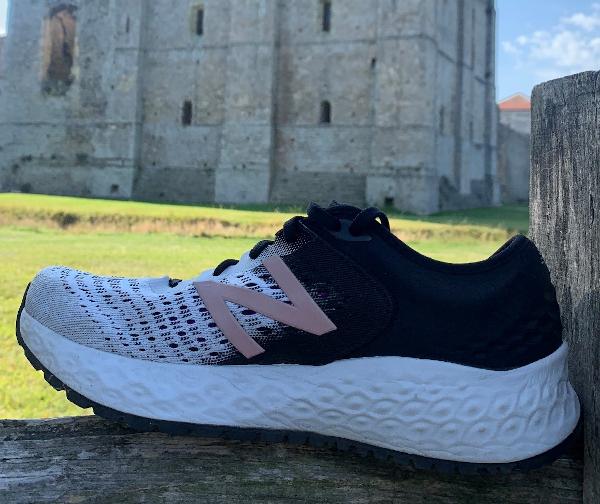 The soft upper was great for being breathable, but I did feel that it allowed movement for my foot and is not very secure in comparison to its competitors.
The shoe felt quite large for my usual size, and I would perhaps recommend half a size bigger than your normal shoe size. My everyday shoe size is 4—and I wear a 5 in trainers.
For this review, I wore a size 5.5. But, I would suggest just one size bigger as the shoe is very roomy.
As a result of the trainer being a bit big, I felt like my calves were working harder and felt more fatigued than normal. So, I would advise you try the shoe on for correct sizing before you purchase.

I think living in the UK, and wearing white could pose a bit of an issue in the winter months—that is, if you are like me who likes my trainers to be pristine!
There is a second colour on the shoe (purple), but it is hardly noticeable.
I liked the reflective detail on the shoe—any runner likes a bit of reflective material, and I thought this was a nice touch!
I have signed up to do Manchester Marathon next year (my second marathon in total) and a few more half marathons this year. Thus, I thought that it would be wise to try out some new trainers.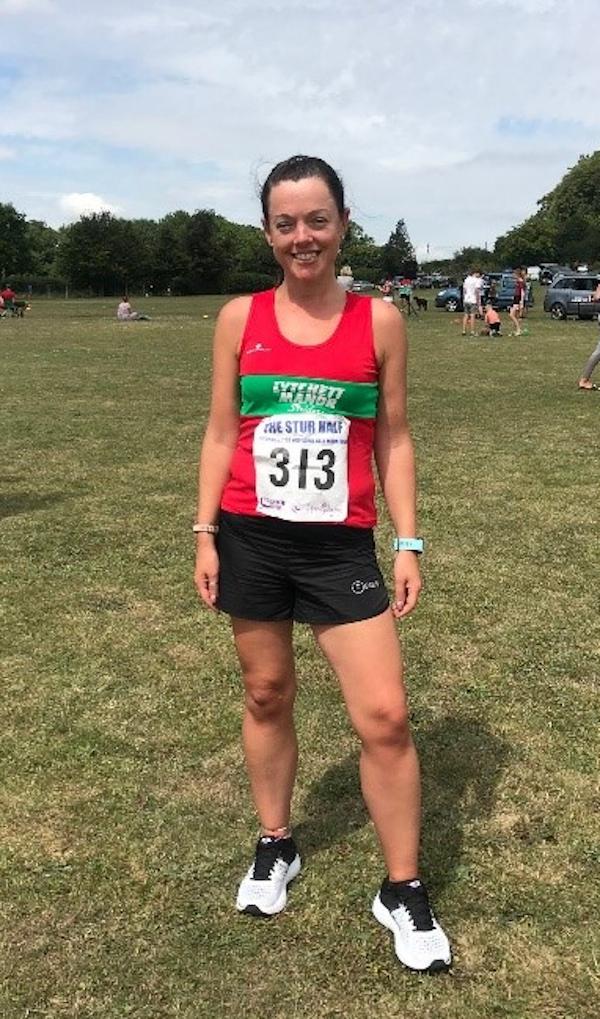 I search for a new pair that offered more cushioning and support over the longer distances than my current New Balance trainers. Having looked around at what was on the market, I decided to try out the new Fresh Foam 1080 v9 from New Balance.
Double jacquard mesh upper
The shoes have a double jacquard mesh upper. This offers maximum breathability for ultimate comfort.
The perforations in the mesh fabric help encourage the cool air to circulate. These also help remove heat and moisture build-up, which is great when you're wearing them for hours at a time—you'll have less sweaty feet!
Support
The synthetic material wraps around the heel, which offers increased support and secure feel, giving you maximum comfort. This is great when you are out for long periods, logging that extra mileage.
Fresh Foam midsole cushioning
The midsole is made from a single piece of foam, providing a more natural feel underfoot. The Fresh Foam cushioning helps to reduce the stresses and strains placed on your joints.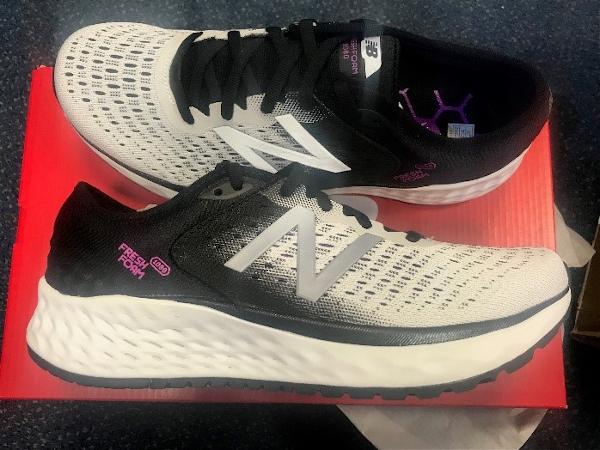 This is especially helpful over the longer distances and when running on harder terrain such as road surfaces. The shoe, along with the Fresh Foam, also has an Ortholite sock liner that provides additional comfort and cushioning.
Traction
The blown rubber outsole is great for providing traction across every ground, due to its hexagonal style pattern. It helps ensure that you stay upright at all times and not slip and slide about all over the place.
Pros
Medium weight
Breathable
No-sew material
Engineered mesh upper, adapts to shape of the foot
Great for the longer distances, such as 10 miles and upwards
Different widths so should fit pretty much everyone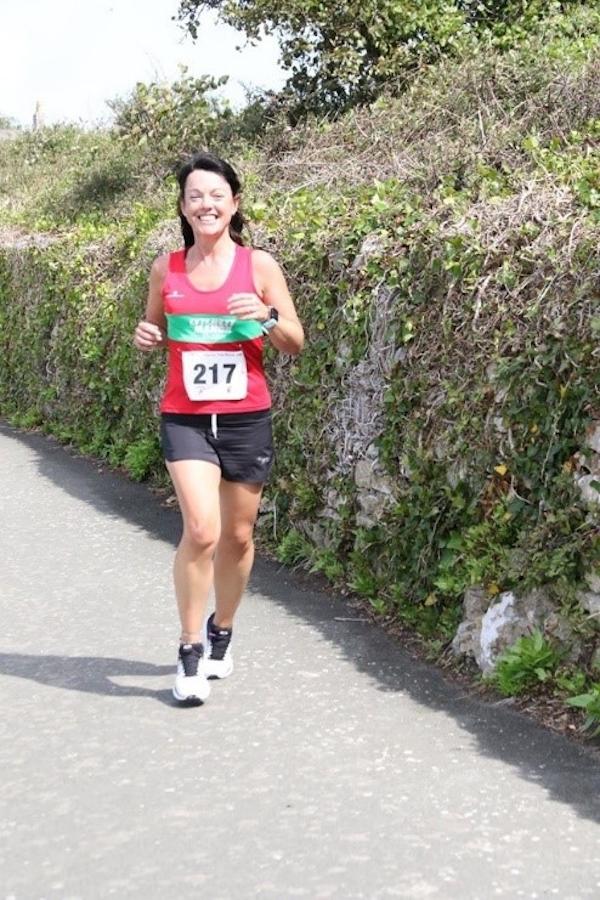 Cons
The backs do tend to fall a little
I would say go a size larger than your typical shoe size
I wouldn't wear them for shorter distances
My conclusion
The Fresh Foam 1080 V9 are my new favourite trainers. Not only do they look good, but they also and come in several different colours (I may have to order another colour).
Having tried them on both the shorter and longer distances, I would say that these are great trainers for the longer runs, mainly due to the cushioning.
The FreshFoam cushioning puts a spring in my step and feel like I am bouncing along, on the longer runs. I haven't felt aching or pain in my joints with them.
I have plenty of room in the toe box for my feet to spread out, which is great if you have wider feet like me and helps to avoid the dreaded blisters.
I would recommend these trainers to anyone doing long-distance runs such as half-marathons or training for a full marathon (which is what I will be using them for). However, I would use a lighter weight pair if I were doing shorter distances.
They also come in several different colours, so you have a wide range of choices. However, the Fresh Foam 1080 v9 is certainly not the cheapest pair out there, as they cost around £130.
Having said that, if you are doing the longer distances and spending up to 3-4 hours at any one time in a pair of trainers, then you do need a pair that offer you great support and cushioning. I believe these shoes will deliver all that.
Why did I buy the New Balance 1080v9? Well, really don't like running landing on rocks when I'm running on hardpack dirt/gravel roads so I like a highly cushioned shoe for those runs. I had worn the Vomero 12 but just retired those and tried on the New Balance 1080v9 at a New Balance store and fell in love.
To me, it felt like a definite upgrade from the Vomero 12 that I had been running in. The Vomero 12 was fine to me for running on dirt/gravel roads because I kind of viewed it as a boat that protected my foot from those rocks.
Although, I never found myself reaching for those shoes when I was going to run on the roads or cement bike paths because it just felt clunky on smoother surfaces but not with the New Balance 1080v9.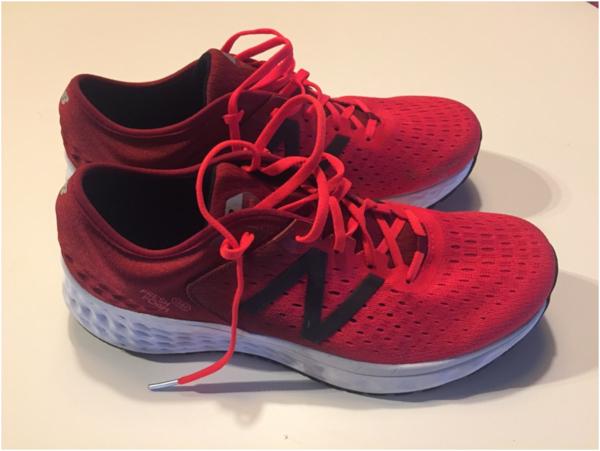 I bought them because I liked the look and feel of them in the store and thought they could be a good replacement. But once I ran in them, I absolutely loved them.
It protects my foot from those rocks when I run on hardpack dirt/gravel roads but continues to have a smooth ride on roads and smoother surfaces. For me, this is a lighter shoe than what I was used to for those kinds of runs (down to 10.4 oz from 11.8 oz).
It's probably a little bit of everything, the slightly smaller drop at 8mm instead of 10mm or the flex groove pattern on the outsole of this shoe that I find myself reaching for these shoes for anything except for maybe faster efforts (4 min per km).
Upper
I have an average width foot with a very high arch & roof of my foot. Sometimes getting a shoe to lock down well so that my heel doesn't slip, without ratcheting down the laces too hard and causing me to have pain on the top of my foot, can be a challenge.
So far, I haven't had any issue with the 1080v9 upper. It feels very comfortable and secure on my foot and hasn't given me any problems. I have seen complaints of a shallow heel causing some slipping, but I haven't experienced this.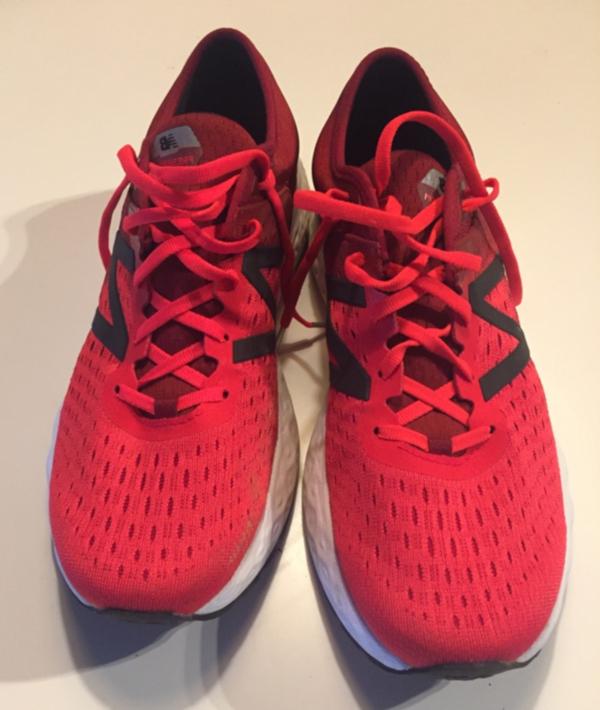 Midsole
This is a highly cushioned trainer, so the stack height is a little on the large side - 30mm in the heel, 22mm in the forefoot for an 8mm drop. It feels very comfortable on foot as soon as you try it on and walk around in it.
I tried on the 1080 v8 while I was in the store and I believe they did something with the Fresh Foam between last year and this year that makes quite a difference, as this version felt much more plush and softer.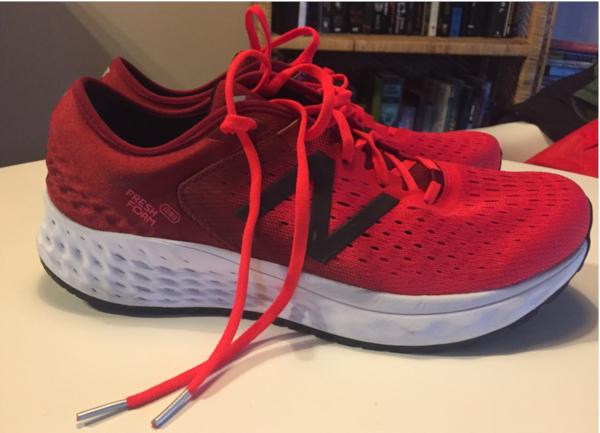 Outsole
The 1080v9 has an almost full length blown rubber outsole, with flex grooves in the mid to forefoot area that allows the shoe to be just flexible enough to have a smooth ride.
I think a big part of why this shoe works for me so well is that the outsole provides just enough protection without getting in the way of the smooth ride. The traction has been good on all the places I've been in this shoe, which includes wet roads/paths and hardpack dirt/gravel roads.
Conclusion
I feel like I have discovered a hidden gem in this running shoe. It is on the pricier side, but it feels great, and it is built to handle a lot of miles, so I feel like I will get my money's worth out of it. It has even expanded my perception of what this category of a shoe can be used for.
It's heavily cushioned and offers a lot of protection, but with a smoother ride than any other shoe, I've tried in its category so far. If you're a neutral runner interested in trying a highly cushioned running shoe, I would definitely encourage you to give this shoe a try.
Good to know
The New Balance Fresh Foam 1080 v9 has been modified from the upper to the outsole. The enhancements aim to provide runners with a more comfortable and satisfying performance, mile after mile.
Designed for neutral runners, the 9th version of the New Balance 1080 features a new midsole design. This version is still using the Fresh Foam midsole material, but it has been tweaked for a softer and comfortable underfoot cushioning.
The upper of the shoe also features an all-new design. It uses an engineered mesh on the forefoot and a Lycra fabric covers the heel area. These upper materials aim to provide a breathable and comfortable foot wrap.
A completely redesigned outer sole can also be seen on the 1080 v9. It uses the same blown rubber material, but with a different flex groove design and tread pattern. The outsole is specifically designed to deliver reliable traction and durability without affecting flexibility.
The 9th iteration of the New Balance Fresh Foam 1080 also has a shallower heel counter as compared to its predecessor.
The outsole of the New Balance Fresh Foam 1080 v9 has been modified. It uses the same material, but the flex grooves were lightly redesigned for durability and flexibility.
The blown rubber material covers the entire outsole of the Fresh Foam 1080 v9. It gives added cushioning and responsiveness while delivering protection against abrasion.
The flex grooves are strategically placed in the forefoot for more flexibility. The grooves help the foot achieved a smoother transition; they flex effortlessly as the foot bends while running.
The same as the 8th version, the latest New Balance 1080 makes use of the notable Fresh Foam midsole cushioning. This innovative technology has been used Fresh Foam Zante and in several New Balance running shoes and sneakers for plush underfoot protection.
The full-length Fresh Foam material is designed for luxurious cushioning. It provides reliable foot protection since it disperses landing impact, giving runners a smooth, plush ride. The Fresh Foam has a light construction and is meant to deliver consistent cushioning for long-distance runs.
The midsole foam performs better together with the laser engravings. These engravings are designed for enhanced comfort and flexibility.
The premium Ortholite insole gives added cushioning while providing arch support. The insole foam is removable and can be replaced with custom orthotics.
A double jacquard mesh covers the majority of the upper, and on the heel is a Lycra-like material. These materials aim to deliver unmatched breathability and comfort. The mesh is flexible enough to wrap the foot without feeling tight and it has enough perforations for ventilation.
The upper of the New Balance Fresh Foam 1080 v9 has a no-sew design with a cleatie construction. It provides runners with a smooth, irritation-free environment.
The shoe features a traditional lace-up closure which aims to hold the foot securely while running.
It also has a plush tongue and collar for added comfort and secure foot lockdown.
New Balance has been using a unique "number" system in their shoe names for decades already. Some New Balance fans are aware of what the numbers of the shoe names mean, but for a beginner, the numbers might be confusing.
Here's what 1080 means:
10 (the "hundreds" number) - It indicates the level of features or "premium" of the shoe model. 10, in the case of the New Balance Fresh Foam 1080, means mid-features. While it is also used to determine the price level of the model, the number is also an indicator of the features. Compared to the models with number 8, such as the New Balance 890, the Fresh Foam 1080 is more expensive and runners can expect mid-range features. As runners move higher to number 12, like the New Balance 1260 model, runners can expect a higher level of performance and of course, a more expensive price tag.
80 (last two digits) - The two digits determine the level of cushioning. For this particular model, 80 means neutral cushioning. The number 40 means optimal control, 60 means stability, 70 means light stability, and 90 means speed.
Rankings
How New Balance Fresh Foam 1080 v9 ranks compared to all other shoes
Popularity
The current trend of New Balance Fresh Foam 1080 v9.