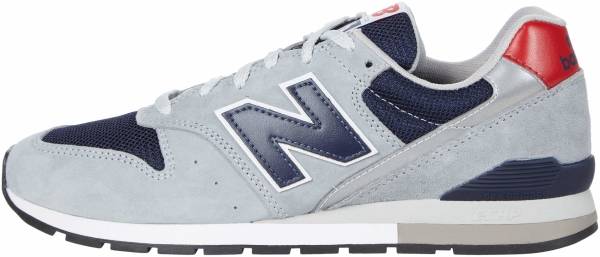 A favorite go-to shoe by many since '88, the New Balance 996 has been in the market providing functionality to wearers without sacrificing style. Like any NB Classic, it flaunts a fresh look of an old-school shoe that goes well with almost anything. Those who have tried on and tested a pair are generally impressed with its superior quality, supportive fit, and overall comfort.
---
Verdict from 100+ user reviews
9 reasons to buy
The majority of the purchasers are extremely pleased that the classic New Balance 996 is back in the market.
Numerous reviewers are satisfied with the comfort of this classic shoe.
More than a few New Balance 996 reviews mention that the hefty price tag of this shoe is worth it given its superior quality and durability.
Many appreciate its classic appeal.
This shoe delivers in terms of support and traction, as mentioned by a number of buyers.
The New Balance 966 is an excellent shoe that most of the reviewers buy year after year.
A large number of buyers say they highly recommend this shoe to their friends and family.
This particular shoe is lightweight compared to other New Balance shoe models, according to a few users.
Some are pleased that the shoe they purchased is the same as how it is described online.
2 reasons not to buy
There are some comments that this shoe is narrower than the other New Balance models.
A small number of reviewers say that the New Balance 996 could use a little more cushioning and stability.
Bottom line
A favorite go-to shoe by many since '88, the New Balance 996 has been in the market providing functionality to wearers without sacrificing style. Like any
NB Classic
, it flaunts a fresh look of an
old-school shoe
that goes well with almost anything. Those who have tried on and tested a pair are generally impressed with its superior quality, supportive fit, and overall comfort.
Best price from 30 shops
We earn affiliate commissions at no extra cost to you when you buy through us.
72% say it's true to size.



Size and fit
This classic New Balance 996 is a shoe that both men and women could wear. It features a lace-up closure that allows a customized, adjustable fit and leather overlays for the needed additional foot support. The collar, tongue, and insoles are sufficiently padded for added in-shoe comfort.
New Balance 996 Style
The New Balance 996 is a classic shoe that still remains relevant in the sneaker market three decades after it initially dropped. With its silhouette based on a running shoe, it exhibits a sporty appeal that will surely make any outfit stylish without sacrificing comfort. It is often worn with a casual outfit or even as a business-casual shoe.
Men's styling
The men's New Balance 996 oozes a clean retro vibe, which only makes it easy to wear with almost any outfit. It's not one of those flashy, attention-grabbing men's sneakers out there. Rather, it is a minimal and low-key kind of running-inspired shoe.
Men often wear it with a basic ensemble like denim jeans and a simple shirt, while others exert extra effort in styling it by pinrolling their favorite jeans or pairing it with layers to look well put together. For a more polished look, the NB ML996 (preferably in leather or suede material) can also be worn with chinos that give a bit of contrast to the shoe's color.
Women's styling
The minimal aesthetic of the New Balance 996 women's shoes is undoubtedly one of the reasons why the ladies opt for this retro pair. Comfortable and functional, most women strut their NB 996 for smart-casual and sporty casual looks. Gone are the days when sneakers are exclusively used in gyms. With recent fashion trends, these pairs have become regular go-to shoes of many.
One of the most popular ways to style the New Balance 996 low-tops is by opting for monotone looks. Their classic façade suits any neutral outfit well. You may also wear an all-black or all-white ensemble and pair it with a brightly-hued, monochromatic New Balance 996 to add a pop of color. Similarly, skirts, denim, and leggings would also look great with the 996.
Notable Features
The New Balance 996 has been known for its classic cut and style. It features a combination of high-quality suede and mesh materials on the upper, usually with a reflective "N" logo, heel tab, and lateral accents. Unlike most New Balance models, the 996 also features perforation details (three small holes) on the lateral sides for added breathability.
New Balance 996 History
The New Balance 996 was first released in 1988 and one of its selling points? It was made in America, unlike shoes from other brands that outsourced their shoes from Asian factories.
It belongs to the New Balance 990 Series, which was first conceptualized in 1978 and took four long years of research and development before the first shoe was released. The first of the 990 series, the New Balance 990, dropped in 1982 as a running shoe that perfectly balances flexibility and support. Back in the day, running shoes were made in a way such that these two factors cannot be both applied on a shoe; it was always either of the two, but the introduction of the 990 changed that perception. New Balance made it possible by utilizing a "slip-lasting" technique on the upper and a polyurethane heel-cradle or the Motion Control Device (MCD).
It took another four years before the next model in the 990 Series was released, the New Balance 995. It made history as the first running shoe to cost $100. It was a risky move for the brand, but consumers welcomed it positively mainly because it featured one of the brand's technologies, the ENCAP sole unit.
Next in the list is the New Balance 996. Unlike the minor upgrades on the 995 from the original 990, the 996 release was considered a "complete overhaul," and it was presented as the "ultimate hybrid." It still features the ENCAP sole unit, but a dual-density C-cap midsole was added for greater stability and cushioning, as well as overall support. The outsole of this model is two-toned, which is composed of blown and carbon rubber.
Several other models were released under the 990 series throughout the years, such as the 997 in 1990, the 998 in 1993, the 999 in 1996, the 990V2 in 1998, the 991 in 2001, the 992 in 2006, the 993 in 2008, the 990V3 in 2012, and the 997.5 and the 990V4 in 2016.
New Balance 996 30th anniversary
For its 30th anniversary, New Balance released special edition colorways of the classic NB996 silhouette. Dropped on August 28, 2018, for about USD243 each pair are two 996 colorways namely "Grey" and "Black." Both shoes feature a combination of premium suede and mesh on the upper, off-white midsole, black outsole, and a reflective 3M detailing at the side panel N branding.
What made the NB 996's 30th-anniversary celebration even more special is that both the retro "Grey" and "Black" colorways were a nod to the first two original colorways that initially debuted in 1988 upon the introduction of the 996 into the market, and then again in 1989.
Collaborative New Balance 996 releases
Like other popular New Balance classic models, the New Balance 996 has long been a subject of collaborations between the Boston-based brand and sneaker retailers and renowned designer in the US and overseas. Below are just some examples of the successful New Balance 996 partnerships throughout the years.
J. Crew x New Balance 996 "Neptune Blue"
Released for a slightly expensive price of $170 is the Made in USA unique rendition of the 996 between the Boston-based footwear brand and popular retailer J. Crew. The J. Crew x New Balance 996 "Neptune Blue" is a perfect sneaker to wear with your all-time favorite pair of jeans with its blue and grey-based color scheme inspired by bodies of water. It features a grey mesh base that offers added breathability and a combination of leather and suede on the rest of the upper for support and stability.
This collaborative New Balance 996 in blue first dropped on July 16, 2015, at J. Crew's Liquor Store in New York City, and online on July 21.
INVINCIBLE x New Balance 996 "Brogue"
Taiwanese sneaker and streetwear boutique INVINCIBLE was established in 2006 by Jimmy Wu. It houses products from renowned athletic brands like Nike, Converse, Adidas, Reebok, and New Balance. In Summer of 2015, it teamed up again with New Balance for a unique rendition of the classic 996 New Balance silhouette for men as a follow up to their New Balance 1400 collaboration in 2013.
Dubbed officially as the INVINCIBLE x New Balance 996 "Brogue," the low-top classic features a premium leather upper in grey with a grey mesh base. Hints of blue suede are seen on the heel and side "N" branding, and on the toe and heel are intricate brogue detailing along the edges hence the name. Another interesting feature that comes with it is the horse race theme graphic printed on its insoles.
This shoe is also referred to as the INVINCIBLE x New Balance MRL996IN "Brogue."
Beauty & Youth x New Balance 996
United Arrows' sub-brand Beauty & Youth collaborated with New Balance in 2013 for a release of a women's New Balance 996 shoe called officially as the Beauty & Youth x New Balance W996. The low-top running-inspired silhouette flaunts a beige suede upper that took inspirations from the "Year of the Snake." Coral pink and metallic detailing highlights the signature side panel N branding, while other areas such as the tongue and heel display similar hints of metallic gold. This ladies exclusive NB 996 initially dropped in Europe on April 20, 2013.
On August 8, 2014, the Japanese-based retailer released another collaborative take on the New Balance 996 in limited quantities along with the New Balance 1400 model. The Beauty & Youth x New Balance MRL996 or otherwise referred to as the Beauty & Youth x New Balance RevLite 996 features a vibrant orange suede upper with perforation detailing on the toe box area, tongue, and sides. Hints of grey accents are placed on the big, signature side N branding, heel, sides, and midsole. On the insoles is a collage of graphics for an added flair. However, beyond its eye-catching design and color is the RevLite cushioning system, which is not utilized in earlier or standard NB 996 releases.
Fast forward to 2017, Beauty and Youth once again teamed up with New Balance for another special release of the iconic NB 996. The 2017 Beauty & Youth x New Balance 996 release is a follow up to their successful New Balance ML999 collab earlier that same year. The shoe features subtle design touch-ups from the Japanese retailer with a toned-down gray mesh, suede, and leather upper with tan accents, and a RevLite-infused sole unit. It released for 15,000 Japanese Yen or approximately USD130.
Nice to know
The tongue of this shoe displays the New Balance 996 branding.
In 2006, New Balance collaborated with two Japanese retailers, Whiz Limited and Mita Sneakers in dressing up the classic 996. The Whiz Limited x Mita Sneakers x New Balance 996 features shades of brown leather, off-white accents, and vibrant orange suede upper on the toe cap. The perforation details were updated to three small stars.
New Balance also collaborated with J. Crew for the 996 model. In July 2015, the "Neptune Blue" colorway was released, which features different shades of blue in suede and mesh upper.
Popularity
The current trend of New Balance 996.