The Merrell Moab Flight is the Toyota RAV4 of shoes. It looks decent, can handle moderate dirt trails, and is comfortable enough to wear in many applications. While it is not the fastest or the most aggressive off-road, it has enough features that warrant consideration if you are looking for an all-around good quality trail shoe.
Pros
True to size
No break-in period
Comfortable ride
Light
Excellent breathability
Reasonably-priced
Cons
Middling performance
Not so durable
Poor grip
Merrell Moab Flight review
The Merrell Moab Flight is a decent all-around shoe that has classic styling, and standard features. Overall, the quality of this running shoe is decent. While each individual element is decent, it is not overdone.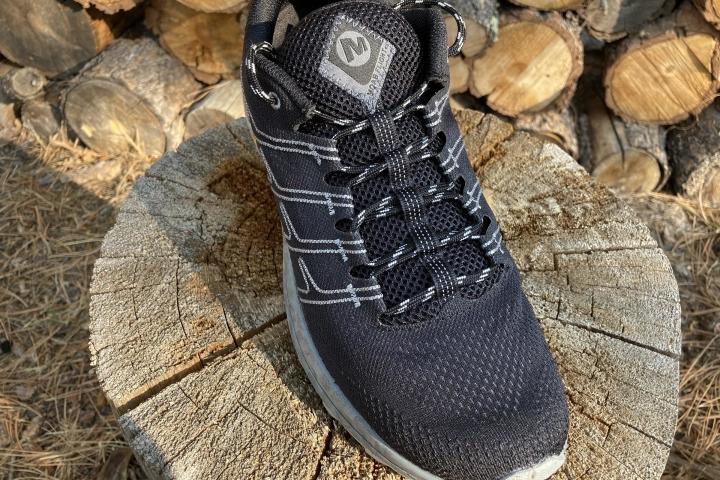 The uppers are durable and feel nice, but the quality isn't what you would get from a European running shoe. The outsole feels very generic, and the midsole is adequate but not resounding. That being said, the price of this shoe is on the lower end for a trail runner these days, and you do get a lot for your money.
Who should buy the Moab Flight
The Merrell Moab Flight is a great shoe for shorter distance runs. If you are after a good quality shoe, that works for many moderate trails, then consider the Moab Flight.
Who should NOT buy the Moab Flight
Look away if:
you're after a shoe to tackle off-trail bushwhacking, or big mountains (consider something more aggressive like the Merrell Agility Peak 4)
if you prefer more ground contact, the Trail Glove 6 is worth checking out
True to size fit
The Merrell Moab Flight fits very true to size. I'm a size 11 in every other US shoe, and it fits exactly as an 11 should.
The Moab Flight is ready to roll from day 1
Overall, the comfort of the Merrell Moab Flight is good. There was not a break-in period: right out of the box these were ready to roll. Merrell calls the midsole "Float Pro" and it is an apt name. This midsole absorbs many types of moderate trail conditions.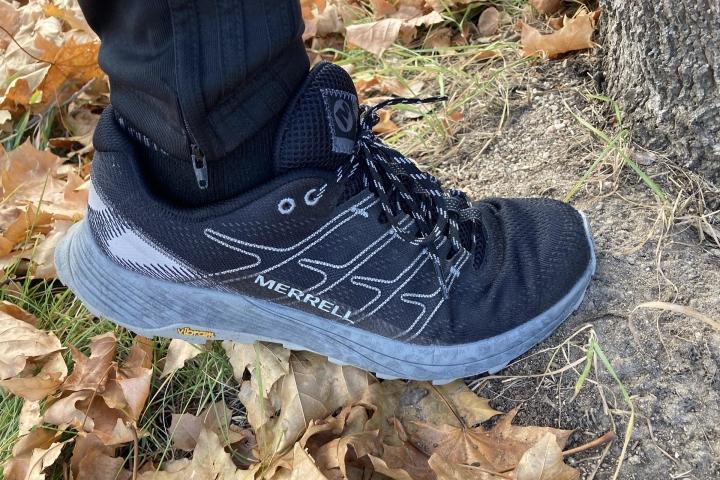 Enjoyable ride
The Merrell Moab Flight feels natural. It has about 10mm of drop, which encourages forward propulsion. I enjoyed the overall feel of this shoe on varied conditions including rolling hardpack, paved paths, and smooth singletrack.
Wear the Moab Flight and forget it's there
The uppers, midsole, and outsole of the Merrell Moab Flight are made from not overly stiff, rigid, or constrictive materials. As such, this shoe did not take any time to break in. After you get through the normal lace adjustment, this is a "slip on and forget it's there" type shoe.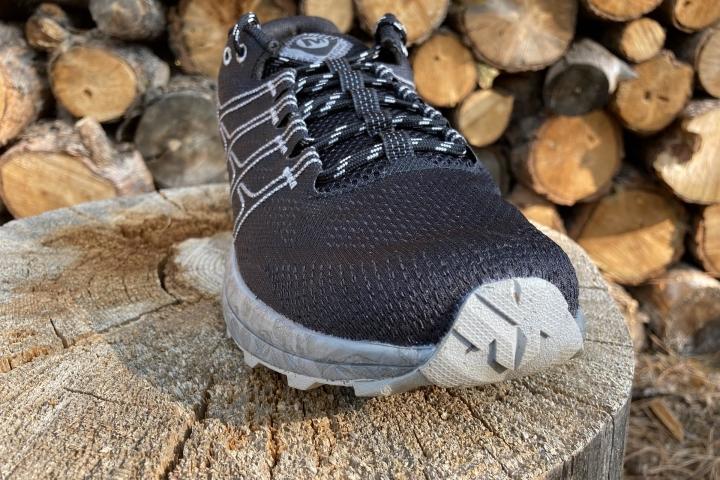 Lighter than average
The shoe weighs in at 10.5oz/298g for my size 11. It is on the lighter side for a trail runner (trail shoes weigh 10.6oz/301g on average) and is great to put on for recovery runs.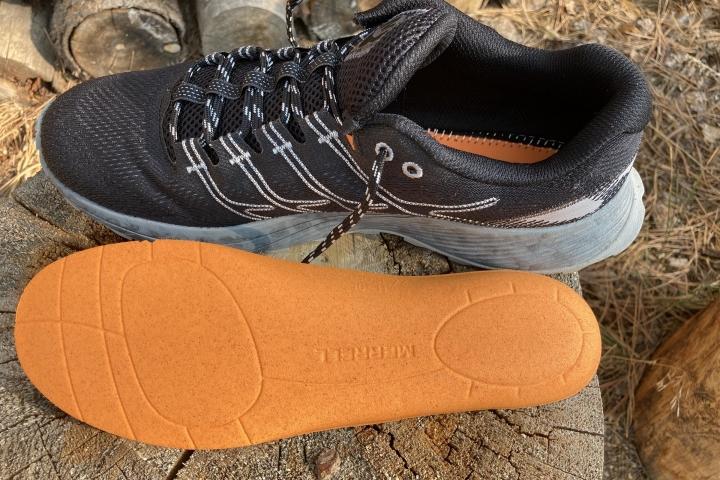 Not 100% durable
Merrell has been making shoes for 40 years, and they know a thing or two about including wear-resistant, quality materials.
My one disappointment in regard to durability is that the outsole is separating from the midsole at the heel. Almost like there wasn't enough glue there from the factory. Other than that, the uppers and outsoles are holding up well to "regular" trail use.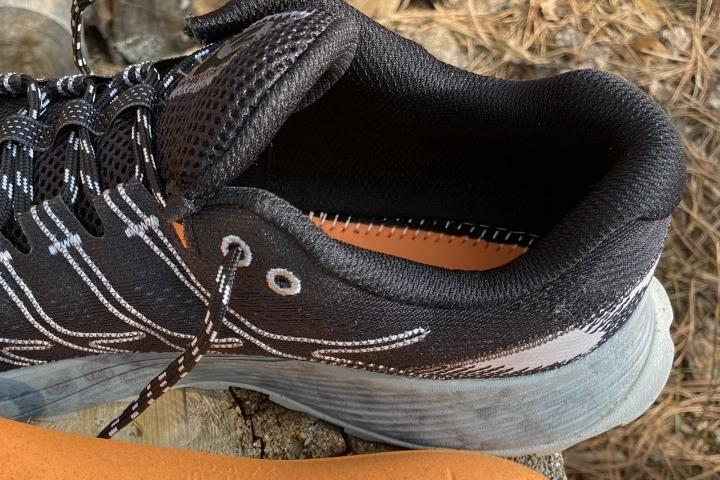 Poor marks for grip!
I give the Merrell Moab Flight poor marks for grip. The lugs on the outsole are very shallow, and as such, do not grip or bite the trail very well. When using these on areas with looser scree or gravel, significant slippage was experienced.
The Moab Flight is not an aggressive trail shoe
The ideal run for this shoe would be a rail-trail conversion, a rolling hard-packed trail, or a well-used, slightly damp single track. If this trail happens to have a couple of miles of pavement, the Moab Flight will be in its element.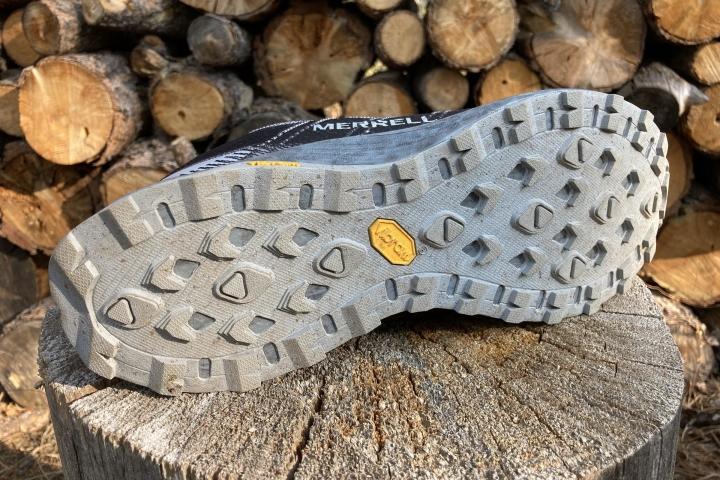 It is not an aggressive shoe, but the trade-off is that it runs well on a wider variety of trails that one encounters, especially in an urban setting. I find myself bringing these with me when I travel for work, knowing that I'll be on more established city paths.
It is highly breathable
The loose weave uppers create excellent breathability, and while there are no dedicated vents, that does not matter. This shoe is great for airflow. The downside is that it is highly permeable to any ground moisture. Dewy grass will get your socks wet, and dusty trails will leave your feet dirty.
Lockdown needs improvement
The Merrell Moab Flight shoes lack some stability in the lace department. When you lace them up, to the top, they feel almost not high enough, or too high on the tongue, depending on the top set of eyelets you choose. This is not necessarily a strong negative, but it is something to keep in mind.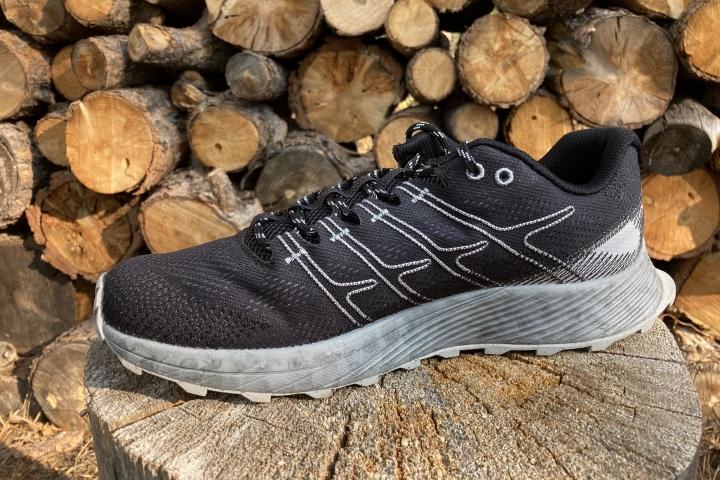 A few reflective elements added
The Merrell Moab Flight has some reflectivity on the tongue of the shoe. There is a "daisy chain" that you feed the laces through, and this has some reflective material woven into it. I would not consider this a great shoe if you're wanting to be seen on city streets at night.