80
The Corescore is a score from 0-100 that summarizes opinions from users and experts. Below shows the distribution of scores for all running shoes.
This shoe has a 10% penalty on its expert reviews because it has fewer than 5 reviews. This is to avoid that shoes with few reviews unjustly receives high scores.
Learn more
Verdict
Is this a running shoe or an arctic explore's early take on a snowshoe? It's huge underfoot and carries all the foam and plushness one would expect from the Hoka Bondi line. With one upgrade, yes a carbon plate! Do we need carbon-plated recovery shoes, I didn't think so, but here it is, in my hands and on my feet, so who knows anymore what we "need" and maybe this is just more about what we want! Let's test this behemoth out!
Pros
Cushioned
Carbon plate
Breathable
Roomy toebox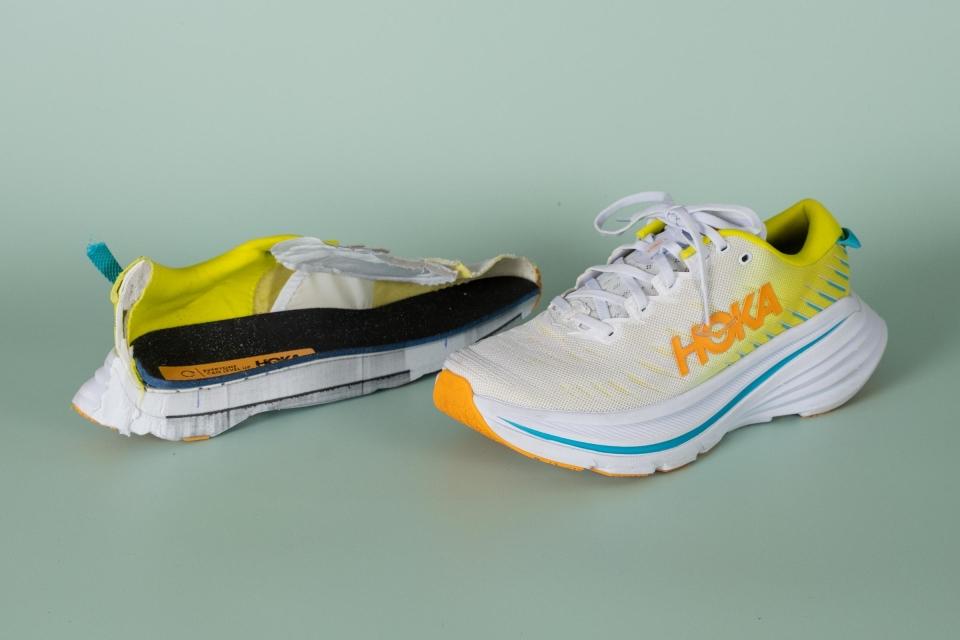 91% say it's true to size.
We earn affiliate commissions at no extra cost to you when you buy through us.
Comparison to similar running shoes
Hoka Bondi X review and lab test
X Marks the spot! Well, the carbon spot anyway.
The Bondi X is the latest iteration of a standard Hoka shoe getting a bit of an upgrade with the addition of a carbon plate.
But does a carbon plate really make sense in a max cushioned recovery day shoe?
Does this deserve to be the most expensive Hoka in their lineup?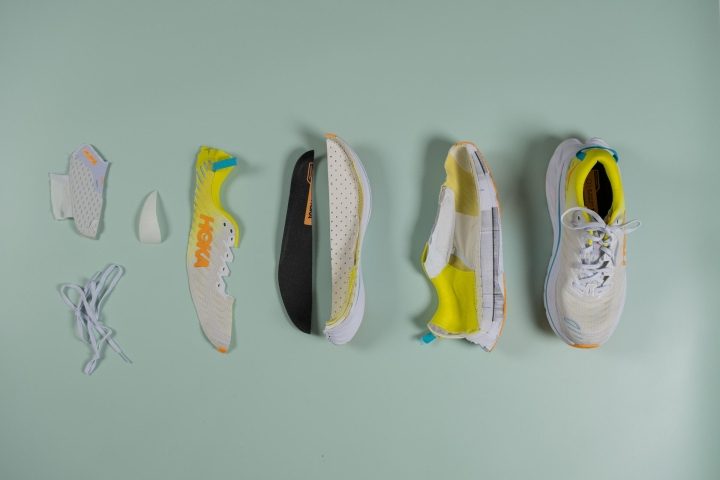 Regardless, it's full of foam and roadworthy so we put it through the RunRepeat lab.
Who should buy the Hoka Bondi X
Buy this shoe if you want a super padded and plush recovery shoe with the added benefit of a stable, propulsive carbon plate. It's spendy, but it's comfortable and incorporates the latest technology in run shoes which many people will love.
Who should not buy it
Don't buy the Bondi X if:
You want a lightweight recovery shoe, the Brooks Aurora-BL is almost 2 ounces lighter and a bit peppier.
You want pure luxury and softness underfoot. The Nike Invincible Run is considerably softer and bouncier underfoot and a bit less expensive.
You just don't think you need the carbon plate. The standard Hoka Bondi is $50 less and pretty similar in its ride.
Hoka Bondi X has some minor issues
The Bondi X measures a bit narrow at 95.3mm in the forefoot and 78.8 in the heel (average is 98.4/75.4mm) but the upper stretches nicely and I didn't feel like it was narrow on my foot. Actually, I felt like I had plenty of room in the toe box which pleasantly surprised me.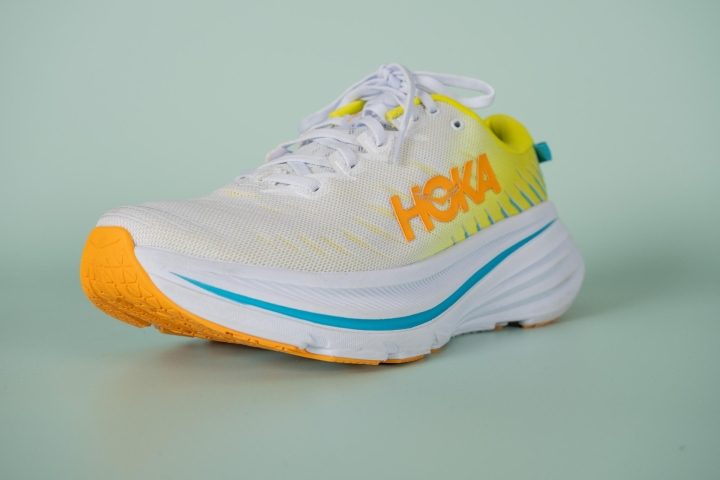 They do feel a touch long, but maybe that's just because when I look down I feel like I have a pair of water skis on my feet. But I think I'd do a half size smaller if I were to order these.
There are some heel slip issues, which I normally have in super-stiff heel counter shoes, especially with this much padding. It's like the padding gives and lets your foot move, you just can't get it tight enough because of all the ankle and heel padding. That's annoying for sure.
Also, another annoyance is the tongue. It has a swallowtail design and needs to be a touch longer. The center of the cutout's dip is just a bit too low and the top laces are really close to crossing over your ankle unencumbered. Especially if you are trying to solve the heel slip issue by using the top lace hole, there will be some unwanted lace bit.
Comfort is key and Bondi X has it
This shoe is built for comfort, and it feels great on your foot minus some of the fit issues.
There's a thick 5mm removable insole (average insoles are just 4.3mm), and tons of foam underfoot.
I've never really gotten the "marshmallowy" feel that others describe in the Bondi, and I honestly just write them off as wrong and assume they meant to say Hoka Clifton which does in fact feel like running on clouds.
The Bondi X is more of the same for me, it's not as soft as I expected it to be and I find myself disappointed in that.
The foam on the Bondi has always been a bit too dense for my liking, I prefer the slightly softer ride of the Clifton for a recovery shoe and ultimate comfort underfoot.
One thing I do like on the Bondi X though is the thin 3.8mm tongue. It has just enough padding but is extra breathable which I really like. I am not a big fan of heavy, super-plush tongues, and the standard Bondi has one.
However, it is a bit odd to have a minimal tongue on the Bondi X since everything else is overly stuffed with padding. It's confusing, but I do like it, it somehow feels more sleek and fast in some odd way.
Ultimately, I do like this shoe better than the standard Bondi, it feels lighter and more breathable.
The ride of the Bondi X
First off, the Bondi X is super tall at 37.2mm stack in the heel and with a 5.6mm drop (31.6mm stack in the forefoot). If you want to feel taller this is the shoe for you!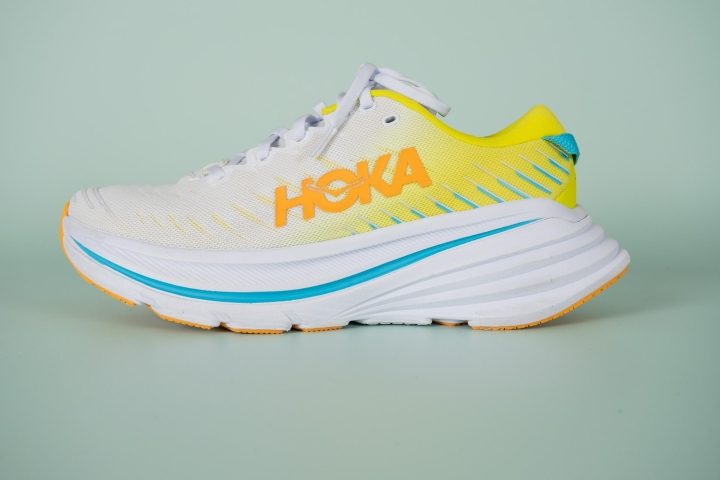 Normally tall shoes can feel unstable, but the Bondi X counteracts that with an insanely wide platform, 118.3mm in the fore foot and 106.3mm in the heel (average running shoes are 112.2/89.2mm).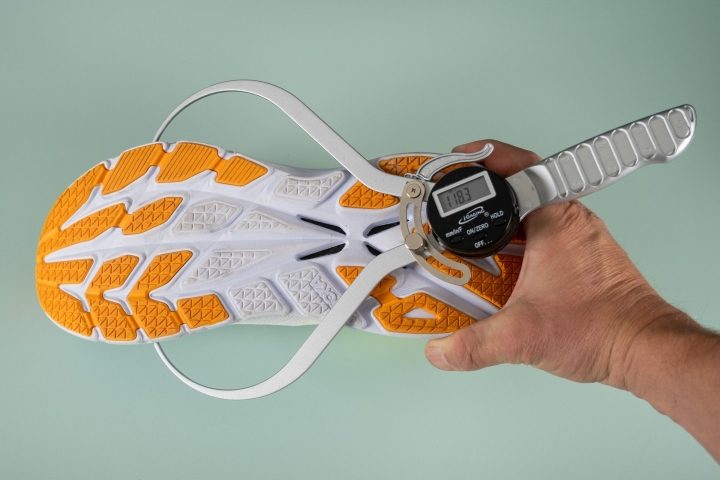 The carbon plate also helps add some stability since tall, foam without proper form can be tippy. Like the Invincible Run.
Obviously this is a stiff shoe, it is fully carbon plated. At 69.4N on our flex test, it's way above the average shoe at just 38.8N.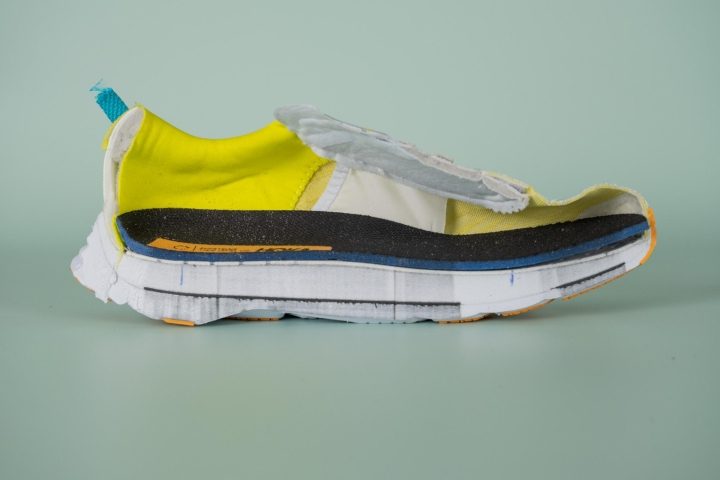 And in cold temps this shoe stiffens up even more. This is one downside to EVA midsoles, and measured 88.6N, a 27.7% increase in stiffness in our cold tests.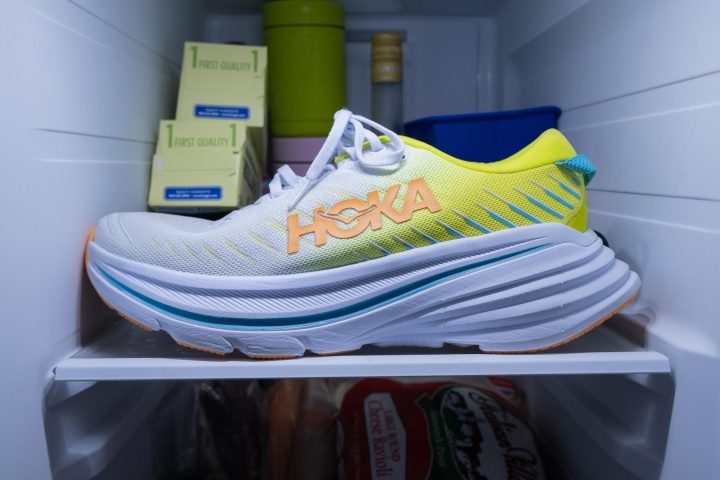 The Bondi X also has a swallowtail heel design for energy disbursement and fluid transitions, which ff you are a heel striker you may get some benefit from, but most midfoot or forefoot strikers won't notice it back there.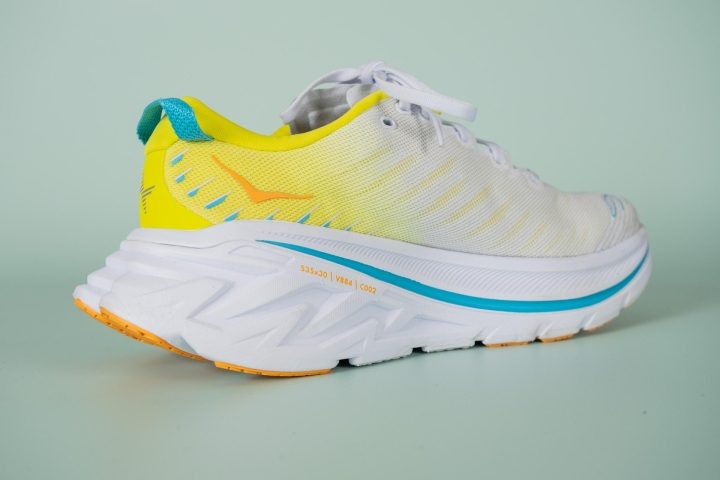 The shoe is obviously a bit more rigid than the standard Bondi, which gives it a bit more pop than the original and I do like that. The original felt like I was running in wet concrete but in these, I did feel like I could actually pick up the pace if needed.
That being said, this is still a Bondi and very much a recovery shoe, not a race shoe.
Heavy but not absurdly so
The weight of 10.5 ounces (298g) isn't terrible when you look at this shoe. It seems like it should be 3 pounds, but 10.5 ounces is still heavy in my opinion even for a max cushioned recovery shoe. The plate helps a bit to make it feel lighter than it actually is but, the size doesn't let you forget and I found myself kinda tripping over these at times.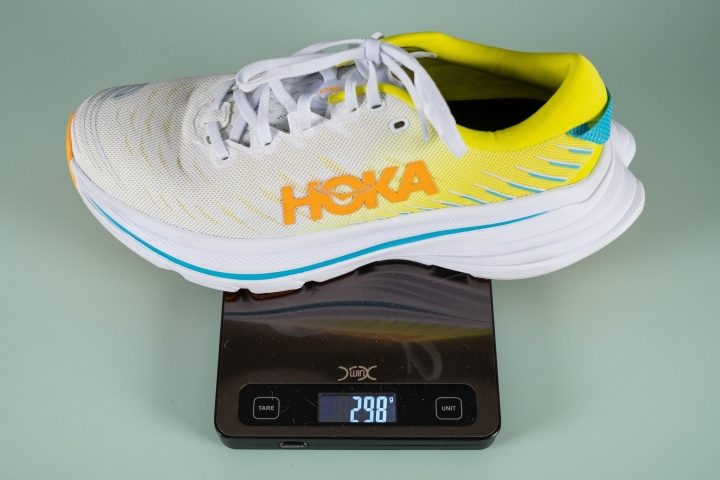 Durability and grip
They have a thin 2.3mm rubber outsole but it's zonal and there's a lot of exposed EVA. This could wear down quickly as the rubber is on the softer side of things at just 77.5HC.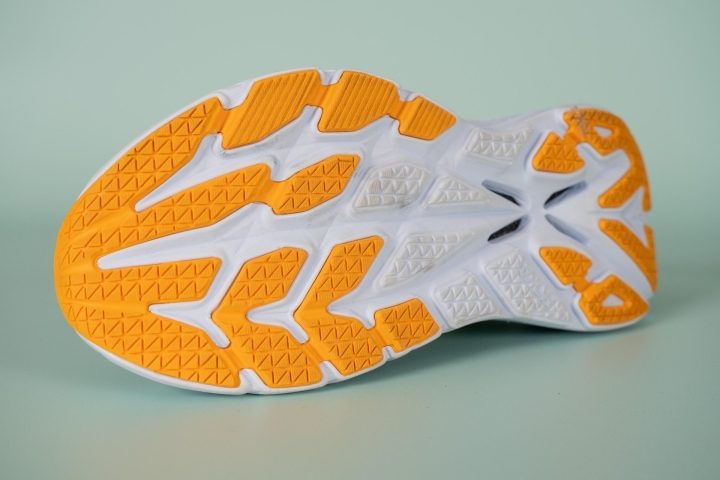 The softer rubber and tons of siping grooves do provide great grip though, and its wide platform stuck to the ground around corners or on uneven surfaces.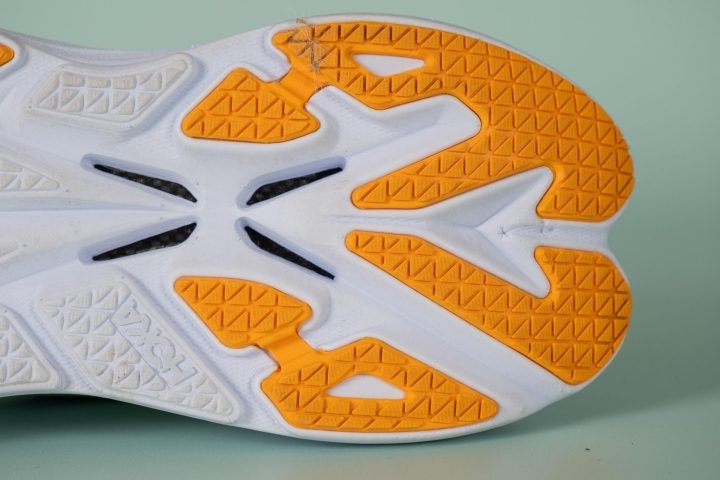 Breathability of the Hoka Bondi X
The shoe has a very breathable upper with minimal overlays to block heat escaping. I dig the design of the upper on the Bondi X much more than that of the standard Bondi.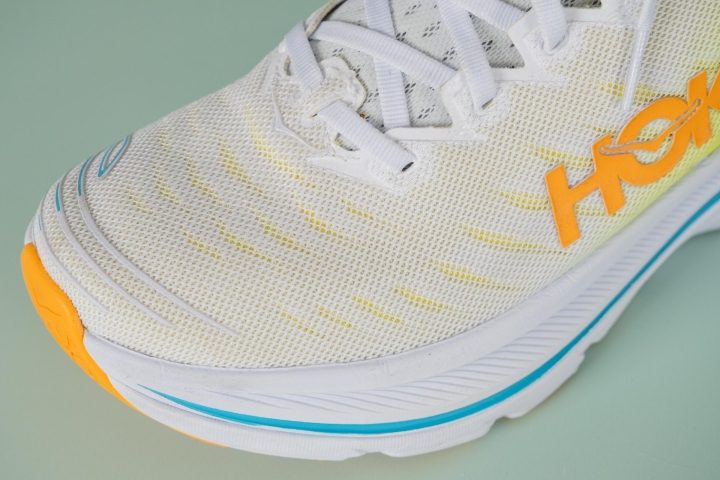 Reflective
Run during the day though, there are no reflective elements on the Bondi X.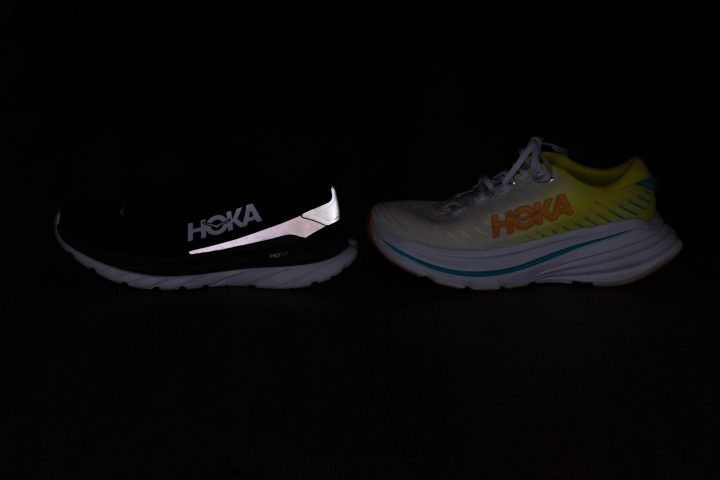 Laces on the Bondi X
The laces don't like to stay tight, and this is an issue. At 19.2N on our slip test, these are below the average lace that comes unties at 24.6N. They are just a bit slippery like the finish needs to wear off.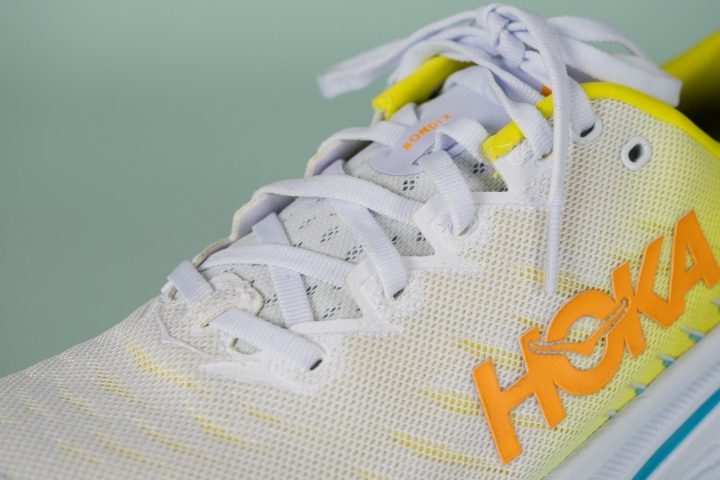 Conclusion
At $200The Bondi X is spendy. The standard version is just $150 and the carbon plate really is not needed in a shoe like this. Sure it makes the ride a touch more stable and there's a bit more propulsion, but this is designed for long slow days, so the question remains, why?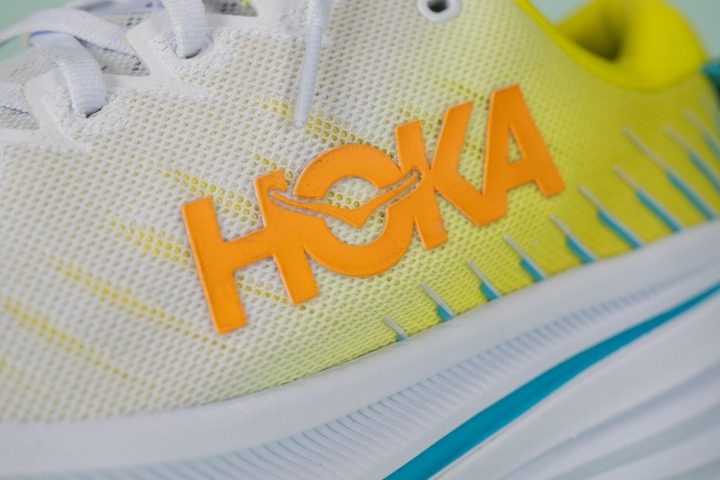 Complete lab-specs overview
Bondi X
Average
Whole shoe

Weight (g)

298

266

Drop (mm)
5.6
8.5
Flexibility of the shoe (N)

69.4

38.8

Flexibility of the shoe (Freezer 20 min) (N)
88.6

50.0

Flexibility of the shoe (% of change)

27.7

35.5

Lace slip test with the knot (N)

19.2

24.6

Longitudinal flexibility (1-5 scale, 5 being the stiffest)

5

3.2

Torsional flexibility (1-5 scale, 5 being the stiffest)

5

3.4

Upper

Thickness - Tongue (mm)

3.8

5.5

Width Upper - Forefoot (mm)

95.3

98.4

Width Upper - Heel (mm)

78.8

75.4

Lace Stretch (1-5 scale, 5 being the most stretchy)

3

2.8
Flexibility of the heel counter (1-5 scale, 5 being the stiffest)
4
3.1
Tongue: gusset type
Both sides (full)

-

Heel: pull tab

Finger Loop

-

Midsole

Width Midsole - Forefoot (mm)

118.3

112.2

Width Midsole - Heel (mm)

106.3

89.2

Stack - Forefoot with insole (mm)

31.6

24.5

Stack - Heel with insole (mm)

37.2

33.0

Durometer Midsole Heel (Room temperature) (HA)

24.4

22.8

Outsole

Outsole thickness (Heel) (mm)
2.3

3.5

Lugs Depth (mm)
N/A

3.0

Durometer Outsole Heel (Room temperature) (HC)

77.5

80.5

Insole
Insole Heel Thickness (mm)
5.0

4.3

Insole: removable

Yes
Compare popularity
Interactive
Compare the popularity of another shoe to Hoka One One Bondi X:
Hoka One One Bondi X video reviews