89
The Corescore is a score from 0-100 that summarizes opinions from users and experts. Below shows the distribution of scores for all running shoes.
Verdict
The absolute highlight of the Arahi 5 is its SUPER plush cushioning. It's a max-cushioned trainer that's built for recovery days and the long haul on the road. Even better, it is the embodiment of "looks can be deceiving" - it's big and clunky, but truly, it disappears on foot!
Pros
Super plush
Balanced ride
Good grip
Wide feet friendly
Removable Ortholite insole
Lightweight
Added stability for heel strikers
Durable
Breathable
Cons
Too wide
Sloppy around turns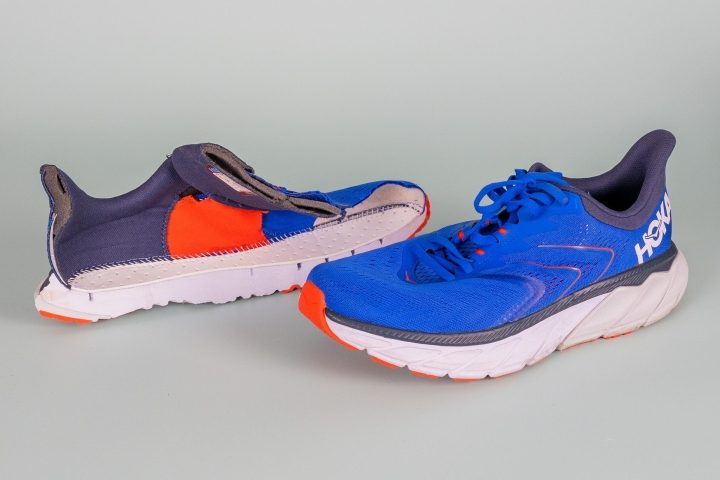 76% say it's true to size.
We earn affiliate commissions at no extra cost to you when you buy through us.
Comparison to similar running shoes
| | | | | | | | |
| --- | --- | --- | --- | --- | --- | --- | --- |
| CoreScore | | | | | | | |
| Users rating | | | | | | | |
| Experts | | | | | | | |
| Best price | | | | | | | |
| Ranking | | | | | | | |
| Popularity | | | | | | | |
| # of colorways | | | | | | | |
Hoka Arahi 5 review and lab test
Max cushioned stability in a lightweight package. Yes, please! Arahi 5 is built for recovery days and long slow runs even though the design may invoke feelings of swiftness.
This is a plush stability shoe built off the Hoka Clifton platform designed to give your feet and legs a sweet enjoyable ride. It's a category known for 11-12 ounce shoes, so it's exciting to see Hoka nail this under 9.5 ounces (270g).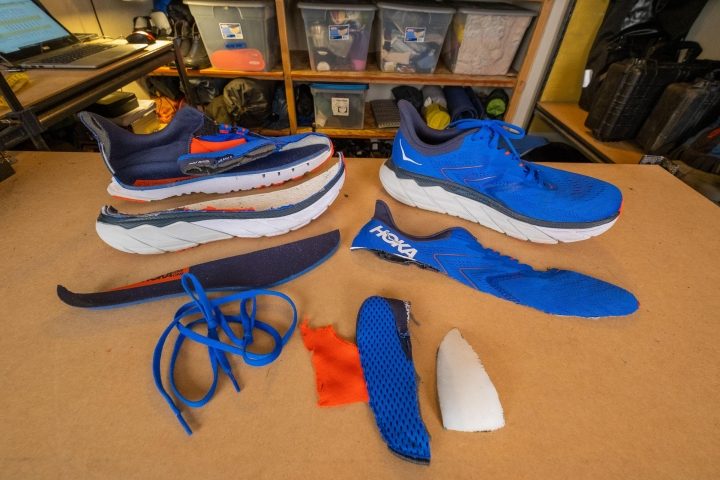 This shoe is ideal for pronators looking for:
minimal to moderate support
a modern, cushioned, lightweight shoe
a wide, stable platform underfoot and ample room for wider feet.
Don't buy this shoe if you:
Fit is too wide
Hokas seem to be hit or miss on fit for me. This shoe felt great sliding it on for the first time, but after a few runs, I've come to the conclusion that it's a bit too wide, or voluminous because it feels a touch sloppy unless I really crank down the laces (another problem I'll talk about later).
Familiar HOKA softness: Arahi 5 is super plush
One thing Hoka typically does right is comfort. The Clifton 7 was one of my favorite shoes last year, it's like a spa for your legs (watch the review) so I had high hopes for the Arahi 5 as well.
Although it's super plush and has a very similar upper, the midsole on the Arahi 5 is a bit stiffer than the Clifton and that annoyed me because I was constantly comparing the two in my HEAD. I even did a run with one on each foot to see if the difference was just mental, but it wasn't.
The Clifton is a softer ride. This all makes sense as the stiffer midsole helps with the Arahi's stability ability, (nice rhyme right??), but I just wanted it to be a touch softer.
Although it doesn't take much away from the Arahi 5, I still feel bad that pronators are not getting the same sweet treatment as the rest of us do in the Clifton. To combat this, Hoka does put in an extra-soft Ortholite insole (12.8HA vs an average of 28.4, and whopping 55% softer) but it's just a different feeling than the pure joy I get out of Clifton's midsole.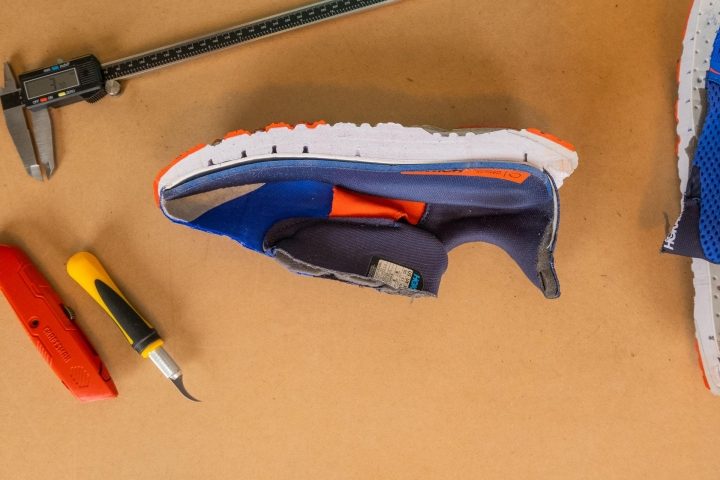 It would seem, however, that Hoka is aware the midsole on the Arahi is not as cloud-like as its neutral counterpart since they obviously are compensating here with the insole (that weighs 0.8oz or 22g).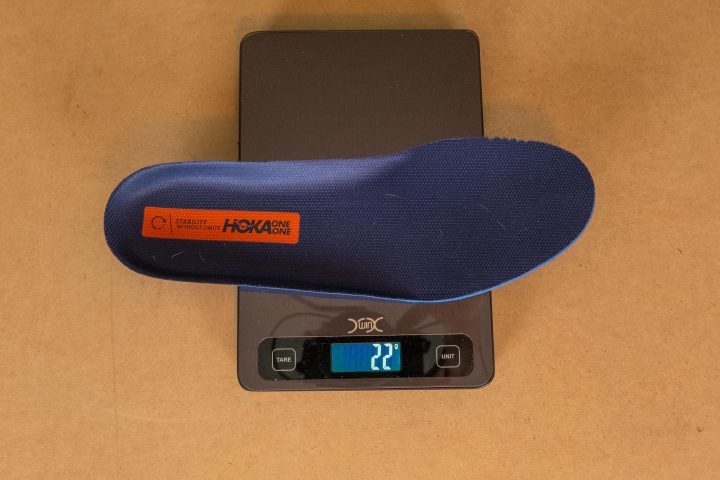 If I wasn't so picky though I'd say this is a very plush shoe with a soft midsole. At 20.8HA on the durometer, the only shoe we've tested with a softer midsole material was the New Balance 1080v11.
Good grip as long as you don't make sudden turns
These perform fine on standard surfaces like asphalt and concrete where I tested them.
I'm glad they added generous amounts of siped rubber over the bottom since I'm not a huge fan of exposed EVA.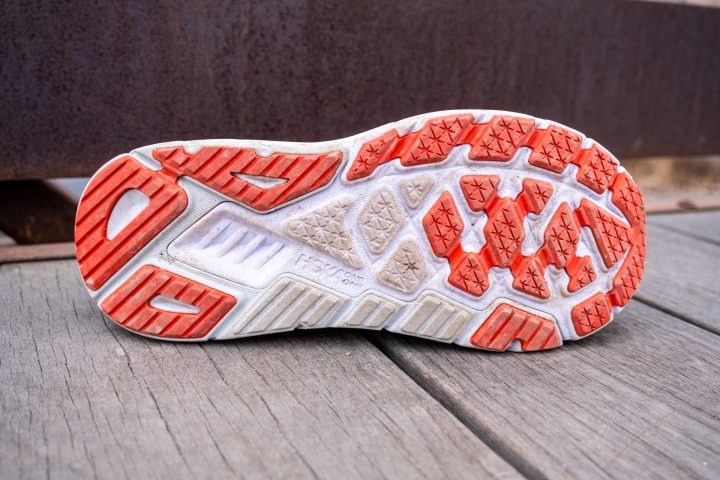 I will mention that the shoes felt a bit sloppy to me, and although this is not a grip issue, I was sliding around sharp turns on the inside of the shoe.
Arahi 5 with its weight proves that looks can be deceiving
Coming in at 9.4 ounces (266g), the Arahi is crushing it in the weight department.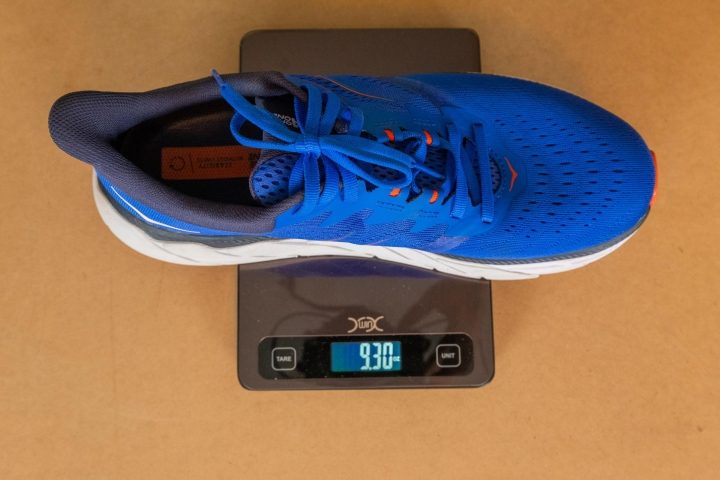 Stability shoes like the Gel Kayano or the Adrenaline tip the scales, so it's great to see a max cushioned, a plush shoe like this closer to 9oz than 13oz.
The lightness messes with your senses a bit, The Arahi seems big and chunky on your foot, I expected to feel them more than I did, and as I tried to speed up, they really start to disappear on your feet.
Lockdown issues: sloppiness and laces too stretchy
The shoe felt a bit too wide, and I have wide feet. Because of this, it felt a bit sloppy around turns.
In my side-by-side run, I noticed this compared to the Clifton, and I have the Clifton in 2E!
I could solve this issue, but it required me to really crank down the laces. The laces are ridiculously long and stretchy. I pulled them out to see just how long they were. At 48'' they actually were not overly long, but they have 30.2% stretch, the most of any shoe we've tested, and nearly double of the average.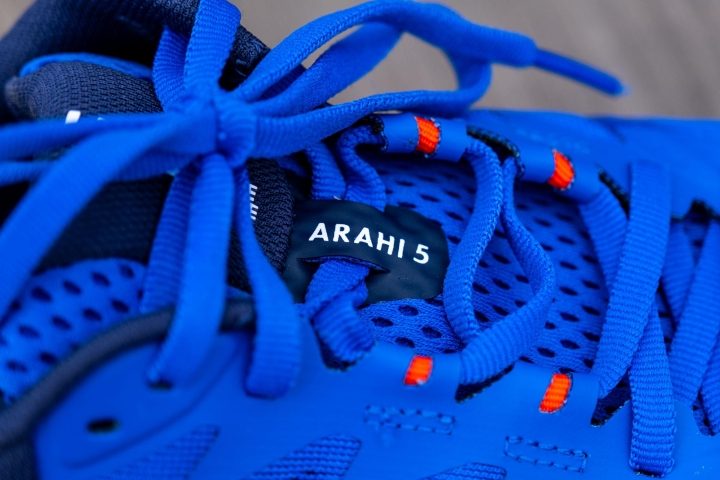 So, back to the problem, the loose fit. It was hard to get them tight enough as the laces just wanted to stretch. I hate having to tuck in laces as well, and it's required on the Arahi 5.
Heel slips but you can fix it
The one caveat to the long laces is you can utilize both upper lace holes, a nice feature many shoes' laces are too short for, and it was needed as there was a touch of heel slip in the Arahi 5.
The heel counter is extremely stiff (93.1N, compared to the average of 62.2N) thanks to its 2mm thick plastic heel counter, which is needed to help make the shoe perform as a stability control shoe, but in my experience, an extra stiff heel usually leads to a bit of slip.
Stable and balanced ride
I didn't feel unstable at any point. The wide platform was balanced and a joy to run in.
The Arahi 5 has a smooth, consistent ride thanks to the Meta-Rocker design that helps you roll easily through your transitions. Soft shoes used to have issues with speedy transitions, but the Arahi 5 doesn't.
Although it isn't a speed shoe, it rolls along without too much fuss thanks to the firmness of the shoe's flex.
Although the foam itself is fairly soft, it's stiff overall with a flex test measurement of 35.8N, which is 37% stiffer longitudinally than the average shoe. I'm stumped to be honest and not totally sure where this stiffness comes from since the EVA foam itself is not particularly firm.
"Junk in the trunk" adds extra stability
There's an interesting extended heel that adds to the stabilized feel when you're going extra slow, or for those heel strikers out there.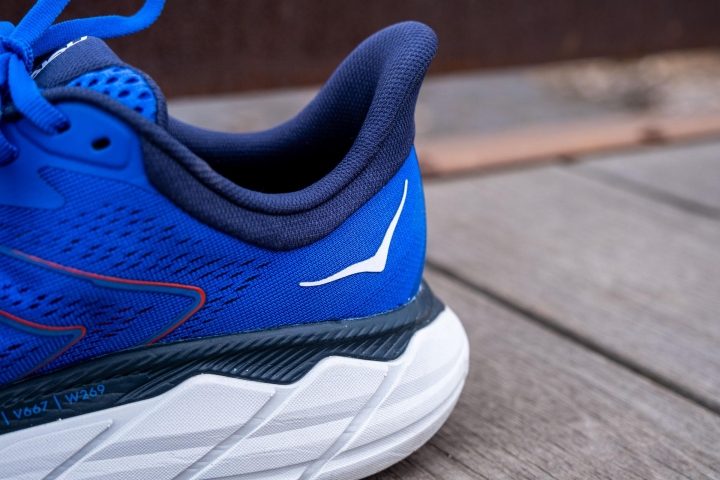 I haven't run in many shoes with this extra junk in the trunk, but I have to say, it felt balanced no matter how fast or slow I went, so it seems to be working!
Long happy life predicted
The upper is well built, complete with some nice welded overlays, and the outsole, although it's not full coverage, is mostly covered in dense rubber, leading me to believe these shouldn't have any premature wear issues.
One plus to the midsole being a bit denser than the Clifton is I think it will last longer, there are no packing marks yet that I can see, and I had creases on my Cliftons after just the first run.
Great for long slow runs
Ideally, the Arahi 5 is an LSD (long slow day) shoe. It wants to go straight, for miles and miles on flat, hard surfaces. It's a trainer, not a race shoe, and although you could push this shoe to a moderate pace, it's not designed to break PRs.
No complaints in the breathability department
I had no issues with the breathability of the Arahi 5, but back to comparison mode, the Clifton's upper does have wider spaced venting holes in the mesh, and some added welded overlays on the toes that the Arahi is lacking.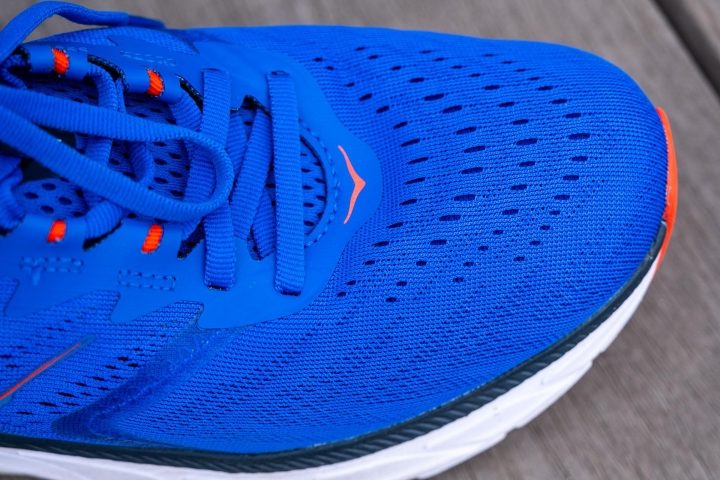 If I could pick, I'd want the Clifton's upper over the Arahi's.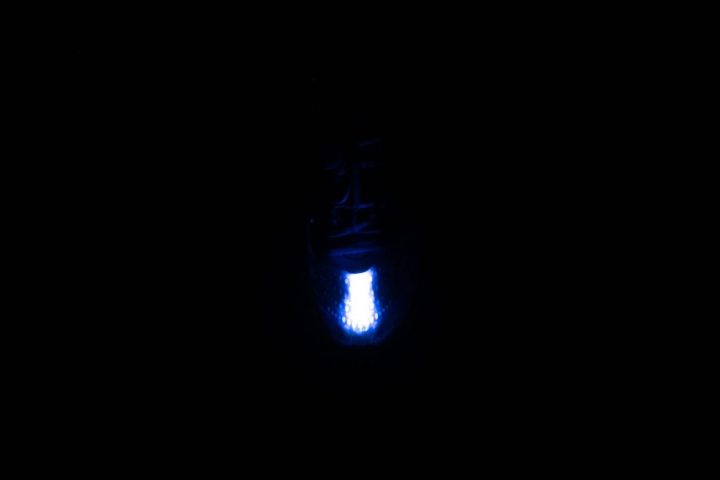 Overall though, it's a nice design and shouldn't be a concern in cool or warm temps. In our lab, though, the shoe let 26.3LUX out. When compared to the average of 100.9, it seems it's on the less breathable side of the spectrum.
Conclusion
Overall, I'm impressed with these new, lighter stability shoes like the Arahi 5 and the Kayano Lite. Having a max cushioned shoe that's not breaking scales is impressive, and hopefully, plastic medial posts are a thing of the past!
In the end, to me, the measure of good stability is like the measure of a good child, they should be neither seen nor heard (that's a joke for those of you who now hate me). In this case, I forgot I was running in stability shoes altogether, which, if they are doing what they should without anyone noticing, means they deserve praise and a pat on the HEAD.
So well done little Arahi 5, well done!
Complete lab-specs overview
Hoka Arahi 5
Weight - Left

263g

Weight - Right

266g

Weight - Insole

22g

Weight - Lace

4.2g

Length - Overall

296.86mm

Length - Insole

276.49mm

Width Midsole - Forefoot

116mm

Width Midsole - Heel

97.2mm

Width Midsole - Middle

87.8mm

Width Upper - Forefoot

97.5mm

Width Upper - Heel

79.1mm

Width Upper - Middle

76.3mm

Stack - Forefoot with insole

28.8mm

Stack - Heel with insole

33.8mm

Stack - Forefoot without insole

23.1mm

Stack - Heel without insole

29.8mm

Drop

5mm

Outsole thickness (Forefoot)

3.7mm

Outsole thickness (Heel)

3.7mm

Lugs Depth

N/A

Insole Thickness

4.5mm

Laces (without stretch)

48inches

Laces (with stretch)

62.5inches

Lace Stretch %

30.21

Laces - Thickness (Height)

1.4mm

Laces - Width

6.1mm

Durometer Outsole Forefoot (Room Temp)

78.5HC

Durometer Outsole Heel (Room Temp)

79.5HC

Durometer Midsole Forefoot (Room Temp)

20.3HA

Durometer Midsole Forefoot 2nd layer (Room Temp)

N/A

Durometer Midsole Heel (Room Temp)

21.2HA

Durometer Insole (Room Temp)

12.8HA

Flexibility of the shoe (Room Temp)

35.8N

Durometer Outsole Forefoot (Freezer 1 hour)

80.5HC

Durometer Outsole Heel (Freezer 1 hour)

84.5HC

Durometer Midsole Forefoot (Freezer 1 hour)

26.8HA

Durometer Midsole Forefoot 2nd layer (Freezer 1 hour)

N/A

Durometer Midsole Heel (Freezer 1 hour)

25.5HA

Durometer Insole (Freezer 1 hour)

14.7HA

Flexibility of the shoe (Freezer 1 hour)

65.8N

Durometer Outsole Forefoot (% change with temperature)

2.55

Durometer Outsole Heel (% change with temperature)

6.29

Durometer Midsole Forefoot (% change with temperature)

31.97

Durometer Midsole Heel (% change with temperature)

20.47

Durometer Insole (% change with temperature)

14.29

Flexibility of the shoe (% change with temperature)

83.59

Thickness - Heel Counter/Insert

2mm

Thickness - Ankle Collar (min)

9mm

Thickness - Ankle Collar (max)

11.2mm

Thickness - Ankle Collar (Range of taper)

12.3mm

Heel counter material

plastic

Thickness - Tongue

7.9mm

Flexibility of the heel counter

93.1N

Light test (transparence)

26.3LUX

Lace slip test with the knot

73.0N

Longitudinal flexibility (0-5)

1

Torsional flexibility (0-5)

1

Tongue: gusset type

both sides

Laces: profile

Flat

Laces: extra hole

yes

Laces: are they long enough to use the extra hole

yes

Heel tab type

pool tab

Insole: removable

yes
Control devices:
Multi-density midsole
Rigid heel counter
Elevated medial insole under arch
Supportive tensioned medial upper
Medial flare
Thermoplastic medial post

no
yes
yes
yes
yes
no

How minimalist the shoe is in %

24
Note: all the tests were done on a men's shoe US size 9.
Compare popularity
Interactive
Compare the popularity of another shoe to Hoka Arahi 5:
Hoka Arahi 5 video reviews