4 Best Waterproof Trail Running Shoes in 2023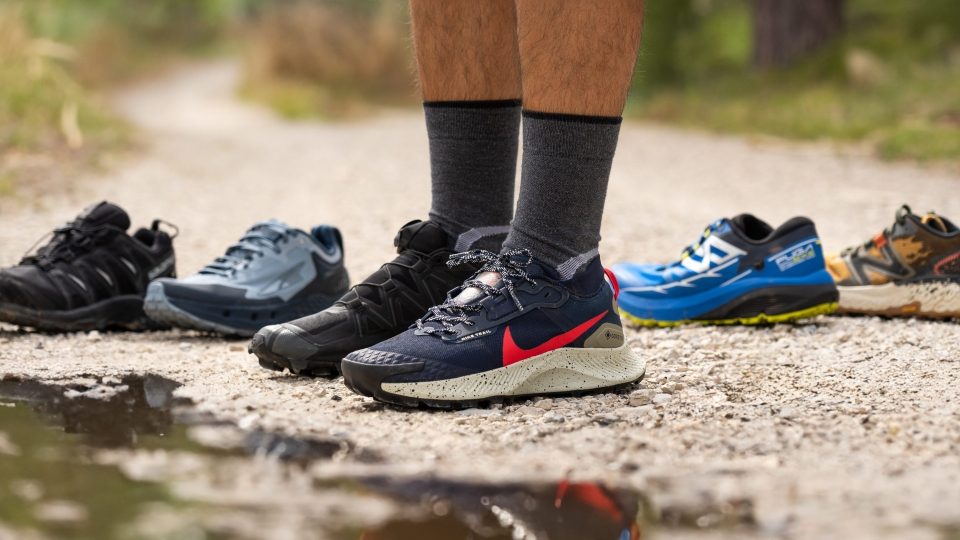 We earn affiliate commissions at no extra cost to you when you buy through us. Why trust us
It's known to many - the trails aren't the friendliest. Apart from jagged rocks and roots, there are also some stream crossings and other wet conditions you have to endure.
And when faced with these, your trusty go-tos are waterproof trail running shoes. They keep your feet dry and protected. So much so, they can even be your pair of winter running shoes.
We took it upon ourselves to test the shoes so that we could help you make an informed decision in picking up your pair. We have made the shoes go through multiple steps in our testing method, to end up with only the best.
Comparison of the 4 best waterproof trail running shoes
| | | | | | |
| --- | --- | --- | --- | --- | --- |
| Best | | | | | |
| CoreScore | | | | | |
| Users rating | | | | | |
| Experts | | | | | |
| Best price | | | | | |
| Ranking | | | | | |
| Popularity | | | | | |
| # of colorways | | | | | |
Choosing the best waterproof trail running shoes
A large part of trail running's appeal is the sense of unpredictability: the varied terrain, the challenging conditions—it all adds to the adventure.
But that unpredictability is not so fun if you're unprepared to deal with it. If your shoes are not up to the task of navigating muddy trails, snowy ascents, and torrential downpours far from the parking lot, your trail running adventures can quickly go south.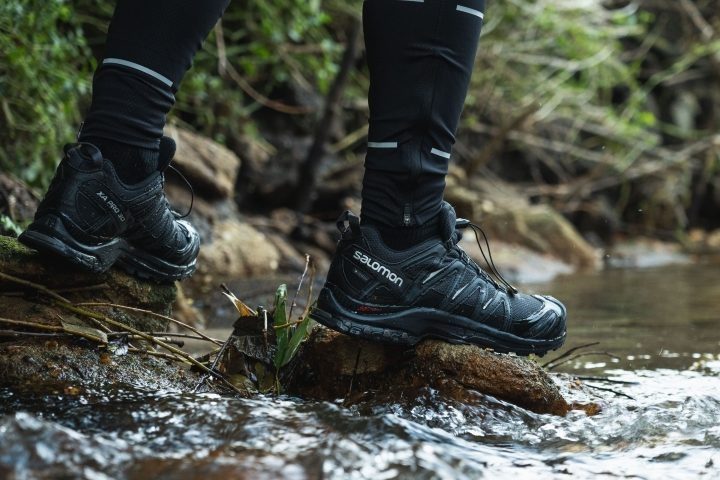 The benefits of waterproof trail running shoes
Let's begin by stating what should be obvious: no trail running shoe is completely waterproof. Fording knee-deep creeks and traveling on rain-soaked muddy trails all day will ultimately result in wet feet.
But the best waterproof trail running shoes will keep your feet drier in more challenging conditions than your standard trail shoe. With waterproof but breathable materials, seamless upper designs, and extra insulation, waterproof trail running shoes provide two primary benefits: superior weather protection and superior warmth.
waterproof GTX shoe vs. breathable shoe
As we can see from the video above, even in a GTX shoe, the water can still seep through the sides of the tongue. Especially when it's not fully gusseted.
Superior weather protection
Most road and trail running shoes favor lightweight, mesh uppers. These lightweight uppers make for extremely breathable but not very weather-resistant shoes. Even moderate rain will saturate your shoes relatively quickly. Waterproof trail running shoes most often feature a GORE-TEX upper. GORE-TEX is not water-permeable but still vents moisture, so your feet stay dry in snow or rain without suffocating.
Superior warmth
Waterproof trail running shoes are warmer than your usual running shoes. This is a result of either water-resistant coatings on shoe uppers or uppers made from waterproof materials like GORE-TEX. Sometimes waterproof trail running shoes feature both.
By blocking moisture out, waterproof trail running shoes inevitably trap heat inside the shoe. Although GORE-TEX is breathable, it does not provide the same airflow you get from light mesh uppers. But in cold or wet conditions, limited breathability and extra warmth become desirable qualities.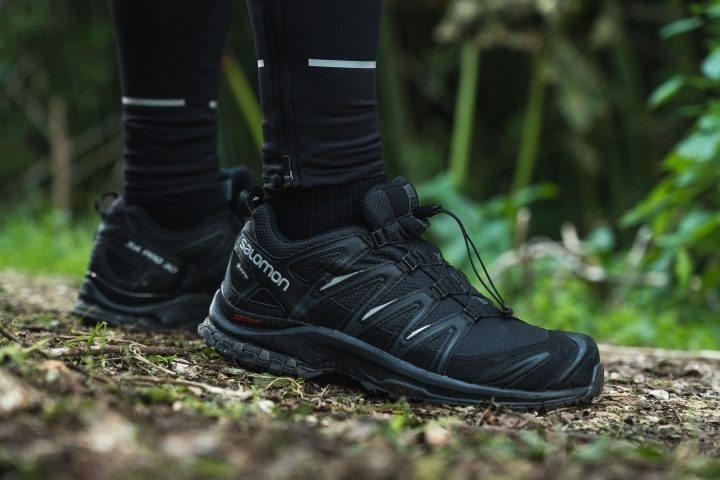 The qualities of the best waterproof trail running shoes
The best waterproof trail running shoes almost all use GORE-TEX (GTX) to achieve a reliable and durable waterproof design. Like Vibram outsoles, GTX is the industry-leading waterproof fabric for a reason. It is simply the best option for high-performing waterproof trail running shoes. It provides robust protection from rain, snow, or mud, with just enough breathability to ensure your feet don't clam up with your own sweat.
Beyond GTX uppers, look at the design of the upper itself. Seamless construction will minimize holes from developing in the upper. A gaiter-style ankle collar can also help keep water and snow from sneaking into your shoes, a problem that waterproof fabrics will do nothing to prevent.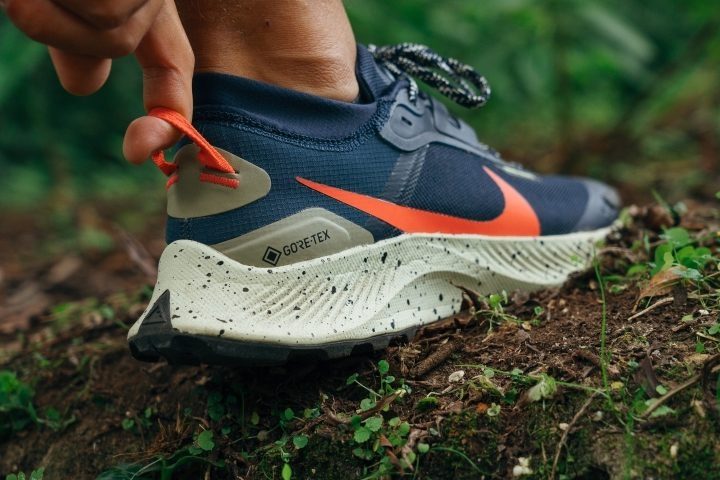 Should you get waterproof trail running shoes?
Waterproof trail running shoes provide benefits, but they have considerable drawbacks as well. So, are they really worth it? They certainly can be, but only in a few specific contexts.
Running in snow
You would likely benefit from waterproof trail runners if you continue to hit the trails year-round, even when blanketed in snow. They prevent snow from seeping into the shoes via permeable upper fabrics. A gaiter-style ankle collar or pairing shoes with running gaiters can effectively keep your feet completely dry on snowy winter trails.
Running in cold and rainy conditions
Waterproof trail running shoes are also beneficial in cold and rainy weather. The waterproofing results in more insulation, and GTX uppers or waterproof coating will stop rain from saturating the shoes.
When to choose waterproof trail running shoes
Outside of cold, snowy, and rainy conditions, waterproof trail running shoes are usually unnecessary, or even undesirable. It is best to avoid them if you primarily run in warm or hot weather, even if the trails are muddy and puddle-filled. In these conditions, your feet will get soaked no matter what shoes they're in.
Waterproof trail running shoes are less breathable and do not drain well. Once moisture gets in, it takes a long time to leave. In hot weather, even if the trails are wet, normal trail runners are a better choice because they drain and dry faster.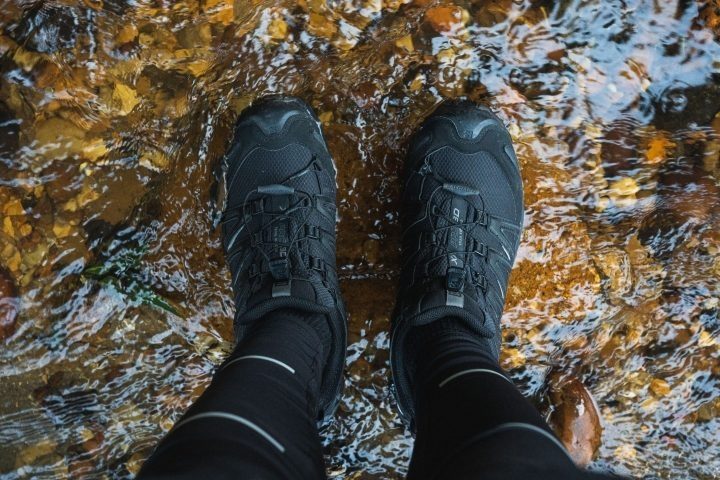 However, if you train for many months of the year in the cold and snow, a pair of waterproof trail running shoes is a valuable addition to your shoe rotation. They fit similarly to other running shoes, but you might consider sizing up half a size if you'll be running in thicker socks for cold or wet winter conditions.
How we test trail running shoes
It's easy to get lost, given the number of waterproof trail running shoes from athlete-trusted brands like Nike, Hoka, Saucony, Brooks, etc. But fret not, we have tested and selected the best of the best through our own RunRepeat shoe testing lab.
Before we come up with our list, we make sure to buy each pair with our own money. We then examine each shoe from top to bottom using the following steps:
We run in each waterproof running shoe model for at least 30 to 50 miles
We cut them open to see what's inside
We measure each aspect of the shoe via parameters like weight, cushion, flexibility, etc.