6 Best Cushioned Tennis Shoes in 2023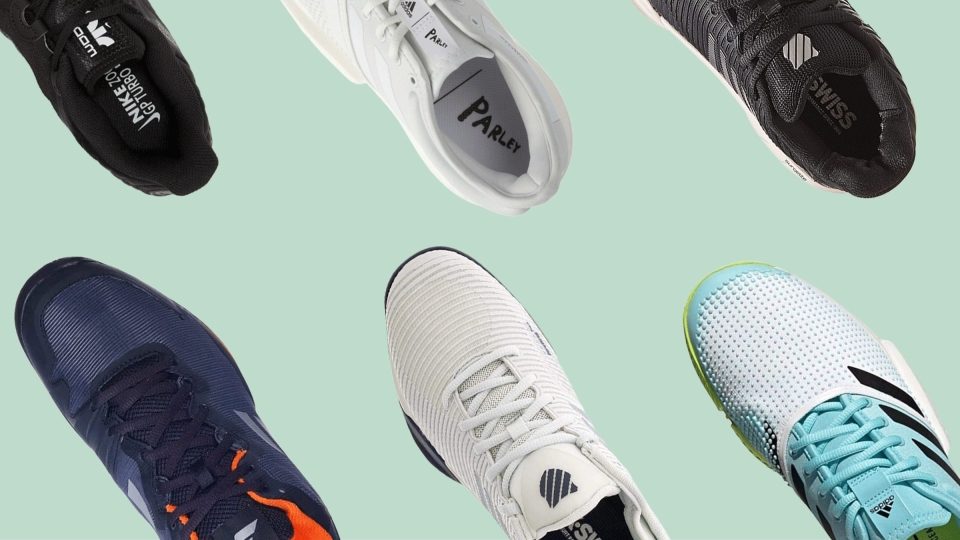 We earn affiliate commissions at no extra cost to you when you buy through us. Why trust us
Regardless of the surface, you like to play on, we highly recommend investing in well-cushioned tennis shoes. They provide more bounce, comfort, and impact protection allowing you to perform more and endure longer matches on the court.
To help you save time, we've created a comprehensive list of cushioned tennis shoes across trusted brands in the industry such as New Balance, Nike, Adidas, K-Swiss, and Babolat. These labels offer awesome variations of superbly designed kicks with reliable stability and cushioning system.
We've tested, profiled, and ranked all the best cushioned tennis shoes that we obtained and purchased. Whatever tennis court surfaces you prefer or the level of your experience as a player, we have a perfect pair for you on the list that will elevate your game to the next level.
Comparison of the 6 best cushioned tennis shoes
| | | | | | | | |
| --- | --- | --- | --- | --- | --- | --- | --- |
| Best | | | | | | | |
| CoreScore | | | | | | | |
| Users rating | | | | | | | |
| Experts | | | | | | | |
| Best price | | | | | | | |
| Ranking | | | | | | | |
| Popularity | | | | | | | |
| # of colorways | | | | | | | |
In the world of tennis, where fast movements and agility are par for the course, the importance of well-cushioned and comfortable tennis shoes becomes very obvious, very quickly.
Acting as the unsung heroes of your playing gear, they silently absorb the relentless impact that would otherwise jar the feet with every step allowing you to enjoy your game rather than dread the discomfort it causes.
From sudden stops to powerful shots, in this guide we look at what makes the best cushioned tennis shoes stand out, and most importantly - why.
Say hello to comfort
Let's start by making this important note from the get-go: comfortable tennis shoes are a winner, and cushioned shoes go hand in hand with comfort. Maybe that sounds too obvious, but too many tennis players make the mistake of emotionally choosing a pair of shoes that look great, instead of choosing what's right for them.
So, put your head before your heart on this one, and believe me when I tell you that a comfortable pair of cushioned tennis shoes should be your number one priority. At the end of this guide if you're still not sure, choose what's comfortable for you.
5 reasons why you need cushioned tennis shoes
We know tennis shoes with cushioning are comfortable because the cushioning helps dissipate the force generated during movements like sprinting, jumping, lunging, and abrupt stops. But how exactly does that happen?
Shock absorption: The repetitive and high-impact nature of tennis demands shoes with a high level of shock absorption. This allows the player to concentrate on their game, rather than on the jarring effect the game is having on their body.
Comfort and performance: We've already said it but we'll say it again - comfort is paramount. Well-cushioned shoes provide a supportive feel underfoot, and it is this plush feeling that makes cushioning such a key element to a pair of tennis shoes.
Injury prevention: With its fast lateral movements tennis is known to put the body under stress - particularly around the joints and muscles - which can sometimes lead to injury. To help combat this footwear manufacturers have deliberately increased cushioning in their shoes and players have benefited as they seek to reduce their incidence of sprains, fractures, and tendonitis.
Energy conservation: When the body doesn't have to constantly battle against the jarring effects of hard court surfaces, it can save energy which can in turn be put to better use - powerful shots down the line for example. An easy competitive advantage if ever there was one!
Enhanced endurance: What happens when you add up the previous four elements? The body can realign its efforts towards better and longer gameplay, allowing you to focus on your tennis rather than how sore you are. Who wouldn't want that?
Addressing plantar fasciitis
A lot of tennis players suffer from an injury known as plantar fasciitis, and you may well be researching cushioned tennis shoes for this very reason. This painful injury is felt in the heel and occurs with overtraining and long hours of play.
Aside from incorporating stretching exercises, applying ice, and using anti-inflammatories, selecting the right footwear is essential for alleviating pain and managing discomfort associated with plantar fasciitis.
Those familiar with this condition understand that it results from inflammation of the plantar fascia, a connective ligament that supports the arch of the foot. This inflammation can lead to pain during all sorts of activities especially tennis, and individuals with high arches or flat feet are particularly susceptible to developing plantar fasciitis.
To effectively address plantar fasciitis, the ideal footwear prioritises comfort and the reduction of pressure on the heels. It's crucial to opt for shoes featuring thick, cushioned soles that absorb impact and provide ample arch support. This choice in footwear can play a pivotal role in preventing inflammation and heel pain, allowing individuals to find relief and maintain their daily activities comfortably.
Where the cushioning is found
Cushioning in tennis shoes is primarily found in the midsole of the shoe. The midsole is a layer of material, often foam, that connects the outsole (the part of the shoe that connects to the ground) and the upper (the part of the shoe that covers the foot).
But for some models, the description of the midsole is too vague, as it implies that there is just one area where cushioning plays a part. Higher-tech models may also integrate cushioning systems within the following concentrated areas:
In the forefoot: Some models of tennis shoes may also have additional cushioning at the forefoot area in the midsole. This is important for providing comfort and support during tennis movements that involve pushing off with the front part of the foot, for example, serving, or sprinting to the net.
At the heel: Many tennis shoes have extra cushioning in the heel area of the midsole. This is because the heel experiences a significant amount of impact during movements such as running and fast stops, so extra cushioning here helps to absorb that shock.
Full length: Some tennis shoes feature full-length cushioning throughout the entire midsole. This provides a feeling of consistency as the support goes from toe to heel, allowing the player to confidently move in any direction at any time.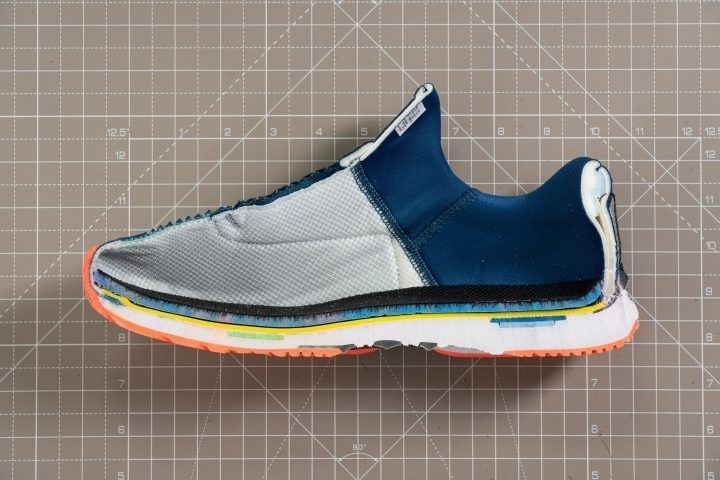 Big brand cushioning tech
When it comes to cushioned tennis shoes several major brands stand out for their offerings. Using innovative technologies and market leading intellectual property, these brands know how to attract tennis players of all abilities and for good reason - what they do, they do well. Here's a small taste of the brands that will serve you well on the tennis court.:
Nike
Nike utilises various cushioning technologies such as Nike Air, Nike React, and Zoom Air. These technologies offer a combination of comfort, responsiveness, and impact absorption in their tennis shoes. Over the years Nike has been the preferred brand of tennis legends such as Serena Williams, Maria Sharapova, Roger Federer and Pete Sampras.
Adidas
Adidas features technologies like Boost and Bounce in their footwear. Boost, in particular, is known for its excellent energy return and cushioning properties. Adidas has been the preferred brand of tennis players such as Martina Hingis, Anna Kournikova and Jo-Wilfried Tsonga.
Asics
Asics uses Gel cushioning technology in many of their athletic shoes. This gel-based cushioning system provides excellent shock absorption and comfort for prolonged play. Asics is the preferred brand of tennis players such as Novak Djokovic and Jennifer Brady.
New Balance
New Balance incorporates Fresh Foam technology in their shoes, which offers a balance of cushioning and support for different sports, including tennis. Despite having an 'no-endorsement' policy until recently, New Balance is the sponsor of young American stars Coco Gauff and Tommy Paul.
Hard court problems mean soft shoe solutions
Cushioned tennis shoes are particularly important when playing on hard courts due to the unforgiving nature of these surfaces, which are typically made of concrete or asphalt covered with an acrylic layer that gives them that sharp colour and texture. 
There are several reasons why cushioned tennis shoes excel on hard courts, including impact absorption, increased comfort, energy conservation, injury prevention, and enhanced durability. On the contrary clay courts are, by their nature, softer on the player's feet therefore the requirement for cushioning is lessened.
Baseline resilience
All seasoned tennis players will tell you that durability in a pair of tennis shoes is a key factor that cannot be overlooked. No player wants their shoes to be brilliantly cushioned for a brief period of time only to end up in a landfill shortly after, we all want them to be our tennis partners for as long as possible.
Over time, the materials used for the cushioning can compress, thus losing their effectiveness. Good manufacturers know how to engineer their products to ensure this doesn't happen too quickly, ensuring that players can maximise their wear.
Be rally-ready with abrasion resistance
The abrasive nature of tennis courts can take a toll on the outsoles and the uppers of tennis shoes. Tennis shoes with cushioning and other materials designed to better withstand wear are a great asset as the shoes can maintain their structural integrity through countless rallies and matches.
Sew crucial: The importance of stitching
Most modern-day tennis shoes use reinforced stitching for durability and support. When it comes to well-cushioned versions, there is often additional stitching in the midsole area. This stitching helps secure the cushing materials and technology in place, preventing any unwanted movement during play.
How cushioning affects traction
The level of cushioning in tennis shoes can influence how comfortable they feel when playing, and it is this feeling that tennis players rely upon the most on the court. As it absorbs impact and softens the landing, cushioning allows the player to feel comfortable on their feet enabling them to glide more freely across the court. Harsher, less cushioned shoes, might mean the surface traction is high but the jarring effect is high too. It's a bit of give and take.
A tennis player's balancing act
Proper cushioning distributes the player's weight as their feet impact the ground. This weight distribution helps improve comfort levels and the sensation of being able to play longer, however, be cautious, because it is possible to have too much cushioning which can have a negative impact on your court time.
Too much of a good thing
Excessive cushioning can have its drawbacks, each of which needs to be considered when weighing up the pros and cons of your next pair of tennis shoes. These considerations include:
Reduced responsiveness: Too much cushioning can make the shoes feel overly soft, reducing a player's agility and responsiveness which may hinder their game.
Loss of ground feel: A lot of tennis players appreciate the feeling of 'being at one with the court' and excessive cushioning in their shoes can take that feeling away from them.
Reduced stability: Some shoes that are well cushioned may be a compromise to their stability, which is crucial to support the lateral movements of a tennis player.
Extra weight: Increasing the weight of your tennis shoe is not ideal. Look for shoes that remain lightweight despite their idyllic cushioning.
Not worth the extra weight
Speaking of weight, traditionally when manufacturers have aimed for extra cushioning in their new models they have done so at the expense of the weight of the shoes. That is to say, extra cushioning has meant heavier shoes. However fortunately that is not necessarily the case these days as new cushioning technologies have become incredibly lightweight, bringing new meaning to the phrase 'like running on clouds'.
This lightweightedness is excellent news for tennis players as lightweight shoes can improve your performance - it's that bit faster to change direction, acceleration is just that bit quicker, time on the court feels that bit easier, and so on.
The future of cushioning in tennis shoes
Wondered where the world of cushioning will go in the future, and especially how it might relate to tennis? Let's take a glimpse into the crystal ball: 
Smart cushioning: Imagine tennis shoes that adapt to your playing style and the court conditions in real-time. This vision is not far from becoming a reality. Future tennis shoes are set to incorporate smart cushioning systems equipped with sensors that monitor your movements, gait, and even the hardness of the court surface. Using this data, the shoes will automatically adjust the level of cushioning to optimise comfort and performance. Say goodbye to one-size-fits-all cushioning; the future is all about personalization.
Sustainable materials: As environmental concerns continue to shape the sports industry, tennis shoe manufacturers are looking to sustainable materials for cushioning. Future tennis shoes may feature cushioning made from recycled or bio-based materials, reducing their carbon footprint. Expect to see innovations in cushioning that balance eco-friendliness with the high-performance standards demanded by tennis players.
3D-printed custom cushioning: Customization is a key trend in the future of tennis shoe cushioning. 3D printing technology is poised to revolutionise the way cushioning is designed and manufactured. Players will be able to choose cushioning profiles tailored to their specific needs, resulting in a truly bespoke fit and feel. This level of personalization promises enhanced comfort and injury prevention.
Advantage: You!
So there you have it, tennis shoes with ample cushioning can really enhance your time on the court. Remember to choose comfort before everything else, and go out there and smash your competition. Or just have fun playing hit to hit… We'll let you de-deuce that.
How we test tennis shoes
For this guide, we thoroughly scrutinise all the footwear in the database. That means examining each pair inside our independent RunRepeat shoe testing lab. We weigh, measure, and classify the quality of materials used in the shoe. We then proceed to playtest the shoes on the tennis court. Here's our approach:
We buy cushioned tennis kicks from different brands using our own funds. No review is published without actual tests on the tennis court playing actual matches.
We wear the shoes in real-life tennis matches to assess their out-of-the-box fit, comfort, and break-in period. We check the weight, ankle support, and outsole traction. We put the shoes under the real pressure of the sport to further check their performance and durability.
Each review is also enriched by the data we acquire in our lab by measuring the parameters of the shoes. We also run our saw through the shoes to bust them open and detect all their existing components.